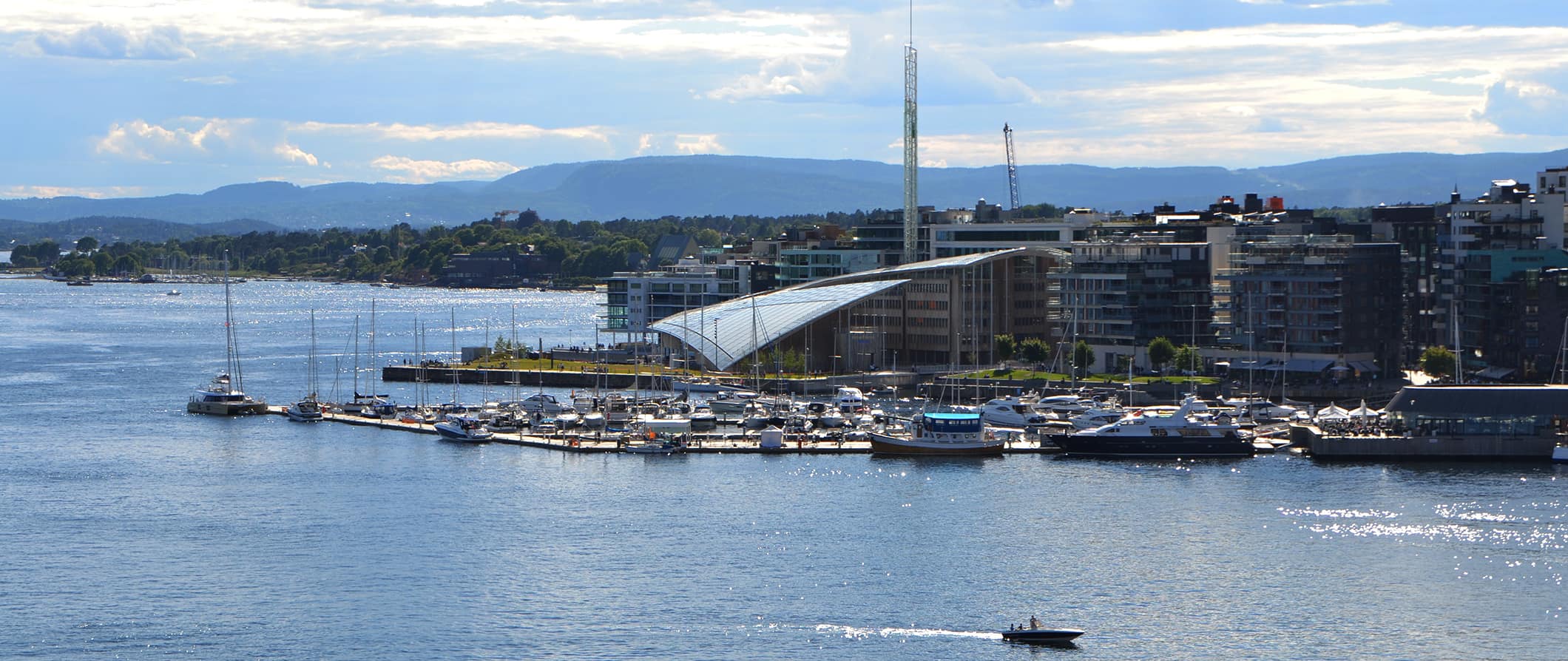 The bustling, cosmopolitan city of Oslo is the capital of Norway. It's home of the Nobel Peace Prize and museums of almost every topic imaginable! Oslo doesn't disappoint history buffs or art lovers. Some of the most spectacular natural landscapes in Norway surround the city, making it a perfect staging area for a day of hiking, biking, boating, skiing, or camping. When I first visited, I went to see some cousins and was shocked by the prices. However, subsequent visits have shown me that this city, though not the cheapest in the world, does hold some surprises that allow you to visit the museums, parks, fjords, and eat on a budget.
Top 5 Things to See and Do in Oslo
1. See the Art at the National Gallery
This popular museum holds Norway's largest public collection of drawings, paintings, and sculptures – it's an excellent place to see older and local pieces. It is within walking distance of Karl Johans gate — Oslo's main street. Admission for adults is 50 NOK, and it's free for everyone on Thursdays.
2. Visit Arkershus Fortress
Located on the fjord in the city center, the Arkershus Fortress is a medieval fortress riddled with historical discoveries. It was originally built in 1299, but restorations have been taking place since 1899. Guided tours are now offered to the public during the summer. Admission is free.
3. Visit the Vigeland Sculpture Park
This is a unique park, dedicated to the life work of sculptor Gustav Vigeland. With more than 200 sculptures (including the famous screaming baby), it's described as a monumental artistic creation with a human message. It is located in Oslo's city center.
4. Check out the Viking Ship Museum
This museum is home to the world's best preserved Viking ships, which date back to the 9th century, and an array of boats and carts, all with stunning ornamentation. This museum is located in Bjørvika, east of Oslo's city center. Admission is 80 NOK for adults, 50 NOK for students/seniors, and free for kids.
5. Explore Nordmarka Wilderness Area
A nice change in pace from traditional city attractions, the Nordmarka wilderness area in the northern forest region of Oslo offers everything from biking to swimming to skiing, depending on the season. Huts are also available for overnight stays.
Other Things to See and Do
(Click the title to expand the text)
1. Visit Blomqvist Auction House Gallery
Over 130 years old, Blomqvist is one of the oldest and largest auction houses in Norway. Located in the city center, it is an excellent place to stop by for traditional Norwegian art and antiques such as glass, silver, china, furniture, carpets, and even jewelry.
2. Learn your Norwegian History
The Norwegian Folk Museum is one of Europe's largest open-air museums. It offers over 150 traditional houses from all over Norway, as well as an indoor exhibit. Activities range from horse and carriage rides and lefse baking to folk dancing, exhibitions, and arts and crafts. The museum is located in Bygdøy, east of Oslo's city center.
3. Go swimming
Oslo has many outdoor places that are ideal for swimming, from rivers to lakes in the woods. Akerselva is along the river between Maridalsvannet and the city center, Huk is east of the Oslo city center, in Bygdøy, and Lutvann is in the forest area of Oslo.
4. Kampen Ecological Children's Farm
Located in Eastern Oslo, the Kampen farm is an urban ecological farm, which was set up for children to learn about vegetables, herbs, and even animals. On weekends, homemade coffee, lemonade, and waffles are available. Great for a laid-back, kid-friendly afternoon.
5. Shop in Grünerløkka
Located slightly north of Oslo's city center, Grünerløkka is ideal for an afternoon of perusing small, independent shops. You can expect to find handcrafted goods, clothing, pottery, and various other trinkets of Norwegian influence, in addition to record shops and second-hand bookstores.
6. The Norwegian National Opera and Ballet
Norway's largest performing arts institution offers three stages and exemplary architectural design. Located in Bygdøy, East of Oslo's city center, it is also home to the world's first opera house rooftop, accessible to visitors and set up for concerts. Ticket prices will vary for each production, however, discounts are available for students, seniors, and children. There are also occasional "balcony concerts" performed by students, which are free and a great way to enjoy music on a budget.
7. Stroll along Aker Brygge wharf
Perfect for an afternoon stroll and host to the largest concentration of restaurants in Oslo, Aker Brygge is located southeast of Oslo's city center. Enjoy a wide array of foods (ranging from French cuisine to traditional Nordic dishes), or a simple day of window shopping and architectural admiration. The wharf has something for everyone.
8. Norwegian Museum of Magic
A quirky Norwegian pitstop, the Museum of Magic has been steadily growing since 1997. What started as a simple collection of posters, photos, and newspaper clippings is now a fascinating exhibition on Norwegian magicians. The museum offers a collection of props, costumes, and other traditional equipment and is complete with a gift shop. Located in Oslo's city center. Admission is 50 NOK for adults and 20 NOK for kids.
9. Wander through the Botanical Garden
The perfect place to refresh your senses, the Botanical Garden is a beautiful place with over 1800 different plants. Largely set up as an Arboretum, the Botanical Garden also offers two greenhouses of exotic plants and a "Scent Garden". Entry to the garden is free.
10. Join the Korketrekkeren Toboggan run
Faster than the metro, the toboggan run is an exciting way to take part in a traditional Norweigan winter activity. Sleds are available for rental and helmets are free with the ride! Stop in at the restaurant for a bite to eat and take as many rides as you like.
11. See the animals at the Oslo Reptile Park
Home to more than 100 animals, this park offers a spectacular range of snakes, lizards, crocodiles, fish, and even various spiders. A great walk-through experience or afternoon plan for the family, the Oslo Reptile Park is conveniently located in the city center. Admission is 115 NOK for adults, 100 NOK for students, and 85 NOK for kids.
12. Watch the Nobel Peace Prize Parade
If you happen to be in Oslo on December 10th, be sure to catch the torch parade honoring the winner of the Nobel Peace prize. While the ceremony is invitation only, many gather for the parade that runs from Karl Johans gate to the Grand Hotel.
13. Read at the Oslo Book Festival
Held annually, this festival is host to world-renowned authors and varying literary events. It runs every Autumn and is free and open to everyone. It takes place at Karl Johans gate, the Opera house, and the House of Literature.
14. Attend the Arts & Crafts Fair
Held every August 19-21, this fair offers more than 100 vendors. It's a great opportunity to check out local textiles, ceramics, metal and woodworks, glass, and more.
15. Explore the Emanuel Vigeland Museum
Considered one of Oslo's best attractions, the Emanual Vigeland museum is host to a large display of paintings, clergy portraits, and sculptures. Originally set up as a museum in 1926, but later transformed into a tomb, the main attraction is a 'dark, barrel-vaulted room,' dramatically covered with frescoes. Admission is 50 NOK, and kids under 12 enter free.