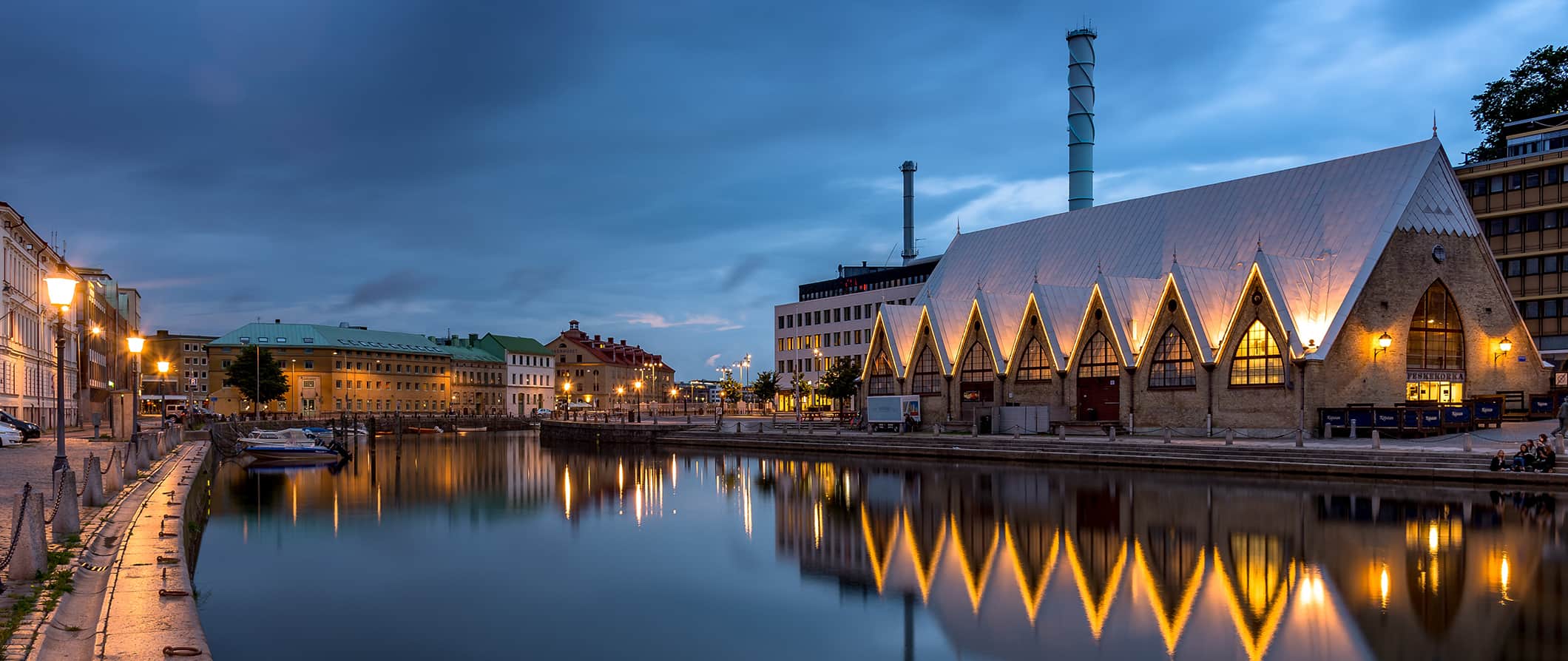 Stockholm is one of the most beautiful cities in the world. No matter how often I come here, I am always amazed by it. Everything is just so photogenic and picturesque – the parks, the islands, the harbor, the historic colored houses dating back hundreds of years. Stockholm is beautiful. The city spreads itself out across fourteen islands and has a ton of museums, attractions, parks, and art to see while getting lost among the historic streets and buildings. I spent three months living here and now come back every year to visit friends and fall in love again with this Scandinavian gem. Stockholm isn't the cheapest place in the world to visit but it's worth every penny coming here and there are many ways to visit on a budget.
Top 5 Things to See and Do in Gothenburg
1. Go on the rides at Liseberg
The biggest amusement park in all of Scandinavia. Be sure to try Balder, the wooden roller-coaster, the haunted house, and the giant ferris wheel (you'll get a stunning view of the city from the top). Concerts by popular artists provide musical entertainment, while beautiful exotic flowers give this place a colorful background.
2. Explore the quaint Haga
As one of the oldest areas of Gothenburg, this once was the neighborhood occupied by working class people. Now you can enjoy their cobblestone pedestrian streets, quaint restaurants and cafés, and antique shops.
3. Visit the Botaniska Tradgarden
This botanical garden offers something scenic to do, which is especially great for budget travelers. See 12,000 plant species, a Japanese garden and places to sit down and rest. There is a voluntary entrance fee of 20 SEK.
4. Visit the Skansen Kronan
This fortress was built in the 1600's and now houses a military museum. It makes for an interesting day excursion that can give you insight into Gothenburg's history.
5. Take a day trip to Marstrand
An hour bus ride from the city is the charming island of Marstrand. In the summer, this island is bustling with visitors who tour the narrow streets and visit the stone fortress, Carlsten (which is a definite must!). From here it's just a stone throw to the smaller, more secluded islands of Dyrön and Åstol.
Other Things to See and Do
(Click the title to expand the text)
1. Go shopping on the "Avenyn"
Plan a day of shopping on Gothenburg's main street. Stores and restaurants abound in all price ranges, giving you a lot of flexibility when it comes to activities and budget.
2. See Slottsskogen
Take a stroll through the wooded hills, where you can visit a zoo and a family-friendly animal park. The area is also home to the city's oldest observatory. Best of all? It's free!
3. Visit the Natural History Museum
Located right next to Slottsskogen, this museum is full of all sorts of animals, including the world's only mounted blue whale. Admission is free for anyone under 25, otherwise, it's 40 SEK.
4. Take in the Gothenburg Opera
Whether this is your thing or not, the Opera House is gorgeous and an important monument of the city. Although some tickets are pricey, you can find last-minute ticket deals at the box office.
5. Picnic in Trädgårdsföreningen
This 19th park and garden sits at the heart of the city and is a great place to relax and have a picnic on those rare sunny days. There is a playground for children, numerous greenhouses full of interesting flora, and plenty of shade if you want to sit down with a good book.
6. Climb aboard the Swedish Ship Götheborg
A reconstruction of a mid-18th-century ship from the Swedish East India Company. The ship often tours different ports so be sure to check ahead to make sure it's in Gothenburg before trying to visit.
7. Learn about local history
The City Museum in Gothenburg offers some great exhibits, and best of all it's free! There is lots of detailed information about city development, including things like old local clothing and household goods, but the highlight is undoubtedly the exhibit on the Vikings.
8. Spend time at the Museum of Fine Art
If you're an art lover, then you should take advantage of the thin crowds at this art museum. The museum's collection features both Swedish and international work dating from the 17th century onward. It includes art from big names like Rembrandt, Picasso, and Monet. Entrance is 40 SEK; special exhibits are 80 SEK.
9. Tour the Volvo Museum
If planes, trains, and automobiles are more your thing, you might be better off at the Volvo Museum. Gothenburg serves as the headquarters for this international car brand, and the museum here gives an outline of the company's history and evolution in design that has occurred over the years. Admission is 100 SEK.
10. Wander through Delsjön
Just outside of the city, lies Delsjön, a natural area with lakes and wooded trails. Spend a couple of hours walking around the parkland, before heading back to the urban atmosphere.