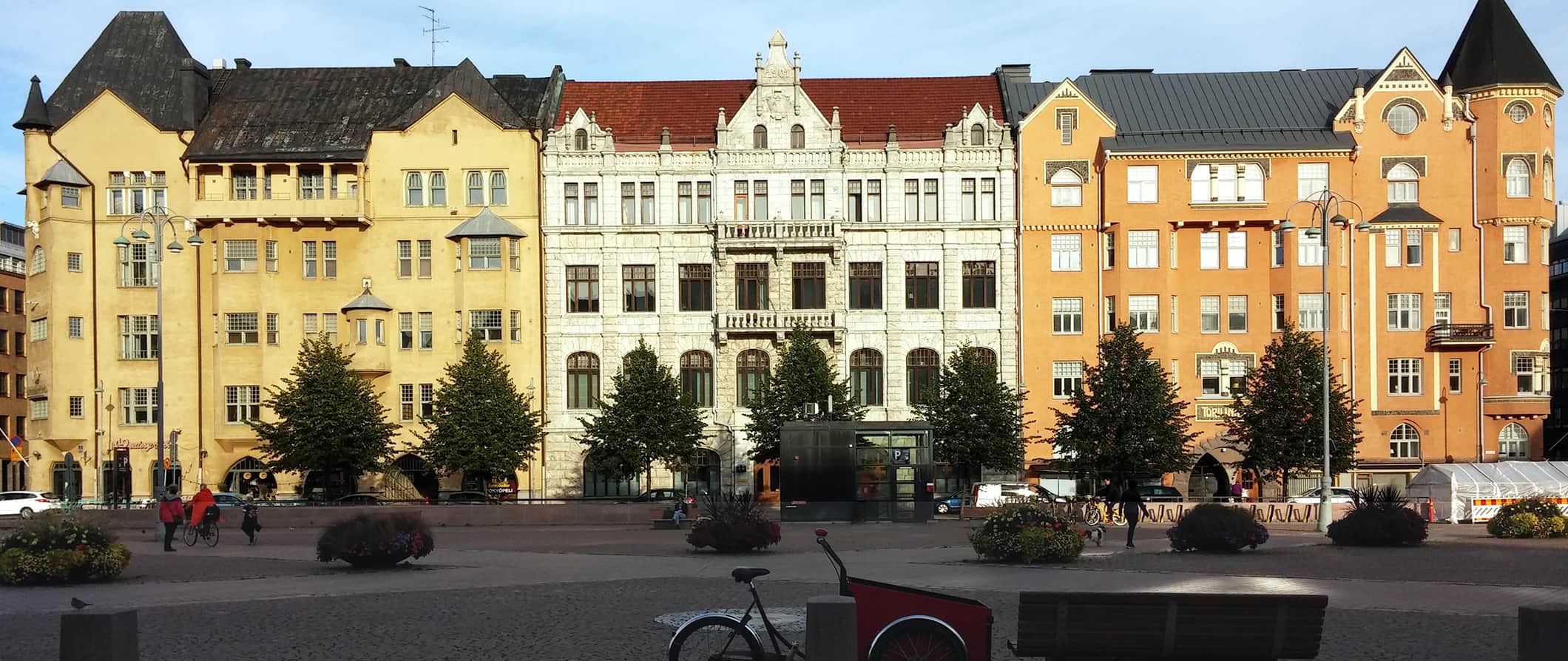 Helsinki is one of the most underrated capitals in Europe. Many people make it to Copenhagen or Stockholm but skip over this beautiful city since it's a bit off the Scandinavian tourist trail. Compared to its neighbors, Helsinki never seems to get the love it deserves.
Historic, small, brimming with green space, and set on the Baltic Sea, Helsinki is a picturesque city filled with friendly people and few tourists. It's especially great if you love art and music as they have a ton of museums and a vibrant music scene.
If you ask me, Helsinki is one of the most underrated capitals in Europe. I always love my time here!
This travel guide to Helsinki can help you make the most out of your visit while keeping your budget intact!
Top 5 Things to See and Do in Helsinki
1. Visit the National Museum of Finland

This museum has a large collection of Finnish artifacts from the Stone Age to the present, including jewelry, coins, tools, weapons, and more. It's a good place to get an overview of Finland's history. Admission is 14 EUR and free for kids under 18.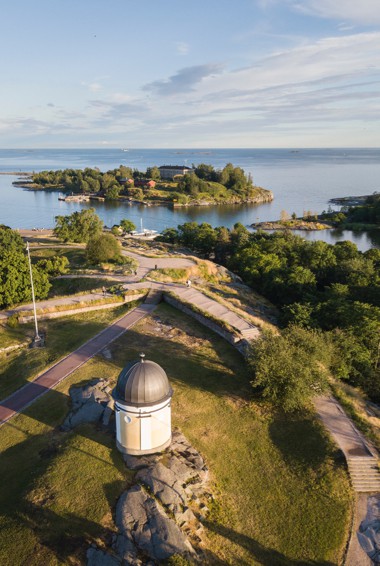 2. Relax at Kaivopuisto Park
During the summer, residents and tourists alike flock to this park to hang out, play sports, picnic, and enjoy the view of the Baltic Sea. During the winter, the largest hill in the park is a favorite spot for tobogganing. If the weather is nice, bring a book and lounge away!
3. See the Helsinki Cathedral
This cathedral was built in the 19th century as a tribute to Czar Nicholas I. Built in the neoclassical style, it's one of the most recognizable sights in the capital's skyline. If you've visited a lot of cathedrals, you likely won't think this is one of the greatest in Europe but I think it's one of the best in Scandinavia.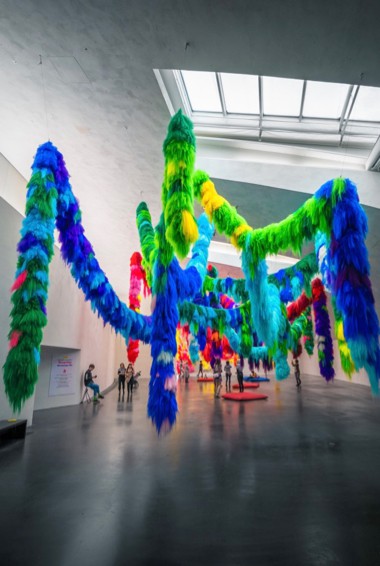 4. Explore the Museum of Contemporary Art (Kiasma)
Opened in 1990, Kiasma is housed in a unique modern building not far from the Post Museum. The collection consists of over 8,000 works. Part of the Finnish National Gallery, Kiasma is Finnish for "chiasma," a term describing the crossing of nerves or tendons. Tickets are 15 EUR for adults and free for anyone under 18. Admission is free on the first Friday of every month.
5. Tour Suomenlinna Fortress
This island fort was constructed by the Swedes in 1748 as a defense against the Russians. When Russia took over Helsinki in 1808, they used it as a garrison. Today, it's a park and residential area. There are a lot of interesting buildings, secluded beaches, and parks here. Guided tours cost 11 EUR.
Other Things to See and Do in Helsinki
1. Visit the Post Museum
This museum is dedicated to the history of Finland's postal service. It sounds absolutely boring but I found it surprisingly interesting and educational. It highlights the history of the mail service in Finland, from ships and sleds in the 1600s to their modern-day delivery service. There are all kinds of artifacts, photographs, and short films about how they made mail delivery work in such a sparsely populated and harsh environment. Admission is 14 EUR.
2. Visit the Finnish Museum of Photography
The photography museum houses a sizeable collection of works by Finnish artists (there are over 2 million photos here). You'll find photos from famous Finnish photographers like Elina Brotherus and Pentti Sammallahti. They also host rotating international exhibitions as well. Tickets are 12 EUR.
3. Shop at the Central Market
Located near the harbor, this market is where you can do lots of souvenir shopping, eat some local food, and buy fresh vegetables (and lots of fresh berries in the summer). It's usually swarming with tourists, but I heard enough Finnish there to know it isn't a complete tourist trap. There's also a covered portion of the market where you can find pastries, fish, meat, and cheese. Eat at the Soup Kitchen if you're hungry (they have an amazing seafood soup).
4. Visit the Sinebrychoff Art Museum
This museum houses a lot of old paintings and portraits from the 14th-19th centuries. It's the only museum in the city that really focuses on old European art. The bottom floor of the museum has a lot of photos and more modern works, while the top floor has the older paintings that you see as you walk through the old Sinebrychoff residence. Portrait of a Lady by Alexander Roslin and Portrait of Mademoiselle Charlotte Eckerman by Adolf Ulrik Wertmüller are noteworthy pieces in the collection. Admission is 16 EUR and entry is free on the first Wednesday of the month from 5-8pm.
5. Relax in Sinebrychoff Park
Right near the Sinebrychoff Museum is a nice little residential park worth hanging out in. Dating to the 18th century, the park was originally a private garden belonging to a Russian businessman before becoming a public park in the 1960s. Today, you'll find lots of coffee shops nearby so you can grab a snack and relax. Bring a book, grab a coffee, and lounge away the day!
6. Visit the Bank of Finland Museum
This museum was one of the coolest museums I've seen in a long time. While it does a good job illuminating the history of money in Finland, what it really does well describes the history of finance and modern finance. You get to see Euro coins from all the European countries and discover what a gold nugget looks like, but you'll also learn how to spot counterfeit money. It offers up detailed background information and great exhibits. It was quite a learning experience! Admission is free.
7. Admire the Uspenski Cathedral
Sitting on a hill overlooking the city, this massive red cathedral is hard to miss. Uspenski is an Eastern Orthodox Cathedral with large domes and gold crosses. Made of red brick, it stands out nicely against the rest of the city. Consecrated in 1868, it's the largest Eastern Orthodox church in Western Europe. The interior is lavishly decorated with typical Eastern Orthodox iconography (though many of the statues and items have been stolen over the years). It's a place of worship, so dress respectfully when you visit. Admission is free.
8. Explore the Helsinki City Museum
Like the National Museum of Finland, the Helsinki City Museum offers an in-depth look at the capital's history. There are plenty of great exhibits and photos with detailed descriptions that bring the history of the city to life. There are also photos by famous Finnish photographers like Signe Brander as well as exhibitions featuring typical Finnish homes from the 1950s and 1970s so you can see what life used to be like here. Admission is free.
9. Relax in Esplanade Park
This park (called "Espa" by the locals) is a popular place to spend a lunch hour if the weather is nice. There are usually a number of street musicians around and there are also a few eateries nearby too. Opened in 1812, you'll find several statues honoring Finnish poets and writers such as Johan Ludvig Runeberg, Zacharias Topelius, and Eino Leino. Come here to relax, picnic, read, or people-watch!
10. Visit the Harbor Islands
There are over 330 islands that make up the Helsinki city archipelago. Suomenlinna is the easiest to reach with regular municipal ferries (you can take a ferry directly from Market Square). Vallisaari and Kuninkaansaari are two other islands worth visiting, as they used to be military bases closed off to the public (during the Viking era, Vallisaari was used as an outpost that would light a fire whenever a Viking raid was coming so people could prepare). The islands have since been reclaimed by nature and turned into parks dotted with abandoned fortifications. You can explore on your own or take a guided tour; there are a ton to choose from, most lasting 1-2 hours and costing around 20 EUR.
11. Have Fun at Linnanmäki
Just north of the city, this amusement park is a fun place to visit if you're traveling with kids (or if you just want to act like a kid yourself!). Opened in 1950, the park is actually owned by a non-profit that donates money to child welfare programs. There are over 40 different attractions here, including 8 roller coasters (one of which is a traditional wooden rollercoaster). A wristband is 42 EUR, which gives you access to all the rides. Entry to the park itself is free, so if you want to just visit and explore you can do that without spending money.
12. Experience a Finnish Sauna
Saunas originated in Finland (sauna is a Finnish word meaning "Finnish bath"). There are some 2 million saunas in Finland — a country with just over 5 million people — so you won't have a hard time finding one. Many hostels, hotels, and even apartments have their own sauna. Löyly Helsinki is the most popular public sauna in the Finnish capital. A two-hour session costs 19 EUR. Just be sure to keep sauna etiquette in mind: bring your swimwear, men and women are separated, towels are acceptable (but people are usually naked), and don't be loud.
13. See the Temppeliaukion Church
Temppelliaukion Church, also called Church of the Rock, is a Lutheran Church built directly into solid rock and partially underground. The Suomalainen brothers won an architectural competition for their design and started construction in the 1960s. The walls are all exposed stone and the roof is a huge dome that lets in natural light. Over half a million people visit the church each year, and the venue is also used regularly for concerts and large events.
14. Wander the Seurasaari Open-Air Museum
Located north of Helsinki on Seurasaari Island, the Seurasaari Open-Air Museum allows you to get up close to numerous traditional Finnish buildings from the early 18th-20th centuries. They aren't replicas either; the buildings were collected from all over the country and brought here. There are houses, cottages, outbuildings, a windmill, and more. Opened in 1909, guided tours are available daily during the summer. Admission is 10 EUR.
15. Visit the Design Museum
Finnish design, like its Scandinavian counterparts, is incredibly popular, known for seamlessly integrating design elements into regular life. The Design Museum allows you to learn about the history of Finnish design and Finnish architecture over the last 150 years. It opened in 1873 and holds over 75,000 objects, 40,000 drawings, and 100,000 photographs. The museum also publishes books and exhibitions catalogs about modern design. It's 12 EUR to get in but it's free on the last Tuesday of every month from 5-8pm.
16. Ride the Skywheel Helsinki
Located a few minutes away from Uspenski Cathedral, Skywheel Helsinki is a Ferris wheel offering panoramic views of the city. Standing 40-meter (131 feet), it's is the best way to see the city from "above" since there aren't really any skyscrapers here. Rides is are 13 EUR and last around 12 minutes. It's also possible to have a sauna experience while riding the Skywheel too (though it's not cheap). Prices for the SkySauna start at 240 EUR per hour for up to 4 people, including two drinks per person.
17. Visit Amos Rex
This art museum opened in August 2018 and it's already one of the most popular in Helsinki. It's named after Amos Anderson, a Finnish patron of the arts. You'll find a rotating series of temporary exhibitions from local and international artists here so check the website to see what events/exhibitions are coming up. I don't love modern art myself, but I'm told this gallery has really cool exhibitions. Admission is 15 EUR.
18. Admire some classical art
Ateneum is one of three museums forming the Finnish National Gallery (with the Museum of Contemporary Art Kiasma and the Sinebrychoff Art Museum). It has the biggest collection of classical art in Finland, with over 4,300 paintings and 750 sculptures. You'll also find pieces by artists such as Van Gogh and Cézanne. If you love classical art as I do, don't miss this museum! Admission is 19 EUR.
Helsinki Travel Costs
Hostel prices – A bed in an 6-8-bed dorm costs 33-42 EUR per night. Private rooms range from 68-76 EUR. Expect prices to be 25-50% higher in the summer. Free Wi-Fi is standard and linens are included (many hostels in Scandinavia charge extra for blankets). Most hostels here also have self-catering facilities.
If you're traveling with a tent, wild camping is legal outside of the city on public land. Just make sure to be respectful and use common sense. There are also plenty of campgrounds nearby, usually charging between 10-25 EUR per night for a basic two-person plot without electricity.
Budget hotel prices – Hotels in Helsinki are quite expensive — especially during the summer. Generally, you can expect to pay 75-115 EUR per night for a budget hotel with free Wi-Fi and basic amenities like TV and a coffee/tea maker. During the summer, prices will be closer to 100-150 EUR per night.
Airbnb is a great budget option in the city, with private rooms starting at 40 EUR (though they average double that). If you're looking for an entire home or apartment, expect to pay at least 70 EUR, though prices usually average over 100 EUR.
Average cost of food – Finnish cuisine leans heavily on fish, meat (specifically pork), and hearty vegetables like potatoes. Reindeer is commonly eaten as well as wild game like deer and moose. Smoked salmon and smoked or pickled herring are also popular dishes. Like their Scandinavian neighbors, Finns also enjoy dark bread and cheeses, usually as part of an open-faced sandwich (these are the go-to breakfast choice).
Overall, the food here is expensive. Your average cheap casual restaurant charges around 13 EUR for a meal while fast food (think McDonald's) is 8 EUR. For a three-course meal with table service, expect to pay at least 40-50 EUR.
Pizza costs around 8-10 EUR for a large pizza while Thai or Chinese food costs 10-15 EUR for a main dish. If you want to splash out, I suggest Ravintola Aino for good Finnish food (try the reindeer). Dishes costs between 50-55 EUR but are incredibly tasty!
Beer costs 7 EUR while a latte/cappuccino is 4 EUR. Bottled water is 1.80 EUR.
If you plan on cooking your own food, groceries cost between 55-65 EUR per week for basic staples like vegetables, bread, pasta, and some fish or meat.
Backpacking Helsinki Suggested Budgets
On a backpacking budget of 65 EUR per day, you can stay in a hostel dorm, cook all your meals, limit your drinking, take public transportation to get around, and do free activities like visiting the free museums, hitting the beach, and relaxing in the parks. If you plan on drinking, add 10-15 EUR to your daily budget.
On a mid-range budget of 135 EUR, you can stay in a private hostel room or Airbnb, eat out for most meals at cheap fast-food places, have a couple of drinks, take the occasional taxi, and do more paid activities like visiting the Post Museum or taking a guided tour of Suomenlinna Fortress.
On a "luxury" budget of 285 EUR or more per day, you can stay in a hotel, eat out at casual restaurants and restaurants with table service, drink as much as you want, rent a car to explore, and do whatever activities you want. This is just the ground floor for luxury though. The sky is the limit!
You can use the chart below to get some idea of how much you need to budget daily, depending on your travel style. Keep in mind these are daily averages – some days you'll spend more, some days you'll spend less (you might spend less every day). We just want to give you a general idea of how to make your budget. Prices are in EUR.
Accommodation
Food
Transportation
Attractions
Average Daily Cost
Backpacker
35
10
10
10
65
Mid-Range
60
35
15
25
135
Helsinki Travel Guide: Money-Saving Tips
Helsinki, like the rest of Northern Europe, is expensive. Fortunately, there are plenty of ways to save money if you know where to look. Here are a few tips to help you keep your budget intact while visiting Helsinki:
Get a Helsinki Card – There's a lot to see in the city and paying 10-15 EUR per attraction adds up. This tourism card grants you free admission to the main sights (as well as access to the hop-on/hop-off bus) for 44 EUR (for a 24-hour pass). You can also get a 48-hour pass for 52 EUR or a 72-hour pass for 59 EUR. It includes discounts on some restaurants as well. For an additional charge, you can add free public transit on your card too.
Avoid taxis – Helsinki is easy to navigate with public transportation and on foot. Skip the taxis here — they add up fast!
Stay with a local for free – Couchsurfing connects you with a local who can host you for free. You may have to sleep on a couch, but you'll get to make a new friend and get tons of insider information about the city.
Skip the drinking – A night out in Finland, especially in Helsinki, can put a deep hole in your pocket. To maintain your budget, avoid drinking alcohol.
Go grocery shopping – Buying basic staples like bread, meat, and cheese for breakfast or for a quick lunch on the go can save you quite a bit of cash. By cooking your own meals you'll save a ton of money, enabling you to eventually splurge on some great local dinners and traditional fare.
Take the free city tours – Green Cap Tours offers daily free walking tours around Helsinki. You get to see the main sights while interacting with an expert guide who can answer all your questions. Just be sure to tip at the end!
Check out free attractions – The Bank of Finland Museum and the Helsinki City Museum are always free. The National Museum of Finland is free on Fridays from 4:15pm-6pm. The Museum of Contemporary Art is free on the first Friday of every month. Don't miss them when you get there without paying, you'll save money!
Bring a reusable water bottle – The tap water here is super clean, so bring a reusable water bottle to save money and lower your plastic usage. LifeStraw makes a bottle with a built-in filter so you can always ensure your water is clean and safe.
Where to Stay in Helsinki
Here are some of my favorite places to stay in Helsinki:
How to Get Around Helsinki
Public transportation – HSL is Helsinki's public transport system, which operates buses, metro and local trains, and a ferry to Suomenlinna. Depending on which zones you are traveling across, tickets can cost 2.80 EUR-5.20 EUR. A 24-hour transit pass is 15 EUR for all zones. Free city transportation can be included with the Helsinki Card.
Helsinki also has one of the oldest tram networks in the world (it's been around since 1891). The trams work on the same ticketing system as the metro and bus.
Bicycle – Helsinki is a small so it's easy to get around by bicycle. Bike rentals start at 19 EUR per day.
Taxi – Taxis start at a whopping 5.90 EUR and go up 1 EUR per kilometer. Avoid them if you're on a budget!
Ridesharing – Uber is available in Helsinki (it's the only city in the country Uber operates in). It's slightly cheaper than standard taxis but should also be avoided as it's definitely not cheap!
Car rental – Cars can be rented for as little as 25 EUR per day for a multi-day rental. Drivers must be at least 20 and have an International Driving Permit (IDP). Unless you're planning on leaving the city to explore, you won't need to rent a vehicle.
When to Go to Helsinki
Spring is a nice time to visit Helsinki, especially in May and June. The weather sits comfortably around 65°F (18°C) and there are many events like the Vappu Festival on May 1st (which marks the end of winter) and the Finnish Carnival in early June. Moreover, not many tourists visit in spring so things are more relaxed.
Summer is the most popular time to visit — and the best time as well. Temperatures hover between 66-71°F (19-21°C) and green spaces (and beaches) are busy but not crowded. Prices are slightly higher, however, there are lots of events happening and the city is at its busiest. That said, "busy" in Helsinki is a far cry from "busy" in cities like Paris, London, or Barcelona so it won't be crowded
Autumn offers changing leaves and weather that's not too cold. Daily highs average 43-48°F (6-8°C). The days are still long enough to enjoy everything, though you may need a rain jacket or a sweater if it gets cool.
Winter is a nice time to visit if you're into winter sports. Otherwise, it's very cold and dark so I'd avoid visiting unless you're going to get out of the city to ski and enjoy the snow.
How to Stay Safe in Helsinki
Helsinki is a safe city. In fact, Finland is considered one of the safest countries in the world. Of course, pickpocketing can still happen so keep an eye on your belongings while at bus stations and on crowded public transportation.
Additionally, be careful at ATM machines since credit card skimming is not uncommon.
Solo female travelers should feel safe here — even when out at night and while riding in taxis alone. Just avoid walking home alone at night if intoxicated and always keep an eye on your drink when at the bar.
If you rent a car, don't leave any valuables in it at night. Break-ins are incredibly rare but it's always better to be safe than sorry.
If you experience an emergency, dial 112 for assistance.
Worried about travel scams? Read about these 14 Major Travel Scams to Avoid and be in the know! There aren't many in the region, but the few there are can be quite expensive!
Always trust your gut instinct. Make copies of your personal documents, including your passport and ID. Forward your itinerary along to loved ones so they'll know where you are.
Remember: if you wouldn't do it at home, don't do it in Helsinki!
The most important piece of advice I can offer is to purchase good travel insurance. Travel insurance will protect you against illness, injury, theft, and cancellations. It's comprehensive protection in case anything goes wrong. I never go on a trip without it as I've had to use it many times in the past. You can use the widget below to find the policy right for you:
Helsinki Travel Guide: The Best Booking Resources
These are my favorite companies to use when I travel. They consistently have the best deals, offer world-class customer service and great value, and overall, are better than their competitors. They are the companies I use the most and are always the starting point in my search for travel deals.
Skyscanner – Skyscanner is my favorite flight search engine. They search small websites and budget airlines that larger search sites tend to miss. They are hands down the number one place to start.
Hostelworld – This is the best hostel accommodation site out there with the largest inventory, best search interface, and widest availability.
Booking.com – The best all around booking site that constantly provides the cheapest and lowest rates. They have the widest selection of budget accommodation. In all my tests, they've always had the cheapest rates out of all the booking websites.
HostelPass – This new card gives you up to 20% off hostels throughout Europe. It's a great way to save money. They're constantly adding new hostels too. I've always wanted something like this and glad it finallt exists.
Intrepid Travel – If you want to do group tours, go with Intrepid. They offer good small group tours that use local operators and leave a small environmental footprint. And, as a reader of this site, you'll get exclusive discounts with them too!
Get Your Guide – Get Your Guide is a huge online marketplace for tours and excursions. They have tons of tour options available in cities all around the world, including everything from cooking classes, walking tours, street art lessons, and more!
Eurail – If you are going to Europe and taking a lot of high speed or long distance trains, get a rail pass. I've used a rail pass three times and saved hundreds of dollars each time. The math just works.
The Man in Seat 61 – This website is the ultimate guide to train travel anywhere in the world. They have the most comprehensive information on routes, times, prices, and train conditions. If you are planning a long train journey or some epic train trip, consult this site.
Rome2Rio – This website allows you to see how to get from point A to point B the best and cheapest way possible. It will give you all the bus, train, plane, or boat routes that can get you there as well as how much they cost.
FlixBus – Flixbus has routes between 20 European countries with prices starting as low 5 EUR! Their buses include WiFi, electrical outlets, a free checked bag.
SafetyWing – Safety Wing offers convenient and affordable plans tailored to digital nomads and long-term travelers. They have cheap monthly plans, great customer service, and an easy-to-use claims process that makes it perfect for those on the road.
Helsinki Gear and Packing Guide
If you're heading on the road and need some gear suggestions, here are my tips for the best travel backpack and for what to pack!
The Best Backpack for Travelers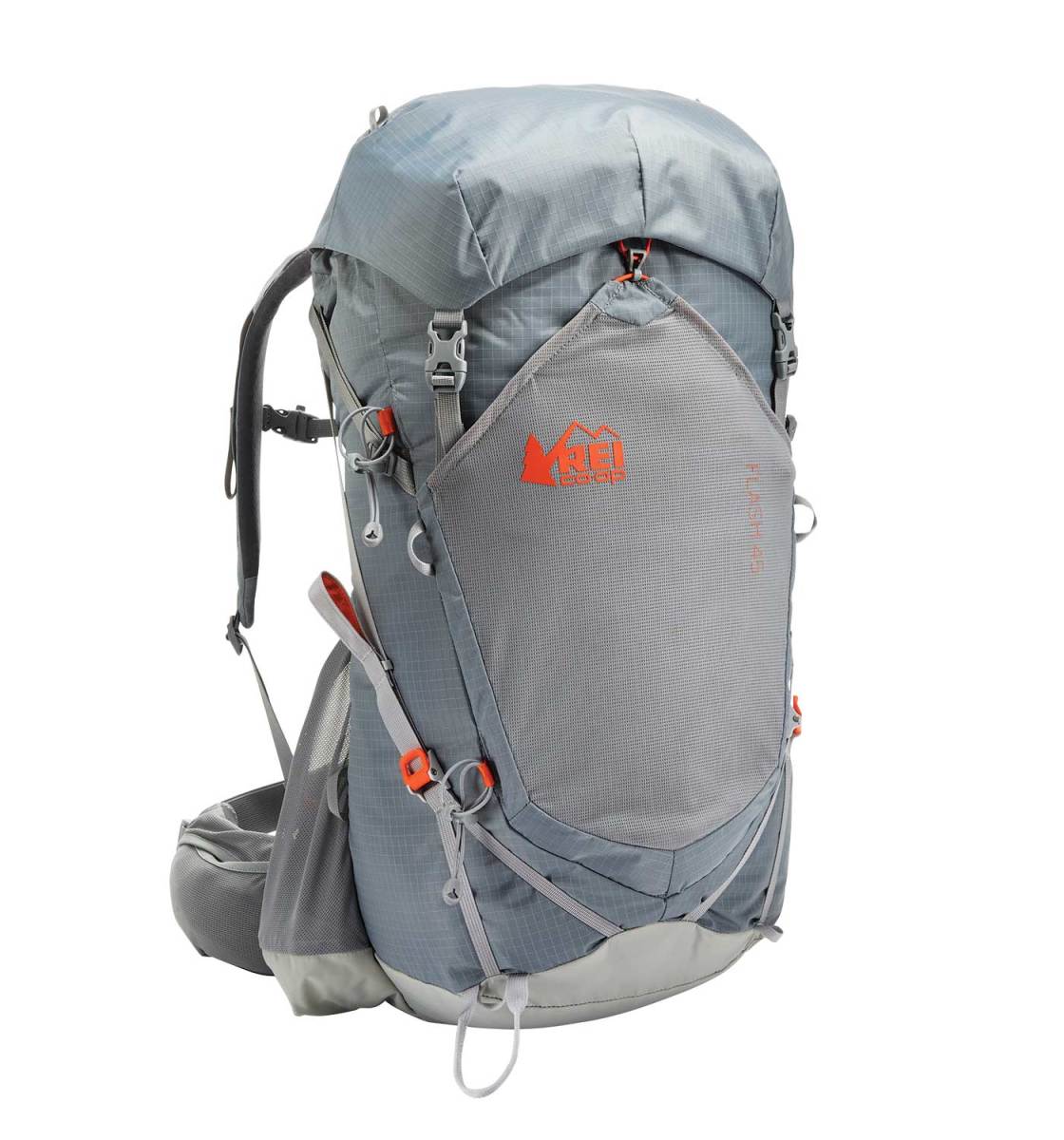 What's the best backpack for traveling long-term? I recommend the
REI Flash 45 Pack
. It's light and comfy, top loading, and fits perfectly in an airplane's overhead bin.
Size:
45-47L
Straps:
Thick and cushy with compression technology that pulls the pack's load up and inwards so it doesn't feel as heavy.
Features:
Removable top lid, pocket at the front, hydration compatible, contoured hip belt
If you want something different, refer to my article on how to choose the best travel backpack for tips on picking a pack and other backpack suggestions.
What to Pack for Your Trip
Clothes
1 pair of jeans (heavy and not easily dried, but I like them; a good alternative is khaki pants)
1 pair of shorts
1 bathing suit
5 T-shirts (Unbound Merino is my preferred company. If you're a member of NM+, you can get 15% off your purchase)
1 long-sleeved T-shirt
1 pair of flip-flops
1 pair of sneakers
6 pairs of socks (I always end up losing half)
5 pairs of boxer shorts (I'm not a briefs guy!)
1 toothbrush
1 tube of toothpaste
1 razor
1 package of dental floss
1 small bottle of shampoo
1 small bottle of shower gel
1 towel
Deodorant
Small Medical Kit (safety is important!!!)
Miscellaneous
Female Travel Packing List
I'm not a woman, so I don't know what a woman wears, but Kristin Addis, our solo female travel guru, wrote this list as an addition to the basics above:
Clothing
1 swimsuit
1 sarong
1 pair of stretchy jeans (they wash and dry easily)
1 pair of leggings (if it's cold, they can go under your jeans, otherwise with a dress or shirt)
2-3 long-sleeve tops
2-3 T-shirts
3-4 spaghetti tops
1 light cardigan
Toiletries
1 dry shampoo spray & talc powder (keeps long hair grease-free in between washes)
1 hairbrush
Makeup you use
Hair bands & hair clips
Feminine hygiene products (you can opt to buy there too, but I prefer not to count on it, and most people have their preferred products)
For more on packing, check out these posts:
Helsinki Travel Guide: Related Articles
Want more info? Check out all the articles I've written on Finland travel and continue planning your trip: