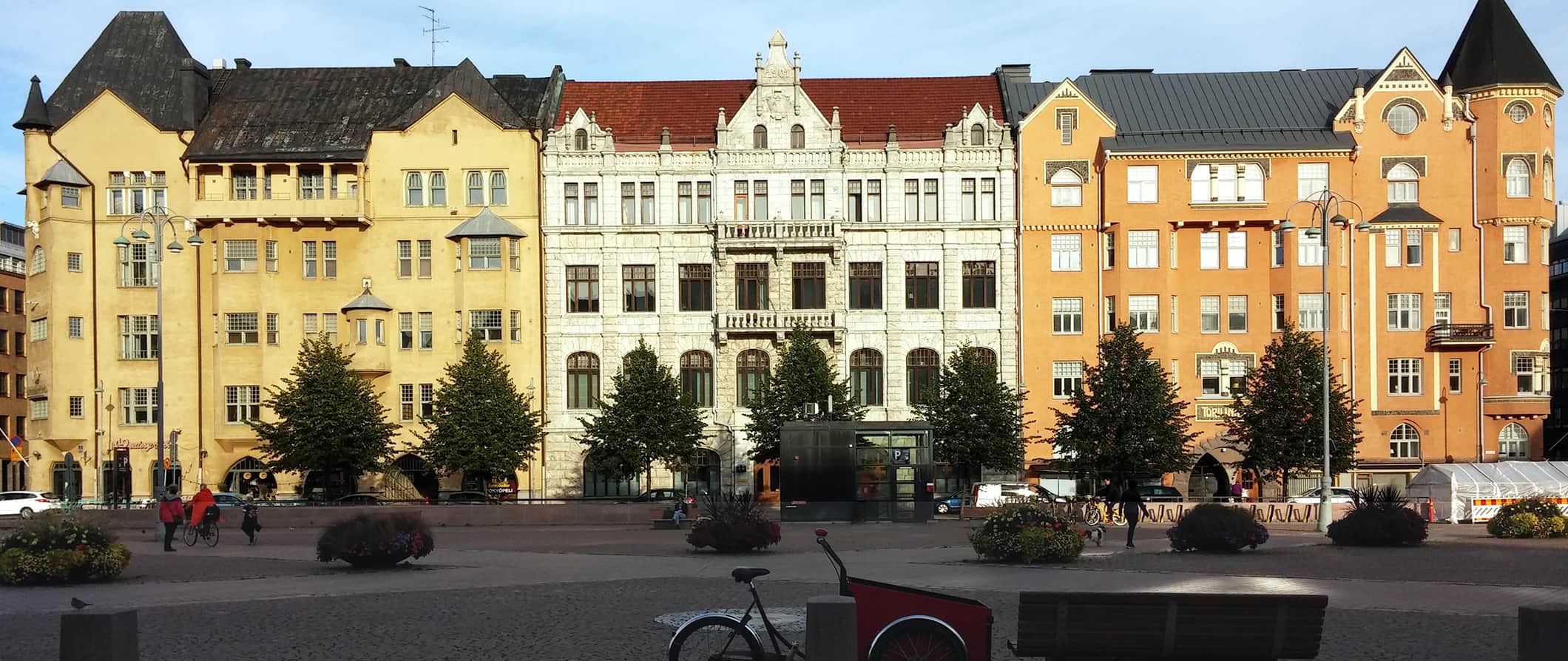 Helsinki is a bit off the normal "Scandinavian tourist trail." Most people make it to Copenhagen or Stockholm and seem to skip over this beautiful city. Compared to its neighbors, Helsinki never seems to get the love it deserves. However, it should — it's awesome. Historic, small, filled with green space, and set on the waterfront, Helsinki is an aesthetically pleasing city filled with friendly people and few tourists. It's especially great if you love art and music as they have a ton of museums and a vibrant music scene here! I really enjoyed Helsinki. It's hip (and it knows it and embraces it). Let this travel guide help you plan the perfect budget trip there!
Top 5 Things to See and Do in Helsinki
1. National Museum of Finland
I was really impressed with this museum. It has a large collection of artifacts, does a good job of providing lots of detail, moves the story along chronologically, and everything has a decent description so you know what you are looking at. I highly recommend this museum. It's fantastic.
2. Kaivopuisto Park
During the summer, residents and tourists alike flock to this park to hang out, play sports, have a picnic, and take in the amazing view of the harbor. During the winter, the largest hill in the park is a favored slope for tobogganing.
3. Helsinki Cathedral
Right next to the bank museum is Helsinki's giant cathedral. It towers over the surrounding square and inspired a few "wows." You won't walk away thinking this is one of the greatest cathedrals in Europe, but I did walk away thinking it was one of the best in Scandinavia.
4. Finnish Museum of Photography
The photography museum is located on the far western edge of town, a bit removed from the center. It's worth the walk, though, as it houses a strong collection that focuses mostly on Finnish artists. Tickets are 8 EUR, with discounts available, and entry is free on the last Wednesday of the month from 5-8pm.
5. Visit the Island of Suomenlinna
You can spend half a day walking around this old bastion fort. It was first constructed by the Swedes in 1748 as a defense against the Russians. And when the Russians took over Helsinki in 1808, they used it as a garrison. It's now a park and residential area. There are a lot of interesting buildings here, a lovely walking tour, and some out-of-the-way beaches and parks.
Other Things to See and Do
(Click the title to expand the text)
1. Post Museum
This museum showcases the history of the postal service in Finland. It may sound like a truly boring museum, but I thought it was actually interesting to see the evolution of mail service from sleds and ships to modern postal service. There's a lot of detail here about how it evolved through Swedish rule, then Russian, and then Finnish. Admission is 10 EUR for adults and 4 EUR for kids.
2. Museum of Contemporary Art
I can't say I like contemporary art. I have never understood how sticking a shovel in cement or splashing paint on canvas is "art." Give me the classic Impressionists or Dutch masters, and I'm a happy guy. But contemporary art? No thanks. That said, this museum is right up the street from the Post Museum and from what I've been told, it has a great contemporary art collection if you're into that kind of thing. Tickets are 12 EUR for adults, and anyone under 18 enters for free. Best of all, the museum is free on the first Friday of every month!
3. Central Market
Right down by the harbor is a market where you can do lots of souvenir shopping, eat some local food, and buy fresh vegetables (and lots of fresh berries in the summer). This place is usually swarming with tourists, but I heard enough Finnish there to know it isn't a complete tourist trap. There's also a covered portion of the market where you can find pastries, fish, meat, and cheese. Eat at the Soup Kitchen if you're hungry (have the seafood soup).
4. Sinebrychoff Art Museum
This museum houses a lot of old paintings and portraits. It's the only museum in the city that really focuses on old European art. The bottom floor of the museum has a lot of photos and more modern works, while the top floor has the older paintings that you see as you walk through the old Sinebrychoff residence. Adult admission is 12 EUR, and entry is free on the first Wednesday of the month from 5-8pm.
5. Punavuori Park
Right near the Sinebrychoff museum is a nice little residential park worth hanging out in. There are a lot of little coffee shops around, so you can grab a snack and just relax. After a day of walking around much of Helsinki, you'll probably need it.
6. Bank of Finland Museum
This museum was one of the coolest museums I've seen in a long time. While it does a good job describing the history of money in Finland, what it really does is well is describe the history of finance and modern finance. It offers up detailed background information and great exhibits. It was quite a learning experience! Best of all, admission is free.
7. Uspenski Church
This large red church is hard to miss, as it sits on a hill overlooking the city. This Eastern Orthodox Church is massive and very impressive with its large domes and gold crosses. The interior is lavishly decorated, too, with typical Eastern Orthodox iconography.
8. Helsinki City Museum
Like the Finland history museum, the Helsinki version is an excellent museum. There are plenty of descriptions, and great exhibits and photos. It's the third-best city museum I've come across in Europe after the Amsterdam and Barcelona museums. Admission is free, so you definitely shouldn't miss it!
9. Esplanade Park
Heading from Central Market down Pohjoisesplanadi Street, this park seemed like a popular place to spend a lunch hour (though in winter, it might not be so great). This long park is a good place to relax; there are a number of street musicians around and a few eateries nearby.
10. Visit the Harbor Islands
If you don't spend a whole day hanging out and lounging around Suomenlinna, take a tour around some of the other islands in the harbor to get an idea about how important the harbor was to local lifestyle in the past. There are a ton of tours to choose from, most lasting 1-2 hours and costing around 20 EUR. If you have a Helsinki card, most are 20% off.
11. Have fun at Linnanmäki
Just north of the city, this amusement park is a great place to visit if you're traveling with kids (or if you just want to act like a kid yourself!). A day pass is 38 EUR, which gives you access to all the rides, including their famous wooden roller coaster. Entry to the park itself is actually free, so if you want to just visit and explore you can do that, too!
Typical Costs
Hostels
– You can find a decent bed in a hostel dorm room for between 25-35 EUR per night, with private rooms ranging from 55-85 EUR per night. Free WiFi is standard, and linens are included (many hostels in Scandinavia charge extra for blankets). For those looking to cook their own meals, about half of the hostels in the city have kitchens. If you're traveling with a tent, wild camping is legal outside of the city on public land. Just make sure to be respectful and use common sense. There are also plenty of campgrounds outside of the city, usually charging between 10-25 EUR per night for a spot. My suggested place is:
Budget hotels – Hotels in Helsinki are quite expensive, especially during the busy summer season. From October through April prices are usually a bit cheaper, and some hotels become real bargains. Generally, you can expect to pay about 70-125 EUR per night for a budget hotel with free WiFi and all the standard amenities. During the summer, prices will be closer to 90-200 EUR per night. Airbnb is a great budget option in the city, with shared accommodation starting as low as 25 EUR per night. If you're looking for an entire home or apartment, expect to pay closer to 50 EUR (though prices usually average closer to 100 EUR).
Food – Food is expensive here. I never found anything cheaper than 5 EUR, and that was for a tiny lunch special. Many restaurants offer a lunchtime buffet costing between 8-12 EUR. Fast food will be around 7 EUR. Stockmann supermarket has a wide variety of pre-made cheap meals for around 5-6 EUR. Inexpensive restaurants will offer meals for 9-14 EUR. If you want to go expensive, I suggest Aino for good Finnish food (try the reindeer). Dishes are between 50-55 EUR. In terms of alcohol, beer (domestic or imported) will cost you between 6-8 EUR when eating out. A bottle of water will cost between 1.50-2 EUR. If you plan on cooking your own food, groceries will cost between 90-150 EUR per week.
Transportation – HSL is Helsinki's public transport system, which operates buses, both metro and local trains, trams, and a ferry to Suomenlinna. A single ticket will cost 2.90 EUR in advance or 3.20 EUR on the bus/tram. A 24-hour transit pass is 9 EUR. As for taxis, prices start at 5.90 EUR and go up 1.55 EUR per kilometer. Bicycles are available to rent, starting around 15 EUR per day or 65-70 EUR per week (you can also rent them per hour). For intercity travel, buses are the cheapest option. A bus from Helsinki to Tampere, for example, will cost around 5 EUR while the train there will be closer to 25 EUR. A train to neighboring Russia will cost around 45 EUR, while the ferry to Stockholm will cost between 50-150 EUR per person.
Suggested daily budget
60-70 EUR (65-75 USD) (Note: This is a suggested budget assuming you're staying in a hostel, eating out a little, cooking most of your meals, doing lots of free activities, keeping your drinking to a minimum, and using local transportation. Using the budget tips below, you can always lower this number. However, if you stay in fancier accommodation or eat out more often, expect this to be higher!)
Money Saving Tips
Avoid taxis – With the Helsinki card, local transportation is free. Out of pocket, local transit costs between 2.90-5 EUR, however, the inner city is small enough where you can easily walk or bike around. In short, you have plenty of cheap options for getting around, so avoid taxis when you can!
Couchsurf – Couchsurfing is a cost-efficient alternative and really popular in a city with such expensive hostels. It's a great way to get some local insight about the city while saving some money on accommodation. While there are a ton of hosts available, be sure to send your requests in advance during the summer just to be safe!
Skip the drinking – A night out in Finland, especially in Helsinki, will put a deep hole in your pocket. To maintain a reasonable budget, avoiding drinking and stick to water.
Go grocery shopping – Buying basic staples like bread, meat, and cheese for breakfast or for a quick lunch on the go can save you quite a bit of cash. By cooking your own meals you'll save a ton of money, enabling you to eventually splurge on some great local dinners and traditional fare.
Take the free city tours – One of the great things about Europe is that you can find free walking tours in all the major cities. Helsinki has a few options, like Freetours.com, that touch on the historic, cultural, and architectural elements of the city. Just be sure to tip!
Take the free city tours – One of the great things about Europe is that you can find free walking tours in all the major cities. They can be a great way to see the city attractions, get history, and learn your bearings without spending any money. Freetours.com offers one in Helsinki, or you can ask the front desk of your hostel or hotel for ones that they recommend.
Get a Helsinki Card – If you're looking to save money, I recommend getting a Helsinki card. There's a lot to see in the city and paying 10-12 Euros per museum will add up. You can buy the card for 43, 53 or 63 EUR (for either 24, 48, or 72 hour periods). If you buy a one day card and visit 4-5 attractions, you have already got your money's worth. There are discounts on some buffets and free city transportation is also included.
My Must Have Guides For Traveling to Helsinki