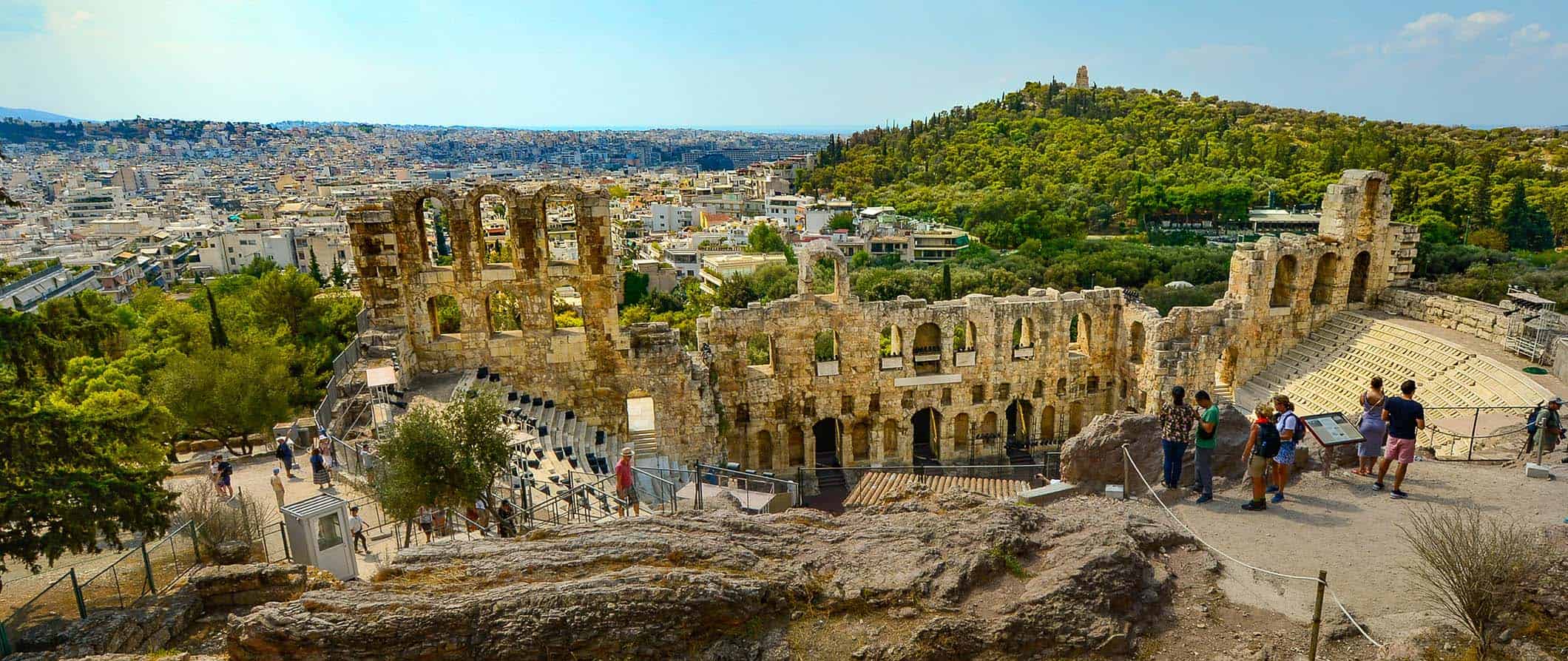 Athens, Greece has some of the largest collection of Greek ruins and artifacts and is the primary destination for people visiting the country. This city has a lot of history here. However, outside the ruins and the beautiful Plaka, I tend to find Athens is a city filled with graffiti and trash. I love the history, I love the chaos, I love the Greeks, I just don't love the city. Even the folks I know from Athens try to get away. Yet, a city that's thousands of years old is going to have a lot to do and this travel guide can help you plan your trip around the city. I enjoy walking through the ruins but I wouldn't spend more than three days here.
Top 5 Things to See and Do in Athens
1. The Acropolis
This the name to the area around the Parthenon. Besides having the Parthenon at its peak, there are other temples around and many theaters and ruins along the side. I love wandering around the area learning about the history.
2. Visit the historic Parthenon
Made entirely of marble, this was the main the temple to Athena. Unfortunately, it seems to always be under construction so you won't get a good photo. It's also surrounded by other temples and gives you a great panoramic view of the city. Avoid the mornings when tours swarm the site. Admission is 12 EUR.
3. Go to The National Archaeological Museum
This museum has one of the best collections of ancient Greek sculpture, jewelry, pottery, and a 2000-year-old computer found in a shipwreck off the island of Antikythera will have you wondering just how advanced those ancient Greeks were. Admission is 5 EUR and it's open 9am-4pm Tuesday-Sunday and 1pm-8pm on Mondays.
4. Hike to the top of Lycabettus
If you want some exercise and a great view of the city (especially in the evening), hike up to the peak of this 277-meter hill. The path starts at the end of Aristippou Street. There's a (pricey) cafe at the top if you need a drink afterward. You can also pay 7 EUR to take the funicular up (or down).
5. Explore The Agora
Whether it is the Roman or Greek Agora (there are two), the area around the Acropolis is littered with the ancient ruins of old Athens. My favorite is the old library. This is the equivalent of the forum in Rome. There are tons and tons of ruins around here and you'll need a long time to explore.
Other Things to See and Do
(Click the title to expand the text)
1. Relax in Kifissias Park
This park is a great way to spend the day. Bring your own wine and local bread, cheese, meat, and enjoy some good people watching.
2. Agora-Athens Central Market
Come early to watch the produce and fish being unloaded or visit between 7am and 1 pm with the majority of the Athenian shoppers. A walk through the market will make you wish you weren't traveling and had a kitchen so you could cook some of this amazing food.
3. Cape Sounion and the Temple of Poseidon
This makes for a great afternoon trip from Athens. It's a great spot to see the sunset and the temple's very well preserved. Unlike the temples in Athens, it is not under restoration and not nearly as crowded. The bus there costs about 13 EUR and takes about an hour and a half.
4. Visit the Kanellopoulos Museum
On the northern slope of the Acropolis, resides this mansion, built in 1884. There is an impressive collection of jewelry, weapons, clay-and-stone vases, various figurines, and more items that once belonged the Kanellopoulos family. It was recently refurbished and expanded in 2008. Admission is 2 EUR and it's open daily from 8am-3pm except on Mondays (also, there are reduced hours in the winter).
5. See the Tower of the Winds
Originally built by Andronicus in the 1st century BC, it once functioned as a sundial, a weather vane, a compass, and a water clock. It is a very neat piece of history.
6. Witness the Easter Vigil
If you happen to be in Athens during Easter weekend, you won't be able to miss the stunning vigil procession. Every year, hundreds of people make their way down the hill—all bearing lit candles. It's a really beautiful sight and a great photo opportunity.
7. Hike in Parnitha National Park
The landscape of Greece is really breathtaking—particularly throughout Athens and the surrounding area. Within this national park, there are several caves, gorges, and springs to see. There are a number of well-marked paths so a guide isn't really necessary.
8. Stroll through Anafiotika
This is a 19th-century neighborhood on the northern side of the acropolis hill. It lies above Plaka, near the entrance to the Agora, but has none of the hustle and bustle of the city center. Take a walk, enjoy the flowers and the whitewashed walls.
9. Temple of Olympian Zeus
This temple is massive and took over 700 years to construct (dating back to the sixth century). There are a number of Corinthian columns still standing, though many have fallen. It's quite an impressive sight. Admission is 2 EUR (it's free if you already have admission to the Acropolis).
Typical Costs
Hostel prices
– You can find dorms for as low as 10 EUR a night and private rooms that sleep two for about 25 EUR per night. Hostels usually have free WiFi. Amenities like free linens and free breakfast depend on the hostel. My suggested places are:
Budget hotel prices – You can find some good deals here on budget hotels. A room in a 3-star hotel that sleeps two can be found for as low as 25 EUR. Hotels at this price point offer private bathrooms, free WiFi, some have mini-fridges and balconies, and lots offer breakfast. On Airbnb, shared rooms start at 10 EUR and entire homes (including studio apartments) can be rented for 23 EUR.
Average cost of food – Cheap street food (gyros, pizzas, etc) will cost around 4 EUR and even a meal for two people with a bottle of wine will only cost about 36 EUR even in the touristy Plaka. Meals are cafes will cost around 12 EUR. If you cook your meals, expect to pay 45 EUR per week for groceries that will include pasta, vegetables, chicken, and other basic foods.
Transportation costs – Athens has a good public transportation system with buses, subways, and trams that will get you to where you need to go. You can pay for a single ticket, which costs 1.40 EUR or you could pay for a multi-day tourist ticket, which costs 22 EUR. The tourist ticket will get you an airport round-trip, is good on all public transportation, and it's good for 3 days. (A trip to the airport on the express bus costs 6 EUR – 3 EUR for students, kids, and seniors – and a trip there via metro costs 10 EUR.) You also have the option for a 24-hour ticket which gives unlimited travel for 4.50 EUR.
Suggested daily budget
35-40 EUR / 36-42 USD (Note: This is a suggested budget assuming you're staying in a hostel, eating out a little, cooking most of your meals, and using local transportation. Using the budget tips below, you can always lower this number. However, if you stay in fancier accommodation or eat out more often, expect this to be higher!)
Money Saving Tips
Eat gyros – You can cut down your food budget by eating delicious and filling Gyros for only 4 EUR. It's the best way to eat cheap in an already cheap country.
Stay in Omonia – Not the nicest neighborhood in town, this area north of the central Plaka has really cheap accommodation.
Visit in the off-season – June and July are the busiest and most expensive months, so if you can arrange for a visit before June which would really cut down your accommodation and flight costs by up to half.
Take a free walking tour – To get a feel for the city and learn some history, be sure to take a free walking tour with Athens Free Walking Tour. Exploring a city on foot is the best way to understand it, and if you love architecture and history then this is a must!
Visit the sites for free – From Nov 1st – Mar 31st, all major sites in the city are free on Sundays. Though the crowds tend to be a lot bigger this day, it's a great way to see all the major sites and save yourself the 25 EUR entrance fee!
Stay at a Hola Hostel – Hola Hostels is a network of hostels predominantly in South and Central America, though they now have locations in Europe. They offer 10% off to their members, as well as other discounts for food and activities. Joining the network is free, and their hostels are also committed to environmentally sustainable practices.
Rideshare – Uber is way cheaper than taxis and are the best way to get around a city if you don't want to wait for a bus or pay for a taxi. The Uber Pool option is where can you share a ride to get even better savings (though you can get your own car too). You can save $15 off your first Uber ride with this code: jlx6v.
Couchsurf – If you plan ahead, you can usually find really nice Couchsurfing hosts all throughout the country. This way, you not only have a place to stay, but you'll have a local host that can tell you the best places to go and things to see.
My Must Have Guides For Traveling to Athens