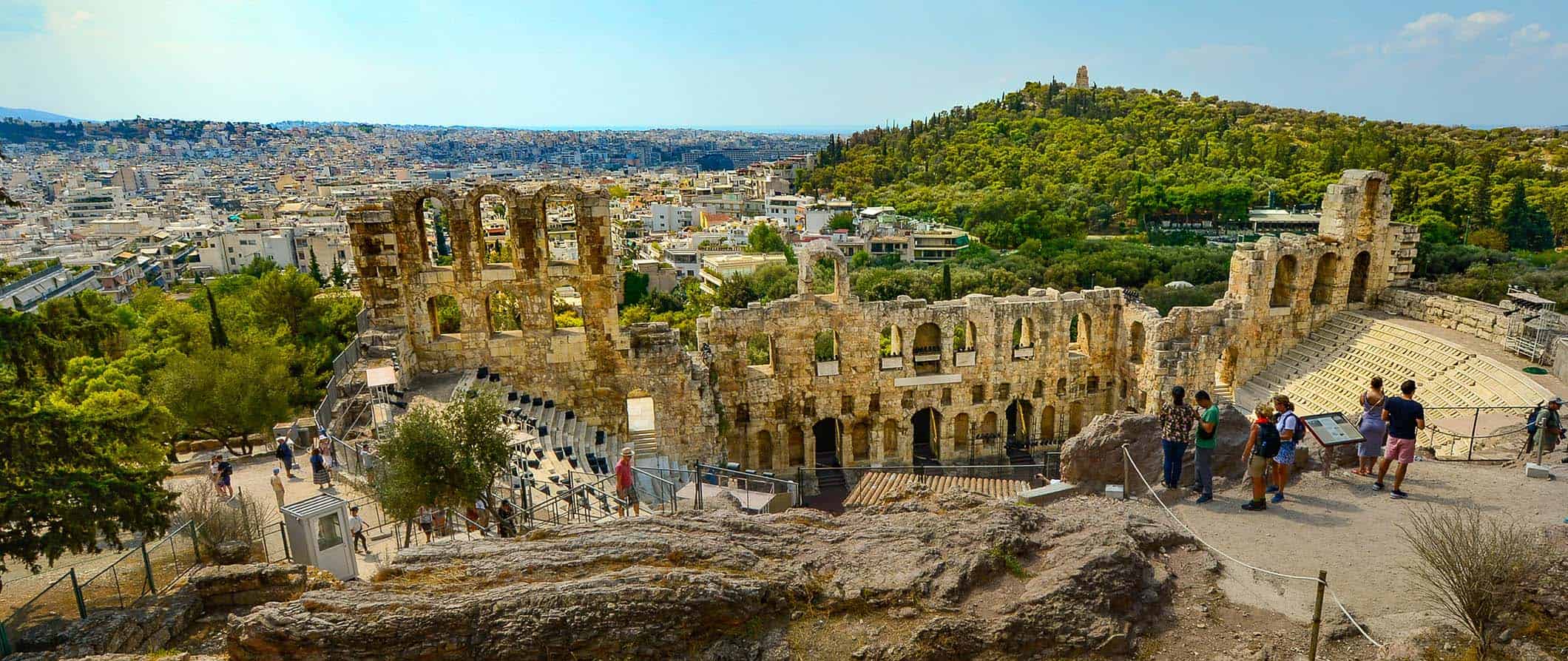 Athens. This gigantic city sprawls out over 1,131 square miles (2,929 square kilometers) and is home to over 664,000 people. It's been a city since its founding in 508 BC.
And it's one of the most visited places in Greece! It makes for the perfect start/end of a trip (mostly because you have to fly out of the city if you want to go anywhere international).
This is a city steeped in history and has some of the largest collection of Greek ruins and artifacts in the world.
However, outside the ruins and the beautiful Plaka, I tend to find Athens is a city filled with graffiti and trash. I love the history, I love the chaos, I love the Greeks, I just don't love the city. Even the folks I know from Athens try to get away.
Given the amount of history and sights there are here, I'd plan to spend about three days here. You'll need it to see everything here!
This travel guide to Athens will give you the low down on everything you need to know to plan your visit!

Athens
Top 5 Things to See and Do in Athens
1. Visit the Acropolis
The Acropolis is an ancient citadel overlooking Athens, It includes the Propylaea, the temple to Athena, and the famous Parthenon. Although often crowded, it's one of the best places to wander. There's a lot of good signage too. Come real early or late to avoid the crowds. Admission is €20 ($22 USD).
2. Visit the Acropolis Museum
This museum only opened in 2009. There's a glass floor where you can walk over the ruins of an ancient neighbourhood as well as enormous sculptures, friezes, vessels, and other artifacts. The museum's restaurant has one of the best views of the Parthenon in the city. It's €10 ($11 USD) to visit.
3. Visit The National Archaeological Museum
This museum has one of the most extensive collections of ancient Greek sculpture, jewelry, and pottery in the world. You can even see the 2,000-year-old "computer" found in a shipwreck off the island of Antikythera. Plan to spend at least a half day here. Admission is €5 ($5.50 USD).
4. Hike to the top of Lycabettus
If you want some exercise and a great view of the city (especially in the evening), hike up to the peak of this 277 meter hill. The path starts at the end of Aristippou Street. There's a (pricey) cafe at the top if you need a drink. You can also pay €7.50 ($8.25 USD) for a return trip on the funicular.
5. Explore the Greek Agora
The area around the Acropolis is littered with the ancient ruins of old Athens, including the Greek Agora, the marketplace and societal hub from the 6th century BC. Be sure to visit the Temple of Hephaistos and the Museum of the Ancient Agora. Admission to the site and the museum is €8 ($8.80 USD).
Other Things to See and Do in Athens
1. Visit the Agora-Athens Central Market
Come early to watch the produce and fish being unloaded. There are a ton of Greek specialties, like olives, halloumi, and feta for sale here! It's one of my favorite places to wander and nibble. It's open every day of the week except Sunday, from early morning until late afternoon (and it gets very crowded around lunch time).
2. Go to Cape Sounion and the Temple of Poseidon
The Temple of Poseidon is remarkably preserved, and it's never as busy as other temples in Athens. Constructed in 444 BC, the temple sits on a rocky outcrop and served as a welcomed sight for sailors returning from sea. The sunset from here is incredible, and there are several beaches nearby in Legrena or Lavrio. The bus costs about €13 ($14 USD) to get there for a 90-minute journey, and access to the archaeological site is €8 ($8.80 USD).
3. Visit the Kanellopoulos Museum
This former mansion dates back to 1884. Now, it's home to a collection of jewelry, weapons, clay-and-stone vases, Byzantine art, various figurines, and furniture that once belonged to the wealthy Kanellopoulos family. Some pieces in this private collection date back to 3,000 BC. Although there isn't much English signage, you'll rarely have to compete for views with other visitors. Admission is €2 ($2.20 USD).
4. See the Tower of the Winds
Originally built by Andronicus in the first century BC, this tower once functioned as a sundial, weather vane, compass, and water clock. Basically, it's the first weather station in history! The real mystery is who funded it — the entire tower is made of Pentelic marble, which is the same used for the Parthenon and was rarely used for anything other than temples. So it's a bit of a mystery to historians! It's €6 ($6.60 USD) to visit.
5. Witness the Easter Vigil
If you happen to be in Athens during Easter weekend, don't miss the enchanting vigil procession. Every Good Friday around 9PM, thousands upon thousands of people form a procession throughout the city, all holding lit candles. Head to Lycabettus Hill and join the crowds ascending to the St. George church. Even if you're not religious, it's a cultural experience worth seeing.
6. Hike in Parnitha National Park
Here you'll find several caves, gorges, and springs to explore. There are about 75 well-marked paths, so a guide isn't really necessary. For an easy hike, the trek to Bafi Refuge from the church of Ayia Triada only takes 40 minutes. For something more challenging, try the 12-mile (20-kilometer) trek from Avlona to Agia Marina.
7. Stroll through Anafiotika
Anafiotika is a 19th-century neighborhood built into the northern side of the Acropolis hill. It lies above Plaka, near the entrance to the Agora, but has none of the hustle and bustle of the city center. This place embodies the feel of the Greek islands — its whitewashed walls, shuttered windows, and tiny sidewalk cafes feel far removed from Athens! It's one of my favorite parts of the city.
8. Visit the Temple of Olympian Zeus
Dating from the sixth century BC, the Temple of Olympian Zeus was once the largest in Greece, and it took over 700 years to build. Peisistratos started its construction, and then abandoned after funds ran dry. Hadrian finished the job in AD 131, and then built an enormous statue of Zeus (and then an enormous statue of himself). There are several Corinthian columns still standing, although many have fallen. Admission is €2 (it's free if you already have admission to the Acropolis). Admission is €6 ($6.60 USD).
9. Take a food tour
Athens is one big gastronomic adventure. Athens Walking Tours has several different options, including street food tours and cooking classes. You'll try filo-layered bougatsa, fried donut balls (loukoumades), grilled meats, fresh feta, Greek olives, and some tasty local wines. Tours start from €39 ($43 USD), and you'll get a lot of food for that price!
10. Take an in-depth walking tour
On a walking tour around Athens, you'll get your bearings, learn some fascinating info about the city's ancient history, and get the insider scoop on what to see and do during your visit. For free walking tours, check out Athens Free Walking Tour (and don't forget to tip). If you're looking for more in-depth and specific tours, Take Walks is the way to go. You'll get lots of behind-the-scenes action, including at the Acropolis and the Acropolis Museum.
For more information on specific destinations in Greece, check out these guides:
Athens Travel Costs
Hostel prices – A bed will cost about €24 ($27 USD) per night for a room with four-six beds. A dorm with eight beds or more costs from €18 ($20 USD) per night.
A basic twin private room with an ensuite bathroom costs about €60 ($65 USD) per night for one person. A standard double private room with an ensuite bathroom is about €68 ($75 USD) for two people.
Budget hotel prices – Nightly rates for a budget two-star hotel room with a private ensuite bathroom start at about €91 ($100 USD).
You can find Airbnbs anywhere in Athens, with shared accommodation (like a bed in a dorm) starting at €27 ($30 USD) per night. For a private room, expect to pay from €55 ($50 USD) per night, while a full apartment averages about €92 ($102 USD) per night.
Average cost of food – Athens has ton of cheap food. You can find gyros or souvlaki anywhere for between €2-4 ($2.20-4.40 USD), while a breakfast pastry with a coffee isn't more than €3 ($3.30 USD). A hearty Greek salad will cost about €5 ($5.50 USD).
At a mid-range Greek restaurant, you'll find a meal like moussaka for between €7-12 ($7.70-13 USD), and a beer to go with it will cost about €4 ($4.40 USD). Higher-end restaurants will have entrees like lamb or rooster starting from €20 ($22 USD), while a seven-course menu starts from €45 ($50 USD).
For perspective, a meal at McDonald's will cost about €6 ($6.60 USD).
If you cook for yourself, you can spend as little as €40 ($44 USD) on groceries per week, which would include some meat, bread, eggs, cheese, some veggies, and fruit.
Backpacking Athens Suggested Budgets
If you're backpacking Athens, my suggested budget is around €54 ($60 USD) per day. This budget will cover a hostel dorm, public transportation, street food and cheap local eats, and a very limited number of attractions. If you want to see more attractions, I'd add another €10 per day.
A mid-range budget of about €116 ($128 USD) will cover staying in a cheap hotel or Airbnb, eating out for all of your meals, all the attractions you want, a few tours, cabs, and some drinks.
For €231 ($255 USD) or more per day, you can get a nice four-star hotel, any meal you want, drinks, tours, and cabs! For here on up, the sky is the limit and you'll enjoy some nice luxury.
You can use the chart below to get some idea of how much you need to budget daily, depending on your travel style. Keep in mind these are daily averages – some days you'll spend more, some days you'll spend less (you might spend less every day). We just want to give you a general idea of how to make your budget. Prices are in USD.
Accommodation
Food
Transportation
Attractions
Average Daily Cost
Mid-Range
$65
$15
$13
$35
$128
Athens Travel Guide: Money Saving Tips
Athens is pretty affordable so if you're trying to visit here on a budget, you won't find it too hard to do. Greece in general is pretty cheap and Athens is no expectation. Stick to cheap eats, a few attractions, and boom, you're set! But, with a few extra tips, your money can go a lot further. Here are some suggested ways to save money in Athens:
Take a free walking tour – To get a feel for the city and learn some history, be sure to take a free walking tour with Athens Free Walking Tour. Exploring a city on foot is the best way to understand it, and if you love architecture and history then this is a must!
Get a transportation pass – Buying combo tickets for Athens' metro system is one of the best ways to save money. A one-day unlimited pass is €4.50 ($5 USD), and a five-day pass is €9 ($10 USD). You can also get a three-day tourist pass, including round-trip tickets to the airport for €22 ($25 USD).
Visit the sites for free – From November 1st to March 31st, all major sites in the city are free on Sundays. Though the crowds tend to be a lot bigger this day, it's a great way to see all the major sites and save yourself the entrance fee!
Get a combo ticket – For €30 ($33 USD) you can get admission to the Acropolis, the Ancient Agora, Roman Agora, Hadrian's Library, Aristotle's School, the Temple of Olympian Zeus, and more. Considering the entrance fee is €20 ($22 USD) for just the Acropolis, this is a steal!
Get the Athens City Pass – The city pass offers many discounts and deals, including free/reduced entry to Athens museums and attractions, as well as a free ride on the hop-on-hop-off bus. You can also get 50% off discounts on tours, food, etc. Prices start from €34 ($38 USD), but passes with public transit included cost from €70 ($72 USD) for three days.
Have an ISIC Card – To save 20-50% on the cost of admission to museums and other tourist attractions, be sure to present a valid student card. The ISIC is typically accepted in places where a foreign student ID is not.
Couchsurf – If you plan ahead, you can usually find really nice Couchsurfing hosts all throughout the country. This way, you not only have a place to stay, but you'll have a local host that can tell you the best places to go and things to see.
Where To Stay in Athens
When looking for a hostel in Athens, try to find a place closer to the historic city center rather than places like Omonia or Exarcheia (those areas can be a little shady at night). Here are some of my suggested places to stay in Athens:
How to Get Around Athens
Train – Athens has an affordable and incredibly reliable public transportation system that covers almost all of the city and its suburbs. The fastest way to get around the city is by subway, with three lines connecting to the tram, bus, and suburban railway. One ticket costs €1.40 ($1.55 USD) and is valid for 90 minutes, and can be used on all modes of public transport.
Line one is an overground train that runs between Kifissia to Piraeus port. It also connects to the other lines in Attiki, Omonia, and Monastiraki.
You have to purchase the Ath.ena Ticket to access the public transit system. This is a reloadable card available from ticket machines and offices. One-way tickets cost €1.40 ($1.55 USD) each, but you can load more than one ride on each ticket. A one-day unlimited pass is €4.50 ($5 USD), and a five-day pass is €9 ($10 USD). You can also get a three-day tourist pass, including round-trip tickets to the airport for €22 ($25 USD).
Use stasy.gr to find your routes.
The express bus from the airport for €6 ($6.60 USD) each way.
Bicycle – If you're not afraid of navigating Athens' chaotic traffic, bicycle rental is an enjoyable way to get around. Rentals start at about €12 ($13 USD) per day, but electric bicycles can be double that price. Athens By Bike and Bike Me Up are two good companies to use.
Taxi – A base fare for a taxi in Athens is €3.50 ($4 USD), with each additional kilometer costing €0.75 ($0.85 USD) per kilometer after that. A 5-kilometer journey should cost no more than €7.20 ($8 USD).
Ridesharing – Uber is available in Athens. You can save $15 off your first Uber ride with this code: jlx6v.
Get my best stuff sent straight to you!