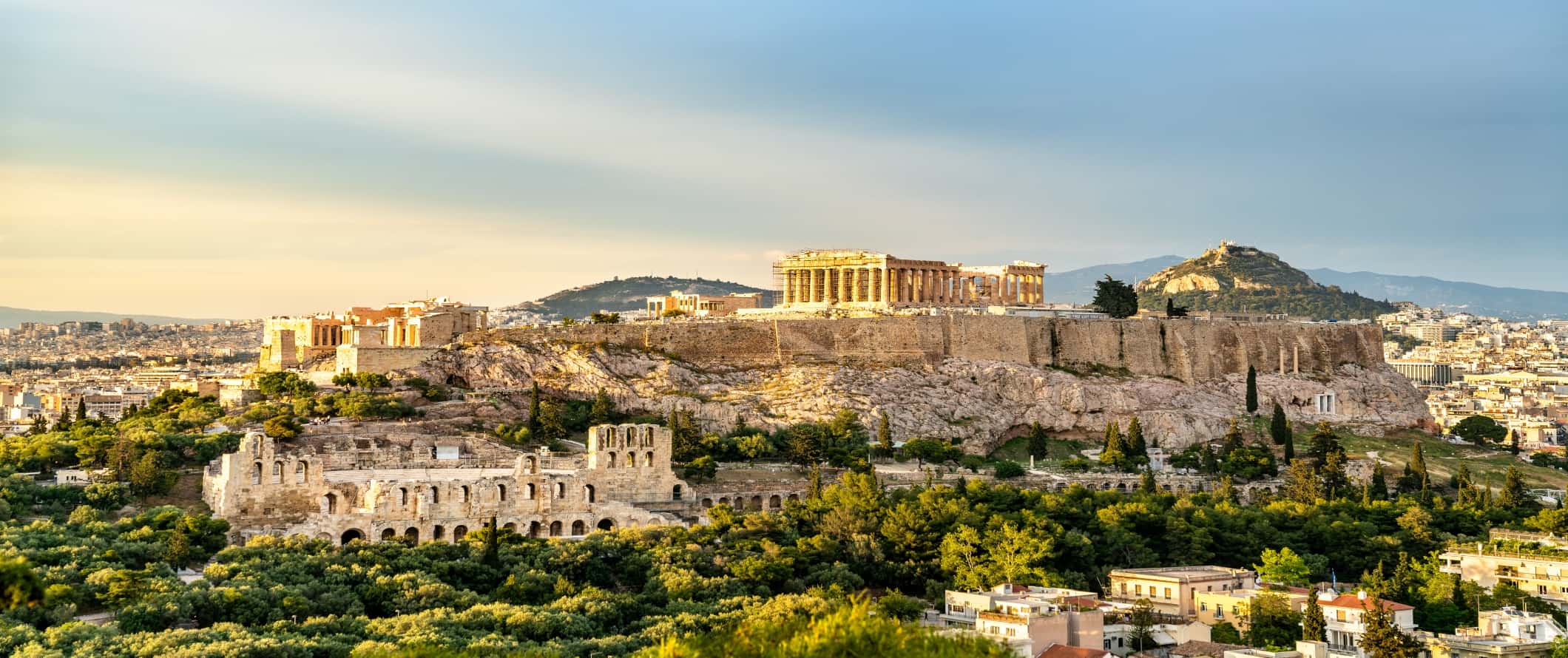 Athens, founded in 508 BC, is a gigantic city that sprawls over 1,131 square miles (2,929 square kilometers) and is home to over 3 million people.
There are over 5,000 years of history in Athens and you'll find some of the largest collections in the world of Greek ruins and artifacts here.
But I'll be honest: I don't love Athens. I didn't like it when I first went in 2006 and, after four visits (most recently last year), I'm still not completely sold on it. I think it's dirty, ugly, and, overall, there's just something about it I just don't like.
That said, it's not all bad.
I love the Plaka area (that's where all the history is) and Psyri, just north, is my favorite neighborhood in the city. It's got this cyberpunk/hipster vibe to it and has a lot of excellent bars, street drinking, cafes, and restaurants.
Overall, I have a feeling that Athens is a place that truly reveals its magic when you live there. So, while I'm still not sold on it, I warmed up to it after my last visit and can see why some people like it.
Given the amount of history and sights here, I suggest you spend at least three full days when you visit. There's a lot to see and do here.
This travel guide to Athens will give you the low down on everything you need to know to plan your visit, save money, and make the most of your time here!
Top 5 Things to See and Do in Athens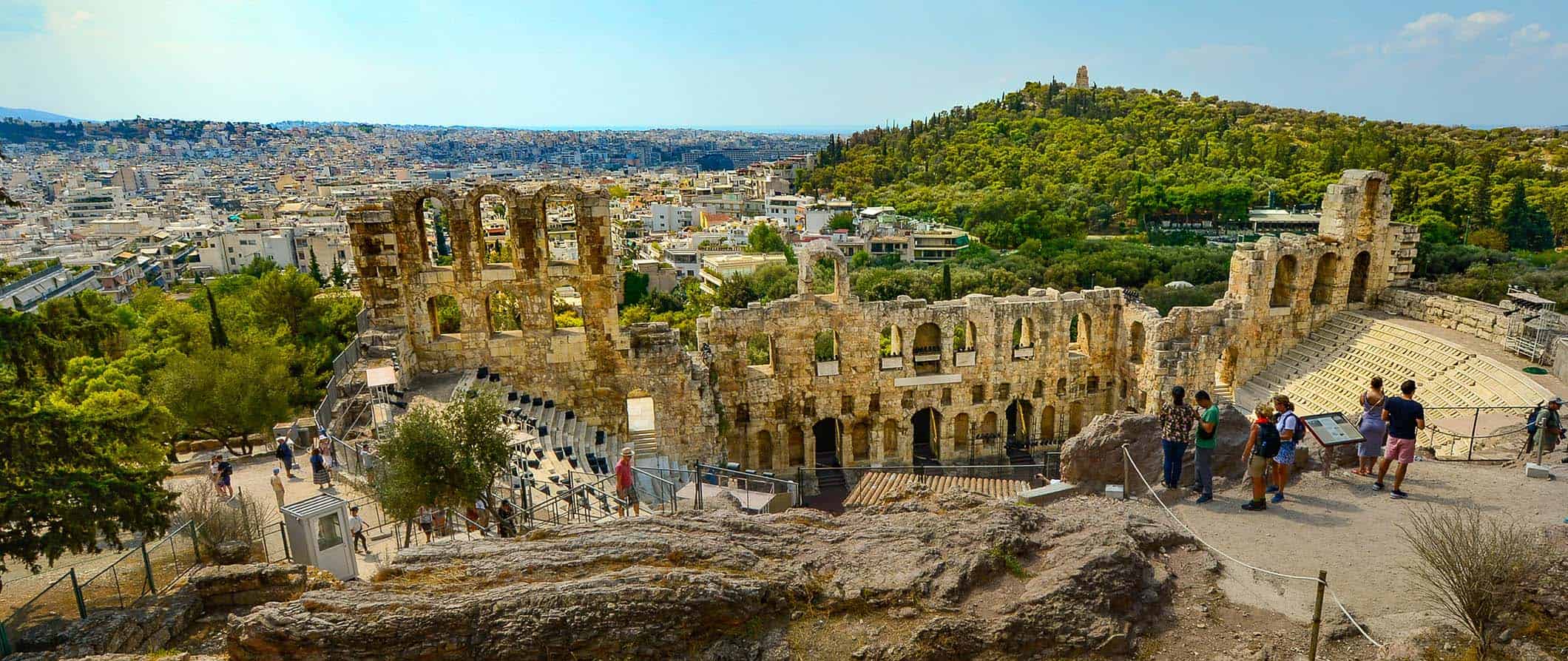 1. Visit the Acropolis
The Acropolis is a 5th-century BCE citadel overlooking Athens. The hilltop complex includes ancient buildings and ruins like Propylaea, the temple to Athena, and the famous Parthenon. A UNESCO World Heritage Site, it's undoubtedly one of the best historical spots in the city. Lots of plays are hosted in the Odeon of Herodes here in the summer too. Arrive super early or late to avoid the crowds. Admission is 20 EUR, or for 30 EUR you can get a 5-day combined ticket that includes many other archaeological sites in Athens (more on that below). For a guided tour, Athens Walking Tours runs guided tours for around 50 EUR (including admission) that skip the line.
2. Visit the Acropolis Museum
This newer (opened in 2009) museum is housed in a modern building that's juxtaposed with the archaeological treasures that it holds. One of the highlights is the glass floor where you can walk over the ruins of an ancient neighborhood. There are also over 4,000 excavated finds, including sculptures, friezes, pottery, and more. End your visit at the museum's restaurant for one of the best views of the Parthenon in the city. Admission is 5 EUR in the winter and 10 EUR in the summer.
3. See the National Archaeological Museum
This museum, founded in the 19th century, has one of the most extensive collections of ancient Greek artifacts in the world. There are five main permanent collections with exhibits covering Prehistoric Antiquities, Sculpture, Metalwork, Vases and Minor Arts, Egyptian Antiquities, and Cypriot Antiquities. You can even see the 2,000-year-old analog "computer" found in a shipwreck off the island of Antikythera. Plan to spend at least a half-day here. Admission is 6 EUR in the winter and 12 EUR in the summer.
4. Hike Lycabettus
Legend has it that the mythological goddess Athena created Mount Lycabettus when she dropped a limestone mountain on the spot. If you want some exercise and a great view of the city and the Acropolis (especially at sunset), hike up to the peak of this 277-meter (909 ft) hill, which is the highest point in Athens. The path starts at the end of Aristippou Street. There's a (pricey) cafe at the top if you need a drink, as well as an open-air amphitheater that hosts concerts in the summer, and a 19th-century chapel. If you don't want to walk up, you can pay 7.50 EUR for a return trip on the funicular (5 EUR one-way).
5. See the Historic Sights
The ancient ruins of old Athens are littered around The Plaka, an area that's known as the "Neighborhood of the Gods." Located in the shadow of the Acropolis, this is the oldest part of Athens and ruins are everywhere. The Ancient Agora, Hadrian's Library, the Roman Agora, Olympieion, Kerameikos, and a ton more other stuff are all here. Plan to spend a while roaming the sites. For the big 5, get a combo ticket. It costs 30 EUR and is valid for 5 days so you don't have to rush.
Other Things to See and Do in Athens
1. Take a walking tour
The first thing I do when I arrive in a new city is take a walking tour. They give you the lay of the land, introduce you to the main sights, and give you access to an expert local guide who can answer all your questions. This post lists all my favorite walking tours in Athens. Just remember to tip your guide at the end!
And if you're looking for more in-depth and specific tours, Take Walks is the way to go. You get lots of behind-the-scenes access, including at the Acropolis and the Acropolis Museum. Tours start at 59 EUR. It's worth the money if you're a history buff like me!
2. Visit the Athens Central Market (Varvakios Agora)
This 19th-century public market is one of my favorite places to wander, people watch, and sample the local delicacies. Come early to watch the produce and fish being unloaded. There are a ton of Greek specialties, like olives, halloumi, and feta for sale here. It's open every day of the week except Sunday, from 7am to 6pm (it gets very crowded around lunchtime so arrive early). If you have an appetite, stop at Diporto to eat. The restaurant has no menu so they serve whatever they cook for the day. The owners barely speak English but the food is excellent!
3. Go to Cape Sounion and visit the Temple of Poseidon
Constructed in 444 BCE, the remarkably well preserved Temple of Poseidon sits on a rocky outcrop 70 meters (300 ft) above the ocean. Built to honor the god of the sea, the temple served as a welcomed sight for returning sailors. The sunset from here is incredible and there are several beaches nearby in Legrena and Lavrio. Admission to the archaeological site is 10 EUR. It's about an hour away from Athens.
4. Visit the Kanellopoulos Museum
This former mansion dates to 1884 and houses a collection of over 6,500 items, including jewelry, weapons, clay-and-stone vases, Byzantine art, figurines, and furniture that once belonged to the wealthy Kanellopoulos family. The collection was bought by the government and turned into a museum in 1976. Although there isn't much English signage, you rarely have to compete for views with other visitors. Admission is 3 EUR.
5. See the Tower of the Winds (Aerides)
Originally built by Andronicus in the first century BCE, this octagonal tower once functioned as a sundial, weather vane, compass, and water clock. It's widely accepted to be the world's first meteorological station. The entire tower is made of Pentelic marble, which is the same used for the Parthenon and was rarely used for anything other than temples. It's 8 EUR to visit with a combined ticket to the Ancient Agora.
6. Witness the Easter Vigil
If you happen to be in Athens during Easter weekend, don't miss this enchanting vigil procession. Every Good Friday, thousands upon thousands of people form a procession throughout the city, all holding lit candles. Head to Lycabettus Hill and join the crowds ascending to the St. George church. Even if you're not religious, it's a cultural experience worth seeing. You can also climb the hill anytime to watch the sunset (it's the highest point in the city so the views are excellent). The neighborhood below, Kolonaki, also has lots of upscale bars and cafes if you want to splash out and relax.
7. Hike Parnitha National Park
Located 90 minutes from Athens by car, here you can find several caves, gorges, and springs to explore. Mount Parnitha is also the highest mountain in the region, standing 1,413 meters (4,635 ft) tall. There are around 75 well-marked paths in the park so a guide isn't necessary. For an easy hike, the trek to Bafi Refuge from the church of Ayia Triada only takes 40 minutes. For something more challenging, try the 20-kilometer (12-mile) trek from Avlona to Agia Marina.
8. Stroll through Anafiotika
Anafiotika is a 19th-century neighborhood built into the northern side of the Acropolis hill. It lies above Plaka, near the entrance to the Agora, but has none of the hustle and bustle of the city center. This place embodies the feel of the Greek islands, boasting whitewashed walls, shuttered windows, and tiny sidewalk cafes.
9. Visit the Temple of Olympian Zeus
Dating from the 6th century BCE, the Temple of Olympian Zeus was once the largest temple in Greece (it took almost 700 years to build). Peisistratos, the son of Hippocrates and ruler of Athens from 561-527 BCE, started its construction and then abandoned it after funds ran dry. Hadrian finished the job in 131 CE, and then built an enormous statue of Zeus (and then an enormous statue of himself). There are only a few Corinthian columns still standing. Admission is 6 EUR but really there's not much here so just look at it from the gate and save yourself some money!
10. Take a food tour
Athens is one big gastronomic adventure. To sample the city's best eats, Devour's Ultimate Athens Food Tour provides a fantastic introduction to the local cuisine, with thirteen tastings across nine traditional establishments. You'll sample fresh cheeses and cold cuts, visit the central market, learn about Greek dining culture, enjoy loukoumades (fried donut balls), and taste some classic souvlaki, all while exploring three historic neighborhoods. Tours start from 69 EUR.
11. Hang out in Psyri
This small neighborhood north of Plaka was given a major upgrade for the 2004 Olympics and consists of an eclectic mix of bars, nightclubs, tavernas, cafes, and restaurants. It's one of my favorite areas in Athens. It's got this cyberpunk/hipster vibe to it and is really popular with locals on weekends. There are a lot of hostels here and nearby you'll find one of the Middle Eastern/Indian neighborhoods in the city (they are blended here) with lots of good food options.
13. Hit the beach
The closest beaches to the center of Athens are in Piraeus and Alimos, just 10-15 kilometers (6-9 miles) south of Athens center. They offer beaches with clear water, sand and pebbles, and have a good selection of restaurants to choose from. Their easy access from Athens by public transport means they get busy in the summer — especially on weekends and holidays. If you have more time and want to escape (some of) the crowds, head further along the Athenian Riviera to places like Lagonisi or Saronida or go on to Sounion (you could combine a beach trip with visiting the Temple of Poseidon). If the sea is too cold for swimming, head to Vouliagmeni Lake. The water in the lake is thermally heated so it's much warmer than the ocean!
14. Hike Filopappou Hill
Right across from the Acropolis is this hill that gives you one of the best views of the Parthenon. The hill takes about 15 minutes to walk up and there are a number of ruins and sites all around the hill you can stop at (they have a lot of good signs that explain what was there). Definitely go up. The views are great!
15. Day trip to Delphi
Delphi was a place of spiritual significance to the ancient Greeks. Located around 2.5 hours northwest of Athens, this is where the omniscient Oracle would contact the god Apollo and give his advice to those seeking good fortune. Although the eternal flame no longer burns inside the temple, a visit to the Temple of Apollo is obligatory if you're nearby. Admission is 12 EUR and includes entry to the museum as well as the archaeological site itself (which includes far more than just the Temple of Apollo).
16. Watch the sunset on Mars Hill
A very popular sunset spot with locals is Mars (Areopagus) Hill. It was once the site that served as the high court of appeal in ancient Greece. Today, it's a great spot to relax and see the sunset. Bring some beer or wine up here and enjoy the view of the city right under the Acropolis. It's like a free "rooftop" bar!
17. See Hansen's Trilogy
There are three buildings just five minutes walk from the Syntagma main square and are considered some of the most beautiful neoclassical buildings in the world. Designed by Danish architect Theophil Freiherr von Hansen in the 19th century, The Academy, the University, and the National Library look exactly like how you'd picture ancient Athens. The simple use of geometric shapes gives these buildings a grand, eloquent design. Don't miss seeing them!
18. Explore the Panathenaic Stadium (Kalimarmaro)
This stadium is where the first modern Olympics took place in 1896. The stadium was originally used in 330 BCE by the Greeks. The Romans rebuilt it entirely out of marble in 144 CE, expanding it to hold over 50,000 people. It eventually was abandoned and wasn't used again until the 19th century when it was refurbished for the Olympics. Admission is 10 EUR. In the summer, lots of concerts are held here for big touring bands.
For more information on other destinations in Greece, check out these guides:
Athens Travel Costs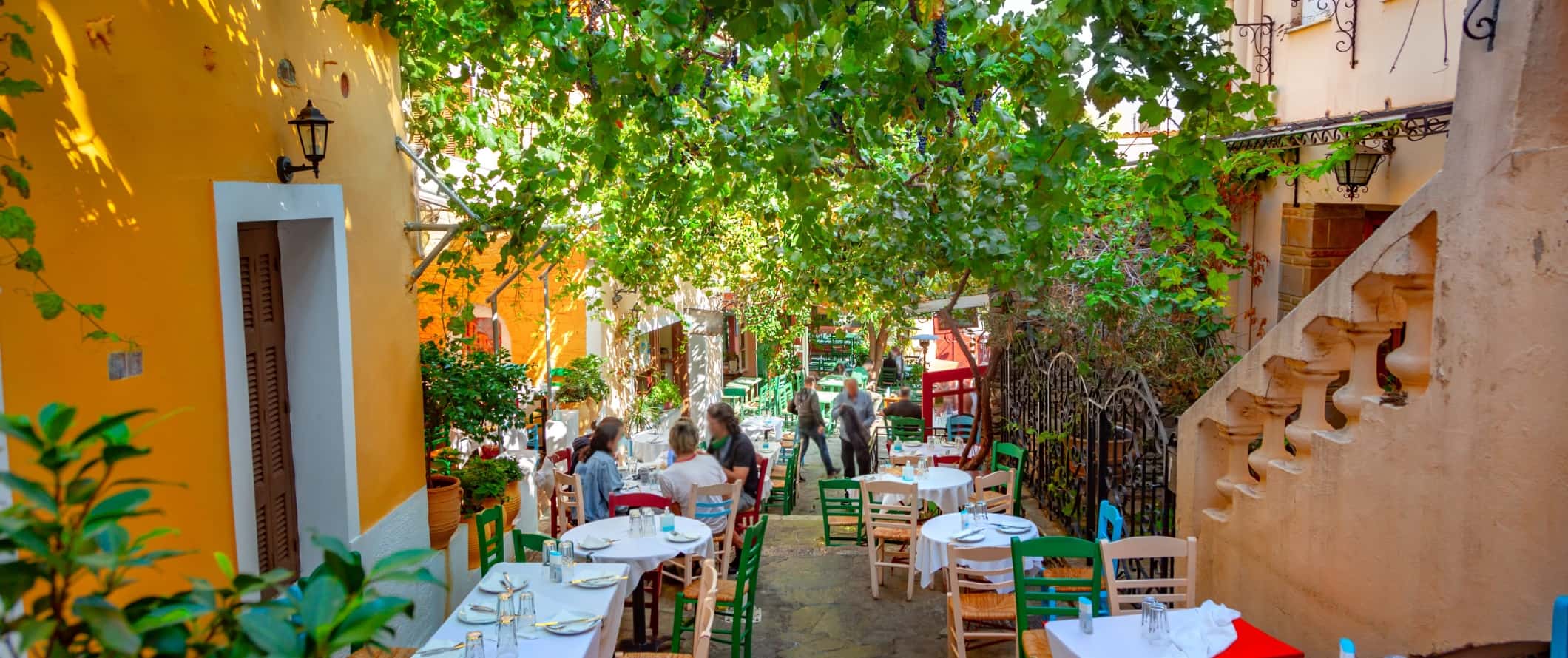 Hostel prices – In peak season, a bed in a dorm with 4-6 beds starts at 35 EUR per night, while a dorm with 8 beds or more costs 20-25 EUR per night. Private rooms cost between 95-105 EUR per night in peak season and around 55 EUR in off-peak season. Free Wi-Fi is standard and most hostels have kitchens if you want to cook.
For those traveling with a tent, camping can be done outside the city for around 16 EUR per night for a basic tent plot without electricity.
Budget hotel prices – Budget two-star hotels with a private bathroom start at 40 EUR per night, though expect to spend closer to 50-60 per night if you're booking last minute.
You can find Airbnbs anywhere in Athens, with private rooms starting at 20 EUR per night (although they average closer to 45 EUR). A full apartment averages about 130 EUR per night.
Average cost of food – Traditional Greek cuisine is very healthy with a lot of fresh vegetables. Olive oil, lamb, fish, pork, cheeses (especially feta), and yogurts are also super common. Filo pastries stuffed with meat or spinach and cheese are a local favorite as are souvlaki and gyros.
You can find gyros or souvlaki for between 2-3 EUR, while a breakfast pastry with a coffee isn't more than 3 EUR.
At a casual restaurant that serves traditional cuisine, expect to pay around 10 EUR for a main dish and about 2-4 EUR for a glass of wine. A Greek salad costs between 5-8 EUR. Fish will be more expensive around 15-20 EUR. A lot of restaurants charge for bread. The price is between .50-1.50 EUR. A bottle of water at a restaurant is about 2 EUR.
All in all, if you're going out at a casual taverna, expect to spend between 12-20 EUR depending on how much food you get. After that prices, go up depending on how fancy you get!
Fast food (think McDonald's) costs around 7 EUR for a combo meal. A large pizza costs 7-10 EUR while Indian/Chinese food can be found for around 7-8 EUR for a main dish.
Beer is 5 EUR while a latte/cappuccino is 3 EUR. Bottled water from the supermarket is 0.50 EUR. Cocktails are expensive, however, usually costing 8-12 EUR.
My favorite places to eat in the city are Kostas for souvlaki (they use this red sauce that is to die for), Feyrouz for Lebanese food, Avli Psiri or Ella for Greek, Shiraki for Japanese, Dosa House for dosas.
If you cook for yourself, you can spend as little as 40 EUR on groceries per week, which will get you staples like pasta, rice, fresh veggies, and chicken. Head to the Central Market for the cheapest, freshest food.
Backpacking Athens Suggested Budgets
On a backpacking budget of 45 EUR per day, you can stay in a hostel dorm, cook most of your meals and a little fast food, limit your drinking, use public transportation to get around, and stick to mostly cheap or free activities like free walking tours. If you plan on drinking more, add 5-10 EUR more to your budget per day.
On a mid-range budget of 105 EUR per day, you can stay in a private Airbnb, drink more, eat out for all your meals at cheap street stalls, take the occasional taxi, and do more activities like visiting the Acropolis and the Archeological Museum.
On a "luxury" budget of 220 EUR per day, you can stay in a hotel, eat out anywhere you want, drink as much as you'd like, rent a car to get around, and do more paid activities and guided tours. This is just the ground floor for luxury though. The sky is the limit!
Accommodation
Food
Transportation
Attractions
Average Daily Cost
Mid-Range
50
25
10
20
105
Athens Travel Guide: Money-Saving Tips
Greece in general is pretty cheap and Athens is no exception. Stick to cheap eats, a few attractions, and boom, you're set! But, with a few extra tips, your money can go a lot further. Here are some suggested ways to save money in Athens:
Take a free walking tour – To get a feel for the city and learn some history, be sure to take a free walking tour when you arrive. Exploring a city on foot is the best way to understand it, and if you love architecture and history then this is a must! Just be sure to tip your guide at the end.
Get a transportation pass – Buying combo tickets for Athens' metro system is one of the best ways to save money. A one-day unlimited pass is 4.10 EUR, and a five-day pass is 8.20 EUR. You can also get a three-day tourist pass, including round-trip tickets to the airport for 20 EUR.
Visit the sites for free – From November 1st to March 31st, all major sites in the city are free on the first Sunday of the month. Though the crowds tend to be big, it's a great way to see all the major sites and save yourself the entrance fee! Prices are also heavily discounted during these months as well.
Get a combo ticket – For 30 EUR you can get admission to the Acropolis, the Ancient Agora, Roman Agora, Hadrian's Library, the Temple of Olympian Zeus, and more. Considering the entrance fee is 20 EUR for just the Acropolis, this is a steal!
Have an ISIC Card – To save up to 50% on the cost of admission to museums and other tourist attractions, be sure to present a valid student card. The ISIC is typically accepted in places where a foreign student ID is not.
Stay with a local – If you plan ahead, you can usually find really nice Couchsurfing hosts in Athens. This way, you not only have a free place to stay but you get a local host that can tell you the best places to go and share their insider tips.
Go to museums on their free admission days – Most of the museums have some days when admission is free. Check the Odysseus Culture website for details as they vary from museum to museum.
Bring a water bottle – The tap water here is safe to drink so bring a reusable water bottle to save money and reduce your plastic use. LifeStraw is my go-to brand as their bottles have built-in filters to ensure your water is always clean and safe.
Use the Greek Salad/Bread Rule – Is a restaurant cheap or expensive? Here's a good rule of thumb: If the bread cover is .50 EUR or a Greek salad is less than 7 EUR, the restaurant is cheap. If the cover is around 1 EUR and a salad is 7-8.50 EUR, the prices are average. Anything more that, the place is expensive.
Eat super cheap – Gyros (and other street snacks) usually only cost a few euros. They are quick and easy and can keep you full for less than 10 EUR per day!
Use points if you can – If you're a travel hacker and have points that can be used for cash, using them to book accommodation will be better if you're staying at cheaper properties (anything less than 100 EUR). For only a few thousand points per night, you can save a ton of money. This post has more info if you're new to travel hacking.
Where to Stay in Athens
Athens has plenty of affordable hostels to choose from. From hostels to hotels to quiant B&Bs, you have a lot of choice. If you're looking for a hostel, here are some of my favorites (they all offer private rooms too):
How to Get Around Athens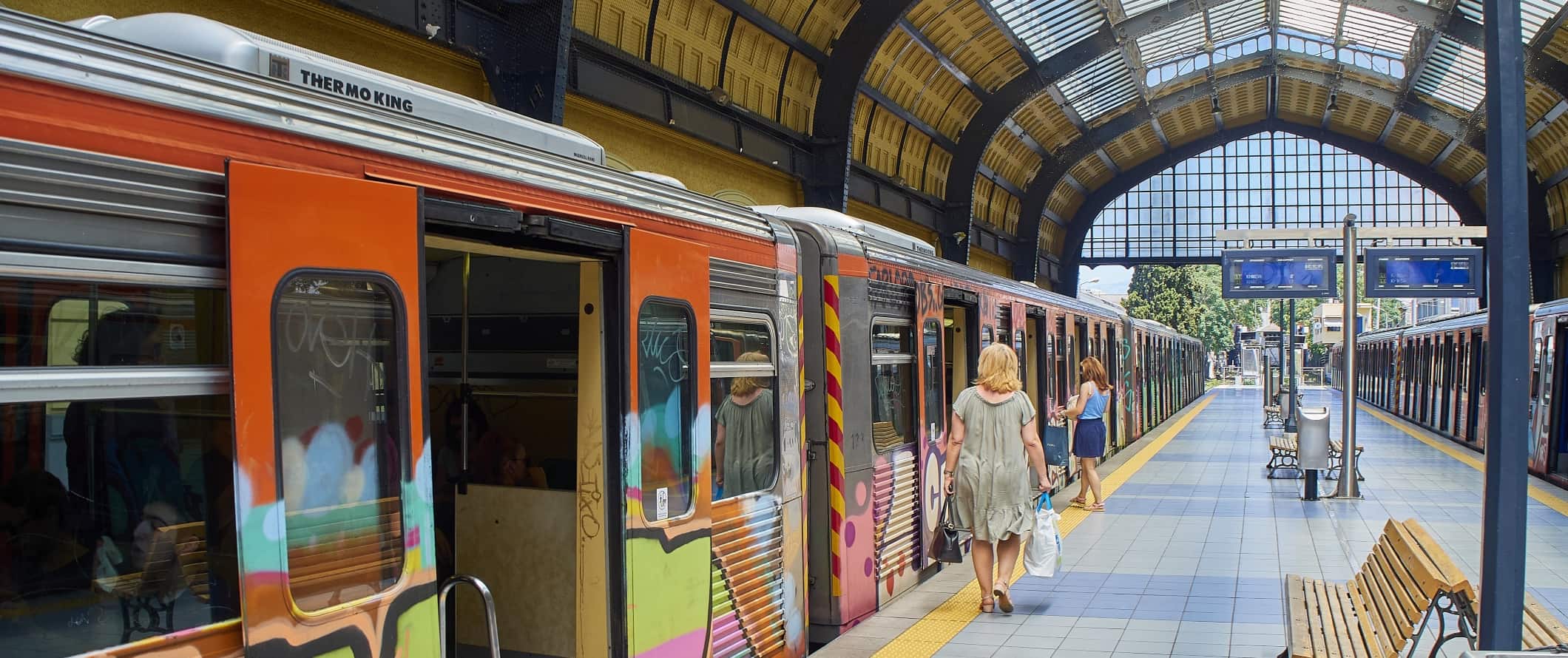 Public transportation – Athens has affordable and reliable public transportation. The fastest way to get around the city is by subway. There is also the tram, bus, and suburban railway. Tickets cost 1.20 EUR and are valid for 90 minutes. They can be used on all modes of public transport.
A one-day unlimited pass is 4.10 EUR and a five-day pass is 8.20 EUR. You can also get a three-day tourist pass, including round-trip tickets to the airport for 20 EUR.
The express bus from the airport for 6 EUR each way. The subway costs 9 EUR each way and takes about an hour from the city center to the airport (and vice versa).
Bicycle – If you're not afraid of navigating Athens' chaotic traffic, bike rentals are an enjoyable way to get around. Rentals start at 12 EUR per day, though electric bicycles can be double that price. Athens By Bike and Bike Me Up are two reputable companies to use.
Taxi – Base fare for taxis in Athens is 3 EUR, with each additional kilometer costing 0.74 EUR. Skip the taxis if you can as the prices add up quickly. Also, make sure the meter is turned on. It's illegal for drivers not to use the meter, however, some drivers might try to get sneaky to rip you off. Additionally, make sure the meter shows a number "1". The "2" is only for 12am-5am, when the rates are double.
Ridesharing – Uber no longer exists here so you're stuck taking taxis. (You can still use the Uber app, but it will just call a taxi for you).
Car rental – Car rentals can be found for as little as 20 EUR per day for a multi-day rental. However, you won't need one unless you're going to be leaving the city to explore the surrounding area. Drivers must be at least 21 years old and have had their license for at least one year. An International Driving Permit (IDP) is required.
For the best rental car deals, use Discover Cars
When to Go to Athens
Summer (June-August)is the most popular time to visit. However, it's also super hot. Temperatures climb as high as the mid-30s°C (mid-90s°F), which can often be unbearable. Sometimes they get even higher and get closer to 40°C. On the other hand, if you're planning on doing some island hopping from Athens, this is a good time to come to enjoy the Mediterranean waters.
Winters in Athens are mild, with temperatures hovering around 10°C (50°F). It rarely snows so this can be an excellent time to see the Acropolis and other famous sights without the tourist crowds. Easter is an excellent time to visit to appreciate all the Greek Orthodox celebrations.
Personally, I think that the shoulder season (April/May and September/October) is the best time to visit. Prices are a bit cheaper, temperatures are pleasant, and you can avoid the busiest time of the tourist season. If you're on a budget and want to beat the crowds, this is when you should visit.
How to Stay Safe in Athens
Athens is generally a very safe city to visit, even for solo travelers. Your biggest risk is pickpockets, especially on the subway. The city is rife with them. Be sure to keep a close eye on your stuff and watch out for groups who come near you. Usually, they are working in teams to distract you while someone picks your pocket. Other than that, there's not much to worry about.
Solo female travelers should generally feel safe here, however, the standard precautions apply (never leave your drink unattended at the bar, never walk home alone intoxicated, etc.).
At night, it's best to avoid the areas around Omonia, Exarcheia, Victoria Square, and Kolokotroni.
If you hike to Fillopapou hill, keep an eye out for pickpockets. The pickpockets know tourists go up there so they tend to hang out around there looking for an easy target.
Scams can occur around Monastiraki, Syntagma, and Glyfada when tourists are lured into a bar with special discounted drink prices, and then are later forced to pay huge prices on their bar tabs or get threatened with violence. You can read more about common travel scams to avoid here.
If you rent a vehicle, don't leave any valuables in it at night. Break-ins are rare but it's better to be safe than sorry.
If you experience an emergency, dial 112 for assistance.
Always trust your gut instinct. Make copies of your personal documents, including your passport and ID. Forward your itinerary along to loved ones so they'll know where you are.
The most important piece of advice I can offer is to purchase good travel insurance. Travel insurance protects you against illness, injury, theft, and cancellations. It's comprehensive protection in case anything goes wrong. I never go on a trip without it as I've had to use it many times in the past.
Athens Travel Guide: The Best Booking Resources
These are my favorite companies to use when I travel. They consistently have the best deals, offer world-class customer service and great value, and overall, are better than their competitors. They are the companies I use the most and are always the starting point in my search for travel deals.
Skyscanner – Skyscanner is my favorite flight search engine. They search small websites and budget airlines that larger search sites tend to miss. They are hands down the number one place to start.
Hostelworld – This is the best hostel accommodation site out there with the largest inventory, best search interface, and widest availability.
Booking.com – The best all around booking site that constantly provides the cheapest and lowest rates. They have the widest selection of budget accommodation. In all my tests, they've always had the cheapest rates out of all the booking websites.
HostelPass – This new card gives you up to 20% off hostels throughout Europe. It's a great way to save money. They're constantly adding new hostels too. I've always wanted something like this and glad it finallt exists.
Get Your Guide – Get Your Guide is a huge online marketplace for tours and excursions. They have tons of tour options available in cities all around the world, including everything from cooking classes, walking tours, street art lessons, and more!
The Man in Seat 61 – This website is the ultimate guide to train travel anywhere in the world. They have the most comprehensive information on routes, times, prices, and train conditions. If you are planning a long train journey or some epic train trip, consult this site.
Rome2Rio – This website allows you to see how to get from point A to point B the best and cheapest way possible. It will give you all the bus, train, plane, or boat routes that can get you there as well as how much they cost.
FlixBus – Flixbus has routes between 20 European countries with prices starting as low 5 EUR! Their buses include WiFi, electrical outlets, a free checked bag.
SafetyWing – Safety Wing offers convenient and affordable plans tailored to digital nomads and long-term travelers. They have cheap monthly plans, great customer service, and an easy-to-use claims process that makes it perfect for those on the road.
LifeStraw – My go-to company for reusable water bottles with built-in filters so you can ensure your drinking water is always clean and safe.
Unbound Merino – They make lightweight, durable, easy-to-clean travel clothing.
Top Travel Credit Cards – Points are the best way to cut down travel expenses. Here's my favorite point earning credit cards so you can get free travel!
Ferry Hopper – If you're looking to book your ferries, this website is an easy way to search the various companies, piece together routes, and book your tickets.
Take Walks – This walking tour company provides inside access to attractions and places you can't get elsewhere. Their guides rock and they have some of the best and most insightful tours in all of Greece.
Athens Travel Guide: Related Articles
Want more info? Check out all the articles I've written on Greece travel and continue planning your trip: