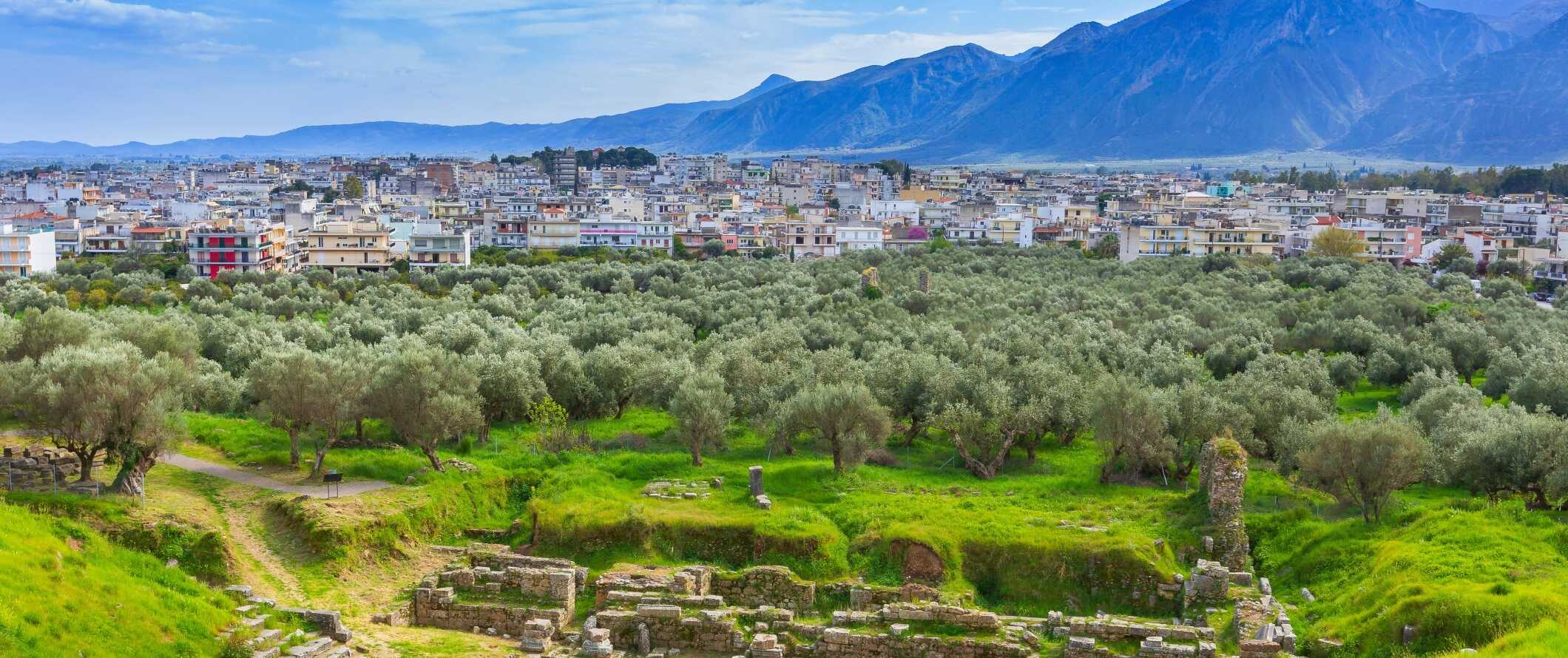 Sparta was the ancient rival of Athens, known for its fierce warriors and military culture (as showcased in the historically inaccurate movie 300). These days, the city doesn't get the visitors Athens does but it does still have a lot of ruins to explore.
While Sparta is much smaller than Greece's capital, there is no shortage of things to do, excursions to take, and places to eat when you visit.
It's an often-overlooked city (most travelers skip this entire area as it's out of the way) but you can get all the history of Greece without the tourists of Athens if you visit. The city is small and you only really need a couple of nights to check it all out. If you have a couple of extra days, it's worth the drive or bus ride from Athens — especially if you're a history buff.
This travel guide to Sparta can help you plan your trip so you can make the most of your trip to this underrated region without breaking the bank!
Top 5 Things to See and Do in Sparta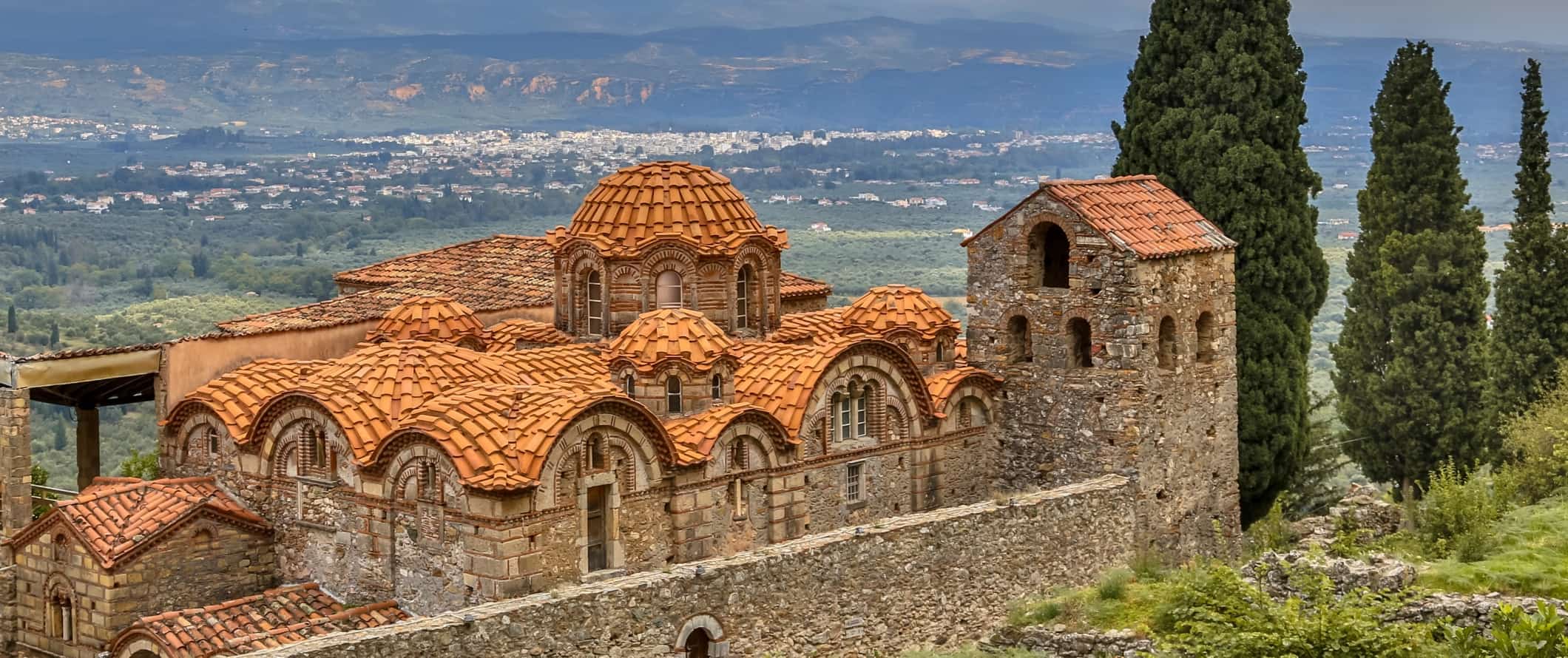 1. See the King Leonidas Statue
King Leonidas was one of the most famous kings of ancient Sparta, known for his defiant stand against the Persians at Thermopylae in 480 BCE. Technically named The Memorial in Thermopylae, it recognizes not only King Leonidas but the legendary 300 soldiers that fought along with him. Located in front of a soccer stadium, this statue is a testament to the fading glory of the Spartan legacy.
2. Visit the Archaeological Museum of Sparta
One of Greek's oldest archaeology museums, this museum focuses on Sparta's vibrant and wealthy past, housing thousands of artifacts from excavations of Sparta's ancient Acropolis. Though the museum is fairly small, there's a lot here, with reliefs of Helen and Menelaus, sculptures of King Leonidas, bronze figurines, heads and torsos from statues of gods, votive masks, and more. You can also see intricate mosaics from the Hellenistic and Roman eras. Admission is 3 EUR.
3. Tour the Diros Caves
The Diros Caves, which formed hundreds of thousands of years ago, consist of a 5-kilometer (3-mile) network of flooded caves, most of which are part of an underground lake. Prehistoric pottery, animal bones, and remains of ancient settlements have been found in the caves as well. A 30-minute boat tour takes you through the passageways to admire the stunning stalagmites and stalactites. Admission is 10 EUR. Note: Boat rides are currently suspended until further notice.
4. Visit Mystras
The ancient city of Mystras has some of the best-preserved Byzantine ruins in the area. During its heyday, it was second only to Constantinople (now Istanbul). Set against the slopes of Mt. Taygetos, this UNESCO World Heritage Site contains the remains of a castle, libraries, church domes, houses, monasteries, and crumbled walls. Prepare to do lots of walking around the site, which also offers incredible views of the surrounding countryside. It's just located around 5 kilometers (3 miles) from the modern town of Sparta and admission is 12 EUR.
5. Visit the Museum of the Olive and Olive Oil
This whole museum is dedicated to olives and olive oil. It takes you through the culture, history, and technology of olive oil production in Greece, as well as all the uses of olive oil in everyday Greek life. On display are items like fossilized olive leaves from 60,000 years ago, ancient and contemporary art depicting the importance of the olive, and replicas of ancient olive presses. You can also check out the reconstructed 20th-century olive presses in the courtyard. Admission is 4 EUR and it's open every day except Tuesday from 10am-5pm.
Other Things to See and Do in Sparta
1. Walk around the modern town
Travelers don't often hang out in the modern town of Sparta, which is why you should check it out. Head to the main square where the town hall is and enjoy some people-watching at one of the cafes. There are also a handful of ouzeries (a Greek tavern that serves ouzo, a Greek liquor) in the square if you would like to enjoy the country's favorite alcoholic beverage.
2. Explore the ancient Sparta archaeological site
There's not much left from the ancient city, located north of the Leonidas statue, but a walkthrough leads to where the acropolis and the agora stood from the 2nd-century BCE until the Roman era. You can also find the remains of an ancient theater (it used to be the second-largest in Greece) and the Sanctuary of Athena (a place where people could worship Athena and leave offerings). It's free to wander around.
3. Visit the Sanctuary of Artemis
On the north side of town are the remains of the Sanctuary of Artemis Orthia, the most important deity for the Spartans. Artemis was the goddess of wild animals and the hunt as well as chastity and childbirth. The Orthia moniker mostly likely comes from a local deity who became merged with Artemis over the centuries as it is not found anywhere else in Greece. The Sanctuary was the site of some rather violent rituals, including the flogging of young Spartan boys until they bled. Since Spartan culture revolved around military service, this was considered an important way to prepare the children for the challenges ahead. Most of the ruins are Roman or Byzantine, but it's still worth a visit.
4. Check out the Koumantareios Art Gallery
Opened in 1982, this gallery features a permanent collection of around 40 paintings from the 16th to the 19th century. There's also a temporary, rotating exhibit of pieces from the National Art Gallery in Athens. Housed in a Neoclassical 20th-century mansion, the gallery is a small and intimate space. It's free to visit.
5. Explore the Menelaion
A few miles outside of the city on the hill of the Prophet Elias lies the Menelaion, a 5th-century BCE shrine that was built to honor King Menelaus, husband of Helen of Troy (who was considered the most beautiful woman in the world). There is not a lot left to see of this site except for its crumbling ruins, but it's worth a visit to walk around here if you have extra time in Sparta. There's no admission fee.
6. Make some mosaic art
Head to the village of Xirokambi near Sparta and meet Dimitra, a self-taught mosaic artist who hosts art classes in her cozy workshop. She makes her mosaic pieces by hand so that each section of glass is unique. If you want to try your hand at making your own mosaic, she hosts three-hour workshops in her courtyard for 70 EUR.
7. Go hiking at Taygetus Mountain
At 2,405 meters (7,890 feet), Mount Taygetus is the highest peak in the range of the same name. It dominates Sparta's skyline and makes for a nice outdoor adventure if you have the time. You can take one of the many routes as several-hour day hikes, or summit the peak as an overnight trek.
8. Watch the Spartathon
If you happen to be in Sparta in September, you can witness the historic ultra-distance race, the Spartathon. This 245-kilometer (152-mile) race recreates the ancient run that, in 490 BCE, the runner Pheidippides completed between Athens and Sparta when he was sent to request wartime assistance. Runners from all over the world come to compete in the event!

For more information on other destinations in Greece, check out these guides:
Sparta Travel Costs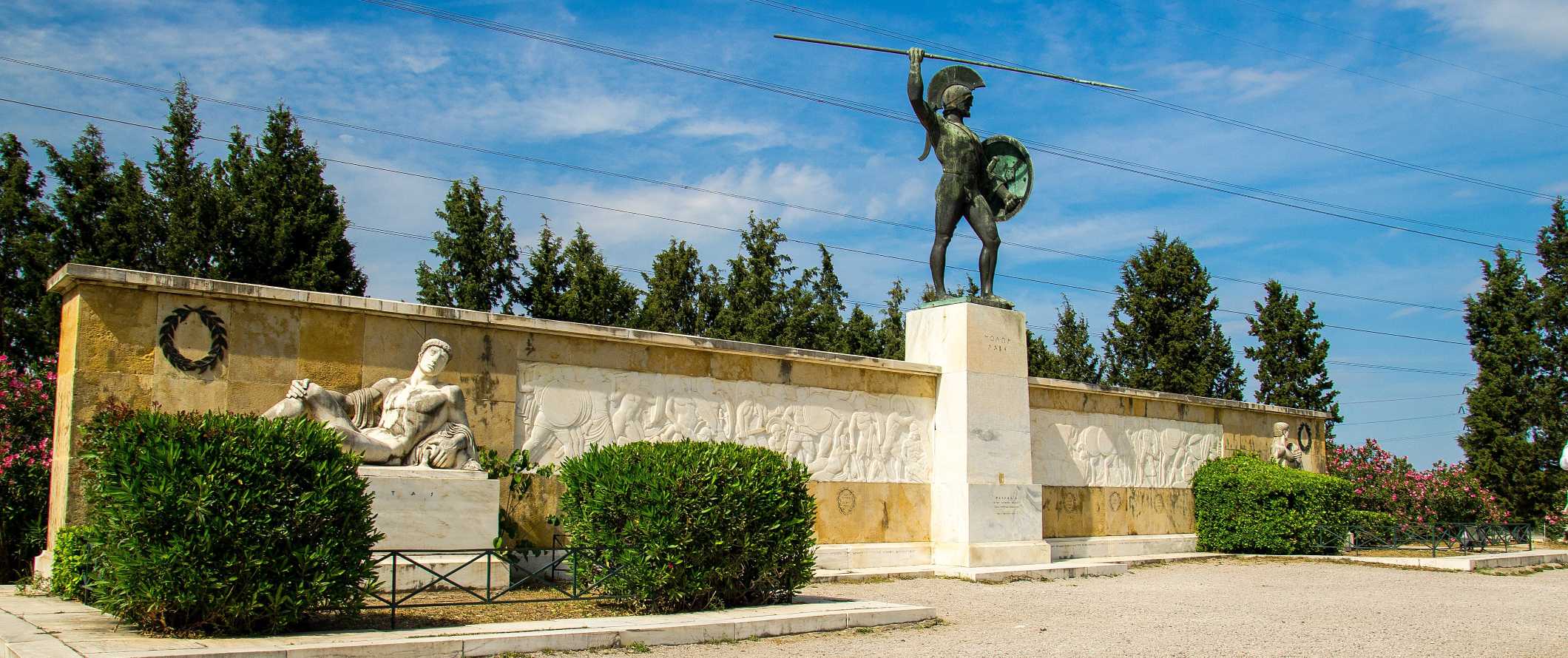 Hostel prices – There are currently no hostels in Sparta, which means you'll need to find a cheap hotel or B&B to stay at if you're on a budget.
For those traveling with a tent, camping is available outside the city. A basic plot for one person without electricity costs 8 EUR per night (if you don't have your own, you can rent a tent for an additional 8 EUR).
Budget hotel prices – A room with a private bathroom in a two-star hotel starts at 45-55 EUR regardless of the season. Expect basic amenities like TV and free Wi-Fi.
Airbnb is available in Sparta, with full apartments starting at 35-45 EUR. There are few private rooms available, and most cost the same (or more) as an entire place.
Food – Traditional Greek cuisine is very healthy with a lot of fresh vegetables, olive oil, lamb, fish, pork, cheeses (especially feta), and yogurts. Filo pastries stuffed with meat or spinach and cheese are a local favorite as are souvlaki and gyros.
Food is cheap in Sparta. Street food like traditional gyros or souvlaki cost around 5 EUR each. At a typical taverna, Greek salads usually cost around 5-6 EUR while a main dish like moussaka or souvlaki is about 7-9 EUR. An eggplant salad is less than 5 EUR.
For drinks in a bar or restaurant, a beer or glass of wine costs 2-4 EUR, a glass of ouzo is 3 EUR, and a cocktail is 6-8 EUR. A cappuccino or latte is 3-4 EUR.
Higher-end restaurants aren't typical in Sparta but expect to pay around 13-16 EUR for dishes like a seafood risotto or 18 EUR for filet mignon.
If you cook for yourself, you can spend as little as 40 EUR on groceries per week, which includes basic staples like pasta, rice, vegetables, and some meat.
Backpacking Sparta Suggested Budgets
If you're backpacking Sparta, expect to spend about 45 EUR per day. This assumes you're camping, eating cheap fast food and cooking some meals, walking everywhere, limiting your drinking, and sticking to mostly free activities like wandering the ruins. If you plan on drinking, add 5-10 EUR more to your budget per day.
On a mid-range budget of about 105 EUR per day, you can stay in a budget hotel room, eat out for all your meals, take an occasional taxi to get around, enjoy a few drinks, and do some paid activities like visiting the museums and the caves.
On a "luxury" budget of 215 EUR per day or more, you can stay in a hotel or private Airbnb, eat out anywhere you want, drink more, rent a car to explore the region, and do more paid tours and activities. This is just the ground floor for luxury though. The sky is the limit!
Since Sparta isn't a very touristy area, you don't have to worry much about prices fluctuating in the on-season and off-season.
Accommodation
Food
Transportation
Attractions
Average Daily Cost
Mid-Range
50
30
15
10
105
Sparta Travel Guide: Money-Saving Tips
Sparta is a pretty inexpensive city. It's more of a "local place to live" than a hub of tourist activity and as such prices are a lot cheaper than elsewhere in Greece. Here are some of my favorite ways to cut your costs in Sparta:
Use the Greek salad/bread rule – Is a restaurant cheap or expensive? Here's how to find out: if the bread cover is .50 EUR or a Greek salad is less than 7 EUR, the restaurant is cheap. If the cover is around 1 EUR and a salad is 7-8.50 EUR, the prices are average. Anything more than that and the place is expensive.
Eat super cheap – Gyros (and other street snacks) usually only cost a few euros. They are quick and easy and can keep you full for 10 EUR per day!
Take a self-guided tour – Don't indulge in the guided tours that are often very costly. The ruins in the area are easy to get around and visit on your own.
Stay with a local – If you plan ahead, you can usually find really nice Couchsurfing hosts all throughout Sparta. This way, you not only have a place to stay, but you'll have a local host that can tell you the best places to go and things to see. There aren't many though so be sure to send your request early!
Bring a water bottle – The tap water here is safe to drink so bring a reusable water bottle to save money and reduce your plastic use. LifeStraw is my go-to brand as their bottles have built-in filters to ensure your water is always clean and safe.
Where to Stay in Sparta
Sparta doesn't have any hostel options, but fortunately, there are lots of budget-friendly hotels and small apartment rentals. These are my recommended places to stay in Sparta:
How to Get Around Sparta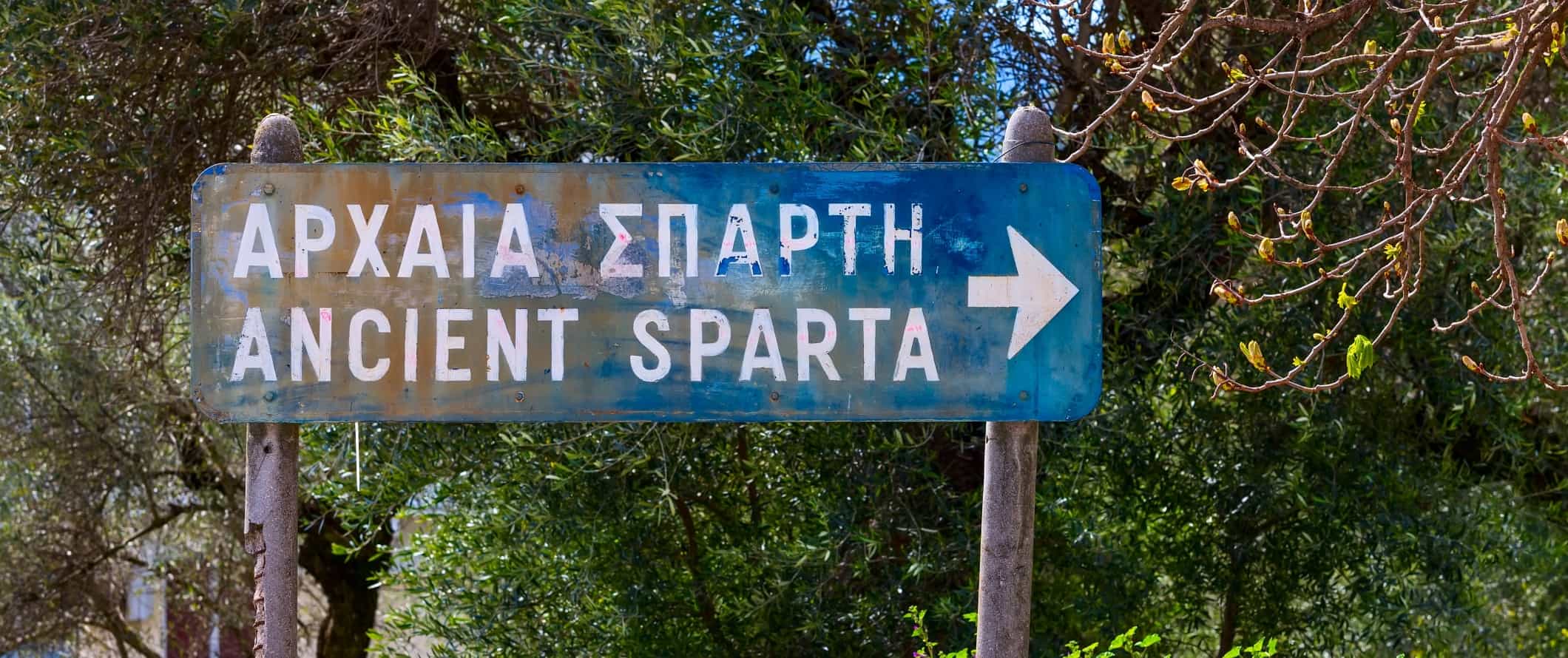 Walk – Sparta is small (just 16,000 people live here) and you can get around easily on foot to see most sites.
Taxi – Taxis are cheap here and they're really your only method of getting to attractions outside of town (like Mystras). A taxi from Sparta to Mystras should cost less than 10 EUR.
Car rental – There are a couple of car rental offices in Sparta with prices starting at 35 EUR per day. Drivers must be at least 21 years old and have had their license for at least one year. An International Driving Permit (IDP) is required. For the best rental car deals, use Discover Cars
When to Go to Sparta
Summer in Sparta is hot. The average daily temperature in July-August is 34°C (93°F). There's not much relief here if you want to escape the heat either — the sea is around 100 kilometers (62 miles) away. Walking around in the sweltering heat can be a bit much, so I'd avoid coming in the middle of the summer if you can.
May-June and September-October are the best times to visit as the weather is much more comfortable. It averages around 22-28°C (70-82°F), so you'll be able to walk around and explore without sweating bullets.
Winter temperatures average 10°C (50°F) so it's still warm enough to visit, however, some businesses shut down during this time so I'd avoid visiting in the winter if you can.
How to Stay Safe on Sparta
Sparta is a very safe place to travel. Violent crime is rare in Sparta so petty crime like pick-pocketing is your only real concern (though it's also uncommon). Keep an eye on your possessions when out and about and don't flash your valuables just to be safe.
If you're visiting in the summer, always bring water and sunscreen and wear a hat as heat stroke can occur.
If you rent a vehicle, don't leave any valuables in it overnight. Break-ins are rare but it's always better to be safe than sorry.
Solo female travelers should generally feel safe here, however, the standard precautions apply (never leave your drink unattended at the bar, never walk home alone intoxicated, etc.).
Scams in Sparta are rare, however, if you're worried about getting ripped off you can read about common travel scams to avoid here.
Always trust your gut instinct. Make copies of your personal documents, including your passport and ID. Forward your itinerary along to loved ones so they'll know where you are.
If you do experience an emergency, dial 112 for assistance.
The most important piece of advice I can offer is to purchase good travel insurance. Travel insurance protects you against illness, injury, theft, and cancellations. It's comprehensive protection in case anything goes wrong. I never go on a trip without it as I've had to use it many times in the past.
Sparta Travel Guide: The Best Booking Resources
These are my favorite companies to use when I travel. They consistently have the best deals, offer world-class customer service and great value, and overall, are better than their competitors. They are the companies I use the most and are always the starting point in my search for travel deals.
Skyscanner – Skyscanner is my favorite flight search engine. They search small websites and budget airlines that larger search sites tend to miss. They are hands down the number one place to start.
Hostelworld – This is the best hostel accommodation site out there with the largest inventory, best search interface, and widest availability.
Booking.com – The best all around booking site that constantly provides the cheapest and lowest rates. They have the widest selection of budget accommodation. In all my tests, they've always had the cheapest rates out of all the booking websites.
HostelPass – This new card gives you up to 20% off hostels throughout Europe. It's a great way to save money. They're constantly adding new hostels too. I've always wanted something like this and glad it finallt exists.
Get Your Guide – Get Your Guide is a huge online marketplace for tours and excursions. They have tons of tour options available in cities all around the world, including everything from cooking classes, walking tours, street art lessons, and more!
The Man in Seat 61 – This website is the ultimate guide to train travel anywhere in the world. They have the most comprehensive information on routes, times, prices, and train conditions. If you are planning a long train journey or some epic train trip, consult this site.
Rome2Rio – This website allows you to see how to get from point A to point B the best and cheapest way possible. It will give you all the bus, train, plane, or boat routes that can get you there as well as how much they cost.
FlixBus – Flixbus has routes between 20 European countries with prices starting as low 5 EUR! Their buses include WiFi, electrical outlets, a free checked bag.
SafetyWing – Safety Wing offers convenient and affordable plans tailored to digital nomads and long-term travelers. They have cheap monthly plans, great customer service, and an easy-to-use claims process that makes it perfect for those on the road.
LifeStraw – My go-to company for reusable water bottles with built-in filters so you can ensure your drinking water is always clean and safe.
Unbound Merino – They make lightweight, durable, easy-to-clean travel clothing.
Top Travel Credit Cards – Points are the best way to cut down travel expenses. Here's my favorite point earning credit cards so you can get free travel!
Ferry Hopper – If you're looking to book your ferries, this website is an easy way to search the various companies, piece together routes, and book your tickets.
Sparta Travel Guide: Related Articles
Want more info? Check out all the articles I've written on backpacking/traveling Greece and continue planning your trip: