Corfu has been one of Greece's most popular tourist destinations going back to the 1970s. It still is incredibly popular with tourists, especially backpackers who visit Corfu for its inexpensive parties and famous parties!
Located in the Ionian island group in western Greece, it is composed of white sand beaches, an active nightlife, and stunning mountains.
While it's very crowded during the summer months (especially with young backpackers), there are still many quiet places to stay and see on the island as most of the action sticks to just a few major hotspots.
I love the atmosphere here. It is a lot more relaxed than other islands in the Mediterranean and it's a great mix of Italian and Greek culture. There's more here than just parties!
This travel guide to Corfu can help you plan your trip so you have the best experience possible no matter why or when you go!

Corfu
Top 5 Things to See and Do in Corfu
1. Explore Kassiopi
Kassiopi is a small fishing village on the north side of Corfu thats much quieter than the main Corfu Town. From here you can walk among the ruins of the Byzantine Kassiopi castle, go diving, lounge on the beach, or simply kick back and relax in the town square.
2. See the Church of Saint Spyridon
This 300-year-old church in the middle of Corfu's Old Town is full of frescoes and elaborate artwork. It holds the remains of the island's patron saint, Spyridon, a Cypriot shepherd from the 4th century. The silver casket containing his remains is paraded through town during special events! It's free to visit.
3. Hit the beaches
The western side of Corfu is home to a long stretch of sandy beaches, while the eastern side has calmer waters. Sidari has the sandiest beaches, while the deep, calm waters around Paleokastritsa are ideal for water skiing, boating, and parasailing. Agios Georgios South has lots of sea life to explore while diving.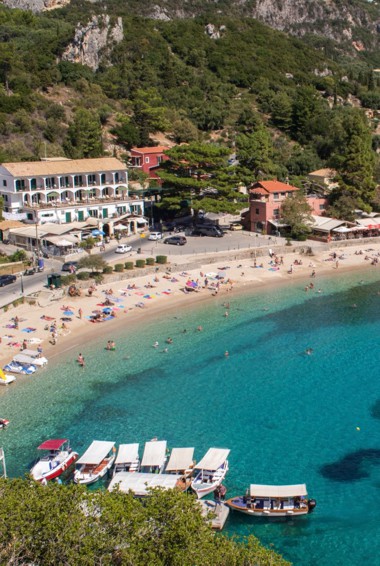 4. Spend time in Paleokastritsa
This relaxing seaside town has calm beaches of turquoise waters lined with waterfront Greek tavernas serving fresh seafood. You can visit nearby caves, or hike up to Theotokos Monastery for views overlooking the town and the Mediterranean.
5. Explore Achilleion
The Empress Elisabeth of Austria built this palace in 1890. It was designed with the mythical hero Achilles as its central theme, with paintings and sculptures throughout. The sculpture of the Dying Achilles is the centerpiece of the palace gardens. Admission is €8 EUR ($9 USD).
Other Things to See and Do in Corfu
1. Hang out in Corfu Town
There's a good chance you'll be spending some time in Corfu Town as its the focal point of the island. Its roots go all the way back to the 8th century BC, during the Byzantine period when the town was an important commercial center for the Phoenicians. It used to be called Paleopolis, and you can see some of its ruins opposite the Mon Repos Palace. Corfu was under Venetian rule between the 14th and 18th centuries, so you'll find lots of Venetian architecture around town: pastel-colored buildings, iron fencing, cobblestone streets, and wooden shutters. Just wander around and get lost amongst the cafes, restaurants, and tiny streets.
2. Check out Nymphes Village
According to legend, in ancient times, the Nymphs used to bathe in Nymphes's nearby 200-meter-high waterfalls. Just north of town, you can visit the waterfalls and see the remains of nearby Askitario, a small, ancient monastery. A monk named Artemios Paissios used to live here alone in the 5th century. He once had a premonition that his parents were coming to fetch him, so he dug a grave to lie down in it – at which point a boulder rolled on top of him. When his parents tried to dig him out, the boulder apparently ignited into flames. It's free to explore the ruins.
3. Visit Aqualand
Aqualand is a fun, family-friendly waterpark with 15 different water-themed rides and attractions, including slides, pools, and rivers. It's a little cheesy, but it gives you something different to do after you've spent a few days on the beach. Full-day access is €30 EUR ($33 USD), while half-day access is €22 EUR ($24 USD).
4. Hike the Corfu Trail
The Corfu Trail is an epic 93-mile (150-kilometer) trek starting from the south of the island and ending on the northern tip. It's a fairly easy hike, with lots of signage, and you'll weave your way through hills, mountains, lakes, lagoons, monasteries, and tiny towns. It's a really unique way to experience Corfu away from the resorts, and there's no shortage of accommodations along the way (or you can camp out).
5. Go sailing
Thanks to the calm water and consistently warm weather, Corfu is an ideal place for sailing. Various companies offer charter trips, and many of them offer lunch packages and open bars. Some hostels run day-long party boats. Day sails start from about €27 EUR ($30 USD), while you can find some multi-day excursions for less than €91 EUR ($100 USD) per night.
6. Visit the Museum of Banknotes
Founded by the Ionian Bank, this coin museum in Corfu Town has exhibits showcasing coins, stamps, bank documents, post-Greek liberation banknotes, books, and foreign banknotes from the past 180 years or so. The highlight of the museum: a 100-billion-drachma note from 1944, the largest denomination note ever issued. Admission is free.
7. Go on an olive oil tasting tour
Did you know that Corfu is home to four million olive trees? Olive oil has always been a big part of Greek tradition and culture, and a tasting tour is a perfect way to learn about the production of this essential food. Corfu Olive Tours has cool walks through olive tree groves, old mills, and lots of taste tests. They are our recommended company! Prices start from €40 EUR ($44 USD).
8. Visit the Corfu Archaeological Museum
This museum is home to ancient artifacts from all over the island, displayed throughout 1,600 exhibits narrating the history of the island, including statues, funeral offerings, pottery, and golden jewelry. The most famous exhibit is the monumental pediment from the temple of Artemis, which depicts Gorgon, a monster of the underworld from Greek mythology. It's the oldest stone pediment in Greece, dating to 590 BC. Another highlight includes the stone lion of Menecrates and a limestone pediment from a temple to Dionysis. It's €6 EUR ($6.60 USD) to visit.
For more information on specific destinations in Greece, check out these guides:
Corfu Travel Costs
Hostel prices – Four to eight bed dorms cost from €18 EUR ($20 USD) per night while dorms with ten beds or more costs about the same price. In the off-season, dorm rooms are about €17 ($19 USD).
A standard twin private room with an ensuite bathroom in one of the hostels starts from about €82 EUR ($90 USD) per night for two people. In the off-season, private rooms for two start at about €54 ($60 USD).
Budget hotel prices – A room with a private ensuite bathroom in a two-star hotel will start at about €54 EUR ($60 USD) anywhere on the island, including beachfront property in Sidari. In the off-season, you'll find rooms for €36 ($40 USD).
Airbnb is available everywhere on Corfu, with shared accommodation (like a bed in a dorm) starting at €17 EUR ($19 USD) per night, but those rooms are rare. For a private room, expect to pay about €36 EUR ($40 USD) per night, while a full apartment averages about €88 EUR ($97 USD) per night.
Food – Street food like gyros or souvlaki is cheap in Corfu, costing less than for between €4.55 EUR ($5 USD) each. A hearty Greek salad will also cost no more than €4.55 EUR ($5 USD). A meal at McDonald's will cost about €6 EUR ($6.60 USD).
Traditional Greek dishes are also very affordable, especially when it comes to local specialties. Pastitsada (slow-cooked rooster in a wine tomato sauce season with herbs and served over pasta) is Corfu's signature dish, and you can find it in most restaurants for €10 EUR ($11 USD). Traditional veal dishes like psito and sofrito cost about €11 EUR ($12 USD). Seafood like lightly fried octopus, calamari, or mussels will cost from €8 EUR ($9 USD). A beer to go with it will cost from €3.50 EUR ($4 USD).
At a higher-end restaurant, you can get an appetizer and an entree (including bass or tuna) for about €19 EUR ($21 USD). A glass of local wine is another €5.50 EUR ($6 USD).
If you cook for yourself, you can spend as little as €40 EUR ($44 USD) on groceries per week, which would include some meat, eggs, pasta, some veggies, cheese, and fruit.
Backpacking Corfu Suggested Budgets
If you're backpacking Corfu, expect to spend about €56 EUR ($51 USD) per day. This is assuming you're staying in a hostel dorm, eating lots of cheap and fast food, cooking some meals, using the bus to get around, visiting about one attraction per day (like a museum) or taking advantage of lots of free activities. If you're going to party while you're here, add another 10 to 15 Euros per day to your budget!
On a mid-range budget of €96 EUR ($106 USD) per day, you can stay in a private Airbnb or hotel room, eat out all you want, rent a bike, take some guided tours, and drink a bit more! You won't live large but you'll want for nothing!
On a luxury budget of €196 EUR ($216 USD) per day in Corfu, you'll stay in a four-star hotel or resort, eat at nicer restaurants, rent a scooter, and do all the tours you want!
One thing to keep in mind is that if you're coming during peak summer, prices are about 10-20% higher for everything!
You can use the chart below to get some idea of how much you need to budget daily, depending on your travel style. Keep in mind these are daily averages – some days you'll spend more, some days you'll spend less (you might spend less every day). We just want to give you a general idea of how to make your budget. Prices are in USD.
Accommodation
Food
Transportation
Attractions
Average Daily Cost
Backpacker
$16
$15
$10
$10
$51
Mid-Range
$40
$25
$11
$30
$106
Luxury
$110
$40
$22
$44
$216
Corfu Travel Guide: Money Saving Tips
Despite Corfu being one of the most touristy islands in Greece, the island remains pretty budget-friendly. Greece itself is pretty cheap and, even during peak summer, you can still find ways to save money (though prices are always higher during the summer months). Here are some of my favorite ways to cut your costs in Corfu:
Get the Corfu City Pass – The Corfu City Pass gives you access to many different attractions under one price, including Aqualand, a day sail, a walking tour, and more. Prices start from €25 EUR ($28 USD).
Stay in nearby Messonghi – This village is 15 miles (24 kilometers) outside the main town. If you want a small-town feel without the crazy tourism, you can take advantages of this city, the fewer crowds, and the cheaper prices.
Have an ISIC Card – To save 20-50% on the cost of admission to museums and other tourist attractions, be sure to present a valid student card. The ISIC is typically accepted in places where a foreign student ID is not.
Book in advance – Corfu gets a lot of tourism, and things tend to fill up quickly (especially in the summer). If you want to secure that ultra cheap hostel room, book way in advance!
Travel in the shoulder season – Accommodations and scooter/ATV rentals are cheaper in the shoulder season. It may not be as hot as the summer months, but the weather is still very pleasant.
Book overnight ferries – Greece's inter-island ferries can get quite expensive if you are visiting a lot of them. Taking the overnight ferries can save you up to half off the normal price plus save you a night of accommodation.
Book ferries early – If you book the ferries around two months in advance, you can save up to 25% off the cost of your ticket. (Score!)
Couchsurf – If you plan ahead, you can usually find really nice Couchsurfing hosts all throughout Corfu. This way, you not only have a place to stay, but you'll have a local host that can tell you the best places to go and things to see.
Where To Stay in Corfu
Corfu has lots of hostels all over the islands, but keep in mind that some of them are big party hostels. The Pink Palace is included here because it's one of the most famous in Greece, but it's a BIG party spot — don't stay here if you're looking for a quieter Corfu experience. These are my suggested and recommended places to stay in Corfu:
How to Get Around Corfu
Bus – Other than walking, taking the bus is the best budget option. The blue-and-white buses run between the airport, the cruise ship terminal, and into Corfu Town. The green buses travel elsewhere around the island.
Depending on the length of your trip, bus fares cost between €1.50-4.80 EUR ($1.65-5.30 USD). You can also get an unlimited day pass for €5 EUR ($5.50 USD) on the blue-and-white bus around Corfu Town. Services are reduced on Saturday, and are often nonexistent in the low season on Sundays.
Scooter Rental – A scooter rental is an excellent way to get around Corfu. Rentals start from €20 EUR ($22 USD) per day, or you can even get an ATV starting from €45 EUR ($50 USD) per day. There are lots of rental companies, but I recommend Bike Rentals in Agios Gordios, Nadia's Bike Rentals, or Corfu Vespa Rentals & Tours.
Bicycle – You can find daily rentals for as little as €10 EUR ($11 USD) per day. Corfu Bicycle Rentals, Kontokali Bicycles, and Corfu Port Bicycles are the best companies. While the island is bike friendly with lots of routes, keep in mind there are lots and lots of hills!
Taxi – Since taxis in Corfu do not use meters, it's best to negotiate your price beforehand. A five-kilometer journey will cost about €9 EUR ($10 USD), and you'll pay about €15 EUR ($16.55 USD) for a ride from the airport to Corfu Town.
When to Go to Corfu
Corfu's shoulder seasons (April to May and September to November) are the best times to visit the island. Although the Mediterannean is pleasant year-round, you'll still get warm temperatures in the shoulder seasons but without the tourist hordes. Plus, prices are less inflated. The average high is 73°F (23°C).
Summers (June to August) are really hot, with temperatures averaging 88°F (31°C) each day. The Meditannean is perfect for swimming and enjoying water sports, but this is definitely when most people visit. This is also peak season so you can expect the most crowds and highest prices too.
Winters average 50°F (10°C), and you won't have to compete with tourists for hotel rooms during this time, but keep in mind that many businesses and services shut down in the off-season.
How to Stay Safe on Corfu
Corfu is a very safe place to travel. Violent crime is rare, and petty crime like pick-pocketing is your only real concern. Keep your valuables close at tourist attractions and especially on the beach.
If you're an inexperienced driver, you may want to pass on the scooter rental. Natives to the island zip around chaotically, and the hairpin turns and hills sometimes make for dangerous driving. Accidents are infrequent, but not impossible.
If you're worried about getting scammed, you can read about the 14 travel scams to avoid right here.
Always trust your gut instinct. If a taxi driver seems shady, stop the cab and get out. If your hotel is seedier than you thought, move somewhere else.
If you don't do it at home, don't do it in Corfu! Follow that rule, and you'll be fine.
The most important piece of advice I can offer is to purchase good travel insurance. Travel insurance will protect you against illness, injury, theft, and cancellations. It's comprehensive protection in case anything goes wrong. I never go on a trip without it as I've had to use it many times in the past.
Corfu Travel Guide: The Best Booking Resources
These are my favorite companies to use when I travel to Corfu. They are included here because they consistently find deals, offer world-class customer service and great value, and overall, are better than their competitors.
Momondo – This is my favorite booking site. I never book a flight without checking here first.
Skyscanner – Skyscanner is another great flight search engline which searches a lot of different airlines, including many of the budget carriers that larger sites miss. While I always start with Momondo, I use this site too as a way to compare prices.
Airbnb – Airbnb is a great accommodation alternative for connecting with homeowners who rent out their homes or apartments.
Hostelworld – This is the best hostel accommodation site out there, with the largest inventory, best search interface, and widest availability.
Couchsurfing – This website allows you to stay on people's couches or spare rooms for free. It's a great way to save money while meeting locals who can tell you the ins and outs of their city. The site also lists events you can attend to meet people (even if you're not staying with someone).
Booking.com – The best all around booking site that constantly provides the cheapest and lowest rates. They have a no money down policy, great interface, and the widest selection of budget accommodation. In all my tests, they've always had the cheapest rates out of all the booking websites.
Intrepid Travel – If you want to do a group tour around Europe, go with Intrepid Travel. They offer good small group tours that use local operators and leave a small environmental footprint. If you go on a tour with anyone, go with them. And, as a reader of this site, you'll get a discount when you click the link!
The Man in Seat 61 – This website is the ultimate guide to train travel anywhere in the world. They have the most comprehensive information on routes, times, prices, and train conditions. If you are planning a long train journey or some epic train trip, consult this site.
Rome 2 Rio – This website allows you to see how to get from point A to point B the best and cheapest way possible. It will give you all the bus, train, plane, or boat routes that can get you there as well as how much they cost.
Bla Bla Car – BlaBlaCar is a ridesharing website that lets you share rides with vetted local drivers by pitching in for gas. You simply request a seat, they approve, and off you go! It's a cheaper and more interesting way travel than by bus or train!
World Nomads – I buy all my travel insurance from World Nomads. They have great customer service, competitive prices, and in-depth coverage. I've been using them since I started traveling in 2003. Don't leave home without it!
EatWith – This website allows you to eat home-cooked meal with locals. Locals post listings for dinner parties and specialty meals that you can sign up for. There is a fee (everyone sets their own price), but this is a great way to do something different, pick a local's brain, and make a new friend.
Corfu Gear and Packing Guide
If you're heading on the road and need some gear suggestions, here are my tips for the best travel backpack and for what to pack!
The Best Backpack for Travelers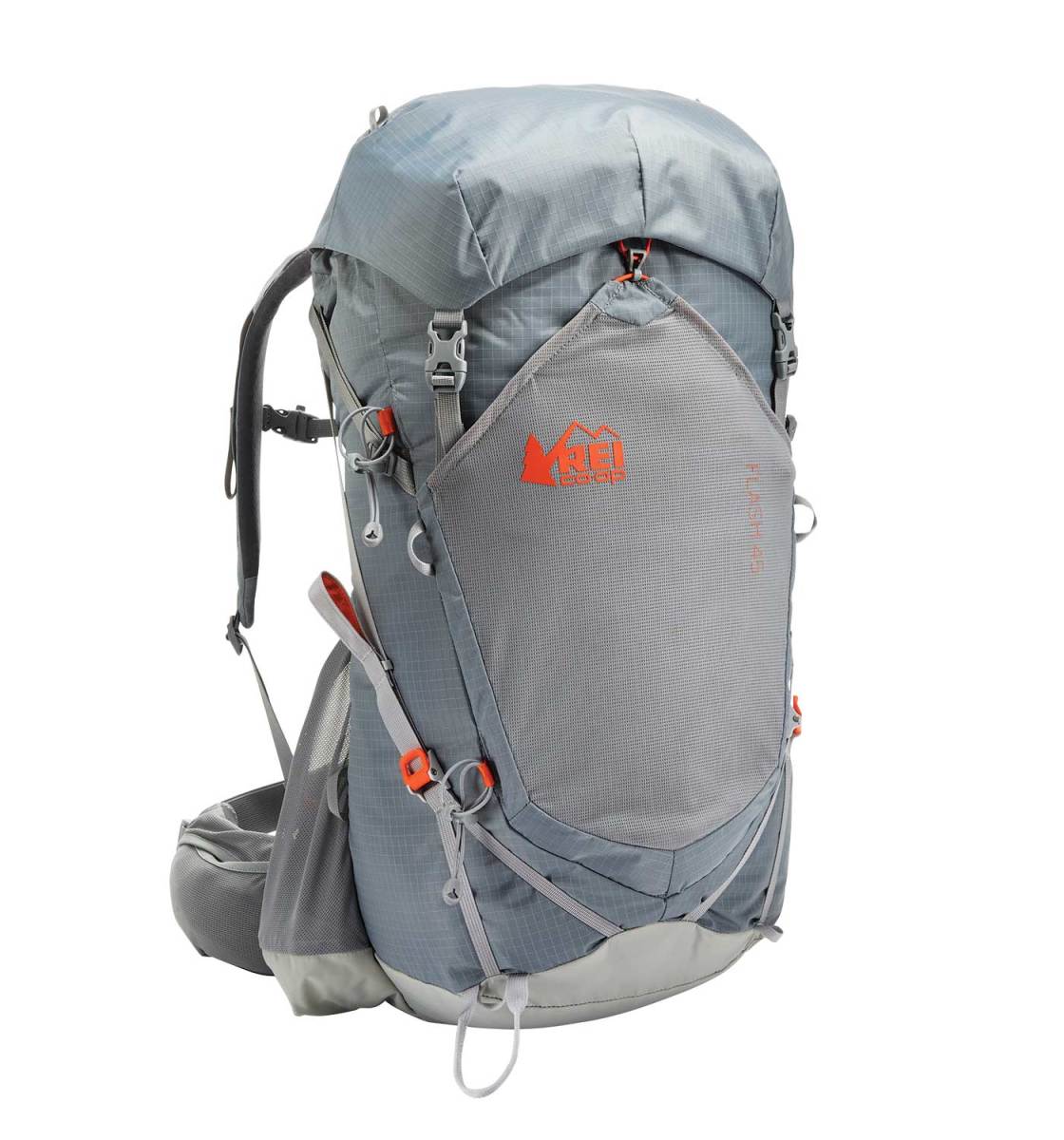 What's the best backpack for traveling long-term? I recommend the
REI Flash 45 Pack
. It's light and comfy, front loading, and fits perfectly in an airplane's overhead bin.
Size:
45-47L
Straps:
Thick and cushy with compression technology that pulls the pack's load up and inwards so it doesn't feel as heavy.
Features:
Removable top lid, large pocket at the front, hydration compatible, contoured hip belt
If you want something different, refer to my article on how to choose the best travel backpack for tips on picking a pack and other backpack suggestions.
What to Pack for Your Trip
Clothes
1 pair of jeans (heavy and not easily dried, but I like them; a good alternative is khaki pants)
1 pair of shorts
1 bathing suit
5 T-shirts (Unbound Merino is my preferred company. If you're a member of NM+, you can get 15% off your purchase)
1 long-sleeved T-shirt
1 pair of flip-flops
1 pair of sneakers
6 pairs of socks (I always end up losing half)
5 pairs of boxer shorts (I'm not a briefs guy!)
1 toothbrush
1 tube of toothpaste
1 razor
1 package of dental floss
1 small bottle of shampoo
1 small bottle of shower gel
1 towel
Deodorant
Small Medical Kit (safety is important!!!)
Miscellaneous
Female Travel Packing List
I'm not a woman, so I don't know what a woman wears, but Kristin Addis, our solo female travel guru, wrote this list as an addition to the basics above:
Clothing
1 swimsuit
1 sarong
1 pair of stretchy jeans (they wash and dry easily)
1 pair of leggings (if it's cold, they can go under your jeans, otherwise with a dress or shirt)
2-3 long-sleeve tops
2-3 T-shirts
3-4 spaghetti tops
1 light cardigan
Toiletries
1 dry shampoo spray & talc powder (keeps long hair grease-free in between washes)
1 hairbrush
Makeup you use
Hair bands & hair clips
Feminine hygiene products (you can opt to buy there too, but I prefer not to count on it, and most people have their preferred products)
For more on packing, check out these posts:
Corfu Travel Guide: Related Articles
Want more info? Check out all the articles I've written on backpacking/traveling Greece and continue planning your trip:
Photo credits: 2 – Jennifer Slot