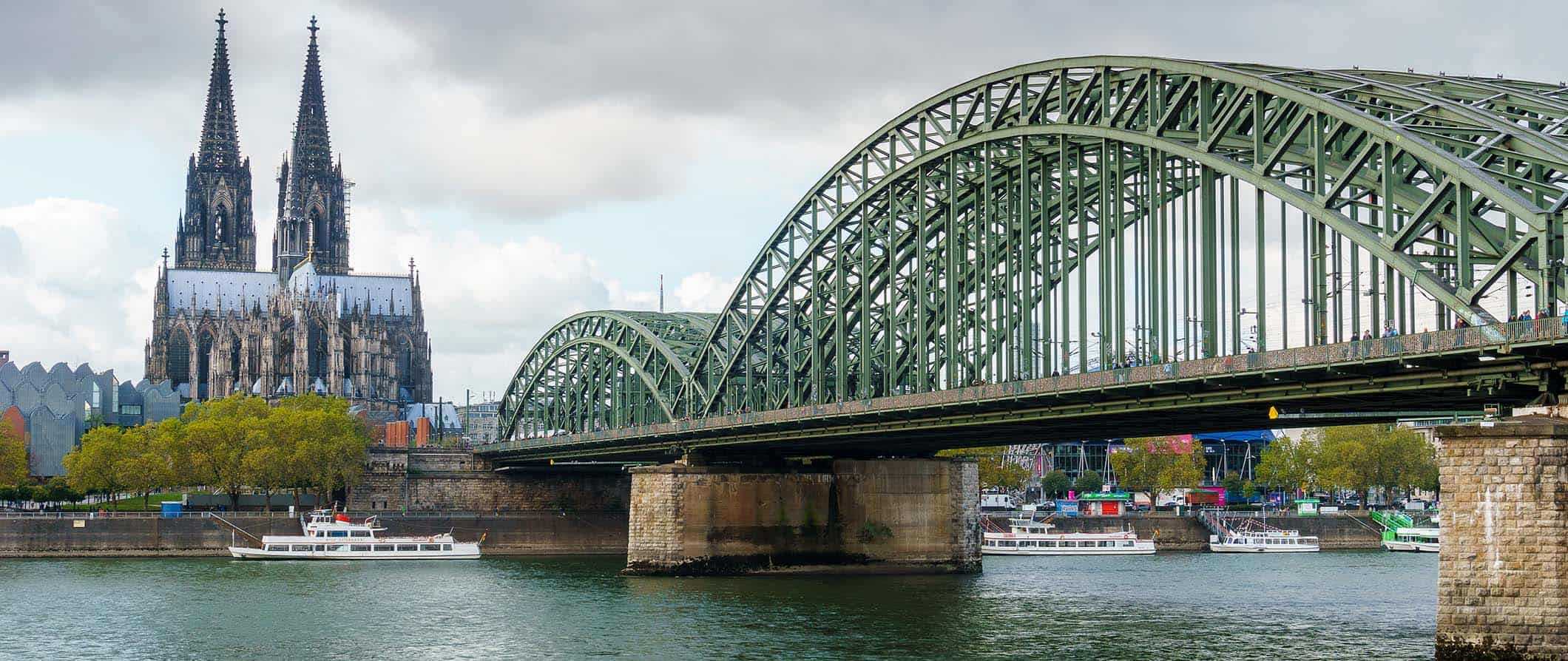 Cologne is the fourth largest city in Germany and a popular tourist destination for people passing to or from Holland. The city has a great cathedral, lots of wonderful cafes and international restaurants, and the historic architecture is worth taking in. Moreover, the city has a great range of museums and free activities so it's pretty budget friendly. I found the city to be a bit too "modern" and less vibrant than other German cities but it does have a certain charming quick pace to it. Compared to cities like Berlin and Munich, Cologne is a lot less touristy and makes for a great stopover on your way between the east and west sides of Germany.
Top 5 Things to See and Do in Cologne
1. Visit the Kolner Dom
This beautiful church is one of the largest and most famous Gothic cathedrals in the country. It's pretty damn impressive. The view from the top of the south tower is breathtaking but you have to walk up 509 stairs to see it. Entry into the cathedral is free but the south tower will cost 4 EUR.
2. Visit the Wallraf-Richartz museum
This museum will give you a detailed history of the region and insight as to how people lived during the middle ages. As a history buff, I enjoyed it quite a bit! Admission is 12 EUR, with discounts available for families.
3. Visit Grüngürtel
Located in the heart of the city, Grüngürtel is a great place to spend the day having a picnic, soaking in the sun, and watching people. Not interested in that? Well, there is also a beer garden, and that's something you can never go wrong with!
4. Take a river cruise
Cruises up and down the Rhine river are very popular. You can take one around the city or join a multi-day trip through other parts of Germany as well. Longer tours, while very scenic, are more geared towards older travelers and tend to be expensive. For two-hour sightseeing cruise, tickets cost around 12 EUR and are a better option for budget travelers.
5. Visit the church of St. Kunibert
Cologne has some gorgeous churches to visit. Besides Kolner Dam, St. Kunibert is one of the best. The beautiful stained-glass windows are intricate and detailed. I could spend hours looking at them.
Other Things to See and Do
(Click the title to expand the text)
1. Walk around
Spend time walking Cologne's neighborhoods. Agnesviertel is a bohemian area filled with shops, art galleries, bookstores, and pubs. Alte Feuerwache has a great flea market during the summer. The riverside has some modern buildings and of course there is always the historic center to explore.
2. Celebrate the Winter "Karneval"
The biggest festival Cologne is the winter Karneval. It occurs every February and, on opening day, crowds line the streets and watch a huge parade. This is followed by lots of eating, drinking, and merrymaking.
3. Visit the Cologne Synagogue
The synagogue is notable for its architecture and te Torah within the synagogue was rescued by a Catholic priest from another synagogue as it was being burned during Nazi rule. In August 2005, Pope Benedict XVI visited this place of worship.
4. See the Museum Ludwig
This art museum has an excellent exhibit on German expressionism, but the main draw is the variety of postmodern art they have here. There is essentially work from all major genres (and artists) of the 20th century. If you love modern art, this museum is for you. Adult admission is 11 EUR, and discounts are available for students, seniors, and families.
5. Visit the Schokoladen Museum
This place is dedicated to the history and production of chocolate. You'll learn about everything from the Aztecs's production of it to modern day cocoa growing. The end of the tour features a chocolate fountain for sampling and a fully-stocked shop. Admission is 9 EUR, and discounts are available for groups and families.
6. Educate yourself at Kolumba
This is a museum that has a huge variety of exhibits, that cover several years' worth of history. The building itself was constructed to enclose the church St Kolumba, dating back to the late Gothic period. There is a range of religious artistry, medieval paintings, Coptic textiles, and more on display. Admission is 5 EUR for adults, while everyone under 18 enters for free.
7. Experience the nightlife
There are a slew of bars, lounges, and clubs throughout the city. Many of them feature really interesting decors and themes, while some are quite glamorous. Places like Shepheard and Papa Joe's Klimperkasten are a little more slow-going, whereas, Lauschgift and Alter Wartesaal are great places for dancing and theme-night fun.
8. Take a day trip to Beethoven's Birthplace
Bonn, the town where Ludwig van Beethoven was born, is located 25 km from Cologne. It's easy to plan a day trip to this city and visit the composer's house or some of the other museums on offer. It's about a 20-minute train ride, and one-way tickets cost 12-18 EUR.
Typical Costs
Hostel prices
– Hostels in Cologne cost between 16-30 EUR a night for a dorm bed. Private rooms start around 50 EUR for a double. For those traveling with a tent, there are only a couple options for camping available (far) outside the city. Expect to pay around 8-15 EUR for a basic plot. You can book your hostel with
Hostelworld
.
Budget hotel prices – Budget hotels range between 45-90 EUR for a basic double room with a private bathroom. Most budget hotels are in the center of town. Use Booking.com as they consistently return the cheapest rates. If you prefer Airbnb, you can find shared accommodation for around 24 EUR per night and an entire home or apartment starting at 40 EUR per night. (It's my preferred option.)
Average cost of food – You can typically eat a meal (with a drink) at a sit-down restaurant with table service for between 14-23 EUR. Like the rest of Germany, Cologne has many cheap eats options. Street vendors (i.e. sausage stands) cost between 1-4 EUR, pre-made sandwiches average 5 EUR, and fast food will set you back around 7 EUR. Additionally, kebabs and Indian food can also be found at a good price for under 5 EUR. A week's worth of basic groceries (fruits, veggies, pasta, chicken, eggs, etc) will cost around 45 EUR.
Transportation costs – The tram is the best way to get around the city besides walking. You can purchase tickets on the tram or at the stations. A one-way ticket in a single zone will cost you 2.80 EUR, while a one-day Cologne pass gives you free transportation and costs 9 EUR. The pass also includes discounts on certain attractions and restaurants. Cycling is another great way to see the city, and bike rentals begin around 10 EUR per day. If you're coming from the airport, you can use the regular public transit. It will take around 15 minutes and only cost 2.80 EUR. For trips outside the city, intercity trains and buses are available to all the major cities in the country.
Suggested daily budget
40-50 EUR / 42-52 USD (Note: This is a suggested budget assuming you're staying in a hostel, eating out a little, cooking most of your meals, and using local transportation. Using the budget tips below, you can always lower this number. However, if you stay in fancier accommodations or eat out more often, expect this to be higher!)
Money Saving Tips
Spend the day in the park – Cologne offers many free parks within city limits, so spending the day walking around is a great way to pass some time, relax, have a picnic, and get to know the city.
Get a Cologne Pass – A one-day Cologne pass gives you free transportation and costs 9 EUR. It also gives you discounts on certain attractions and restaurants which is a great deal if you're spending a bit of time in the city.
Cook your own meals – If you stay at a hostel with self-catering facilities (a kitchen) then you will be able to cook your own food. This will be significantly cheaper than going out for every meal!
Book your train early – Trains in Germany are expensive but you can get a saver ticket that is around 40-50% off the standard fare if you book at least a week in advance. These tickets have limited availability, so be flexible with your travel plans.
Free walking tours – Freetour.com offers a daily tour of the city (in English). It lasts over two hours and covers all the main sites of the city. It's a great way to explore and learn about the history and culture of Cologne.
Couchsurf – The best way to save money on accommodation is to stay with a local for free. Not only will you save money, but it's a great way to get some local insight into the city and discover things most visitors would miss.
My Must Have Guides For Traveling to Cologne