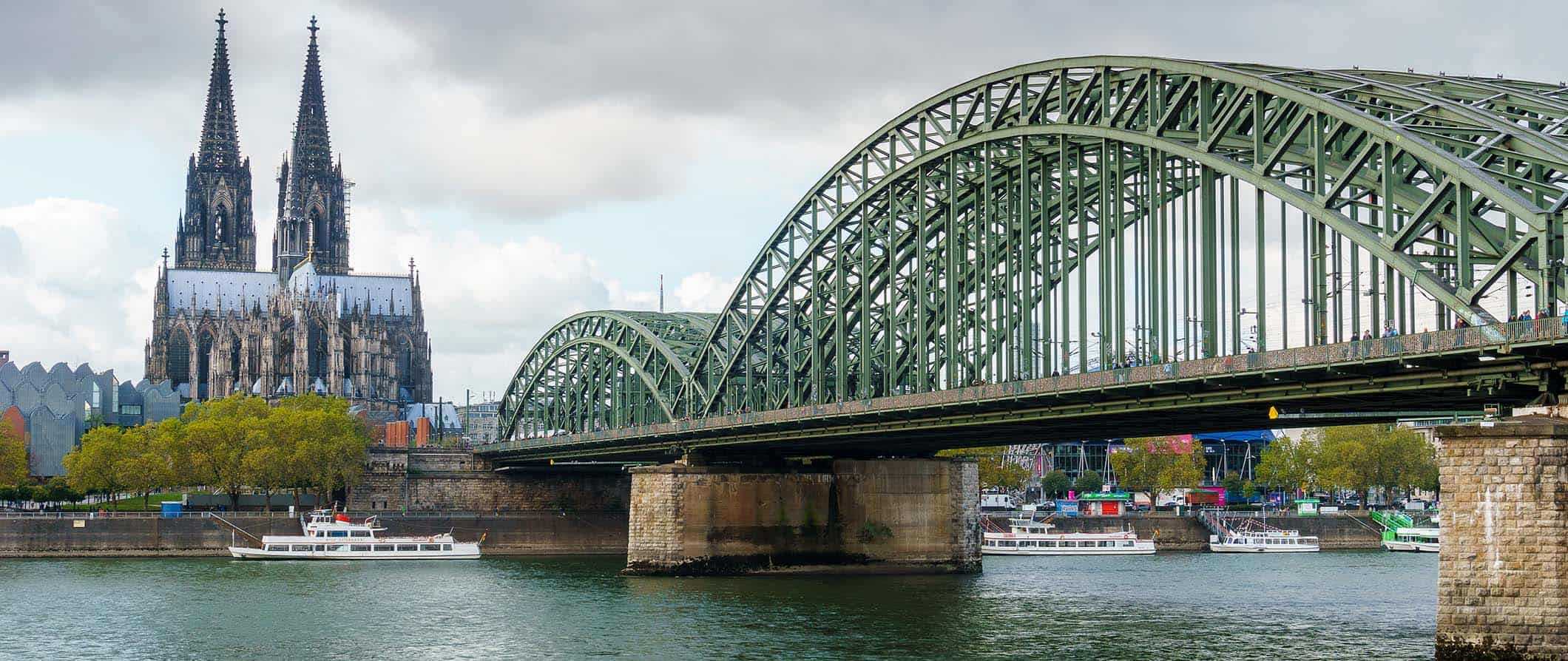 Cologne is the fourth largest city in Germany and a popular tourist destination for people passing to/from the Netherlands. The city is known for its Gothic World Heritage Site cathedral, wonderful cafes and international restaurants, and historic architecture.
Cologne, or Köln in German, was founded as part of the Roman Empire and ruins from that era have been found all over the city. During the Middle Ages, Cologne grew to become one of the largest cities in Europe, during which time the famous Kölner Dom (Cologne Cathedral) was built. Cologne is also the birthplace of cologne (as in the perfume), which was invented here in the 18th century. For Germans, Cologne is often visited usually during one special time of the year: Carnival.
Personally, I think more people should visit Cologne. The city has a range of museums and free activities that make it budget-friendly. Sure, it can feel a bit too "modern" and less vibrant than other German cities, but it does have a charming quick pace to it and the people who live there are known for being the friendliest in the whole country.
Compared to cities like Berlin and Munich, Cologne is a lot less touristy so it's easy to beat the crowds here too.
This travel guide to Cologne can help you plan your trip, save money, and ensure you make the most of your visit!
Top 5 Things to See and Do in Cologne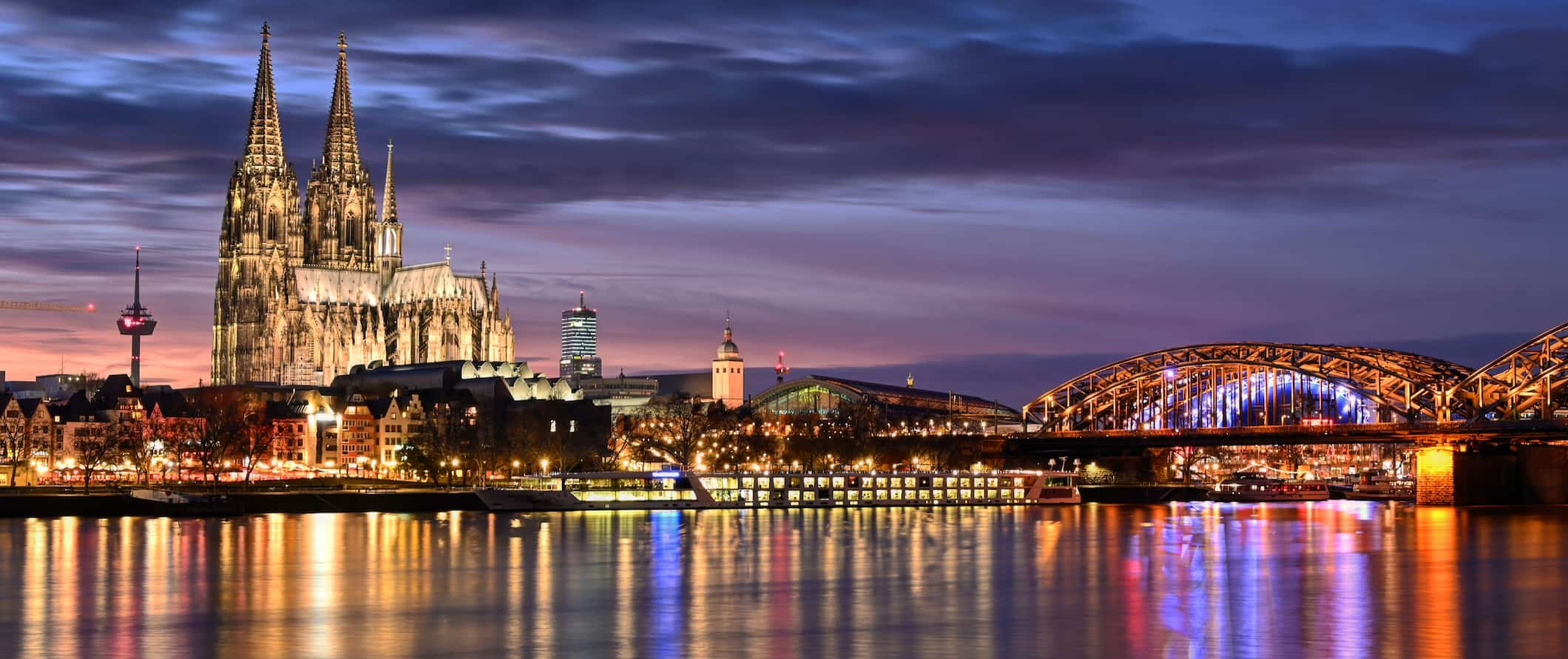 1. Visit the Kölner Dom
The Kölner Dom is a UNESCO World Heritage Site one of the largest Gothic cathedrals in the country. It's famous for its twin spires, medieval stained-glass windows, and giant flying buttresses. Entry to the cathedral is free but the tower costs 6 EUR. Guided tours in English start every day at 3pm and cost 10 EUR.
2. Explore on foot
Agnesviertel is a bohemian area filled with shops, art galleries, bookstores, and pubs. Alte Feuerwache has a great flea market during the summer, and of course, there is always the historic center to explore, home to the Cathedral, Great St. Martin Church, and the Town Hall. The city is easy to get around on foot, though if you'd prefer a guided tour you can take a free walking tour with Free Walking Tour Cologne Just remember to tip your guide at the end!
3. Visit Grüngürtel
Grüngürtel is the best park for a picnic, a walk, and people-watching. Grab a drink at the beer garden, lounge with a book, or have a barbecue at one of the barbecue pits. The forest of oak and maple trees is especially lovely to stroll through in autumn!
4. Take a river cruise
Cruises up and down the Rhine are a popular way to take in the city. You can take a day tour or join a multi-day trip through other parts of Germany. Longer tours are generally geared toward seniors and tend to be expensive. For a one-hour sightseeing tour, tickets start from 13.50 EUR. For a two-hour sightseeing cruise, tickets start from 20 EUR.
5. Take a day trip to Beethoven's Birthplace
Bonn is the town where composer Ludwig van Beethoven was born. Visit the house where he was born and that today is home to his manuscripts, pictures, musical instruments, and mementos. It makes for an easy day trip. Admission is 10 EUR.
Other Things to See and Do in Cologne
1. Visit the Wallraf-Richartz Museum
This fine art museum houses one of the world's largest collections of medieval paintings, specifically focused on the Cologne School (i.e. painters from in and around Cologne between 1300-1550). In addition to its medieval collection, the museum includes works from the Gothic, Baroque, Renaissance, and Impressionist periods. Notable artists in the collection include Rubens, Rembrandt, Monet, Pissarro, Manet, Cézanne, and van Gogh, among many others. The museum also features a variety of rotating temporary exhibitions. Admission is 8 EUR.
2. Celebrate the Winter "Karneval"
The biggest festival in Cologne is the winter Karneval, occurring every February. On opening day, crowds line the streets and watch a huge parade, which is followed by endless eating, drinking, and partying in the streets. The parade launches an entire week of street parties. Prepare to dress up in costume, dance, be social, and take part in the crazy festivities. When the sun goes down, people head out to bars to keep the momentum going.
3. Visit the Roonstrasse Synagogue
The synagogue is notable for its Neo-Romanesque style, having been rebuilt in the 1950s after the Nazis partially burned it down on Kristallnacht in 1938 (the Torah within the synagogue was actually rescued by a Catholic priest). Today, visitors can admire the reconstructed exterior dominated by the large circular stained-glass window, round and square turrets, and decorated arched windows. The interior is simply decorated and features a vast blue dome as well as an exhibition on the history and culture of the Jewish community in Cologne. It's free to visit.
4. See the Museum Ludwig
This art museum has a diverse exhibit on German expressionism, but the main draw is the variety of postmodern art — including the largest collection of Pop Art in the world. You can view works from Pablo Picasso, Andy Warhol, and Roy Lichtenstein, as well as a variety of temporary exhibits. If you love modern art, this museum is for you. Admission is 11 EUR. On the first Thursday of the month, it's 7 EUR after 5pm.
5. Tour the Schokoladen Museum
This museum is dedicated to the history and production of chocolate, with exhibits about everything from the Aztecs' production of it to modern-day cocoa growing. The end of the tour features a chocolate fountain for sampling and a fully stocked chocolate shop. Admission is 13.50 EUR on weekdays and 14.50 EUR on weekends. Extend your visit by enjoying cakes and other chocolate delicacies at the Chocolat Grand Café while looking out over the Rhine River.
7. Explore the botanical gardens
Located on the left bank of the Rhine, these gardens are perfectly landscaped and are home to more than 10,000 species of plants, including orchids, cocoa plants, and succulents. Established in the 19th century, the Cologne Botanical Gardens is the oldest public park in the city. There are a variety of gardens here, including Mediterranean, English, and alpine gardens, along with four different greenhouses. It's free to visit.
8. Go to Phantasialand
What began as a puppet theater in 1967 has now become a full-blown amusement park on the outskirts of Cologne. Visitors of all ages flock here to ride the rollercoasters along the shores of Lake Mondsee. There's also an area for dining, drinking, shopping, and live music. Tickets range from 45-57 EUR depending on the season and day of the week.
10. Walk the Rheinboulevard
This riverside walkway is located across the river from Cologne's historic center in a new and modern part of town. Stroll along the river taking in the views of both the modern and historic skylines, or pop into one of the many restaurants, cafes, and galleries along the way. Ascend the iconic KölnTriangle building for panoramic views over the entire city from the building's observation deck (admission is 5 EUR).
11. Learn about Nazi-era Cologne at the NS Documentation Centre (NSDOK)
This center is part memorial, part museum, and part research center. Housed in the former headquarters of the Cologne Gestapo (secret state police), the museum features exhibitions on everyday life under the Nazis, resistance efforts, and information about the post-war reconstruction. Visitors can even descend into the basement to see the cells where prisoners were held. There are also over 1,800 drawings and inscriptions that they scratched into the walls. Admission is 4.50 EUR.
12. Ride the Cologne cable car
For impressive views over the Rhine River, hop on Cologne's cable car. It was the first cable car in Europe to cross a river when it opened in 1957. The ride is short (just 6 minutes) and it's open from April-October from 10am-6pm. Tickets cost 5 EUR for a one-way journey and 8 EUR round-trip.
13. Explore the city by bike
If walking tours aren't your thing, try biking. Cycling is incredibly popular in Cologne, and it's the perfect way for travelers to see more of the city in a shorter time period. Radstation Cologne offers daily tours where you'll see Cologne's main sights, learn about local history, and enjoy the views. Tickets are 26 EUR, which includes the bike rental. If you prefer an independent pace, you can rent your own bike and follow the Cologne tourism board's self-guided bike tours, available for download on their website.
14. Tour the breweries
Cologne has a long brewing history; the oldest brewery, Brauhaus Sion, dates to the early 14th century. The city is also the birthplace of Kölsch beer, a crisp, golden beer that technically must originate within 50 kilometers (30 miles) of the city to be able to bear the name. Learn about brewing history and culture on a guided walking tour with stops at various breweries. Kölner Kompass offers tours for 23.50 EUR, which includes 3 Kölsch beers. The Kölsch Crew also offers tours for 19 EUR (not including beer tastings) as well as a beer and Christmas market tour for 29 EUR during the holiday season.

For more information on other cities in Germany, check out these guides:
Cologne Travel Costs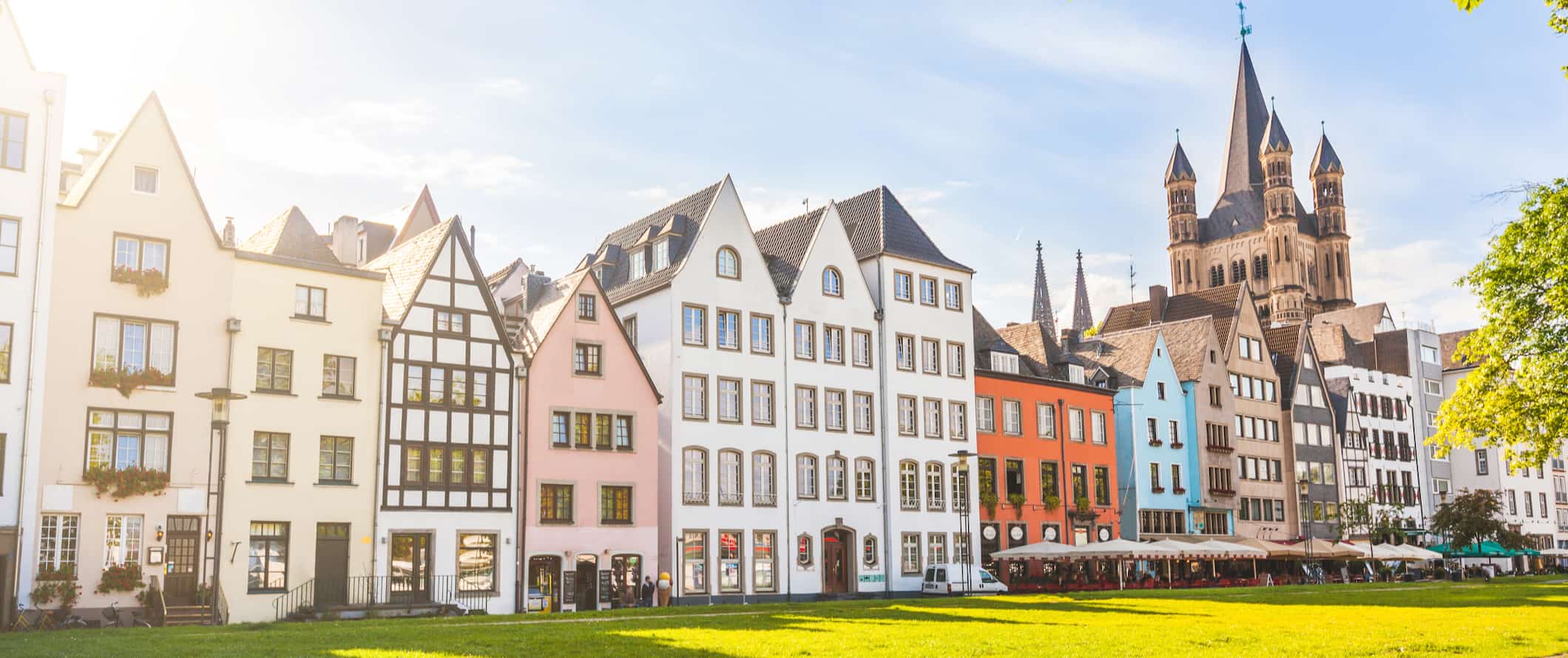 Hostel prices – A bed in a 4-6-bed dorm costs around 27 EUR per night while a dorm with 8 beds or more costs 19-25 EUR. A basic double private room costs around 60 EUR per night. Free Wi-Fi is standard though free breakfast is not common (a few have a breakfast buffet available for an additional fee of 6-8 EUR however). Most hostels in Cologne have kitchen facilities, but be sure to double-check if this is important to you. Many also have an attached café and bar.
Budget hotel prices – Budget hotels start at 60-75 EUR per night. Free Wi-Fi and TVs are standard, as are private bathrooms, though some still have shared bathrooms so be sure to double-check before you book. A few hotels offer free breakfast, though it isn't common. However, most hotels offer a breakfast buffet for an additional cost of 8-10 EUR.
Airbnb is available everywhere in Cologne, with private rooms starting at 35-60 EUR per night. Entire homes/apartments start at 55-85 EUR per night. Prices double when not booked in advance, however, so be sure to book early.
Food – Food in Germany is very affordable — and very hearty. Meat is a staple of most meals, especially sausages; there are over 1,500 different kinds of sausages in Germany (sausages here are known as "wurst"). Stews are also a popular traditional choice, as are potato dumplings and sauerkraut. Breakfast is usually composed of bread, cold cuts, cheese, and boiled eggs.
Cologne has tons of cheap food options and there's a lively street food truck scene here too. You can get burgers for around 7 EUR, while kebabs and burritos can be less than 5 EUR. Sausages and wurst at a food stand are around 3 EUR.
A fast food combo meal (think McDonald's) costs 8 EUR. At a traditional beer hall, you can get a sauerkraut soup for 5.50 EUR while fried sausage with homemade potato salad is about 11 EUR. A small stein of beer to go with it costs about 4 EUR. Cologne is particularly known for its small, cold Kölsch beer called a 'Stange' that only costs around 2.50 EUR each.
A three-course meal at a traditional German restaurant serving schnitzel and potatoes costs about 33 EUR, while wine costs at least 5 EUR a glass.
If you cook for yourself, you can spend as little as 50 EUR on groceries per week. This gets you staples like bread, eggs, rice/pasta, veggies, fruit, and some meat.
Backpacking Cologne Suggested Budgets
If you're backpacking Cologne, my suggested budget is around 60 EUR per day. This budget covers a hostel dorm, using public transportation, cooking most of your meals, taking free walking tours, and limiting your drinking.
A mid-range budget of about 130 EUR per day covers staying in a private Airbnb room, eating out for most meals, renting a bike to get around, taking the occasional taxi, drinking more, and doing more paid activities like museum visits and brewery tours,
On a "luxury" budget of about 265 EUR or more per day, you can stay in a hotel, eat out anywhere you want, enjoy more drinks, take more taxis or rent a car, and do whatever tours and activities you want. This is just the ground floor for luxury though. The sky's the limit!
Accommodation
Food
Transportation
Attractions
Average Daily Cost
Backpacker
25
15
10
10
60
Mid-Range
60
35
15
20
130
Cologne Travel Guide: Money-Saving Tips
Cologne isn't the most expensive city in Germany and you can find a lot of good deals here. Here are some ways you can save money on your trip to Cologne:
Spend the day in the park – Cologne offers many free parks within city limits. Spend the day walking around or just hanging out; it's a great way to pass some time, relax, have a picnic, and get to know the city.
Enjoy happy hour – Zülpicher Str. is the bar-hopping street in Cologne. This is where all the university kids hang out, so there's always a happy hour no matter what time of day it is! Happy hours are mostly focused on cocktails, which tend to be around 5-6 EUR. If you're really on a budget, you can avoid the bars and restaurants altogether and just grab cheap drinks at the Späti (small drink/snack markets) if the weather is nice. Many people buy their beers and just stand around chatting and hanging out. Plus, people from Cologne are known for their friendliness so you'll probably meet some people too.
Get a Cologne Pass – A Cologne pass gives you free transportation and discounts on certain attractions and restaurants. It's a great deal if you're spending a bit of time in the city. A one-day pass costs 9 EUR and a two-day pass is 18 EUR.
Take a free walking tour – Free Walk Cologne offers daily tours of the city. They last a couple of hours and cover all the main highlights. They're a great way to explore and learn about the history and culture of Cologne.
Stay with a local – The best way to save money on accommodation is to stay with a local for free via platforms like Couchsurfing. Not only will you save money, but it's a great way to get some local insight into the city and discover things most visitors would miss.
Bring a water bottle – The tap water here is safe to drink so bring a reusable water bottle to save money and reduce your plastic use. LifeStraw is my go-to brand as their bottles have built-in filters to ensure your water is always clean and safe.
Where to Stay in Cologne
Cologne has plenty of great hostels spread out all over the city. Here are my suggested places to stay:
How to Get Around Cologne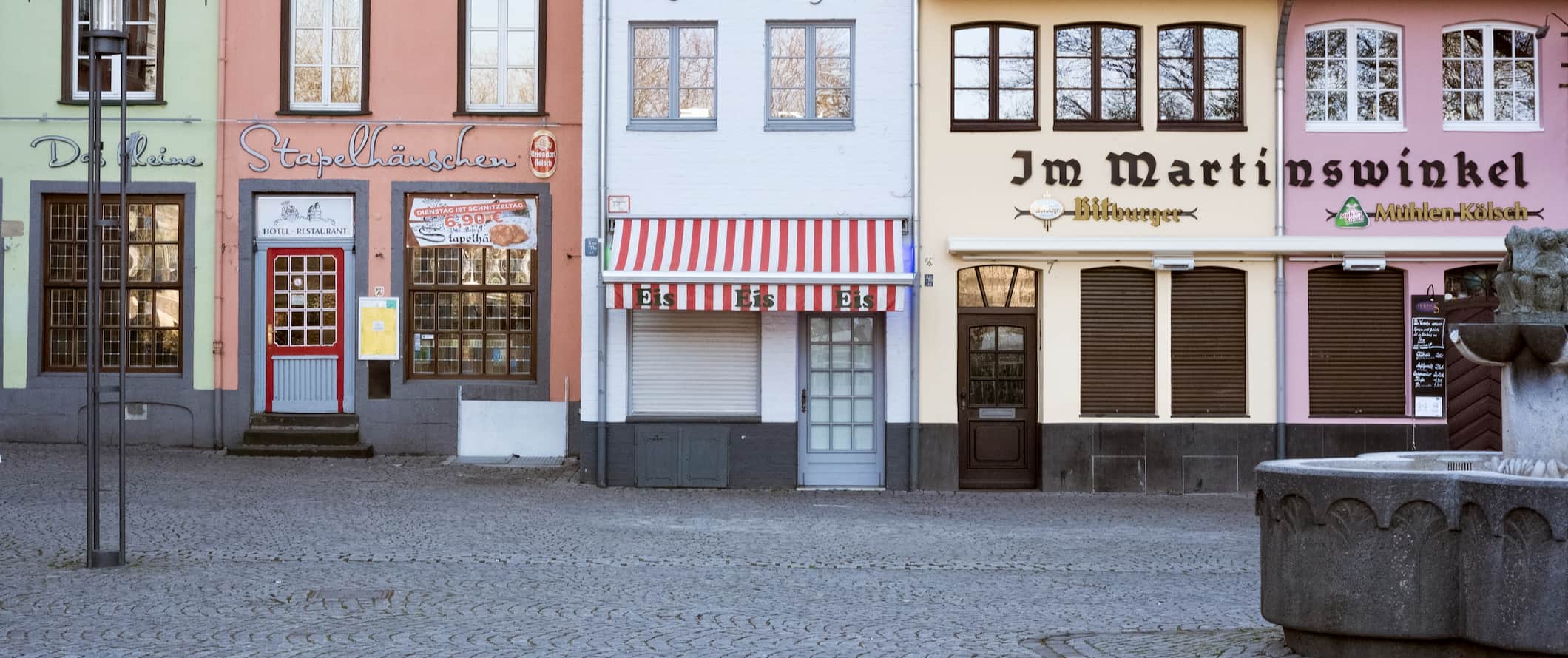 Public transportation – Cologne is well connected by its subway (the U-Bahn) and its above-ground train system (the S-Bahn). A single ticket is 3 EUR and is good for up to 90 minutes. You can purchase tickets at the station or by using the KVB app, which gives you a 10% discount on fares. Always keep your ticket on you as random checks on the train are very common.
A day pass with unlimited travel costs 9 EUR. You can use your tickets across the train, tram, and bus network.
Trams connect certain areas in Cologne, but they're not as fast or efficient as the trains. Ticket prices are the same for the train and bus system.
Buses can get you anywhere you need to go, especially where the trains and trams don't go. Ticket prices are the same as the trains and trams.
Bicycle – Bicycles are a great way for getting around Cologne. Radstation Köln is a bike-sharing service that has bikes for a rate is 3 hours for 7 EUR, with a maximum daily charge of 14 EUR. The more economical option if you're staying even a few days is to get the weekly pass, which costs 10 EUR per day.
Taxi – Taxis are not cheap here, but you rarely need to use them. The base rate is 3.50 EUR and it's an additional 1.70 EUR per kilometer afterward. Skip them if you can.
Ridesharing – Uber is available in Cologne, but again, you should rarely need to use one as public transportation can get you everywhere for cheaper.
Car rental – Car rentals can be as low as 25 EUR per day for a multi-day rental, but you won't need one to get around the city. I'd only rent one if you plan on exploring the region. Renters need to be at least 21 years old.
For the best car rental prices, use Discover Cars.
When to Go to Cologne
Summer (June-August) is the most popular and busiest times to visit Cologne, with daily temperatures hovering around 25°C (77°F). The shoulder seasons (fall and spring) are also excellent times to visit, with mild temperatures, lots of sun, and fewer tourist crowds.
Cologne can get pretty cold in the winter, with temperatures dropping as low as 1°C (34°F). You'll avoid the tourist crowds and prices are a bit lower, however, February's Karneval and the Christmas markets attract a crowd so be sure to book in advance if you visit during these times.
How to Stay Safe in Cologne
Cologne is safe to visit. Your greatest risk is petty crime like pickpocketing so be careful on crowded public transit and around busy tourist attractions, including flea markets. Keep your valuables secure and out of reach just to be safe.
Solo female travelers should generally feel safe here, however, the standard precautions apply (never leave your drink unattended at the bar, never walk home alone at night intoxicated, etc.).
Also, try not to be out alone after dark in the Red Light District.
If you're worried about getting scammed you can read about common travel scams to avoid here.
If you experience an emergency, dial 112 for assistance.
Remember to always trust your gut instinct. Avoid isolated areas at night and be aware of your surroundings at all times. Make copies of your personal documents, including your passport and ID, and don't keep a lot of valuables on you.
The most important piece of advice I can offer is to purchase good travel insurance. Travel insurance will protect you against illness, injury, theft, and cancellations. It's comprehensive protection in case anything goes wrong. I never go on a trip without it as I've had to use it many times in the past.
Cologne Travel Guide: The Best Booking Resources
These are my favorite companies to use when I travel. They consistently have the best deals, offer world-class customer service and great value, and overall, are better than their competitors. They are the companies I use the most and are always the starting point in my search for travel deals.
Skyscanner – Skyscanner is my favorite flight search engine. They search small websites and budget airlines that larger search sites tend to miss. They are hands down the number one place to start.
Hostelworld – This is the best hostel accommodation site out there with the largest inventory, best search interface, and widest availability.
Booking.com – The best all around booking site that constantly provides the cheapest and lowest rates. They have the widest selection of budget accommodation. In all my tests, they've always had the cheapest rates out of all the booking websites.
HostelPass – This new card gives you up to 20% off hostels throughout Europe. It's a great way to save money. They're constantly adding new hostels too. I've always wanted something like this and glad it finallt exists.
Get Your Guide – Get Your Guide is a huge online marketplace for tours and excursions. They have tons of tour options available in cities all around the world, including everything from cooking classes, walking tours, street art lessons, and more!
The Man in Seat 61 – This website is the ultimate guide to train travel anywhere in the world. They have the most comprehensive information on routes, times, prices, and train conditions. If you are planning a long train journey or some epic train trip, consult this site.
Rome2Rio – This website allows you to see how to get from point A to point B the best and cheapest way possible. It will give you all the bus, train, plane, or boat routes that can get you there as well as how much they cost.
FlixBus – Flixbus has routes between 20 European countries with prices starting as low 5 EUR! Their buses include WiFi, electrical outlets, a free checked bag.
SafetyWing – Safety Wing offers convenient and affordable plans tailored to digital nomads and long-term travelers. They have cheap monthly plans, great customer service, and an easy-to-use claims process that makes it perfect for those on the road.
LifeStraw – My go-to company for reusable water bottles with built-in filters so you can ensure your drinking water is always clean and safe.
Unbound Merino – They make lightweight, durable, easy-to-clean travel clothing.
Top Travel Credit Cards – Points are the best way to cut down travel expenses. Here's my favorite point earning credit cards so you can get free travel!
BlaBlaCar – BlaBlaCar is a ridesharing website that lets you share rides with vetted local drivers by pitching in for gas. You simply request a seat, they approve, and off you go! It's a cheaper and more interesting way to travel than by bus or train!
Cologne Travel Guide: Related Articles
Want more info? Check out all the articles I've written on backpacking/traveling in Germany and continue planning your trip: