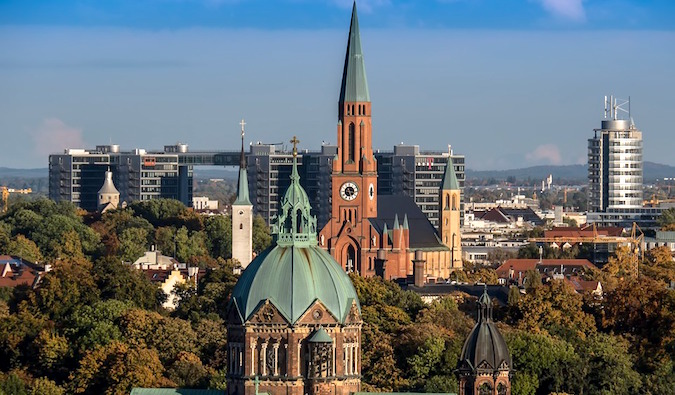 Last Updated: 01/23/23 | January 23rd, 2023
After being less than thrilled with Berlin (Edit 2019: I LOVE Berlin now!), I had low expectations for Munich.
There was no reason for it.
I only knew a few things about the city: Oktoberfest is there, Hitler had his beer hall putsch there, and it has a famous (and overrated) clock.
Everyone has heard of Munich, but I really knew nothing about it.
But I hadn't been thrilled with Germany thus far and figured Munich might be another disappointment.
It wasn't.
I loved Munich. Munich was what Berlin wasn't. It was beautiful, had a city center, gigantic green parks, delicious food, and friendlier people.
I spent four days in Munich, and I can see why so many people love the city even when Oktoberfest isn't there. I don't doubt I would enjoy 100,000 drunk people in tents, but all that drinking would take away from the beauty Munich has to offer.
Munich was my time to decompress after many late nights in Berlin. A late booking put me in a hostel that also doubled as a hotel for large groups of prepubescent teens. Large groups of Scottish kids roamed around and were eventually followed by large groups of Spanish kids. (I don't really like kids, so it was a bit annoying trying to do work with kids screaming all around me.)
Luckily, across the street was a beer hall. The hotel staff wrote down some Bavarian dishes for me to try, and I ventured across to see what a Bavarian beer hall actually looks like. Let me tell you—it's nuts! Long tables of people squeezed together with big steins of beer and ridiculously heart-clogging food. Squeezing in between some people, I dug into a really good beer and some dishes that were sure to pack on the pounds. Their names escape me right now, but they were really delicious. I was pleasantly surprised by Bavarian food.
Munich has a lot of beauty in it, and roaming around the city was a nice change from the industrial Berlin. One day, on the way to the Bavarian History Museum, I unknowingly walked past the English Gardens (very beautiful). One of the best things about wandering around is that you never know what you'll see. In the gardens, I stumbled across some surfers.
Now, apparently these guys are quite well known, but I had no idea they existed. It was an amazing thing to see—a bunch of surfers riding the waves of a river as it barreled out from under a bridge. Snow had just fallen in the mountains, melting into the city and making this river quite the sight to see. My iPhone came in handy, and I was able to get this video:
I'm glad I saw them because the Bavarian Museum was a complete waste of time. Luckily, on Sunday, it's only one euro to enter, so I don't feel too cheated. There was no story or anything—just a bunch of old relics and artifacts. And while the suits of armor were slightly interesting, for me museums are about learning a place's story and here there was none. I was out in 15 minutes.
I much preferred the Residence. This is the old palace for Bavarian Princes where you also get to see the crown jewels. Not as lavish as Versailles, the palace is very German in that it's austere, functional, and simple.
The most interesting part of my visit was the rock concert. Originally, I was going to Couchsurf, but it didn't work out. However, the host and I did meet for a night out on the town. She, her friends, and I went to a big multi-artist concert on Saturday night. I had no idea what the bands were saying (I don't speak German), but the vibe was great, and trying to speak broken English with the locals was pretty amusing. As was learning bad German words.
Munich was an interesting place to visit. It lacks the industrial, arty feel Berlin has, it's a bit cozier, the parks are prettier, and the Bavarian beer hall environment is a lot of fun. Moreover, the food, while hearty, is delicious. Munich is a big stop on the backpacker trail, but even if you're not on that, take some time out to see Munich.
Book Your Trip to Munich: Logistical Tips and Tricks
Book Your Flight
Use Skyscanner. They are my favorite search engine because they search websites and airlines around the globe so you always know no stone is left unturned.
Book Your Accommodation
You can book your hostel with Hostelworld as they have the biggest inventory and best deals. If you want to stay somewhere other than a hostel, use Booking.com as they consistently return the cheapest rates for guesthouses and cheap hotels. Two of my favorite places to stay are:
Don't Forget Travel Insurance
Travel insurance will protect you against illness, injury, theft, and cancellations. It's comprehensive protection in case anything goes wrong. I never go on a trip without it as I've had to use it many times in the past. My favorite companies that offer the best service and value are:
Looking for the Best Companies to Save Money With?
Check out my resource page for the best companies to use when you travel. I list all the ones I use to save money when I'm on the road. They will save you money when you travel too.
Need a Guide?
Fat Tire Tours offers fun and insightful bike tours around the city. You'll see all the main sights with the help of a local guide and you'll get to see the city in a whole new light. They're a great alternative to your standard walking tour.
Want More Information on Munich?
Be sure to visit our robust destination guide on Munich for even more planning tips!