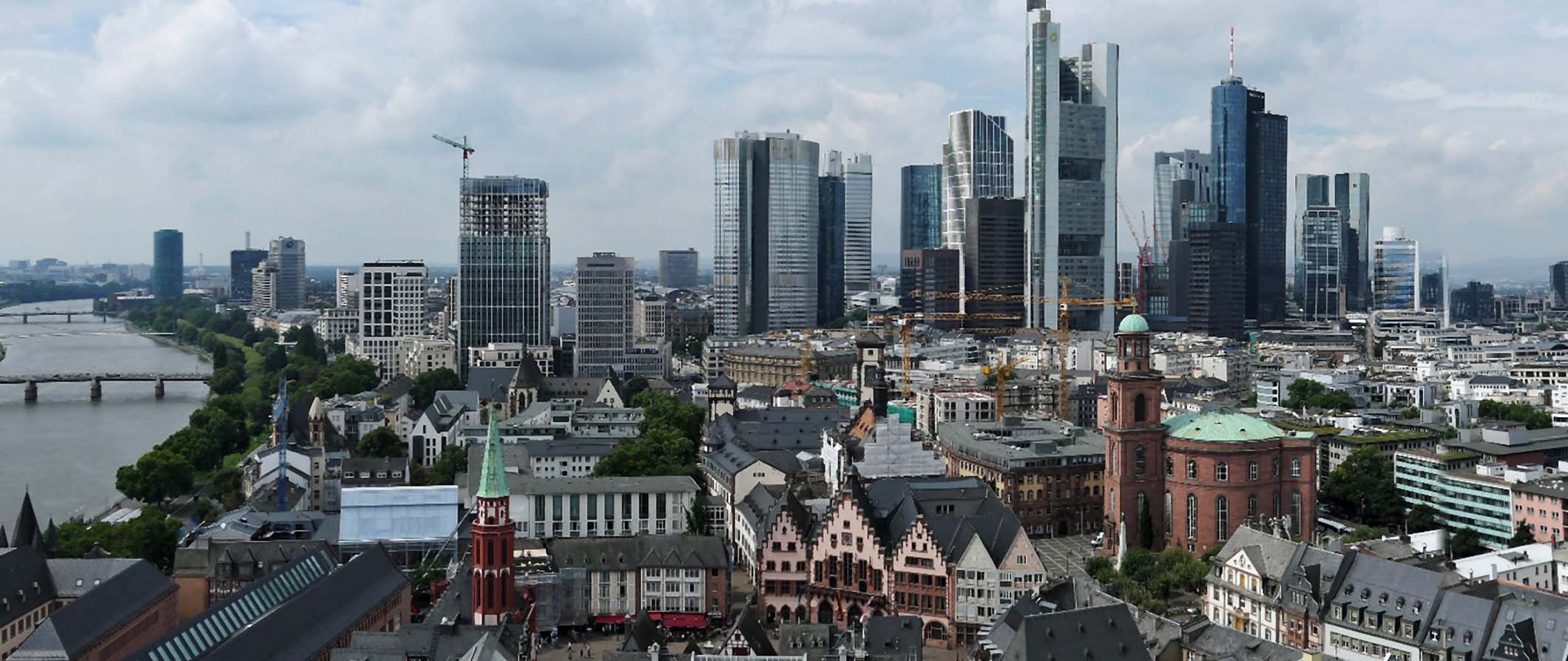 Frankfurt is ripe with culture, restaurants, history, and it's the center of banking and business in Europe. It's a modern city with some great dining. Eat dinner at one of their famous cider houses, experience the flavor of Frankfurt's local dishes, relax at a beer garden, spend the afternoon at one of the free parks, or soak up the city's history in a museum. While Frankfurt lacks the charm of Munich, Cologne, or Berlin, the city deserves more than its use as just a stopover destination that most travelers use it for.
Top 5 Things to See and Do in Frankfurt
1. Visit the Dom
Frankfurt's main attraction, the Dom (main cathedral), dates back to the 14th century when it was used to crown the emperors of the Holy Roman Empire. It's a place decorated for royalty with stunning stone glass work. Admission is free.
2. Visit the Städel-Museum
The Stadel Museum displays old and new pieces of art. It has over 10,000 works with a heavy focus on Germany and Renaissance art. It costs 14 EUR for adults and isn't open on Monday. Discounts are available, and admission is free to Museumsufer ticket holders.
3. Explore the Römerberg
This central, historical area features various buildings and a church from the 14th and 15th century (in reality, the buildings were mostly destroyed during World War II but completely rebuilt afterwards). The Römer itself is the town hall of Frankfurt. Cafés and shops can be found at the square itself and in the vicinity. Most of the area was rebuilt after the war.
4. Relax in the City Forest
Located in the south of Frankfurt and about 48 square kilometres, it is regarded as the largest forest contained within city limits in Germany. The six playgrounds and nine ponds make the forest a popular place for both locals and tourists who are looking to relax and explore nature.
5. Visit Offenbach
Just a short bike ride out of Frankfurt, Offenbach is a smaller neighboring city. Despite its size, there are tons of little shops, a Flea market, a Farmer's market, an old baroque castle, and various historical sights here. It is cheaper than Frankfurt and fun to spend a few days exploring.
Other Things to See and Do
(Click the title to expand the text)
1. Cross the Eiserner Steg
Otherwise known as the Iron Bridge, this bridge on the way to Sachsenhausen provides great views of the city.
2. Eat and drink in Sachsenhausen
South of the main river, Sachsenhausen has many of the best cider bars and pubs in the city. After visiting some of these pubs, take a stroll on the river and enjoy the view.
3. Spend the day at the Palmengarten
This is Frankfurt's Botanical Gardens and like most botanical gardens you'll find a wide array of plants from around the world. Admission is 7 EUR and there are many paths, gardens, flowers, and birds to see here. I think it's one of the best things to do in the city.
4. Walk around the Bornheim
Mostly a residential area, Bornheim has many medieval-style houses that survived the war. It's Frankfurt's historic area and is your only chance to see what the city looked like before World War II.
5. Stroll through the Frankfurt Book Fair
Held in the middle of October every year since the printing press was designed, this fair is considered the largest event of its kind within the publishing industry. It is a week long, but is only open to the public during the last 2 days. A day ticket is 18 EUR.
6. EXPLORA Science Center
Housed inside an old World War II bunker, this museum is filled with interactive exhibits and neat features. There are a range of puzzles, optical illusions, and mathematical games to check out. They even have a charge station for eBikes and electric cars. Science is cool! Admission for adults is 16 EUR, and discoutns are available for families, students, and seniors.
Typical Costs
Hostel prices
– Most hostels in the city cost around 25 EUR per night for a 10-14 person dorm room. Rooms with fewer beds (4-8) will cost closer to 30-35 EUR per night. Private rooms in a hostel cost between 50-70 EUR per night, and usually include a private bathroom. If you are traveling with a tent there are a few campgrounds outside the city with basic facilities. Expect to pay around 10 EUR per night for a standard plot. Electricity and water are generally extra. You can book your hostel with
Hostelworld
.
Budget hotel prices – The cheapest hotels will start at 50 EUR a night for a double room with a private bath. A few of the budget hotels in the city include free breakfast, and WiFi is quite standard. Use Booking.com as they consistently return the cheapest rates. Renting from a local will be your best value, whether an apartment or just a spare room. Shared accommodation on Airbnb will cost around 19 EUR per night while an entire home or apartment starts at 35 EUR per night.
Average cost of food – Frankfurt is known for its food. Eating out in their cider houses will set you back about 12 EUR for food and 4 EUR for a pint of beer. As long as you don't go to high-end restaurants, you can eat for under 20 EUR per meal in this town. For a nicer meal at a restaurant with table service, expect to pay at least 25 EUR. McDonalds and other fast food places cost around 7 EUR. You can also get hot dogs and sausages for 2-4 EUR from outside street vendors. A week's worth of groceries will cost between 40-60 EUR.
Transportation costs – Single-fare tickets start around 1.80 EUR, while a one-day ticket on the U-Bahn will cost around 7 EUR. The Frankfurt Card, which costs 10.50 EUR, gives you access the airport train as well as the entire public transportation system. Bike rentals are a great way to get around the city, and prices start at 10 EUR per day. For private transportation, avoid using the taxis as much as possible — they aren't cheap! Buses and trains go everywhere in Germany. A bus to Berlin, for example, will cost 29-50 EUR while the train will be around 95-140 EUR. Regardless of where you are going, you'll want to book in advance to secure the best prices.
Suggested daily budget
40-50 EUR / $42-52 USD (Note: This is a suggested budget assuming you're staying in a hostel, eating out a little, cooking most of your meals, and using local transportation. Using the budget tips below, you can always lower this number. However, if you stay in fancier accommodation or eat out more often, expect this to be higher!)
Money Saving Tips
Buy a U-Bahn card – If you are going to be in the city for a few days consider getting a pass for the U-Bahn. The day pass is 7 EUR, and the city also offers week-long passes (the price will vary depending on how far you travel).
Purchase a Museumsufer ticket – For those of you that love checking out museums, this two-day pass will save you tons of money. Costing 18 EUR, this card guarantees you access to 34 museums in and around Frankfurt. That also includes any special exhibitions. Discounts are also available for families and students.
Take a free walking tour – Frankfurt's Free Alternative Walking Tour is a great way to see the city while learning about its history. The tour doesn't just cover the main sites but delves into detail about the growth, development, and change of the city itself.
Cook for yourself – If you have access to a kitchen you may want to cook some meals for yourself; buying groceries will be much cheaper than eating out for every meal. Lidl, Penny, and Aldi are some of the more budget-friendly supermarkets.
Couchsurf – If you want to save money on accommodation while getting some insight from the locals, try Couchsurfing. It's a great way to meet people in the city and discover some off-the-beaten-path destinations.
My Must Have Guides For Traveling to Frankfurt