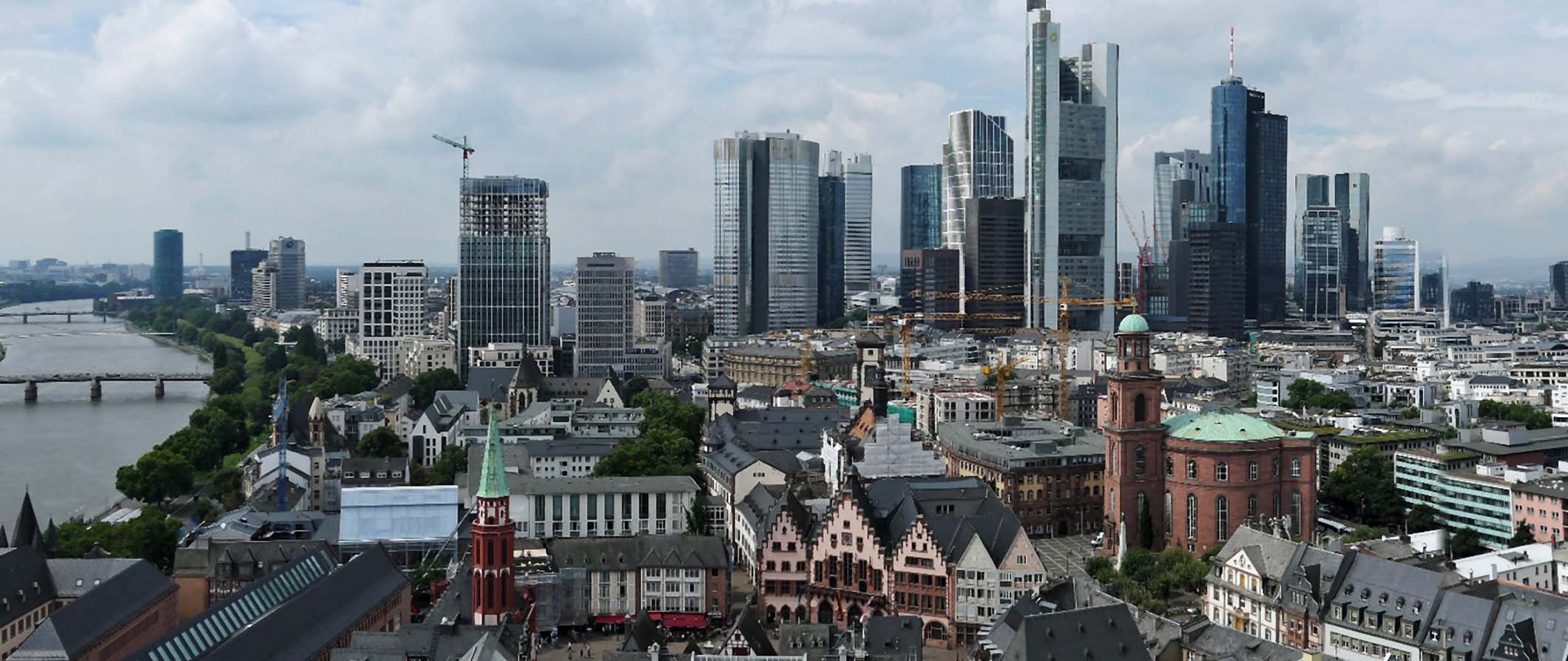 Frankfurt is a city ripe with culture, restaurants, and history. It's also the center of banking and business in Europe. While Frankfurt lacks the charm of Munich or Berlin, it's more than just a stopover destination (Frankfurt's airport is one of the world's busiest international airports so a lot of people have short stopovers here).
For more than five centuries, Frankfurt was known as the Free City of Frankfurt, an important city-state in the Roman Empire. Today, the city is incredibly diverse; half of the population has a foreign background, and a quarter of the population are foreign nationals.
While most people who stop here never leave the airport, Frankfurt is actually worth exploring for a few days. Eat dinner at one of the city's famous cider houses, relax at a beer garden, spend the afternoon at one of the free parks, or soak up the city's history in a museum.
This travel guide to Frankfurt can help you plan your trip, save money, and make the most of your visit to this overlooked gem!
Top 5 Things to See and Do in Frankfurt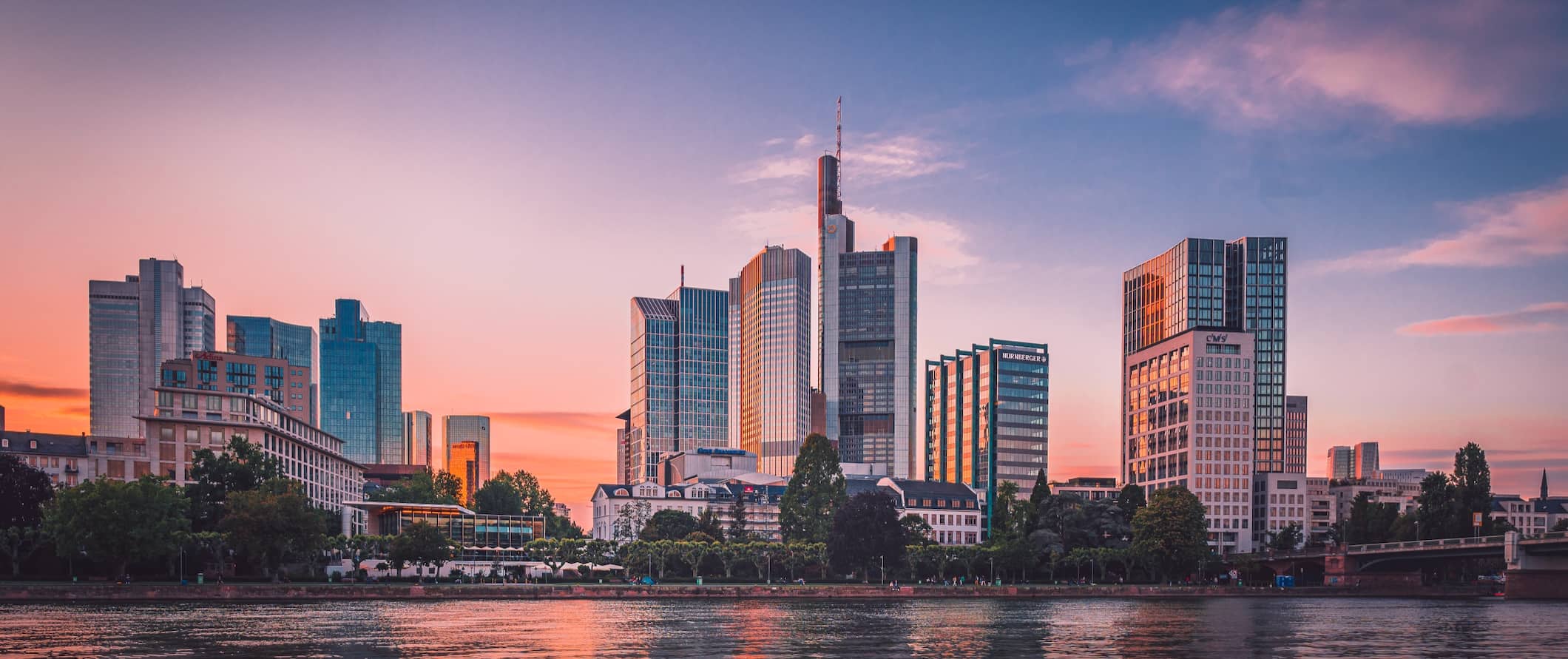 1. See the Dom
Frankfurt's main attraction, this reddish sandstone cathedral dates back to the 14th century when it was used to crown the emperors of the Holy Roman Empire. It boasts a 95-meter-tall (311 feet) Gothic tower, which you can climb via 328 steps. Admission is free, but the tower is 3 EUR.
2. Visit the Städel-Museum
The Städel Museum has an impressive collection of art, with a heavy focus on German and Renaissance art. There are over 3,000 paintings, 4,000 photographs, 600 sculptures, and 10,000 drawings from the likes of Monet, Picasso, Bacon, Ernst Ludwig Kirchner, and others. Admission is 16 EUR.
3. Explore Römerberg
The historical center of Frankfurt is home to colorful half-timbered buildings and several medieval buildings that date back to the 14th and 15th centuries. Most buildings were destroyed during World War II, but many have been restored to reflect what they used to look like. It's a picturesque spot to stroll and take in the local pace of life.
4. Relax in Frankfurt City Forest
The city forest is the largest forest contained within any city limits in Germany. The six playgrounds and nine ponds make the forest a popular place for people looking to relax in nature. There is also a 450-kilometer-long (279 miles) network of trails for hikers, walkers, cyclists, and runners!
5. Visit Offenbach
Offenbach is a small neighboring city with tons of little shops, a flea market, a farmer's market, an old baroque castle, and the stunning Neo-baroque Büsing Palace. Offenbach is the perfect place to escape the hectic city for a day and enjoy a slower pace of life.
Other Things to See and Do in Frankfurt
1. Cross the Eiserner Steg
Otherwise known as the Iron Bridge, this Neo-Gothic pedestrian bridge connects the downtown core to the Sachsenhausen district. Built in 1869, the bridge provides unique views of the city from over the Main River from which the city takes its full name, Frankfurt am Main (Frankfurt on the Main). Over 10,000 pedestrians cross the bridge daily!
2. Eat and drink in Sachsenhausen
South of the Main River, Sachsenhausen has many of the best cider taverns and pubs in the city. After visiting some pubs, take a stroll along the Main River and enjoy the view. Sachsenhausen is also known for Museumsufer, a row of 38 museums along the river with themes exploring the arts, architecture, and Jewish history. With the two-day Museumsufer Pass, you can visit all the museums for just 21 EUR.
3. Spend the day at the Palmengarten
Spanning 54 acres, Frankfurt's botanical garden is the largest of its kind in Germany. Opened to the public in 1871, the garden was actually visited by the famous cowboy Buffalo Bill in 1890. Don't miss the Palm Garden and its enormous collection of native, tropical, and subtropical plant life. Moreover, the gardens also offer lots of activities year-round, including concerts and guided tours. It's 7 EUR to visit.
4. Walk around the Bornheim
The Bornheim neighborhood has some wonderful medieval-style houses that survived World War II. Since so much of the city was destroyed in the war, this is your only chance to see what the city looked like before everything was destroyed. The city's longest street, Berger Strasse, is Bornheim's commercial hub, and it's chock full of restaurants, wine bars, boutique shops, and bars.
5. Stroll through the Frankfurt Book Fair
Held in the middle of October for nearly 500 years, this fair is considered the largest event in the publishing industry. Publishers, writers, and creative professionals from all over the world come to hold discussions, network, and celebrate the written word. It's a week-long affair, but it's only open to the public during the last two days. A day pass is 25 EUR.
6. Climb the Main Tower
The most rewarding views over Frankfurt are from the top of the 56-story Main Tower, the only high-rise that's open to the public. Named for the Main River, from here you can take the elevator up to a viewing platform overlooking Frankfurt's skyline. Tickets to the observation deck are 9 EUR.
7. Visit Goethe House
Born in Frankfurt in 1749, Johann Wolfgang von Goethe is considered Germany's most important writer. Born in 1749, he was a poet, playwright, novelist, and theater director. Destroyed during World War II, the Goethe House was restored with its original furniture, paintings, and books that belonged to the family. You can also see his writing desk, where he wrote his most famous work, The Sorrows of Young Werther in 1774. Admission is 10 EUR and combination tickets that include special exhibitions are 13 EUR.
8. Visit Senckenberg Museum
The Senckenberg Museum is a treasure trove of natural history artifacts, with everything from fossils to Egyptian mummies to dinosaur skeletons. It's the second-largest natural museum in the country, home to some 17,000 skeletons. One of the most amazing pieces here is a fossil with a bit of preserved scaly skin attached to it. Admission is 12 EUR.
9. Check out the DialogMuseum
The DialogMuseum is easily one of the most unique museums in Germany. Rather than visiting a museum to view exhibits, this museum invites you to navigate the world as a blind or visually impaired person. On a one-hour tour through four completely pitch-black rooms, visitors experience what it's like to live without any visual cues, relying on other senses to get them through. Admission is 16 EUR.
10. Explore the Deutsches Filmmuseum
This is another unique museum in Frankfurt, focused on film in Germany. There are exhibits on the history of film, behind-the-scenes insights into filmmaking, interactive displays, film artifacts like sketches, and more. A combined ticket to both the permanent and temporary exhibits is 12 EUR. You can also see a film at the museum's theater for 8 EUR.
11. Check out the Kleinmarkthalle
If you're looking for a unique culinary experience, head over to the Kleinmarkthalle for a huge assortment of high-quality fresh produce, delicatessen items and wine, handmade German regional products, and also international favorites. There are various small eateries with seafood, Italian specialties, and much more. It's a great place to wander around, especially on a rainy day.

For more information on other cities in Germany, check out these guides:
Frankfurt Travel Costs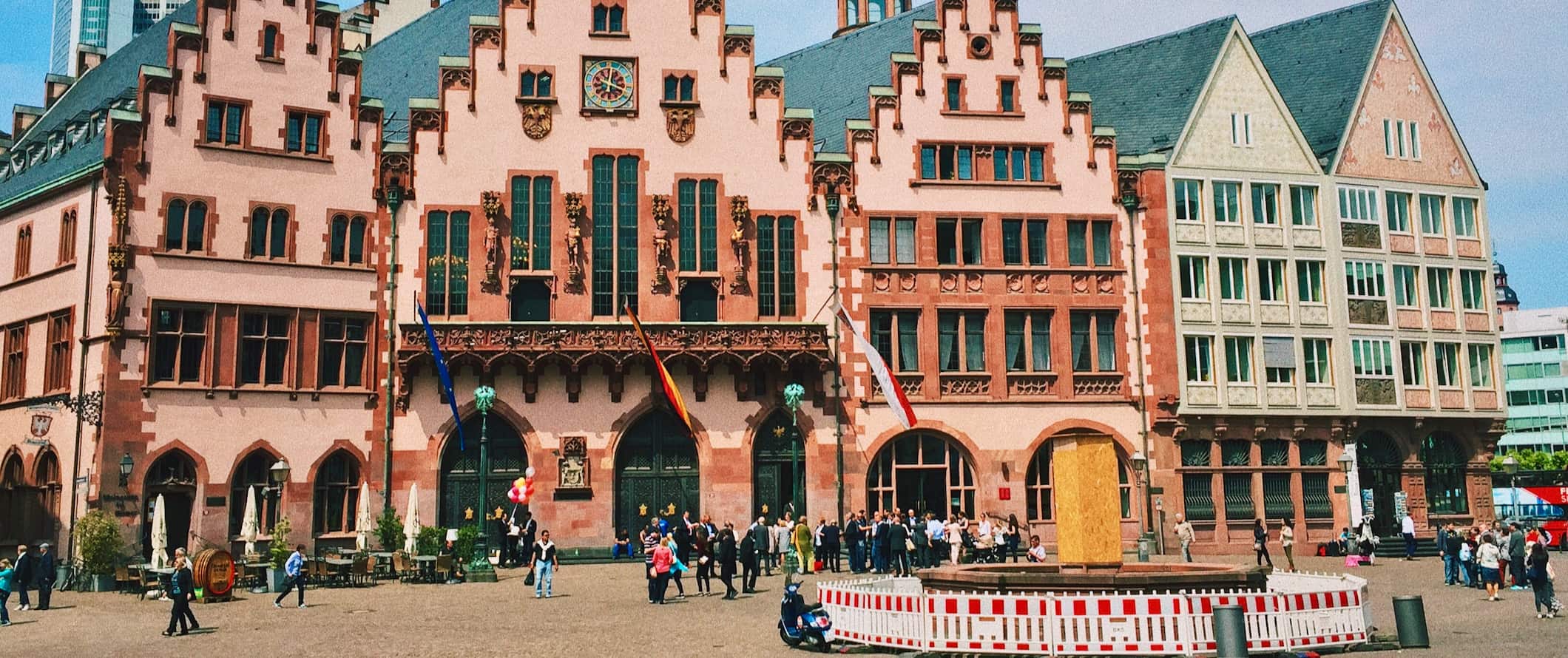 Hostel prices – A bed in a 4-6-bed dorm costs 31-38 EUR per night while a dorm with 8 beds or more costs 22-25 EUR per night. A basic double private room costs about 160 EUR per night. Free Wi-Fi is standard and some charge a supplemental one-time fee of 3-4 EUR for linens. None of the hostels in Frankfurt offer free breakfast, though a couple offer robust breakfast buffets for 6-8 EUR. Most hostels also have a bar/café on site.
For those traveling with a tent, camping is available outside the city. A basic plot for one person without electricity costs 15 EUR per night.
Budget hotel prices – Budget hotels start at 50-65 EUR per night. Free Wi-Fi, TVs, and private bathrooms are all standard. Free breakfast is rare, though most hotels offer a breakfast buffet for an additional 8-10 EUR.
Airbnb is available everywhere in Frankfurt. Private rooms start around 35-55 EUR per night while a full apartment starts at 80-125 EUR per night. Expect prices to double if you don't book early.
Food – Food in Germany is very cheap (and hearty). Meat is a staple of most meals, especially sausages; there are over 1,500 different kinds of sausages in Germany (sausages here are known as "wurst"). Stews are also a popular traditional choice, as are potato dumplings and sauerkraut. Breakfast is usually composed of bread, cold cuts, cheese, and boiled eggs.
Frankfurt has tons of cheap food options. Currywurst and frankfurters are everywhere for less than 4 EUR, while a hearty plate of fries is less than 6 EUR. A traditional meal of chicken at a cider house costs 9-11 EUR, while a glass of cider to go with it is about 2 EUR.
A beer costs about 4 EUR while a glass of wine is 4.50-6 EUR.
A combo meal at McDonald's costs about 8.50 EUR while a pizza is around 9-11 EUR. At a mid-range restaurant, a sandwich or German savory pancakes cost between 7.50-10. A big bowl of salad is 8.50-11.50.
If you want to splash out, a set six-course menu at a gourmet restaurant starts at 100 EUR, including traditional German food like schnitzel. A single entree may cost as much as 35 EUR for a duck breast.
If you cook for yourself, you can spend as little as 50 EUR on groceries per week. This gets you basic staples like rice, pasta, bread, produce, and some meat. You can save money by shopping at supermarkets like Aldi, Lidl, Penny, and Netto, which are pretty cheap and even have organic products for a fair price.
Backpacking Frankfurt Suggested Budgets
If you're backpacking Frankfurt, my suggested budget is 60 EUR per day. This budget covers staying in a hostel dorm, using public transportation to get around, cooking all of your meals, limiting your drinking, and sticking to mostly free activities like walking tours.
A mid-range budget of 135 EUR covers staying in a private Airbnb room, eating out for some of your meals, renting a bike or taking the occasional taxi, enjoying a few drinks, and doing some paid activities like visiting museums.
On a "luxury" budget of 235 EUR or more per day, you can stay in a budget hotel, eat out for all your meals, drink more, take more taxis, and do whatever tours and activities you want. This is just the ground floor for luxury though. The sky is the limit!
Accommodation
Food
Transportation
Attractions
Average Daily Cost
Backpacker
25
15
10
10
60
Mid-Range
60
35
20
20
135
Frankfurt Travel Guide: Money-Saving Tips
Frankfurt is one of the more expensive cities in Germany. However, you can turn Frankfurt into a more affordable destination with just a few simple tricks. Here is how to save money in Frankfurt:
Purchase a Museumsufer ticket – For those of you that love visiting museums, this two-day pass saves you tons of money. Costing 21 EUR, this card provides access to 34 museums in and around Frankfurt.
Get the Frankfurt Card – An alternative to the Museumsufer Card is the Frankfurt Card, which provides free travel on all public transport (including to the airport) as well as up to 50% discounts on tours, museums, and other attractions. You can get a one-day card for 11.50 EUR, or a two-day card for 17 EUR.
Take a free walking tour – Frankfurt Free Tour provides an overview of the historic center and all its highlights. It's a great way to get the lay of the land on a budget. Just remember to tip your guide at the end!
Stay with a local – If you want to save money on accommodation while getting some insight from the locals, try Couchsurfing. It's a great way to meet people in the city and discover some off-the-beaten-path destinations while also getting free accommodation.
Take advantage of SaTOURday – Many of the main museums in Frankfurt offer free entry on the last Saturday of every month.
Get a transportation day pass – If you don't want to get the Frankfurt Card (which includes unlimited public transport), you can get a regular transportation day pass. It costs 5.50 EUR, which is much cheaper than paying per ride.
Bring a water bottle – The tap water here is safe to drink so bring a reusable water bottle to save money and reduce your plastic use. LifeStraw is my go-to brand as their bottles have built-in filters to ensure your water is always clean and safe.
Where to Stay in Frankfurt
Frankfurt only has a few hostels in the city. Here are my suggested places to stay in Frankfurt:
How to Get Around Frankfurt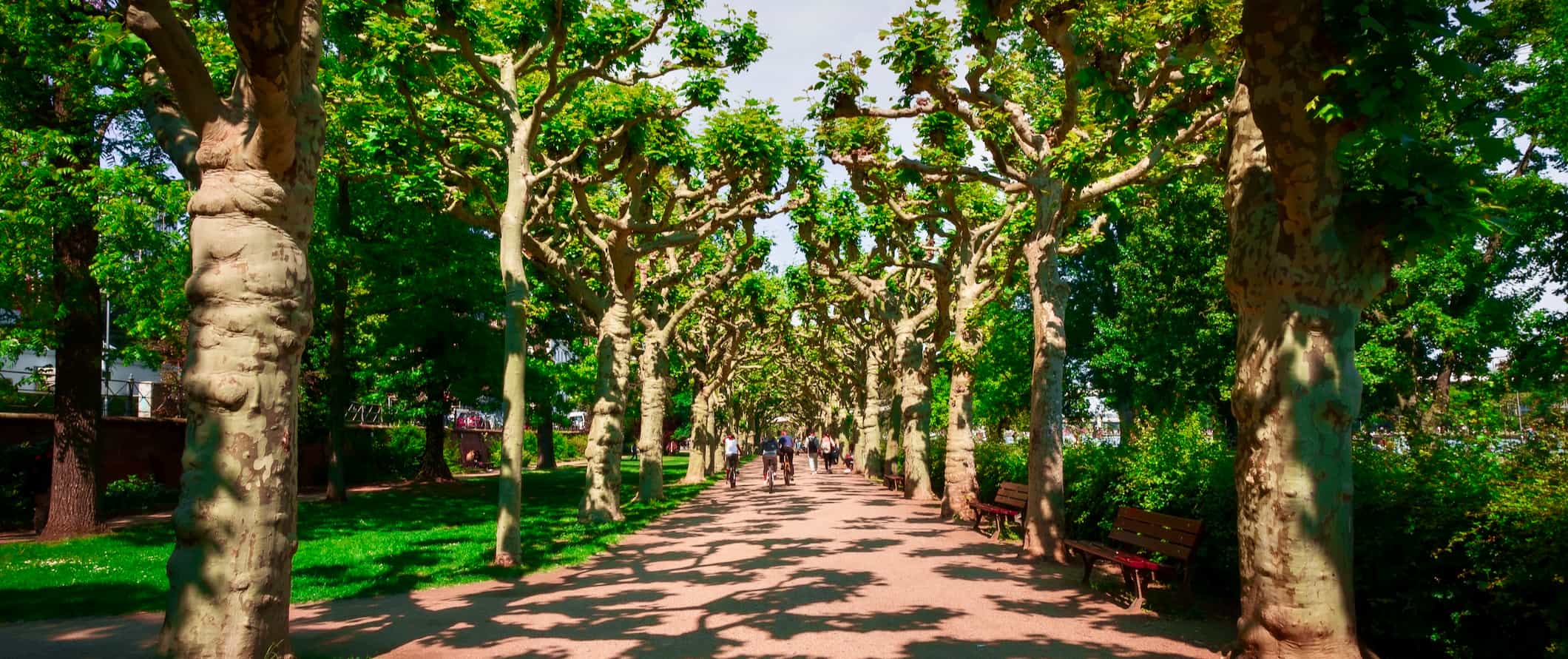 Public transportation – Like other German cities, Frankfurt is well connected by its subway (the U-Bahn) and its above-ground rail system (the S-Bahn). A single ticket is 2.75 EUR and is good for up to 60 minutes, or you can get a short-distance ticket (for journeys less than 2 kilometers) for 1.50 EUR. You can purchase tickets at the station or with the RMV-App. Always keep your ticket on you as random checks on the train are very common.
A day ticket with unlimited travel costs 5.50 EUR. If you're in a group, take advantage of the all-day group ticket for up to five people for 11.50 EUR (or 16.95 EUR if including the airport). A weekly pass costs 26.80 EUR, including the airport.
You can use your tickets across the train, tram, and bus network.
Ticket prices for trams are the same for the train and bus system. You can buy them onboard the tram, at kiosks next to specific tram stops, or in the app.
Buses take you anywhere you need to go, especially where the trains and trams don't go. Ticket prices are the same as the trains and trams and can be used interchangeably. You can buy tickets at kiosks next to the bus stop, from bus drivers, or in the app.
Bicycle – Bicycle rentals are plentiful in Frankfurt, with daily rates starting at about 9-15 EUR per day. Try a company like Call a Bike or nextbike, which both have docking stations all over the city. Prices are cheaper if you rent the bike for a week versus half or full days.
Taxi – A base fare for a taxi in Frankfurt is 3.50 EUR, with each additional kilometer costing 2 EUR per kilometer for the first 15 kilometers. After that, it's 1.75 EUR for every subsequent kilometer. In short, taxis add up fast so skip them if you can.
Ridesharing – Uber is available in Frankfurt, though since the public transportation here is comprehensive you likely won't need it.
Car rental – Car rentals can be found for as little as 35 EUR per day for a multi-day rental, however, you won't need one to get around the city. Drivers need to be at least 21 years of age.
For the best car rental prices, use Discover Cars.
When to Go to Frankfurt
Summer is the peak tourist season, specifically July and August. The average daily temperatures are in the upper 20s°C (high 70s°F) and days are sunny and bright. You'll be rubbing shoulders with lots of other tourists, but there are always fun festivals and events happening during this time.
Spring (April-May) and autumn (October-November) are both shoulder seasons that bring cooler temperatures, sunny days, and fewer crowds. If you want to take advantage of lower room rates and a more laid-back vibe, this is the best time to visit Frankfurt!
Like the rest of Germany, Frankfurt's winters can be harsh, with temperatures dropping below 1°C (34°F). The city experiences some snowfall, but the Christmas markets throughout November and December are magical. It makes for a good weekend getaway destination in the winter if you plan to hit the holiday markets.
How to Stay Safe in Frankfurt
Frankfurt is a safe city to visit. Violent crime is rare. However, like all big cities, you should stay alert for pickpocketing and petty theft. Keep your valuables secure and out of reach at all times just to be safe.
At night, it's best to avoid the areas around the Hauptbahnhof, Konstablerwache, and Hauptwache just to be safe.
Solo female travelers should generally feel safe here, however, the standard precautions apply (never leave your drink unattended at the bar, never walk home alone intoxicated, etc.)
Scams here are rare, but if you're worried about getting ripped off you can read about common travel scams to avoid here.
If you experience an emergency, dial 112 for assistance.
And be sure to purchase good travel insurance. Travel insurance will protect you against illness, injury, theft, and cancellations. It's comprehensive protection in case anything goes wrong. I never go on a trip without it as I've had to use it many times in the past.
Frankfurt Travel Guide: The Best Booking Resources
These are my favorite companies to use when I travel. They consistently have the best deals, offer world-class customer service and great value, and overall, are better than their competitors. They are the companies I use the most and are always the starting point in my search for travel deals.
Skyscanner – Skyscanner is my favorite flight search engine. They search small websites and budget airlines that larger search sites tend to miss. They are hands down the number one place to start.
Hostelworld – This is the best hostel accommodation site out there with the largest inventory, best search interface, and widest availability.
Booking.com – The best all around booking site that constantly provides the cheapest and lowest rates. They have the widest selection of budget accommodation. In all my tests, they've always had the cheapest rates out of all the booking websites.
HostelPass – This new card gives you up to 20% off hostels throughout Europe. It's a great way to save money. They're constantly adding new hostels too. I've always wanted something like this and glad it finallt exists.
Get Your Guide – Get Your Guide is a huge online marketplace for tours and excursions. They have tons of tour options available in cities all around the world, including everything from cooking classes, walking tours, street art lessons, and more!
The Man in Seat 61 – This website is the ultimate guide to train travel anywhere in the world. They have the most comprehensive information on routes, times, prices, and train conditions. If you are planning a long train journey or some epic train trip, consult this site.
Rome2Rio – This website allows you to see how to get from point A to point B the best and cheapest way possible. It will give you all the bus, train, plane, or boat routes that can get you there as well as how much they cost.
FlixBus – Flixbus has routes between 20 European countries with prices starting as low 5 EUR! Their buses include WiFi, electrical outlets, a free checked bag.
SafetyWing – Safety Wing offers convenient and affordable plans tailored to digital nomads and long-term travelers. They have cheap monthly plans, great customer service, and an easy-to-use claims process that makes it perfect for those on the road.
LifeStraw – My go-to company for reusable water bottles with built-in filters so you can ensure your drinking water is always clean and safe.
Unbound Merino – They make lightweight, durable, easy-to-clean travel clothing.
Top Travel Credit Cards – Points are the best way to cut down travel expenses. Here's my favorite point earning credit cards so you can get free travel!
BlaBlaCar – BlaBlaCar is a ridesharing website that lets you share rides with vetted local drivers by pitching in for gas. You simply request a seat, they approve, and off you go! It's a cheaper and more interesting way to travel than by bus or train!
Frankfurt Travel Guide: Related Articles
Want more info? Check out all the articles I've written on backpacking/traveling Germany and continue planning your trip: