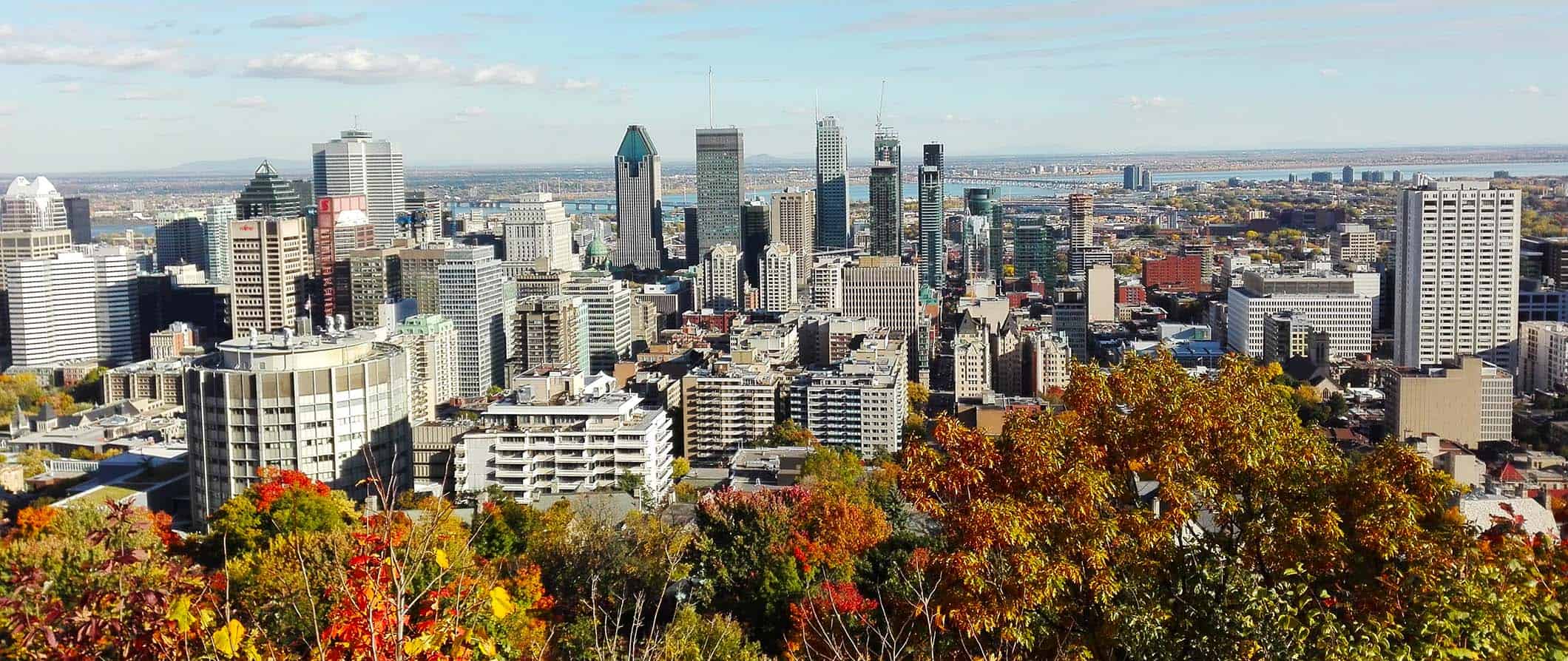 Montreal is purely Canadian, but it feels European. It's one of the five largest French-speaking cities in the world, and at one point it was supposed to be the capital city of Canada.
I love visiting Montreal. It's one of the best cities in Canada to travel to. The city's Old Town looks like something straight out of medieval France, and the French-inspired cuisine and eclectic nightlife (especially the jazz clubs) leave little to dislike about this city. There's a lot of incredible bike paths here and nearby mountains to hike.
I first came here when I was 18 because it was the closest place to where I lived that allowed me to drink (the legal drinking age is 18). Subsequent visits as an adult have only made me appreciate the city on a deeper level, and it remains one of my favorite in North America.
It's also a lot cheaper than Canada's other large cities, so there's good reason to stay awhile.
This travel guide to Montreal will help point the way by giving you tips on what to see, costs, suggested budgets, ways to save money, and everything else you need to plan a great trip to one of the best cities in the world!
Top 5 Things to See and Do in Montreal
1. Walk around Old Montreal
Old Montreal is easily the most attractive part of the city with its cobblestone streets and historic greystone buildings dating back to the 1700s. Some of the city's finest museums and art galleries are here, including the Montreal Museum of Archaeology and History.
2. Visit the Place des Armes
This is one of three main squares in Old Montreal. In the center, sits a statue of Paul de Chomedey, the founder of Montreal, dating from 1895. The city's oldest building, Vieux Séminaire (built between 1684-1687), is also located here, as well as the Bank of Montreal's founding building, and the Notre-Dame Basilica.
3. Visit Mont Royal
Whether you like to jog, picnic, or just people-watch, this park is one of the highlights of the city. You can walk up the "mountain" (really it's just a large hill) for fantastic views over the city skyline. On Sunday in the summer, the park comes alive with picnickers and the "Tam-Tams" — an eclectic drum circle that draws huges numbers.
4. See the Biodome
This biodome is the only one of its kind in the world and features four distinct ecosystems. You can visit the Tropical Forest, see the otters and lynx in the Laurentian Maple Forest, visit the puffins in the Labrador Coast, and see the volcanic landscape of the Sub-Antarctic Islands. Admission is $20.50 CAD ($15 USD).
5. See The Museum of Fine Arts
This enormous museum has over 43,000 works of art, with many temporary exhibits on rotation. The Claire and Marc Bourgie Pavilion is especially worth seeing for its collection of Quebec and Canadian art, including Inuit art. Admission is $24 CAD ($18 USD) or $16 CAD ($12 USD) if you're between 21-30.
Other Things to See and Do in Montreal
1. Visit the Jardin Botanique
Montreal is home to the second-largest botanical garden in the world. Opened in 1931, it showcases ten indoor greenhouses including a Chinese garden, a Japanese garden, a lily garden, and a rose garden. There's also a tranquil First Nations Garden designed to represent the natural environment of Quebec's First Nations, including plants from the Nordic Zone. Admission is $20.50 CAD ($15 USD).
2. Jean-Talon Market
The city's largest market hosts hundreds of stalls in the middle of Little Italy. Shops and small specialized grocers surround the square, so be on the lookout for Quebecois delicacies like pure maple syrup or ice wine. It is a great place to have lunch or at least grab fresh food for later.
3. Take a half-day bike tour
On a three-hour guided bike tour with Fitz & Follwell you'll get to visit some of Montreal's key sites like Old Montreal, Mile-End, Mont-Royal, and the Plateau. They also offer themed tours to certain neighborhoods, like the North End, where you'll explore open-air markets and street art. Tours are $80 CAD ($60 USD).
4. Go to Parc La Fontaine
Whether you want to play beach volleyball, tennis, or just have a picnic, Parc La Fontaine is a relaxing spot to kick back and enjoy it. In the summer, there are free performances at the outdoor Théâtre de Verdure, while in the winter you can skate on the pond or go cross-country skiing.
5. Walk around Le Plateau
This area combines shady residential streets, old Victorian homes, boutique shopping, and trendy restaurants. Walk around and admire the architecture, pop into some antique shops, and keep an eye out for colorful street murals.
6. Take a boat ride
You can take different boat tours of the harbor from the Old Town, as well as longer tours of the Lachine Canal and the nearby Boucherville Islands. Along the way, a guide will tell you all about the area's maritime history. Some tours are limited to 30 passengers, which means you're never competing for the best view. Tours start at about $25 CAD ($19 USD).
7. See the St. Joesph Oratory
Standing nearly as tall as St. Peter's in Rome at 97 meters high, this dome and sanctuary towers over the city skyline. It is one of the most visited shrines in the world, also housing a basilica, a chapel, and a crypt. This is the final resting spot for Brother André, a simple porter turned miracle worker from the early 1900s who supposedly had healing powers. It's $5 CAD ($4 USD) to visit.
8. Visit the Notre-Dame Basilica
This 17th-century Gothic Revival basilica started as a tiny stone church — now it's a testament to the importance of religion and art in the city's history. Its dual towers are reminiscent of the cathedral in Paris, and its interior is a stunning display of religious paintings, colorful stained glass windows, and gold-leaf decoration. There's also a 7,000-pipe organ. You can do a 60-minute tour for $15 CAD ($11 USD).
9. See the Cabaret Mado
This entertaining drag cabaret is hosted by Mado Lamotte, an iconic diva from the city's Gay Village. It's been going on for 30 years, and makes for a wild night of music, comedy, costume, and dancing, with guest performers each night. Don't sit too close to the stage, or else you'll get roasted! Tickets are $25 CAD ($19 USD).
10. Explore Parc Jean-Drapeau
Made up of two islands, Parc Jean-Drapeau covers 662 acres of green space, a racetrack, and even the La Ronde amusement park. Most of the city's major festivals are held here, including Osheaga and the Canadian Grand Prix. If you happen to be visiting during the summer months, check out Piknic Électronik — a weekly electronic music festival held each Sunday. Everyone brings a picnic and a bottle of wine! Tickets are $15 CAD ($11 USD).
11. Take a food tour
Quebec is Canada's food capital. Local Montréal Food Tours has several different food tours around town, where you'll get to sample some Montreal classics like St. Viateur Montreal bagels and poutine, a purely Canadian dish of fries, a gravy-like sauce, and cheese curds. They also have a brewpub tour. Prices start from $52 CAD ($40 USD).
Montreal Travel Costs
Hostel prices – You will spend about $30 CAD ($23 USD) per night for a bed in a four-eight person dorm. A dorm with ten beds or more costs about $22 CAD ($17 USD) per night.
A standard twin private room starts from about $75 CAD ($57 USD) per night for two people but averages about $150 CAD ($113 USD).
Budget hotel prices – Nightly rates for a budget two-star hotel room with a private ensuite bathroom start at about $106 CAD ($80 USD) in the center of town.
Airbnb is available everywhere in Montreal, with shared accommodation (like a bed in a dorm) starting at $33 CAD ($19 USD) per night. For a private room expect to pay about $46 CAD ($35 USD) per night, while a full apartment starts from $133 CAD ($100 USD) per night.
Food – Montreal has an endless selection of fast food joints and takeaway spots. You can find poutine for $5 CAD ($4 USD), or burgers or small pizzas for about $10 CAD ($7.50 USD) each. A smoked meat sandwich will cost about $19 CAD ($14 USD) with fries and coleslaw. A hearty bagel sandwich will cost about $12 CAD ($9 USD).
A meal at McDonald's will cost about $10 CAD ($7.50 USD). A meal at an inexpensive restaurant is about $13 CAD ($10 USD), but a beer to go along with it is about $4.50 USD ($6 CAD). A meal at a higher-end restaurant will cost you about $35 CAD ($26 USD) for an entree without a drink.
If you cook for yourself, you can spend as little as $40 CAD ($30 USD) on groceries per week which would include some meat, bread, eggs, rice/pasta, some veggies, and fruit.
Some of my favorite restaurants include Fairmount Bagels, Damas, Wilensky, Le Serpent (for something upscale), La Chilenita, Olive et Gourmando, Main, Moishes, Sushi Momo, and Drogheria.
Backpacking Montreal Suggested Budgets
If you're backpacking Montreal, expect to spend about $86 CAD ($65 USD) per day. This is assuming you're staying in a hostel, eating fast food and cooking some of your meals, using local transportation to get around, and visiting about one attraction per day.
On a mid-range budget of $133 CAD ($100 USD) per day, you can stay in a private Airbnb room, eat at mid-range restaurants, cook some of your meals, rent a bicycle to get around or use public transit, and visit more attractions.
On a luxury budget of $392 CAD ($295 USD) per day in Montreal, you'll stay in a four-star hotel, eat at nicer restaurants, enjoy some drinks, take some taxis, and do some tours.
You can use the chart below to get some idea of how much you need to budget daily, depending on your travel style. Keep in mind these are daily averages – some days you'll spend more, some days you'll spend less (you might spend less every day). We just want to give you a general idea of how to make your budget. Prices are in USD.
Accommodation
Food
Transportation
Attractions
Average Daily Cost
Backpacker
$25
$15
$10
$15
$65
Mid-Range
$35
$30
$10
$25
$100
Montreal Travel Guide: Money Saving Tips
Montreal is an affordable city to visit, but there are always ways to slash your spending. Here are some of my ways to save money in Montreal during your visit:
Couchsurf – If you plan ahead, you can usually find really nice Couchsurfing host in Montreal. This way, you not only have a free place to stay, but you'll have a local host that can tell you the best places to go and things to see.
Take a free walking tour – Walking tours are a great way to get familiar with a city and the culture. Strawberry Tours and Free Montreal tours offer several different options around town. (Be sure to tip!)
Get the museum pass – A museum pass will give you access to over 40 different museums around Montreal. A three-day pass is $75 CAD ($57 USD), while a three-day pass with unlimited transportation is $80 CAD ($60 USD).
Aportez-votre vin – Many restaurants in Montreal will have a sign displayed out front that says "Apportez-votre vin" — bring your own wine. You can pick up a cheap bottle of wine at the supermarket and bring it to dinner with you!
Use coupon sites – If you know your stops ahead of time, monitor sites like Living Social and Groupon for local deals and saving. There are always good listings on some top restaurants and attractions.
Look for free events – Montreal has tons of free events year-round, but especially during the summer. Many of the major music festivals (like the jazz festival) will have free concerts or shows in the streets. There are also free art shows, theatrical performances, and even stand-up comedy. Montreal.org lists all its events!
Check out Montreal Sweet Deals – The tourism website has a selection of "Sweet Deals," where if you book a room with one of the partner hotels directly you'll get some special perks like late departure, breakfast included, or a discounted room rate (sometimes up to 30% off).
Pick up a Montreal Passeport – Much like the museum pass, the Montreal Passeport gives you access to more than 28 attractions when you buy a two-day card for $93 CAD ($70 USD) or a three-day card for $113 CAD ($85 USD). This includes admission to the botanical gardens, as well as a 60-minute river cruise.
Where To Stay in Montreal
Montreal has lots of hostel accommodations, and they're all comfortable and very sociable. These are my suggested and recommended places to stay in Montreal:
For more hostel suggestions, here's a list of my 7 favorite hostels in Montreal!
How to Get Around Montreal
Bus – The bus covers the entire city center and the outskirts of town, including the airport. It's $3.50 CAD ($2.65 USD) for one ride, or $6.50 CAD ($4.90 USD) for a return trip. An unlimited day pass is $10 CAD ($7.55 USD), and you can also get a 10-ride pass for $29 CAD ($22 USD). You can use your tickets on the subway as well.
You can take bus 747 to and from the airport for $10 CAD ($7.55 USD) each way.
Subway – The STM Metro System is the best option for getting around town, as the bus can sometimes be slow or delayed due to constant road construction. There are only a few lines, but they cover all of downtown Montreal and some of the suburbs. Fares cost the same as bus fares, and you can use your tickets on both systems.
Taxi – Taxis are not cheap here. Their base rate is $3.50 CAD ($2.65 USD), and it's an additional $1.32 CAD ($1.75 USD) per kilometer afterward. Taxi Coop or Atlas Taxi are two good companies to go with.
Bicycle – Montreal is a very bike-city friendly, and there are plenty of bicycle rental businesses around town. The public bike rental system is Bixi Bike, and rides cost $2.95 CAD ($2.20 USD) each or $5.25 CAD ($4 USD) for the full day.
Ridesharing – Uber is available in Montreal. You can save $15 off your first Uber ride with this code: jlx6v.
When to Go to Montreal
Montreal is at its busiest in the summer months, especially when all the outdoor patios are open and there's a festival practically every week. July and August are the hottest months, with temperatures averaging about 78°F (25°C) per day. Accommodation prices will increase, and tourist attractions get crowded.
Winters in Montreal are bitterly cold, with temperatures averaging about 19°F (-7°C) each day in January. It's not a good time to visit if you want to do lots of outdoor activities, but you'll avoid the crowds.
Both early fall and late spring are excellent times to visit. The weather is warm, you can do all the outdoor exploration you want, and there aren't many tourists around. It's stunning during late September to the end of October when the leaves start turning color.
How to Stay Safe in Montreal
Montreal is very safe, and you're unlikely to be targeted during your visit. Your greatest risk is petty crime, like pick-pocketing. Pick-pocketing is most likely to occur in busy restaurants and cafes, so keep an eye on your items. Avoid neighborhoods like Notre Dame Ouest and Wellington Street after dark as sometimes gangs frequent the area.
If you're worried about getting scammed, you can read about the 14 travel scams to avoid right here.
Always trust your gut instinct. If a taxi driver seems shady, stop the cab and get out. If your hotel is seedier than you thought, move somewhere else.
If you don't do it at home, don't do it in Montreal! Follow that rule, and you'll avoid being the victim of petty crime.
The most important piece of advice I can offer is to purchase good travel insurance. Travel insurance will protect you against illness, injury, theft, and cancellations. It's comprehensive protection in case anything goes wrong. I never go on a trip without it as I've had to use it many times in the past.
Montreal Travel Guide: The Best Booking Resources
These are my favorite companies to use when I travel to Montreal. They are included here because they consistently find deals, offer world-class customer service and great value, and overall, are better than their competitors.
Momondo – This is my favorite booking site. I never book a flight without checking here first.
Skyscanner – Skyscanner is another great flight search engine which searches a lot of different airlines, including many of the budget carriers that larger sites miss. While I always start with Momondo, I use this site too as a way to compare prices.
Airbnb – Airbnb is a great accommodation alternative for connecting with homeowners who rent out their homes or apartments. (If you're new to Airbnb, get $35 off your first stay!)
Hostelworld – This is the best hostel accommodation site out there, with the largest inventory, best search interface, and widest availability.
Couchsurfing – This website allows you to stay on people's couches or spare rooms for free. It's a great way to save money while meeting locals who can tell you the ins and outs of their city. The site also lists events you can attend to meet people (even if you're not staying with someone).
Booking.com – The best all around booking site that constantly provides the cheapest and lowest rates. They have a no money down policy, great interface, and the widest selection of budget accommodation. In all my tests, they've always had the cheapest rates out of all the booking websites.
Intrepid Travel – If you want to do a group tour around Canada, go with Intrepid Travel. They offer good small group tours that use local operators and leave a small environmental footprint. If you go on a tour with anyone, go with them. And, as a reader of this site, you'll get exclusive discounts when you click the link!
Rome 2 Rio – This website allows you to see how to get from point A to point B the best and cheapest way possible. It will give you all the bus, train, plane, or boat routes that can get you there as well as how much they cost.
World Nomads – I buy all my travel insurance from World Nomads. They have great customer service, competitive prices, and in-depth coverage. I've been using them since I started traveling in 2003. Don't leave home without it!
EatWith – This website allows you to eat home cooked meal with locals. Locals post listings for dinner parties and specialty meals that you can sign up for. There is a fee (everyone sets their own price) but this is a great way to do something different, pick a local's brain, and make a new friend.
Montreal Gear and Packing Guide
If you're heading to Montreal, here are my suggestions for the best travel backpack and tips on what to pack for your trip.
The Best Backpack for Montreal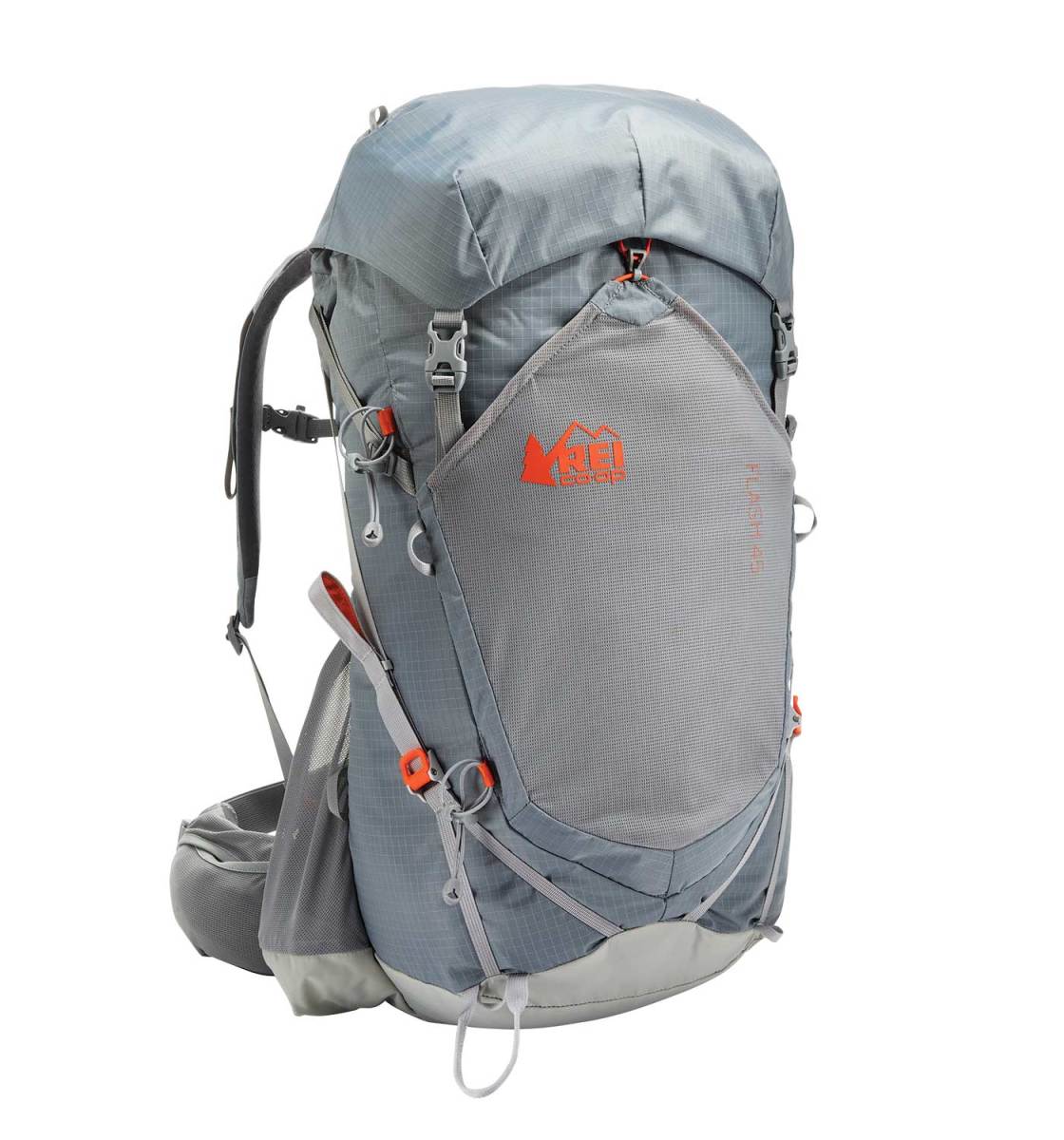 What's the best backpack for traveling around Montreal? I recommend the
REI Flash 45 Pack
. It's light and comfy, front loading, and fits perfectly in an airplane's overhead bin.
Size:
45-47L
Straps:
Thick and cushy with compression technology that pulls the pack's load up and inwards so it doesn't feel as heavy.
Features:
Removable top lid, large pocket at the front, hydration compatible, contoured hip belt
If you want something different, refer to my article on how to choose the best travel backpack for tips on picking a pack and other backpack suggestions.
What to Pack for Montreal
Clothes
1 pair of jeans (heavy and not easily dried, but I like them; a good alternative is khaki pants)
1 pair of shorts
1 bathing suit
5 T-shirts
1 long-sleeved T-shirt
1 pair of flip-flops
1 pair of sneakers
6 pairs of socks (I always end up losing half)
5 pairs of boxer shorts (I'm not a briefs guy!)
1 toothbrush
1 tube of toothpaste
1 razor
1 package of dental floss
1 small bottle of shampoo
1 small bottle of shower gel
1 towel
Deodorant
Small Medical Kit (safety is important!!!)
Miscellaneous
Female Travel Packing List
I'm not a woman, so I don't know what a woman wears, but Kristin Addis, our solo female travel guru, wrote this list as an addition to the basics above:
Clothing
1 swimsuit
1 sarong
1 pair of stretchy jeans (they wash and dry easily)
1 pair of leggings (if it's cold, they can go under your jeans, otherwise with a dress or shirt)
2-3 long-sleeve tops
2-3 T-shirts
3-4 spaghetti tops
1 light cardigan
Toiletries
1 dry shampoo spray & talc powder (keeps long hair grease-free in between washes)
1 hairbrush
Makeup you use
Hair bands & hair clips
Feminine hygiene products (you can opt to buy there too, but I prefer not to count on it, and most people have their preferred products)
For more on packing, check out these posts:
Montreal Travel Guide: Suggested Reading
The Orenda, by Joseph Boyden
As amazing as Canada is, like most other colonized countries its history is steeped in violent, bloody conflict…especially with Canada's Indigenous Peoples. This book takes place in the wilderness of 17th-century Canada, following the lives of a missionary, a young Iroquois girl, and a great warrior of the Huron Nation. The Huron have always battled the Iroquois – but now the tribes face the threat of settlers from Europe. It's a jarring, graphic read and you won't be able to put it down.




Beauty Tips from Moose Jaw: Travels in Search of Canada, by Will Ferguson
Will Ferguson and his travel adventures are laugh-out-loud funny. He's like the Canadian version of Bill Bryson. This travel memoir is about Ferguson's three years crisscrossing Canada, with adventures as far flung as the subarctic to the Underground Railroad. He goes coast to coast from the colorful neighborhoods of St. John's to the idyllic streets of Victoria, encountering interesting people and offbeat attractions along the way (yes, there's a place called Moose Jaw).



In the Skin of a Lion, by Michael Ondaatje
Considered a true Canadian classic, In the Skin of a Lion follows Patrick Lewis as he arrives in Toronto in the 1920s where he earns his money searching for a disappeared millionaire and tunneling beneath Lake Ontario. His life intersects with other special characters along the way, giving us a smart, passionate story that blurs the lines between fiction and reality.





Alias Grace, by Margaret Atwood
You can't have a Canadian reading list without some Margaret Atwood! The year is 1843, and Grace Marks has been convicted for the murders of her employer and his mistress (also the housekeeper). However, Grace has no memories of these vicious murders, and so an expert in mental illness steps in to seek a pardon for her. He listens to her story as it gets closer and closer to the day she can't remember. This book is disturbing but completely captivating, especially if you're already a fan of The Handmaid's Tale.



The Shipping News, by Annie Proulx

This is a beautiful book (and a really great movie too). A Pulitzer Prize winner, this story follows Quoyle, a newspaper hack who gets thrown out of his regular, mundane life when his wife dies. He moves back to his stark and remote ancestral home of Newfoundland with his two young daughters, where the local delicacy is cod cheeks and it's easier to travel by boat and snowmobile than by car. This book reads like poetry. It's beautiful, and although it's fiction it gives you plenty of insight into the uniqueness of Canada's easternmost province.

My Must Have Guides for Traveling to Montreal
Montreal Travel Guide: Related Articles
Want more info? Check out all the articles I've written on backpacking/traveling Canada and continue planning your trip:
Photo credits: 4 – Payton Chung