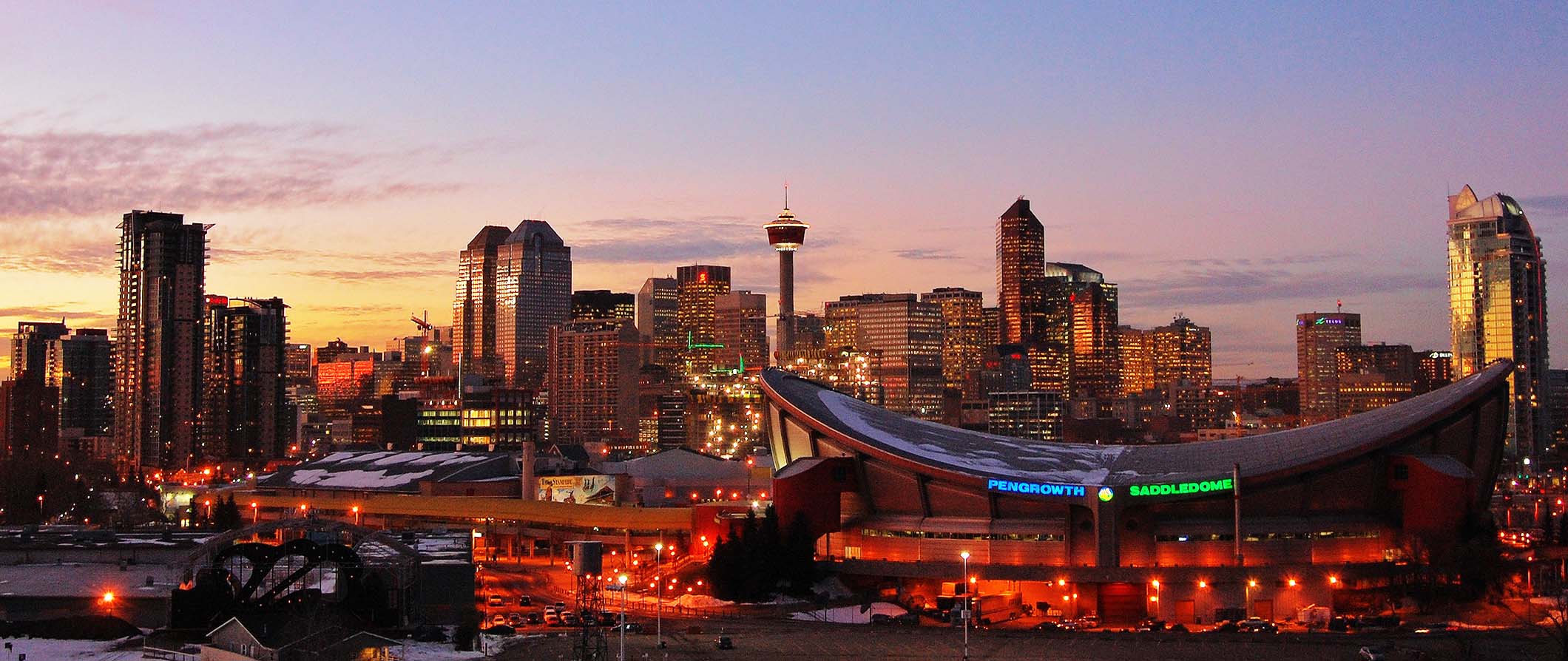 Calgary is a great city for a budget traveler with its large selection of free and low-cost activities. Have a picnic in one of its many parks, go rollerblading, dine in Kensington, or head up to the top of the surrounding peaks. If you are into mountain sports, this city is the place to be. There's great hiking, kayaking, skiing, water rafting, and camping here. It's one of the liveliest cities in Canada as it holds the famous week-long Calgary Stampede in July, which attracts tens of thousands of people from around the world.
Top 5 Things to See and Do in Calgary
1. Celebrate the Calgary Stampede
The annual Stampede brings in cowboys from all over the world. Calgary is considered cowboy country, and it's quite a sight if you can come in early July. However, the Stampede is simply an excuse to party, and most people come here just to go crazy. Tickets for park entry (not including rodeo attractions) are 18 CAD.
2. Stephen Avenue Walk
Stephen Avenue is a wonderful location to eat, drink and shop. Walk along its cobblestone streets, and shop at the antique stores and boutiques before sitting down at one the many restaurants' outdoor patios for a drink.
3. Visit the many parks
Calgary had some wonderful parks scattered throughout the city. They offer many good hiking trails and are a good way to spend a low-cost afternoon. Pack a lunch and a book and spend the day lounging!
4. Calgary Zoo
The Calgary Zoo makes for a nice family trip in this city. It also includes a prehistoric park and botanical garden. If you're going to be here at Christmas, attend the Zoolights, a spectacular light show composed of three million lights. Adult admission is 23 CAD, with discounts available for students, kids, and seniors.
5. Tap the Rockies
Calgary is really close to the Rocky Mountains, and there are a ton of guided tours available in the city. If that doesn't suit you, rent a car and head out yourself. The mountains in this area have lots of hiking, skiing, scenic views, wildlife, and places to camp.
Other Things to See and Do
(Click the title to expand the text)
1. Prince's Island Park
Right on the Bow River, this park is 20 hectares and has many free festivals throughout the year, theater performances in the evenings, and jogging trails. It's a great place for a stroll or a picnic, though keep in mind the park is closed overnight.
2. Fish Creek Provincial Park
Fish Creek also sits along the Bow River and perfect for walking, hiking, and rollerblading along its paved trails. This is a great place to stroll during the summer when the weather is nice, though keep in mind it is not opened during the night; the gates close between 6-10pm, depending on the season.
3. Explore the nightlife of Kensington
In the northwest part of the city, Kensington is where everything happens at night. In late July, there is a Sun and Salsa festival. They also have a lot of restaurants that fill up on the weekends before everyone hits the nearby bars and clubs.
4. Big Rock Brewery
If you're a beer lover, this is the place to be. Founded in 1985, Big Rock offers brewery tours for 25 CAD. Of course, in addition to the tour you get a few free samples. There is a restaurant on site, too.
5. Watch the Calgary Flames
Hockey is a religion here in Canada, and the folks in this city take their hockey very seriously. Never try to get between a local and their game! Go grab a beer, find some new friends, and watch the game. Just don't tell them hockey is boring.
6. Devonian Gardens
Established in 1959 and located in the midst of the bustling city, this quiet indoor garden is filled with plants, pools, fountains, koi fish, and turtles. It's particularly refreshing during the winter. Admission is free.
7. Eau Claire Market
In the summer time, this place is super neat for kids to hang out—there are buskers everywhere making balloon animals and playing with puppets, in addition to a wading pool. For the adults, there are a variety of upscale shops, restaurants, and a food court.
8. The Family of Man Sculptures
This collection of ten aluminum cast sculptures, some weighing as much as 1,500 pounds and measuring 21 feet tall, are quite the site to see. Originally designed by Mario Armengol, it was presented and dedicated to the city by Maxwell Cummings and Sons.
9. Bernard Callebaut Chocolate Factory
Who doesn't want to see chocolate being made, and then get to sample tons of it? You can take a self-guided, basic-guided, or advance-guided tour and learn all about the chocolate making process—plus, you get free samples along the way!
Typical Costs
Hostel prices
– There are only a few hostels in town, though most include free breakfast. Dorms will start at 30 CAD, with privates starting at around 70 CAD. During the Stampede, prices shoot up by about 50%, and sell out months in advance so make sure you book ahead! During the summer months, there is also the option of renting a dorm room from the university. Rooms are generally available from early May to late August, and offer access to on-campus services (laundry, parking, cafeterias). Queen rooms are available for 89 CAD per night, plus tax. There are also occasionally rooms available during the school year, so check universityrooms.com for more information. Mount Royal College also offers shared accommodation during the summer months, with prices from 51.70 CAD per night. My suggested place is:
Budget hotel prices – Budget hotels average about 80 CAD per night for a double room with breakfast included, however, don't expect anything too luxurious. Again, if you are coming for the Stampede, book ahead! Shared rooms (i.e., a couch) on Airbnb will set you back around 50 CAD, while private homes and apartments start around 85 CAD.
Average cost of food – If you cook for yourself, you can spend as little as 75 CAD on groceries per week (which would include milk, meat, bread, eggs, rice/pasta, some veggies, and fruit, etc. Pubs and cheap restaurants are very reasonable at around 20 CAD for a meal. Higher end restaurants will set you back around 40 CAD if you drink. Stick to beer if you want to drink on a budget, as Canada has plenty of cheap (but tolerable) beers.
Transportation costs – Transit tickets are 3.15 CAD for adults. Day passes (9.50 CAD) and books of 10 transit tickets (31.50 CAS) are also available at most convenience stores. A monthly pass can also be purchased for unlimited usage within the ticket's designated month (99 CAD). The C-Train operates on an honor system, although inspectors do occasionally check riders for valid tickets. Travel on the C-Train in the downtown free fare zone is free of charge.
Suggested daily budget
70-80 CAD / 52-60 USD (Note: This is a suggested budget assuming you're staying in a hostel, eating out a little, cooking most of your meals, and using local transportation. Using the budget tips below, you can always lower this number. However, if you stay in fancier accommodation or eat out more often, expect this to be higher!)
Money Saving Tips
Cook your own food – If you're self-catering and happen to be in town at the beginning of the month, head to Safeway or Sobeys to stock up on groceries for the trip. On the first Tuesday of every month, both stores offer a 10% discount (minimum spend of 45 CAD and 65 CAD, respectively).
Check for discount coupons – Calgary Attractions offers coupons for discounts on some of the city's top attractions. If you plan on seeing a lot of sights, be sure to check this out!
Travel in groups – If you're planning a mountain weekend escape, think in groups. Carpool if you're renting a car, and split a kitchenette with friends to save on the expensive restaurants in Banff and Canmore. Buy groceries in Calgary before you head out to save even more.
Save money on rideshares – Uber is way cheaper than taxis and is the best way to get around a city if you don't want to wait for a bus or pay for a taxi. The Uber Pool option is where you can share a ride to get even better savings (though you can get your own car too). You can save $15 off your first Uber ride with this code: jlx6v.
My Must Have Guides For Traveling to Calgary
Photo credits: 3