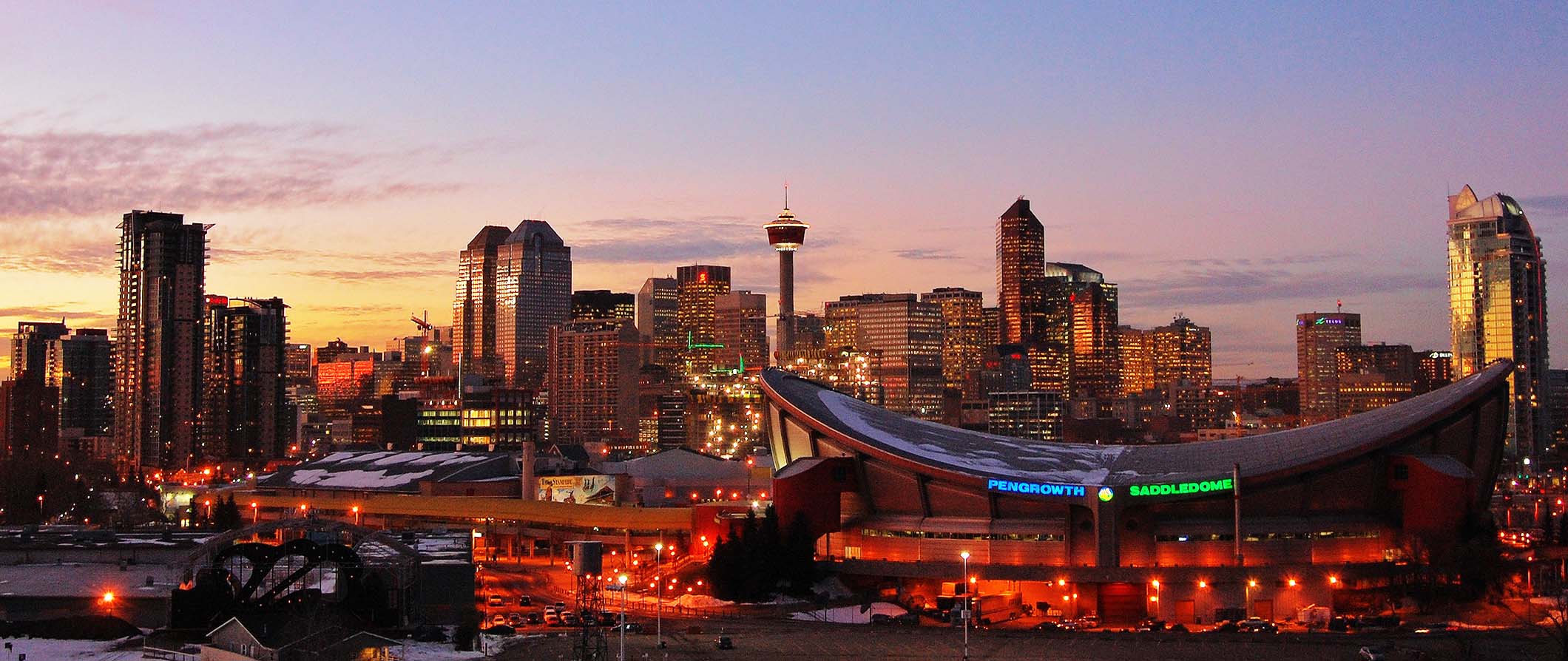 Calgary is one of the largest cities in Canada and home to the massive Calgary Stampede, an annual rodeo and festival that brings in over 1 million visitors each year. It's the economic hub of Alberta, one of the country's western provinces, and is just a stone's throw from the stunning vistas of Banff National Park.
While the city itself isn't particularly pretty — it's full of skyscrapers and doesn't have a lot of historic buildings — underneath all that glass is a cosmopolitan destination with a rough and wild cowboy charm to it. There's great hiking, kayaking, skiing, water rafting, and camping all around Calgary and the city itself is one of the liveliest in the country, especially during the Stampede.
There's a ton of greenspace here too. Add in a rotating roster of food trucks, craft beer bars, and top-notch museums, and you've got a recipe for one of my favorite cities in Canada.
From here, you can head out to Banff National Park or Canmore to get up close and personal with nature and explore one of Canada's most scenic regions.
This travel guide to Calgary can help you plan your trip, save money, and make the most out of your time in Calgary!
Top 5 Things to See and Do in Calgary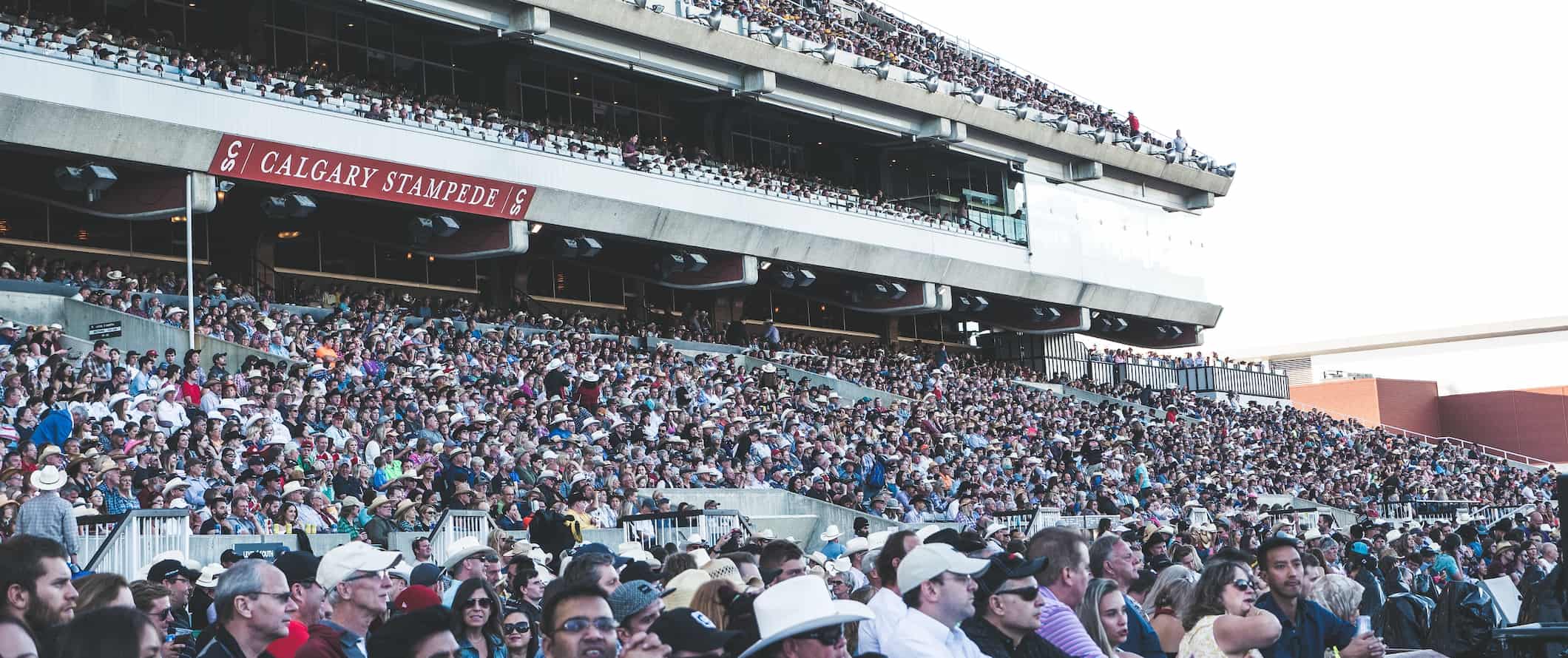 1. Celebrate the Calgary Stampede
The Calgary Stampede is the world's largest open-air rodeo held every year in July. The Stampede celebrates Canada's western heritage with chuckwagon races, bull riding, concerts, carnival rides, and endless fair food (deep-fried butter, anyone?). It's also a crazy party. Daytime rodeos start at 66 CAD and evening rodeos start at 84 CAD. There's even a Drag Queen brunch in case you didn't know you could combine a Western theme with a drag show! Just be sure to book your accommodation early as the city fills up fast!
2. Walk Stephen Avenue
Stephen Avenue is a pedestrian-only thoroughfare in the heart of downtown Calgary. It's lined with antique stores, boutiques, restaurants, and bars. It's best in the summer when the outdoor patios are overflowing with locals enjoying an after-work drink. This street is a great place for food trucks, outdoor festivals, and live music. In February, it turns into a snowy wonderland during the Downtown Glowfest light festival with performances and beautiful art installations. At the same time, you can warm your hands with delicious hot chocolate served both with and without alcohol at the YYC Hot Chocolate Festival.
3. Relax in the many parks
Calgary makes incredible use of its green spaces and there are many beautiful places where you can lounge and relax or enjoy the area cycling the numerous trails around the city. Visit Bowness Park, one of the city's most popular parks in warm weather alongside the Bow River, where you can enjoy walking the paths, swim in the lagoon, BBQ, or rent a boat for the day. In winter, it's a popular spot for ice skating and cross-country skiing, and the popular Canadian winter sport of crokicurl (hybrid of curling and crokinole). Prince's Island Park is where people gather for Canada Day and Calgary's Folk Festival celebrations in July. The Winter Music Folk Festival also happens there as well. In short, there is a ton of greenspace that can help you enjoy the city and take in the local pace of life on a budget.
4. Visit the Calgary Zoo
Not only is the Calgary Zoo home to tons of interesting wildlife, but it also houses the Centre for Conservation Research. There are currently around 900 animals from all over the world. Go see the penguins splashing around or check out the 'Canadian Wilds' area with moose, grizzly bears, bighorn sheep, and more. Or explore the indoor 'Destination Africa' pavilion with giraffes, monkeys, hippos, and more. Every month there are different special events. If you're here at Christmas, attend the Zoolights, a spectacular light show composed of three million lights. And if you want to splash out, you can even sit inside a warm 'Snowglobe' in their Garden of Light and enjoy a hot cup of mulled wine and an artisan cheese board (175 CAD for two people). Regular admission is 30 CAD.
5. Go to the Rockies
Calgary is close to the Rocky Mountains, and the highlight of this region is the spectacular Banff National Park. The Park is a UNESCO World Heritage Site and both Canada's first national park and its most famous due to its picturesque turquoise lakes, snow-capped peaks, wildlife, and breathtaking scenery. There are over 1,600 kilometers (1,000 miles) of stunning mountain trails with all sorts of activities, from hiking, skiing, and horseback riding, as well as places to camp. You can certainly visit as a day trip from Calgary, but you'll be missing out if you don't spend a few days here. There is something for every budget when it comes to how much you want to experience nature. You can pitch a tent at a campsite, rent a cabin, try glamping, or stay in Banff town at a hotel. Even without a car, it's easy to get here via bus (though renting a car is the best way to explore this area).
Other Things to See and Do in Calgary
1. Take a free walking tour
The first thing I do when I arrive in a new city is take a free walking tour. It's the best way to see the highlights and meet a local expert guide who can answer all your questions. Walk the YYC runs a solid free tour that can introduce you to the city. Just be sure to tip your guide at the end! There's also Calgary Greeters, a free local greeting program that connects you with a local who can show you around (advanced bookings required).
2. Hang out in Prince's Island Park
Right on the Bow River, this park spans 50 acres and is the most popular park in the city. There are free festivals and events year-round, such as the Calgary Folk Music Festival and Shakespeare in the Park. It also has running and hiking paths, cross-country skiing trails, picnic areas, flower gardens, and lots of space to simply lounge and relax. In the winter, people go skating on the lagoon.
3. Check out Fish Creek Provincial Park
Fish Creek also sits along the Bow River and is perfect for walking, cycling, and rollerblading. In the summer, people come here to fish, swim in Sikome Lake, and have barbecues. Locals also hit the trails in the winter for cross-country skiing and snowshoeing. Just be aware the park closes between 6pm-10pm depending on the time of year.
4. Explore the nightlife of Kensington
Located in the northwest part of the city, Kensington is a tiny business district full of trendy shops, bars, and restaurants. Whether you're seeking a quiet pub, an outdoor patio, or a fun-filled night of dancing, you'll find it here. Kensington Pub, Winebar Kensington, and Container Bar are all great spots to hang out for their cozy atmosphere and unique decor.
5. Go brewery hopping
If you're a craft beer lover, Calgary has a huge number of brewpubs, small breweries, and even a Craft Beer Market. Citizen Brewing Company, Cold Garden Beverage Company, and Big Rock are some of my favorites. You can also do a brewery hopping tour with Canadian Craft Tours to 3-4 different breweries for 109 CAD.
6. Watch the Calgary Flames
Hockey is a religion in Canada, and the folks in this city take their hockey very seriously. Calgary has one of 7 Canadian teams in the NHL so check and see if there's a game on during your visit. Tickets start around 37 CAD but you can also just find a busy pub or bar to grab a beer and watch the game with locals.
7. Wander Eau Claire Market
This indoor market has something for everyone, including a variety of upscale shops, restaurants, and a food court. In the summer, there's a playground and a wading pool for kids. Buskers are everywhere making balloon animals, performing music, or even putting on puppet shows. Eau Claire is also the festival district, so there is often some sort of community event taking place (usually concerts). It's a bit cheesy, but it's a fun spot if you're traveling with family.
8. See the Family of Man Sculptures
This collection of ten aluminum cast sculptures (some weighing as much as 1,500 pounds and measuring 21 feet tall) makes for quite the sight to see surrounded by skyscrapers and office buildings in downtown Calgary. Originally designed by Mario Armengol and displayed at the Expo 67 World's Fair in Montreal, these sculptures were later presented and dedicated to the city in 1969.
9. Check out the Canada Olympic Park
Calgarians are an active bunch. On Friday afternoons in the winter, you'll see SUVs and trucks loaded up with ski gear leaving town for the mountains. The Olympic Park is where many of them get their start with winter sports. This ski hill and training/competition complex serves as a tribute to the 1988 Olympic Games and is mostly used as a training ground for young athletes. If you're here in the winter, sign up for a downhill or cross-country ski lesson, which costs about 75 CAD for 90 minutes. You can even try the bobsled or luge!
10. Head to the top of the Calgary Tower
Built in 1967, the Calgary Tower stands 191 meters (626 feet) and commemorates Canada's Centennial. It's the centerpiece of the city and at the top, you'll get uninterrupted views straight to the Rocky Mountains. Plus, the glass floor at the observation deck is thrilling (and terrifying). A ticket to the top is 19 CAD if you buy online and 21 CAD at the ticket window.
11. Visit the Heritage Park Historical Village
This heritage park is like a living museum. It showcases Western Canadian history from the 1860s to the 1950s. You can ride a steam train, learn how to make old-fashioned ice cream, chat with actors dressed up as prairie settlers, explore First Nations history, and take a horse-drawn wagon ride. It's another one of those somewhat cheesy experiences, but you'll learn a lot and it's fun for kids. Tickets are 30 CAD.
12. Take a food tour
If you want to sample the finest foods that Calgary has to offer, take a food tour with Alberta Food Tours. They have several different excursions, including a Calgary Farmers' Market tour and a walk through the Inglewood neighborhood. You can try poutine, cheeses, charcuterie, sweet treats, a few drinks, and more throughout the evening. Food Tours run during the high season until October and cost 95 CAD. There is also a self-guided tour all year round using their app for only 45 CAD, which is 2.5 hours long and includes some tastings as well as discounts from several of their business partners.

For more information on other cities in Canada, check out these guides:
Calgary Travel Costs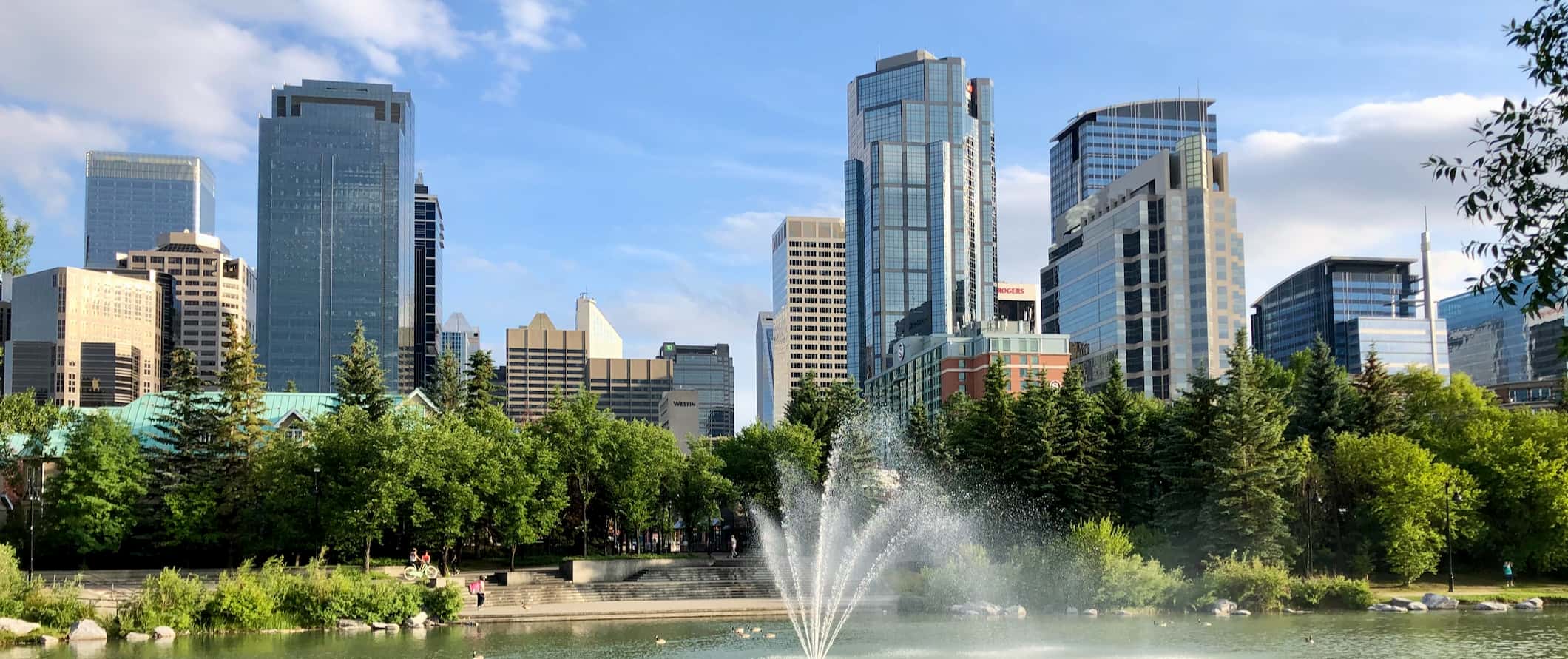 Hostel prices – There are only a couple of hostels in Calgary. A bed in a room with 4-6 beds is 30-45 CAD per night while a dorm with 8 beds or more costs about 40 CAD.
Private hostel rooms start from 90 CAD per night for two people but can go as high as 175 CAD. During the Stampede, prices shoot up by about 50% and sell out months in advance, so make sure you book ahead.
For those traveling with a tent, camping is available outside the city for 30 CAD per night. This gets you a basic plot without electricity. RV plots cost around 55 CAD per night.
Budget hotel prices – Budget hotels start at 90 CAD, but these aren't near the city center. For something closer to downtown, expect to pay at least 120 CAD per night. Free Wi-Fi, AC, TV, and a coffee/tea maker are usually included.
Airbnb is available everywhere in Calgary, with a private room starting at 50-65 CAD per night. An entire home/apartment averages 90-125 CAD per night. Prices double when not booked in advance.
During the summer months, there is also the option of renting a dorm room from a university. Rooms are generally available from early May to late August and offer access to on-campus services (laundry, parking). Mount Royal University has single rooms starting from 109 CAD per night.
Food – Overall, the food here is a collage of dishes from other cultures, owing to the country's diverse history of immigration. In Calgary, beef is the go-to meat since half of the entire country's beef supply comes from Alberta. Bison is also common, as are fresh berries in the summer. More general Canadian staples include beaver tails (fried dough with fresh maple syrup), Canadian bacon, poutine (fries with gravy and cheese curd), and the oddly tasty ketchup chips.
For the city's best eats, hit the food trucks. Calgary has an epic food truck scene, and their locations change daily. Download the Street Food Calgary app to follow the trucks in real time.
You can find pizza by the slice for 4 CAD. Larger meals like taco salad or curry cost around 11 CAD.
A combo meal at McDonald's costs about 12 CAD. Pubs and chain restaurants are very reasonable at about 20 CAD for a meal with a drink.
Higher-end restaurants set you back around 60 CAD if you also order an appetizer and a drink.
A glass of wine is around 9 CAD while beer is 7 CAD. A latte/cappuccino costs around 4.75 CAD. Bottled water costs 2 CAD.
If you cook for yourself, expect to spend around 50-60 CAD per week on groceries. This gets you basic staples like pasta, rice, produce, and some meat.
Some of my favorite places to eat in Calgary include CRAFT Beer Market, Holy Grill, Bridgette Bar, and Peters' Drive In.
Backpacking Calgary Suggested Budgets
If you're backpacking Calgary, expect to spend about 75 CAD per day. This budget assumes you're staying in a hostel, cooking all your meals, taking public transportation to get around, limiting your drinking, and doing mostly free activities like hanging out in the parks and wandering Stephen Avenue. Add 10-15 CAD extra per day if you plan on drinking.
On a mid-range budget of 155 CAD per day, you can stay in a private Airbnb room, eat out more (but still cook some meals), rent a bicycle to get around and take the occasional taxi, enjoy a couple drinks, and visit more attractions like the zoo. If you plan to visit during the Stampede, add in another 66 CAD per day.
On a "luxury" budget of 315 CAD per day or more, you can stay in a hotel, eat out for all your meals, drink more, rent a car, and do whatever tours and activities you want. This is just the ground floor for luxury though. The sky is the limit!
Keep in mind that many of these prices (especially accommodations) increase by 50% during Stampede time!
Accommodation
Food
Transportation
Attractions
Average Daily Cost
Backpacker
40
15
10
10
75
Mid-Range
75
40
20
20
155
Calgary Travel Guide: Money-Saving Tips
Calgary is not a cheap city. If you stick to mostly free activities, you'll save some money but otherwise, things here are pricey. It's one of the more expensive cities in Canada and it's tough to visit on a limited budget. Nevertheless, here are some tips to help you save money in Calgary:
Stay with a local – If you plan ahead, you can usually find a Couchsurfing host to give you a free place to stay. You'll not only save money but you'll get to connect with a local insider who can share their tips and advice.
Take a free walking tour – Walking tours are a great way to get familiar with a city and its culture. Walk the YYC is the only free walking tour in town, but it's a good one! You can also book a Calgary Greeter — a local volunteer who walks you around the city.
Avoid the Calgary Stampede – If you're not dying to see the Stampede, avoid the dates around this event. Prices are higher everywhere. On the other hand, if you are here during Stampede, take advantage of the city's many free pancake breakfasts (stampedebreakfast.ca).
Look for free events – Most of Calgary's street festivals are free to attend, and there are free events year-round. Check out Visit Calgary's website for their up-to-date event listings!
Spend your time in nature – With its abundance of outdoor activities, walking/biking trails, and relaxing parks, if you spend most of your time soaking up Calgary's big nature you'll save a lot of cash.
Bring a water bottle – The tap water here is safe to drink so bring a reusable water bottle to save money. LifeStraw makes a reusable bottle with a built-in filter to ensure your water is always safe and clean.
Where to Stay in Calgary
There are only a few hostels in Calgary so be sure to book early if you can. Here are my suggested places to stay:
How to Get Around Calgary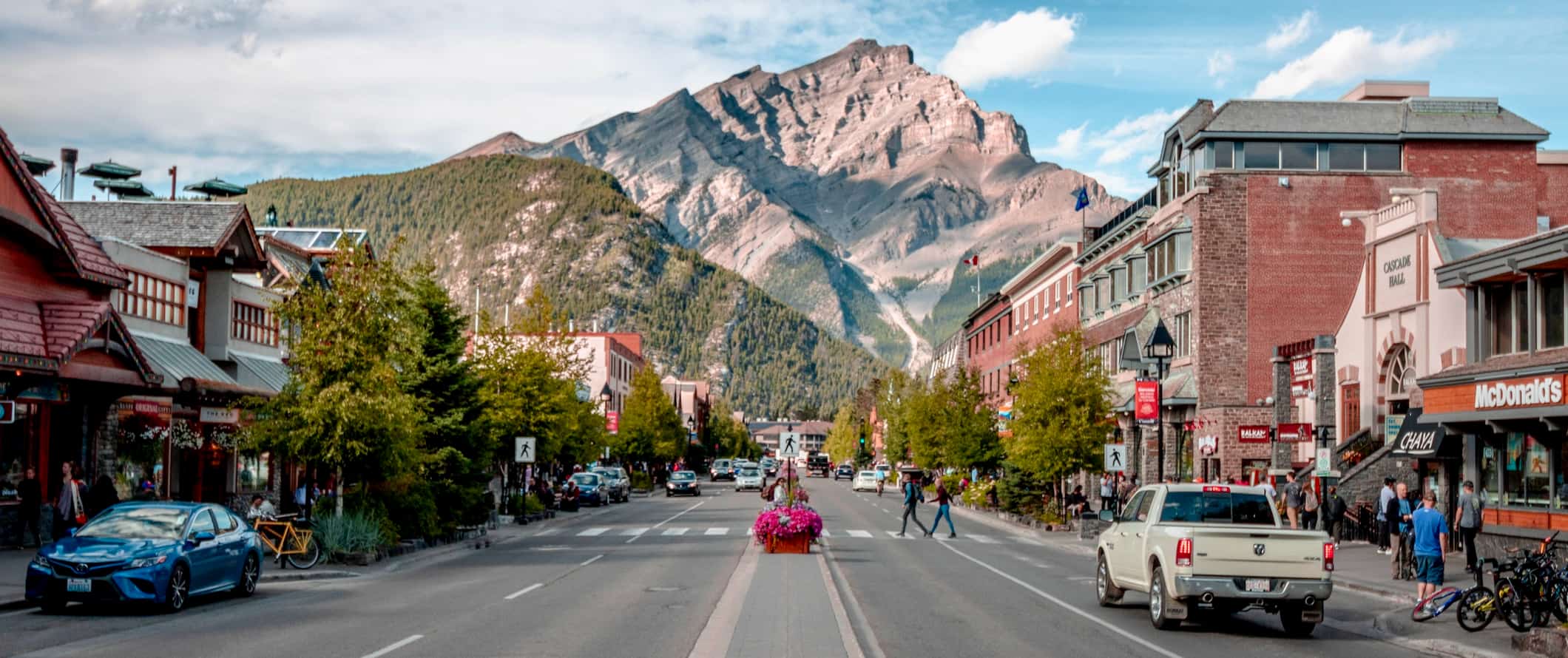 Public transportation – Calgary has a well-connected bus system. Use cash to purchase a ticket on the bus (exact change required), or buy tickets at many drug stores, supermarkets, and corner shops. Fares are 3.60 CAD one way, or you can pay 11.25 CAD for a day pass (which is the best deal). One-way fares are valid for 90 minutes.
Calgary also has two Light Rail Transit (LRT) lines known as the C-Train. You can buy tickets with cash or credit card at any C-Train station, and ticket prices cost the same as the bus. You can ride the C-Train for free in Calgary's downtown core between the City Hall Station and Downtown West/Kerby Station, but make sure you have a ticket as soon as you leave the free zone (a section downtown where fares are free between 3rd Street East and 11th Street West along 7 Avenue).
Taxi – Taxis are not cheap here. Their base rate is 4 CAD, and it's an additional 1.93 CAD per kilometer afterward. Prices add up fast so skip the taxis here if you can!
Ridesharing – In addition to taxis, you can also use Uber to get around Calgary. It's cheaper, but it's still going to break the bank if you use it often, so stick to public transportation as much as possible.
Bicycle – Calgary has more cycling paths than anywhere in North America, with nearly 850 kilometers (528 miles) of pathways! Plus, most major streets have designated biking lanes. Lime Bike is a public bike-share program that lets you rent an e-bike to get around. Just download the app, search for a bike nearby, and unlock it for 1 CAD. After that, it's 0.30 CAD per minute to ride, meaning a 30-minute journey costs about 10 CAD. If you'd like to take a bike out for longer, Sports Rent offers rentals for 35 CAD per day.
Car rental – Car rentals can be found for around 40 CAD per day for a multi-day rental. However, unless you're leaving the city to explore I wouldn't suggest renting one. Parking adds up and the bus can get you anywhere you need to go on a budget!
For the best car rental prices, use Discover Cars.
When to Go to Calgary
Late spring and summer in Calgary are the best times to visit, especially between May and early September. There's so much going on in the city, and everyone is outdoors making the most of it. The average daily temperature is around 23°C (73.4°F), but it's often higher than 30°C (86°F). Calgary is never really overcrowded with visitors compared to places like Toronto and Vancouver (except during Stampede in July).
Things start cooling off considerably in the fall; don't be surprised if you see snow in September. Winters are cold, with average temperatures hovering around -11 to -14°C (12-6.8°F). This doesn't discourage Calgarians in the slightest, however, and you'll find most people hitting the slopes around Kananaskis and Banff on their time off.
If you're into winter sports, embrace the cold and take advantage of the near-constant perfect snow conditions.
If the national parks are your priority, aim for a spring or fall visit. The parks are bursting with people in the summer. Additionally, try to skip weekend visits as that's when the parks are busiest.
How to Stay Safe in Calgary
Calgary is a very safe city. Violent crime here is very rare. Your greatest risk is petty theft, such as pickpocketing, but even that is rare. Just keep your valuables secure and out of reach at all times just to be safe.
The eastern part of downtown (east of City Hall) is a bit sketchy at night, so avoid walking through that area alone.
If you're not used to severe winter weather, make sure you bring lots of layers and appropriate clothing if you're visiting in the winter. Avoid staying outside for too long if you're not adequately protected. It gets cold!
Solo female travelers should feel safe here, however, the standard precautions apply (never leave your drink unattended at the bar, never walk home alone intoxicated, etc.).
Scams here are rare, but if you're worried about getting ripped off you can read about common travel scams to avoid here.
If you experience an emergency, dial 911 for assistance.
The most important piece of advice I can offer is to purchase good travel insurance. Travel insurance will protect you against illness, injury, theft, and cancellations. It's comprehensive protection in case anything goes wrong. I never go on a trip without it as I've had to use it many times in the past.
Calgary Travel Guide: The Best Booking Resources
These are my favorite companies to use when I travel. They consistently have the best deals, offer world-class customer service and great value, and overall, are better than their competitors. They are the companies I use the most and are always the starting point in my search for travel deals.
Skyscanner – Skyscanner is my favorite flight search engine. They search small websites and budget airlines that larger search sites tend to miss. They are hands down the number one place to start.
Hostelworld – This is the best hostel accommodation site out there with the largest inventory, best search interface, and widest availability.
Booking.com – The best all around booking site that constantly provides the cheapest and lowest rates. They have the widest selection of budget accommodation. In all my tests, they've always had the cheapest rates out of all the booking websites.
Get Your Guide – Get Your Guide is a huge online marketplace for tours and excursions. They have tons of tour options available in cities all around the world, including everything from cooking classes, walking tours, street art lessons, and more!
SafetyWing – Safety Wing offers convenient and affordable plans tailored to digital nomads and long-term travelers. They have cheap monthly plans, great customer service, and an easy-to-use claims process that makes it perfect for those on the road.
LifeStraw – My go-to company for reusable water bottles with built-in filters so you can ensure your drinking water is always clean and safe.
Unbound Merino – They make lightweight, durable, easy-to-clean travel clothing.
Top Travel Credit Cards – Points are the best way to cut down travel expenses. Here's my favorite point earning credit cards so you can get free travel!
Calgary Travel Guide: Related Articles
Want more info? Check out all the articles I've written on backpacking/traveling Canada and continue planning your trip: