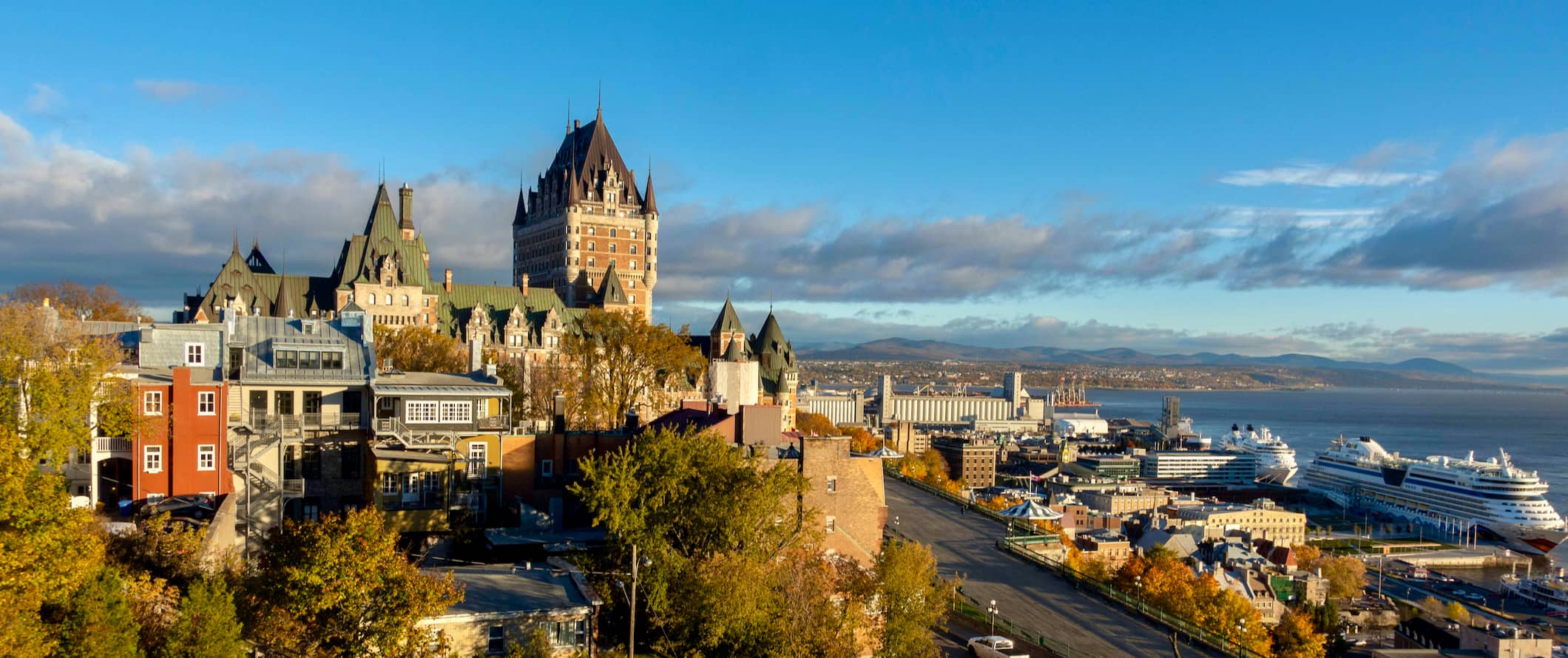 Quebec City is often referred to as the birthplace of French North America. It is in this area where explorers such as Jacques Cartier and Samuel de Champlain made their mark in the 16th and 17th centuries and the colony of New France began.
Today, Quebec City is the cultural hub of Quebec, as well as the province's capital. It's known for its big-village vibes, delicious food, fun festivals, intriguing museums, thirst-quenching microbreweries, and plentiful outdoor activities.
I think this place is one of the most beautiful cities in all of Canada. Come for the history and culture, spend time in neighborhoods, and feast on local cuisine. I can not get enough of this city. It's just absolutely stunning.
This Quebec City travel guide can help you plan your trip, save money, and make the most of your visit.
Top 5 Things to See and Do in Quebec City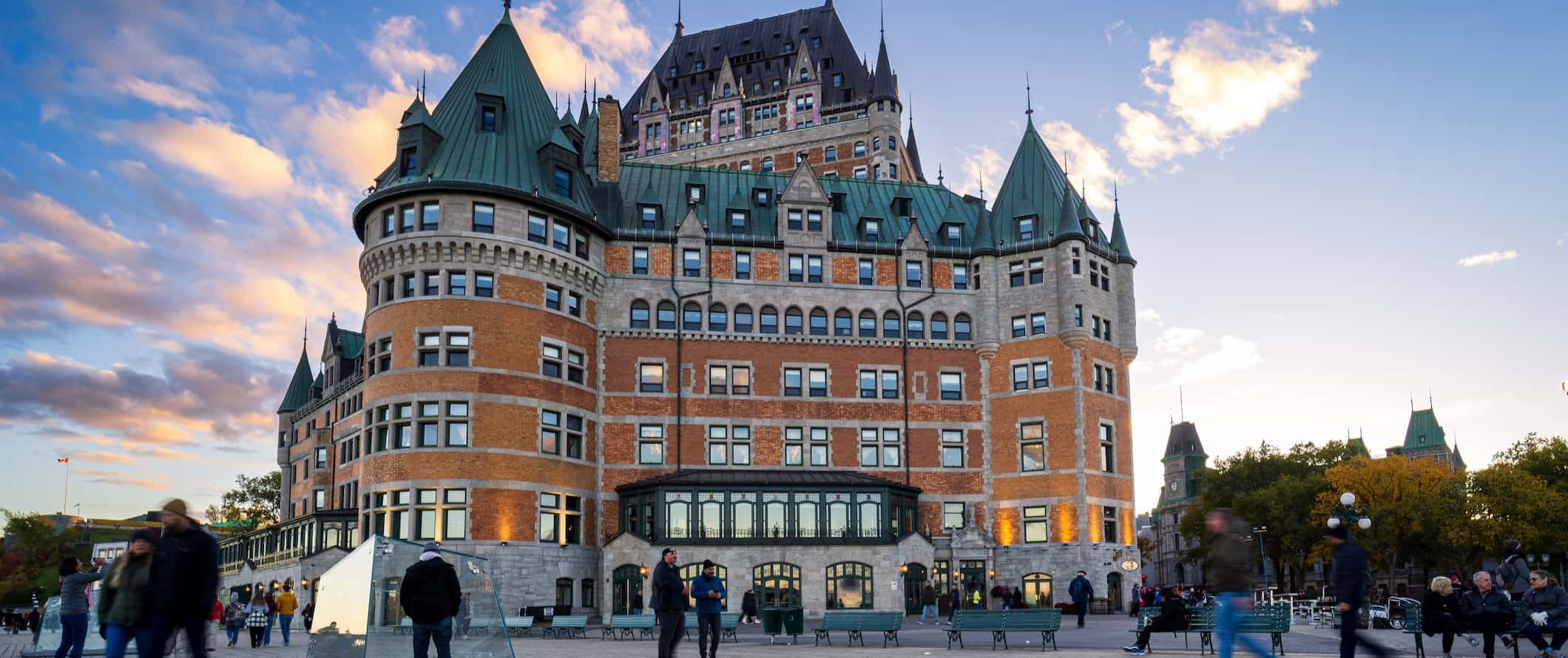 1. Visit Old Quebec (Vieux-Québec)
Located near Cap Diamant, the clifftop where the grand Château Frontenac can be seen standing guard, is the neighborhood of Old Quebec. Surrounded on three sides by stone fortification walls complete with canons, Quebec City is the only remaining fortified city north of Mexico. In 1985, this neighborhood, along with Petit-Champlain, Place-Royale, and Old Port (Vieux-Port), was declared a UNESCO World Heritage Site. Visit the Victorian library, take in the views from Terrasse Pierre-Dugua-de-mons and Montmorency Park, and stroll on Dufferin Terrace. Notre-Dame de Quebec Basilica, the oldest church in North America, is home to The Holy Door (a special door gifted to the church by the Pope). There are plenty of restaurants to enjoy here as well, including Le Chic Shack for gourmet burgers and poutine and Chez Ashton for a fast cheap meal.
2. Explore Dufferin Terrace (Terrasse Dufferin)
This boardwalk stretches along Cap Diamant, with Château Frontenac soaring in the background and the St. Lawrence River, the Petit-Champlain district, and Place Royale unfolding in front. From spring through autumn, Dufferin Terrace is a gathering place for travelers, musicians, and performers, a place to relax, snap photos, and devour chocolate-dipped ice cream. In winter, it's home to the oldest attraction in Quebec City, the Dufferin Slide, a huge toboggan slide (rides are 4 CAD).
3. See Parc de la Chute-Montmorency (Montmorency Falls)
This is an impressive waterfall at the conjunction of the Montmorency and St. Lawrence Rivers. It stands 83 meters (272 feet) tall, making it higher than Niagara Falls. Take the hiking trail near the bus stop and cross the bridge for a view of the water rushing over the precipice. The daily access fee for the park is 7.39 CAD while sightseeing cruises along the river that last 1.5-3.5 hours start at 65 CAD.
4. Admire La Citadelle
Built between 1820 and 1850, La Citadelle is an active military base on the edge of Old Quebec. It's home to the 22nd Regiment, founded in 1869 and known as the Van Doos (representing the anglicized pronunciation of twenty-two). Here you'll also find a fascinating museum with over 13,000 items that showcase the lives of soldiers from the 17th century to the present. The museum's collections include medals and insignia, uniforms, weapons, maps, paintings, dinnerware, military trophies, and more. There's also the Grenier Miniatures collection of lead soldiers, which is comprised of over 300 painted miniature soldiers. Take a guided one-hour tour for 18 CAD. In summer, the changing of the guard ceremony takes place daily at 10am from June 24 until the first Monday in September.
5. Take a free walking tour of Old Quebec
This two-hour walking tour begins at the Parliament Building and winds through Old Quebec. Stops usually include the Morrin Centre for a peek at its beautiful Victorian library, Notre-Dame de Quebec Basilica-Cathedral, Château Frontenac, Dufferin Terrace, the Breakneck Steps (the oldest outdoor staircase in the city), and the cobblestone streets of Petit-Champlain and Place-Royale. Along the way, the guide Samuel Dubois highlights the history and culture of Quebec. As a tip, bring Sam a little souvenir or knick-knack from your home city — he's a collector.
Other Things to See and Do in Quebec City
1. Walk along the Rue de Petit-Champlain
Rue de Petit-Champlain is in one of the oldest neighborhoods in Quebec City. In the 18th and 19th centuries, this narrow street was crammed with shops and tenements housing immigrants from Europe. While other streets were paved, this one retained its wood planks. Today, this neighborhood is filled with artisanal shops and restaurants. Visit in the morning or early evening if you want to avoid the hordes of tourists.
2. Visit Place Royale
This public square (and the couple of streets that border it) is where the colony of New France began in 1608. Église Notre-Dame-des-Victoires (a small Roman Catholic church) is located here, which you may recognize from the end of the movie Catch Me If You Can. This small church is generally open to the public during the summer season. Place Royale is also home to a great café, Maison Smith, as well as a fabulous pub, L'Oncle Antoine (where delicious French onion soup and affordable beer can be found).
3. Wander the Plains of Abraham
This sprawling green space is where the fate of Quebec was changed in 1759 when a pivotal battle of the Seven Years' War (also known as the French and Indian War) took place here. The battle between fewer than 10,000 French and English troops lasted around 15 minutes, mortally wounding both generals and ending 151 years of French rule. Today, the park is perfect for leisure walks, picnics, and cycling, as well as cross-country skiing and snowshoeing in winter. The main concert stage for Festival d'Été de Québec (an annual summer festival) is set up here too.
4. Stroll around Terrasse Pierre-Dugua-De Mons
Walk up the wooden stairs leading away from Terrasse Dufferin and to Terrasse Pierre-Dugua-De Mons for a spectacular view of Old Quebec and the St. Lawrence River. The grassy hill of Parc du Bastion-de-la-Reine cups the terrace and is an ideal spot for a picnic or relaxing and reading a book. Along the back edge of the park are the walls of La Citadelle.
5. See the Parliament Building
Quebec City is the capital of the province and the Parliament Building is located just outside the walls of Old Quebec. On the façade are bronze statues of important historic and political figures as well as statues that represent the indigenous of Quebec. There are also gardens in front, and the Fontaine de Tourny, a fountain with 43 jets that stands 7 meters (21 feet) tall, is across the street. Free tours inside the National Assembly can be booked online.
6. Tour Morrin Centre
Built in 1808, the Morrin Centre was a prison before becoming a college and the home of the Historical and Literary Society of Quebec. Today, it's a cultural center and its beautiful Victorian library is the only English-language one in Quebec City. You can visit for free or take a guided tour during the summer of the remaining jail cells and college rooms (where you'll see actual chains used to hold prisoners as well as graffiti carved into the walls). Tours also include a visit to the upper floor of the library, which is otherwise off-limits to the public.
7. Visit Wendake
Located 20 minutes from Old Quebec, Wendake is home to the Huron-Wendat Nation (an Iroquoian-speaking nation established in the 1600s). Hôtel-Musée Première Nations has interactive museum on the history of the Huron-Wendat people and their arrival in the area. Inside the traditional Ekionkiestha Longhouse, you can sit by a fire and listen to First Nations myths and legends as told by local storytellers. You can also take a guided tour of Site Traditionnel Huron Onhoüa Cheteke to learn about the history, culture, and life of the Huron-Wendat people (16.75 CAD).
8. Ride the Quebec-Lévis Ferry
The ferry trip across the St. Lawrence River to Lévis takes about 15 minutes and offers one of the best views of the Quebec City skyline. Once you're in Lévis, hit up the microbrewery beside the ferry terminal or venture into Old Lévis and wander around a bit. In summer, a Ferris wheel is set up along the riverfront, and weekly fireworks shows can be enjoyed from both shores. The ferry ride costs 7.70 CAD round-trip.
9. Enjoy drinks and drag at Le Drague Cabaret Club
Le Drague has been the gay club (open to everyone) in Quebec City for over 25 years, offering several dance floors with DJs, karaoke nights, drag shows, and more, and there is a large patio in the summer. Visit the club's website for upcoming events.
For more information on other cities in Canada, check out these guides:
Quebec City Travel Costs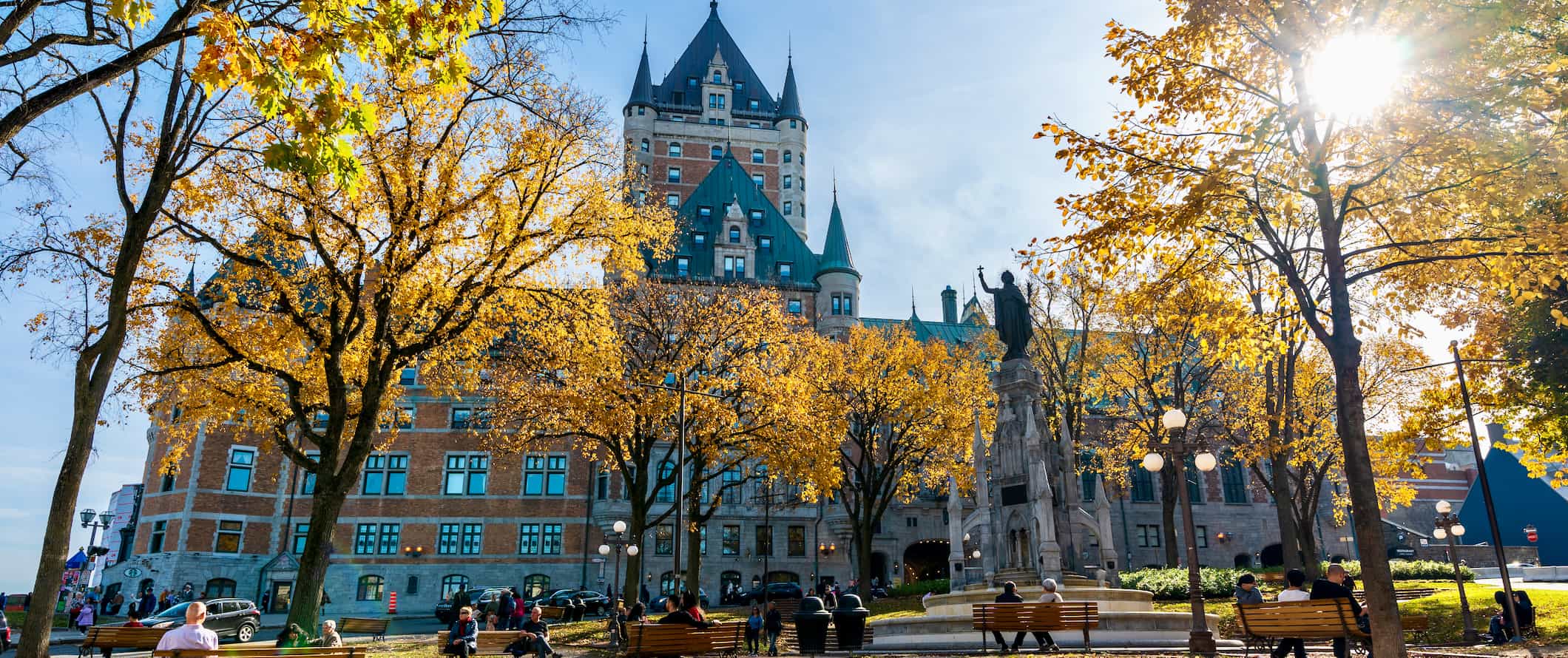 Hostel prices – There are not many hostels in Quebec City. Dorm rooms cost around 28-35 CAD per night in the shoulder season and 28-50 CAD in the summer. Private rooms start at 65 CAD per night, with shared or en suite bathroom options. Free Wi-Fi is standard, as is self-catering. Some offer free breakfast and activities as well.
Budget hotel prices – There is an abundance of two-star accommodations in Quebec City. Rates start at 80 CAD per night, depending on the season. Many offer a free continental breakfast as well as tea and coffee.
Airbnb is available, but the majority are outside the old city walls. This is a good option if you want to be based in a neighborhood outside the tourist zone. Rates start at 50 CAD per night for a private room or 90 CAD for a small loft or apartment. Expect prices to double if you don't book early (especially in the summer).
Food – Quebec City is one of the best places to enjoy traditional Québécois food. French is the next most popular cuisine here. In Quebec, traditional dishes include poutine (fries with gravy and cheese curds), tourtière (meat pie), and pea soup. Quebec is also the world's biggest producer of maple syrup (almost 75% of the world's supply comes from the province) so be sure to try a lot of it here.
And, while the city is not as diverse as Montreal or Toronto, there are quite a few restaurants focused on Asian and South American fare. Also, don't miss out on other Canadian favorites such as beaver tails (fried dough with maple syrup), and the oddly tasty ketchup chips.
A meal from a casse-croûte (snack shack) or café can be 15-20 CAD. A combo from McDonald's starts at 13 CAD, and a medium pizza is 14-18 CAD. A baguette costs 3-4 CAD while grab-and-go sandwiches are 7-10 CAD. Chinese food is around 12-20 CAD for a main dish.
If you want to splash out, a mid-range 3-course meal starts at 40-50 CAD for something like grilled fish or seafood pasta (plus an appetizer and dessert). For a meal at an upscale restaurant, you'll pay 40-50 CAD just for the entree.
For breakfast, go to Buffet de l'Antiquaire for breakfast poutine (18 CAD) or a more traditional breakfast of eggs, homefries, and bacon/sausage (13 CAD).
A pint of beer is around 6 CAD and a café is 4 CAD. Cocktails are 12-22 CAD. A bottle of water is around 2 CAD.
Some suggested places to eat are Paillard (croissants), Au Petit Coin Breton or Le Billig for crêpes, and brunch can be found at La Buche, Le Pied Bleu, Chez Rioux et Pettigrew, and Louise Taverne. Some of my favorite restaurants include Maison Livernois, Chez Temporal, Nina Pizza Napolitaine, and Buvette Scott.
If you cook for yourself, expect to spend around 50-65 CAD per week on groceries. This gets you basic staples like bread, veggies, rice, pasta, and some meat. Épiceries are good places to pick up groceries.
Backpacking Quebec City Suggested Budgets
On a backpacking budget of 60 CAD per day, you can stay in a hostel dorm room, cook your own meals, explore the city on foot, limit your drinking, and participate in mostly cheap or free activities like free walking tours or tobogganing and ice skating in the winter.
On a mid-range budget of 170 CAD per day, you can stay in an Airbnb/hostel/budget hotel, eat out most of your meals, take an occasional taxi, enjoy a couple of drinks at the bar, and do more paid activities such as visiting some museums and taking some guided tours.
On a "luxury" budget of 325 CAD per day, you can stay in a hotel, eat out for all your meals, drink more, take taxis or rent a car to get around, and do whatever tours and activities you want. The sky is the limit!
Accommodation
Food
Transportation
Attractions
Average Daily Cost
Mid-Range
90
40
20
20
170
Quebec City Travel Guide: Money-Saving Tips
Quebec City is one of the more affordable destinations in Canada. Activities and food aren't as expensive as in other parts of the country. There's a lot of budget friendly options here. That said, there are always ways to save money. Here are some tips on how to stretch your travel budget when you visit:
Go to Musée National des Beaux-Arts du Québec on Wednesday – MNBAQ is half-price on Wednesday evenings from 5pm-9pm. If you want to visit, this is the best time to do so.
Eat at casse-croûtes – They're the original fast-food joints in Quebec. They serve hamburgers, hot dogs, poutine, and sandwiches. A 2.50 CAD hot dog or a 4 CAD grilled cheese is perfect after a night of bar-hopping.
Walk everywhere – Skip the taxi or bus and walk everywhere. It is one of the best ways to experience the city.
Take a free walking tour – The free walking tour of Old Quebec is informative and a good way to get your bearings and decide which areas you want to spend more time exploring. Just remember to tip!
Do the summer art walk – From June to October, Passages Insolites takes over Place-Royale, Petit-Champlain, and Old Port with around 16 art installations. It's a fun way to explore the city. In 2022, Ai WeiWei participated, covering the Batterie Royale with life jackets worn by Syrian refugees fleeing to Greece.
Join hostel activities and tours – The hostel in Old Quebec offers activities and tours which are often free. It's a great way to get to know fellow travelers, as well as the city.
Skip festival passes – Most festivals in Quebec City have free activities and shows, so unless there is a specific performance you want to pay to see, skip buying a ticket or pass and just attend the free performances.
Get a FestiBus pass – If you're visiting Quebec City during Festival d'été de Québec, pick up the special festival bus pass for 32 CAD, which works out to 2.90 CAD per day of the 11-day festival.
Buy bus tickets online – Bus tickets are 0.50 CAD cheaper if you buy them online or from a Tabagie Jac et Gil convenience store.
Embrace prix fixe menus – Many mid-range restaurants offer an affordable prix fixe menu at lunch, including an entrée, main dish, and dessert for a fraction of what it would cost at dinner. If you want to eat out, do so at lunch.
Zap your Wi-Fi – Free Wi-Fi can be found through most of Old Quebec through ZAP. Just look for a ZAP network and connect.
Book in advance – Accommodations book up quickly during major festivals, as well as the summer months, and prices increase as well. This is especially true with car rentals, as prices can almost triple in summer due to shortages. Book early (4-6 months early) to find the best deals.
Bring a water bottle – The tap water here is safe to drink, so bring a reusable water bottle to save money. LifeStraw makes a reusable bottle with a built-in filter to ensure that your water is always safe and clean.
Where to Stay in Quebec City
There are only a couple of hostels in Quebec City. The best choices are both located in Old Quebec:
How to Get Around Quebec City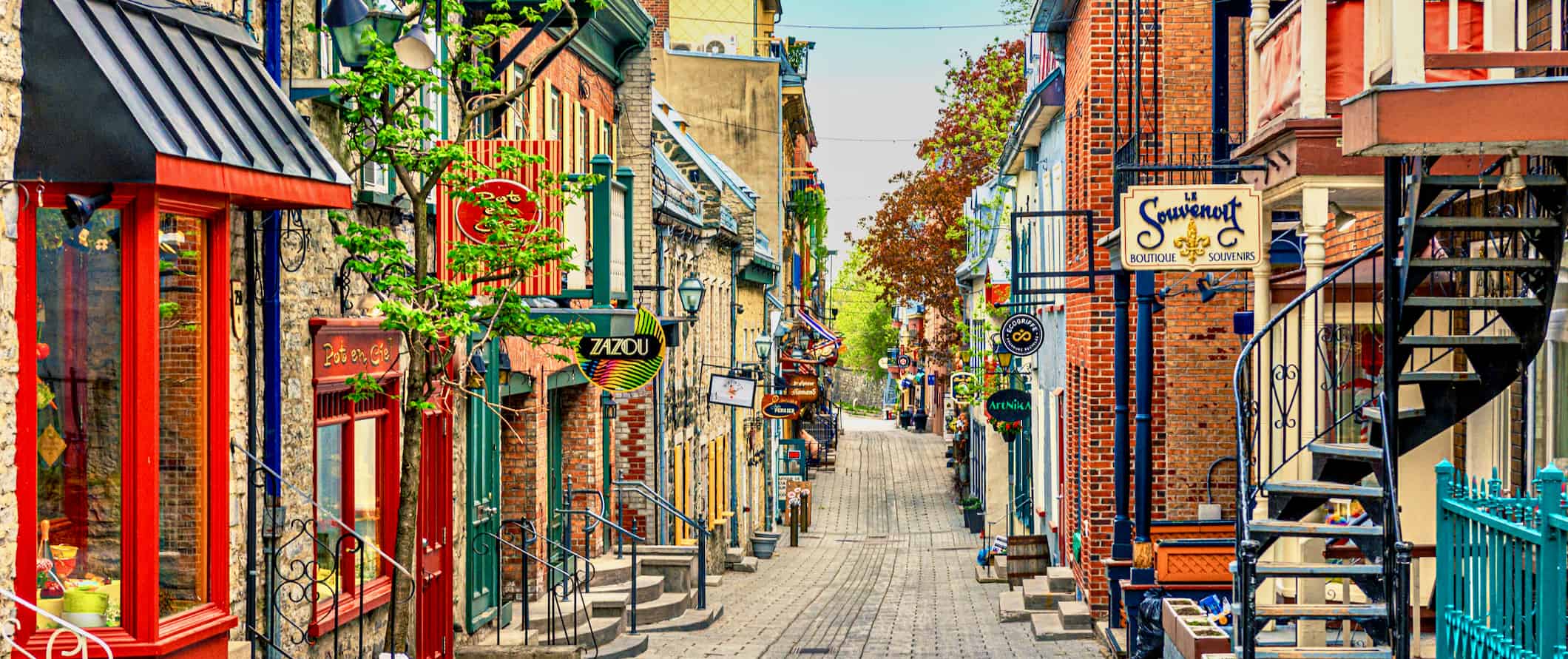 Public transportation – There is an extensive bus network run by RTC. The cash fare (paid when you board, in exact change) is 3.75 CAD. However, a ticket using the RTC Paiement app is only 3.25 CAD so download that and save! Day passes are also available for 9 CAD, or you can grab an unlimited weekend pass for 16.25 CAD. During the Festival d'Été de Québec music festival, RTC offers an unlimited FestiBUS pass for around 32 CAD, which is valid for all 11 days.
Ferry – Riding the ferry to Lévis is the fastest way to cross the St. Lawrence River. A round-trip ride is 7.70 CAD. In 2022, Croisières AML introduced a river shuttle from Quebec City to Saint-Anne-de-Beaupré. A one-way trip on that is 90 minutes.
Taxi – The starting rate for taxis is 3.50 CAD, then 1.75 CAD per kilometer. Prices add up fast though so only use them if you have to!
If you're flying to Quebec City, there is a flat rate of 35 CAD to get to and from Old Quebec from the airport. Taxi Coop's app can be used to order a taxi, as well as to pay if you don't have cash. There is also paratransit for those with physical limitations.
Ridesharing – Uber and Lyft are not available in Quebec City.
Bicycle – àVélo is a bike-sharing program with 10 docking stations around the city. A 30-minute ticket is 5 CAD, and 0.25 CAD per minute after that. Download the àVélo app or scan the QR code on the bike to rent. Bikes are available May 1st–October 31st. There are very few dedicated bike lanes in Quebec City, so be aware of your surroundings. Helmets are required.
Car rental – There are quite a few car rental companies, many of which are located at the airport. In the low season, they cost around 40 CAD per day; however, in high season a car is generally 100 CAD per day or more. You'll get the best rates the longer you rent. Drivers need to be at least 21 years old.
For the best car rental prices, use Discover Cars.
When to Go to Quebec City
Summer is the most popular time to visit. Hot days mean beers on outdoor patios, street performers, fireworks, and festivals (Festival d'Été de Québec, an 11-day music festival, and Les Fêtes de la Nouvelle-France being the most popular ones). In August, there are fireworks once a week, complete with live music and food trucks near the riverfront. Expect daily summer highs around 25°C (77°F).
Autumn is a beautiful time of year, with the fall foliage dressing up the city in golden yellow, ruby red, and burnt orange hues. The kids are back in school, but it's peak cruise ship season. Some patios stay open until mid-October, and after 4pm, the city seems to quiet down as most ships leave port around 5pm.
Winter can be precarious, but the city is gorgeous. November, January, and March are quieter months. In December, the Christmas Market is in full swing, and Old Quebec looks like a holiday postcard. In January, the ice hotel, Hôtel de Glace, opens for day visits as well as overnight stays.
February is Carnaval de Québec, which is possibly the best winter carnival in Canada. Just prepare for cold temperatures in winter; it is not uncommon for the temperature to drop as low as -20°C (-4°F).
Spring is often more of a suggestion than a season in Quebec City. There are years when it can be a month or two, and others when it's two weeks long. Either way, expect some rain during this time.
How to Stay Safe in Quebec City
Quebec City is one of the safest cities in North America. It's safe to walk around late at night, in any neighborhood. You are very unlikely to have anything happen to you here.
That said, the standard safety advice applies here: don't leave valuables laying around and be aware of your surroundings, don't flash your valuables when out and about, etc. Good common sense is just good common sense.
Saint-Jean-Baptiste Day, June 24, is a French holiday in Quebec. It's bigger than Canada Day (July 1), and there are quite a few parties the night before. Ask your hostel staff for suggestions on safe ones to attend. This is also a time when being an English speaker can result in harassment or violence if you go to the wrong party, especially if you're perceived as being rude or demanding.
Scams are rare here, but if you're worried about getting ripped off, you can read about common travel scams to avoid right here. There really aren't any to worry about here though.
Solo female travelers should feel safe here; however, the standard precautions apply (never leave your drink unattended at the bar, never walk home alone intoxicated, etc.).
The number for emergency services is 911.
The most important piece of advice I can offer is to purchase good travel insurance. Travel insurance will protect you against illness, injury, theft, and cancellations. It's comprehensive protection in case anything goes wrong. I never go on a trip without it as I've had to use it many times in the past. You can use the widget below to find the policy right for you:
Quebec City Travel Guide: The Best Booking Resources
These are my favorite companies to use when I travel. They consistently have the best deals, offer world-class customer service and great value, and overall, are better than their competitors. They are the companies I use the most and are always the starting point in my search for travel deals.
Skyscanner – Skyscanner is my favorite flight search engine. They search small websites and budget airlines that larger search sites tend to miss. They are hands down the number one place to start.
Hostelworld – This is the best hostel accommodation site out there with the largest inventory, best search interface, and widest availability.
Booking.com – The best all around booking site that constantly provides the cheapest and lowest rates. They have the widest selection of budget accommodation. In all my tests, they've always had the cheapest rates out of all the booking websites.
Get Your Guide – Get Your Guide is a huge online marketplace for tours and excursions. They have tons of tour options available in cities all around the world, including everything from cooking classes, walking tours, street art lessons, and more!
SafetyWing – Safety Wing offers convenient and affordable plans tailored to digital nomads and long-term travelers. They have cheap monthly plans, great customer service, and an easy-to-use claims process that makes it perfect for those on the road.
LifeStraw – My go-to company for reusable water bottles with built-in filters so you can ensure your drinking water is always clean and safe.
Unbound Merino – They make lightweight, durable, easy-to-clean travel clothing.
Top Travel Credit Cards – Points are the best way to cut down travel expenses. Here's my favorite point earning credit cards so you can get free travel!
Canada Travel Guide: Related Articles
Want more information? Check out all the articles I've written on Canada travel and continue planning your trip: