Vancouver Island in Western Canada has become increasingly popular as a local getaway in recent years.
Though known as the retirement hotspot for Canadians, thanks to a university and summer cottagers, it also has a younger edge to it these days. A lot of mainlanders are moving here because of cheaper costs, and you'll find a burgeoning natural food and beer scene here in addition to the beautiful beaches, hiking trails, lakes, rivers, mountains, and scenic farmland.
Visiting Vancouver Island is something you should definitely try to do when you come to this part of Canada. It's a beautiful place, especially in the fall and spring when the temperature is perfect and the crowds not as big.
This travel guide to Vancouver Island will help point the way by giving you tips on what to see, costs, suggested budgets, ways to save money, and everything else you need to plan a great trip to this place!
Top 5 Things to See and Do on Vancouver Island
1. Visit Cathedral Grove
This forest is on the southwest part of the island has some of the oldest cedar trees in the world (many are over 1,000 years old!), and the canopy is 80 meters high in some places. It's a great place to hike, go birdwatching, relax, and just get away from it all.
2. Go to U'Mista Cultural Center
Learn about the potlatch ceremonies (a huge feast meant to display wealth or status) of the Kwakwaka'wakw people in Alert Bay. They have been living on this island for thousands of years, and this place offers a look at life on the island before Europeans. Tickets are $12 CAD ($9 USD).
3. Visit Butchart Gardens
This garden is host to a spectacular flower exhibit with hundreds of types of colorful flowers. There are lots of peaceful walking paths and areas to just sit and enjoy nature, and the Japanese maples turn brilliant shades of reds and oranges in the fall. Admission is $34 CAD ($26 USD).
4. Hike the rainforest
If you don't do some hiking while you're here, you're missing out on the best of the island. In East Sooke Regional Park, you can walk the rocky coastline or hit the rainforest trails to sheltered coves and scenic viewpoints. MacMillan Provincial Park is another good park.
5. Hang out in Victoria
Victoria is the capital of British Columbia, and being here is like stepping into a British city where double-decker buses navigate the streets, the houses look like Victorian mansions, and cricket is all the rage. Victoria has a much more laidback vibe than Vancouver, so soak it up.
Other Things to See and Do on Vancouver Island
1. Experience the "goats on the roof"
For a fun experience, visit the Old Country Market in Coombs that has actual goats living on the roof. Don't feel too bad for them as the roof has plenty of grass and room for them to roam around! While you're there, grab a handmade donut or some tacos from the market.
2. Go to Beacon Hill Park
This scenic park in Victoria cover over 200 acres and is a tranquil place to relax and take a stroll. There are tennis courts, a golf green, lawn bowling, flower beds, a petting zoo, and a hawthorn tree planted by Winston Churchill in 1929.
3. Visit a winery
Vancouver Island has over 20 different wineries, mostly located in the Cowichan Valley. I highly recommend going on a wine tour. Not only is the wine delicious, but the scenic valley surrounded by rolling green mountains is the perfect backdrop. Tours start at $107 USD ($142 CAD) or you can rent a car and drive around but don't drink and drive so find a sober friend!
4. Go whale watching
The area around Vancouver Island is one of the most active areas for whales in the world. You'll be able to see a variety of species, including killer whales and humpbacks. There are three pods of about 80 killer whales that live around the island's southern tip so you have a high chance of seeing a whale on your trip. Tickets are generally around $100 CAD ($75 USD) and the tours last several hours.
5. Take a ghost tour
Victoria has lots of ghost tours and Discover the Past offers one of the best for combining interesting city history with tales of gruesome crimes and ghostly encounters. The guides are knowledgeable and always have some entertaining stories to share. Tickets start at $20 CAD ($15 USD).
6. Visit Abkhazi Garden
Spanning just over an acre, this garden in Victoria was created by a former Russian prince and and his wife in 1946, and features Japanese Maples, native Garry oaks, and hundreds of rhododendrons. Suggested donation of $10 CAD ($7.50 USD).
7. Day-trip to the smaller islands
Vancouver Island is the only one with a major international name, but the island consists of hundreds of smaller Gulf Islands and inlets in the Georgia Strait, many of which make for a pleasant day trip. Consider renting a boat or arranging a tour to Gabriola, Saltspring, or Thetis, three of the most popular islands (or take the ferry and save money). Here, you can hike, spend time exploring the bays and beaches or visit local artisans and eateries. Ferry rates are about $10 CAD ($7.50 USD).
8. See the Victoria Butterfly Gardens
This is an indoor tropical rainforest in Victoria filled with thousands of butterflies flying everywhere out in the open (there are over 70 species here). The gardens also have koi fish, turtles, poison dart frogs, parrots, flamingos, and tropical flowers. Admission for adults is $16.50 CAD ($12.40 USD).
9. Chill out in Tofino
Tofino is a quiet fishing village on the Esowista Peninsula that is also a major a surf community full of young artistic types. Hang out at Wickaninnish Beach, take a surf lesson in Cox Bay, soak in the hot springs at Hot Springs Cove, or enjoy Tofino's cafe and restaurant scene. It's the "hip" part of the island.
10. Explore Pacific Rim National Park Reserve
This national park is full of beaches, misty forests, and dramatic coastline. Some of the island's most popular beaches are here, including Long Beach, Combers Beach, and Wickaninnish Beach. The park is also home to the West Coast Trail Unit, a network of hiking trails covering 75 square miles (193 square kilometers), including the 47-mile (75-kilometer) trek between Bamfield and Port Renfrew. Hit the Nuu-chah-nulth Trail, rent a kayak and paddle around Broken Group Islands, and storm watch at Kwisitis Visitor Centre (it's actually a past time here!).
Vancouver Island Travel Costs
Hostel prices – Four to eight bed dorms cost around $30 CAD ($23 USD) per night while dorms with ten beds or more costs only slightly less at about $25 CAD ($19 USD) per night.
A standard twin private room in one of the hostels starts from about $70 CAD ($53 USD) per night for two people.
Budget hotel prices – A room with a private ensuite bathroom in a two-star hotel will start at about $75 CAD ($56 USD) anywhere on the island.
Airbnb is available everywhere on Vancouver Island, with shared accommodation (like a bed in a dorm) starting at $24 CAD ($30 USD) per night, although those rooms are rare. For a private room expect to pay about $35 CAD ($46 USD) per night, while a full apartment averages about $217 CAD ($163 USD) per night.
Food – There are lots of places to grab food on the go on Vancouver Island. You can find sandwiches for $10 CAD ($4 USD), or you can get a soup and salad for lunch for less than $20 CAD ($15 USD).
A meal at McDonald's will cost about $10 CAD ($7.50 USD). A meal of fish and chips or a burger with a side at an inexpensive restaurant is about $20 CAD ($15 USD). A beer will cost about $6 CAD ($4.50 USD). A meal at a higher-end restaurant (like lobster or fresh game) will cost you about $40 CAD ($34 USD) for an entree and a drink.
If you cook for yourself, you can spend as little as $65 CAD ($50 USD) on groceries per week which would include some meat, bread, eggs, rice/pasta, some veggies, and fruit.
Backpacking Vancouver Island Suggested Budgets
If you're backpacking Vancouver Island, expect to spend about $84 CAD ($63 USD) per day. This is assuming you're staying in a hostel, eating fast food and cooking some of your meals, using local transportation or a ferry to get around, and visiting about one attraction per day.
On a mid-range budget of $174 CAD ($131 USD) per day, you can stay in a two-star hotel room or an Airbnb private room, eat at mid-range restaurants, cook some of your meals, use public transit to get around or do some intercity travel, and visit more attractions.
On a luxury budget of $419 CAD ($315 USD) per day on Vancouver Island, you'll stay in a four-star hotel, eat at nicer restaurants, enjoy some drinks, take some taxis, do lots of intercity travel, and do some tours.
You can use the chart below to get some idea of how much you need to budget daily, depending on your travel style. Keep in mind these are daily averages – some days you'll spend more, some days you'll spend less (you might spend less every day). We just want to give you a general idea of how to make your budget. Prices are in USD.
Accommodation
Food
Transportation
Attractions
Average Daily Cost
Backpacker
$23
$20
$10
$10
$63
Mid-Range
$56
$30
$15
$30
$131
Vancouver Island Travel Guide: Money Saving Tips
With a little effort, you can turn Vancouver Island into an affordable travel destination. Most of the outdoor stuff is free so if you stick to that and cooking your own food, you can keep your costs pretty low! Here are some of my ways to save money when you travel to Vancouver Island:
Couchsurf – If you plan ahead, you can usually find really nice Couchsurfing host in Vancouver Island. This way, you not only have a free place to stay, but you'll have a local host that can tell you the best places to go and things to see.
Go camping – If you want to camp, use the DiscoverCamping.ca website to find available campsites on Vancouver Island. A two-person site will cost from about $20 CAD ($15 USD).
Check for deals – HelloBC.com (the official tourism website) often lists seasonal travel deals and discounts in their "Plan Your Trip" section.
Gas up on the mainland – If you're coming from Vancouver by car, make sure you gas up before boarding the ferry. Gas prices are always higher on the island, as are most grocery prices. Stock up on everything before you arrive!
Look for the happy hours – The Ultimate Happy Hours website lists all the happy hour drink and food specials around Victoria. They update with new info frequently!
Take the ferry as a walk-on passenger – Ferry prices for vehicles are astronomical, depending on the vehicle length and number of occupants. If you're just making a short trip and staying in one destination on the island (like Victoria or Nanaimo), then consider ditching the vehicle and traveling as a walk-on passenger. W
Explore the island by bike – British Columbia was made for mountain biking, and Vancouver Island is no exception. There are tons of bike paths, both inside the cities and in the provincial park areas. Pack a picnic lunch, lots of water, and make a day of it.
Hitchhike – Since the island sees a huge boost in population during the summer months, you can try your hand at hitchhiking between cities. It isn't very common, but it can save you the cost of renting a car or taking the bus. Just don't get off the beaten trail as you may end up waiting some time for a ride!
Where To Stay on Vancouver Island
Vancouver Island's hostels are spread out around the island, so you have lots of options for exploring. These are my suggested and recommended places to stay in Vancouver Island:
How to Get Around Vancouver Island
Public Transportation – Victoria is the only major urban center on the island. Downtown is very walkable, but the bus will get you everywhere else on the island you need to go. One ticket is $2.50 CAD ($1.90 USD), or you can get a 10-ride pass for $22.50 CAD ($17 USD). A one-day pass is $5 CAD ($3.75 USD).
You can also rent a bicycle in Victoria for about $30 CAD ($23 USD) from Cycle BC.
Ferry – You can use BC Ferries to get to several places around the island. The route between Swartz Bay and Fulford Harbour is $10.70 CAD ($8 USD), while Victoria to the Gulf Islands is $11.40 CAD ($8.60 USD). Nanaimo to Gabriola Island is $9.40 CAD ($7.10 USD).
Bus – Taking the bus will get you just about anywhere on Vancouver Island, with the Vancouver Island Connector connecting the most destinations, although it isn't cheap. A seven-hour journey from Victoria to Tofino is $80 CAD ($60 USD), while a one-hour trip from Victoria to Cowichan Bay is $20 CAD ($15 USD). A 3.5-hour trip from Nanaimo to Ucluelet is $55 CAD ($41 USD).
Taxi – Taxis are not cheap here. Their base rate is $3.50 CAD ($2.65 USD), and it's an additional $2 CAD ($1.50 USD) per kilometer afterward. A ten-kilometer drive shouldn't cost more than $24 CAD ($18 USD).
When to Go to Vancouver Island
Vancouver Island is the busiest during the summer months, especially since its biggest draw is the great outdoors. Temperatures are usually in the high 60s°F (mid 20s°C) with little rainfall, making this time of year the best for hiking, whale watching, etc. You should prepare for more expensive accommodations and bigger tourist crowds during this time. Whale watching season starts in August and ends in December.
Winters (from December to the end of March) on Vancouver Island are surprisingly mild, with average highs in the low 40s°F (less than 10°C). It can be rainy during these months, so bring waterproof clothing. Room rates are cheaper in the winter as well.
Fall and spring are both excellent times to visit for sunny weather, and temperatures are in the low 50s°F to the low 60s°C (10-16°C). In the spring, the cherry blossoms start blooming, and the island comes alive. Really, there's no wrong time to visit!
How to Stay Safe on Vancouver Island
Vancouver Island is very, very safe, and you're unlikely to be targeted during your visit. Your greatest risk is petty crime, like pick-pocketing, but even that is incredibly rare.
If you're worried about getting scammed, you can read about the 14 travel scams to avoid right here.
Always trust your gut instinct. If a taxi driver seems shady, stop the cab and get out. If your hotel is seedier than you thought, move somewhere else.
If you don't do it at home, don't do it on Vancouver Island! Follow that rule, and you'll avoid being the victim of petty crime.
The most important piece of advice I can offer is to purchase good travel insurance. Travel insurance will protect you against illness, injury, theft, and cancellations. It's comprehensive protection in case anything goes wrong. I never go on a trip without it as I've had to use it many times in the past.
Vancouver Island Travel Guide: The Best Booking Resources
These are my favorite companies to use when I travel to Vancouver Island. They are included here because they consistently find deals, offer world-class customer service and great value, and overall, are better than their competitors.
Momondo – This is my favorite booking site. I never book a flight without checking here first.
Skyscanner – Skyscanner is another great flight search engine which searches a lot of different airlines, including many of the budget carriers that larger sites miss. While I always start with Momondo, I use this site too as a way to compare prices.
Airbnb – Airbnb is a great accommodation alternative for connecting with homeowners who rent out their homes or apartments. (If you're new to Airbnb, get $35 off your first stay!)
Hostelworld – This is the best hostel accommodation site out there, with the largest inventory, best search interface, and widest availability.
Couchsurfing – This website allows you to stay on people's couches or spare rooms for free. It's a great way to save money while meeting locals who can tell you the ins and outs of their city. The site also lists events you can attend to meet people (even if you're not staying with someone).
Booking.com – The best all around booking site that constantly provides the cheapest and lowest rates. They have a no money down policy, great interface, and the widest selection of budget accommodation. In all my tests, they've always had the cheapest rates out of all the booking websites.
Intrepid Travel – If you want to do a group tour around Canada, go with Intrepid Travel. They offer good small group tours that use local operators and leave a small environmental footprint. If you go on a tour with anyone, go with them. And, as a reader of this site, you'll get exclusive discounts when you click the link!
Rome 2 Rio – This website allows you to see how to get from point A to point B the best and cheapest way possible. It will give you all the bus, train, plane, or boat routes that can get you there as well as how much they cost.
World Nomads – I buy all my travel insurance from World Nomads. They have great customer service, competitive prices, and in-depth coverage. I've been using them since I started traveling in 2003. Don't leave home without it!
Vancouver Island Gear and Packing Guide
If you're heading to Vancouver Island, here are my suggestions for the best travel backpack and tips on what to pack for your trip.
The Best Backpack for Vancouver Island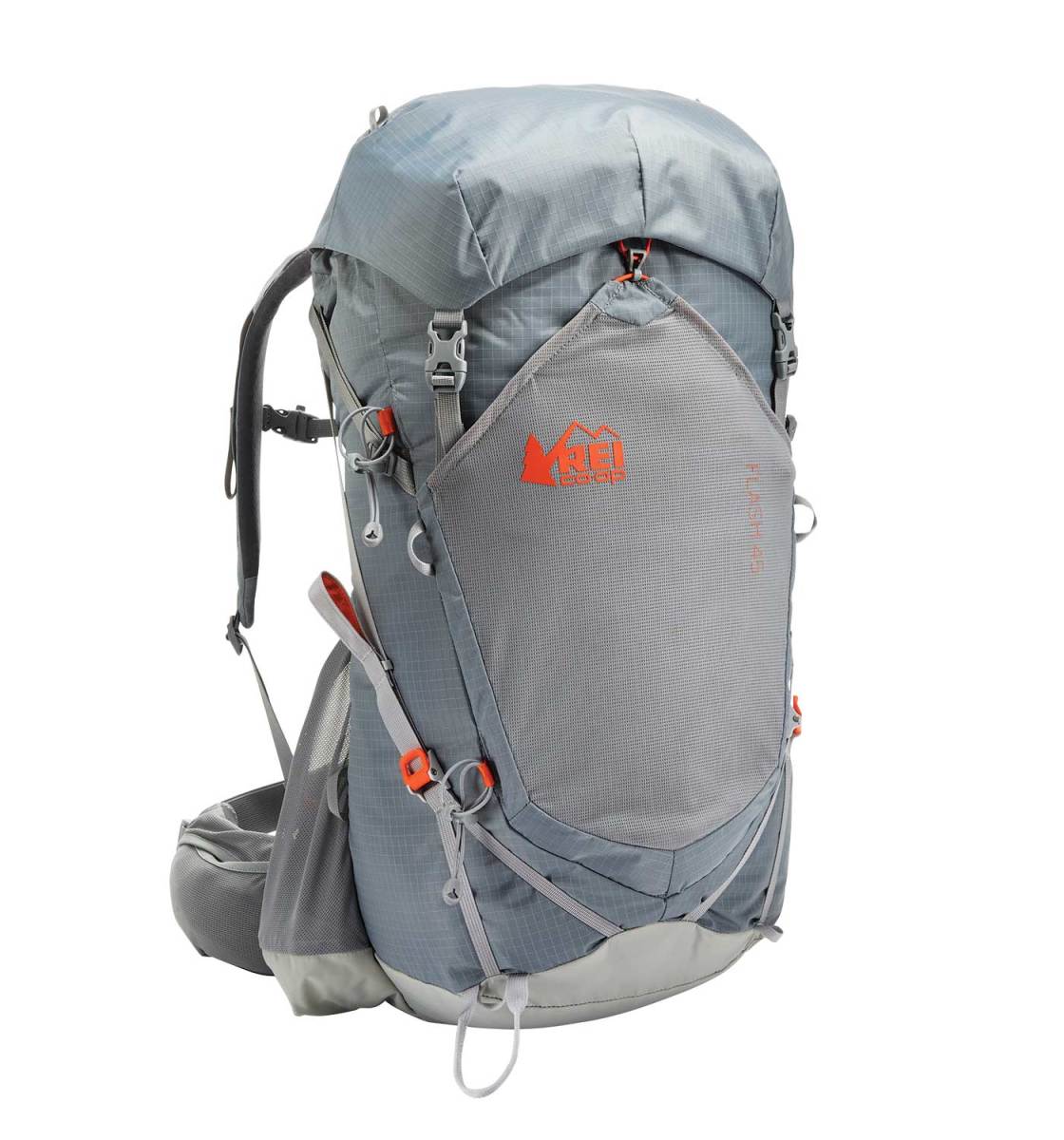 What's the best backpack for traveling around Vancouver Island? I recommend the
REI Flash 45 Pack
. It's light and comfy, front loading, and fits perfectly in an airplane's overhead bin.
Size:
45-47L
Straps:
Thick and cushy with compression technology that pulls the pack's load up and inwards so it doesn't feel as heavy.
Features:
Removable top lid, large pocket at the front, hydration compatible, contoured hip belt
If you want something different, refer to my article on how to choose the best travel backpack for tips on picking a pack and other backpack suggestions.
What to Pack for Vancouver Island
Clothes
1 pair of jeans (heavy and not easily dried, but I like them; a good alternative is khaki pants)
1 pair of shorts
1 bathing suit
5 T-shirts
1 long-sleeved T-shirt
1 pair of flip-flops
1 pair of sneakers
6 pairs of socks (I always end up losing half)
5 pairs of boxer shorts (I'm not a briefs guy!)
1 toothbrush
1 tube of toothpaste
1 razor
1 package of dental floss
1 small bottle of shampoo
1 small bottle of shower gel
1 towel
Deodorant
Small Medical Kit (safety is important!!!)
Miscellaneous
Female Travel Packing List
I'm not a woman, so I don't know what a woman wears, but Kristin Addis, our solo female travel guru, wrote this list as an addition to the basics above:
Clothing
1 swimsuit
1 sarong
1 pair of stretchy jeans (they wash and dry easily)
1 pair of leggings (if it's cold, they can go under your jeans, otherwise with a dress or shirt)
2-3 long-sleeve tops
2-3 T-shirts
3-4 spaghetti tops
1 light cardigan
Toiletries
1 dry shampoo spray & talc powder (keeps long hair grease-free in between washes)
1 hairbrush
Makeup you use
Hair bands & hair clips
Feminine hygiene products (you can opt to buy there too, but I prefer not to count on it, and most people have their preferred products)
For more on packing, check out these posts:
Vancouver Island Travel Guide: Suggested Reading
The Orenda, by Joseph Boyden
As amazing as Canada is, like most other colonized countries its history is steeped in violent, bloody conflict…especially with Canada's Indigenous Peoples. This book takes place in the wilderness of 17th-century Canada, following the lives of a missionary, a young Iroquois girl, and a great warrior of the Huron Nation. The Huron have always battled the Iroquois – but now the tribes face the threat of settlers from Europe. It's a jarring, graphic read and you won't be able to put it down.




Beauty Tips from Moose Jaw: Travels in Search of Canada, by Will Ferguson
Will Ferguson and his travel adventures are laugh-out-loud funny. He's like the Canadian version of Bill Bryson. This travel memoir is about Ferguson's three years crisscrossing Canada, with adventures as far flung as the subarctic to the Underground Railroad. He goes coast to coast from the colorful neighborhoods of St. John's to the idyllic streets of Victoria, encountering interesting people and offbeat attractions along the way (yes, there's a place called Moose Jaw).



In the Skin of a Lion, by Michael Ondaatje
Considered a true Canadian classic, In the Skin of a Lion follows Patrick Lewis as he arrives in Toronto in the 1920s where he earns his money searching for a disappeared millionaire and tunneling beneath Lake Ontario. His life intersects with other special characters along the way, giving us a smart, passionate story that blurs the lines between fiction and reality.





Alias Grace, by Margaret Atwood
You can't have a Canadian reading list without some Margaret Atwood! The year is 1843, and Grace Marks has been convicted for the murders of her employer and his mistress (also the housekeeper). However, Grace has no memories of these vicious murders, and so an expert in mental illness steps in to seek a pardon for her. He listens to her story as it gets closer and closer to the day she can't remember. This book is disturbing but completely captivating, especially if you're already a fan of The Handmaid's Tale.



The Shipping News, by Annie Proulx

This is a beautiful book (and a really great movie too). A Pulitzer Prize winner, this story follows Quoyle, a newspaper hack who gets thrown out of his regular, mundane life when his wife dies. He moves back to his stark and remote ancestral home of Newfoundland with his two young daughters, where the local delicacy is cod cheeks and it's easier to travel by boat and snowmobile than by car. This book reads like poetry. It's beautiful, and although it's fiction it gives you plenty of insight into the uniqueness of Canada's easternmost province.

My Must Have Guides for Traveling to Vancouver Island
Vancouver Island Travel Guide: Related Articles
Want more info? Check out all the articles I've written on backpacking/traveling Canada and continue planning your trip: