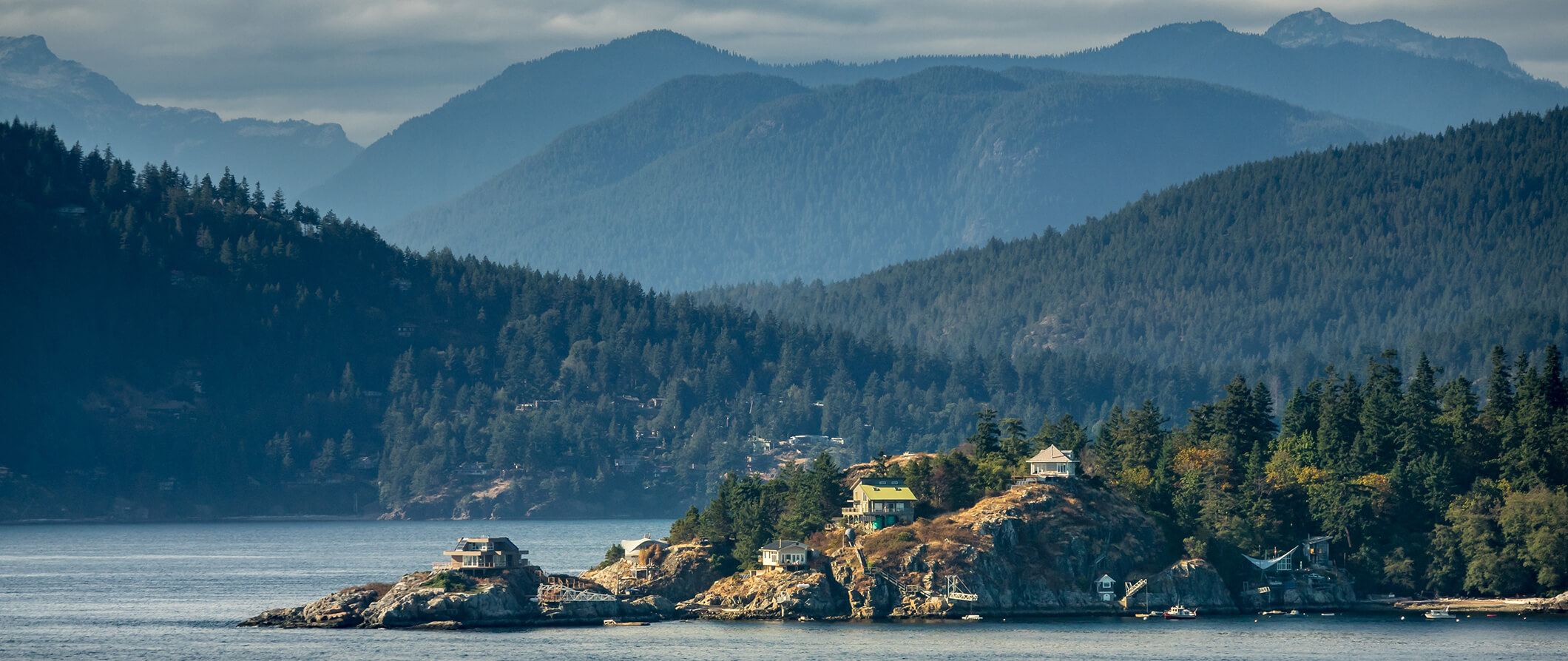 Located just off the coast of British Columbia, Vancouver Island is a gorgeous getaway location that's become immensely popular in recent years.
Home to just under 1 million people and spanning a whopping 456 kilometers (283 miles), this former retirement hotspot is one of the biggest islands in Canada. In recent years, it's developed a much younger edge thanks to a university, burgeoning arts scene, and the younger crowd of people fleeing Vancouver's astronomical housing prices. It also has the mildest climate in all of Canada, which certainly adds to its appeal.
You'll find a flourishing natural food and beer scene here in addition to the island's beautiful beaches, hiking trails, lakes, rivers, mountains, and scenic farmland. It's a picturesque island, especially in the fall and spring when the temperature is perfect and there are fewer crowds. If you're an outdoorsy kind of person, Vancouver Island is not to be missed!
This Vancouver Island travel guide can help you plan your trip, save money, and make the most of your visit.
Top 5 Things to See and Do on Vancouver Island
1. Visit Cathedral Grove
This forest on the southwest part of the island, officially known as MacMillan Provincial Park, has some of the oldest cedar trees in the world (many are over 1,000 years old). The canopy is 80 meters high (262 feet) in some places, making it a great place to hike, go birdwatching, and just get away from it all. While this gorgeous area is hardly 'undiscovered,' this pristine protected natural park offers a glimpse of Canada's unique temperate rainforests with lush ferns, moss, and towering ancient trees. Admission is free. Just be mindful to stay on designated paths and 'leave no trace' as you enjoy the area.
2. Go whale watching
Vancouver Island is one of the most active areas for whales in the world, including orcas and humpbacks. There are three pods of about 80 killer whales that live around the island's southern tip, so you have a high chance of seeing a whale on your trip but the best time to see them is from May to October. Check the weather before you go and make sure to wear comfortable layers and bring sunscreen. Tickets cost around 90-150 CAD for a 3-hour tour.
3. Visit Butchart Gardens
This nearly 120-year-old garden is host to a spectacular flower exhibit with 900 plant varieties and colorful flowers. The Butchart Gardens were started in 1904 when Jennie Butchart set out to create a lush garden on the empty space left by a cleared limestone quarry. Today, the Gardens are still family owned and a National Historic Site of Canada. There are many peaceful walking paths and areas to just sit and enjoy nature, and the Japanese maples turn brilliant shades of reds and oranges in the fall. Admission ranges from 21-38 CAD. Note that prices are higher around December when there is a special Christmas exhibition with twinkling light shows and carols.
4. Hike the rainforest
If you don't do some hiking while you're here, you're missing out on the best of the island. East Sooke Regional Park boasts 50 kilometers (31 miles) of rainforest hiking trails with sheltered coves and a rocky 10-kilometer (6-mile) coastal hike that's challenging but promises spectacular views. If you want something more leisurely, check out Aylard Farm if picnicking is your main priority. You can get to the park by bus but just note the bus only runs during the week so check schedules before going. Admission is free.
5. Hang out in Victoria
Victoria is the capital of British Columbia and being here is like stepping into a British city where double-decker buses navigate the streets, the houses look like Victorian mansions, and cricket is all the rage. Victoria has a much more laid back vibe than Vancouver too. There are activities for any taste, from bike tours, nature and parks, street art, and craft beer. A free walking tour is a great place to start. Toonie Tours run a 2.5-hour free Victoria Walking Tour on weekends at 10am. Just be sure to tip your guide!
Other Things to See and Do on Vancouver Island
1. See the "goats on the roof"
For a fun experience, visit the Old Country Market in Coombs which has actual goats living on the roof. Don't feel too bad for them as the roof has plenty of grass and room for them to roam around! While you're there, grab a handmade donut or some tacos from the market. There are also several gift shops, produce stalls, a deli, and restaurants located in and around the market. Bring an appetite!
2. Relax in Beacon Hill Park
This scenic park in Victoria covers over 200 acres and is a tranquil place to relax and take a stroll. There are tennis courts, a golf green, lawn bowling, flower beds, a petting zoo, and a hawthorn tree planted by Winston Churchill in 1929. Bring a book and lounge the day away.
3. Visit a winery
Vancouver Island has over 20 different wineries, most of which are located in the Cowichan Valley. I highly recommend going on a wine tour. Not only is the wine delicious, but the scenic valley surrounded by rolling green mountains provides a stunning backdrop to your visit. A full-day tour including lunch starts around 125 CAD, or you can rent a car and drive around yourself (but don't drink and drive — find a sober friend to tag along with).
4. Visit the U'Mista Cultural Center
This center protects the heritage of First Nations peoples and offers visitors a look at indigenous life on the island. You'll learn about the potlatch ceremonies (a huge shared feast where gifts are exchanged and wealth is redistributed) of the Kwakwaka'wakw people in Alert Bay who have been living on this island for thousands of years, and discover the unique history and challenges of the region's indigenous peoples. Tickets are 15 CAD.
5. Take a ghost tour
Europeans arrived in the region in the late 1700s so it should come as no surprise that Victoria has a long (and spooky) past. Discover the Past offers one of the best tours for combining interesting city history with tales of gruesome crimes and ghostly encounters. The guides are knowledgeable and always have entertaining stories to share. Tickets start at 21 CAD for a one-hour tour. At Christmas, they have a special Ghosts of Christmas Past tour with haunted stories. Schedules are seasonal so check their website to book tickets online.
6. Admire Abkhazi Garden
Spanning just over an acre, this garden in Victoria was created by a former Russian prince and his wife in 1946. Today, the garden features Japanese Maples, native Garry oaks, and hundreds of rhododendrons. There is also a tranquil tea house offering a traditional tea service from 11am-5pm. The suggested donation is 10 CAD.
7. Day-trip to the smaller islands
Vancouver Island is the only island that brings in tons of tourists here, but the Gulf Islands archipelago consists of hundreds of smaller islands and inlets in the Georgia Strait, many of which make for a pleasant day trip. Consider renting a boat or arranging a tour to Gabriola, Saltspring, or Thetis, three of the most popular islands (or take the ferry and save money). You can hike, explore the bays and beaches, or visit local artisans and eateries there. Ferry rates start at 10 CAD.
8. See the Victoria Butterfly Gardens
This indoor tropical rainforest in Victoria is filled with thousands of butterflies (there are over 70 species here). The gardens also have koi, turtles, poison dart frogs, parrots, flamingos, and tropical flowers. It's a fun place to visit if you're traveling with kids. Admission is 18 CAD.
9. Chill out in Tofino
Tofino is a fishing village on the Esowista Peninsula that has become a major surfing hub. Hang out at Wickaninnish Beach, take a surfing lesson in Cox Bay, soak in the hot springs at Hot Springs Cove, or enjoy Tofino's cafe and restaurant scene. It's the "hip" part of the island. Surfboard rentals start at 35 CAD for a day while 2.5-hour group lessons cost around 90 CAD.
10. Explore Pacific Rim National Park Reserve
This national park is full of beaches, misty forests, and dramatic coastlines. Some of the island's most popular beaches are here, including Long Beach, Combers Beach, and Wickaninnish Beach. The park is also home to the West Coast Trail Unit, a network of hiking trails covering 193 square kilometers (75 square miles), including the 75-kilometer (47-mile) trek between Bamfield and Port Renfrew (reservations required). Hit the Nuu-chah-nulth Trail, rent a kayak to paddle around Broken Group Islands, or storm watch at Kwisitis Visitor Centre (it's a pastime here!).

For more information on other destinations in Canada, check out these guides:
Vancouver Island Travel Costs
Hostel prices – A bed in a 4-8-bed dorm costs around 35-45 CAD per night. Private rooms cost 65-85 CAD per night. Expect basic amenities like free Wi-Fi and self-catering facilities.
For those traveling with a tent, camping is available starting at 18 CAD per night. This gets you a basic tent plot without electricity for two people.
Budget hotel prices – A room in a budget hotel starts at about 110 CAD. This includes basic amenities like AC, TV, a coffee/tea maker, and free Wi-Fi.
Airbnb is available everywhere on Vancouver Island. Private rooms start at 75 CAD per night but average double that. An entire home/apartment starts around 100 CAD per night, though most are 150-250 CAD.
Food – On Vancouver Island, which is fast becoming a foodie hub, seafood is king. Oysters, crabs, and fresh fish are all common staples. Sushi is super popular, owing to the region's Asian influence, as are fish and chips. Also, be sure to sample more general Canadian staples like poutine (fries with gravy and cheese curds), beaver tails (fried dough with maple syrup), Canadian bacon, and the oddly tasty ketchup chips.
There are lots of places to grab food on the go on Vancouver Island. You can find sandwiches for about 10 CAD, or you can get soup and salad for lunch for less than 20 CAD.
A fast-food combo (think McDonald's) costs about 12 CAD. Fish and chips or a burger with fries is around 20 CAD with a drink. A beer costs about 6 CAD. A meal at a higher-end restaurant (like lobster or fresh game) costs about 40 CAD for an entree and a drink.
Pizza costs around 15 CAD for a large while Chinese food is 11-15 CAD for a main dish. For cheap eats, check out Warehouse Group restaurants that have items like tacos, burgers, salads, and sandwiches for 10 CAD or less in a bar-like atmosphere.
If you cook your own food, a week's worth of groceries costs around 65 CAD. This gets you basic staples like rice, pasta, vegetables, and some meat or seafood.
Backpacking Vancouver Island Suggested Budgets
If you're backpacking Vancouver Island, expect to spend about 70 CAD per day. This assumes you're staying in a hostel, cooking all your meals, limiting your drinking, taking public transportation to get around, and sticking to mostly free activities like swimming and hiking. If you plan on drinking, add another 10-15 CAD to your daily budget.
On a mid-range budget of 195 CAD per day, you can stay in a private Airbnb, cook most of your meals, enjoy a couple of drinks, take the occasional taxi to get around, and do some paid tours and activities like wine tours or whale watching.
On a "luxury" budget of 310 CAD per day or more, you can stay in a hotel, eat out for all your meals, drink more, rent a car, and do whatever paid tours and activities you want. This is just the ground floor for luxury though. The sky is the limit!
Accommodation
Food
Transportation
Attractions
Average Daily Cost
Backpacker
35
15
10
10
70
Mid-Range
90
40
25
40
195
Vancouver Island Travel Guide: Money-Saving Tips
With a little effort, you can turn Vancouver Island into an affordable travel destination. Most of the outdoor activities are free so if you stick to those and cook your own food you can keep your costs low. Here are some ways to save money when you visit Vancouver Island:
Stay with a local – If you plan ahead, you can usually find a Couchsurfing host on Vancouver Island. This way, you not only have a free place to stay but you'll get to connect with a local who can share their insider tips and advice.
Camp – If you want to camp, use the DiscoverCamping.ca website to find available campsites on Vancouver Island. A two-person site starts about 20-25 CAD.
Check for deals – HelloBC.com (the official tourism website) often lists seasonal travel deals and discounts in its "Plan Your Trip" section. Check it out for money-saving tips and deals.
Gas up on the mainland – If you're coming from Vancouver by car, make sure you gas up before boarding the ferry. Gas prices are always higher on the island, as are most grocery prices. Stock up on everything before you arrive!
Look for the happy hours – The Ultimate Happy Hours website lists all the happy hour drink and food specials around Victoria. They update with new info frequently.
Take the ferry as a walk-on passenger – Ferry prices for vehicles aren't cheap. If you're just making a short trip and staying in one destination on the island (like Victoria or Nanaimo), consider ditching the vehicle and traveling as a walk-on passenger.
Explore the island by bike – British Columbia was made for mountain biking, and Vancouver Island is no exception. There are tons of bike paths, both inside the cities and in the provincial parks. Pack a picnic lunch, bring lots of water, and make a day of it.
Hitchhike – Since the island sees a huge boost in population during the summer, you can try your hand at hitchhiking between cities if you're on a budget. It isn't super common, but it can save you the cost of renting a car or taking the bus. Just don't get off the beaten trail as you may end up waiting some time for a ride!
Bring a water bottle – The tap water here is safe to drink so bring a reusable water bottle to save money. LifeStraw makes a reusable bottle with a built-in filter to ensure your water is always safe and clean.
Where to Stay on Vancouver Island
Vancouver Island has a few hostels that make budget-friendly travel here possible. Here are my suggested places to stay:
How to Get Around Vancouver Island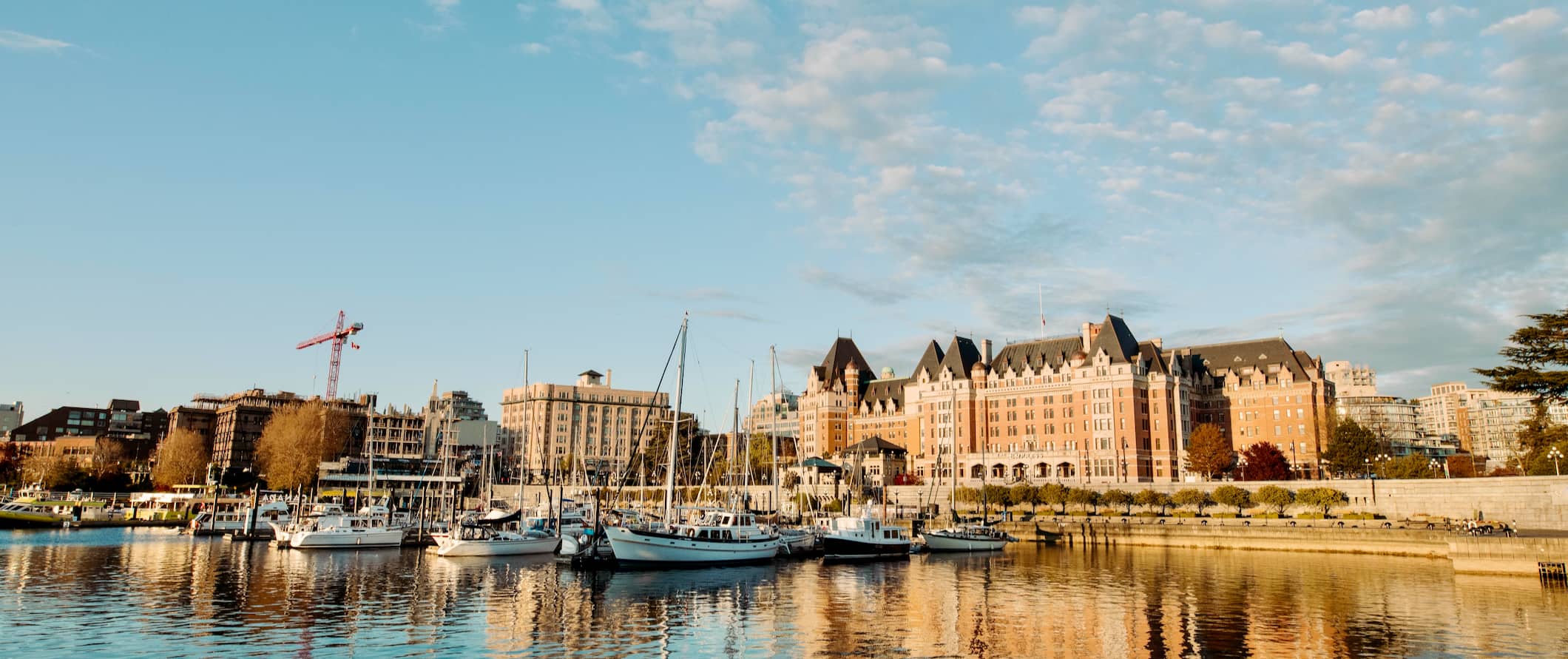 Public transportation – Victoria is the only major urban center on the island. Downtown is very walkable and the bus can get you everywhere else on the island you need to go. Fares cost 2.50 CAD, or you can get a 10-ride pass for 22.50 CAD. A one-day pass is 5 CAD and is only available on the bus.
Bike rental – You can rent a bicycle in Victoria for about 40 CAD per day from Cycle BC. An e-bike costs 75 CAD per day.
Ferry – You can use BC Ferries to get to several places around the island. The route between Swartz Bay (Victoria) and Fulford Harbour is 11.60 CAD for a return ticket, while Swartz Bay to the Gulf Islands is 11.90 CAD. Nanaimo to Gabriola Island is 10.15 CAD for a return ticket.
Bus – The bus goes just about everywhere on Vancouver Island, although it isn't cheap. A seven-hour journey from Victoria to Tofino is 105 CAD, while a one-hour trip from Victoria to Cowichan Bay is 20 CAD. A 3.5-hour trip from Nanaimo to Ucluelet is 50 CAD.
Taxi – Taxis are not cheap here. Their base rate is 3.67 CAD, and it's an additional 2 CAD per kilometer afterward. Skip the taxis if you can as they add up fast and will destroy your budget!
Car Rental – Car rentals can be found for as little as 35 CAD per day. If you'd like to take advantage of all the outdoor attractions that Vancouver Island has to offer, it's a great option, especially considering how expensive buses are. For the best car rental prices, use Discover Cars.
Hitchhike – Since the island sees a huge boost in population during the summer months, you can try your hand at hitchhiking between cities. It isn't super common, but it can save you the cost of renting a car or taking the bus. Check Hitchwiki for more info!
When to Go to Vancouver Island
Vancouver Island is busiest during the summer since its biggest draw is the great outdoors. Temperatures are usually in the mid-20s°C (high 60s°F) with little rainfall, making this time of year the best for hiking, cycling, whale watching, and other outdoor activities. Prepare for more expensive accommodations and bigger tourist crowds during this time (whale-watching season starts in August and ends in December).
Fall and spring are both excellent times to visit for sunny weather, as temperatures hover around 10-16°C (50-60°F). That means it's still warm enough to hike and enjoy the outdoors. In the spring, the cherry blossoms start blooming, and the island comes alive. There are fewer tourists during the spring and fall as well.
Winter (December-March) is surprisingly mild here, with average daily highs just under 10°C (low 40s°F). It can be rainy during these months, so bring waterproof clothing. Room rates are cheaper in the winter as well. While this isn't the best time to visit, if you have to spend winter in Canada, this is as warm as it gets!
How to Stay Safe on Vancouver Island
Vancouver Island is very safe. You're unlikely to experience any crime here. Even petty crime like pickpocketing and theft is rare. That said, always keep your valuables secure and out of reach just to be safe.
Always check the weather before you go out hiking or swimming and make sure you avoid getting up close and personal with any wildlife (there are over 7,000 bears on the island, for example).
Solo female travelers should generally feel safe here. However, the standard precautions you take anywhere apply (never leave your drink unattended at the bar, never walk home alone intoxicated, etc.). For more information, check out one of the many solo female travel blogs in the city.
Scams here are virtually non-existent here, but if you want to play it extra safe, you can read about common travel scams to avoid right with this article.
If you experience an emergency, dial 911 for assistance.
When in doubt, always trust your instincts. If a taxi driver seems shady, get out. If your hotel or accommodation is seedier than you thought, go somewhere else. Make copies of your personal documents, including your passport and ID, in case of an emergency.
The most important piece of advice I can offer is to purchase good travel insurance. Travel insurance will protect you against illness, injury, theft, and cancellations. It's comprehensive protection in case anything goes wrong. I never go on a trip without it as I've had to use it many times in the past.
Vancouver Island Travel Guide: The Best Booking Resources
These are my favorite companies to use when I travel. They consistently have the best deals, offer world-class customer service and great value, and overall, are better than their competitors. They are the companies I use the most and are always the starting point in my search for travel deals.
Skyscanner – Skyscanner is my favorite flight search engine. They search small websites and budget airlines that larger search sites tend to miss. They are hands down the number one place to start.
Hostelworld – This is the best hostel accommodation site out there with the largest inventory, best search interface, and widest availability.
Booking.com – The best all around booking site that constantly provides the cheapest and lowest rates. They have the widest selection of budget accommodation. In all my tests, they've always had the cheapest rates out of all the booking websites.
Get Your Guide – Get Your Guide is a huge online marketplace for tours and excursions. They have tons of tour options available in cities all around the world, including everything from cooking classes, walking tours, street art lessons, and more!
SafetyWing – Safety Wing offers convenient and affordable plans tailored to digital nomads and long-term travelers. They have cheap monthly plans, great customer service, and an easy-to-use claims process that makes it perfect for those on the road.
LifeStraw – My go-to company for reusable water bottles with built-in filters so you can ensure your drinking water is always clean and safe.
Unbound Merino – They make lightweight, durable, easy-to-clean travel clothing.
Top Travel Credit Cards – Points are the best way to cut down travel expenses. Here's my favorite point earning credit cards so you can get free travel!
Vancouver Island Travel Guide: Related Articles
Want more info? Check out all the articles I've written on backpacking/traveling Canada and continue planning your trip:
s