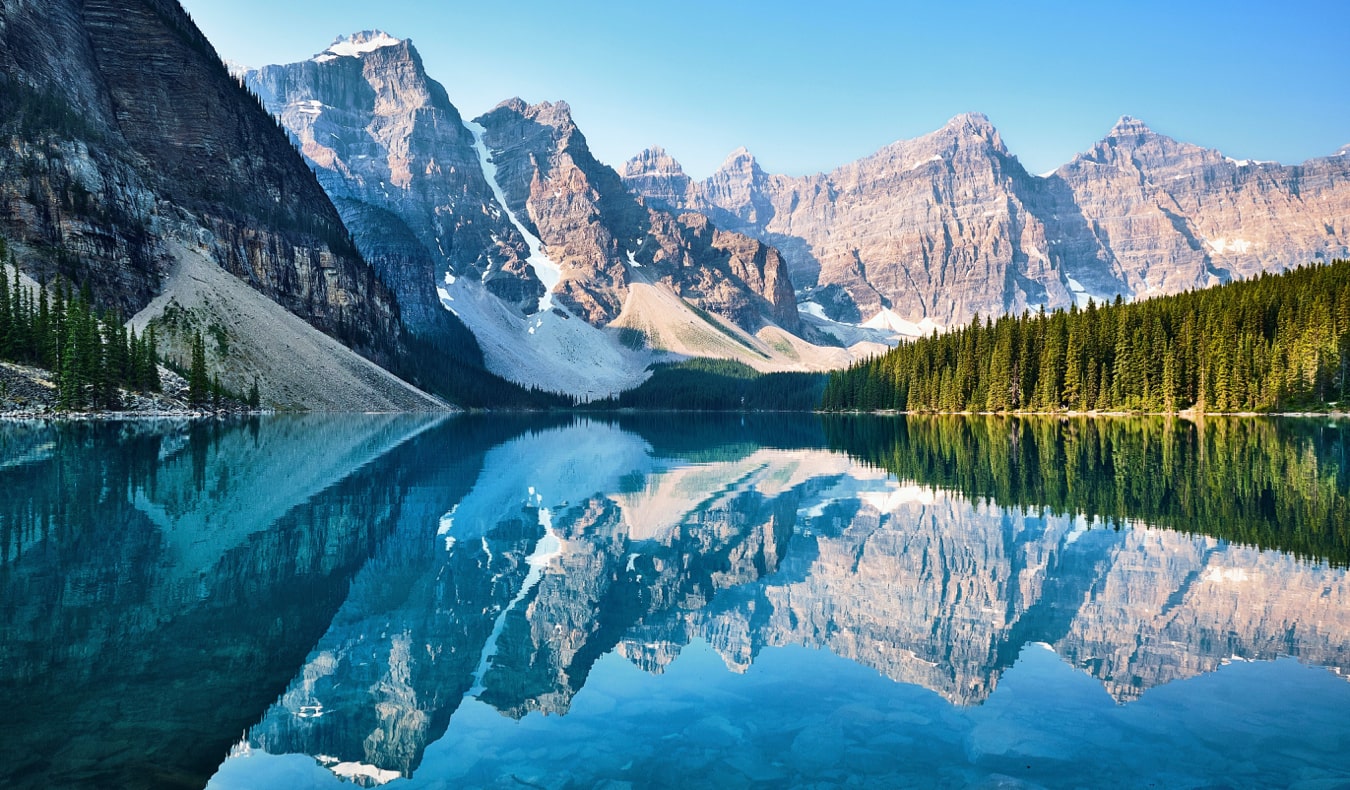 Posted: 7/6/20 | July 6th, 2020
Dalene and Pete Heck, the duo behind Hecktic Travels is also the team at Road Trip Alberta! Dalene and Pete are Alberta raised and currently living in the province's third-biggest city, Lethbridge. Alberta is one of the most scenic provinces in Canada and, today, Dalene shares a driving itinerary hitting many of her favorite Alberta sights.
Arguably Canada's most beautiful province, Alberta is known primarily for the mountain hub of Banff National Park. Millions descend annually on Calgary airport and then high-tail it west for an hour and a half to visit this gem of the Rockies. The draw of Banff is entirely warranted but many of these visitors often miss out on everything else that Alberta has to offer.
Its cities are dynamic, other mountain towns are just as gorgeous and with fewer tourists, the southeastern side of the province is home to a trove of dinosaur bones, and the north is covered in lush forests and teeming with wildlife and outdoor adventures eager to be had.
As a born-and-raised Albertan, I left in my early thirties to see more of the world, craving exploration. When I returned almost a decade later, I did so with fresh eyes and an appreciation for the land that shaped me.
This article outlines a ten-day road trip itinerary shares some of my favorite spots in the province that will help you see more than crowds of tourists in Banff!

Day 1: Calgary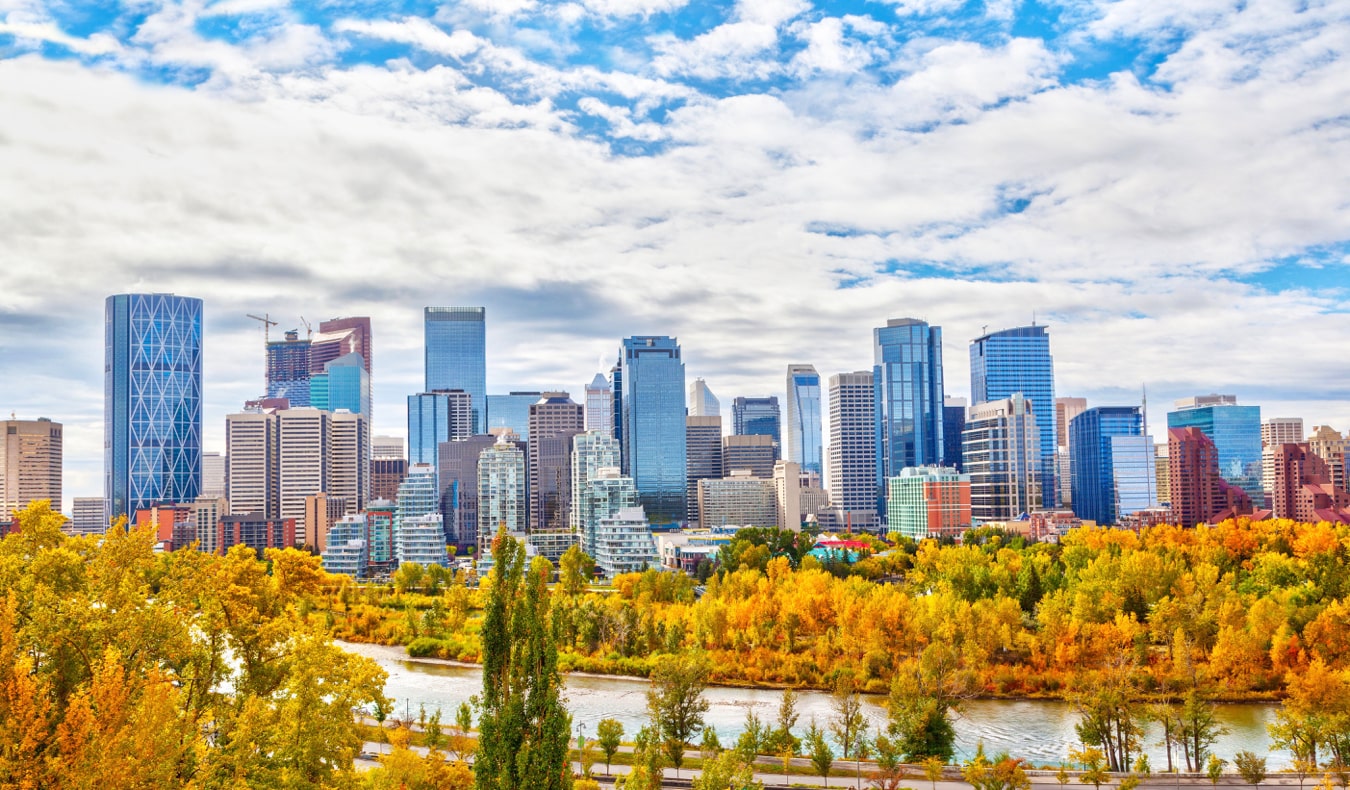 Dubbed "Cowtown" due to its roots in the cattle industry, Calgary is Alberta's largest city (1.37 million people). Balancing modern urban architecture with friendly, small-town vibes, Calgary is a curious melting pot of folks from many backgrounds. It's also home to an array of activities and a trendy food scene that will ensure that your days and tummies are full.
Start Downtown
Explore the Bow River's network of walking and biking trails. See the prime photo spot of the Peace Bridge. For another prime photo op and to gaze upon an architectural wonder, don't miss the Calgary Public Library, which was named one of the 100 Greatest Places of 2019 by Time magazine.
Not far from the library is Prince's Island Park, which is a hub for cultural events. It's home to the Calgary Folk Music Festival (in late July) and the esteemed River Café (a pricey restaurant but well worth it), and near to Eau Claire Market, which has some mouth-watering eats and specialty merchandise.
Fuel Up on Good Eats
Don't miss out on Tubby Dog for a cheap, delicious, and fun meal? Play some classic arcade games while you try the Sumo (a dog with pickled ginger, Japanese mayo, wasabi, and seaweed salad) or the A-bomb (a dog with all the classic trimmings, plus a healthy dump of potato chips right on top). Another one of my faves is Native Tongues, which offers upscale Mexican food in the city center.
Consider Planning Your Visit Around These Festivals
The Calgary Stampede — also known as "the greatest outdoor show on earth" — takes over the city for ten days in early July. The world-class rodeo is just one facet of the event. There's also a spectacular grandstand show plus all the rides and deep-fried festival foods you would expect. It's also a giant, messy party too.
Beakerhead, held annually in mid-September, brings together the worlds of art, science, and engineering. Imagine a massive party filled with fire-shooting robots, an interactive science lesson on how to make the best chocolate chip cookie, and playing a giant life-sized version of Snakes & Ladders. It's the best nerd party of the year.
Where to stay in Calgary
Canada's Best Value Inn Chinook Station – Located near the Chinook LRT Station, this hotel features a continental breakfast, with rooms available starting as low as $49 CAD/night.
HI Calgary City Centre – If you happen to be a member of HI Canada, consider this hostel, located in the downtown core, just a two-minute walk to the C-train (local transit) station.
Hotel Arts – For more upscale and eclectic lodging near downtown, this hotel has top-rated amenities for a reasonable price.
Day 2: Banff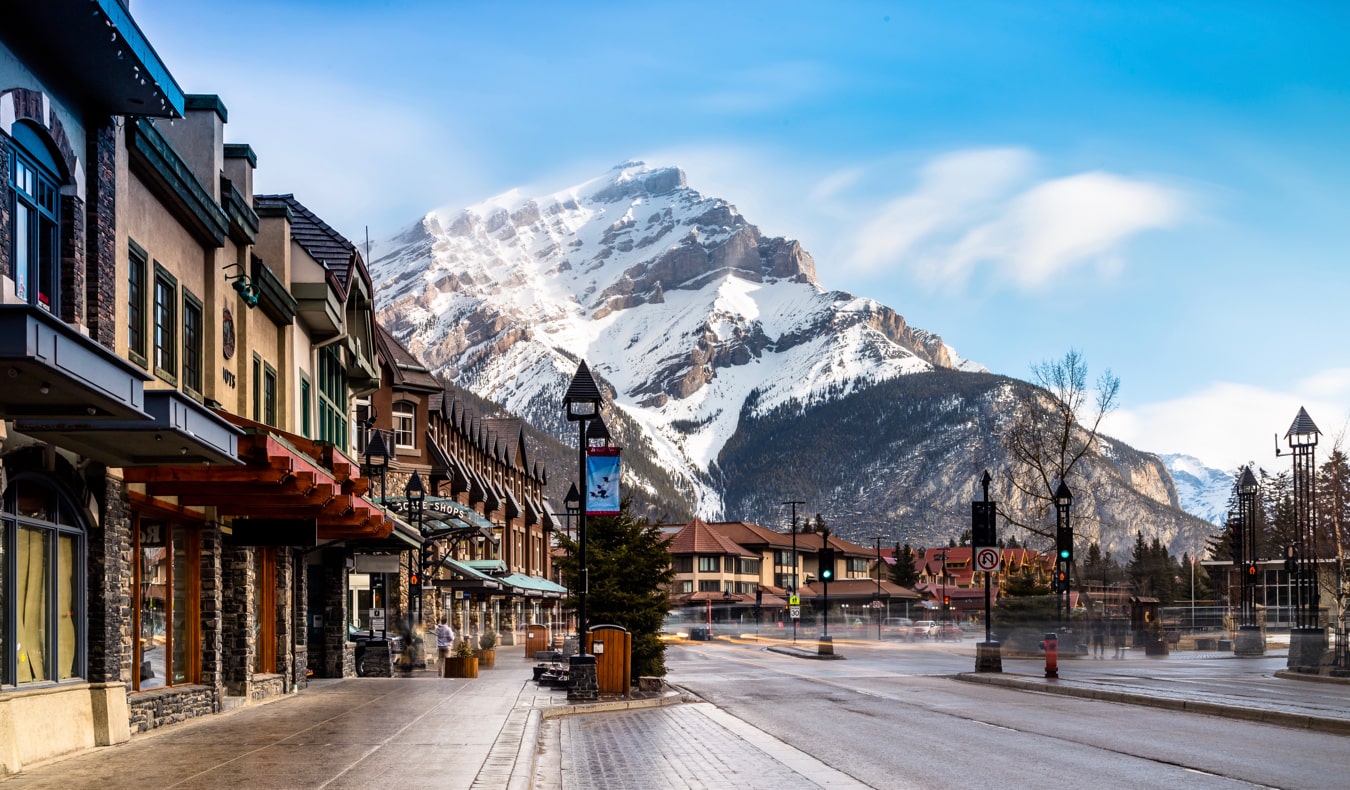 Next, head from Calgary to Banff, which takes about an hour and a half by car.
Note: You'll need to purchase a park pass upon arrival at the gates just outside of town, or you can buy one online. The current daily rate for an adult is $10.00 CAD, and it will expire at 4:00 pm the following day.
If you're planning on visiting multiple parks, you might consider a Parks Canada "Discovery Pass" for $69.19 CAD, which can be used for multiple days and will grant you entry to all Canadian national parks for one full year.
There are too many amazing hikes to list, but start with the iconic Johnston Canyon. Keep it short with a 30-minute walk to the Lower Falls, or plan for a full four-hour trek all the way to the Ink Pots. (For more info, read this guide to hiking in Banff.)
To really get the adrenaline pumping, head to Mt. Norquay for the Via Ferrata hike. Cross suspension bridges and climb ladders on the edge of a mountain, all while safely harnessed and led by an experienced guide.
There are also plenty of options for canoeing, kayaking, and stand-up paddleboarding on a number of nearby lakes. Visit the Banff Canoe Club in town for rentals.
Winter is a prime time to visit if you're a ski bunny. Three mountains in the area known collectively as Ski Big 3 (Banff Sunshine, the Lake Louise Ski Resort, and Mt. Norquay) are all world-class.
Be sure to take the Banff Gondola up Sulphur Mountain for some epic views. It's open year-round, and it has an impressive interpretive center and scenic boardwalk at the top, and even two restaurants.
Nearby is also the stunning Banff Upper Hot Springs.
Where to Eat
Wild Flour Bakery, known for its nourishing baked goods and good coffee, is an excellent stop to fill your tank at any time of day.
Eager to try some Canadian wild meats? Head to the Grizzly House to cook up your own bison, elk, or a number of other options using a hot stone at your table. The decor is severely outdated, but the experience is a must-do. Not a meat-eater? Head to Nourish Bistro for the best plant-based food in Banff.
Where to Stay in Banff
Banff International Hostel – Just a few blocks from the heart of downtown, this hostel is a comfortable place to rest your head after a long day of exploring!
YWCA Banff Hotel – The perfect hideaway in the mountains for those looking for a comfortable and budget-friendly accommodation.
HI Banff Alpine Centre – If you're a member of the HI community, you may want to stay at this location, the largest hostel in Alberta.
Day 3: Banff and Lake Louise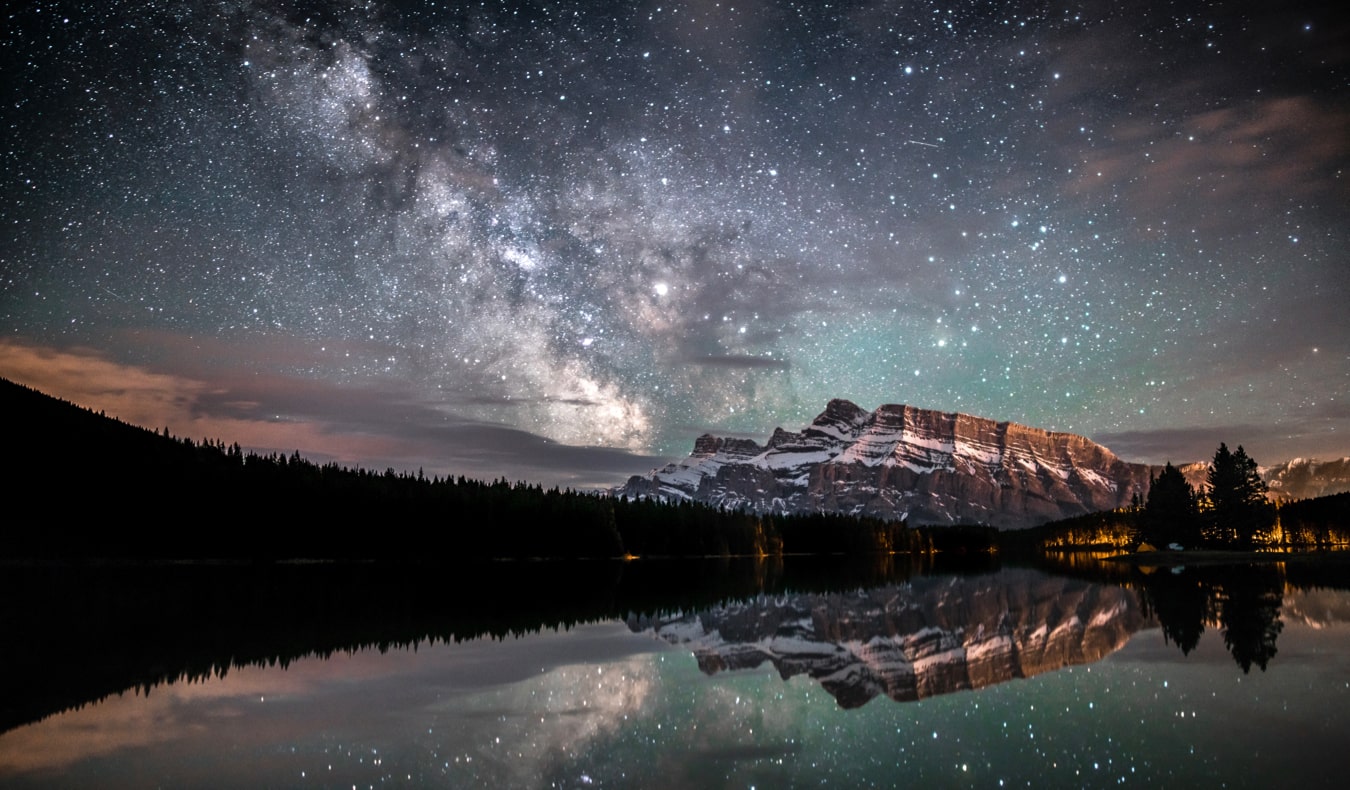 If you're an early riser, head 15 minutes north to Two Jack Lake to catch a gorgeous sunrise. If it's a clearer morning, bright red, orange, and purple will stain the sky and lake, silhouetting the mountain and creating a truly epic sight.
If there was anything left on your to-do list from the day before, finish that up now, but plan for almost a whole day around Lake Louise.
While in Lake Louise….
The Fairmont Chateau Lake Louise is the major draw in the area, and walking its halls is a must before you venture on any number of outdoor activities.
If you are there in summer, consider the Lake Agnes Tea House hike for its views and the unique experience of taking tea on top of the world (remember to bring cash, as they don't have other payment options on-site). It is a short 2.2mile (3.5 km) hike, but you can also continue on to Lake Agnes itself.
Feeling adventurous? Then take "the Tea House Challenge" and visit the other one, too, The Plain of Six Glaciers Tea House, for a 9 mile (14.5 km) total hike on the Highline Trail.
If you are there in winter, skating, snowshoeing, dog-sledding, sleigh rides, and more are all available from the hotel. You will have no problem filling your day in one of the most beautiful spots in all of Canada.
Dining options are fewer in the very small town of Lake Louise, but find the Trailhead Café for a budget-friendly and supremely delicious meal. There are also several options inside the Chateau itself, but I recommend Alpine Social for its laid-back atmosphere and hearty food.

Day 4: Driving from Banff to Jasper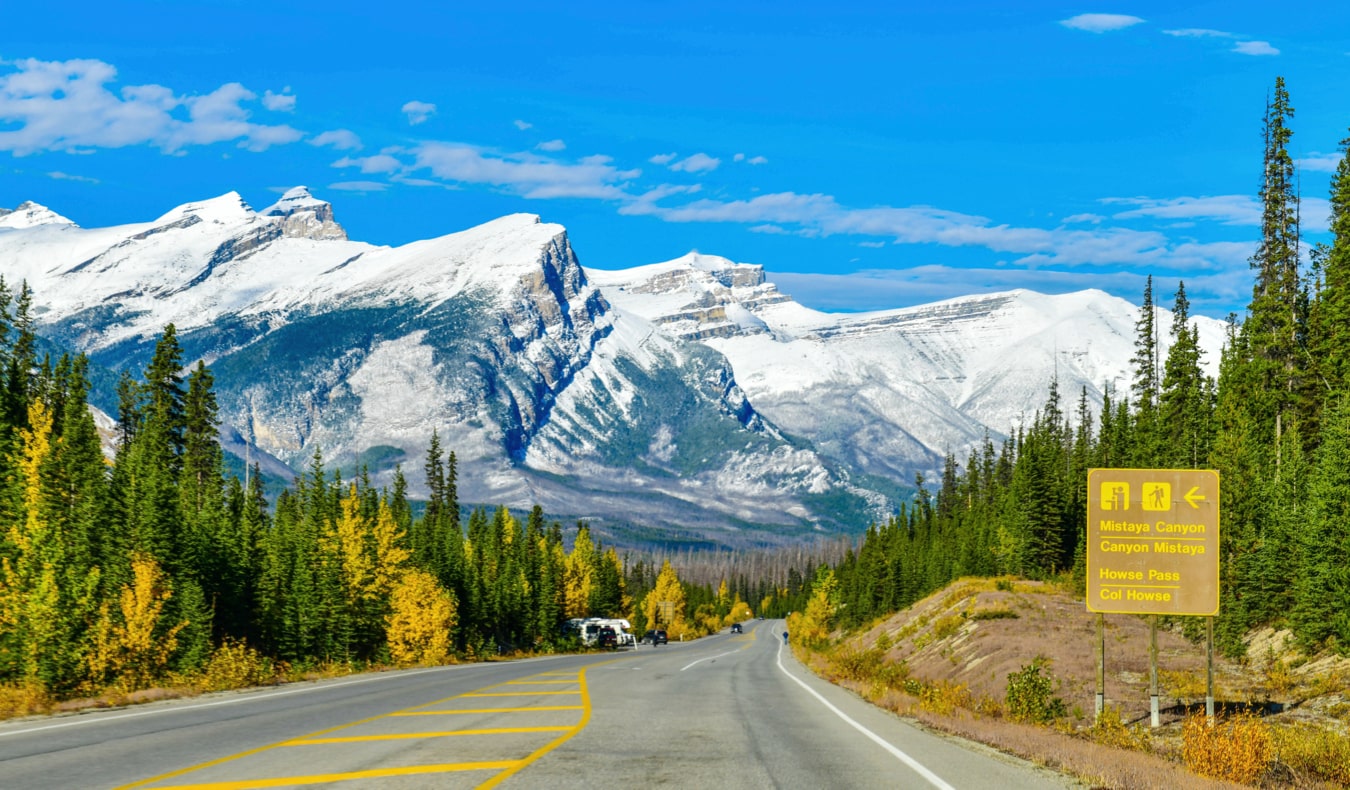 Drive from Banff to Jasper via the Icefields Parkway. The drive itself is about 3.5 hours, but I suggest that you plan for a whole day as there are lots of stops to make along the way.
The Icefields Parkway is breathtaking. Take it slow and stop often to really absorb the beauty of this day. (Do, however, consult the weather forecast and road conditions, as it can often be closed in winter.)
Making the Drive
Fill up the car with gas and pack a picnic lunch before leaving Banff, as there is only one place to stop for snacks en route (Saskatchewan River Crossing) but it is closed in winter. But once you are safely on your way, here are just a few of the stops you can make:
Leave early to catch sunrise over Vermillion Lakes, just outside of Banff as you begin your journey north.
Peyto Lake is a must-see. You have undoubtedly seen its image before; now it's time to see it for yourself! From your car it's just a short walk up a hill to get to the viewpoint and take in that stark aquamarine water from above.
The Columbia Icefield, just an hour before Jasper, is the largest in the Canadian Rockies. You can take a tour to walk right on the glacier and/or take a stroll on the glass-floored Icefield Skywalk lookout to see everything from above.
There is much more to see! This Banff-to-Jasper article maps it all out for you.
Where to Stay in Jasper
Jasper Downtown Hostel – Conveniently situated in the heart of downtown Jasper, this modern hostel won't break the bank; its private rooms start as low as $63 CAD/night.
HI Jasper – Just a short walk to downtown, the HI Hostel Jasper was opened in June 2019. Choose between private rooms, shared rooms for four, and family rooms.
Maligne Lodge – Conveniently tucked at the edge of Jasper's main street, where the mountains end and the town begins, this is a great budget-friendly hotel.
Days 5 & 6: Jasper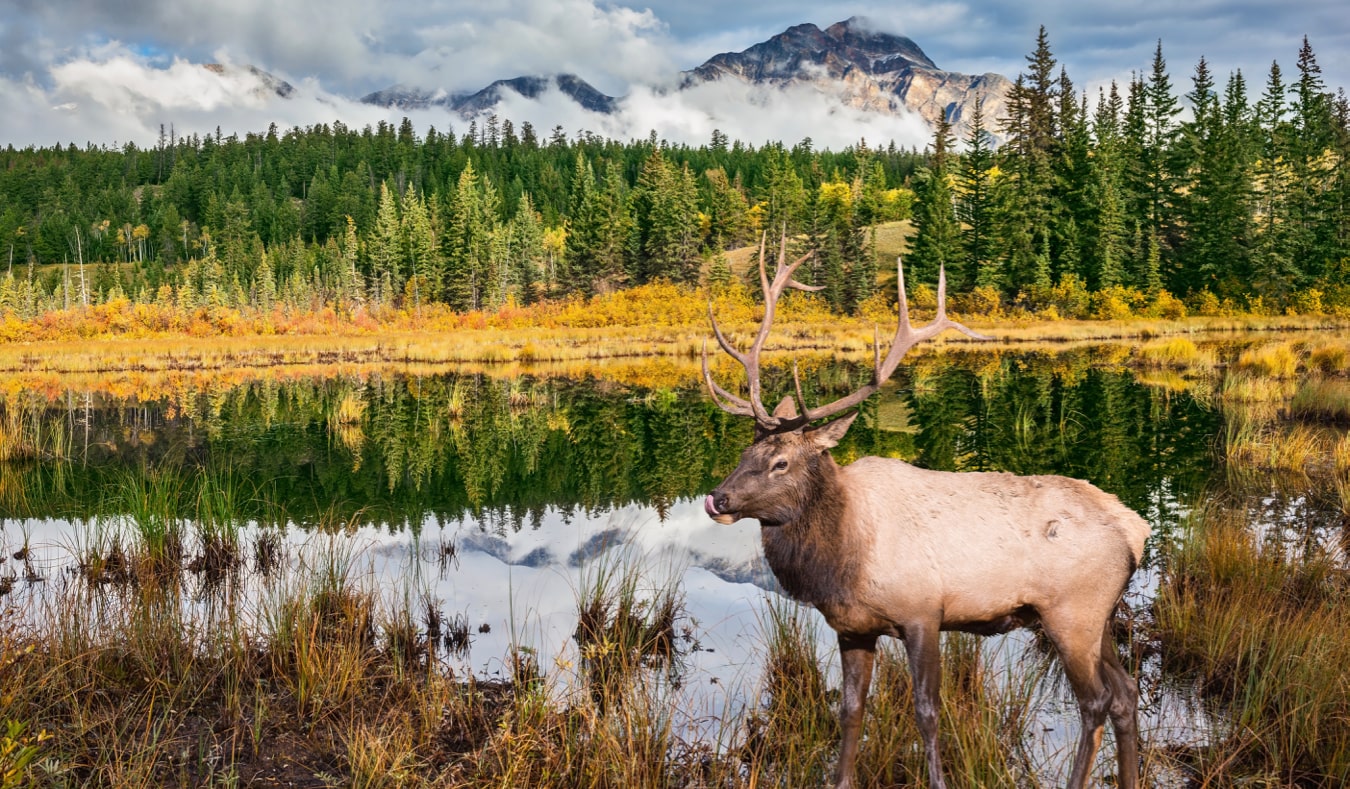 Jasper is the largest park in the Canadian Rockies and one of fifteen UNESCO World Heritage Sites in the country. Rougher around the edges than its southern brother Banff, it's the spot to hit if you're craving fewer crowds and small-town charm.
Spirit Island is one of the most photographed spots in Canada. You can canoe out there and reach this spot on Maligne Lake in half a day. If you don't feel like doing that, boat cruises are available too!
Moreover, take advantage of your remote location and book a tour to see some iconic Canadian wildlife (bears, elk, mountain goats, moose, and more). While such encounters may occur by chance on your visit, a guided tour will increase your chances and is a great way to gain local knowledge.
Additionally, in October, the Jasper Dark Sky Festival takes place.The park has ideal conditions for this given that there is so little light pollution. If you can't make it there, the Jasper Planetarium is open year-round for star viewing.
There are so many hiking options. Start with a short jaunt to Athabasca Falls (less than an hour round-trip), and then ramp up according to your fitness level. (See this article about best Jasper hikes to decide what comes next.)
Just north of town is Maligne Canyon, and in winter, you can walk on and explore the frozen river (be sure you have ice cleats on). In the summer, you can hike in the canyon, and the winding trail has six suspension bridges spanning the gorge.
Take a load off and ride up the Jasper Skytram to experience the best mountain views. On a clear day, you can even see peaks in neighboring British Columbia. Enjoy the seven-minute ride up and have a bite at the Summit Restaurant at the top.
Must-Eats
Stop at the Bright Spot Family Restaurant for the big country breakfast, which will stick to your bones and give you energy for your day. Whistle Stop Pub is also good for a pint and snack. Canada's very first national park brewery, Jasper Brewing Company, is also here. Along with six signature brews that are made on-site, the large restaurant offers elevated pub fare.

Day 7: Driving from Jasper to Edmonton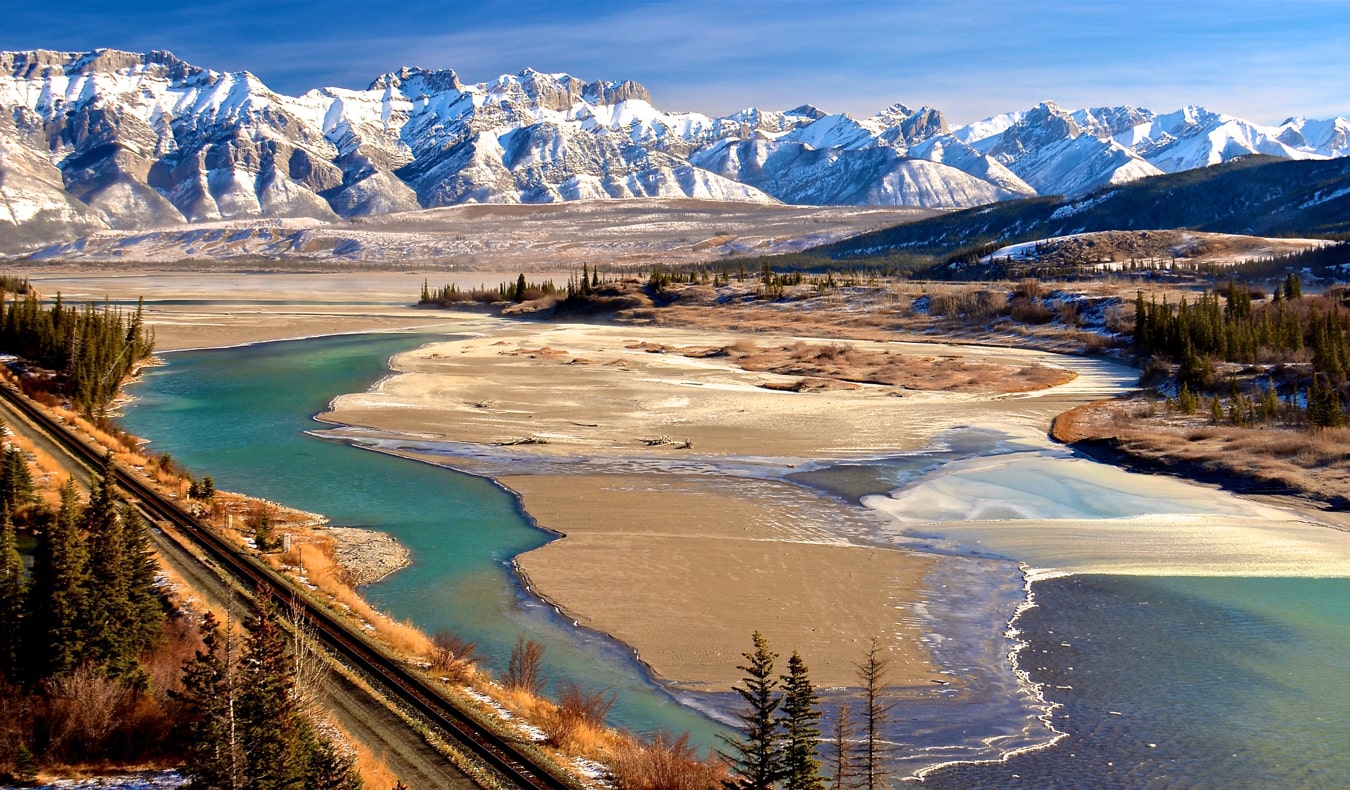 The four-hour drive from Jasper to Edmonton is not the most exciting (the scenic views drop off quickly outside of the national park), but there are a couple of stops you can make along the way to spice it up.
If you don't hit up Miette Hot Springs during your stay in Jasper, then it's an easy stop on the way out of town. It is home to the hottest spring water in the Canadian Rockies! It requires a little detour off of the main highway, but the drive through the Fiddle Valley alone makes it worth the trip.
An hour into your journey, you can make a stop in Hinton to see the most iconic of local wildlife: the humble beaver. Stretch your legs along the nearly 2 mile (3 km) Beaver Boardwalk, and hopefully, you'll spot Canada's national animal.
This is also a great place to plan to have lunch: The Old Grind has an extensive menu that includes vegetarian and vegan options.
Arriving in Edmonton
Depending on what time you left Jasper, the driving conditions you encountered (add more time in winter!), and how many stops you made along the way, you may arrive with extra time to explore Alberta's capital city. And my guess is that those car-bound legs are going to need a stretch.
As you drive into the west side of Edmonton, this would be the perfect occasion to take a long walk in the largest mall in North America. West Edmonton Mall is home to over 800 stories and services, and it contains theme parks, multiple movie theaters, a ridiculously fun indoor water park, and even a large skating rink.
Enjoying the mall can easily take up the rest of your day (and the next one, if you are a shopper).

Days 8 & 9: Edmonton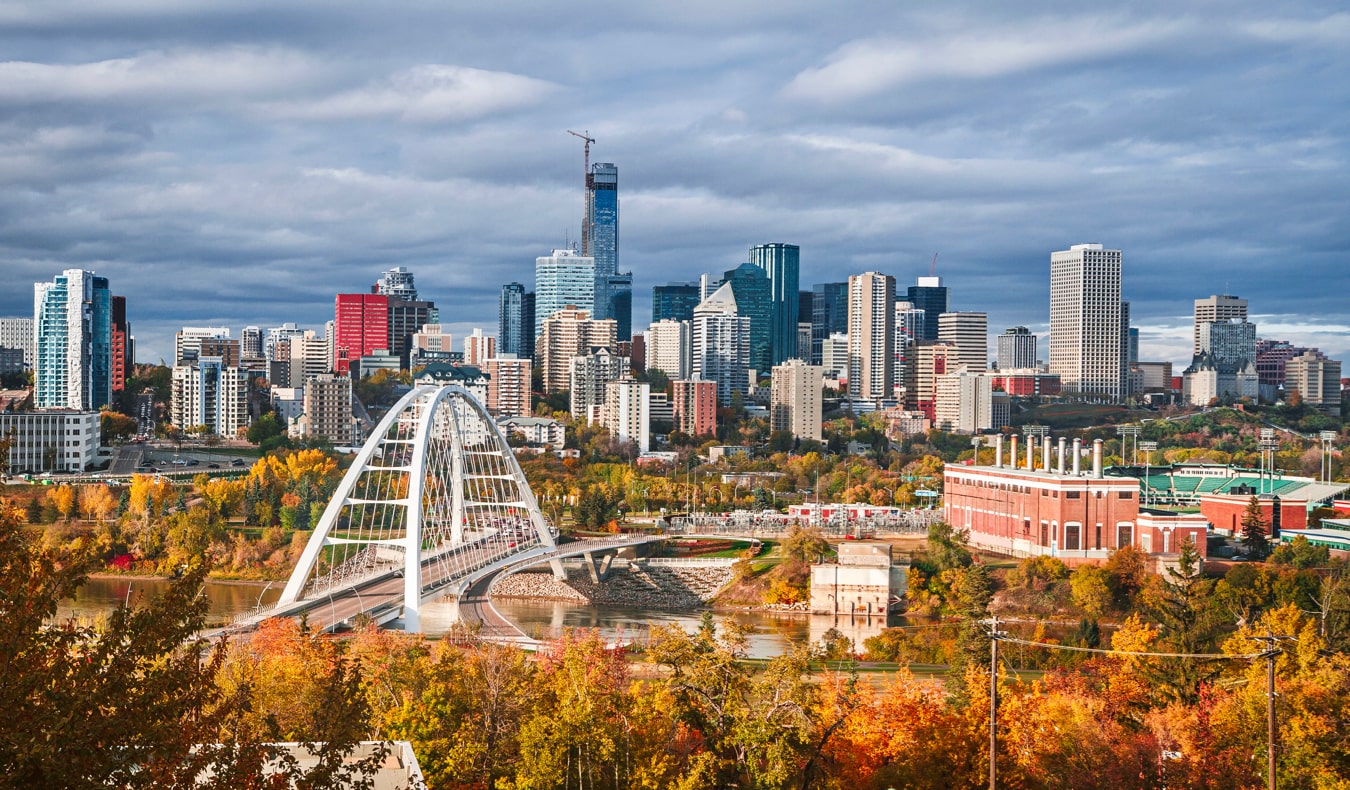 Teeming with history and culture rich as hot chocolate, Alberta's capital city is the perfect way to finish off your tour of the province. Edmonton has been dubbed "the festival city" on account of its year-round cultural festivals, so you'll never be short on things to do here.
The Fringe Festival is the biggest and oldest of its kind in North America and offers a dynamic theater experience. Running annually for ten days in the middle of August, it often attracts more than 1,500 local, national, and international artists, who give well over a thousand performances across the city.
The Silver Skate Festival is becoming one of the premier events in Alberta to celebrate and embrace winter. One highlight is the opening of the ice castles in Hawrelak Park, typically several weeks before the February festival. During the ten days of the festival itself, expect snow sculpting, skate races, helicopter tours, and more.
If you aren't in Edmonton during a festival, take time and stroll through the grounds of the Alberta Legislature. Not only is "the Ledge" an architectural journey into the past (construction was started in 1907) but you can also learn about the Canadian government, Alberta's political history, and the art and architecture of the building by taking a free tour.
Edmonton's river valley is the largest urban park in North America, with 100 miles (160 kms) of maintained paths. So you don't even have to leave the city itself to explore nature! Walk and cycle as far as you like, taking in any (or all) of the 20 city parks along the river.
Head for the Neon Sign Museum one night. This collection of 20 functional historic signs tells the story of Edmonton's neon past al fresco. This exhibit is completely free and open 24/7.
If you didn't get your wildlife fill in the Rockies, then head a short distance outside of the city to Elk Island National Park. Elk Island is the only fenced national park in Canada, a conservation effort to help bring the bison population back.
And you didn't think I'd go this entire post without mentioning a hockey game, did you? The Edmonton Oilers play in one of the newest arenas in the NHL, so catch a game if you can, especially if they are playing their provincial rivals, the Calgary Flames.
If you are visiting in summer, you can also watch a heated Canadian football (not soccer) battle between the Edmonton Eskimos and the Calgary Stampeders.
Can't-Miss Food and Drink
Stop at Duchess Bake Shop. This Parisian-inspired café blends some of Alberta's favorite flavors with French pastries, all made from scratch daily. It's regularly mentioned as one of the best cafés in the city.
Hathaway's Diner has quality food at reasonable prices. And who doesn't love old-school-diner kitsch?
A few years ago, Alberta's tax system changed up the way it categorized breweries, which resulted in an explosion of craft beer across the province. Don't miss a stop at Craft Beer Market as it offers up Canada's largest selection of craft brews.
Where to Stay in Edmonton
HI Edmonton – Located just off of Whyte Avenue in Edmonton's historic Old Strathcona neighborhood, this hostel is right near the river valley park system (also many bus stops to get to other destinations).
Days Inn Downtown – Conveniently located in the downtown core and only minutes away from local attractions, this hotel is an excellent option for those not wanting to give up comfort while staying on budget.
Day 10: Driving to Calgary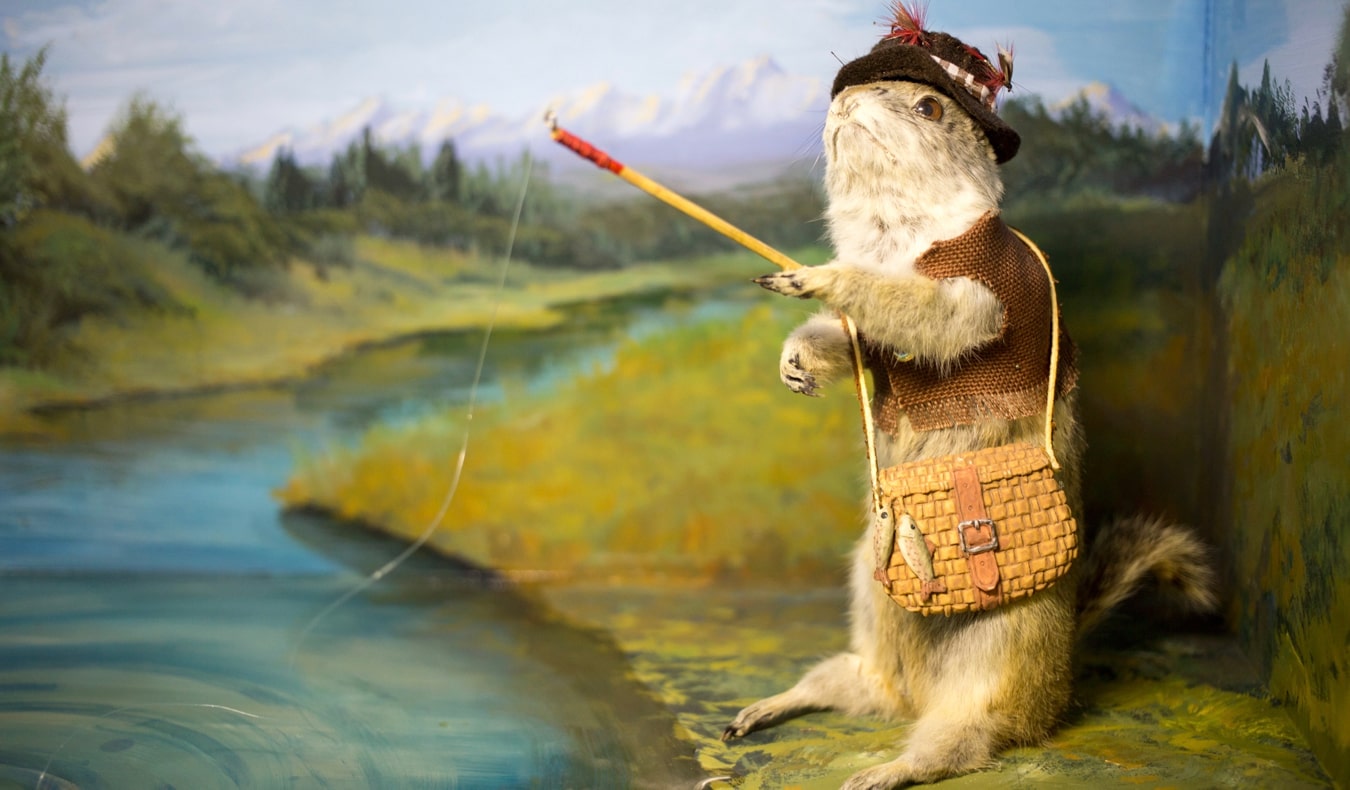 It only takes three hours to drive from Edmonton to Calgary on a busy highway. Use your last day to visit more of Calgary.
If you have time, visit the Heritage Ranch near Red Deer (about halfway through the drive). A rancher will drop you off in the middle of the wilderness with a map and a compass (or a GPS). Your goal is to remain at large and capture four designated flags within an hour. All the while, you are being hunted by a man on a horse. It is terrifying and exhilarating and everything in between!
A little closer to Calgary, you can turn off the main highway into Torrington and find the Gopher Hole Museum. Gopher overpopulation is a problem in the area, and so the residents wanted to create something quirky to bring in tourists. The museum is one small room of taxidermied rodents staged in a variety of scenes that highlight local life (think curling gophers, beautician gophers, etc.). It will take no more than a half-hour to visit, but it is well worth the detour for all the WTF moments to be had.
***
Alberta is a very big province. By comparison, Texas is only 2% bigger. If it is the mountains that call you here, then that is rightly so, but I hope you will also take the time to explore other parts of this land rich in attractions. They will keep anyone and everyone entertained for ten days and beyond!
Dalene Heck and her husband Pete are behind the blog Hecktic Travels, which chronicles their journey since selling all their belongings in 2009. They've recently started the website Road Trip Alberta to encourage people to visit their home provence.
Book Your Trip to Canada: Logistical Tips and Tricks
Book Your Flight
Use Skyscanner or Momondo to find a cheap flight. They are my two favorite search engines because they search websites and airlines around the globe so you always know no stone is left unturned. Start with Skyscanner first though because they have the biggest reach!
Book Your Accommodation
You can book your hostel with Hostelworld as they have the biggest inventory and best deals. If you want to stay somewhere other than a hostel, use Booking.com as they consistently return the cheapest rates for guesthouses and cheap hotels.
Don't Forget Travel Insurance
Travel insurance will protect you against illness, injury, theft, and cancellations. It's comprehensive protection in case anything goes wrong. I never go on a trip without it as I've had to use it many times in the past. My favorite companies that offer the best service and value are:
Looking for the Best Companies to Save Money With?
Check out my resource page for the best companies to use when you travel. I list all the ones I use to save money when I'm on the road. They will save you money when you travel too.
Want More Information on Canada?
Be sure to visit our robust destination guide on Canada for even more planning tips!