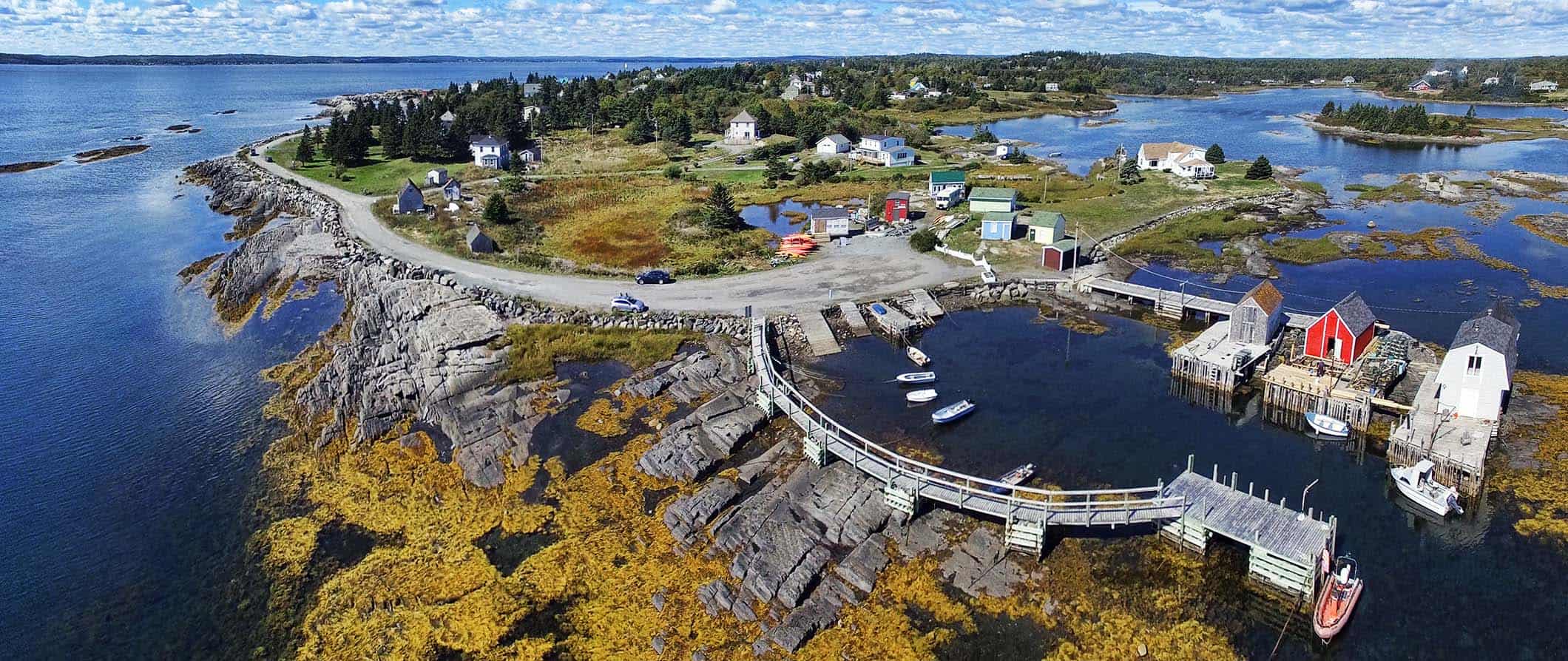 Nova Scotians like to boast about how their province is the friendliest place in Canada. They might be right, because people in this province are overly nice. Nice like "we still don't lock our doors when we go out" nice. You'll feel welcome the minute you step foot in Nova Scotia.
That welcoming atmosphere combined with over 100 beaches, picturesque lighthouses, the freshest of fresh seafood, and endless rugged coastline makes visiting Nova Scotia an exciting destination in Eastern Canada.
Outside the capital city of Halifax, Nova Scotia is dotted with tiny fishing villages and coastal towns. Drive further north, and you'll hit scenic Cape Breton — an island that comes alive with vivid fall foliage each year along its Cabot Trail.
Another bonus: Nova Scotia doesn't see nearly as many tourists as the country's larger cities, making it a somewhat off-the-beaten-trail destination.
This travel guide to Nova Scotia will help point the way by giving you tips on what to see, costs, suggested budgets, and ways to save money.

Nova Scotia
Top 5 Things to See and Do in Nova Scotia
1. Hike the Skyline Trail
The Skyline Trail is easily the most popular hike on Cape Breton island. It's about four miles (6.5 kilometers) through thick forest and then along the coast to reach a viewing platform overlooking the ocean. It's a breathtaking walk. You sometimes encounter moose too!
2. Tour the Alexander Keith's Brewery
Alexander Keith is a legend in Nova Scotia. He opened his brewery in 1820, became mayor, and was so wildly popular that Halifax throws a massive birthday party for him on the waterfront every October. Take a tour of the Halifax brewery and be entertained by the animators in their period costumes. Tours are $27 CAD ($20 USD).
3. Hang out in Halifax
Halifax is Nova Scotia's busy capital city. It's home to six universities so it has a busy nightlife, a thriving music scene, and countless trendy restaurants and craft breweries. Stroll the waterfront, grab a lobster roll, and find a local pub. (Museum and attractions are listed below!)
4. Visit Peggy's Cove Lighthouse
There are over 160 lighthouses in Nova Scotia, but the Peggy's Cove Lighthouse is the most famous. It's a quintessential red-topped lighthouse standing on a rocky shore overlooking the Atlantic. Walk around and enjoy the ocean views. Beware: rogue waves are common here, even on calm days.
5. Hit the Cabot Trail
The Cabot Trail on Cape Breton island is one of North America's most spectacular ocean drives, following a 185-mile (298-kilometer) ribbon of road that loops around the island and passes through Cape Breton Highlands National Park. There are lots of short hikes you can take along the way.
Other Things to See and Do in Halifax
1. Go tidal bore rafting in Shubenacadie
The Shubenacadie River's rapids are powered by the highest tides in the world, in the Bay of Fundy. One minute you're floating down a peaceful river keeping an eye out for bald eagles and other wildlife, and the next minute the river turns into a raging, foaming mass of rapids. When the tide changes twice a day, the tidal bore temporarily reverses the flow of the river, resulting in this wild river ride. It's crazy to see the Shubenacadie transform! A four-hour trip starts from about $85 CAD ($64 USD).
2. Go whale watching
In the summer and fall, 12 species of whales visit the waters around Nova Scotia, including giant humpbacks. There are tons of whale watching tours in the area, with most operating outside of Halifax. Ocean Explorations will take you out in a small Zodiac for $85 CAD ($64 USD), while larger groups like Lunenburg Whale Watching Tours start from $60 CAD ($45 USD).
3. Enjoy summer on the water
When the weather is nice and the sun comes out, Nova Scotians hit the water to go sailing, kayaking, and canoeing. Surfing is also big here, with Lawrencetown Beach being one of the more popular areas to find the biggest waves. Go swimming at Melmerby Beach or take a kayak to one of the inland kayaking routes, including at Kejimkujik National Park and National Historic Site.
4. Visit the Annapolis Royal Historic Gardens
Spanning 17 acres of greenery, these historical gardens overlook a tidal river valley and includes an enormous rose collection (best seen in July) as well as an 8th-century Governor's Garden and a 19th-century Victorian Garden. You can check out the reconstructed 1671 Acadian House as well. It's $14.50 CAD ($11 USD) to visit.
5. Visit the Alexander Graham Bell Historic Site
This museum is host to a rich collection of artifacts and documents chronicling the life and career of Bell, inventor of the telephone. The collection was accumulated by his family during their time here in Baddeck, Cape Breton. In the parlor, you can see Bell's personal effects, like his favorite jacket, notebook, and walking stick. Admission is $8 CAD ($6 USD).
6. Explore the Highland Village Museum
This is an outdoor pioneer museum and a Gaelic language and culture learning experience. The 43-acre site overlooking Bras d'Or Lake includes historic buildings like three frame houses, a mill, and a forge. You can take part in a traditional céilidh dance, hear Gaelic singing, and even practice a little of the language yourself. It's open from June to October and costs $11 CAD ($8.30 USD).
7. Maritime Museum of the Atlantic
This museum depicts Nova Scotia's maritime history with exhibits on boatbuilding, WWII convoys, the Titanic, and the Halifax Explosion (a huge disaster that happened when two ships carrying ammunition ran into each other that destroyed much of the city in 1917). It's a very comprehensive overview of the region's history! Admission is $5.15-9.55 CAD ($3.90-7.20 USD), depending on the season.
8. Visit New Brunswick or Prince Edward Island
These two provinces are close to Nova Scotia and can be visited as day trips (or multi-day trips) if you have your own vehicle (and depending on where you are in Nova Scotia). New Brunswick's Fundy National Park is worth it to see the world's highest tides, and P.E.I. is the place to go to soak up some tranquility on the sea (and to eat lots of seafood).
9. Go to Lunenburg
This is one of the most colorful towns you'll ever come across! With its narrow streets and colonial 18th to 19th-century buildings painted in bright hues of pinks, oranges, and greens, you'll feel like you've stepped back into the past. There are still tall ships in the harbor and even an operational blacksmith hammering away on the waterfront. Plus this is the harbor for the famous Bluenose II, a replica schooner of the original Bluenose which is featured on the Canadian dime. The Bluenose was a famous fishing/racing schooner that went undefeated in her 18-year run!
10. Canadian Museum of Immigration at Pier 21
If there's just one museum you visit in Halifax, make it this one. Pier 21 was the immigration point for one million newcomers to Canada between 1928 and 1971. You'll learn about 400 years of Canadian immigration history through first-person stories, archival photos, and artifacts (including trunks and personal treasures), and digital documentation. Exhibits are incredibly interactive and you can even research your family's pre-1935 immigration records from all ports of entry in North America. Admission is $13 CAD ($9.80 USD).
11. Kejimkujik National Park and National Historic Site
If you want to experience Mi'kmaw culture, come to this national park to paddle, hike, camp, and connect with nature. You'll find rock carvings (petroglyphs), canoe routes, and coastal wilderness punctuated with sandy beaches and wildlife. If you want to learn more about the Mi'kmaw people, join a storytelling session, take a guided petroglyph tour, or participate in a canoe building workshop. Admission to the park is $5.80 CAD ($4.35 USD).
For more information on specific cities, check out these guides!