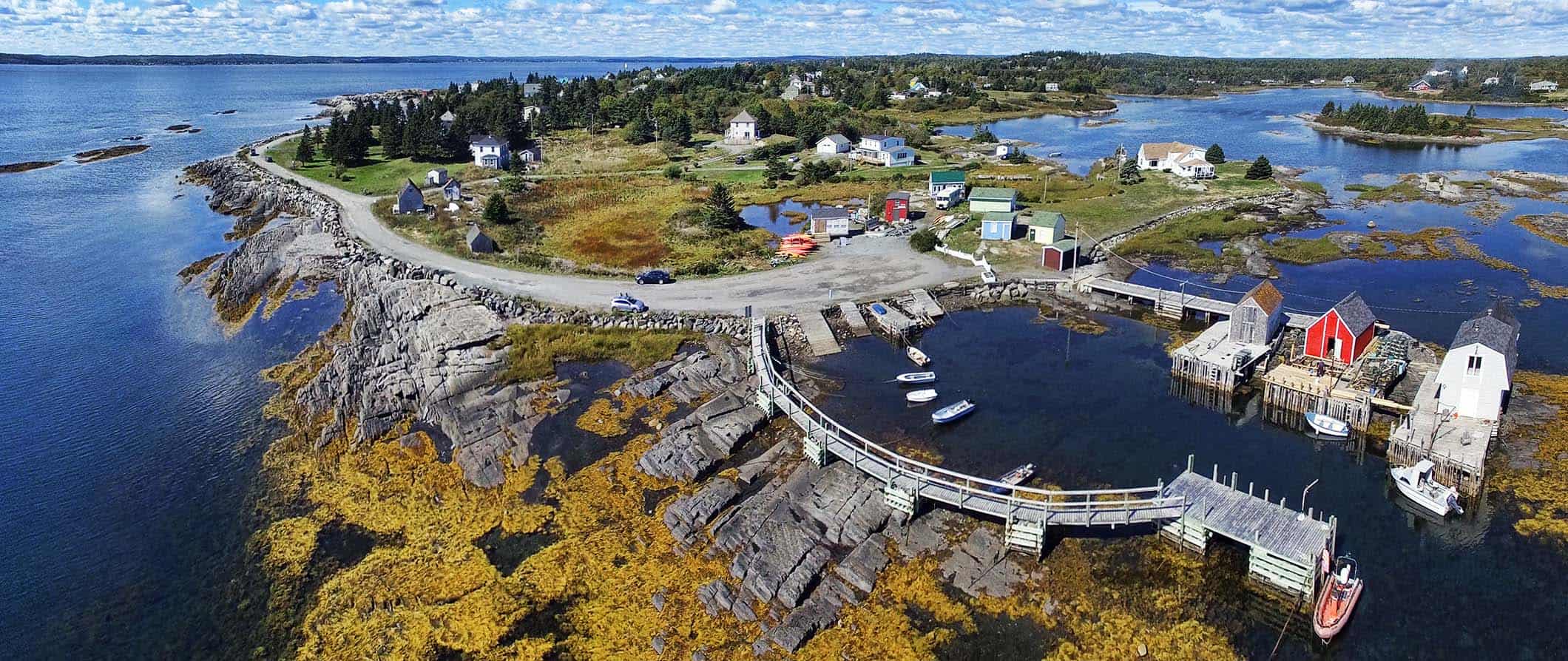 The locals boast that Nova Scotia is home to the friendliest people in Canada. They might be right. People in this province are overly nice. Nice like "we still don't lock our doors when we go out" nice. That niceness, combined with over 100 beaches, picturesque lighthouses, great sailing, mouth-watering seafood (this area of Canada is the main fishing region), and marvelous coastline, makes Nova Scotia an amazing place to visit in Canada. Try to visit during the fall when the changing leaves make the tree abundant area a rainbow of colors! Another bonus: Nova Scotia doesn't see nearly as many tourists as the country's larger cities, making it something of an off-the-beaten-trail destination.
Top 5 Things to See and Do in Nova Scotia
1. Hike the Skyline Trail
About seven miles in length, you can make this hiking experience an afternoon outing or one that can last all day. It has breathtaking views of the bay, and sometimes you'll encounter moose along the way.
2. Alexander Keith's Brewery
Take a tour of this local brewery or simply be entertained by the animators in their period costumes from 1863. This is one of the best breweries in the area. Try the stout.
3. Point Pleasant Park
Enjoy a relaxing day here with a wonderful view of the ocean. The park is an amazing place for a picnic. There's numerous walking paths for walking, running, rollerblading – whatever! When the weather is nice, locals flock here.
4. Peggy's Cove Lighthouse
The lighthouse at Peggy's Cove is famous for being one of the most picturesque in the world. If you've ever seen a stereotypical lighthouse photo, then you know what to expect—it's a great photo opportunity!
5. The Cabot Trail
The Cabot Trail, one of North America's most spectacular ocean drives, is an 185-mile ribbon of road that loops around Cape Breton Island and passes through Cape Breton Highlands National Park. This is one of the best things to on a visit here!
Other Things to See and Do
(Click the title to expand the text)
1. Kayak the North River
For about 80 CAD you can get a nice half-day kayak tour around the shoreline.
2. Wolfville Farmer's Market
During the month of October, try to attend this elaborate and entertaining Farmer's Market. Complete with produce, arts and crafts, and delicious food, it's a great way to taste the culture and food of the region.
3. Attend a summer concert
Halifax offer hundreds of concerts, theater performances, and festivals during the summer months. There's a great music scene here, so be sure to hunt down some live music!
4. Go whale watching
Throughout the year, you can find whales off the coast of Nova Scotia, especially the mighty humpback whales. There are tons of tour operators here, and if you don't see any whales, most of them will give you a free voucher for next time.
5. Upper Clements Park
Upper Clements park is a fun place for kids. It is kind of a small amusement park that also has a lot of wildlife. On nice days, the park is very crowded so plan ahead.
6. Enjoy summer on the water
When the weather is nice and the sun comes out then sailing, kayaking and canoeing are popular pastimes along the coast or on the myriad of inland kayaking routes. Try swimming at Melmerby Beach on the Northumberland Strait, or go tidal bore rafting on the Shubenacadie River.
7. Annapolis Royal Historic Gardens
Measuring 17 acres in size, these historical gardens overlook a tidal river valley and showcase a massive rose collection, an Acadian House, and hundreds of years of gardening knowledge.
8. Alexander Graham Bell Historic Site
This museum is host to a rich collection of artifacts and documents, which chronicle the life and career of A. G. Bell, inventor of the telephone. The collection was accumulated by his family during their time here. It is quite an impressive display, one which history buffs will surely love.
9. Highland Village
This is an outdoor pioneer museum that features the lifestyle and experience of the Scots in Nova Scotia, some of the original settlers in the region.
10. Maritime Museum of the Atlantic
This museum depicts the region's marine history through an interesting collection of binnacles, buoys, anchors, armaments, and more. If you don't understand Nova Scotia's close ties with the sea, you will never be able to understand the province as a whole.
11. Visit New Brunswik or P.E.I
These two provinces are only a stone's throw away and can be visited as day trips (or multi-day trips) if you have your own vehicle. They are equally as cozy and charming as Nova Scotia (and the people are just as nice!)