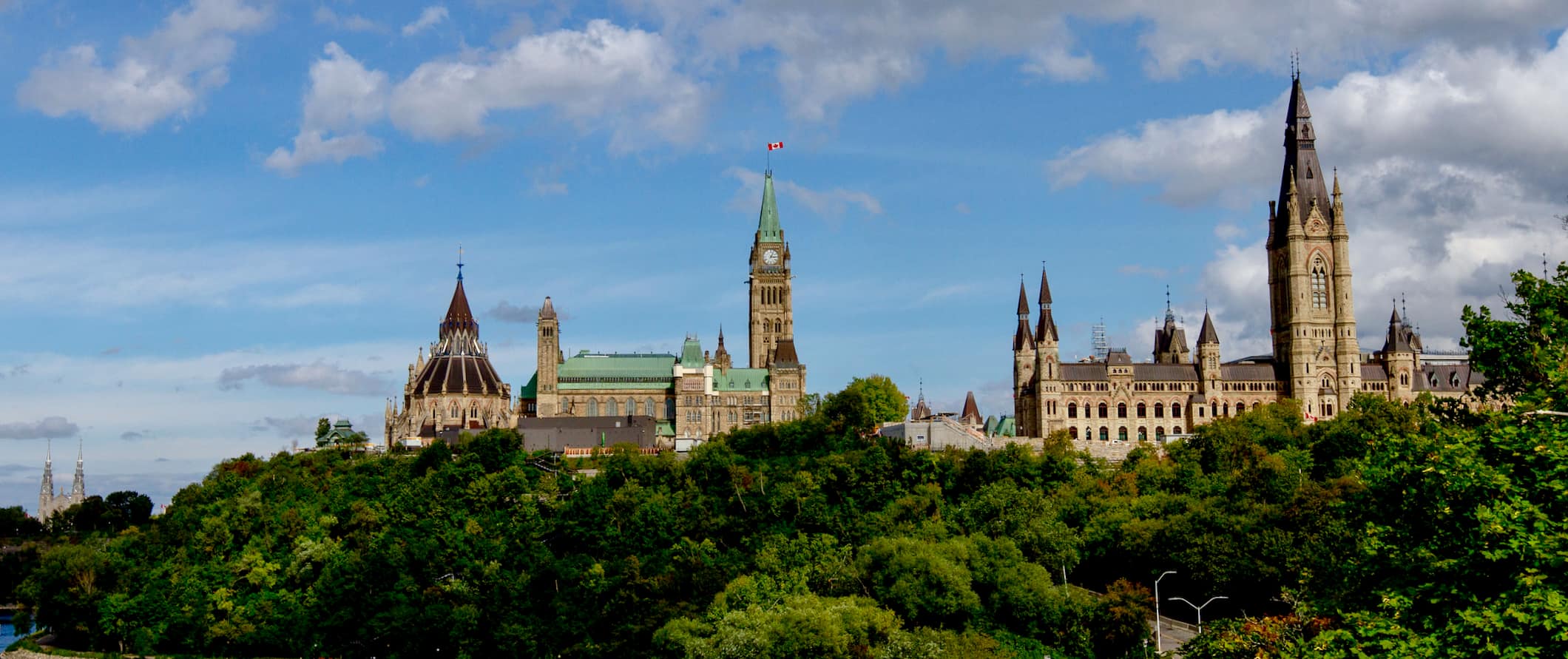 Originally built up by French, Irish, and Scottish settlers, Ottawa was named the capital of Canada by Queen Victoria in 1857.
There is a lot to discover and experience in this beautiful and often overlooked capital city. Ottawa is home to seven of Canada's nine national museums, as well as an impressive National Arts Centre. There's also the popular ByWard Market area, where you can shop for fresh produce, artisanal souvenirs, and tasty eats.
Hundreds of festivals and events occur each year, which means there's always a lot happening, no matter the season. In addition, plenty of outdoor activities can be enjoyed nearby too, including kayaking, canoeing, hiking, cycling, snowshoeing, and ice skating.
The trick to enjoying Ottawa is to venture beyond the market area and Parliament Hill. Once you get beyond the downtown tourist core, you'll get to see Ottawa like a local. Spend time in neighborhoods like The Glebe, the Golden Triangle, Old Ottawa South, and Wellington West and you'll develop a much deeper appreciation for this overlooked capital.
I really loved my visit here and was really pleasantly surprised by it. Not to use the cliche but it is really an underrated place.
This guide to Ottawa can help you plan your trip, save money, and make the most of your visit.
Top 5 Things to See and Do in Ottawa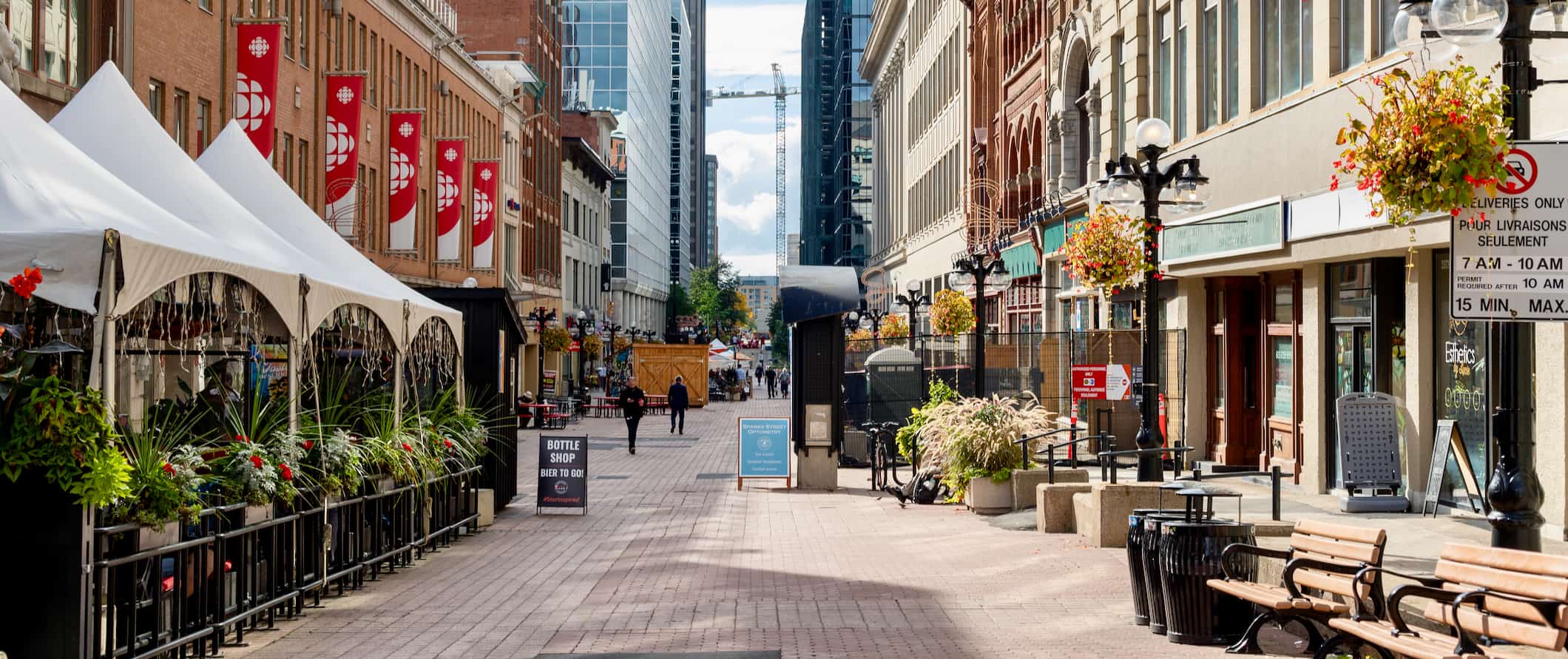 1. Visit Parliament Hill (aka The Hill)
The Centennial Flame fountain, first lit on January 1, 1967, commemorates the 100th anniversary of the confederation of Canada. Stroll around the manicured lawns and statues of political leaders, then go inside for a free 40-minute guided tour of the House of Commons (when it's not in session). It's an interesting look into the history, government functions, art, and architecture of The Hill. Tickets need to be reserved online in advance.
2. Wander the ByWard Market
This large public market area was established in 1826 by Lt. Col. John By, who also built the Rideau Canal. Today, the ByWard Market is filled with shops, restaurants, and bars. Explore the neighborhood in search of hidden sculptures, snap a photo with the big "Ottawa" sign, and admire the numerous murals. Stop by La Bottega Nicastro for a build-your-own Italian sandwich for under 10 CAD or try a beaver tail (fried dough topped with cinnamon and sugar or whipped cream or Nutella). Le Moulin de Provence is home to the famous Obama cookie (an iced sugar cookie in the shape of a maple leaf that President Obama bought during a visit). Canada's first Tiger Giant discount store can be found here too!
3. See the Rideau Canal & Ottawa Locks
The Rideau Canal is a slack water channel built in the 19th century and one of the only ones of this type that still follows its original route. It connects two rivers and over twelve lakes. It's a UNESCO World Heritage Site too. Boat tours are available in summer when the waterway is popular with kayakers and canoeists. Pathways on either side are perfect for cyclists or those wanting a serene walk. In winter, the entire canal freezes over and turns into a massive skating rink (skate rentals cost around 17 CAD).
4. Explore the National Gallery of Canada
The Maman, a giant bronze spider statue, stands outside the National Gallery of Canada, which was established in 1880. It moved four more times before settling into its current beautiful building in 1988. Today, it's home to over 750,000 works of art. Among its contents is the Indigenous and Canadian Art collection, which features paintings and artifacts dating from 5,000 years ago all the way up to 1967; works by Emily Carr, The Group of Seven, Cornelius Krieghoff, and more can be found here. The gallery is also home to European and American collections, as well as contemporary art. Admission is 20 CAD.On Thursdays between 5pm and 8pm, admission is free. It is closed on Mondays.
5. Tour the Canadian Museum of Nature
The Canadian Museum of Nature, housed in a baronial-style building near The Glebe and Golden Triangle neighborhoods, houses one of the best natural history collections in the world. The museum has fantastic dinosaur skeletons and models, a complete blue whale skeleton, and the bird dioramas are quite impressive. The must-see "Our Land, Our Art" exhibit, which highlights art from 14 villages in Nunavik, is on display until October 14, 2024. Tickets can be purchased online for 17 CAD. The museum is closed on Tuesdays.
Other Things to See and Do in Ottawa
1. Visit the Canadian Museum of History
Located across the Ottawa River in Gatineau, Quebec, is the Canadian Museum of History. It has four main exhibits — the Canadian History Hall, First Peoples Hall, Canadian Children's Museum, and Grand Hall — in which you can learn about the events and people that helped make Canada what it is today, through artifacts, art, and stories. The Grand Hall features history and art from the First Peoples of the Northwest Coast, including majestic wood-carved pieces by artists like Bill Reid and Robert Davidson. Admission is 21 CAD. It's free on Thursdays from 5pm to 7pm.
2. Explore the Ottawa Tulip Festival
This festival commemorates the sacrifice of over 7,500 Canadian soldiers who died during the liberation of the Netherlands during World War II. Tulips were gifted to Canada in thanks. It takes place in Commissioners Park, which is near Dow's Lake. If the weather is good, bring a blanket and snacks to watch a free movie, which begins at 7:30pm. If you're a tulip lover, take the 10 CAD walking tour for a deep dive into horticulture, history, and all things tulip.
3. See Madahòkì Farm
Just outside Ottawa is Madahòkì Farm, an Indigenous cultural destination that offers a foodways program for Indigenous people interested in skills training to help to rebuild the tourism economy in culturally appropriate ways. It also offers a makers program for Indigenous artisans that teaches them how to develop their brand and utilize social media and photography while also providing financial advice. Products from their programs can be purchased at the farm's marketplace. The farm is also home to Ojibwe spirit horses, a rare and endangered breed, and the only Indigenous breed in Canada. In addition, it holds seasonal festivals (the most popular being the Summer Solstice Festival and Pibòn), as well as dance and music events.
4. Wander Wellington West
A short bus ride from downtown, this eclectic neighborhood, incorporating the communities of Wellington Village and Hintonburg, is filled with shops, restaurants, and bars. Parkdale Night Market is a highlight of the summer, and perfect for grabbing cheap eats. The district has a few delicious breakfast spots, such as John's Family Diner and Fil's Diner (the bacon, egg, and cheese sandwiches are better than McDonald's), or grab delicious Montreal-style bagels from Ottawa Bagel Shop. Pop over to Tooth and Nail Brewing for board games and 7.50 CAD pints (4pm–6pm).
5. Relax at Lansdowne Park and TD Place
Landowne Park, adjacent to the Rideau Canal, is perched in the bottom half of The Glebe neighborhood. It's home to walking paths, a skate park, basketball courts, and a beautiful civic garden. The great lawn is a popular spot for festivals and special events; the Aberdeen Pavilion is where you'll find the summertime flea market, as well as a farmers market. Beside the park is TD Place, a 24,000-seat stadium and arena that's home to the Ottawa Redblacks (CFL) football team and the Ottawa 67s (OHL) hockey team; game tickets generally start at 25 CAD. On the narrow streets branching out from TD Place are restaurants, bars, and a Whole Foods in case you want to stock up on groceries.
6.Tour the Cold War Museum
The Diefenbunker is a four-story cold war bunker built between 1959 and 1961. If nuclear war had broken out, top government officials were to have been brought here to ride things out. The bunker remained an active Canadian Forces station until 1994. Today, visitors can take a guided or self-guided tour of the bunker, which is 22 meters (75 feet) underground. See the canteen, meeting rooms, bedrooms, and offices, as well as the machine room. The map room is especially interesting, with its large predicted-fallout maps. The bunker also has a prime minister's suite, CBC radio studio, Bank of Canada vault, and cold storage room/morgue. Admission is 18.50 CAD.
7. Enjoy a drink at the Floating tiki bar
Belly up to the floating tiki bar and take a booze-fueled tour on the Ottawa River. It's a unique way to see the city and learn a little history as well. The floating tiki bar tours start as early as 10:30am, with the last being at 8pm. There are also themed tours, such as Margaritaville Mondays and Karaoke Wednesdays, as well as a fireworks tour on Canada Day (July 1). Tours are 90 minutes and cost 60 CAD. All tours include one drink, which is served in a 10 oz. or 16 oz. souvenir tiki glass; additional drinks can be purchased for 3-12 CAD. Non-alcoholic choices are available too.
8. Hike Gatineau Park
Gatineau Park, across the Ottawa River in Quebec, is worth the bus ride. The park is 361 square kilometers (139 square miles) and is one of the most visited in Canada. It's home to Pink Lake — which is actually green — as well as 183 kilometers (113 miles) of hiking trails. The park is a go-to for rock climbers, cyclists, boaters, and fishers. It is breathtaking in autumn when the leaves turn golden yellow, burnt orange, and ruby red. During the winter months, locals come here to go snowshoeing, cross-country skiing, snow biking, and hiking.
9. Wander the Chinatown Night Market
Each July, a three-night market takes place in Ottawa's Chinatown (which is home to Chinese, Vietnamese, Thai, Mexican, Indian, Korean, Japanese, and Middle Eastern populations, and a few others). It's a great event, with multicultural performances, martial arts, dragon and lion dances, live music, and delicious foods from several cultures.
10. See Live Music at Red Bird Live
A new venue in downtown Ottawa, Red Bird Live is both a music school and an 80-seat performance venue. Every Monday is bluegrass from 7:30pm to 9:30pm, and Tuesdays and Sundays are open-stage nights that have no cover charge. Tickets to shows are generally 20–30 CAD. The snack café has a menu of soft pretzels, pastries, pizza, and sandwiches.
11. Visit the National Arts Centre
The National Arts Centre, first opened in May 1969, is home to the National Arts Centre Orchestra, which is thought to be one of the best classical-sized orchestras in the world. In 2019, the Indigenous Theatre began its programming here, amplifying Indigenous artists and actors. The arts center is also home to English theater, French theater, dance, and popular music performances. Check the website to see what's on during your visit.
12. Admire Charming Manotick
Located south of Ottawa, Manotick is a charming village and home to Watson's Mill and Dickinson House. In 1860, a water-powered mill was built on unceded Algonquin Anishinaabe territory. Today, it, the house, and the carriage shed are a popular tourist destination. You can tour the house, which is now a museum decorated with period furniture and artifacts, as well as photos and plaques that speak of the mill's history. From May to October, flour-grinding demonstrators are given (the mill still produces flour, as well as a delicious honey oat bread).
14. Have fun at Winterlude
Over the first three weekends in February, the free Winterlude festival takes over Ottawa. Visitors can admire intricate snow sculptures by artists from around the world, frolic on the snow playground, and glide on the Rideau Canal Skateway. Other museums and businesses hold special events during this time as well. Be sure to dress warm! February is COLD here!
For more information on other cities in Canada, check out these guides:
Ottawa Travel Costs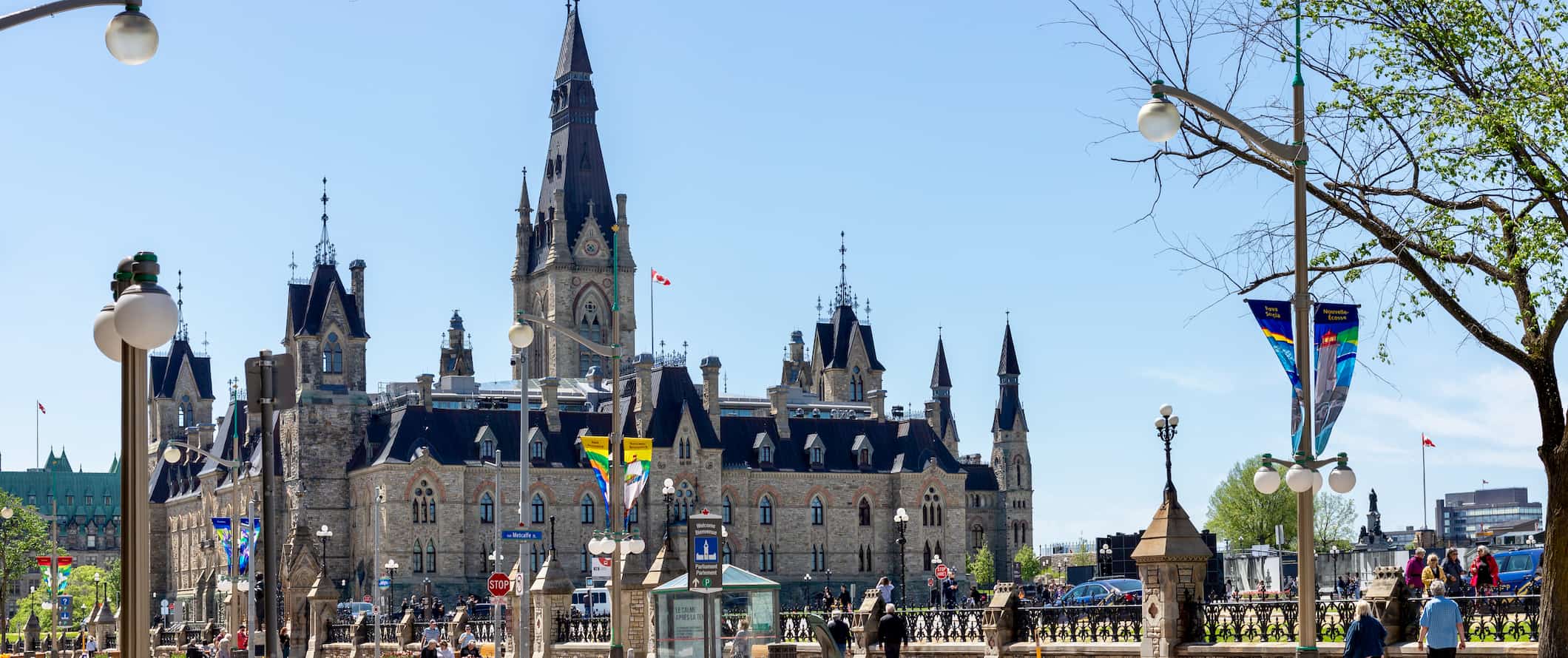 Hostel prices – There are not many hostels in Ottawa and the ones that are here are located close to the ByWard Market, Rideau Centre, and the University of Ottawa. Rooms range from 4-bed to 10-bed dorms and in the high season, prices start at 35 CAD. Private rooms start at 85 CAD per night.
Budget hotel prices – There are some good two-star accommodations. Most are in Lowertown or near the ByWard Market. Auberge des Arts is one of the better options in terms of price (rooms start at 70 CAD) and friendliness; it offers free breakfast, too. Elsewhere, rates generally start at 85 CAD per night, depending on the season. A night in a three-star hotel starts at around 160 CAD. The further you venture from the ByWard, the more sparse your options become.
Airbnb is available in Ottawa. Rates start at 90 CAD per night for a private room or 125 CAD for a small apartment. Book early or prices can be double that.
Food – Many restaurants in Ottawa work with local farms, as well as food producers in Montreal, Toronto, and Vancouver. It's home to a Cordon Bleu cooking school and a decent variety of cuisines. There's a small Chinatown (Ha's Dim Sum Noodle House is quite good, with dim sum and dumplings for 6-8 CAD). Little Italy is a short trek down Preston Street. You'll find a delish Thai restaurant there, Green Papaya, with Tom Yum for 7.95 CAD and Pad Thai for 16.95 CAD.
Ottawa is the unofficial Shawarma capital of Canada, and there are shops scattered all over the city. Food trucks can be found in almost every neighborhood. Near the Saintlo Ottawa Jail Hostel is O-Frango which serves fried chicken and fries from a truck tucked down an alley, behind a church. Try the small O-Frango fries with pieces of fried chicken, and a smothering of tangy and spicy sauces, for 12.95 CAD.
A fast-food combo from McDonald's starts at 13 CAD, and a medium pizza is 15-21 CAD. Anthony's is known for serving one of the best pizzas in Canada, and Gabriel Pizza is a local chain that first opened in 1977.
Stop by BeaverTails for fried dough topped with cinnamon and sugar for 7.50 CAD. Dunn's Famous serves smoked meat sandwiches for 11.99 CAD. Myer Dunn emigrated to Montreal where he learned how to make smoked meat, and opened his first deli in 1927.
The Elgin Street Diner is open 24 hours and serves up delicious milkshakes for 7.99 CAD (cherry milkshakes are the best), and breakfast is 5.95-18.99 CAD. A 3-course meal in a nice restaurant costs 45-60 CAD. A mezze-style meal at Fairouz is highly recommended, but bring a couple of hostel friends to share the food, and the bill. It's better when eaten family style.
A pint of beer is around 8 CAD and cocktails are 12-26 CAD. A bottle of water is around 2 CAD. There are bars and pubs in the ByWard, but head out to Wellington West and try some of the local breweries like Tooth and Nail Brewery.
There are quite a few vegan and vegetarian restaurants in Ottawa. Chickpeas is best for budget meals, as everything is under 10 CAD. The Green Door Restaurant is a self-serve buffet where you pay by weight. It's 3.20 CAD per 100g if you dine in and 2.90 CAD per 100g if you take away. For a higher-end vegetarian meal, go to Pure Kitchen where mains are 18-23 CAD.
Strawberry Blonde Bakery is known for having baked goods that are gluten-free. Grab bagels, brownies, cinnamon buns, and more for 2-5 CAD. Maverick's in the ByWard market serves up tasty vegan donuts for 3.75 CAD.
If you cook your own food, expect to pay 50-75 CAD per week for groceries. This gets you basic staples like rice, pasta, veggies, and some meat or fish.
Backpacking Ottawa Suggested Budgets
On a backpacking budget of 70 CAD per day, you can stay in a hostel dorm room, cook your own meals, limit your drinking, explore the city on foot, take a free walking tour, and participate in mostly free activities like strolling the canal or taking a free tour of Parliament Hill.
On a mid-range budget of 160 CAD per day, you can stay in an Airbnb, hotel, or hostel private room, eat out most of your meals, take an occasional taxi, enjoy a few drinks, and take in some paid attractions.
On a "luxury" budget of 325 CAD per day, you can stay in a three-star hotel, eat all you want, take taxis or rent a car, and do whatever tours and activities you want. The sky is the limit!
Accommodation
Food
Transportation
Attractions
Average Daily Cost
Backpacker
35
15
10
10
70
Mid-Range
85
25
20
20
160
Ottawa Travel Guide: Money-Saving Tips
Ottawa is one of Canada's more affordable cities. The cost of living here isn't as expensive as in other cities and prices reflect that. Food is inexpensive and there's a lot of cheap things to do. However, there are always ways to save money. Here are some tips on how to stretch your budget in Ottawa:
Visit museums when they are free – The National Gallery of Canada, Canadian Museum of Nature, Canadian Museum of History, and Canadian Museum of History is free on Thursdays from 5pm to 7pm/8pm. Other museums are either free or free from 4pm to 5pm daily.
Take a free walking tour – Ottawa Free Tours offers two tours: the Capital City Tour and Ottawa After Dark. Tours are generally 90 minutes to 2 hours in length. While the tour is free, tipping your guide is recommended.
Go to a free show at the National Arts Centre – The NAC is a short walk from the ByWard Market area, and steps from the Rideau Canal. It offers a variety of shows at no charge. Check the website to see what's on.
Visit the RCMP Musical Ride – Visitors to the RCMP Musical Ride horse stables can take a free guided tour. In summer, you may see the horses and riders practicing their moves.
Do yoga on Parliament Hill – From May to August, head over to Parliament Hill on Wednesdays for free yoga at noon. Some weeks, there can be up to a thousand people attending.
Take a salsa lesson – Head over to Ottawa City Hall on Wednesday nights from 6pm-11pm in July and August for free salsa lessons.
Ride free to Lansdowne events – If you're planning to see the Redblacks or Ottawa 67s play, or to attend an event at Lansdowne, show your e-ticket for a free bus ride there. Valid three hours before the event starts until three hours after it ends.
Bring a water bottle – The tap water here is safe to drink, so bring a reusable water bottle to save money. LifeStraw makes a reusable bottle with a built-in filter to ensure that your water is always safe and clean.
Where to Stay in Ottawa
There are only a couple of hostels in town. Here are my favorites ones to stay in while Ottawa:
How to Get Around Ottawa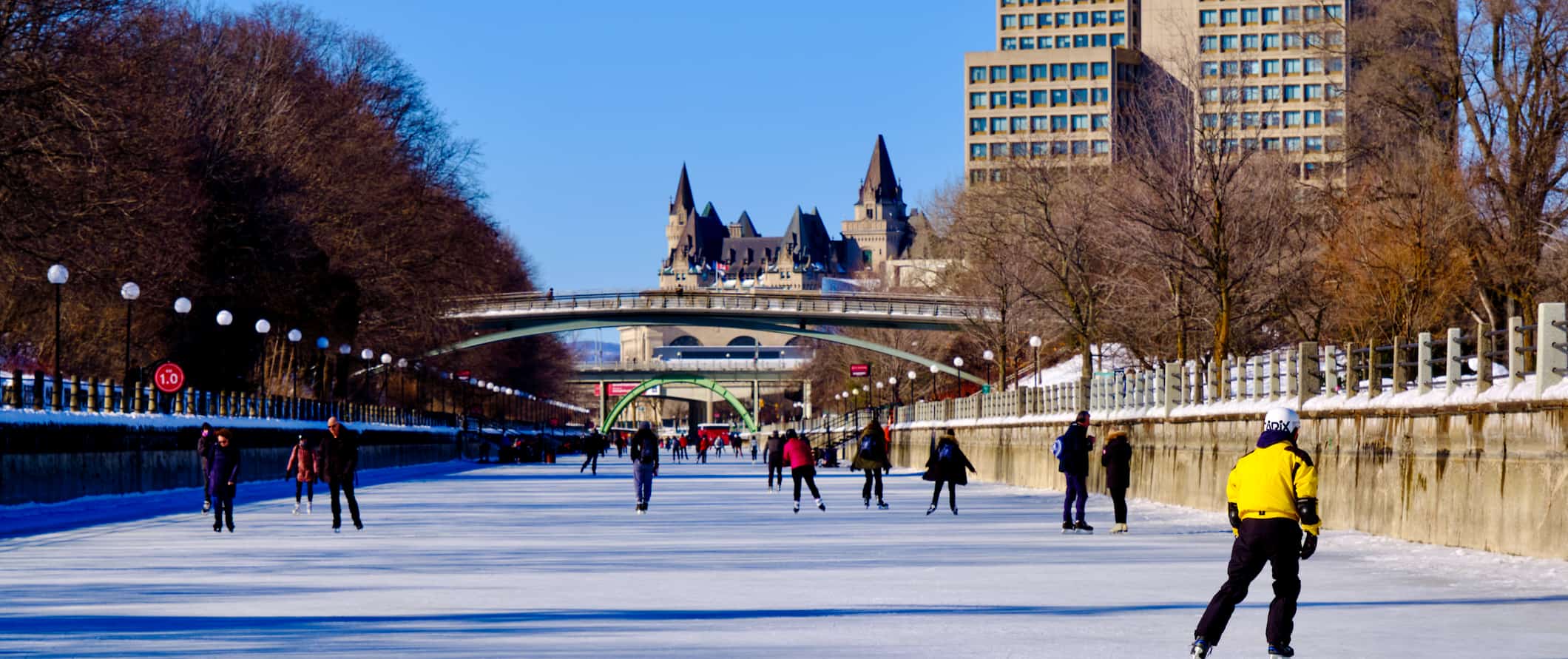 Walk – You can see a decent amount of Ottawa on foot, and the city offers quite a few walking paths if you want to avoid busy streets.
Public transportation – Ottawa has a decent public transit system. The OC Transpo bus system winds through the city and includes routes that cross the river into Gatineau, Quebec. There are two O-Train lines: line 1 runs west to east, from Westboro to Blair in Vanier; line 2 runs north to south, from Bayview in the downtown core to Greenboro.
The cash fare is 3.75 CAD per ride. However, using a Presto card reduces the fare to 3.70 CAD. Anyone can obtain a Presto card for 6 CAD. It's a good investment if you're planning to travel to Toronto, as it can be used there as well. A one-day pass is available for 11.25 CAD, and a seven-day pass is 52.75 CAD. The OC Transpo app displays routes and timetables.
Aqua-Taxi – From May to October, the Aqua-Taxi offers a shuttle service across the Ottawa River. There are three stops: Ottawa Locks Jetty, Canadian Museum of History, and Richmond Landing. The shuttle runs daily from 11am to 7pm (6pm in the fall/winter). The fare is 6 CAD per crossing. The trip takes 7 to 10 minutes and is wheelchair accessible. It is also possible to bring bikes onboard too.
Taxi – There are four taxi companies in Ottawa. BlueLine is the largest and the most reliable. The fare for the first 150 meters of travel is 3.80 CAD, then 18 cents CAD for each additional 86 meters. Friday and Saturday nights can be busy, so be patient as it may take a bit for a taxi to arrive. Overall, I'd skip the taxis here as they add up fast.
Ridesharing – Uber is available in Ottawa.
E-scooter – Between April and November, there is a plethora of kick e-scooters available, parked throughout the city. To rent one, download the Neuron app and scan the QR code. Payments can be made through Apple Pay, Google Pay, PayPal, or debit and credit cards. It generally costs 1.15 CAD to unlock the e-scooter, then 42 cents per minute. A three-day pass is 28.25 CAD, with a max daily riding limit of 90 minutes.
Car rental – You don't need a car to get around the city, but if you want to explore the region they can be helpful. Prices start around 55 CAD per day for a multi-day rental. Drivers need to be at least 21 years old. For the best car rental prices, use Discover Cars.
When to Go to Ottawa
Summer and autumn are the peak seasons in the Canadian capital. The weather is hot (daily highs hover around 27°C/80°F), the sun is usually shining, and there is an abundance of outdoor patios to enjoy. Ottawa is also home to several large parks with walking and cycling paths, as well as a couple of lakes.
There are a number of fun festivals and events in summer. June brings the FCA Ottawa Ferrari Festival, Ottawa Summer Solstice Indigenous Festival, Ottawa Fringe Festival, and Ottawa Jazz Festival. Canada Day kicks off July, followed by the RBC Bluesfest and Ottawa Lebanese Festival. In August, Fanaticcon and House of PainT are unforgettable events. Check out the local tourism office for info on each festival.
Remembrance Day (November 11) is a national holiday and there are quite a few events, particularly around Parliament Hill.
Winter is brisk, with its fair share of heavy snow days. Expect the lows to be as cold as -20°C (-4°F), turning the Rideau Canal into a massive skating rink. There are also plenty of winter activities, festivals, and events to keep one busy. The Ottawa Christmas Market generally opens at the end of November, in Lansdowne. Christmastime is magical, filled with twinkling lights, and evening light and sound show on the Parliament. The free Winterlude festival is the crowning jewel during the first half of February.
Spring usually begins toward the end of March, when the snow disappears and the temperatures hover above freezing. It's the low season, so accommodations are generally cheaper. Sometime in April, the buds of leaves begin to appear on trees.
The last half of May is the Canadian Tulip Festival, and most summer activities resume operating. There are not a lot of tour groups in the city, with the exception of kids and teenagers on class trips.
How to Stay Safe in Ottawa
Ottawa is a very safe city. Violent crime is very rare here and the risk of muggings and violence against tourists is low. Pickpockets, however, can be an issue, so keep your valuables in a safe place and be aware of your surroundings when you're out and about.
Taxi scams are rare as well, but it's always a good idea to make sure drivers start the meter when you begin your journey. You can read about common travel scams to avoid right here.
Solo female travelers should generally feel safe here; however, the standard precautions apply (never leave your drink unattended at the bar, never walk home alone intoxicated, etc.).
If you experience an emergency, dial 911 for assistance.
The most important piece of advice I can offer is to purchase good travel insurance. Travel insurance will protect you against illness, injury, theft, and cancellations. It's comprehensive protection in case anything goes wrong. I never go on a trip without it as I've had to use it many times in the past. You can use the widget below to find the policy right for you:
Ottawa Travel Guide: The Best Booking Resources
These are my favorite companies to use when I travel. They consistently have the best deals, offer world-class customer service and great value, and overall, are better than their competitors. They are the companies I use the most and are always the starting point in my search for travel deals.
Skyscanner – Skyscanner is my favorite flight search engine. They search small websites and budget airlines that larger search sites tend to miss. They are hands down the number one place to start.
Hostelworld – This is the best hostel accommodation site out there with the largest inventory, best search interface, and widest availability.
Booking.com – The best all around booking site that constantly provides the cheapest and lowest rates. They have the widest selection of budget accommodation. In all my tests, they've always had the cheapest rates out of all the booking websites.
Get Your Guide – Get Your Guide is a huge online marketplace for tours and excursions. They have tons of tour options available in cities all around the world, including everything from cooking classes, walking tours, street art lessons, and more!
SafetyWing – Safety Wing offers convenient and affordable plans tailored to digital nomads and long-term travelers. They have cheap monthly plans, great customer service, and an easy-to-use claims process that makes it perfect for those on the road.
LifeStraw – My go-to company for reusable water bottles with built-in filters so you can ensure your drinking water is always clean and safe.
Unbound Merino – They make lightweight, durable, easy-to-clean travel clothing.
Top Travel Credit Cards – Points are the best way to cut down travel expenses. Here's my favorite point earning credit cards so you can get free travel!
Canada Travel Guide: Related Articles
Want more information? Check out all the articles I've written on Canada travel and continue planning your trip: