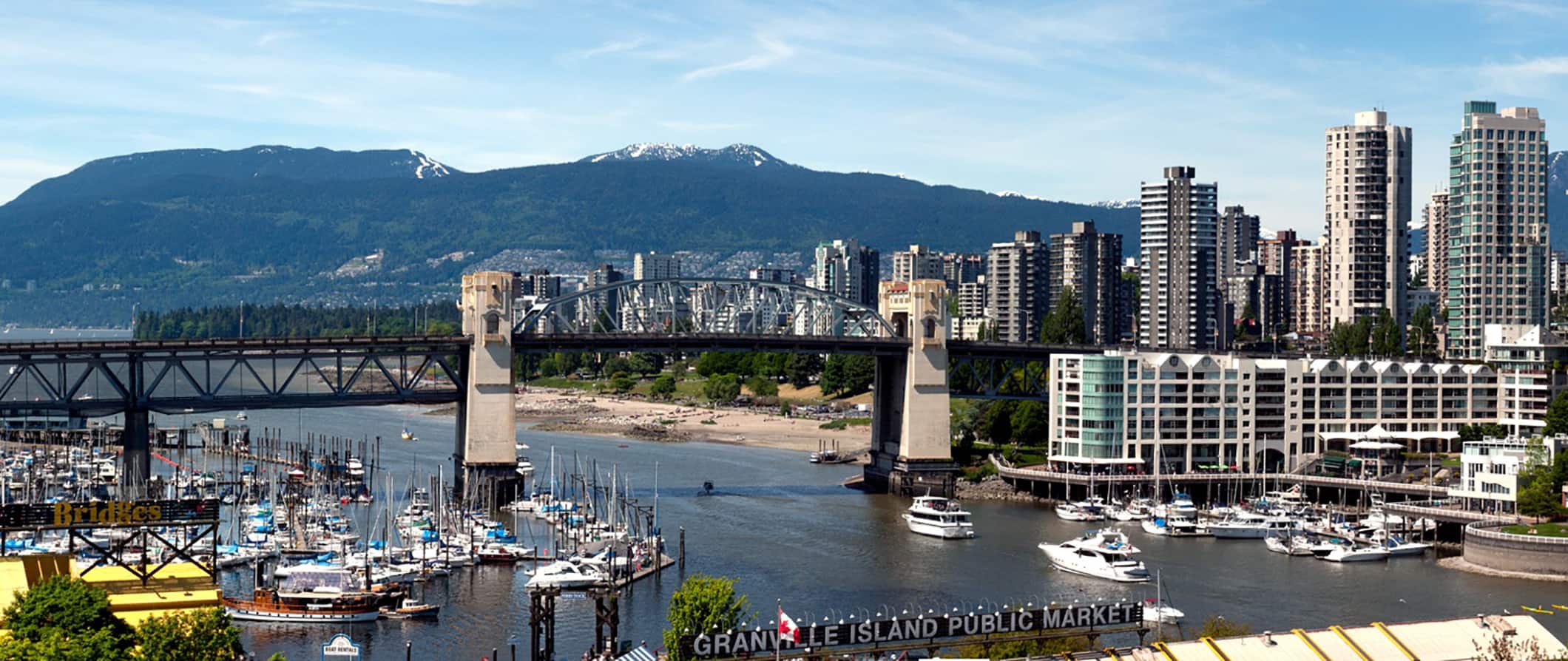 Vancouver is a city alive with energy and definitely one of my favorite cities in the world. I love how you can be in the city doing normal urban things one second and then, two minutes later, you're out in the wilderness hiking beautiful mountains. Vancouver really does have the best of both worlds. From the art scene, food scene, microbrew and markets on Granville Island, incredible urban parts to get lost in, and everything in between, Vancouver is a city you should devote lots of time to visiting. Don't rush your visit. There are few places I'd live but Vancouver is one of them. I LOVE this place! The city is ripe with history, awesome Japanese food, great music, and a high quality of life. Use the tips in this guide to help plan your visit there. You won't regret going!
Top 5 Things to See and Do in Vancouver
1. Grouse Mountain
For anyone who loves the outdoors, this is probably Vancouver's number one attraction. Take the SkyRide gondola up the mountain where you can catch a fantastic view, then go skiing or snowboarding, or during the summer months, walk one of the forest trails.
2. Granville Island
Granville island is a pretty cool place. The island offers a full day of shopping and eating, a market for buying delicious, and fresh groceries. There is also the Granville Island Brewing Company, which is British Colombia's oldest brewery. It's easy to spend a day watching the street performers and sampling farm fresh food from local establishments.
3. Stanley Park
Located right in the city center, this enormous park is an escape from the hustle and bustle of downtown. It has beautiful trails and a waterfront path for hiking and biking. From here, you won't even notice that you're in a city — it's my favorite park in Vancouver.
4. Capilano Suspension Bridge
This 440-ft long suspension over the Capilano River is not for anyone who is afraid of heights — it's a big drop! Located outside the city, the bridge, surrounding trails, and scenery makes for one of my favorite trips from the city.
5. Go whale watching
If you're looking to spend money on something, consider a boat tour to watch Orca whales. A tour typically costs upwards of 170 CAD for a day — make sure to ask about student discounts. You get a lot of whales coming up the inside passage so chances of seeing them are very high. If you don't, most companies will give you a voucher for another trip.
Other Things to See and Do
(Click the title to expand the text)
1. Watch a sporting event
This city is full of sporting events, and no matter your taste there is something here for you. If you like football, try to stop by for a BC Lions game, but watch out — they can get pretty rowdy! However, Canada is hockey country and if you really want to see what Canadians love, visit a hockey game. During the summer, Vancouverites are passionate about the White Caps soccer team.
2. Lynn Canyon Park
This park is not only a good half-day trip, but it's also free. Consider walking to Lynn Creek to watch the cascading waterfalls.
3. Stroll down Robson Street
This is an amazing street for dining and window shopping. During lunch, it's also a good place to people watch. Moreover, it's not too far away from the art gallery, which showcases more than 9,000 works.
4. Wreck Beach
As the only nude beach in the city, Wreck beach has a community vibe with naked folks hanging out, sunbathing, swimming, and playing music. This is one of the last remaining places to embody the free-spiritedness that Vancouver was famous for in the seventies. It lies just beneath university campus.
5. Saturday Farmer's Market
Vancouver has an active local food scene, and of the best places to dive into that scene is the farmer's market. The location changes throughout the year, so check Eatlocal.org for times and dates.
6. Richmond Night Market
Between May and September, one of the coolest spots in the city is the Richmond Night Market. Inspired by markets throughout Asia, the Richmond Night Market is a delight of Asian food, culture, and shopping. Snacks ranging from dumplings to meat on a stick, and everything in between, are available from 2-8 CAD.
7. Vancouver Art Gallery
The collection of national and international contemporary artwork here is phenomenal. Spending an entire afternoon here is well worth it.
8. Vancouver Aquarium
Home to over 70,000 creatures, from the Arctic to the Amazon, this aquarium is a fascinating attraction.
9. The Lookout
Located in the downtown Harbour Centre, this building is 430 feet high and the perfect place to check out the city. There is a lot of pleasure to be taken from something as simple as being so high up!
10. Dr. Sun Yat-Sen Classical Chinese Garden
The first authentic classical Chinese garden built outside of China, this sanctuary is in the heart of the city. Everything about the rocks, water, plants, and architecture is harmonious and peaceful.
11. Gastown
This trendy area is filled with lots of souvenir shops and restaurants. Other than wandering around, the steam clock is the main attraction here.
12. Yaletown
Yaletown is a recently-converted industrial neighborhood that's now home to some of the city's best eateries and pubs. It has a hipster vibe and is full of young people. It's reachable by the metro, or by walking from the downtown core.
Typical Costs
Hostel prices
– Expect to pay at least 25 CAD a night for a dorm room in a hostel and 60 CAD for a double private room. Free breakfast is included at many hostels, so be sure to check when you book! My recommended places are:
Budget hotel prices – Budget hotels will cost between 75-120 CAD depending on how close to the city center you are. Shared rooms on Airbnb average around 60 CAD, while a private apartment/home generally costs around 150 CAD.
Average cost of food – The average restaurant entree will cost you around 20 CAD. If you are going to cook your own food, expect to pay between 65-100 CAD per week. Even though the cost of living is high, Vancouver has a wealth of cheap and delicious ethnic restaurants. Most grab-and-go meals, as well as lunch specials, are around 13 CAD. Cheap eats like pizza (around 3 CAD with a drink) or shawarma (around 8 CAD) abound in the city. Beer costs around 9 CAD and a cocktail will be around 13 CAD, though fancier cocktail bars are as high as 16 CAD.
Transportation costs – Adult fares for travel within the city center costs 2.75 CAD in Zone 1 and are valid for 120 minutes. Travel to nearby places like North Vancouver, Burnaby, and Richmond costs between 3-7 CAD depending on the time of day and number of transit zones you cross. The ticket you receive is valid for 1.5 hours from the time of purchase and can be used to transfer to any bus, SkyTrain, or the SeaBus during that time. A more convenient option for the traveler may be the day pass, which offers unlimited travel for a single day for 10 CAD. To travel to the airport on the Canada Line, you can add a 5 CAD top-up onto your existing transit ticket.
Suggested daily budget
75-85 CAD / 55-65 USD (Note: This is a suggested budget assuming you're staying in a hostel, eating out a little, cooking most of your meals, and using local transportation. Using the budget tips below, you can always lower this number. However, if you stay in fancier accommodation or eat out more often, expect this to be higher!)
Money Saving Tips
Take the Canada Line to the Airport – This is by far the smartest way to get to and from the airport. Take the Canada Line to get to the city center for under 13 CAD.
Free parks and gardens – If you want to spend the day outside but not spend a lot of money, walk around the many parks and gardens the city has to offer. To really get a sense of the city, rent a bike.
Buy same-day sports tickets – The Tourism Vancouver Visitors' Centre offers "Tickets Tonight", which are half-priced tickets on sports events for the evening.
Visit the Vancouver Art Gallery on a Tuesday – After 5 pm on Tuesdays, admission to the Vancouver Art Gallery is by donation only (normal fees are 20 CAD per adult and 15 CAD for students).
Ski at night – Lift tickets at hills like Grouse Mountain are discounted in the evening hours.
Indulge at food trucks – Vancouver loves the food-truck scene, and there's no better way to try a sampling of different cuisines at a low price. Find them scattered throughout the city, especially during the summer.
My Must Have Guides For Traveling to Vancouver
Photo credits: 2