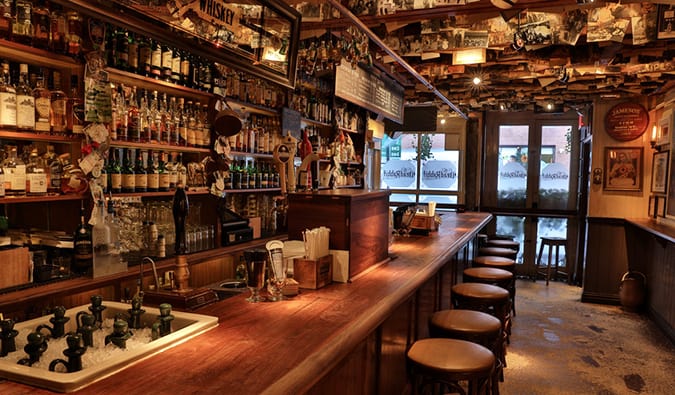 Warning: This is not a budget-friendly post, but it will make you thirsty!
I love the 1920s — a lot. Midnight in Paris is one of my favorite movies. I had a Prohibition-era themed birthday party this year. I own vintage clothes. I listen to a lot of jazz. I've started taking swing classes. If I could live in any other time, I would pick 1920s NYC or Paris. The Jazz Age and I are buddies.
And that's one of the reasons I love NYC so much — there are a lot of other people here who love the Jazz Age. There are events like the massive Jazz Age Lawn Party, swing dance clubs, Facebook groups, daily events, and lots and lots of Prohibition-style bars serving classic drinks while pumping out live jazz and swing music.
While the fancy cocktails they serve may not be cheap ($12–15 USD), I'm hooked on the atmosphere. Stepping into these bars with the music playing, people dancing, and everyone dressed the part transports me back in time to an era when things were classy, carefree, and fun.
And while you can find a million lists online of all the speakeasies in NYC, today I want to give you my perfect Prohibition-bar-crawl itinerary so you can channel your inner Fitzgerald or Louis Long, drown in delicious drinks, and Charleston the night away.
The Dead Rabbit (5:00–6:00pm)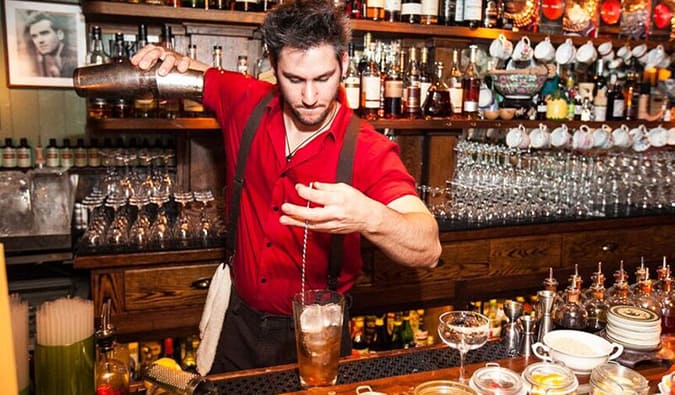 Start at this bar in lower Manhattan, and make sure you go to the upstairs parlor. While not a traditional speakeasy (more an old-time pub), they make excellent, excellent 19th-century-style drinks, focusing heavily on dark liquors. The dark wood paneling and classically dressed staff provide an authentic atmosphere. They offer a $1 oyster happy hour too.
Apotheke (6:00–7:00pm)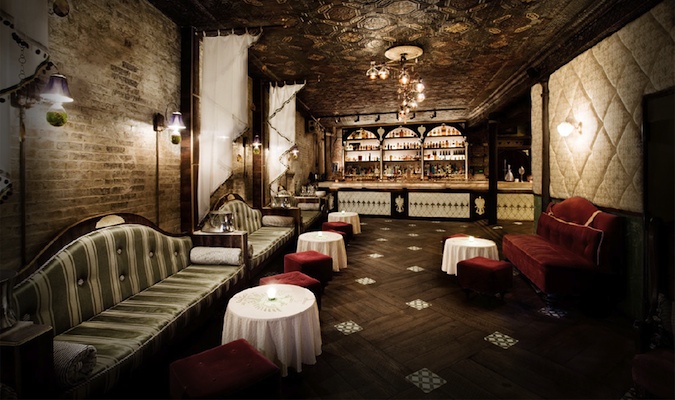 After slurping down oysters and drinks, head to this speakeasy institution in Chinatown. Mixologists in pharmacist-style clothes create complex cocktails inspired by the apothecaries and absinthe dens of 19th-century Paris. It's like walking into a 19th-century pharmacy! Definitely get an absinthe drink here (yes, it's legal). Keep in mind that the dress code is strict, so dress nice.
Mulberry Project (7:00–8:00pm)

Also located in Chinatown, this bar is hidden behind a lovely red door below an Italian restaurant. Mulberry Project serves bespoke cocktails — you tell them what kind of drink you want, and they make it for you. There's no drink list, and what you get depends on the bartender. I've always been happy. They also serve tasty and filling food here, so this is a good place to get some food in you and sober up before continuing the bar crawl. Their newly redesigned patio, with its sleek tables, chairs, and shade trees, is perfect in summer.
The Back Room (8:00–9:00pm)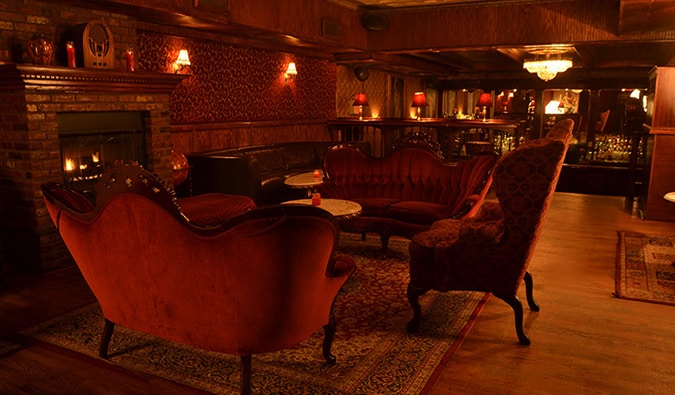 This is my favorite speakeasy/swing bar (and the location of my birthday party). Located in the Lower East Side, this bar is my happy place. After walking down an unmarked alley, you enter a huge room with vintage art, furniture, and chandeliers hanging on the wall. Jazz music plays most days of the week, and on Mondays, you'll find people swing dancing the night away. Moreover, the bar serves drinks from teacups (they did this in the 20s to hide the fact that they were drinking), and there is a secret room behind the bookcase. Try the Chippy Collins — the best drink they make!
Death and Company (9:00–10:00pm)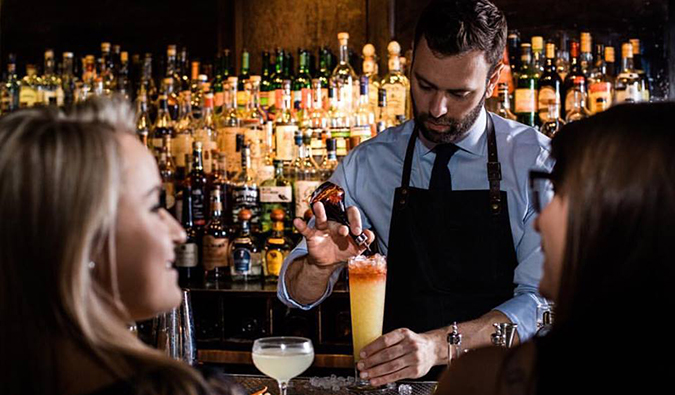 My favorite bar in the city (introduced to me by Pauline Frommer), this speakeasy has a dark, Addams Family feel to it, with its dimly lit, dark wood space. With a rotating list of cocktails, you never know what you'll find, but I highly suggest you get their martini (gin, straight, with a lemon twist). It's like drinking water. I've yet to find a better martini in my travels (and I drink a lot of martinis!). Their Old-Fashioned is also really good. This place fills up quickly, so if there's a wait, head down the street to the Gin Palace.
Raines Law Room (10:00–11:00pm)


In 1896, the New York State Legislature passed the Raines Law, which prohibited the sale of alcohol on Sunday except in hotels. Hotels were allowed to serve liquor if it was served during a meal or in the bedrooms. So bars put up curtains to create "rooms," had a sandwich that was passed around during "lunch," and became hotels overnight. Now the law is immortalized in the ever-popular Raines Law Room. Here you arrive at an unmarked black door and ring a bell. Someone asks, "How big is your party?" and you're told to wait before you enter into a swanky hotel-style lounge, where you ring a bell on the wall every time you need a drink. If they're full, they'll let you wait at the bar until a seat's available.
Little Branch (11:00–12:00am)


Heading into the West Village, you're probably feeling all those strong drinks by now, which is fine, because you'll sober up as you wait in line for this place. Seating only 12 and taking no reservations, this bar can have a long wait, but once inside, you're treated to live jazz music, an intimate setting, and creative and classic cocktails. Cash only.
Bathtub Gin (12:00–whenever!)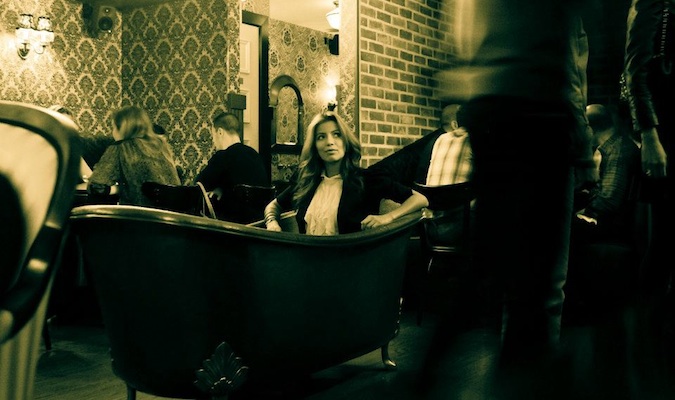 Heading up to Chelsea, we finish the night at the aptly named Bathtub Gin, where you can actually sit in a vintage-style bathtub! The owners place a lot of emphasis on authenticity, and you can see it in the décor and the staff's attire. This hip speakeasy is one of the more lively ones on the list, as it has ample space, dancing, and live music, which is why we end the night here. They also serve delicious (but pricey) food.
Honorary mentions for other great Prohibition-style bars go to:
Dutch Kills
Heath at the McKittrick Hotel
The Richardson
Angel Share
What about….?
Some of you might be wondering why I didn't include the famous PDT (Please Don't Tell) or Milk and Honey. Because I think they're overrated. Sure, the drinks are good, but so are drinks everywhere else. PDT is cool because you have to pick up a secret phone in a hot dog shop to get in, but once inside, the atmosphere and drinks aren't anything really special.
Remember the following:
Dress nice: These places have semi-strict dress codes, so guys should go with pants, dress shoes, and a nice shirt. Some places won't accept you if you're wearing sneakers.
Be prepared to wait: All these places are small and don't take reservations.
Don't attempt this on a weekend — the crowds get too big!
Go with a small group: If you come with a big group, you reduce the chance you'll get a table.
So there you have it. My Prohibition bar crawl through a city synonymous with the Jazz Age. You'll cover a lot of ground, so to make it to the end, try to limit your stay to one hour per place. Be sure to hydrate a lot!
Image credits: 1, 2, 3, 4, 5, 6, 7, 8, 9
Get the In-Depth Budget Guide to New York City!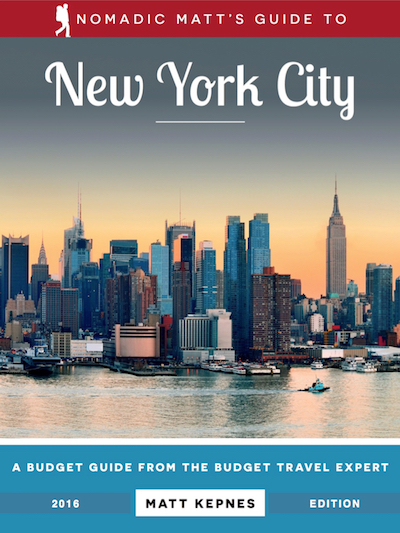 For more in-depth information and tips on NYC, check out my 100+ page guidebook written for budget travelers like yourself! It cuts out the fluff found in other guides and gets straight to the practical information you need to travel and save money the city that never sleeps. You'll find suggested itineraries, budgets, ways to save money, on and off the beaten path things to see and do, non-touristy restaurants, markets, and bars, and much more!! Click here to learn more and get started.