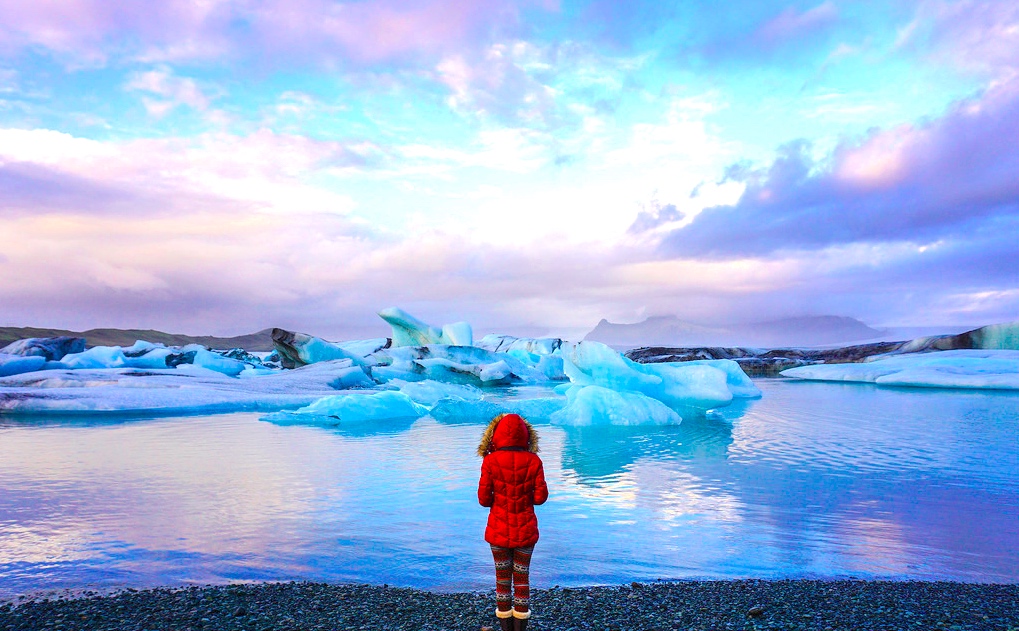 Last Updated: 8/19/2018 | August 19th, 2018
Every month, Kristin Addis from Be My Travel Muse writes a guest column featuring tips and advice for solo female travelers as I obviously can't talk expertly on the subject! She's back this month with an awesome list of destinations for single women traveling!
Traveling solo as woman is a unique opportunity to find out exactly who you are in completely new surroundings and without anyone around from your past to influence you. That can be a scary prospect, but the good news is there are plenty of places out there that can make you feel safe and welcome. And when in the right place, a solo trip — regardless of how long it is — has the power to benefit you for years or even a lifetime thereafter.
Before I traveled alone – and realized how late it is, I was pretty terrified, mostly because I didn't think I'd like my own company enough to be solo 24/7. I was delighted to find that I met new people constantly (something that's true for solo travelers in general). When on the road, people are social and you'll constantly be able to make new friends!
While it was possible to feel inspired and delighted everywhere, a few places in particular stand out as great options for women traveling alone. Below are 10 solo travel destinations that you probably didn't expect to be awesome for solo female travelers in particular, whether for their women-oriented businesses or for their safety, solitude, spirituality, or sociability.
Here are the best solo female travel destinations out there:
1. Moab, Utah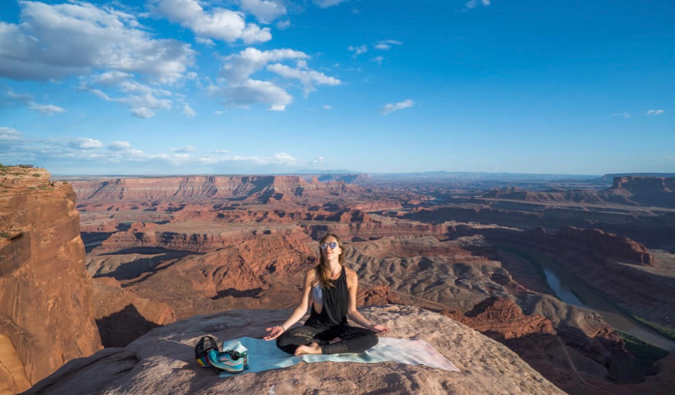 Moab is a mecca for outdoor enthusiasts. For those all about the camper van life, bouldering, hiking, and kayaking, Moab has it all going on. It's where you'll find Canyonlands and Arches National Parks as well as Dead Horse State Park. Basically, it's one of the most gorgeous areas on Earth with a high concentration of incredible rock formations and free campsites.
Why it's great for solo female travelers: I easily met people just by hanging around the free campsites, the coffee shops, and while watching the sunset over Dead Horse point during my solo American Southwest road trip. I tend to find that when a place attracts people because of a common shared interest, especially something outdoorsy, it tends to be social. Moab is a perfect example of that.
2. Yubeng, China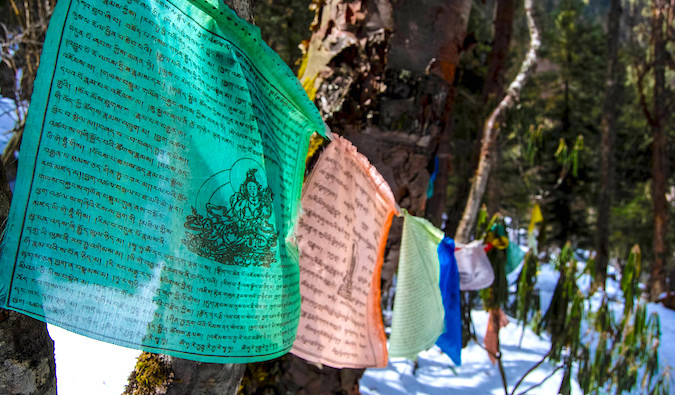 Yubeng is a remote village in the Chinese Himalayas that can only be reached by foot or mule. During the hike in, I saw Tibetan prayer flags strung from tree to tree, snow softly falling, and animals roaming freely all throughout the town. There are stupas (mound-like structures containing relics and used for meditation) everywhere.
Yubeng is peaceful in a way that much of the rest of China isn't. The feeling is hard to explain, but it's felt by all who pass through. If you're overwhelmed with the rest of China, seek refuge in Yubeng.
Why it's great for solo female travelers: In the big cities, scams often target young female tourists, but in the Himalayas, you're more of an esteemed guest. The friendly people of Yubeng are so relaxed, patient, and welcoming, as are the younger tourists who flock there, often with some English-language ability and curiosity about foreign visitors.
As a solo traveler, I was worried that I would be completely going this one alone, but I was surprised and delighted to find that young and friendly Chinese people take this route too, seeking the same sacred place.
3. Maui, Hawaii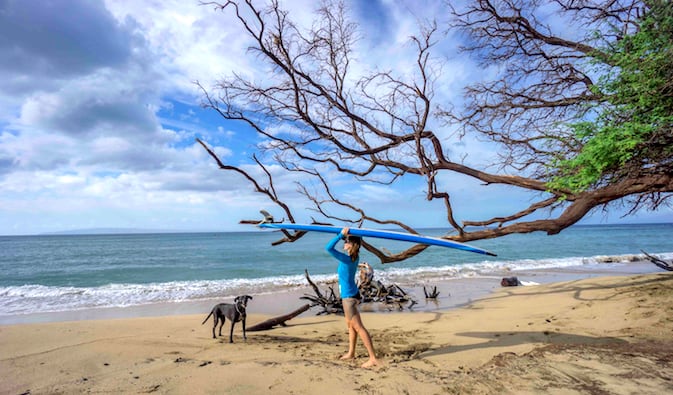 Maui isn't typically what comes to mind when most people think of a solo trip, but with all its activities — from surfing and hiking to driving the road to Hana and taking boating and snorkeling tours — it's actually a great place for those flying solo.
With its constantly changing microclimates, the beautiful island has pockets of sandy sunset beaches, sprawling resorts, quaint little camping spots, and hikes through the valley.
Why it's great for solo female travelers: The cool thing about Maui is that it feels like a different country than the States, what with the tropical weather and Hawaiian culture, but you don't need a passport, an RTW flight, or to learn a different language to enjoy it. Plus, there are female-focused activities — like the Maui Surfer Girls camp, designed specifically for solo female travelers who are looking for a supportive group of women to take up a new sport with. It's an experience that is both empowering and fun!
4. El Chaltén, Argentina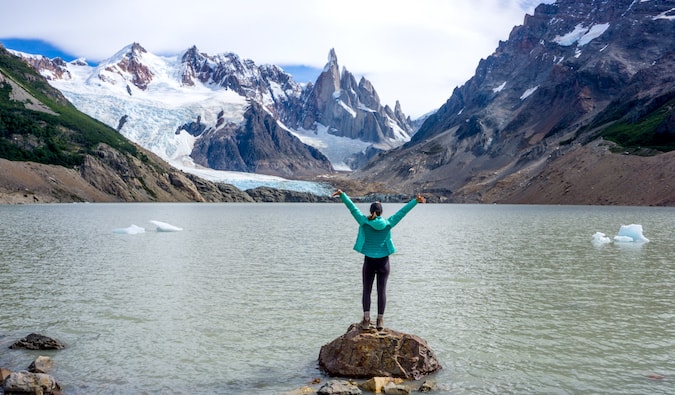 If you love nature, there's almost no better spot in the world to enjoy it fully than in Patagonia. Much of the region can be quite remote, but El Chaltén is Argentina's trekking capital, and as such there are plenty of hostels there, and the whole town is totally chilled out. It also draws plenty of solo travelers who are open and happy to meet others to share the trails with, some of whom I met and hiked with when I was there (albeit not solo myself), and we left as new friends.
Why it's great for solo female travelers: With its constant catcalls, South America can sometimes feel stressful for solo female travelers, but this trekking town is different. It's full of nature-loving artists and hippies who are welcoming, as well as hikes that are full enough of people that even if you show up solo, you can easily meet others on the trails. So, you could spend time in town just chilling and relaxing, or you could join glacier hikes, learn how to rock climb, or go on camping excursions, all of which accommodate solo travelers.
5. Iceland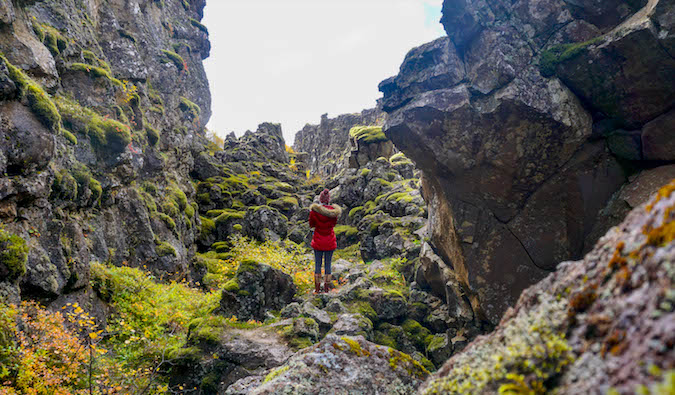 It hit me as I was staring up at the Northern Lights in Iceland, watching them swirl and snake across the sky in flashes of green, that this has got to be, hands-down, one of the most unique and drop-dead gorgeous places on this planet, with its black sand beaches, icy fjords, and those huggable, iconic ponies. Where else can you see the northern lights, geysers, and incredible land formations all in one spot? I saw so many waterfalls, during my Ring Road adventure I stopped counting and even paying attention. That's how abundant the natural beauty is!
Why it's great for solo female travelers: Iceland is the safest country in the world. Seriously, people leave their cars running, with the keys inside, when they go grocery shopping. That's how high the level of trust between people is! Plus, the capital draws so many solo travelers on layovers from the US that it won't be hard to meet someone cool at your hostel to split a car rental with for a day trip like the Golden Circle or even a longer journey like the Ring Road.
6. Ylläs, Finland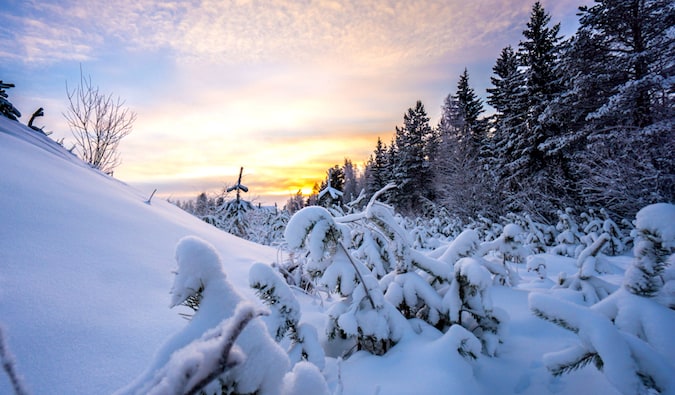 When thinking about an escape, heading to the Arctic during the winter was not exactly at the top of my list, but after experiencing how amazing the Arctic could be in Iceland, I went for it: Lapland, Finland, in January.
I found that when the weather is so cold that it drops to 30° below freezing, the air becomes incredibly crisp. Also, that far north, the sun barely sits on the horizon during the short time that it's out, creating an unusual combination sunrise/sunset.
Why it's great for solo female travelers: The locals are so darn amiable that you're sure to make a few friends, especially if you head to the female-owned-and-run Aurora Estate, where the owners can help you plan some awesome excursions snowmobiling and snowshoeing. The region is also home to the only ski slopes in the country, which tend to draw solo travelers. Head to an after-ski bar, join a husky safari, or talk to the locals in Snowman World (ice bar and restaurant). Who knows? You might catch the Northern Lights, too!
7. Big Sur, California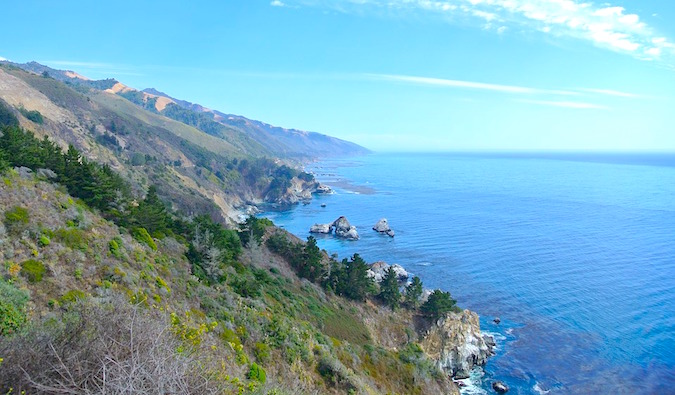 I call California home, but for some reason it took me until I was 29 to finally visit Big Sur — and I couldn't believe what I had been missing: the rocky coastline, whales breaching in the distance, dolphins just about every time I looked at the horizon, and waterfalls in the state parks. It's no wonder that the Central Coast has long enchanted actors, poets, and writers (just crack open any book by Jack Kerouac and you're bound to read at least a little bit about coastal California, particularly Big Sur).
Why it's great for solo female travelers: Camping in Big Sur is the perfect opportunity to meet others because campers are friendly. Chances are good you can make a pal at the very next camping spot, especially if you offer them a locally-brewed beer. The hustle and bustle of Los Angeles turns some visitors off, so if what you're seeking is some incredible nature, just head five hours north and you'll be in paradise. How can you stare up at a redwood tree (some of the largest and oldest trees in the world) and not feel moved?
8. The Nusa Islands, Indonesia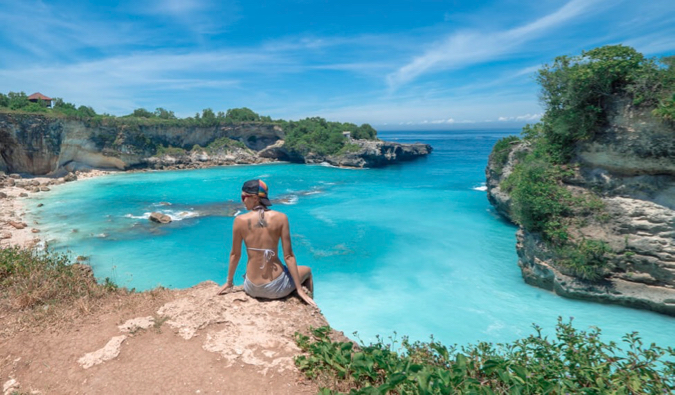 The Nusa islands off the coast of Bali in Indonesia are exactly what you're looking for if you want the beauty of Balinese culture but wish it came without the crowds. Made up of three islands, namely Nusa Lembongan, Nusa Penida, and Nusa Ceningan, They are what people say Bali was like 30 years ago.
Think gorgeous beaches with half the crowd of Bali's, opportunities to swim with manta rays and staying in a real treehouse, viewpoints that require some footwork but absolutely worthy, and the bluest water you can imagine. It's a lovely place to spend a few nights on and have a nice taste of how Bali used to be.
Why it's great for solo female travelers: Most couples traveling in this area opt for Bali, so chances of you sitting awkwardly next to a loving couple on a stunning beach is much lesser on the Nusa Islands. While some roads are in better condition than the other, they are all great for a full day of solo excursion on a bike. You are likely to end up in the same spots with other solo travelers, so meeting others is also very easy.
9. Sossusvlei, Namibia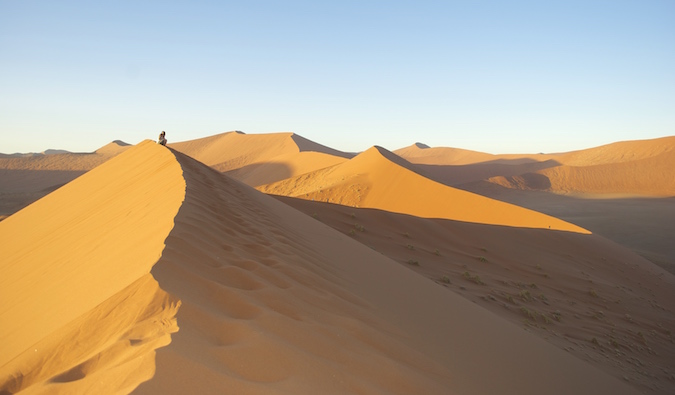 It might seem like a barren desert isn't the place to enjoy by yourself, but I have found it to be quite the opposite. That kind of space to think and feel can really be incredible for personal development. Plus, in Namibia, it's warm and dry, so the sky is absolutely incredible for stargazing.
Climbing up and around Dune 45 at sunrise was a beautiful experience for me. After everyone else descended, I stayed up top to explore a bit more — and I had the whole view to myself. Can you imagine sitting in one of nature's biggest sandboxes and having it feel like it's all yours? My inner six-year-old rejoiced.
Why it's great for solo female travelers: Namibia is adventurous and social without feeling dangerous. All of the backpackers and camping accommodations have pools and other common areas, which makes it easy to meet others if you're solo. It's also a gorgeous destination in Africa that isn't crowded and chaotic and is more about the peace and space than anything else. In a country of only two million people, your biggest worry is the scorpions (for real, though — watch out for those!).
You can also join a tour or safari and meet plenty of other solo travelers. It's what I did, and I loved it!
10. Berlin, Germany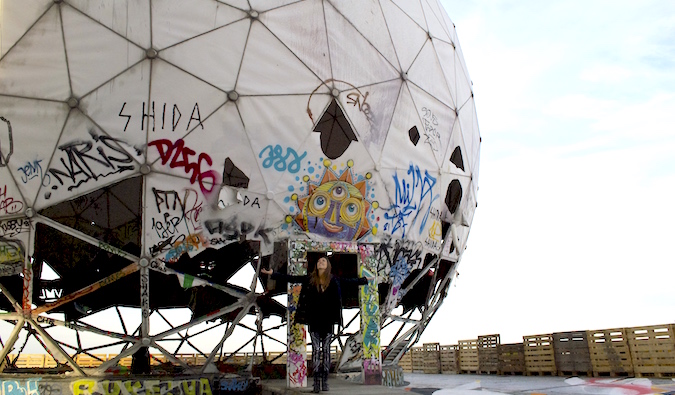 How did a big city make this list? Well, Berlin is not just any city; it's full of artists and has been for the past 30 or so years. It's hard not to feel inspired in a place where so many people make their living by creating and honoring their passions. This is why I've also made it my home base and became a resident of Germany. I just couldn't be without this funky place for too long!
Though it's the capital, Berlin doesn't feel crowded because it is so spread out. And with so many big parks in just about every neighborhood, peace and quiet is easy to come by.
Why it's great for solo female travelers: Berlin draws many solo travelers, and it's easy to meet others. It's also a socially progressive city with a low violent crime rate that's simple to navigate and easy to love. Take a street art tour and combine everything at once! There are also tons of expats, so check out a Meetup.com group or a Couchsurfing event to get a mix of visitors and those who are more familiar with the city.
***
While solo traveling and soul-searching don't lend themselves to a one-size-fits-all approach, generally the places that draw solo travelers are the ones that are the most interesting and unique, provide opportunities to enjoy nature and connect with others (and with yourself). Regardless of which place you're targeting in the world, with these best places for women to travel alone covering just about every continent and style of travel, you can find a place that suits your needs!
Kristin Addis is a solo female travel expert who inspires women to travel the world in an authentic and adventurous way. A former investment banker who sold all of her belongings and left California in 2012, Kristin has solo traveled the world for over four years, covering every continent (except for Antarctica, but it's on her list). There's almost nothing she won't try and almost nowhere she won't explore. You can find more of her musings at Be My Travel Muse or on Instagram and Facebook.

Book Your Trip: Logistical Tips and Tricks
Book Your Flight
Find a cheap flight by using Skyscanner. It's my favorite search engine because it searches websites and airlines around the globe so you always know no stone is being left unturned.
Book Your Accommodation
You can book your hostel with Hostelworld. If you want to stay somewhere other than a hostel, use Booking.com as it consistently returns the cheapest rates for guesthouses and hotels.
Don't Forget Travel Insurance
Travel insurance will protect you against illness, injury, theft, and cancellations. It's comprehensive protection in case anything goes wrong. I never go on a trip without it as I've had to use it many times in the past. My favorite companies that offer the best service and value are:
Want to Travel for Free?
Travel credit cards allow you to earn points that can be redeemed for free flights and accommodation — all without any extra spending. Check out my guide to picking the right card and my current favorites to get started and see the latest best deals.
Ready to Book Your Trip?
Check out my resource page for the best companies to use when you travel. I list all the ones I use when I travel. They are the best in class and you can't go wrong using them on your trip.