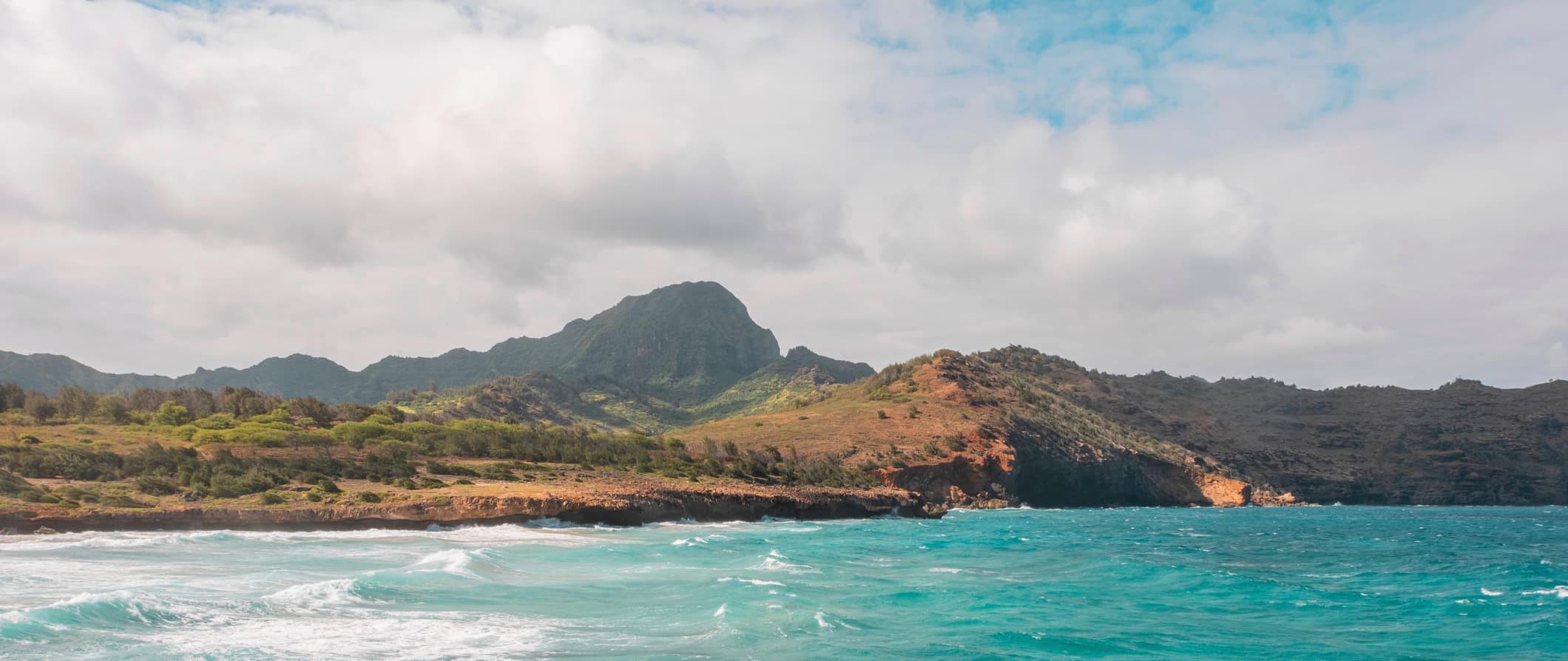 Hawaii is a post-card perfect group of islands located 2,500 miles of the coast of mainland USA.
It's a popular getaway for surfers, honeymooners, hikers, and anyone looking to slow down and enjoy the slower pace of island life.
With several islands to choose from, Hawaii has something for every traveler. From the surfing on Oahu, to the wonders of Maui, to the beauty of Honolulu, to the hidden gems on Lanai, Hawaii is a boundless tropical escape. There are beautiful beaches, amazing jungles, stunning waterfalls, excellent diving, and world-class waves.
I love the relaxed atmosphere, the fresh tropical fruit and delicious seafood, and the endless supply of outdoor activities. Hawaii is the paradise you think it will be. It's a weird balance of feeling in a foreign land while also being in the United States but also oddly Asian and Polynesian too. It's a balance between the three that makes Hawaii feel like a cultural waystation.
This travel guide to Hawaii can help you plan an affordable and enjoyable trip — no matter what island you choose!
Click Here for City Guides

Hawaii
Top 5 Things to See and Do in Hawaii
1. Visit Pearl Harbor
The Japanese attack on the American navy in 1941 brought the United States into World War II. The memorial on Oahu is centered around the wreckage of the USS Arizona, the bombed ship that marks the resting place of 1,102 marines and sailors. Admission to the site is free.
2. Explore Hawaii Volcanoes National Park
Big Island is home to two of the world's largest volcanoes, including the very active Kilauea. It has been erupting continuously since 1983 and you can see its glow at night from the Halema'umau crater. Don't miss the Thurston lava tube (a cave formed by lava that you can explore) near the parking lot. Admission is $30 USD per vehicle.
3. Explore Honolulu
Honolulu offers a blend of Asian, Hawaiian, and American cultures. There are tons of cheap noodle joints and fresh seafood places, and if you're in town for First Friday (the first Friday of the month), you can join one of the many street parties. Avoid Waikiki, where the beach is man-made and the tourism crowds are overwhelming.
4. Stargaze at Mauna Kea
This is Hawaii's highest peak at 4,205m high (13,796ft). Along the summit, there are a number of observatory domes that are home to the greatest collection of astronomical telescopes in the world (they're not open to visitors, unfortunately). Instead, stop at the visitor center to stargaze through the telescopes there or attend a free stargazing session at the Onizuka Center.
5. Go snorkeling or diving
A trip to Hawaii is not complete without snorkeling or scuba diving. Kealakekua Bay, Poipu Beach Park, and the North Shore are some popular spots for snorkeling while Kailua-Kona, Golden Arches, and The Cathedrals are some of the best dive sites. Snorkel tours start at $100 USD while dives start at $115 USD.
Other Things to See and Do in Hawaii
1. Explore the Waipi'o Valley
The lush wilderness of the Waipi'o Valley (Big Island) was once home to Hawaiian kings. Today, it's scattered with taro fields. Waipi'o is named for the river that cuts between the valley walls, giving way to waterfalls until eventually flowing into the ocean at a black sand beach. There are many trails here, but the main hike down into the valley will take you to the black sand beach and back up again. It's 6.5 miles (10km) and strenuous but worth it. You can also see the valley on an ATV tour, with most tours costing $100 USD per person.
2. Night dive with manta rays
On Big Island, take a sunset cruise along the Kona coast to the Manta Ray Village. Here, you can swim with giant manta rays — some of which measure 18 feet in length and weigh up to 1,600lbs! It's one of the best spots in the world to swim with mantas. The manta rays feed off the phytoplankton and zooplankton, and they appear to glow underwater due to bioluminescence. Snorkel tours start at $95 USD while single-tank night dives start at $140 USD.
3. Go on a helicopter tour
For a birds-eye view of the islands in all their scenic beauty, Take a helicopter tour. They aren't cheap but they make for a fun once-in-a-lifetime experience to splash out on. Rides are usually an hour long and focus on a single island. Kauai, Oahu, and Big Island all have incredible scenery to soak up. Helicopter tours usually cost around $250 USD per person.
4. Attend a Kaanapali Sunset Luau
A luau is a traditional Hawaiian party or feast that is usually accompanied by entertainment. Until 1819, luaus were separated by gender; men and women would eat separately. At the Kaanapali Luau, there's a traditional Hawaiian dance ceremony, a Samoan fire knife dance, and a traditional Hawaiian buffet — most of which is cooked in an underground oven. You'll have a sunset backdrop on the beach throughout the whole thing too. Prices start at $125 USD.
5. Hike the Waimea Canyon and Napali Coast
If you want to see why they call Kauai "The Garden Isle," hike one of the many trails along the west side of the island. The trails are well marked, and many offer spectacular views of the canyon and coast as well as interesting tropical plants. You can do longer, multi-day treks here as well. The Kalalau Trail is considered the most beautiful hike in Hawaii, with 22 miles (35km) of trails across valleys, streams, and coastline. You'll need to apply for a camping permit for a multi-day trip. Permits are $20 USD per night.
6. Check out the Bishop Museum
The Bishop Museum on Oahu is a Polynesian anthropological institute that showcases Hawaii's cultural art and artifacts. It's the largest museum in Hawaii and home to the world's largest collection of Polynesian artifacts. The Hawaiian Hall is its main gallery, covering Hawaiian mythology (it has a stunning interior with beautiful wooden architecture). There's also a science center for children. Built in 1889, the museum is on the U.S. National Register of Historic Places. Admission is $24.95 USD.
7. Go river tubing
On Kauai, you can go backcountry river-tubing. You'll drive through abandoned sugar cane plantations and then float down a series of canals in an old irrigation system from the 19th century. As you travel down the river, you'll pass through dark tunnels and lush rainforest landscapes. Tours start from $126 USD and last around 3 hours. Drinks and snacks are included.
8. Drive the scenic road to Hana
If you're on Maui, driving the winding road to Hana is a must. It's a twisty, hairpin-turn journey along the coast with lots of scenic viewpoints and waterfalls. Make sure you spend time at the Pipiwai Trail at the Oheo Gulch and hike to the 400-foot Waimoku Falls. It's just a four-mile (6.5km) trek and you'll get to see some massive banyan trees along the way. For another scenic drive, check out the Kahekili Highway. It's less busy, has hairpin turns, and has plenty of sights to see too (such as the Nakalele Blowhole).
9. Tour a coffee plantation
Hawaii is one of the few places in the USA where coffee is grown. For an in-depth coffee plantation tour, head to the Kuaiwi Farm in Kona on Big Island. You'll learn all about the coffee process from beginning to end, as well as how a variety of other organic staples are grown, including cacao, pineapples, and bananas. Tours are $25 USD and include samples.
10. Learn to surf
Surfing is huge in Hawaii. Oahu's North Shore is especially a popular place for surfers of all levels and major competitions are often held here. If you just want to learn, sign up for some classes or even a surf camp. North Shore Oahu Surf School has some great instructors, and their two-hour classes are $80 USD. You can find surfboard rentals around the islands for around $25 USD per day.
11. See the sunrise at Haleakala
Haleakala is a 3,055m (10,023ft) dormant volcano on Maui offering one of the most spectacular sunrises you'll ever see. It's really, really cold at the top (bring winter gloves and a hat), and the drive up is precarious but the views over Maui at the top are worth it. You can also do the challenging 12-mile (19km) volcano hike across flower farms, pine forests, and pebbly volcanic landscapes. It's super easy to do on your own, however, tours are also available (they last 6 hours and cost $185 USD). If you're traveling from the mainland, do this on one of your first days as your jetlag will work in your favor so you can wake up early with ease.
12. Hike Diamond Head
Diamond Head is Oahu's most famous landmark. Located on the eastern end of Waikiki, this dormant volcano and its extinct crater have a scenic lookout point at the top. Getting here is a popular hike. Super popular, in fact, so you'll want to start the hike as early in the morning as possible before the busloads of tourists show up. It's just $1 USD to visit on foot or $5 USD per vehicle.
13. Hit the beach
It's hard to find a bad beach to hang out on in Hawaii. Most of them have powder-white sands, swaying palm trees, and epic sunsets. Check out Papakolea Beach/Green Sand Beach (Big Island), Kailua Beach (Oahu), Ala Moana Beach Park (Oahu), Makena Beach (Maui), Hanalei Beach (Kauai), Polihua Beach (Lanai), and Kaanapali Beach (Maui), to name a few. There's so much stunning coastline in Hawaii and you can often just pull your car over and relax on any random beach without it getting too overcrowded.
14. See Hilo
Hilo is the busiest town on Big Island and its historic downtown area is chock full of galleries, museums, shops, and restaurants. One of its must-see highlights is the Farmer's Market every Wednesday and Saturday. You'll find everything here from fresh fruit to smoothies to handmade jewelry here, and there are often musicians and street performers too. Be sure to walk around the Liliuokalani Gardens and enjoy its Japanese rock gardens and pagodas.
15. Explore Lanai
Known as Pineapple Island, Lanai is the 6th smallest island in Hawaii. It's also the smallest publically-accessible inhabited island too (just over 3,000 people live here). The island is a 45-minute ferry from Maui and is home to beautiful beaches, scenic nature trails (Munro and Naha are two popular trails), and a couple of golf courses. It's a relaxing place to get away for a day or two if you want to avoid the crowds. Considering renting a 4×4 jeep or hiking the Kealia Kapu-Kaunolu Village Heritage Trail. If you're visiting on a day trip, take the first ferry in and the last one out to maximize your time.
17. Visit Molokai
This is the 5th smallest island and arguably the "most" Hawaiian as it's home to the highest number of native Hawaiians per capita. With only 8,000 people here, it has a very rural feel and is very different from the tourist hubs of the larger islands. Located just north of Maui, it's a good place to visit if you want to get a feel for the quiet life in Hawaii. Don't miss Kepuhi Beach, a popular spot to swim and surf.
Hawaii Travel Costs
Hostel and camping prices – A bed in a 4-6-bed dorm costs $35-55 USD per night. For a room with 8 beds or more, expect to pay around $30-40 USD. A private room with a shared bathroom for two costs around $80-100 USD per night. Free Wi-Fi is standard and many hostels also include free breakfast.
Hawaii also has LOTS of campgrounds. To stay at any of Hawaii's state parks (camping.ehawaii.gov), you'll have to apply for a permit which is $20 USD per night for non-residents. Do this at least a month in advance; otherwise, you might not get a spot.
You can also find private campgrounds for around $25 USD per person all over the islands. Some people recommend wild camping on beaches for free, but this isn't actually allowed in most places due to the delicate environment. Plus, it's too easy to wander onto sacred grounds, which is a big no-no.
Budget hotel prices – When it comes to hotels, you can expect higher prices in the more touristy areas of Hawaii, especially along Waikiki Beach and around Maui. For example, nightly rates for a budget two-star hotel room start at about $200-250 USD in peak season for places in Waikiki and Maui, while they cost $115-175 USD if you stick to the less touristy areas.
There are lots of Airbnb options around Hawaii. Private rooms start at $65 USD per night but average closer to $200 USD while an entire home or apartment costs $145 USD per night (though they average over $300 USD).
Note: Airbnb's in Hawaii can only be rented for 30 days or more (there are no longer short-term rentals available).
Food – Hawaiian food is a mix of Polynesian and mainland US influences, with other Asian influences (especially Japanese) thrown into the mix as well. Seafood is the main staple, with tuna, mahi-mahi, and wahoo being some of the most popular offerings. Pork and chicken are common as well (especially Kalua pig, which is slow-roasted pork cooked underground).
Poke (diced or cubed raw fish) is one of the most popular dishes as it mixes well with all kinds of fresh salads. Of course, you can also find numerous spam dishes here as well. (Spam was served to soldiers in World War II, owing to its long shelf life and the fact it didn't need to be refrigerated. It involved into a cultural staple from there).
For food on the go, hot dogs go cost $2-4 USD. A meal of poke or a hearty salad from a deli costs about $8 USD while a half-chicken is $9 USD. A classic spam musubi starts at $2.50 USD. Drop by a 7-11 for a similar experience to a Japanese konbini with Hawaiian delicacies.
You can find plates of chicken, rice, and salad (what locals call a "plate lunch") for $10-15 USD. A big plate of garlic shrimp is from $14 USD, while a vegetarian dish is about the same price. There are a lot of buffets on the islands, which cost around $25 USD.
For fast food (think McDonald's), expect to pay around $9 USD. A pina-colada or wine costs $10-15 USD while a beer costs around $7-10 USD. For a latte or cappuccino, expect to pay around $5.50 USD. Bottled water costs $2 USD.
For high-end dining, a whole prix-fixe menu with three courses costs at least $45 USD. Otherwise, a main course starts at $30 USD for seafood or steak, while pasta or vegetarian is only slightly cheaper (a vegetarian risotto might go for $25 USD). Soup and salad starters start from about $12 USD.
If you have a bigger budget, a luau will cost you between $50-100 USD.
If you cook your own food, expect to pay $75-80 USD per week for groceries that include pasta, vegetables, chicken, and other basic staples. You can spend way less if you shop at discount stores such as Cost-U-Less (Big Island and Kauai), Don Quijote (Oahu), and Big Save (Kauai), which offer reasonable prices for food and alcohol.
Backpacking Hawaii Suggested Budgets
If you're backpacking Hawaii, plan on spending around $85 USD per day. On this budget, you can stay in a hostel dorm or camp, cook most of your meals, eat the occasional meal out, do free activities like hiking and walking tours, limit your drinking, and take public transportation to get around.
On a mid-range budget of $255 USD per day, you can stay in a budget hotel or Airbnb, eat all your meals out at inexpensive restaurants serving traditional cuisine, do some surfing or diving, have a few drinks at the bar, and rent a car to get around.
On a luxury budget of $750 USD per day, you can stay in a four-star hotel, eat out anywhere you want, take private guided tours, snorkel or dive as much as you want, rent a car and take taxis to get around, and do as many activities and excursions as you want!
You can use the chart below to get some idea of how much you need to budget daily, depending on your travel style. Keep in mind these are daily averages – some days you'll spend more, some days you'll spend less (you might spend less every day). We just want to give you a general idea of how to make your budget. Prices are in USD.
Accommodation
Food
Transportation
Attractions
Average Daily Cost
Backpacker
$40
$20
$5
$15
$85
Mid-Range
$125
$45
$35
$50
$255
Luxury
$350
$150
$100
$150
$750
Hawaii Travel Guide: Money Saving Tips
Hawaii is expensive. It's a tourism hotspot, most of its food is imported, and there's a LOT to see and do. But if you want to lower your costs, here are some ways to save money in Hawaii:
Stay at Maui's Banana Bungalow for free tours – The Banana Bungalow on Maui has free tours every day of the week, covering most of the island's highlights, You'll save on transportation and tour costs!
Travel off-season – Traveling during low seasons (mid-April to mid-June and mid-September to mid-December) will save you money on lodging.
Visit the discount groceries – Discount stores such as Cost-U-Less (Big Island and Kauai), Don Quijote (Oahu) and Big Save (Kauai) offer inexpensive food and alcohol. Note that locally-grown produce is significantly cheaper than imported stuff, so stock up on local food as much as possible.
Redeem hotel points – Be sure to sign up for hotel credit cards before you go and use those points when you travel. Many of the nice resorts here are owned by big hotel chains.
Couchsurf – If you're on a tight budget, stay with a local. You'll not only get free accommodation but you'll get access to an insider you can share their tips and advice with you.
Rent a bike – If you're on Oahu, download the Biki app to access the island's bike-sharing platform. Single rides start at $4 USD while a 300-minute pass is $25 USD.
Be smart with your car rental – If you want to rent a car just for a few hours, the Drive Hui app has vehicles available in many tourist hot spots for an hourly rate. It may be cheaper than a full-day rental depending on your needs.
Skip the taxis – Uber and Lyft are way cheaper than taxis and are the best way to get around a city if you don't want to take a bus or pay for a taxi. The shared/pool option (where you share a ride with other people) offers even better savings. You can save money off your first rides with the following codes: Lyft (MATTHEW999 to save $10 USD) and Uber (jlx6v to save $15 USD).
Go Oahu Card – This discount pass offers free entry to 40+ Oahu attractions (including a luau). Passes are available from 1-7 days, costing between $80-420.
Take a free walking tour – I love free walking tours. They're a great way to get oriented and see the major sights without breaking the bank, although they're sparse in Hawaii. Try the tour of Honolulu with Hawaii Free Tours. Just be sure to tip your guide at the end!
Where To Stay in Hawaii
Hawaii has lots of hostels. Here are my recommended places to stay in Hawaii:
How to Get Around Hawaii
How you get around Hawaii depends on which islands you're visiting. Some islands (like Maui and Oahu) have better infrastructure for getting around compared to places like Kauai.
Bus – Buses are the only public transportation option in Hawaii (though Lanai and Molokai do not have buses). Oahu has the most extensive transit system, with good island coverage and frequent buses. It's simply called The Bus, and a one-way fare around Honolulu and Waikiki is $2.50. Prices go up from there based on how far you travel.
You can also get a day pass for $5.50 USD — ask the bus driver when you board. The bus company's official website is terrible for trip planning so you're better off using Google Maps.
Maui Bus, Kaui Bus, and Hele-On Bus (Big Island) also operate island-wide, with prices starting at $2 USD and daily passes costing $4 USD. Again, none of these websites are very user-friendly, so use Google Maps to plot your route.
Air – Flying is the main (and often only) way to travel between the islands. Flights are generally cheap, quick, and super casual (most of the time, you don't even get assigned seats). Hawaii's domestic airlines are Hawaiian Airlines, Mokulele Airlines, and Island Air (Southwest also has some flights between islands as well)
Flights are generally affordable. For example, one-way flights from Maui to Honolulu cost around $100 USD while Kaui to Maui is $130 USD. Honolulu to Hilo (Big Island) is $105 USD.
Car Rental – While not usually the cheapest option, having a car in Hawaii is the best way to get around. Prices start from about $35 USD per day (if you rent for a week or more). For shorter rentals, expect to pay closer to $50 USD per day.
Ferry – You can only take a ferry between Maui and Lanai. Everywhere else, you'll need to fly. The ferry is about $30 USD each way. You can reserve a ticket on go-lanai.com.
Taxis – Taxis are expensive. Everything is meter-based and starts around $3.50 USD and then costs and additional $3.50 USD per mile.
Ride-Sharing – Uber and Lyft are cheaper than taxis and are the best way to get around a city if you don't want to take a bus or pay for a taxi. They're available on most of the islands. The shared/pool option (where you share a ride with other people) offers even better savings.
When to Go to Hawaii
Peak season in Hawaii starts in the middle of December and lasts until the end of March/mid-April, as that is when mainland Americans are trying to escape the colder winter months. The average daily temperature during this time is 78°F (26°C).
Traveling during low seasons (mid-April to mid-June/mid-September to mid-December), you'll still get nice weather but also fewer crowds (and slightly cheaper prices). The average daytime summer temperature is 85°F (29°C).
It's always hot and sunny here so there's never really a bad time to visit.
How to Stay Safe in Hawaii
Hawaii is a safe place to backpack and travel — even if you're traveling solo and even as a solo female traveler. Violent attacks are rare and tend to be confined to certain areas of Honolulu (especially where drug and gang violence are a problem).
You may encounter petty crime, like theft, so keep your valuables secure. The islands are notorious for car break-ins so make sure yours is always locked. Never leave any valuables in your vehicle.
Heed any warnings or alerts about severe weather or volcanic eruptions (although they're rare). If you're not a strong swimmer, stay out of the ocean. NEVER swim alone — the rip tides here are strong.
Above all: respect the land. Much of Hawaii is considered sacred. You will show enormous disrespect if you trespass onto any sacred, private property, or litter anywhere on the islands. Do NOT do it.
Also, bring a refillable water bottle & refuse single-use plastics like straws and cutlery. Plastic bags are banned so be sure to bring a reusable tote for groceries or shopping.
Always trust your gut instinct. Make copies of your personal documents, including your passport and ID. Forward your itinerary along to loved ones, so they'll know where you are.
If you don't do it at home, don't do it when you're in Hawaii. Follow that rule, and you'll be fine.
The most important piece of advice I can offer is to purchase good travel insurance. Travel insurance will protect you against illness, injury, theft, and cancellations. It's comprehensive protection in case anything goes wrong. I never go on a trip without it as I've had to use it many times in the past. You can use the widget below to find the policy right for you:
Hawaii Travel Guide: The Best Booking Resources
Below are my favorite companies to use when I travel around Hawaii. They are included here because they consistently turn up the best deals, offer world-class customer service and great value, and, overall, are better than their competitors.
Hawaii Gear and Packing Guide
If you're heading on the road and need some gear suggestions, here are my tips for the best travel backpack and for what to pack!
The Best Backpack for Travelers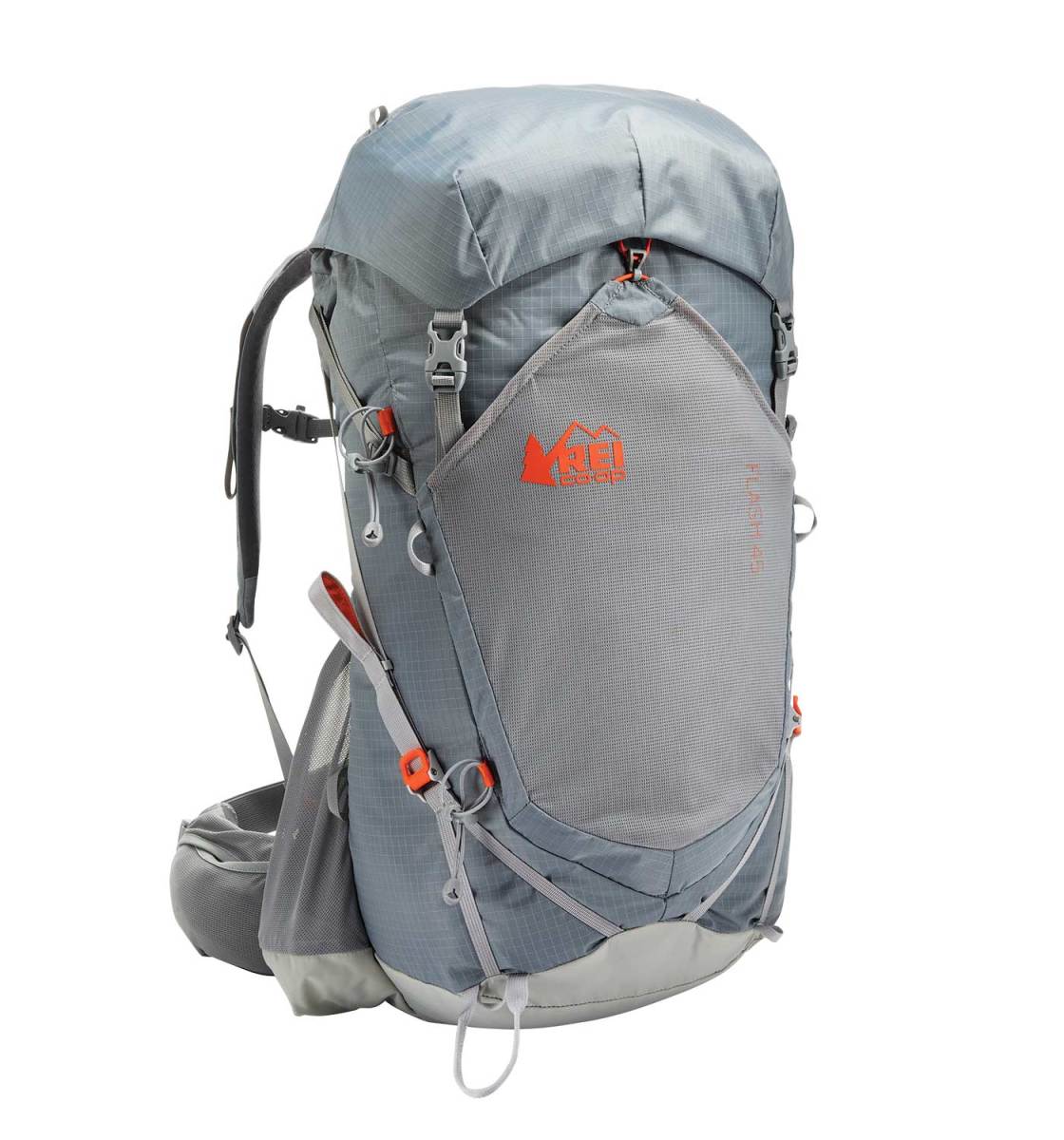 What's the best backpack for traveling long-term? I recommend the
REI Flash 45 Pack
. It's light and comfy, front loading, and fits perfectly in an airplane's overhead bin.
Size:
45-47L
Straps:
Thick and cushy with compression technology that pulls the pack's load up and inwards so it doesn't feel as heavy.
Features:
Removable top lid, large pocket at the front, hydration compatible, contoured hip belt
If you want something different, refer to my article on how to choose the best travel backpack for tips on picking a pack and other backpack suggestions.
What to Pack for Your Trip
Clothes
1 pair of jeans (heavy and not easily dried, but I like them; a good alternative is khaki pants)
1 pair of shorts
1 bathing suit
5 T-shirts
1 long-sleeved T-shirt
1 pair of flip-flops
1 pair of sneakers
6 pairs of socks (I always end up losing half)
5 pairs of boxer shorts (I'm not a briefs guy!)
1 toothbrush
1 tube of toothpaste
1 razor
1 package of dental floss
1 small bottle of shampoo
1 small bottle of shower gel
1 towel
Deodorant
Small Medical Kit (safety is important!!!)
Miscellaneous
Female Travel Packing List
I'm not a woman, so I don't know what a woman wears, but Kristin Addis, our solo female travel guru, wrote this list as an addition to the basics above:
Clothing
1 swimsuit
1 sarong
1 pair of stretchy jeans (they wash and dry easily)
1 pair of leggings (if it's cold, they can go under your jeans, otherwise with a dress or shirt)
2-3 long-sleeve tops
2-3 T-shirts
3-4 spaghetti tops
1 light cardigan
Toiletries
1 dry shampoo spray & talc powder (keeps long hair grease-free in between washes)
1 hairbrush
Makeup you use
Hair bands & hair clips
Feminine hygiene products (you can opt to buy there too, but I prefer not to count on it, and most people have their preferred products)
For more on packing, check out these posts:
Hawaii Travel Guide: Suggested Reading
Hawaii, by James A. Michner
This novel brings Hawaii's epic history to life. Initially published in 1959. Hawaii is the story of disparate peoples struggling to keep their identity. While a bit dated in certain respects, Michner captures the atmosphere of the islands and brings their vivid landscapes to life. It's a massive tome at almost 1,000 pages, however, it has immense depth and will immerse you in the islands if you're willing to put in the work.




The Descendants, by Kaui Hart Hemmings
The novel is a powerful story of family, fatherhood, infedelity, and the challenges we all face when dealing with the death of a loved one. Set against the backdrop of the stunning natural beauty of Hawaii, this novel focuses on a husband as his life unravels before him. It has some heavy-hitting twists while asking poignant and hard-hitting questions. It was made into a film starring George Clooney in 2011.




Detours: A Decolonial Guide to Hawaii, by Hokulani K. Aikau
Hawaii is synonymous with paradise. Beautiful beaches, lush jungles, and postcard-perfect resorts. While the islands are certainly beautiful, many Hawaiians struggle with the problems brought about by overtourism, colonialism, food insecurity, and climate change. This book is a collection of essays, stories, and suggested itineraries that will add more depth and nuance to your visit. If you want to get a look at the real Hawaii, read this book.




The Not-Quite States of America, by Doug Mack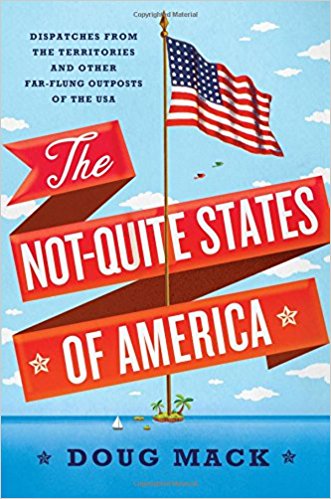 The United States of America is more than just 50 states. There's also the non-states of American Samoa, Guam, the Northern Mariana Islands, Puerto Rico, and the US Virgin Islands. In this funny, detailed, fact-rich book, Doug Mack explores these territories largely forgotten by the rest of the country, which play a more important role in our country than we realize. I had the pleasure of listening to Doug talk about his book in NYC, and he's a wealth of knowledge — just like his book! This one of those travel books that expands your mind about the place you don't really know. While it doesn't directly relate to Hawaii, it paints an important picture how the US mainland gets priority in mainstream US politics and discourse.
Hawaii Travel Guide: Related Articles
Want more info? Check out all the articles I've written on United States travel and continue planning your trip: