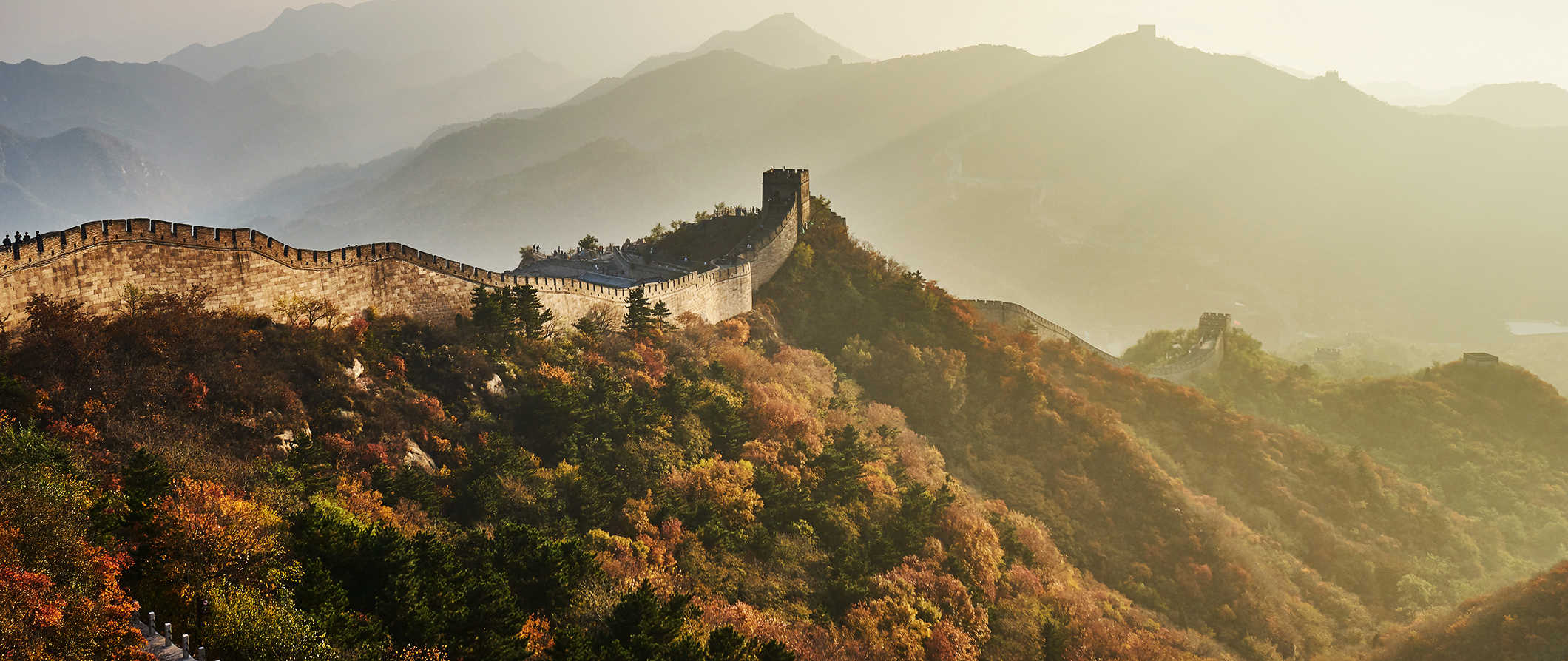 There are few countries in the world with a culture as distinct as China. A country of contrasts, China offers thriving metropolises like Beijing, Shanghai, and Hong Kong as well as beautiful mountains, valleys, rivers, and plains in the West and Southern parts of the country.
China is a country filled with micro-cultures, languages, cuisines, and ethnicities.
Rapid change has attracted curious people from around the globe and there is a thriving expat scene for anyone looking to teach overseas.
While I dislike the pollution of many of the big cities, the countryside, the food, people, and the history you'll discover here will leave you in awe and forever changed. This is a country with layers where everything is filled with meaning and history.
This travel guide to China can help you plan your visit to this gigantic country (there's over a billion people here covering 9.5 million square kilometers) with advice on things to do, how to get around, stay safe, save money, and much, much more!
Click Here for City Guides
Top 5 Things to See and Do in China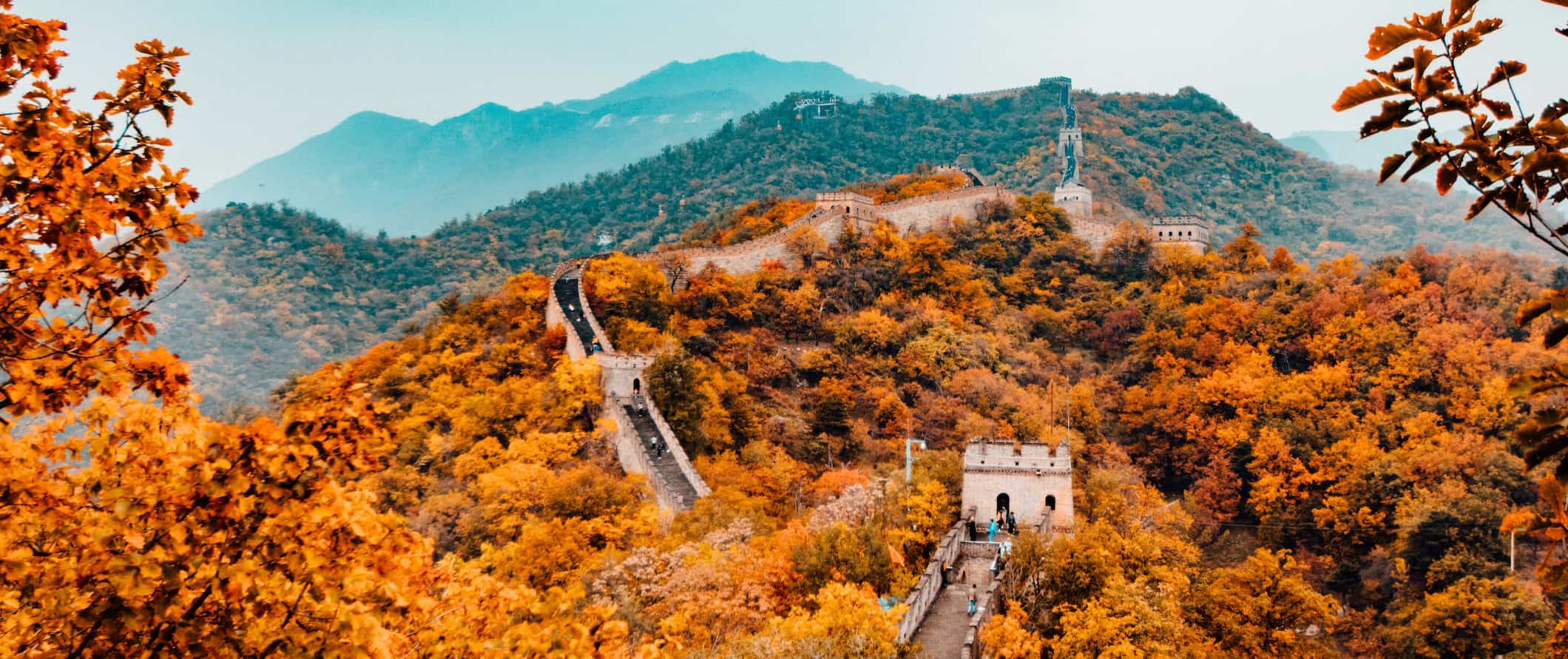 1. Visit Hong Kong
Hong Kong is bustling metropolis that combines high rise buildings with traditional street markets and temples. You have a large expat population, good shopping, fantastic nightlife, and delicious food. It's one of my favorite cities in the world and I never get tired of visiting!
2. Explore Shanghai
One of China's largest, busiest, and most visited cities, Shanghai is like visiting the future — fast trains, lights everywhere, efficient organization, and a cosmopolitan vibe. I love Shanghai. To get a sense of historical China, head to the Old City and see the YuYuan Gardens. For some of the best shopping in China, head to Nanjing Road.
3. Wander Beijing
Visit Tian'anmen Square, the Forbidden City, countless shopping malls, the Temple of Heaven, Summer Palace, and of course, the Great Wall. There's nothing like Beijing in the world, and, though horribly polluted and with awful air quality, it's still a city you have to visit in order to understand modern China and its dynamism.
4. The Great Wall of China
Stretching over 21,000 kilometers, the Great Wall offers both busy tourist sections as well as secluded ruins (you can even camp beside it in some areas). If you're on a budget, you can take the public bus to the wall near Beijing. The bus is 12 CNY and admission to the wall is 40 CNY (45 CNY in the summer).
5. See Xi'An
Xi'an is one of the ancient capitals of China and home to the famed Terracotta Army (which is over 2,000 years old), city wall, and architecture of the Muslim quarters. Those three things are pretty much why everyone comes here but there's also an incredible hike on Mount Hua if you're looking for adventure.
Other Things to See and Do in China
1. Tian'anmen Square
You've no doubt seen it in films and on TV, but it is hard to get an idea of the sheer size of this square until you're standing square in the middle of it. There's plenty to see here including the Tiananmen Tower, the Great Hall of the People, the People's Heroes Monument, the National Museum and Mao Zedong's mausoleum. While you are allowed to take photos in the square itself, you cannot use your camera in the mausoleum.
2. Gorge on food
China is a food lover's paradise. Eating here will certainly put your take-out back home into perspective. In such a huge country, it's no surprise that different areas have different culinary delights. It's entirely possible to enjoy the four styles of Chinese cooking (Cantonese, Beijing, Shanghai, and Sichuan) while on your trip. For spicy food, head to Sichuan or Hunnan in Central China (be sure to try the hot pot while you're there).
You'll find more salty items like dried meats and pickled vegetables in the north (where fresh produce is less common) while in cities like Beijing, Hong Kong, and Shanghai you can pretty much find everything!
There are plenty of options for vegetarians in China as well, and even vegans can get by without too much difficulty.
3. Cruise the Li River
For a true sense of natural beauty, cruise down the Li River. The river is 272 miles long and has dozens of places to explore along the way. Some of the best photography spots can be found in Xiaolong, Laozhai Hill, and the karst mountains near Guilin. For tours, prices start at 500 CNY per person, depending on how long (or luxurious) of a cruise you want.
4. Visit the Forbidden City
This famous attraction in Beijing was the imperial palace from the time of the Ming Dynasty to the Qing Dynasty (1420-1912 CE). The "city" covers over 175 acres and is a UNESCO World Heritage Site, welcoming over 16 million visitors each year. Today, the Palace Museum holds artifacts from both dynasties and is a great place to learn about China's history. The buildings, which cover over 180 acres, have been heavily renovated over the years but it's still an epic complex worth visiting.
5. Travel (part of) the Silk Road
Dating back over 2,000 years, this unofficial route is a must-see for visitors looking to get off the main tourist trail. There is no "official" road to follow, but you can trace your way along the traditional route as far and wide as you'd like (the Silk Road originally spanned from Chang'an to Romend, Italy). Its total length was over 3,800 kilometers (2,400 miles), half of which was within Chinese territory. Be sure to see the Mogao Caves in Dunhuang, the ancient city of Turpan, and the Rainbow Mountains near Zhangye.
6. Explore Tibet
Also known as "the Roof of the World", this area is perfect for adventurous travelers that are looking for unique attraction. Explore the snowy mountains, exotic customs, and Buddhism. Tibet has had tumultuous past, so during your visit, it's wise not to bring up the Dali Lama. The region was annexed by China in the 1950s, forcing the Dalai Lama and his government into exile. Some 400,000 Tibetans were killed directly or indirectly by the occupation, with other estimates placing that number over 1 million. Avoid talking about the history and politics of the region as is it understandably a very sensitive subject for both sides. You'll need a special permit to visit the region as well.
7. Potala Palace
This Tibetan palace was home to the Dalai Lamas up until 1959, when he was forced to flee or be killed. Established as a holy site in the 7th century, the many halls, temples, and courtyards have been constructed from wood and stone. The current building, which is now a UNESCO World Heritage Site, dates to the 17th-century and has poured copper in its foundation to stabilize it against earthquakes.
8. Take in the Karst mountains
Illustrated on the back of the 20 yuan banknote, these mountains are a stunning sight to see in person. They're huge! You can take a boat trip down the Li River, and enjoy the breathtaking views of the mountains. You can also rent a bicycle to explore the quieter backroads and take in the picturesque landscape. Prices begin around 20 CNY for a half day. Guilin is a great hopping-off place for this.
9. The Mogao Grottos of Dunhuang
Also known as the Thousand Buddha Caves, these grottos are home to the largest, best-preserved, and richest Buddhist art in the world—the first cave was carved here in 366 AD. There are almost 500 individual temples here and it's one of the main stops on the Silk Road if you are tracing the footsteps of Marco Polo.
10. Take a free walking tour
All of the major cities in the country offer various types of walking tours, many of which are free and last a few hours. If you want to learn about the history of China's major cities, this is a great way to start! Whenever I land in a new city, this is how I kick off my trip as it helps me get the lay of the land. Free walking tours are available in Beijing, Shanghai, Hong Kong, Xi'an, and many other cities around the country. Just Google "free walking tour in X" to find the companies that are available during your visit. Just be sure to tip your guide at the end (that's how they get paid!).
11. Let loose in Macau
Macau is considered the "Las Vegas of Asia" and is a fun destination for anyone looking to splash out. Macau started as a Portuguese colony and remained one for over 300 years so the city has an interesting mix of Chinese and Portuguese cultures. Like Hong Kong, Macau is a "Special Administrative Region" which means it has a lot of autonomy from the mainland government It is also home to the highest bungee jump in the world, boasting a plunge of a whopping 233 meters (764 ft)! I don't love the city as much as I do Hong Kong but you'll find a lot of good food and architecture here. If you're not here to gamble, you only really need one night here!
12. Visit the Pandas in Chengdu
Pandas are an endangered species and rare to see in the wild. If you want to get your fix while in China, head to the Panda Research Base in Chengdu. If you get there early you can beat the crowds and watch the pandas relax, eat, and sleep (that's all they really do — but it's still worth seeing!). Admission is 55 CNY per person.
13. Take a class
Calligraphy classes, cooking classes, tea ceremonies — you can find all sorts of amazing, culturally-enriching classes and lessons in all of the major cities in China. Some last an hour, some last multiple days, but no matter what you're interested in you can find a class to teach you something new! Expect to pay between 300-900 CNY for a calligraphy class while cooking classes start at around 300 CNY per person. You'll find the most options in Beijing, Shanghai, and Hong Kong. Viator.com is a great resource for finding classes near you. You can also use cookly.me to find cooking classes and prices all around the country as well.
China Travel Costs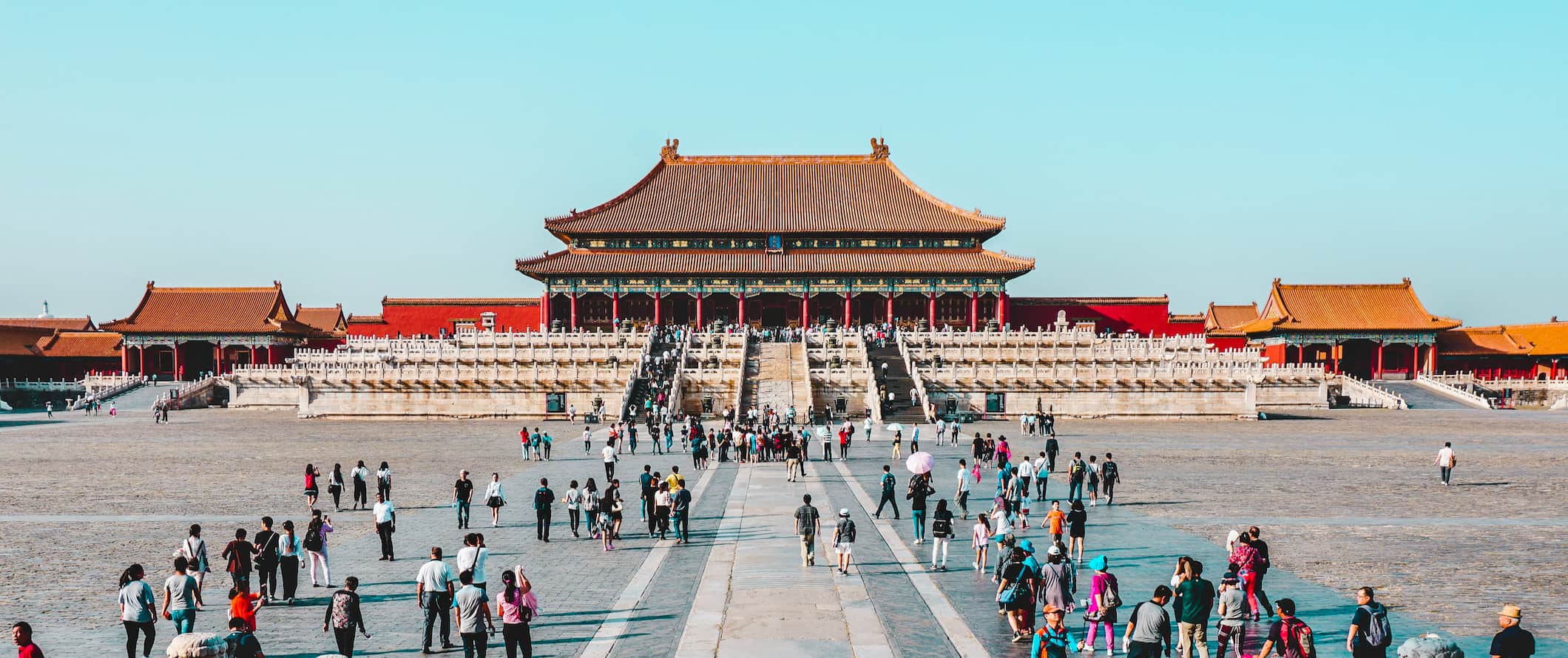 Accommodation – Prices start at around 30 CNY for an 8-10 bed dorm in many of the smaller cities. Expect to pay closer to 85 CNY in Hong Kong and Beijing. For a private room, prices begin around 110 CNY though expect to pay almost double that in the larger cities. Hostels here are generally well equipped and have free Wi-Fi, drinking water, lockers, and even warm blankets in the winter! Hostels in cities will have western-style toilets, though in more remote parts of the country you may find squat toilets more common.
Budget hotels begin around 75 CNY per night for basic accommodations, with higher prices in Hong Kong. Budget hotels will usually include heat or AC, your own bathroom, a kettle, and TV (though you'll only get Chinese stations). Keep in mind that any hotels offering free breakfast will likely be serving a Chinese breakfast (dumplings, rice congee, vegetables, etc.).
Airbnb is plentiful in China and can be found in all the major cities though it's much less common in rural areas. Prices range from 175-750 CNY depending on the city and the type of apartment.
There are plenty of campgrounds around the country. Expect to pay around 20 CNY per night for a basic plot. Wild camping is a grey area; it's both legal and illegal at the same time to allow local authorities the final say. I would avoid wild camping and stick to official campgrounds as to avoid any problems.
Food – Food in China is cheap. I mean, really cheap. A meal from a street vendor usually goes for around 7-14 CNY. For this, you might get noodles, rice, pork buns, or soup. A full meal in a sit-down restaurant will cost between 15-54 CNY plus the fee for a bowl of rice and clean bowls (yes, these cost extra!), which is often around 4 CNY. If you stick to the local food, you'll find it hard to go broke. You could spend less than 70 CNY for an entire day's worth of food.
In western China, southwestern China, and the interior, food is much cheaper than in the big cities and you can eat for under 35 CNY per day — about half the costs of the big cities as long as you stick to street food/local restaurants.
For Western food, you can expect to pay much higher prices for food that will be a disappointment compared to home — especially if you're outside of the more Westernized cities like Hong Kong. A western-style sandwich or fast food meal can run about 40 CNY and a cup of coffee can be similarly-priced to back home — sometimes more!
Vegetarians and even vegans will be able to get by relatively easily in the cities with a little planning as China's history with Buddhism has made the country quite veg-friendly.
Since food is so cheap, there's no need to self-cater or cook your own meals. You are better off eating the street food and at the restaurants. Moreover, many hostels don't have kitchen facilities for you to use even if you did go grocery shopping. Therefore, self-catering is not something I recommend. The food is cheap and plentiful, so enjoy it! If you will be buying your own groceries, expect to spend between 250-400 CNY depending on your diet.
Activities – In general, sights are affordable in China — even popular attractions such as the Great Wall or the Forbidden City are under 68 CNY. While the Great Wall never kept out invaders, it's beautiful and is only 45 CNY, the Forbidden City is 60 CNY (40 CNY if you visit between November and March). Smaller temples, activities, and sights are much more reasonably priced and cost under 20 CNY.
While attractions and temples are less than 70 CNY, prices for hikes and outdoor activities tend to be more expensive, often costing around 200 CNY. For example, a trip to the Jade Dragon Snow Mountain costs around 200 CNY, a visit to the Jiuzhai Valley is also 200 CNY (as much as 2,000 CNY if you want to go as part of a tour) and a three-day pass to the Wuyi Mountains in Fujian province is 140 CNY while admission to the Yellow Mountains in Anhui province is 190 CNY. You'll still need to pay for transportation to these places as well.
Backpacking China Suggested Budgets
How much does it cost to visit China? Here are some suggested budgets you can use to help you plan, based on your individual style of traveling. Keep in mind that if you're staying in cities like Hong Kong, Beijing, or Shanghai you should expect to spend at least 20% more.
On a backpacker's budget, you should plan to spend between 215-285 ($30-50 USD) per day. This is a suggested budget assuming you're staying in a hostel dorm, eating fast food occasionally but mainly cooking your own meals, using public transportation, and participating in basic activities like visiting museums.
On a mid-range budget of 645-1,000 CNY ($90-140 USD) per day, you can stay in budget hotels, take buses between destinations, eat fast food, and do more excursions.
For a luxury budget of 1,500 CNY ($210 USD) per day, you can afford to stay in nice hotels, take the high-speed train, do some guided tours, and eat out for every meal.
Accommodation
Food
Transportation
Attractions
Average Daily Cost
Backpacker
$10-20
$10
$5-10
$5-10
$30-50
Mid-Range
$35-50
$15-25
$20-35
$20-30
$90-140
Luxury
$90-150
$40-60
$50
$30-45
$210+
China Travel Guide: Money-Saving Tips
Given the size of China as well as its general affordability thanks to cheap food and accommodation, there are plenty of ways to save money when you visit here. Here are some of the best ways to save money during your next trip:
Use sleeper trains – Use sleeper trains (doorless compartments with bunks) to travel overnight since distances between cities can be quite large. Spending a night on the train will save you paying an extra night of accommodation. Lower bunks are less expensive, so purchase a few days in advance to take advantage of these savings. Some stations have ticket offices for foreigners if you need help navigating your options.
Ask for Xiao Pan – If eating alone, ask for "xiao pan". These are small portions and work out at 70% of the size and price of a normal dish.
Hard Seats – Travel on the "hard seats" on trains or buses. These are the cheapest and most basic seats but are not "hard" as the name would lead you to believe (they're just regular seats).
Take a walking tour – Free walking tours are available in most Chinese cities. They generally last a couple of hours and are a great way to get the lay of the land and learn some of the local history.
Avoid Golden Week – Golden Week is the busiest holiday of the year and is a time when the entire country is off. Held at the start of October, prices will rise, transportation is booked out weeks in advance, and the large cities are essentially gridlocked. Avoid visiting during this time. (Or, at the very least, avoid the big cities!)
Stick to public transportation – You can get pretty much anywhere in all the major cities by bus or subway — and it's super affordable. Do as the locals do if you want to save money.
Buy water jugs – Instead of buying bottled water every day (as the tap water is not potable), bring a reusable water bottle and buy the biggest jugs you can find. They are only around 15 CNY and will last weeks. If you're not staying that long, get your fellow travelers to chip in. You'll save money and prevent more single-use plastic from ending up in a landfill. Conversely, bring a LifeStraw or SteriPen to purify your own water.
Where To Stay in China
Hostels are common all across China. Here are my recommended places to stay in the country:
How to Get Around China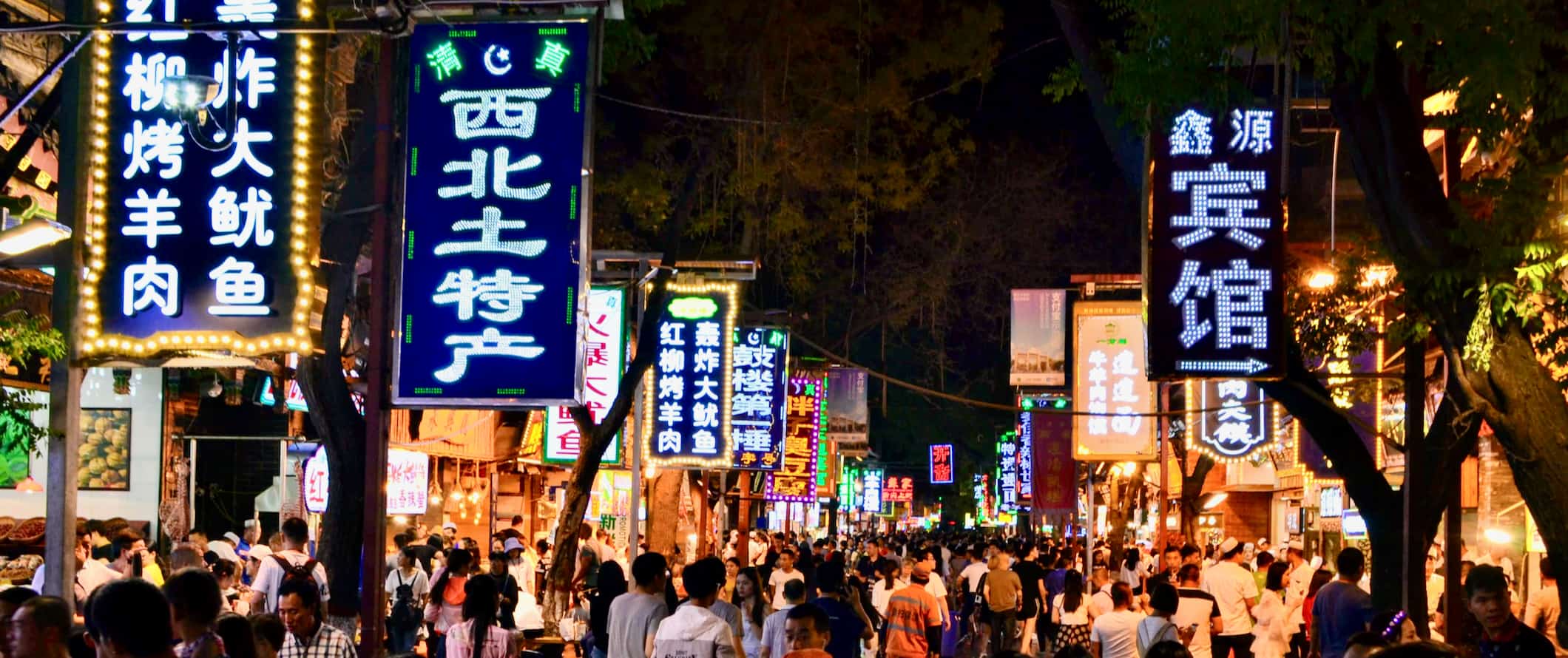 Public Transportation – Buses are the most popular way to travel and usually cost between 1-3 CNY within a city. Major cities also have extensive underground systems that are less than 6 CNY per ride. The Airport Express line in Beijing costs 25 CNY.
While most cities in China are great to discover on foot, the pollution can be quite hard on the body for extended periods. Be sure to check the air quality every morning before heading out.
Bus – Buses are generally cheaper than trains when it comes to intercity travel so they are your best bet for short distances (anything under 8-10 hours). For example, the 9-hour ride from Beijing to Anshan is around 220 CNY while the train is between going to be at least 350 CNY (and the train only saves you 90 minutes). The two-hour bus ride from Beijing to Tianjin is around 80 CNY while the trip from Shanghai to Hangzhou is 3 hours and costs around 120 CY.
Train – For long-distance travel around the country, trains are an affordable and often unique choice. On a high-speed train, the ticket from Beijing to Shanghai is around 555 CNY for 2nd class, around 935 CNY for 1st class, and around 1,800 CNY for a VIP seat. The journey takes around 4.5 hours.
For the full-day train that takes between 14-22 hours, a soft sleeper ticket is 525 CNY while a superior sleeper is 880 CNY. You can also get a regular hard sleeper seat for just 180 CNY but 22 hours in a seat is asking a lot!
The 5-6 journey ride from Beijing to Xi'an will cost 515 CNY for a second-class seat, 825 CNY for a first-class seat, and 1,630 CNY for a VIP ticket.
For overnight trains, keep in mind that the lower bunk is usually cheaper as it is closer to the noise. Top bunks will be more expensive, though they occasionally have very little space to offer (even though you pay more); it is not uncommon to be unable to sit all the way up. But you do get more privacy, which is worth it in my opinion!
Flying – There are plenty of regional carriers in China when it comes to flights. In fact, there are over 30 domestic airlines in the country! Some of the larger ones are Air China, China Eastern, China Southern, and Southwest Airlines. Just keep in mind that many flights rarely leave on time, so be mindful of your connections when booking!
Round-trip flights from Beijing to Shanghai can cost as little as 1,150 CNY for the two-hour journey.
From Beijing to Hong Kong will cost at least 900 CNY and take just under four hours. Xi'an to Shanghai will cost at least 950 CNY and take just over two hours. Beijing to Taipei will cost around 1,600 CNY and take just over three hours.
Car Rental – China does not recognize the International Driving Permit, making it virtually impossible to rent a car here unless you apply for a Chinese license. I don't advise renting a car here.
Hitchhiking – Hitchhiking in China isn't very common so you'll need to do some preparation before you head out. Using a thumb won't work as that isn't a widely-understood gesture for hitchhiking in China. Having a sign (written in Mandarin) that says "hitchhiking" is your best bet to secure a ride as you'll get lots of taxis trying to pick you up if you're standing on the side of the road.
When to Go to China
Since China is such a large country, climate and temperature change drastically from region to region. Sub-tropical Hong Kong is going to have much different weather than the steppes of Inner Mongolia or the mountain ranges of Tibet and Western China.
Summers in China (June-August) is the peak time to visit, though it also the hottest time. Temperatures will soar into the 30s (87-92 F) and can get quite humid. The pollution and air quality can also be ongoing concerns during this time. Expect inflated prices and larger crowds during these months.
September-October is a great time to visit China, as long as you can dodge the hectic Golden Week holiday in early October. The weather will cool to just under 20C (68 F), which is much more pleasant for hiking and exploring.
Traveling to China in the winter is rare, unless you're heading to Hong Kong where the weather is still pleasant at 20C (68 F). Places like the Great Wall are occasionally closed due to weather, and regions like Tibet can drop to -13 C (9F) overnight. That being said, China has a fun winter festival called the Harbin Ice and Snow Festival where you'll find huge, record-breaking ice sculptures.
How to Stay Safe in China
China is quite safe for travelers owing to its heavy crack down on crime and the fact that it is a full-on surveillance state. However, there are still a few things you'll want to keep in mind to stay safe during your visit.
For starters, watch what you eat. Sanitation standards are not exactly the most stringent here, so always use hand sanitizer before you eat and make sure you only go to restaurants that appear clean. Street food — while delicious — can also cause some upset so be prepared. You may need some time to adjust to the local cuisine upon arrival.
Petty theft is rare, though you should still take precautions. Don't flash your valuables or leave them in unsecured pockets. Most petty thefts occur when travelers don't pay attention to their things. Don't be one of those travelers!
As a tourist, you'll also likely get ripped off here and there. Expect to see inflated prices often, so be sure to ask your hostel/hotel staff for price estimates in advance if you need to go to a market. While commercial supermarkets and shops won't be an issue, local markets and small stores might try to fleece you. Be firm and barter hard when you have to.
As for scams, they are unfortunately common here. The most common is when someone approaches you and asks to practice their English with you (they are usually a "student." You'll head to a café, have some tea and food, and then you'll be stuck with the bill. As a general rule, if folks ask you to practice English with them just politely decline.
Traffic in China can also be a bit of challenge. Pedestrians don't have the right of way, so always look both ways before crossing. When in doubt, stick to the locals and follow their lead. They know what to do!
China cracks down on drug use very hard, dishing out hard labor and death penalties to anyone caught with large amounts of drugs. You may also get extorted by the police for a bribe if you're caught with drugs, so it's generally a good idea to avoid all drugs while you're here.
When you're here, you'll also want to avoid talking politics — especially when it comes to regions like Tibet and Hong Kong. Information about these regions is highly censored and political discussions are highly monitored online. Play it safe and avoid talking politics.
Lastly, try to avoid using illegal taxis. Marked taxis will use a meter and have set prices, so stick to them (or use the ride-sharing app DiDi). When looking for a cab you'll likely get approached by illegal taxis. Avoid them if you can unless you're comfortable negotiating a fare and taking an illegal ride (which I don't recommend).
Worried about travel scams? Read about these 14 major travel scams to avoid.
The most important piece of advice I can offer is to purchase good travel insurance. Travel insurance will protect you against illness, injury, theft, and cancellations. It's comprehensive protection in case anything goes wrong. I never go on a trip without it as I've had to use it many times in the past. You can use the widget below to find the policy right for you:
China Travel Guide: The Best Booking Resources
These are my favorite companies to use when I travel. They consistently have the best deals, offer world-class customer service and great value, and overall, are better than their competitors. They are the companies I use the most and are always the starting point in my search for travel deals.
Skyscanner – Skyscanner is my favorite flight search engine. They search small websites and budget airlines that larger search sites tend to miss. They are hands down the number one place to start.
Hostelworld – This is the best hostel accommodation site out there with the largest inventory, best search interface, and widest availability.
Booking.com – The best all around booking site that constantly provides the cheapest and lowest rates. They have the widest selection of budget accommodation. In all my tests, they've always had the cheapest rates out of all the booking websites.
Get Your Guide – Get Your Guide is a huge online marketplace for tours and excursions. They have tons of tour options available in cities all around the world, including everything from cooking classes, walking tours, street art lessons, and more!
SafetyWing – Safety Wing offers convenient and affordable plans tailored to digital nomads and long-term travelers. They have cheap monthly plans, great customer service, and an easy-to-use claims process that makes it perfect for those on the road.
LifeStraw – My go-to company for reusable water bottles with built-in filters so you can ensure your drinking water is always clean and safe.
Unbound Merino – They make lightweight, durable, easy-to-clean travel clothing.
Top Travel Credit Cards – Points are the best way to cut down travel expenses. Here's my favorite point earning credit cards so you can get free travel!
China Travel Guide: Related Articles
Want more info? Check out all the articles I've written on China travel and continue planning your trip: