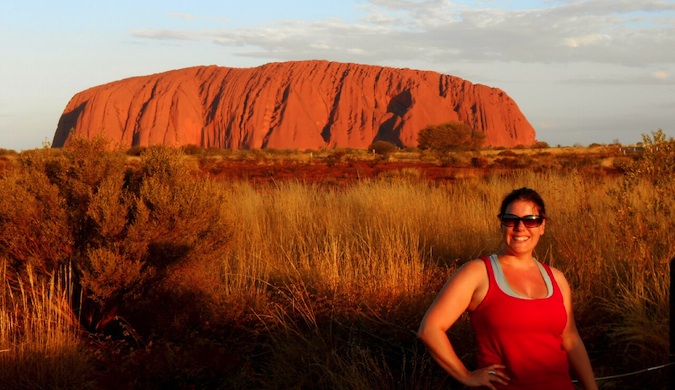 Posted: 12/7/2012 December 7th, 2012
Finishing off the week of reader stories, we head across the pond to England and meet Trish, a 35-year-old teacher. Not happy with her life in England, she sold everything she owned, gave herself a budget of 10,000 GBP ($16,000 USD), and set off traveling the world with only her backpack to her name.
Nomadic Matt: Tell me about yourself.
Trish: I originally come from Ipswich, a small town in East Anglia about an hour's drive from London. I have been traveling now for about five months through Australia and Asia.
I was living a typical London life. I had a lovely job teaching gorgeous five-year-olds in a respected private school in East London. I got paid well and rented a modern two-bed apartment 10 minutes' walk from work. I tried to settle for five years, but I rarely had money left at the end of the month and so the dream of more traveling became more and more distant.
Life was good…just not GREAT. So after much procrastination, I decided to sell my house, give up my job, and sell all my possessions at car boot [trunk] sales. I gave myself a budget of 10,000 GBP. After five months of traveling, I still have nearly a third of my original budget left.
I'm now traveling in Thailand, and my backpack is all I have to my name.
Did you plan any specific trip or just wanted to travel?
I just knew I wanted something different from life, but I had no clear idea about the type of trip I was planning. I love learning about different cultures and so I looked into countries I had always dreamed of visiting.
I looked into buying a round-the-world ticket, but the cost and the enormity of the research and planning scared me. I got bogged down by the minute details, and then it became too big a task so I decided to start with Australasia.
I had been invited to visit a friend and her family in Australia, so I decided to book a return flight to Brisbane and then stop off on the way back in Singapore and work my way up through Asia.
I also knew I wanted to travel differently than the normal backpacker once I got into Asia by doing some Couchsurfing, volunteering, and house-sitting so that I could get a feel for the country I was visiting.
How did you research your trip?
First, I wanted to know what you had packed and the sorts of items that would be handy to carry around. Then I became interested in how you budgeted for your trips. My budget didn't seem that big until I started to look into ways in which you could travel for cheaper. I researched how I could use HelpX to volunteer my labor in return for a bed and food.
As a teacher, there are many opportunities across the world for someone like me to teach English, so I thought I could make my money stretch that way. I liked reading your stories about what you'd learnt while traveling. They inspired me to write about my own feelings.
Were you afraid before you went on your trip?
I was afraid and excited at the same time. It took me a long time to actually just book the flight and make it real!
Once I did that, life got hectic and I had "to do" lists coming out my ears! I think this is because I decided to go the whole way and detach myself from my old life. It wasn't just about traveling for a few months or taking a sabbatical and returning to my life — it was about starting over and having a different view about being a permanent traveler.
Through your website, I recognized you as someone who had made a success of traveling indefinitely. I wanted to be able to do the same. I have lots of ideas about how to, but I haven't actually had enough time to put plans into action as I've been traveling and doing stuff every day since I started in August!
How did you save for your trip?
I sold my house and belongings so that I was debt-free. I'm using that money for traveling. I put a budget aside for my traveling and once it's gone, it's gone.
What about life on the road has surprised you the most?
Lots of things! I've found you can live with a lot less clothes and things than you thought you could. You always make friends and meet people wherever you are. You rarely, if ever, feel lonely because of all the people around.
Lastly, the goodness and kindness of the people in the country in which you're traveling.
Never underestimate the power of a smile and hand gestures! Everyone has been really friendly and helpful.
With such limited funds, how do you stay on budget when you travel?
I always research accommodation and compare prices. I usually use hostel sites as well; I look on Hostelworld.com to compare reviews and ratings. I work out how much I'm willing to pay for a room, bed, and comfort.
So far, this approach has not let me down, and I've stayed in some really lovely and affordable places. I try to choose places with free Wi-Fi, a common area, and good security for my stuff. The same goes for food. I find out where the best street/market food is and watch to see where the locals go. I hardly ever eat in restaurants now as they are three times the amount you pay for freshly cooked local food.
I don't drink very much, but if I do go out for a drink, I usually stick to local beer as it's the cheapest.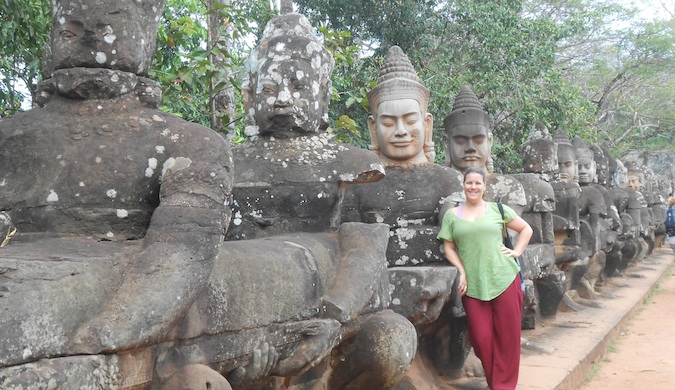 What one thing that you thought would be a challenge has turned out not to be?
I wondered how I would cope if things go wrong while traveling to different destinations and I can't speak the language, e.g., the bus breaks down or the train doesn't come. I have learned that I can cope and it's not the end of the world.
Everything turns out all right in the end, and there is always someone who wants to help. I also thought I'd be lonely but I haven't been at all. There's always someone going your way.
What advice would you have for people who want to go away but might not think they can?
DO IT! I have had more awe-inspiring moments in the last few months than I have had in my entire life because of the decision I made to travel!
Let go of all the excuses: money, time, job, people's limiting beliefs, and narrow-minded views, etc. You get to do what you want, when you want, with no compromises.

Become the Next Success Story
One of my favorite parts about this job is hearing people's travel stories. They inspire me, but more importantly, they also inspire you. I travel a certain way, but there are many ways to fund your trips and travel the world. I hope these stories show you that there is more than one way to travel and that it is within your grasp to reach your travel goals.
Here are more examples of people who found a way to pay for their adventure around the world:
We all come from different places, but we all have one thing in common: we all want to travel more.


Book Your Trip: Logistical Tips and Tricks
Book Your Flight
Find a cheap flight by using Skyscanner. It's my favorite search engine because it searches websites and airlines around the globe so you always know no stone is being left unturned.
Book Your Accommodation
You can book your hostel with Hostelworld. If you want to stay somewhere other than a hostel, use Booking.com as it consistently returns the cheapest rates for guesthouses and hotels.
Don't Forget Travel Insurance
Travel insurance will protect you against illness, injury, theft, and cancellations. It's comprehensive protection in case anything goes wrong. I never go on a trip without it as I've had to use it many times in the past. My favorite companies that offer the best service and value are:
Want to Travel for Free?
Travel credit cards allow you to earn points that can be redeemed for free flights and accommodation — all without any extra spending. Check out my guide to picking the right card and my current favorites to get started and see the latest best deals.
Need Help Finding Activities for Your Trip?
Get Your Guide is a huge online marketplace where you can find cool walking tours, fun excursions, skip-the-line tickets, private guides, and more.
Ready to Book Your Trip?
Check out my resource page for the best companies to use when you travel. I list all the ones I use when I travel. They are the best in class and you can't go wrong using them on your trip.