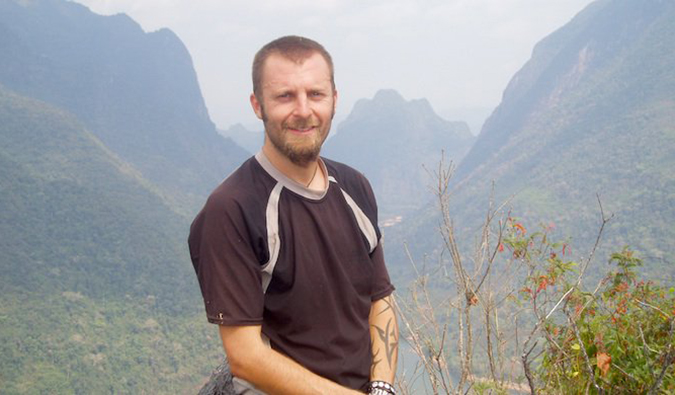 Updated: 11/13/19 | November 13th, 2019
Two months ago, Erin told us about how she readjusted to life after spending two years traveling the world. This month, continuing our reader story series, Dan shares his story about how he readjusts to life back home after spending enormous amounts of time on the road.
What makes Dan's story a little different is that he doesn't permanently return — he comes home, works, then goes out and travels more. In this interview, Dan shares his tips and advice for anyone looking to live a life of travel
Hey Dan! Tell everyone about yourself.
Hey everyone, I'm Dan! I'm English and my first trip was a month spent inter-railing around Europe in 1991. I was 18. It didn't actually go that well and I wasn't hooked on travel until my trip to India in 1998.
There was something about being immersed in the culture of a developing nation that really fascinated me (that and the fact that I could survive on about 5 GBP a day)! That's where my low-budget ethos was born and from then on I was a bona fide traveler.
Now, I move countries every few years with long overland trips, working in between. I currently live in Sydney, Australia, with my like-minded wife.
What inspires your trips?
We were most recently traveling Southeast Asia. This particular leg was chosen because it was between Cape Town, where we had been living, and Sydney, our current residence.
After our last trip through the heart of Africa, we needed a more relaxing trip and we knew that Southeast Asia was going to be a lot more "fun" given that it's a backpacker mecca.
Where did you go on your trip?
We started in Bangkok and did a clockwise loop north through Laos, Vietnam, and back through Cambodia to Bangkok.
After that, we headed south down the Malay Peninsula, across to Indonesia and along the chain of Indonesian islands as far as Bali before flying back to Sydney.
That took five months. We would have liked to continue east to East Timor or Papua New Guinea but we ran out of money.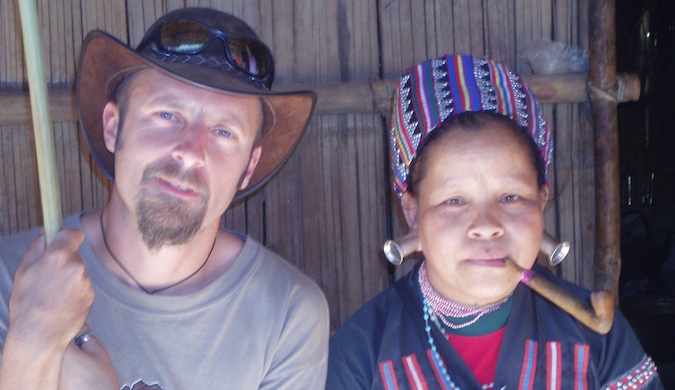 Were there any scary parts to your trip?
Probably the scariest parts of this trip were the drunken antics of the backpackers in Vang Vieng (Laos) and Ko Phangan (Thailand), several of whom died or disappeared during the respective Tubing and Full Moon Parties while we were there.
In terms of traditional "third world scaremongering," though, all the people were wonderful and we had no troubles at all. After living on a knife's edge in Africa for three years, Southeast Asia was a breeze.
Did you have a plan for when you came back from your first trip? If so, what was it?
The first time I went away was only a month around Europe, so it didn't impact much on my home life, so that's probably not a very interesting answer. My second trip was more major: a year in Australia when I finished university.
Before I left, I booked a place on a post-grad course intending to earn the fees during my year away. I slaved in a supermarket for six months, earning enough to support me for the next year, but then I went traveling and blew most of it. D'oh!
As far as practical plans went, I was just going to stay on a mate's floor until I found a room in a shared house, and from there look for a part-time job. It all went as planned. It's never taken me long to find a job. Despite the unemployment figures, if you really want a job, you'll find one. My theory is that the sort of person who is willing to drop everything and travel long-term will have the same mindset and will rarely have trouble finding work.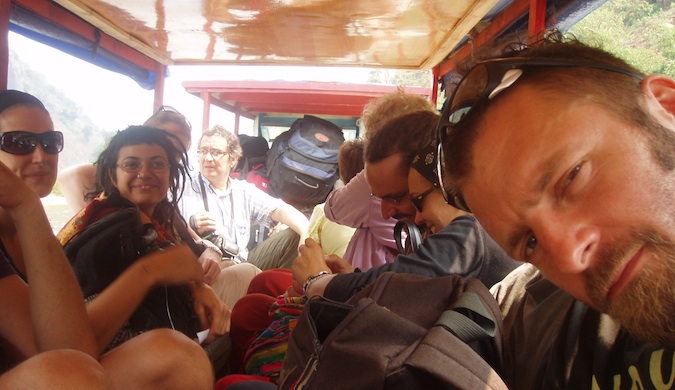 What was the hardest part of coming home?
Having to cook for ourselves again! No, we (my wife and I) move countries entirely so we have to organize somewhere to live, some work, collecting our worldly goods from the port, and storing them.
I'm a very practical person, so I don't let emotions interfere with my rehabilitation into society. When the trip is over, it's over, and it is time to get back to work. Sure, I miss the road, but I know I'll be back, and besides, I like living in the city too, so there is plenty to look forward to at home.
On my first trip, I met a lovely young lady whom I traveled with for nearly two months, and I missed her enormously when I left. (Matt's note: Check out this article on love on the road.)
To be honest, after returning from that first trip to Australia, I went through a period of sadness. Her letters, combined with my fabulous memories and new, unglamorous student existence, got me down for a while, but I soon pulled myself together. In all the trips I've done since, I've learned to cope better emotionally. Practice makes perfect, right?
Do you find it hard to adjust to "normal life" after being on the road so long?
I'm pretty level-headed so I didn't find it difficult, plus I've done it several times before. In fact, I love getting back into the city and catching up on the food, movies, and music that I've missed. Being away for so long means you can miss entire seasons, memes, and explosions in popular culture. A news event or trend that flared up and died then is referred to years later can leave you perplexed, until you work out that it must have happened during your year in South America. Imagine if you'd missed Gangnam Style and then saw it on a Review of 2012 five years later. You'd be gobsmacked.
Did you find employers looked at your travels as a negative, or does it help in securing a job?
In my field, it was definitely a positive. Travel shops need staff with world experience who can relate to (and impress) their customers, and so are understanding when you express your need to travel further. I work at an independent shop called Trek & Travel in Sydney, where we sell hiking and travel clothing and equipment. I'm currently the assistant manager.
In South Africa, I worked for an outdoor clothing manufacturer called Capestorm that had a chain of stores. Although working in retail is never something to which I aspired, my understanding boss does let me take months off at a time to feed my travel habit, and being surrounded by the paraphernalia of travel and like-minded people every day keeps the excitement of the world simmering. If it gets too boring I'll just quit, go traveling, and find another job upon my return.
Although I have to say, this process does get slightly more daunting as I get older.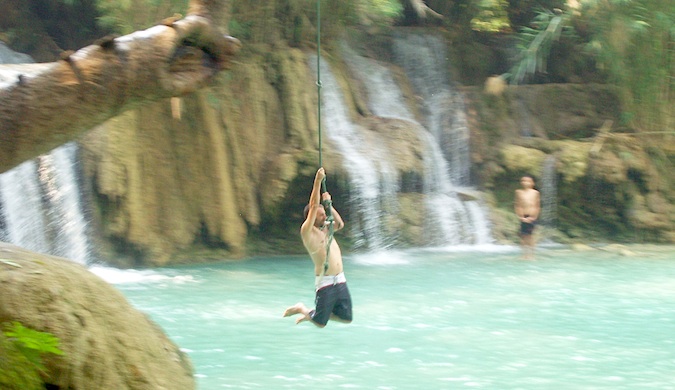 What advice would you have for people coming home after a long trip?
Don't panic. Take things step by step. Find somewhere to crash, either with friends or family or at a cheap hostel.
Next, grab the first available job. Do anything; don't be fussy. I usually start work within a week of arrival. Use that money for the bond on a rental place, then look for a better job. Obviously it's wise to finish your trip with some start-up capital, tempting though it may be to stretch that last dollar as far as possible. Set aside a couple of hundred dollars and don't touch it.
After that, you're up and running.
***
Dan's story shows that while coming home can be an adjustment, you learn to adjust quickly and returning from subsequent trips becomes easier and easier. Thanks for doing the interview, Dan!
You can read more about Dan in his self-published book about Africa, This is Not a Holiday.
Become the Next Success Story
One of my favorite parts about this job is hearing people's travel stories. They inspire me, but more importantly, they also inspire you. I travel a certain way, but there are many ways to fund your trips and travel the world. I hope these stories show you that there is more than one way to travel and that it is within your grasp to reach your travel goals.
Here are more success stories to keep you inspired:
We all come from different places, but we all have one thing in common: we all want to travel more.
Make today the day you take one step closer to traveling — whether it is buying a guidebook, booking a hostel, creating an itinerary, or going all the way and buying a plane ticket.
Remember, tomorrow may never come, so don't wait.


Book Your Trip: Logistical Tips and Tricks
Book Your Flight
Find a cheap flight by using Skyscanner. It's my favorite search engine because it searches websites and airlines around the globe so you always know no stone is being left unturned.
Book Your Accommodation
You can book your hostel with Hostelworld. If you want to stay somewhere other than a hostel, use Booking.com as it consistently returns the cheapest rates for guesthouses and hotels.
Don't Forget Travel Insurance
Travel insurance will protect you against illness, injury, theft, and cancellations. It's comprehensive protection in case anything goes wrong. I never go on a trip without it as I've had to use it many times in the past. My favorite companies that offer the best service and value are:
Want to Travel for Free?
Travel credit cards allow you to earn points that can be redeemed for free flights and accommodation — all without any extra spending. Check out my guide to picking the right card and my current favorites to get started and see the latest best deals.
Need Help Finding Activities for Your Trip?
Get Your Guide is a huge online marketplace where you can find cool walking tours, fun excursions, skip-the-line tickets, private guides, and more.
Ready to Book Your Trip?
Check out my resource page for the best companies to use when you travel. I list all the ones I use when I travel. They are the best in class and you can't go wrong using them on your trip.