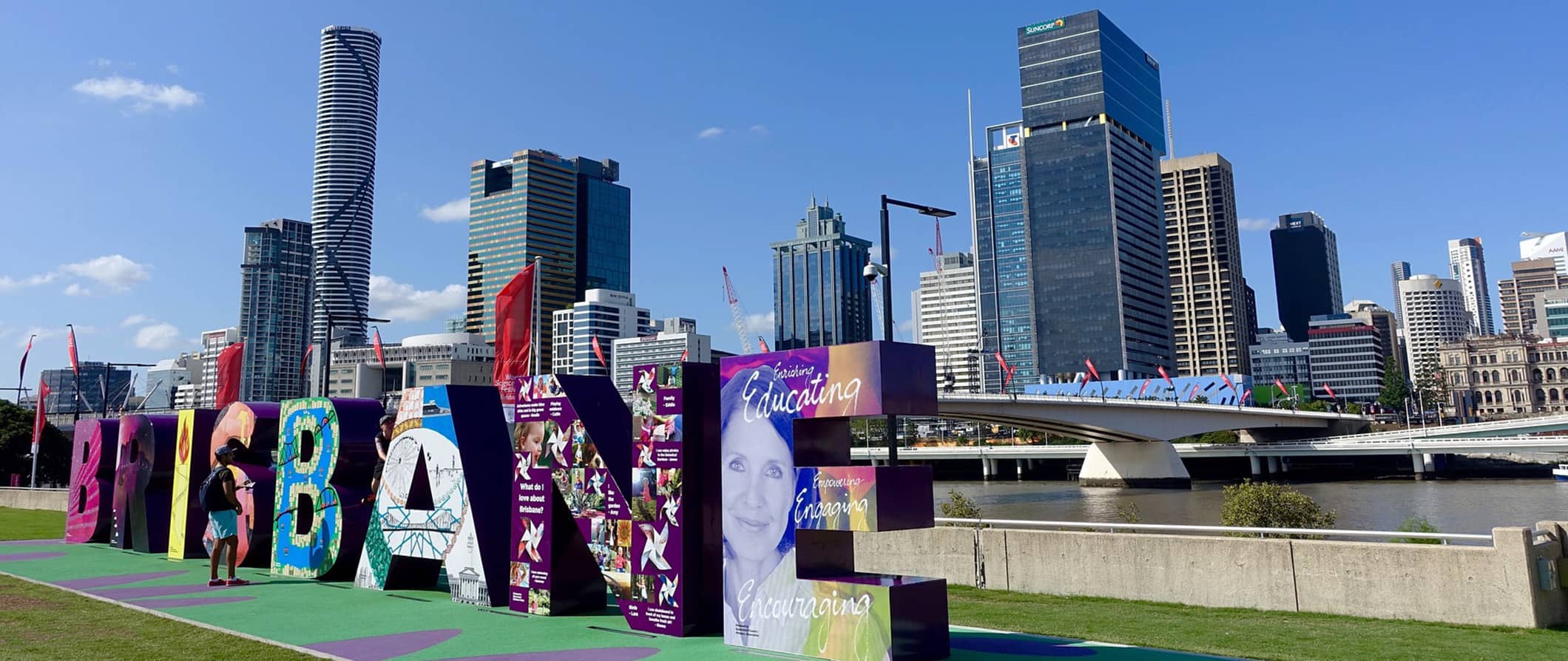 Brisbane, Australia is the state capital of Queensland and is the third most populated city in Australia. Brisbane is a "business city", so unlike Sydney or Melbourne, there isn't a lot of culture here. It's a place where people work on weekdays, and then they go to the coast to explore on weekends. The South Bank has some nice restaurants, and there are some decent pubs, but overall, the city isn't one of the most exciting places to visit in Australia. However, it's worth a stop to hang out on South Bank (which I loved) and meet travelers heading north.
Top 5 Things to See and Do in Brisbane
1. Koala Sanctuary
The world's largest koala sanctuary, Lone Pine has over 130 koalas. You can also feed the rainbow lorikeets and kangaroos, hold a snake, and see beautiful Australian fauna like wombats, echidnas, Tasmanian devils, and dingoes. Open daily from 9am-5pm and costs 33 AUD.
2. South Bank Parklands
Featuring a stunning inner-city beach, miles of tree-lined walks, fabulous shopping, and plenty of restaurants, South Bank is the one place you do have to see in Brisbane. I love walking the river, seeing a movie, or getting something to eat. You often see musicians and outdoor dance classes here.
3. Wheel of Brisbane
If you want a view of the city, hop on this 60m Ferris Wheel. The ride takes places in an enclosed, climate-controlled gondola and lasts around 15 minutes. It operates 10AM-10PM daily, and adult tickets are 19 AUD (discounts are available for students, kids, and families).
4. The City Botanic Gardens
These gardens are in a fabulous spot beside the river, close to the CBD. Spend a few hours strolling here away from the madness of the city center. They aren't as nice as the ones in Melbourne but I like coming here, wandering around, and reading a good book on a nice afternoon.
5. Churches and cathedrals
If churches and intricate architecture are your things, be sure to check out the handful in the area: St Stephen's Cathedral, St Stephen's Chapel (adjacent to the cathedral), St John's Cathedral, and Albert St Uniting Church are all noteworthy stops and worth visiting.
Other Things to See and Do
(Click the title to expand the text)
1. Enjoy the view from Mt Coot-tha
Mt Coot-tha offers beautiful panoramic views of the city and on a nice day, Moreton Bay. A favorite for locals and visitors alike, you can enjoy a meal or coffee and look out over the city's surroundings. Catch the local 471 bus from the city or buy a pass for the hop-on, hop-off City Sights bus (40 AUD).
2. Beaches
Think like a local and head to the beach. The Gold Coast, with its surfing, white sand beaches, and lush rivers, is only 30 minutes away. Watch out on the weekends when everyone in the area gets the same idea. The beaches get crowded and traffic a mess!
3. Learn from the Cultural Center
The Cultural Center is right in South Bank and includes the Queensland Art Gallery, as well as the Gallery of Modern Art. The Queensland Museum is a good place to learn about natural history and cultural history of the area. If you want to see an opera, ballet, or other theater, there is also the Queensland Performing Arts Center.
4. Roma Street Parklands
This is the world's largest sub-tropical urban garden, located only 5 minutes walk from city hall. I personally like it better than the park by the river, but both are very good if you have the time to hit both.
5. Visit the Riverlife Adventure Center
The Riverlife Adventure Center is one of the most popular tourist attractions in the area—they offer various outdoor activities that everyone can enjoy, at an affordable price. Consider checking out anything from biking or rollerblading to abseiling and rock climbing. Guided groups can take you everywhere from the riverside to the Kangaroo Point Cliffs.
6. Visit the XXXX Brewery
XXXX (Four X) is one of the cheapest and not so great tasting local beers of Australia (in my opinion). However, if you need something to do one day, and you want to learn more about beer and drink some beer, you can do so at XXXX Brewery!
7. Queensland Performing Arts Center
This exhibition and performance space is considered one of Australia's best. Home to a performing art complex, art gallery, state library, museum, and more. Be sure to check their daily schedule to find out what is around. Get some culture!
8. St. Helena Island's prison ruins
The first historic national park of Queensland, this island is host to the ruins of a colonial prison that was once known as "the hell hole of the South Pacific." I definitely recommend the guided tour — even the local schools go on field trips here. It's pretty interesting.
9. Manly Boat Harbour
This is Brisbane's gateway to the Moreton Bay Marine Park, an area with pristine waterways and picturesque islands. You can find a great range of food and shopping options overlooking the marina, however, they may not be the most budget-friendly.
Typical Costs
Hostel prices
– There are lots of hostels in the city. A bed in a larger dorm room (10-20 beds) will cost around 20 AUD. A bed in a smaller dorm room (6 beds) averages around 26 AUD. Private rooms that sleep 2 with a shared bathrooms cost about 65 AUD. My suggested places are:
Budget hotel prices – You can find a room that sleeps 2 in a 3-star hotel for as low as 160 AUD, but most are above 190 AUD. Most of these hotels offer a private bathroom and free WiFi. If you're willing to stay a bit further from the city center, you can find even cheaper deals closer to $100 a night! A better alternative to hotels is Airbnb. On Airbnb, a shared room in a home averages about 18 AUD. You can find a whole apartment for around 90 AUD. Also, quite a few of the Airbnb options have either a pool or views of the Brisbane River (which is a huge plus).
Average cost of food – Cheap takeaway meals and ethnic food like Indian or Chinese can be found for under 13 AUD, but most sit down restaurant meals with a drink and tip will cost between 28-40 AUD. A domestic beer at a bar will cost you about 7 AUD. Naturally, if you're on a budget you'll want to limit eating out. If you cook you own food, you can spend between 70 AUD per week for basic groceries like pasta, vegetables, chicken, and other basic foodstuffs. At the grocery store, a mid-range bottle of wine will set you back about 15 AUD, and a can of beer will cost about 5 AUD, both prices are much cheaper than if you were to go to a bar or restaurant and order one.
Transportation costs – A single public transit ticket costs 4 AUD. Try to use the GO Card, which are an electronic pre-paid ticket that automatically calculates the cheapest fare for your journey. You'll end up saving up to 1 AUD per trip with this card. You have to put a minimum of 20 AUD on the card as well as pay a 10 AUD deposit, but you can turn in your card before leaving the city and be refunded any unused credit as well as your deposit. Another option if you're traveling around Queensland is the SeeQ card. It provides unlimited travel on all public transport in the region for one price. For 3 days, it's 79 AUD. For 5 days, it's 129 AUD. Taxis can be expensive and should be avoided.
Suggested daily budget
50 AUD / 36 USD (Note: This is a suggested budget assuming you're staying in a hostel, eating out a little, cooking most of your meals, and using local transportation. Using the budget tips below, you can always lower this number. However, if you stay in fancier accommodation or eat out more often, expect this to be higher!)
Money Saving Tips
Buy a Go Card – Users save about 30% on a single priced ticket, so if you think you will do lots of traveling around the city, this pass would be worth the purchase. It can be used on any train, bus, or ferry in South East Queensland. If you don't use all of the funds on your Go Card, you can get a refund on what you have left.
See movies on Tuesday – If you need a break, Cineplex Cinemas movies are 6.50 AUD on Tuesdays.
Use free Internet – The internet in Australia is painfully slow and expensive (just ask any Australian how they feel about this), but libraries and McDonald's have free WiFi that you can use.
Couchsurf – Accommodation in Australia can be quite pricey. If you plan ahead, you can usually find really nice Couchsurfing hosts all throughout the country. This way, you not only have a place to stay, but you'll have a local host that can tell you the best places to go and things to see.
Drink goon (box wine) – Goon is infamous on the Australian backpacker hostel trail. This cheap box of wine is the best way to drink, get a buzz, and save a lot of money at the same time. Four liters of goon typically costs 13 AUD (compared to a six pack of beer for the same price). Drink this before you go out and save on spending money at the bar (where it is about 10 AUD per drink). Also, blow up the bag when you're done and have a little pillow to rest your head on!
Cook your own food – Again, eating out is not cheap. The best way to reduce your costs is to cook as many meals as possible. ALDI is the cheapest supermarket in the country, followed by Coles and then Woolworths (though sometimes you don't get a choice at which place you can shop it! Some small towns only have one!).
Work for your room – Many hostels offer travelers the chance to work for their accommodation. In exchange for a few hours a day of cleaning, you get a free bed. Commitments vary but most hostels ask you to stay for at least a week.
Save money on rideshares – Uber is way cheaper than taxis and is the best way to get around a city if you don't want to wait for a bus or pay for a taxi. The Uber Pool option is where you can share a ride to get even better savings (though you can get your own car too). You can save $15 off your first Uber ride with this code: jlx6v.
My Must Have Guides For Traveling to Australia
Photo credits: 5