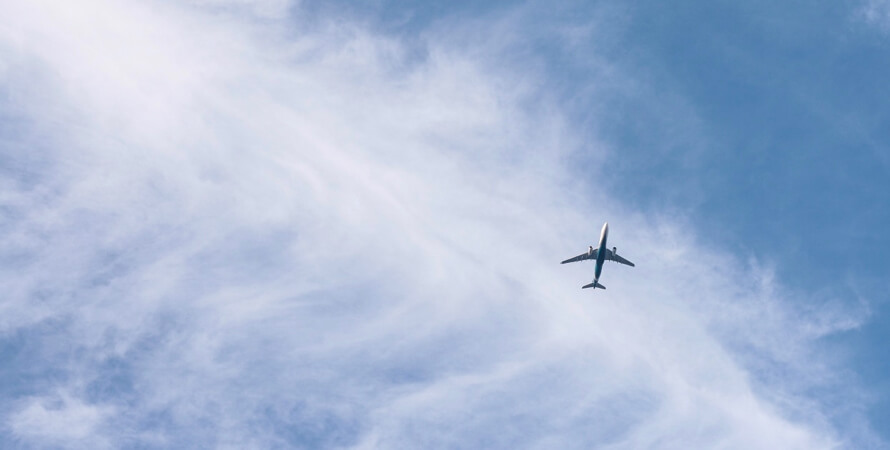 When it comes to planning an entire trip around the world, travelers have essentially two options: buy flights as you go or plan your route in advance.
Buying as you go gives you flexibility but risks you losing out if a flight is sold out (or overpriced).
Planning in advance requires more work upfront but makes for a more relaxing trip since all your planning is done before you go.
Both options have a place in your travel toolkit, but today, I want to focus on the latter.
Simply put, round-the-world (RTW) tickets are one of the most convenient ways to travel around the world. They make planning your trip simple and straightforward, allowing you to visit the destinations you want to see without having to worry about booking flights along the way.
You just plan your route, book your RTW ticket, and that's it! They really take the hassle out of planning a complex trip over multiple continents and are a great choice for novice travelers who might not be comfortable improvising a trip on the fly.
And to top it all off, by purchasing your ticket in one bulk RTW package, you can usually save yourself some money too — which is always a plus in my book!
That said, knowing if a RTW ticket is the best way to get around the world really depends on the kind of trip you are taking. Round the world tickets come with many rules and conditions that might not work for you.
In this post, I'll go over everything you need to know to help you decide if a RTW ticket is the right choice for you and your next globetrotting adventure.
How Do Round the World Tickets (RTW) Work?
Before we begin, what exactly is an RTW ticket? RTW tickets are actually airline alliance flight passes. An airline alliance is a partnership in which airlines share seats on planes, passengers, and elite status benefits. You buy a ticket from one airline that can be used with them and their partners for one price that lets you travel around the world on that one ticket.
For example, if you book with United Airlines (Star Alliance), your ticket is only good for airlines that United partners within that alliance.
And if you book with American Airlines (which is part of the Oneworld airline alliance), you can only use their partners.
Since American Airlines doesn't fly everywhere in the world, you'll need to rely on its partners. Say you need to get from New York City to Nairobi, Kenya (a destination American doesn't serve). You may technically book your flight with American Airlines for that route, however, you will actually fly one of its airline partners on the sections of the journey that American Airlines doesn't fly.
It's important to remember that none of these alliances include the world's budget airlines such as Ryanair (Europe), Southwest (US), Air Asia (Asia), or Tiger (Asia/Australia). These airlines offer fewer amenities and cheaper fares than the "major" airlines of the world (i.e. large, international carriers that are part of an alliance).
But they also are less comfortable too, which is the trade-off.
RTW tickets can be purchased for seats in economy, business, and first-class. They also come with a number of terms and conditions. Generally speaking, a RTW ticket is valid for one year from the start date and requires you to end in the same country you start in. You don't need to end in the same city but you need to end in the same country.
Here is a breakdown of the rules for each major airline alliance's round the world ticket:

Star Alliance Round the World Tickets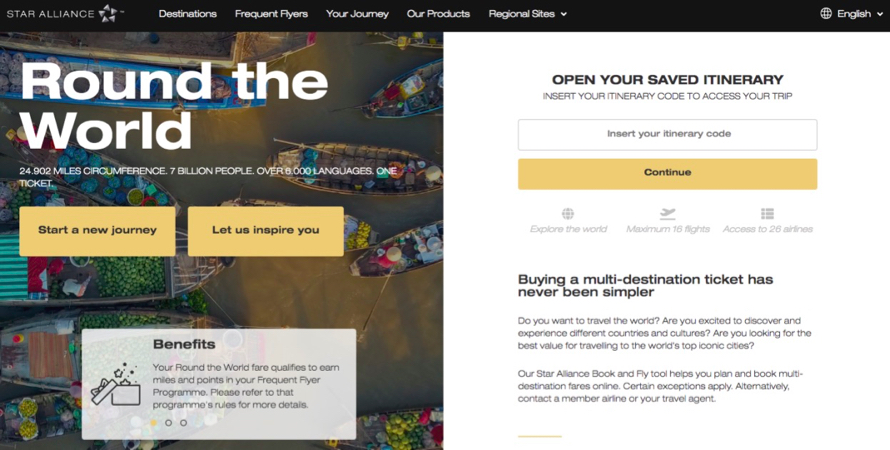 The Star Alliance RTW ticket will give you access to 1,250 destinations in over 190 countries around the globe. The alliance is comprised of 26 different airlines, which means you can pretty much go anywhere in the world.
Journeys need to start and end in the same country and go one direction: east or west. You'll need to cross both the Atlantic and Pacific oceans and can only do so once (so no doubling back).
You'll get up to 16 flights on your ticket and the ability to cover up to 39,000 miles (which is enough to get you to almost every continent). They also provide free rebooking should you need to make any changes once you're on the road (there are some caveats to that, which you can read int heir terms here.
Using their booking map, you'll be able to create a 100% unique itinerary based on where you want to go. They also provide several thematic suggestions based on world history, romantic getaways, world wonders, food and wine, and more. Be sure to check them out for ideas and inspiration to get the ball rolling.
You can also have up to 5 "surface" sections in your itinerary. This just means you can travel from one destination to another 5 times outside of your RTW itinerary.
For example, you can fly to London as part of your RTW ticket and then have your onward flight depart from Paris. That will allow you to get to Paris from London via a cheaper flight or train ticket, allowing you to save money.
The distance between "surface" sections is still counted toward your overall 39,000 miles but surface sections can save you money when cheaper budget options are available (or if you'd just prefer to travel overland in certain regions/countries.)
They also have a second RTW ticket option, though it's not a traditional RTW plan. It's called Circle Pacific and it lets you travel in a circle around all of the countries that border the Pacific Ocean. So, instead of going around the globe you'll be looping around the Pacific Ocean, starting and ending in the same destination.
The journey is good for up to 6 months (compared to the 1 year offered by their standard RTW ticket). Some of the most popular countries and regions included in this plan are Australia, New Zealand, Fiji, China, Japan, Southeast Asia, Vanuatu, Hawaii (and the rest of the US), and Canada.

Oneworld Round the World Tickets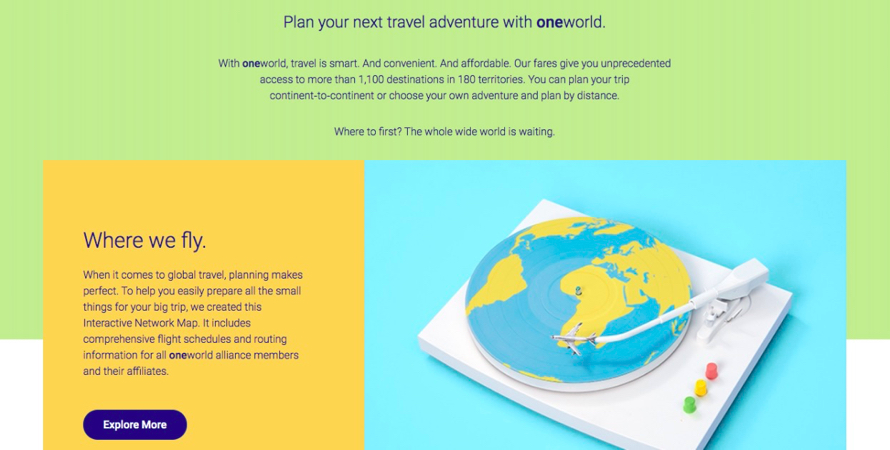 Oneworld offers three different kinds of RTW tickets: a segment-based pass and a mileage-based pass.
Oneworld Explorer is their segment-based pass, which focuses on continents. You can choose plans that offer access to 3, 4, and 6 continents. The more continents you plan to visit, the more expensive your ticket.
The plan also includes up to 16 segments (same as Star Alliance), however, there are no overland penalties. And since it's continent-based, there's no maximum mileage limit either. One of the benefits of this option is that every segment is counted the same — whether it's a two-hour flight or a ten-hour flight — so you can really maximize long-haul flights and cover a lot of ground.
Their Global Explorer plan is the mileage-based pass (similar to the Star Alliance option). It has four options for milage: 26,000, 29,000, 34,000, and 39,000. Those (very roughly) translate to 3, 4, 5, and 6 continents.
The third option is Oneworld's version of the Circle Pacific, which is effectively the same as the Star Alliance option.
Overall, Oneworld has access to slightly fewer destinations than Star Alliance (1,100 compared to 1,250) but all of the major regions are within reach. Unless you're looking to get far from the tourist trail and visit obscure destinations, Oneworld will be able to get you to wherever you want to go.

SkyTeam Round the World Tickets
SkyTeam is the third option for RTW tickets. They have a plan similar to Star Alliance's RTW ticket, however, they offer a rather limited version of it. The carriers and destinations are not nearly as comprehensive as either Star Alliance or Oneworld.
Personally, I wouldn't even bother looking at their options. Both Star Alliance and Oneworld have much better products.

How Much Do Round-the-World Rickets Cost?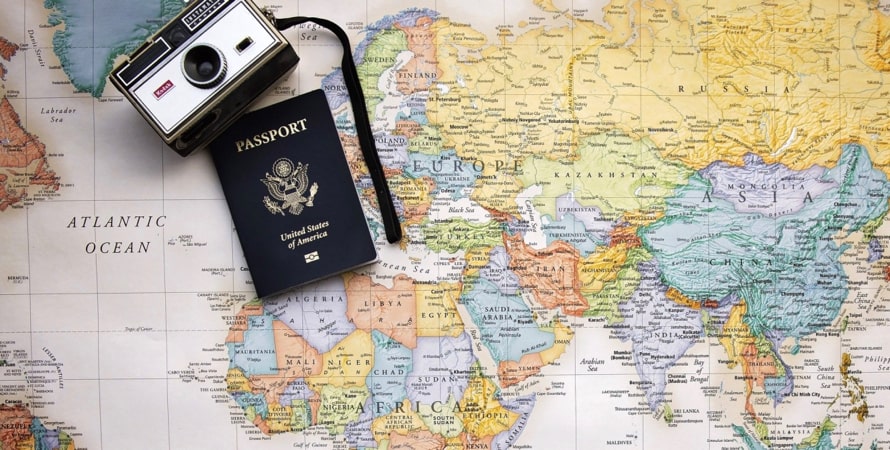 Most economy-class RTW tickets range between $2,500–$10,000 USD. Depending on your mileage, route, class of fare, and the number of stops, that can drop down to as little as $1,500 USD or jump all the way up to $15,000. It really all depends on your trip!
On most RTW tickets, you can change the dates and times your ticket at no extra charge — as long as you don't change the destinations.
For example, if you have a Tokyo to Los Angeles flight that you want to change, you can change the date and time without a fee. However, if you decide to fly from Tokyo to San Francisco instead then you have to pay a fee (usually around $125 USD).

Where Can You Book a Round the World Ticket?
While you can book RTW tickets directly with the airlines above, you can usually find a better deal by booking through a third party.
Third-party bookers don't just deal with one alliance — they mix and match from all available airlines (excluding budget airlines) to find the lowest price, which saves you money. Moreover, the overland mileage doesn't count against your flight because there is no mileage limit.
In short, you'll want to compare booking direct with booking via a third-party company, though it's most likely that the third party site will have the better price.

Are RTW Tickets Worth Buying?
That depends.
RTW tickets are great for people with a set schedule. If you know your travel dates and destinations and don't plan on changing your trip very much, an RTW ticket will save you a lot of time and a bit of money.
RTW tickets cost a lot, but if you pick one of the popular travel routes, you will find that you will save money in the end. Buying a ticket on a route like this will most likely cost less than if you were to book all your flights separately. You'll also get more peace of mind since you have a company to help you with any changes you need to make, not to mention the fact that you'll have everything planned before you leave home so that, once out in the world, you'll be able to relax and enjoy yourself.
You should buy a RTW ticket if…
You're happy to fly on a set schedule
You don't plan to change your dates a lot
You're buying tickets for a big group like a family
You don't like budget airlines
You're visiting a lot of far-flung destinations and taking lots of long-haul flights
You're already a frequent flier and are looking to gain perks
If you are any of the above, a round the world ticket will probably save you at least 15-25% off the price of point-to-point tickets.
You should NOT buy a RTW ticket if…
You want to fly a lot of budget airlines
You don't care about points or miles
You have not set plan
You'll be gone longer than a year
If your trip matches any of these points, booking on your own, using budget carriers, and waiting for deals is going to work out a lot cheaper than buying a RTW ticket.
However, there is no definitive answer as to whether or not you should buy one of these tickets. It really depends a lot on your specific trip. A lot of people swear by around-the-world tickets and I believe that for the right trip, these tickets can be PERFECT.
You just have to figure out if your trip is the right trip for this kind of ticket.
To do that, use the interactive booking tools on the booking sites above. They all have websites where you can plan your route and get price estimates. That's going to be the best way to compare prices and figure out which option is best for you.
Book Your Trip: Logistical Tips and Tricks
Book Your Flight
Find a cheap flight by using Skyscanner. It's my favorite search engine because it searches websites and airlines around the globe so you always know no stone is being left unturned.
Book Your Accommodation
You can book your hostel with Hostelworld. If you want to stay somewhere other than a hostel, use Booking.com as it consistently returns the cheapest rates for guesthouses and hotels.
Don't Forget Travel Insurance
Travel insurance will protect you against illness, injury, theft, and cancellations. It's comprehensive protection in case anything goes wrong. I never go on a trip without it as I've had to use it many times in the past. My favorite companies that offer the best service and value are:
Want to Travel for Free?
Travel credit cards allow you to earn points that can be redeemed for free flights and accommodation — all without any extra spending. Check out my guide to picking the right card and my current favorites to get started and see the latest best deals.
Need Help Finding Activities for Your Trip?
Get Your Guide is a huge online marketplace where you can find cool walking tours, fun excursions, skip-the-line tickets, private guides, and more.
Ready to Book Your Trip?
Check out my resource page for the best companies to use when you travel. I list all the ones I use when I travel. They are the best in class and you can't go wrong using them on your trip.