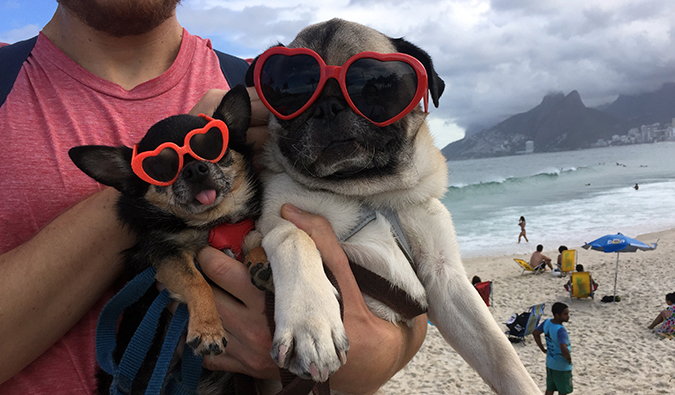 Last Updated: 02/08/20 | February 8th, 2020
This is a guest post from Candy Pilar Godoy, who blogs about pet travel at Boogie The Pug. She travels the world with her pug, Boogie, and her tiny chihuahua, Marcelo. She's here to tell you how you can do the same with your dog!
Many people assume that it's supremely difficult — if not impossible — to travel with dogs. So most assume that they'll need to fork over a truckload of cash to cover the dog-sitting costs of leaving their pooches behind while they travel.
However, I learned that, with research and a little extra planning, you can take your furry friends along with you on most travel adventures — and it's not as difficult as you might think.
According to the 2017–2018 National Pet Owners Survey, 68% of US households own a pet. That's 89 million dogs, an increase of 56% since 1988.
And of that number, about 37% of pet owners actually travel with their pets every year, up from just 19% a decade ago. The International Pet and Animal Transportation Association reported that, worldwide, more than four million live animals are transported on planes every year.
The travel industry has had to adapt to this growing demand, and today, traveling with your dog is easier than ever.
As someone who is extremely passionate about traveling AND dogs, I wanted to share what I've learned on the road about this emerging trend.
1. Don't assume it's a no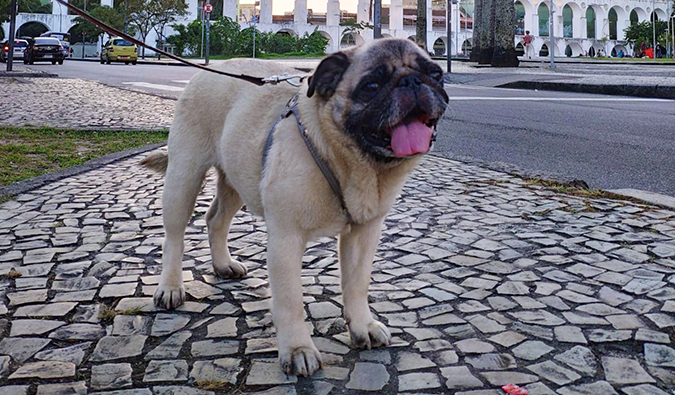 Travel with animals increases every year, and it's taken establishments time to catch up, meaning lots of places don't have dog policies in place just yet (or their policies have yet to be thoroughly fleshed out). I've heard plenty of stories of restaurants and hotels whose websites and/or social media have listed themselves as dog friendly, when in reality they're not. It happens.
When in doubt, always ask. Never assume that dogs are or are not allowed. It's great to look for a "No Pets Allowed" sign or a "Pet Friendly" notice, but whether a place has one or not, it's always best to double-check. A quick email or phone call can save you a lot of time, confusion, and frustration. For example, I've been pleasantly surprised to learn that dogs are welcome in most shopping malls in Rio de Janeiro. Who knew?
2. Make copies of pet-related documents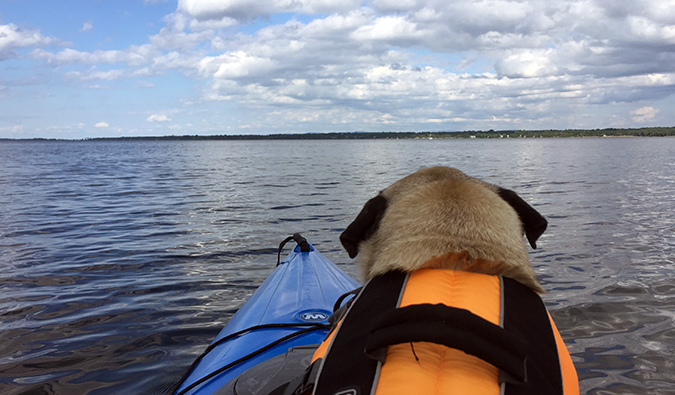 If you're planning to cross borders or travel internationally, you'll need your dog's health records on hand (sort of like us humans and our passports). These are necessary to prove that your dog is healthy and vaccinated. Officials ask to see them, and depending on who you deal with, they'll either keep the originals or make a copy. Additionally, if you need to visit a new vet abroad, you'll be able to provide them with your furry friend's medical history.
For these reasons, I like to keep multiple copies of my dogs' medical records and vet information on us at all times. This includes both a virtual copy on my phone and printed copies in my day bag.
3. Use dog-friendly apps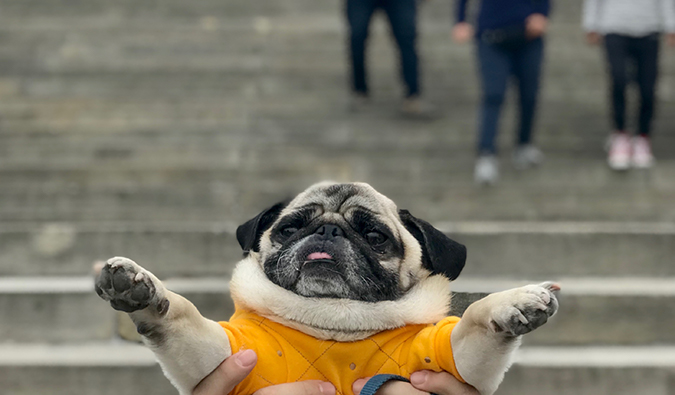 There are plenty of apps that can help when on the road with your pup. It's become a lot easier than when I used to travel the world sans iPhone. My favorites include:
All Trails – This has the largest collection of trail maps (over 50,000). Browse photos and reviews, and filter your search by dog-friendly trails so you know which hikes to hit with your dog.
Bring Fido – The Yelp of the dog world. Bring Fido helps you locate nearby hotels, attractions, and restaurants that welcome pets.
Pet First Aid by American Red Cross – This app helps you locate the nearest emergency animal hospital, and provides step-by-step instructions for common pet emergencies.
4. Skip hotel fees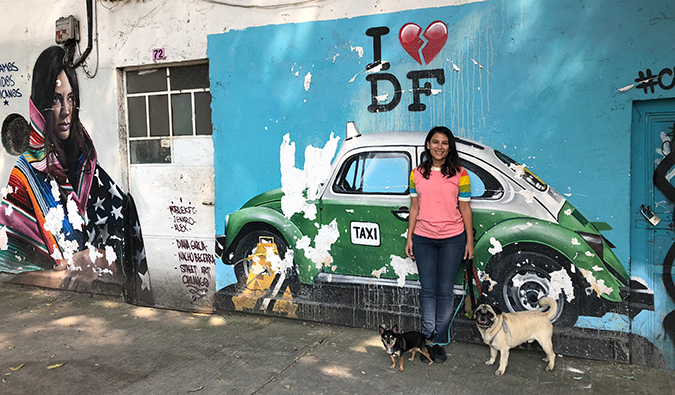 Many hotels charge additional fees to accommodate your pet. These can range from a one-time fee of $50–$250 to a daily charge of $10–$50 on average. These extra costs add up, increasing the price of your trip and putting pressure on your budget. If you book a hotel with a $50/night pet fee for a week, that's an additional $350!
There are some hotel chains, however, that welcome your pets without asking for any extra cash — no additional fees, no deposits, and no one-time charges. Consider one of these hotels when you're booking your next trip. My favorite pet-friendly hotels with no extra fees include:
Kimpton – With no additional fees or deposits, Kimpton Hotels rank high in terms of pet-friendliness. Plus, there's no size or weight limit, and no limit on the number of pets allowed.
Red Roof Inn – This upscale economy chain has over 580 locations in the US, and additional locations in Brazil and Japan. They allow all family pets weighing 80 lbs. or less.
Motel 6 – Motel 6 hotels are a great option for anyone on a US road trip, with over 1,400 locations across the United States and Canada. They welcome all well-behaved pets, with a maximum allowance of two pets per room.
Can't find a good hotel in the area? Try airbnb.com. They have an easy search function that filters for pet-friendly homes. We often use Airbnb when traveling internationally.
Pro tip: Before booking with any hotel, ask these questions to ensure that your stay is comfortable.
5. Take a pet carrier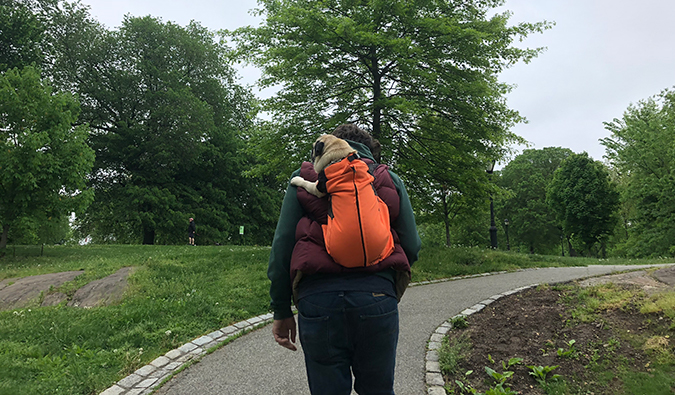 There are many options on the market when it comes to pet carriers. My favorites include the k9 Sport Sack, a dog carrier backpack that fits dogs of up to 40 lbs. (psst — use the promo code BOOGIE for 10% off). It comes in multiple colors and can be personalized with patches. I also use The Roodie, a pet-carrier hoodie that holds dogs weighing up to 15 lbs.
6. Be respectful of the people you meet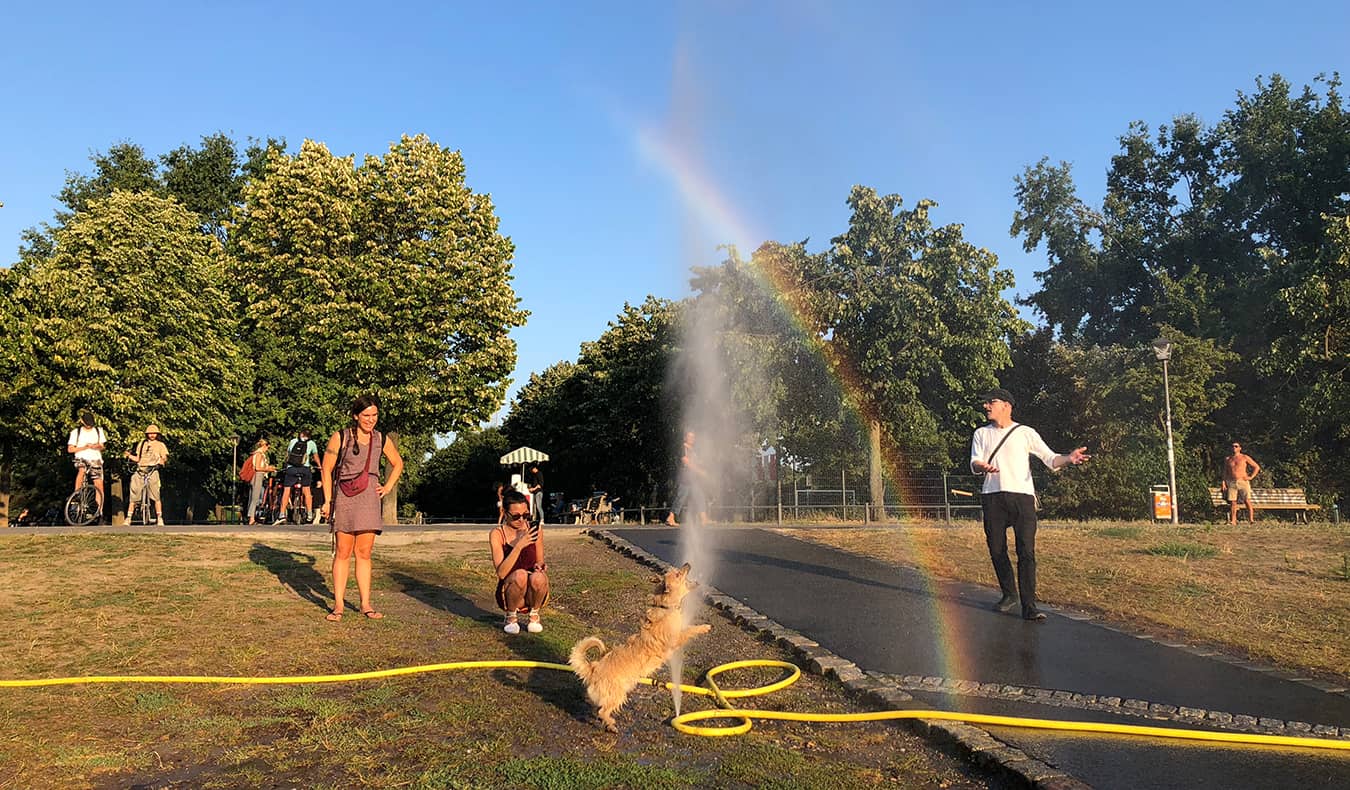 No matter where you go with your dog, be honest and considerate with those around you. Some people love animals, while others can be terrified of even a tiny puppy. Be polite and know your dog's limits.
Remember that human relationships with dogs vary incredibly across cultures. For example, in Guatemala, we saw more street dogs than pets. People were often surprised to learn that our dogs travel on planes, and even more taken aback to learn that they sleep in our bed. Try to be aware of these cultural differences, and be sensitive to the human-canine boundaries to which people are accustomed.
Moreover, if your pet tends to be unfriendly with humans (or other dogs), make that very clear to anyone approaching. You don't want to end up in a situation that could have been avoided with a clear warning. After all, dogs are animals — as owners we are the ones responsible for them.
7. Triple-check airline pet policies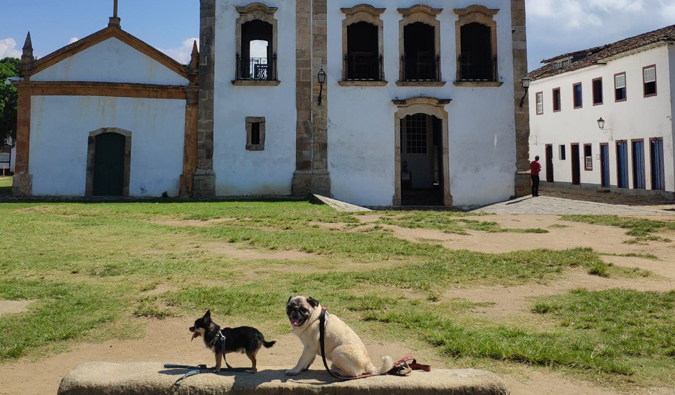 When flying, especially internationally, we always double-check, if not triple-check, airline pet policies. Policies are constantly in flux, and rules are always changing. You want to make extra certain that you and your dog are both welcome on that flight. I usually check the airline's website, give them a call, and send an email confirmation when I'm bringing my dogs on a flight.
Policies and prices for flying with your pet also vary according to a few factors. They usually depend on the airline, the country you're traveling to, and the size and breed of your pet. There's also the option of air travel in the cabin, in cargo, and in baggage. (Want to know the difference between these three? Click here.)
Some of my favorite dog-friendly airlines include American Airlines, Delta Airlines, Air France, and JetBlue.
8. Countries differ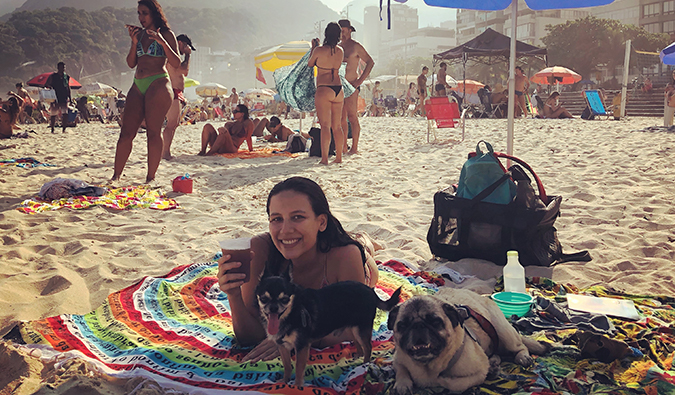 When it comes to crossing borders, countries differ in their rules and regulations for allowing your pup entry. Some only ask for a rabies vaccine and paperwork from your vet, while others require a pet quarantine and high fees. There's also a list of banned breeds for whom some countries won't allow entry at all.
The hardest countries to enter tend to be islands, like Australia, Japan, Fiji, and Iceland. The easiest are countries in the European Union (if your pup has an EU passport!). Research the rules of your destination country thoroughly and far enough in advance to ensure that you can meet all the requirements.
9. Make dog friends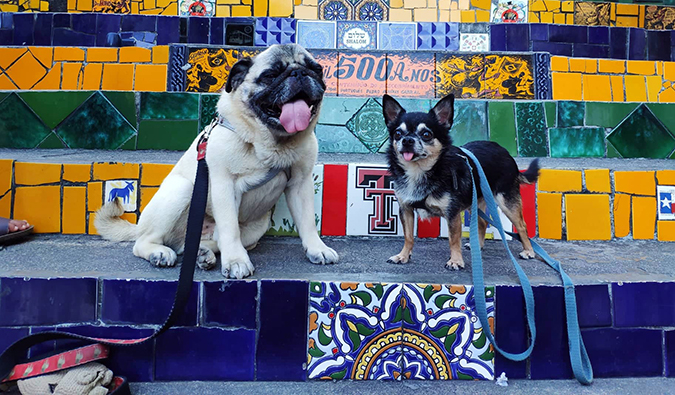 As I said earlier, dogs are social animals. When you're out walking or spending time at the local park, befriend other dogs and their owners. They'll let you in on their favorite hangouts, the best dog-friendly restaurants in the area, and which vets they trust. Dog owners know best, and they're a great resource to have. Here are the best ways to find a local dog community online or IRL:
Go on a walk – Grab your pup and head out for a walk around the neighborhood. Stop to sniff a butt or two, and talk to dog people. Speaking to local dog owners is the best way to get the lowdown on the area, and all of the dog-friendly places around town.
Instagram – These days, dogs everywhere have their own Instagram profiles. Look up hashtags, like #dogsof and enter in your location. You'll find dogs all over the world. Find some local pups and send them a message asking for tips.
Visit a dog park – Dog parks are a great place to exercise and socialize. Many major cities have them. If there aren't any official dog parks in your area, ask local dog owners or people online about unofficial places where your dogs can romp around.
Find an online community – Online platforms host a myriad of groups based on things like breed, location, dog size, and activity level. I recommend searching Facebook and Meetup.com. Many online communities host meetups and social gatherings that you and your pup can join. They're also a great place to ask questions.
Go to a pet store – Local pet shops are great resources for information. Many post flyers for local dog services, or information on nearby dog-related activities for you and your four-legged friend.
10. Pack the essentials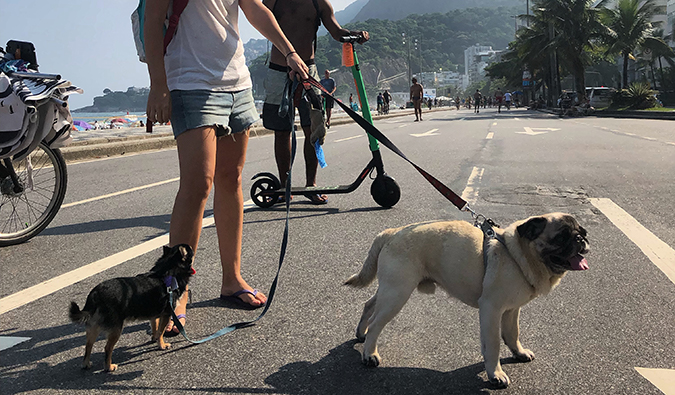 As much as you'd like to just grab your dog and go, there are a few things you'll definitely need to bring along. Poop bags, a leash and harness, and ID tags are just a few. Pack your pup's essentials in case you can't find them on the road (not every location has a good pet store!).
Here's a checklist of things you might need. It includes things like:
Dog food and water
Collapsible bowls
Toys
A bed
Flea and tick medicine
Medical records and travel documents
Also, make sure your dog is microchipped and always up to date on standard vaccinations.
11. Teach your dog manners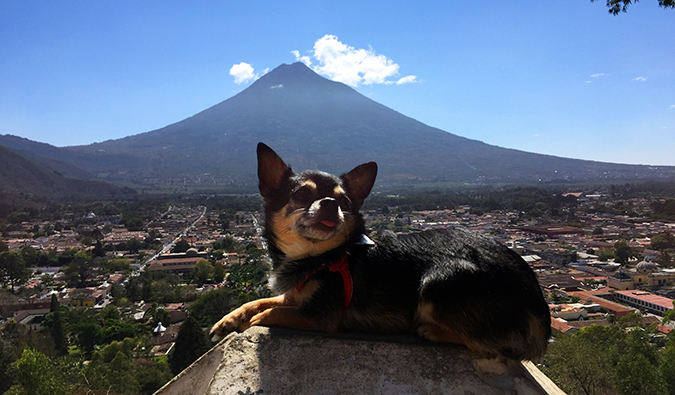 Before you hit the road, it's best if your dog knows a thing or two. Basic commands, like "sit" and "stay," will make managing a dog while traveling easier. A well-trained dog can be left behind in a hotel room or rental to rest for a few hours while you have a nice dinner or visit a museum.
Plus, you're more likely to get a "yes" to your requests if people see that your dog is well behaved. No one wants to be around a barking or rowdy dog who won't listen!
Work on obedience and manners, and make sure your pup always puts its best paw forward.
If you need help, working with a certified trainer is best. There are also many resources online to help ensure that your dog is obedient and ready to venture out into the world. I recommend the AllThingsPups training tips — they have a YouTube channel, Instagram account, and podcast.
12. Say hello!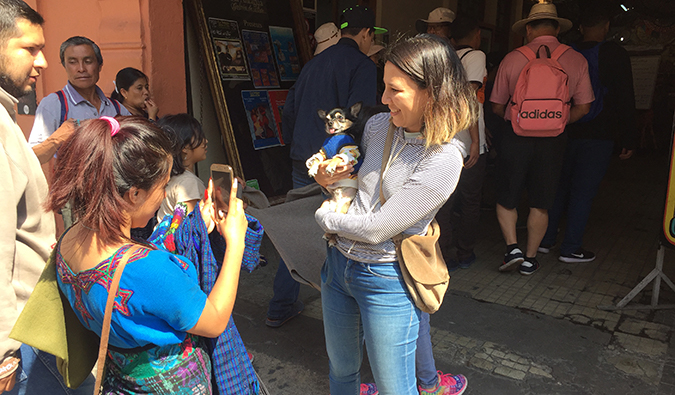 Seeing a dog always puts a smile on a stranger's face. Be polite to people you encounter with your pup. Kindness goes a long way.
On a recent flight, a friendly exchange with a dog-loving airline worker led to my pups and me getting a whole row to ourselves. Extra legroom and seat space are always welcome!
I've also gotten free treats, lots of useful tips, and other upgrades all because of a smile, some amicable banter, and of course, my friendly pups.
***
Travels with my dogs are more colorful and locally focused, and force me to explore parts of my destination that I would have never experienced had I been dogless. My dogs help me meet more people, see more places, and live in and cherish the present. There's no better way to appreciate a new place than with a dog!
Candy Pilar Godoy has visited almost 40 countries across six continents, and speaks three languages. She often travels with her dogs, and writes about pet travel on her blog Boogiethepug.com. Candy currently lives in Rio de Janeiro with her two dogs, Boogie and Marcelo, and cat Kitty. Follow them on Twitter, Facebook and Instagram.


Book Your Trip: Logistical Tips and Tricks
Book Your Flight
Find a cheap flight by using Skyscanner. It's my favorite search engine because it searches websites and airlines around the globe so you always know no stone is being left unturned.
Book Your Accommodation
You can book your hostel with Hostelworld. If you want to stay somewhere other than a hostel, use Booking.com as it consistently returns the cheapest rates for guesthouses and hotels.
Don't Forget Travel Insurance
Travel insurance will protect you against illness, injury, theft, and cancellations. It's comprehensive protection in case anything goes wrong. I never go on a trip without it as I've had to use it many times in the past. My favorite companies that offer the best service and value are:
Want to Travel for Free?
Travel credit cards allow you to earn points that can be redeemed for free flights and accommodation — all without any extra spending. Check out my guide to picking the right card and my current favorites to get started and see the latest best deals.
Ready to Book Your Trip?
Check out my resource page for the best companies to use when you travel. I list all the ones I use when I travel. They are the best in class and you can't go wrong using them on your trip.