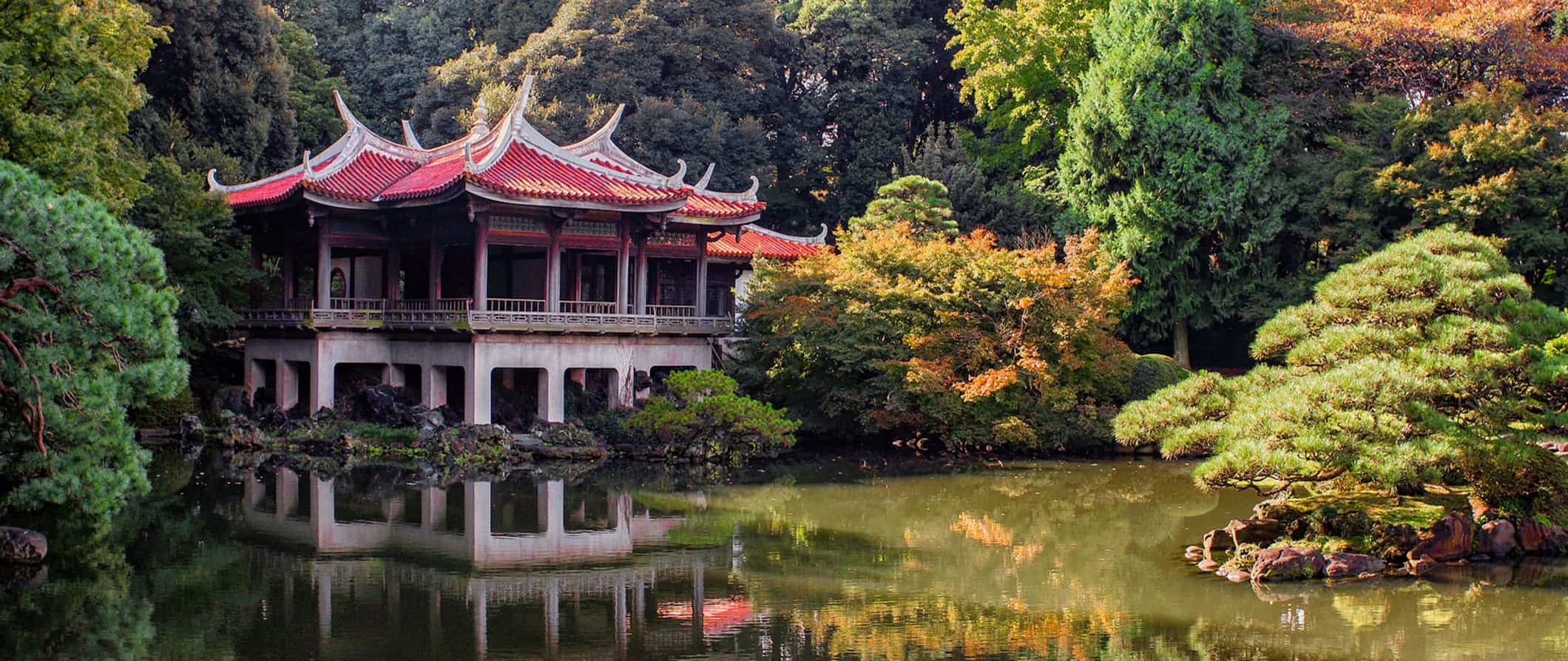 Japan is one of the most amazing, beautiful, and friendly countries in the world. From bustling Tokyo and Zen-like Kyoto all the way to laid-back Okinawa and wintery Hokkaido, Japan is a high-tech world mixed with the politeness and respect of their past.
Honestly, I love traveling and backpacking Japan.
It was a lifelong dream to go there and, when I finally did, it lived up to all my expectations.
Japan has mouth-watering food, majestic temples and shrines, serene Zen gardens, lush national parks, and historic culture. It's a wonderful place and, while it may be an expensive country to visit, there are plenty of ways to make this country affordable.
I was actually shocked how easy it was to travel Japan on a budget!
Backpacking or traveling Japan isn't as expensive or difficult as you think. It's one of those great myths of travel that Japan has to be expensive or hard to get around.
That's not true.
And everyone here is super friendly and helpful. Everyone here is just so excited to have guests and are lovely, lovely people!
Let this Japan travel guide help you plan an affordable trip to the country so you can see more, eat more, and spend less!
Click Here for City Guides
Top 5 Things to See and Do in Japan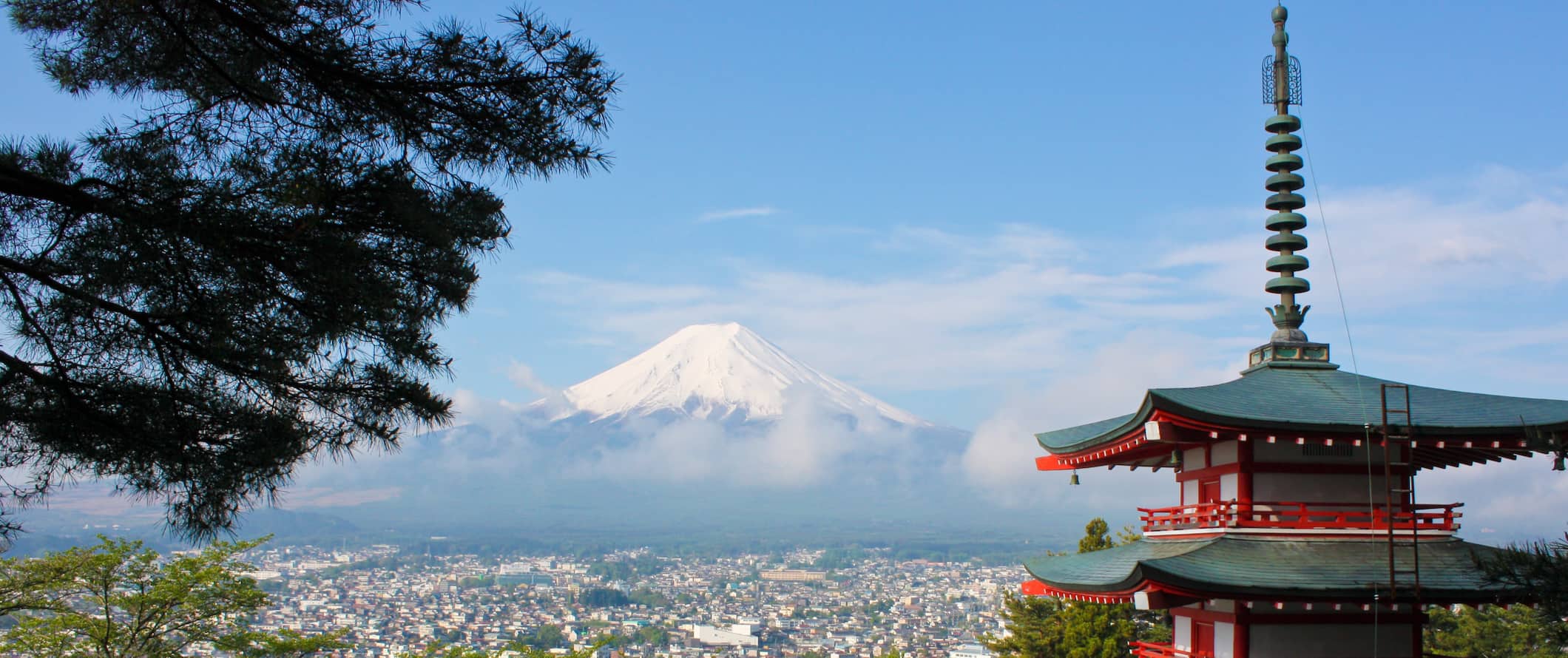 1. Explore Tokyo
Tokyo is one of the best places in the world: shrines, palaces, temples, cherry, hip clubs, bars, people, and fashion stores – Tokyo is a fast paced, futuristic city. Don't rush it! It's everything you expect and more. Be sure to hit some of the quirky cafes, wander Harajuku, see the iconic Shibuya crossing, and admire the Imperial Palace while you're here.
2. Take a trip to Kyoto
The city of beautiful temples and Japanese gardens, Kyoto is one of the most popular destinations in Japan. It retains much of the traditional Japanese lifestyle and is a good juxtaposition to fast-paced and high-tech Tokyo. By far my favorite place in the country, see as many temples as possible and don't skip the epic bamboo forest (just get there early to beat the crowds).
3. Make a humbling visit to Hiroshima
In 1945, the first atomic bomb to be used in combat was detonated in Hiroshima. 80,000 people were killed instantly and tens of thousands more died afterward due to radiation exposure. Visit the atomic bomb memorial and learn about one of the most controversial events of human history. The museum is sobering and eye-opening, but a must-visit if you want to understand modern Japan.
4. Climb Mount Fuji
This 3,776-meter (12,389-foot) tall mountain is located near Tokyo, and it makes for a worthy challenge. During the day, fog and clouds are often covering the mountain, so ascents tend to happen early in the morning or overnight. But the lack of sleep is worth the jaw-dropping sunrise. Keep in mind the climbing season is short, from early in July to mid-September. If you're visiting outside of the climbing season or just don't want to hike the mountain, there are many tour providers that offer day trips from Tokyo from around 12,000 JPY. If you do end up climbing, make sure to plan ahead — it can be very cold at the summit!
5. Visit Sapporo
The gateway to Japan's northern island of Hokkaido, this city is famous for its surrounding mountains, thermal baths, ski resorts, and its lengthy beer brewing history. Hosting the 1972 Winter Olympic Games put the city on the international map, and it remains hugely popular in the winter for its winter sports. Be sure to also check out nearby Otaru for uni, squid, and tasty seafood!
Other Things to See and Do in Japan
1. Visit the Tsukiji and Toyosu fish markets
Tokyo's fish markets start bright and early at 4am. Here you can see the frenzied buying and selling of the world's largest tuna market. Eat freshly-caught sushi for breakfast and marvel at the hectic atmosphere. There's nothing like it in the world, so this is a must-see while you're visiting Japan! Tsukiji was the original market, but as of 2018, the inner fish market moved to Toyosu and is now known as the Toyosu Fish Market. However, the outer market (where you can find food and shops) is still in place at Tsukiji, of which you can take a guided tour to learn about how its history, how it works, and even learn how to roll sushi in a workshop at the end.
2. Spend a day in Kyoto's Gion District
Otherwise known as the Geisha District, this neighborhood is filled with fascinating historic architecture and is a good area for window shopping. Geishas (traditional professional entertainers) have entertained here for centuries, and if you're lucky, you may be able to spot one going to or from a social engagement at one of the establishments here. (Just note that photographs are forbidden on the narrow alleys to prevent harassment of the geishas.)
3. Get a maiko makeover
"Maiko" is the name for an apprentice geisha, or geiko, as they're known in Kyoto. The Gion District offers maiko makeover experiences where you can go and have full make-up done and try on a formal kimono, just like a maiko. Photos afterward make for an awesome souvenir (you can even have stickers made). This is probably the most interactive way to learn about the ancient geisha tradition.
4. Visit the Heian Shrine
The Heian Shrine, famous for its huge torii gate, is a popular tourist attraction in Kyoto, so get there early. The garden is filled with beautiful cherry blossom trees, known as sakura, and it's a beautiful place for photography. The shrine is free but the garden nearby costs 600 JPY to enter. To see the trees in blossom, make sure you're there mid-April. Just book early as the city fills up (and prices rise!).
5. Relax in Ueno Park
Established in 1873, Tokyo's Ueno Park is a great place to spend the day for free. Pack a lunch and bring a camera as it's a perfect spot to record the many cherry blossom trees (April is the best time of year if you hope to catch them in full bloom). You can also take a architecture tour around the park, ending at the Tokyo National Museum where you can then go inside to explore the collections on your own. Tours last around 3 hours.
6. Admire the Imperial Palace
The Imperial Palace is home to the Emperor of Japan (whose lineage stretches back over 1,000 years). It was built on the site of the former Edo Castle, which was originally built in the 15th century. Today, the Imperial Palace is a perfect spot to learn about some of Japan's history and culture. Though you can't go inside the palace itself, the surrounding grounds and park are beautiful and you can see the changing of the guard. You can visit select parts of the grounds on a 75-minute guided tour at 10am and 1:30pm from Tuesday-Saturday. The Imperial East Gardens are free to visit and open daily except Mondays, Fridays, and holidays.
7. Visit Miyajima Island
Miyajima is an island located about an hour outside of Hiroshima, known as "shrine island" because of its shrine and iconic floating torii gate. It can easily be made into a full day's trip if you hit the walking trails nearby. Be sure to hike up Mount Misen – it's a great workout and the views are stunning! There is also a cable car to the peak you can take for 2,000 JPY round trip.
8. Visit the Bitchu Matsuyama Castle
At 430 meters (14,100 feet) high, not only is this Japan's highest castle but it's also Japan's only remaining original castle (most were destroyed in fires or during World War II). The castle was originally built on a nearby mountain in 1240 by Akiba Shigenobu. In 1929, restoration work began on the castle and it is now a popular tourist site. Admission is 500 JPY for just the castle or 1,000 JPY for the castle, temple, and nearby samurai houses. If you'd like to visit the two museums, Takahashi Folk Museum and Yamada Hokoku Museum, the entire combined ticket costs 1,500 JPY.
9. Go on pilgrimage
The 88 Temple Pilgrimage (also known as "Shikoku Henro") is an ancient pilgrimage route that circles the island of Shikoku, one of Japan's four main islands. The route stretches 1,200 kilometers (745 miles) and can take between 30 and 60 days. In addition to the official 88 temples, there are also 20 additional sites you can visit as well. You can, of course, just visit some of the temples and not walk the entire trail!
10. Hike around Nikko
Located 125 kilometers (77 miles) north of Tokyo in the mountains, worshippers of both Buddhist and Shinto traditions have been coming here for centuries, so there are many temples and shrines in the woods to visit. The trails at Nikko National Park make for excellent hiking and meditation as well, and there are several famous and lavish mausoleums here.
11. Ride the Tempozan Ferris Wheel
Located in Osaka, this 17-minute ride (800 JPY) offers sweeping views of Osaka Bay and the surrounding area. Between 1997-1999, it was the world's tallest Ferris Wheel, but it has since been outranked (the current tallest Ferris Wheel is in Dubai). It also happens to be next door to one of the largest aquariums in the world, the Osaka Aquarium Kaiyukan (2,400 JPY).
12. Learn to meditate
There are plenty of temples and monasteries in Japan that host daily meditations, some of which even offer accommodation and allow tourists to sample monastic life. It's a really eye-opening experience. Most only advertise in Japanese so ask your accommodation staff to help you arrange a visit/session.
13. Stay in a ryokan
A ryokan is a traditional Japanese bed and breakfast, usually found in the more scenic regions of the country. With their tatami floors and cozy interiors, ryokans make for an intimate and unique Japanese experience. Meals are usually included, as are the traditional Japanese robes and slippers you'll wear during your stay.
14. Photograph the Hells
Also known as jigoku, this is a collection of 7 geothermal hot springs—located in Beppu (which is on the southern Japanese island of Kyushu). The 7 Hells of Beppu are an official Place of Scenic Beauty, and while you can't get in the water, they make for an excellent photo opportunity. The purchase of a coupon grants access to nearly all of the pools. Admission to all 7 hells is 2,000 JPY.
15. Soak in an onsen
Natural hot springs are widespread throughout the country, and can be found both indoors and outdoors. Each has different mineral compositions and are a great way to soak in some traditional Japanese culture. Expect to pay around 1,000 JPY for a budget bathhouse. Just note that many do not allow people with tattoos or require tattoos to be covered. They are also separated by gender.
16. Explore Daisetsuzan National Park
If you make it all the way up to Hokkaido, be sure to spend some time exploring Daisetsuzan National Park. The park offers numerous trails, and some of the most rugged and beautiful landscapes in the entire country. It's a far cry from the tourist trail, so you'll get to enjoy some rare peace and quiet.
17. Relax in Okinawa
If you need a break from the fast-paced life of Japan, hop down to Okinawa. Considered the "Hawaii of Japan," life proceeds at a much slower pace here. The climate is subtropical, and there are numerous nearby islands to explore. It's also famous for its diving opportunities in the coral reefs as well as World War II sites and memorials. From here you can hop to other smaller islands, which are even more remote.
18. See Arashiyama Monkey Park Iwatayama
If you are looking for a great hike in Kyoto, this is a hill that offers a bit of a challenge and an interesting attraction at the top. Beyond the panoramic views of Kyoto, this is an awesome place to see wild monkeys and get some fun souvenir photos. Just make sure to bring water and wear strong footwear. Adult admission is 600 JPY.
Be sure to visit our Japan city guides for detailed information about what to see and do in each city:
Japan Travel Costs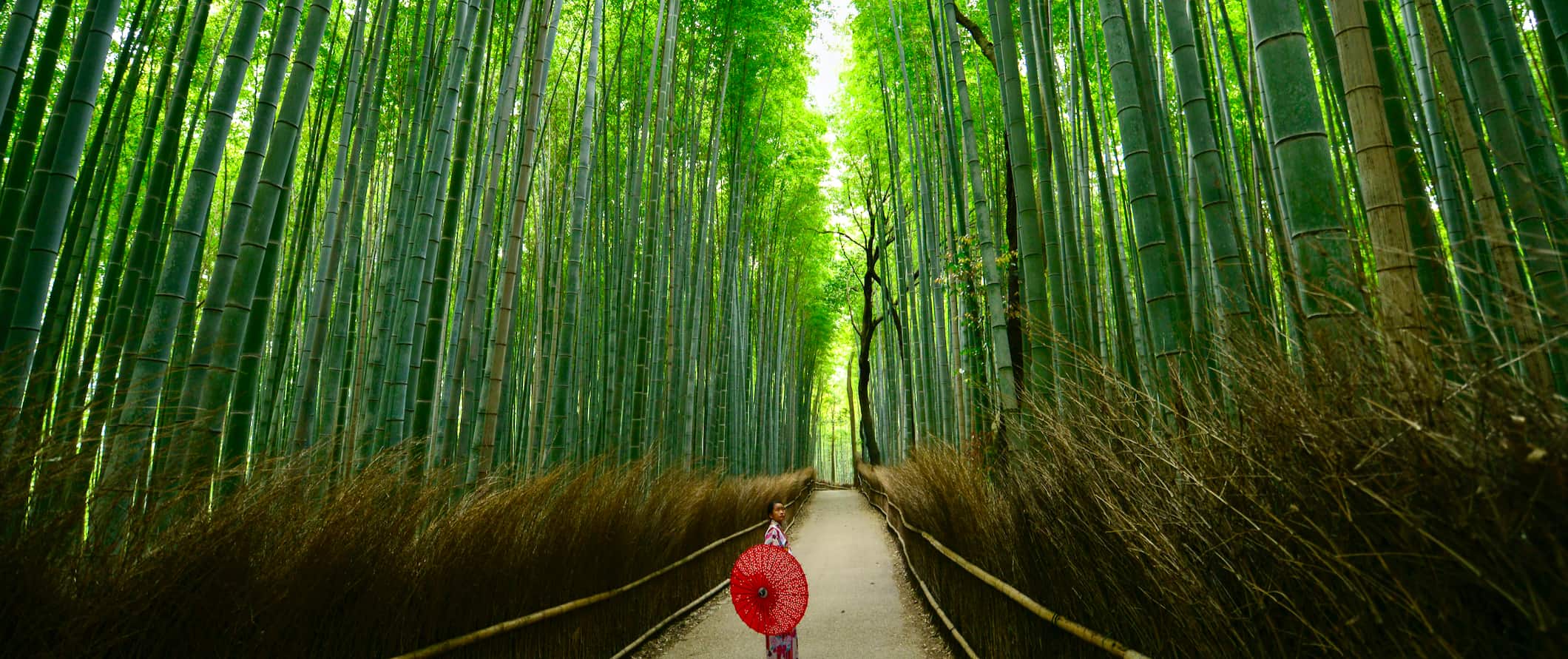 Accommodation – Expect to spend 2,500-4,500 JPY per night for a dorm room. Capsule hotels cost between 3,000-5,500 JPY for a tiny pod that's essentially just a bed. It's not fancy, but it's a unique (and very Japanese) experience. If you're looking for privacy, expect to pay around 6,000-8,000 JPY for a double room at a budget hotel.
Airbnb is heavily regulated in Japan, and as such, there aren't too many options, and the ones that do exist are expensive when compared to other accommodation choices. Private apartments/homes usually go for 10,000-15,000 JPY per night, while private rooms start at 5,000-8,000 JPY per night.
If you are looking for a more unique experience, consider staying at a ryokan, a traditional Japanese bed and breakfast. While they will be more expensive than a standard hotel, it will be a unique and memorable experience as you'll get to sleep on tatami mats, traditional breakfasts, and more!
No matter what, the price of accommodation in the big cities is significantly higher than traveling off the beaten path (Okinawa, for example, is half the price of Tokyo).
Food – Japanese cuisine is world-renowned and has even earned a spot on UNESCO's Intangible Heritage List. While each region has its own specialties, rice, noodles, seafood, and seasonal produce all feature heavily no matter where you are. You can expect internationally recognizable dishes including sushi and sashimi, tempura, gyoza, and miso soup, as well as various noodle-, beef-, and seafood-centric dishes. Popular dishes include karaage (Japanese fried chicken), champon (traditional ramen-adjacent soup) and yakiniku (Japan's version of Korean barbeque). For dessert, daifuku (a rice flour confection often stuffed with red bean paste) and green tea-flavored treats like ice cream or cookies are common.
There are many cheap places to eat out in Japan. It's common for shops to specialize in one type of dish, from the ramen or soba noodle shops to donburi (bowls of meat and rice) shops. Options like curry and donburi cost around 500-700 JPY, while ramen is usually less than 1,200 JPY. Fast food (think a combo meal from McDonald's) is around 800 JPY.
You can also find plenty of cheap meals and pre-packaged items at 7-Eleven (that the locals actually eat!). Noodles, rice balls, tofu, and pre-packed sushi are all available for only 250-500 JPY. If you are on a tight budget, 7-Eleven will be your go-to "restaurant."
Sushi trains cost between 125-620 JPY per piece, and a typical meal at a mid-range restaurant can cost around 3,000-4,500 JPY.
Domestic beer is around 450-550 JPY and sake is around 800-900 JPY per glass. A latte/cappuccino is 500-600 JPY and a bottle of water is 150 JPY.
If you want to really splash out, Japan is a great place to do so, with the second-highest concentration of Michelin-starred restaurants worldwide (Kyoto and Tokyo both have many). Stars aside, fine dining is a tradition rooted in Japanese culture, and Kaiseki Ryori is a style of high-end, multi-course Japanese dining that originated in Kyoto. It costs about 8,000-10,000 JPY for a set menu of seven courses, covering everything from chicken to wagyu steak to sushi.
Buying groceries costs around 5,000-6,000 JPY per week for basic staples like rice, vegetables, and fish. Just be sure to wash all your produce well. Japan uses a lot of chemicals on their produce as there is not much arable land in the country and agricultural practices rely on peak productivity (hence pesticides).
Backpacking Japan Suggested Budgets
If you're backpacking Japan, plan to budget between 7,000 JPY per day. This assumes you're staying in a hostel dorm, cooking some of your meals, eating at the cheap 100 yen shops, visiting free museums and temples, and using public transportation to get around.
On a more mid-range budget of 16,000 JPY per day, you can stay in nicer accommodations and private rooms, eat out more liberally, indulge in more drinks, visit more attractions, and, overall, just have some more breathing room in your travels!
On a "luxury" budget of 28,000 JPY per day or more, you can stay in traditional Japanese accommodations or 2-star hotels, eat at nicer restaurants each day, splurge on some meals, enjoy drinks as often as you want, take tours, and, overall, just afford whatever you want when you visit Japan!
Accommodation
Food
Transportation
Attractions
Average Daily Cost
Backpacker
3,000
2,000
1,000
1,000
7,000
Mid-Range
6,000
4,000
3,000
3,000
16,000
Luxury
11,000
9,000
4,000
4,000
28,000
Japan Travel Guide: Money-Saving Tips
While the above prices might seem like a lot, there are plenty of ways to lower your costs and save money in Japan. Here are some tips to help you get started:
Visit the free attractions – With countless museums, shrines, temples, historic neighborhoods, and parks, Japan is filled with opportunities to immerse yourself in culture. Many of the nation's parks and museums are free, so start with them if you're on a budget.
Get a JR Pass – The bullet trains in Japan are ridiculously expensive with one-way fares costing hundreds of dollars. If you plan to do a lot of traveling around the country, get the JR Pass which allows you unlimited train travel and can save you a ton of money. It comes in 7, 14, and 21-day tickets. Keep it mind it can only be purchased outside of the country, so be sure to plan ahead!
Take the bus – Buses are a far more economical option than the trains. They cost a fraction of the price but take a lot longer. For example, the two-hour bullet train ride from Tokyo to Osaka becomes a 10-hour bus ride. The unlimited Japan Rail Pass costs 29,650 JPY, for 7 consecutive days of travel, but this is far more expensive than using the bus. Bottom line: if you have the time, take the bus.
Shop at the 100 Yen stores – There are many 100 Yen shops in Japan with set meals, groceries, water bottles, toiletries, and household items. Store names vary by region, so ask your hotel/hostel reception where the nearest one is located.
Eat at 7-Eleven – A 7-Eleven, Family Mart, and other convenience stores have a lot of pre-made meals (including sandwiches, soups, and more traditional Japanese options) that make for a cheap lunch option. Additionally, supermarkets also have many set meals at similar prices.
Cook your own food – Many hostels have kitchens where you can cook and cut your food expenses. Combining this with shopping at the 100 Yen stores will drastically cut your food costs.
Eat curry, ramen, and donburi – I essentially lived off these three foods during my three weeks in Japan. They are the best option for eating cheap, filling meals while in Japan.
Work for your room – Many hostels in Japan often let you work for your room. You'll spend a few hours in the morning cleaning and in exchange you'll get free accommodation. This is a great way to save money if you want to stay in the same area for a while.
Stay with a local – Using hospitality sites like Couchsurfing allows you to stay with locals so you not only get a free place to stay but you get to interact with a local who can share their insider tips.
Buy food at night – After 8pm, many supermarkets discount their fresh food as they have to get rid of it. If you buy your food after 8pm, you can save up to 50% on almost everything fresh.
Hitchhike – Japan is one of the world's safest countries, and many locals are curious enough to pick up foreign visitors. Hitchhiking isn't really practiced by the locals, so you will stand out as a tourist which will increase your chances of finding a ride.
Where to Stay in Japan
Japan has lots of hostels all around the country. Here are my suggested places to stay:
How to Get Around Japan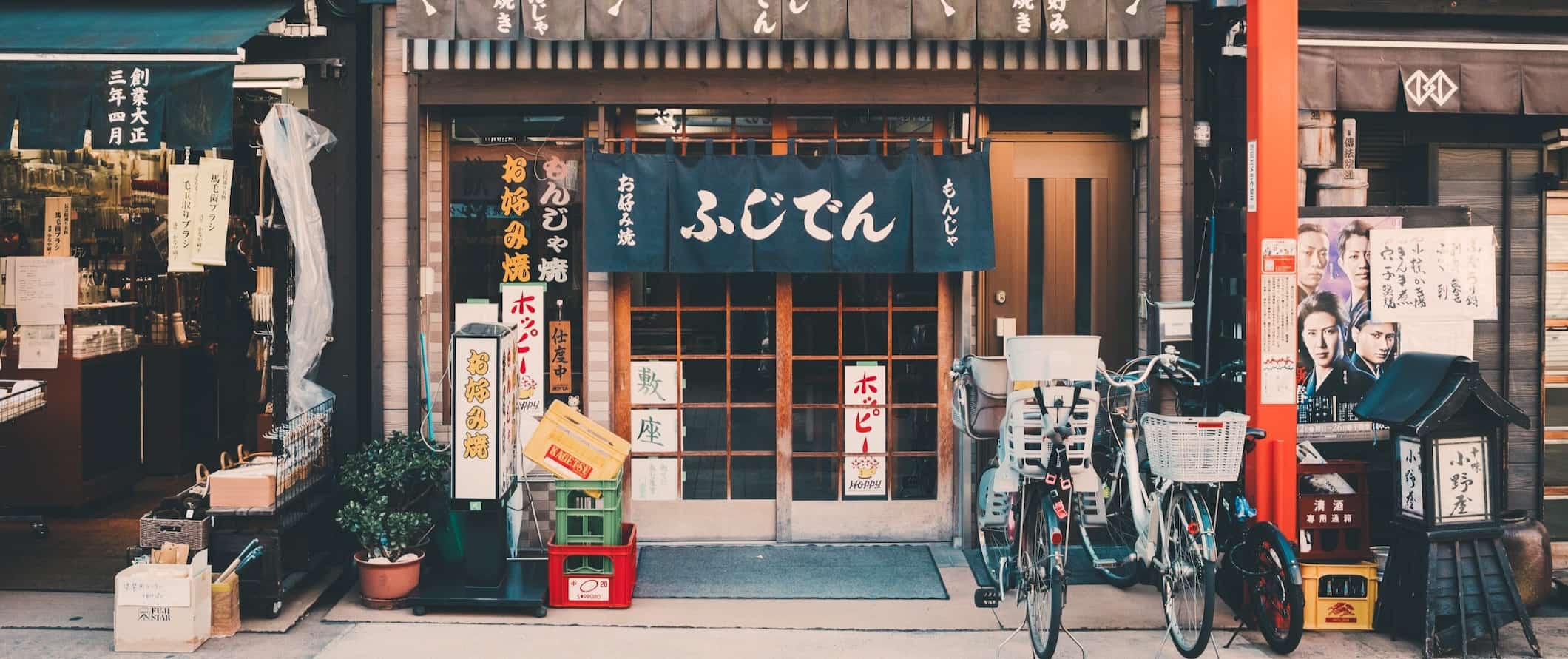 Public transportation – In most Japanese cities, metro or local bus tickets cost 150–300 JPY for a single journey. (The price varies by distance and may often be higher.) Fares are usually around 220 JPY to travel across Tokyo but less for shorter distances. In most major cities, you can buy a day pass, which gives you unlimited travel for 24 hours for around 800-1,100 JPY.
Trains – The bullet train is awesome, comfortable, and super fast — but it's not cheap. Individual tickets can cost hundreds of dollars. In order to reduce your train costs, get a Japan Rail Pass. The pass is indispensable for travel in Japan.
Even if you just get the seven-day pass, it's the same price as a round-trip train ticket from Osaka to Tokyo. Moreover, the JR trains also serve local city areas and so can be used intra-city. I used my pass to get around Kyoto and Tokyo instead of buying metro tickets.
So, even if you aren't going to do much travel around Japan, buying a pass is better than buying individual tickets. While the high price of the pass can cause sticker shock, the alternative is worse.
Buses – Buses are a less expensive alternative to the bullet train system in Japan, but they take more time. For example, the two-hour bullet train ride from Tokyo to Osaka becomes a ten-hour bus ride. The price for that seat is 4,500-8,000 JPY, but at some point, you need to think about how much your time is worth. There are also bus passes available that offer unlimited travel and begin at 10,200 JPY for three non-consecutive days of travel. You can use these two websites to book your bus journeys:
If you have lots of time and no money, take the bus. Otherwise, I'd say splurge and get the train because they really are much faster and much, much more comfortable.
Flying – In general, flight prices are on par with bullet train tickets. ANA, the main carrier, offers special last-minute fares via a hidden page on their website, usually for around 14,000 JPY for a seat. It's only available to foreigners and can sometimes be cheaper than the flights you find on Skyscanner, especially for longer routes around the country.
Generally, unless you're going up north or down to Okinawa, you won't need to fly around the country. Flights from Tokyo to Okinawa are around 23,000 JPY (return) while flights from Tokyo to Sapporo are around 16,000 JPY (return).
Car rental – With efficient public transportation and country-spanning bullet trains, renting a car here really isn't necessary. However, if you do need one, rentals start at 6,000 JPY per day for a multi-day rental. Just remember that they drive on the left here.
For the best car rental prices, use Discover Cars.
Hitchhiking – Japan is one of the world's safest countries, and many locals are curious enough to pick up foreign visitors. Hitchhiking isn't really practiced by the locals, so you will stand out as a tourist which will increase your chances of finding a ride. Most people don't speak much english, though, so prepare accordingly and download a language app. For more tips, use Hitchwiki.
When to Go to Japan
Temperature and weather varies drastically across Japan, meaning it's always a good time to visit various parts of the country. While most of Japan does have four seasons (including snowy, freezing winters in Northern Japan), Okinawa and the islands in the south are warm year-round. It gets cold in Tokyo, but it generally doesn't snow.
Japan also gets a lot of rain and humidity, mostly in the summer months from mid-June to mid-July. It gets a little drier in August before picking up again in September. Expect warm weather from June through August, with temperatures hovering around 32°C (89°F). It's very humid too.
The summer is also the most popular time to visit, so expect crowds and slightly higher prices.
Then, of course, there's the threat of typhoons. Typhoon season occurs from May to October. Japan is well-equipped to handle all types of typhoons, but be sure to purchase travel insurance in advance!
Overall, there's no real bad time to visit. Winter is awesome for skiers or snowboarders, spring is famous for its cherry blossoms, summer is full of festivals, and fall has brilliant autumn colors and nice temperatures.
How to Stay Safe in Japan
Japan is a very safe country. There's virtually zero chance you're going to get robbed, scammed, or hurt here. It's one of the safest countries in the world.
That said, it never hurts to keep your eyes peeled and your valuables secure, just to be safe.
Solo female travelers should generally feel safe here, however, the standard precautions apply (never leave your drink unattended at the bar, never walk home alone intoxicated, etc.).
Some female travelers have reported inappropriate behavior, such as men asking personal questions or catcalling, and groping on trains. Most train companies now have "women only" cars during rush hour; you'll see pink signs directing where women should board.
Scams in Japan are virtually non-existent, but if you're worried about getting ripped off you can read about common travel scams to avoid here.
Your main risk here is from Mother Nature. Earthquakes and typhoons aren't uncommon, so make note of exits when you arrive at your accommodation. Download offline maps to your phone, as well, in the event you may need to navigate the city during an emergency
If you do experience an emergency, dial 110 or you call the Japan Helpline at 0570-000-911.
The most important piece of advice I can offer is to purchase good travel insurance. Travel insurance will protect you against illness, injury, theft, and cancellations. It's comprehensive protection in case anything goes wrong. I never go on a trip without it as I've had to use it many times in the past.
Japan Travel Guide: The Best Booking Resources
These are my favorite companies to use when I travel. They consistently have the best deals, offer world-class customer service and great value, and overall, are better than their competitors. They are the companies I use the most and are always the starting point in my search for travel deals.
Skyscanner – Skyscanner is my favorite flight search engine. They search small websites and budget airlines that larger search sites tend to miss. They are hands down the number one place to start.
Hostelworld – This is the best hostel accommodation site out there with the largest inventory, best search interface, and widest availability.
Agoda – Other than Hostelworld, Agoda is the best hotel accommodation site for Asia.
Booking.com – The best all around booking site that constantly provides the cheapest and lowest rates. They have the widest selection of budget accommodation. In all my tests, they've always had the cheapest rates out of all the booking websites.
Get Your Guide – Get Your Guide is a huge online marketplace for tours and excursions. They have tons of tour options available in cities all around the world, including everything from cooking classes, walking tours, street art lessons, and more!
SafetyWing – Safety Wing offers convenient and affordable plans tailored to digital nomads and long-term travelers. They have cheap monthly plans, great customer service, and an easy-to-use claims process that makes it perfect for those on the road.
LifeStraw – My go-to company for reusable water bottles with built-in filters so you can ensure your drinking water is always clean and safe.
Unbound Merino – They make lightweight, durable, easy-to-clean travel clothing.
Japan Rail Pass – This is a flexible transportation pass used for navigating Japan. Similar to the Eurail pass in Europe, it turns expensive bullet trains into budget-friendly modes of transportation. You honestly can't visit Japan without one.
Japan Travel Guide: Related Articles
Want more info? Check out all the articles I've written on Japan travel and continue planning your trip: