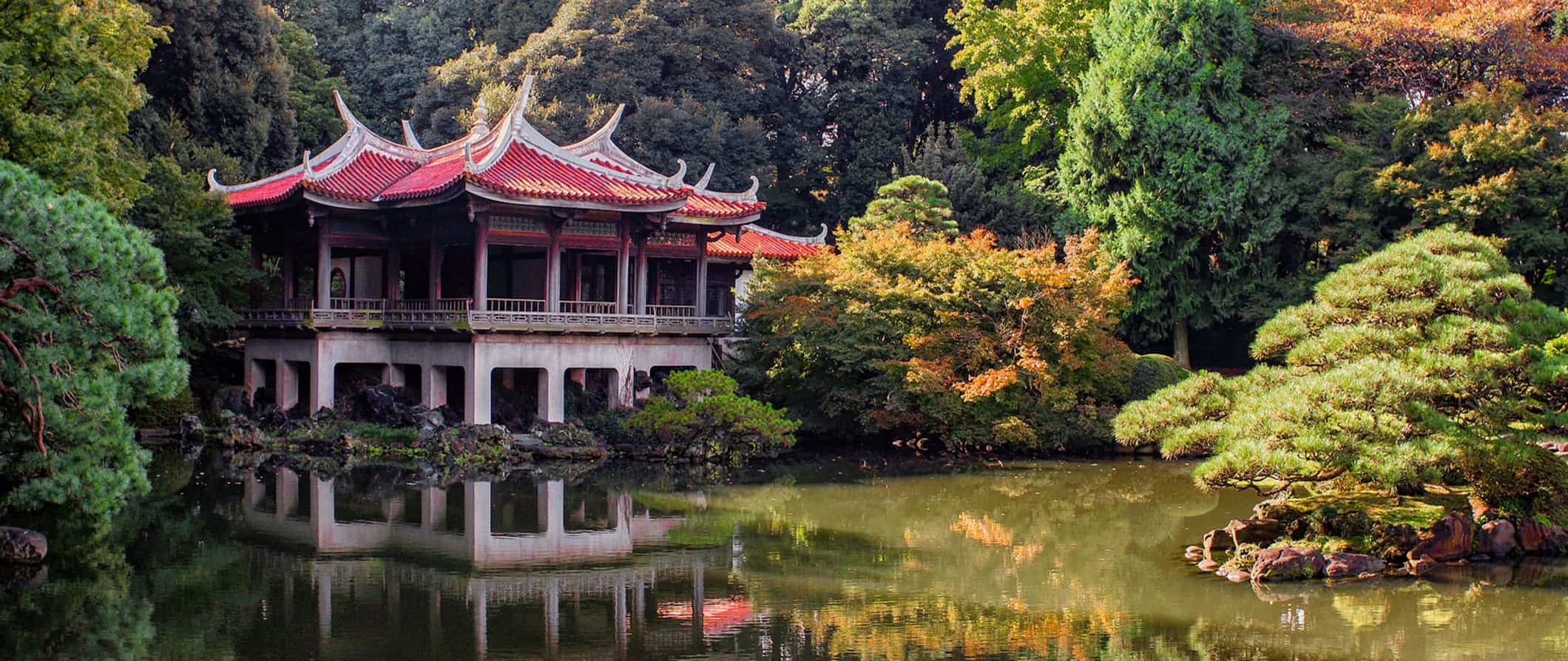 Though very expensive, Japan is one of the most amazing, beautiful, and friendly countries in the world. From bustling Tokyo and zen-like Kyoto all the way to laid-back Okinawa and wintery Hokkaido, Japan is a high-tech world mixed with the politeness and respect of their past. Honestly, I love Japan. It was a life-long dream to go there and it lived up to all my expectations. Japan has mouth-watering food, majestic temples and shrines, zen gardens, lush national parks, and a rich historic culture. It's a wonderful place and, while it may be an expensive country to visit, there are plenty of ways to make this country affordable. Don't get scared off by the prices or the language barrier. You won't regret your visit here – it's one of the most amazing countries in the world. Let this travel guide help you plan an affordable trip to Japan!
Top 5 Things to See and Do in Japan
1. Explore Tokyo
Tokyo
is one of the best places in the world: shrines, palaces, temples, cherry, hip clubs, bars, people, and fashion stores – Tokyo is a fast placed, futuristic city. Don't rush it! It's everything you expect and more!
2. Take a trip to Kyoto
The city of beautiful temples and Japanese gardens,
Kyoto
is one of the top destinations in Japan. It retains much of the traditional Japanese lifestyle and is a good juxtaposition to fast-paced and high-tech Tokyo. By far my favorite place in the country, see as many temples as possible and don't skip the epic bamboo forest!
3. Make a humbling visit to Hiroshima
Visit the bomb memorial and learn about one of the most controversial events of human history – the dropping of the nuclear bomb on
Hiroshima
. It's a tragic past but seeing how the city has thrived gives you hope for the future.
4. Climb Mount Fuji
This 3776m foot tall mountain is located near Tokyo, and it makes for a worthy climb. During the day it is often covered in fog and clouds so ascents tend to happen early in the morning or overnight. The lack of sleep is worth the jaw-dropping sunrise. Keep in mind the climbing season is short, from early in July to mid-September.
5. Visit Sapporo
The gateway to Japan's northern island of Hokkaido, this city is famous for its surrounding mountains, thermal baths, and ski resorts. Hugely popular in the winter for its winter games, be sure to check our nearby Otaru for uni, squid, and famous seafood!
Other Things to See and Do
(Click the title to expand the text)
1. Visit the Tsukiji fish market
Tokyo's fish market. This market starts bright and early at 4am and you can see the frenzied buying and selling of the world's largest tuna market. Eat just-caught sushi for breakfast and marvel at the frenzied atmosphere. There's nothing like it in the world, so this a must-see while you're visiting Japan!
2. Spend a day in the Gion District
Otherwise known as the Geisha District, you can spend the day here for as much, or as little, as you'd like to spend. The area is filled with fascinating architecture and if you're lucky you may be able to spot a geisha (a traditional professional entertainer). It's also a good area for window shopping.
3. Pamper yourself in Maika
For the ladies, the Gion District also offers pseudo-apprentice geisha treatments. You can go and have full make-up done and try on a formal kimono. Photos afterward make for an awesome souvenir—and you can even have stickers made. This is probably the most exciting way to learn about the ancient geisha tradition.
4. Visit the Heian Shrine
The Heian Shrine is a popular tourist attraction so get there early if at all possible. The garden is filled with beautiful cherry blossom trees, known as sakura, and a beautiful place for some pictures. The shrine is free but the garden nearby costs 600 JPY to enter. To see the trees in blossom, make sure you're there mid-April.
5. Relax in Ueno Park
Ueno Park is a great place to spend the day and for free. Take your camera as it's a perfect spot to record the many cherry blossom trees, and take a lunch too to save some extra money.
6. Stop by the Imperial Palace
Visit the Imperial Palace which is home to the Emperor of Japan and a perfect opportunity to learn about some of Japan's history and culture. Though you can't go inside, the surrounding grounds and park are beautiful and you can see the changing of the guard.
7. Visit Miyajima Island
Be sure to visit this "shrine island" for all its scenic beauty. It can easily be made into a full day's trip with the walking trails nearby. One-way tickets (including the ferry) to get you there will cost about 180 JPY. Be sure to hike up Mount Misen – it's a great workout and the views are stunning!
8. Visit the Bitchu Matsuyama Castle
The entrance fee for this ancient castle is 300 JPY and it's well worth it. See for yourself the only original, still-standing castle in Japan. It's the country's highest castle as well, located 430m above sea level.
9. Go on pilgrimage
The 88 Temple Pilgrimage is an ancient pilgrimage route that circles the island of Shikoku. The route is over 1,200 kilometers and can take between 30 and 60 days. You can, of course, just visit some of the temples and not walk the entire trail!
10. Hike around Nikko
A little off the beaten path, there are great temples and shrines in the woods, and the woods themselves make for excellent hiking and meditating. Nikko is worth a day or two of your time!
11. Ride the Tempozan Ferris Wheel
Located in Osaka, this 17-minute ride offers sweeping views of Osaka Bay and the surrounding area. Between 1997-1999, it was the world's tallest Ferris Wheel, but it has since been outranked. It also happens to be next door to one of the largest aquariums in the world, the Osaka Aquarium Kaiyukan.
12. Learn to meditate
There are plenty of temples and monasteries in Japan that host daily meditations, some of which even offer accommodation and allow tourists to sample monastic life. It's a really eye-opening experience. Feeling stressed or do you just want to chill out? Give it a try!
13. Stay in a ryokan
A ryokan is a traditional Japanese bed and breakfast, usually found in the more scenic regions of the country. With their tatami floors and cozy interiors, ryokans make for an intimate and unique Japanese experience. Meals are usually included, as are the traditional Japanese robes and slippers you'll wear during your stay.
14. Photograph the Hells
Also known as jigoku, this is a collection of natural, geothermal hot springs—located in Beppu. Each pool is a quasi-amusement park, with a unique theme. The purchase of a coupon grants access to nearly all of the pools. You can't get in the water, but this is an awesome photo opportunity.
15. Soak in an onsen
Natural hot springs are widespread throughout the country, and can be found both indoors and outdoors. Each has different mineral compositions and are a great way to soak in some traditional Japanese culture.
16. Explore Daisetsuzan National Park
If you make it all the way up to Hokkaido, be sure to spend some time exploring Daisetsuzan National Park. The park offers numerous trails, and some of the most rugged and beautiful landscapes in the entire country. It's a far cry from the tourist trail, so you'll get to enjoy some rare peace and quiet.
17. Relax in Okinawa
If you need a break from the fast-paced life of Japan, hop down to Okinawa. Considered the "Hawaii of Japan", life proceeds at a much slower pace here. The climate is subtropical, and there are numerous nearby islands to explore.
18. Arashiyama Monkey Park Iwatayama
If you are looking for a great hike in Kyoto, this is a hill that offers a bit of a challenge and an interesting attraction at the top. Beyond the panoramic views of Kyoto, this is an awesome place to see wild monkeys and get some fun souvenir photos. Adult admission is 550 JPY.