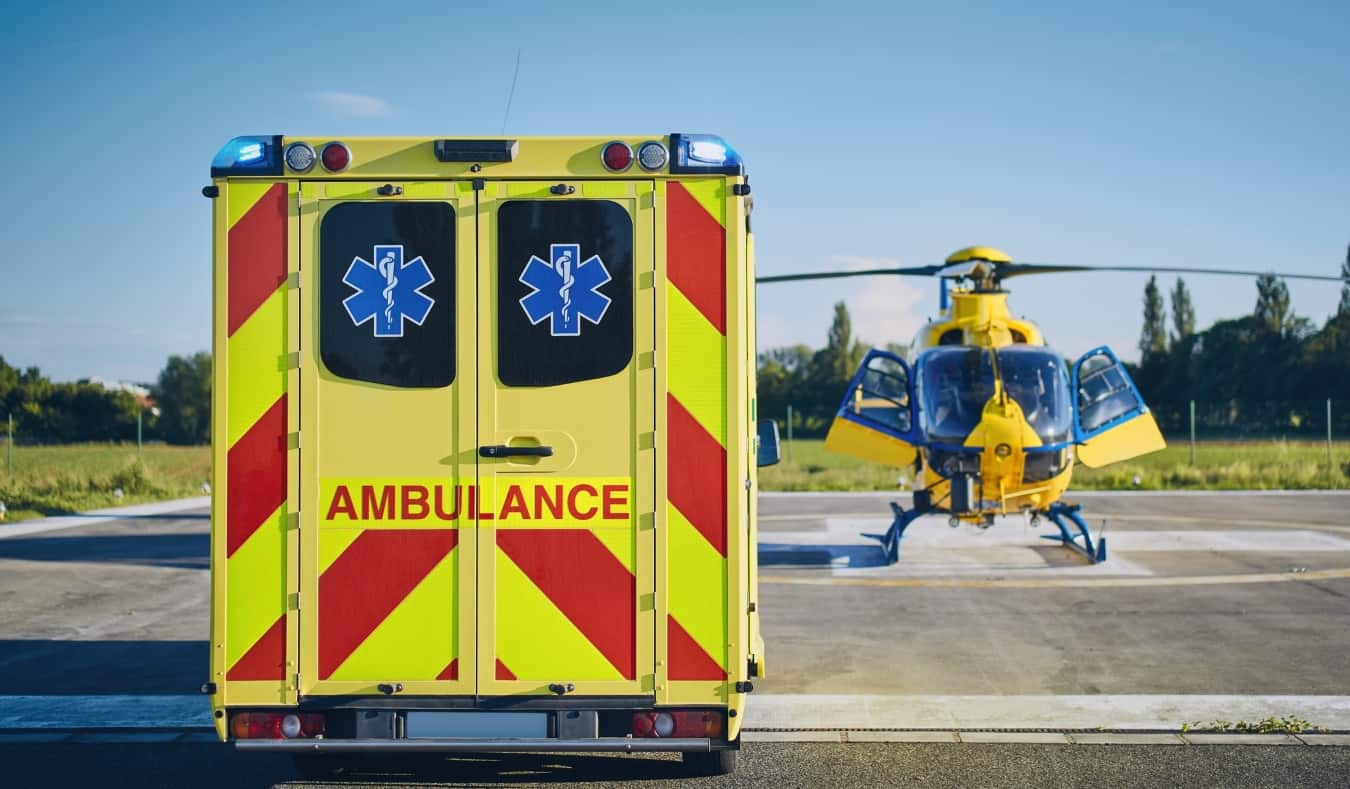 Last Updated: 7/25/23 | July 25th, 2023
While most budget travelers are content with a standard travel insurance package, today I wanted to talk about one specific aspect that I get asked about a lot: buying extra medical evacuation insurance.
When I first started roaming the world, I assumed that standard travel insurance would cover the cost of getting back home should I get injured abroad. Isn't that what their "medical evacuation" coverage does?
I was shocked to discover that, more often than not, that isn't the case.
Turns out, just because you get injured and require medical transportation doesn't mean you get sent home.
If you read the fine print, most travel insurance companies only cover your medical transport to the "best" medical facility near where you are. This is what they call the "nearest acceptable facility."
They decide where you go, not you.
They decide what the best facility is.
They decide what is suitable.
And once your travel insurance company sends you to a hospital, they have fulfilled their evacuation obligation to you. That means that if you're not sent home, you could be liable to then cover the cost of getting home — which can be a lot of money.
Now, this is not to say that "regular" travel insurance is bad. It just means that people think it covers a lot more than it does and are often upset when they find out otherwise. I mean, I love travel insurance (I never leave home without it), but it's important to know its limitations. Always read the fine print!
This is where comprehensive medical evacuation coverage can come in handy in addition to your existing travel insurance plan.
What is Medical Evacuation Insurance?
First, let's get one thing clear: Medical evacuation insurance is not the exact same thing as travel insurance (and vice versa).
Of course, travel insurance generally includes medical evacuation insurance, but travel insurance is specifically designed to protect travelers from financial loss in the event of trip interruptions and cancelations, as well as injuries while abroad.
Sprained your ankle while hiking? Travel insurance will help.
Baggage lost or delayed after a flight? Travel insurance will help.
Someone pickpocket your phone? Travel insurance will help.
For most travel and medical emergencies, travel insurance will suffice.
But where it often falls short is when you need to be repatriated.
Most travel insurance plans do include decent coverage for medical evacuation — but they only take you to the nearest facility that can handle your emergency. This means:
No guarantee of going home
No guarantee of going to the absolute best medical facility to assist you
No guarantee of someone on the ground to walk you through the process — you're usually left to handle all of that on your own (which can be difficult in countries where you don't speak the language)
And for some people, that's not good enough.
Why is Medical Evacuation Insurance So Important?
When I was stabbed in Colombia, I went to a local hospital. I was on my own, left to navigate the process with what little broken Spanish I knew. While I received basic medical care, it was not exactly the best in the world. I flew back to the US shortly after that to get the care I needed.
I was lucky that I didn't require surgery and that I was able to handle the situation on my own. I didn't necessarily need medical evacuation insurance for that incident.
But not everyone will be that lucky. Earthquakes, monsoons, hurricanes, floods, and fires do happen — and the list goes on.
Each and every year, 10 million travelers are hospitalized abroad — with over two million requiring medical transportation. And should you need to be evacuated due to an injury, weather event, or political crisis, you definitely don't want to be stuck with a pricey repatriation bill. After all, evacuation and transportation aren't cheap. Costs for a medical evacuation or medical transfer can range from $30,000 to upwards of $200,000.
Yes, you read that right: $200,000!
Unless you have that kind of money lying around, you'll want to make sure the insurance that you buy covers you for medical evacuation, transportation, transfers, and repatriation. You don't want to be stranded at a foreign medical facility — especially if that facility doesn't provide the degree of care that you need.
While these sorts of emergencies are rare, it's much better to pay a small fee now than to risk going bankrupt because of an unexpected injury. Because $200,000 is a LOT of money!
Just as important as the financial argument for medical evacuation insurance is the fact that having comprehensive coverage gives you peace of mind. You and your loved ones can relax, knowing that, should the worst happen, you have a company there that is ready and able to help you get through it. The last thing you want on your vacation is to be fretting about the fine print on your insurance policy.
Over the past decade, I've had to deal with all sorts of hiccups on the road, from minor inconveniences, like a broken camera and lost baggage, to more serious situations, like when I burst my eardrum.
Take it from me: peace of mind is worth the price.
That's why it's important to be prepared.
That's why more and more travelers are ensuring they have medical evacuation insurance AND joining medical transport membership programs to ensure they can get all the way to a hospital at home.
Our Recommended Company
Medjet is a membership program that offers comprehensive medical transportation services all around the globe. They have access to hundreds of air ambulances, expert medical transport escorts and staff located all over the world, and if you also have their security coverage, you have 24/7 access to a global network of security and crisis experts for in-country response and evacuation if you need it!
Medjet has the best reputation for medical transport services. They were the first medical transport program in the US and have been doing it for almost 30 years. They specialize in hospital-to-hospital transport, making it the go-to company for travelers concerned about medical evacuation and repatriation. All the travel pros I know use it.
Where most insurance companies will just take you to the nearest medical facility, Medjet will make sure you get to a hospital at home.
Additionally, Medjet:
Allows you to choose what home hospital/medical facility you want to go to
Arranges medical transfer regardless of medical necessity (this is where most travel insurance evacuation coverage falls short)
Provides service both within the US as well as abroad (any time you're 150 miles or more from home it works)
Does not have any "adventure travel" exclusions like most insurance does
Can initiate security response and evacuation even if there is no government warning to do so
Offers coverage for those up to age 74 (with extended coverage for those up to age 84)
Has no pre-existing condition exclusions
However, it is also extremely affordable — I'm still a budget traveler after all! Medjet offers both short-term and annual plans. An annual membership can cost as little as $315 USD per year, which is amazing value if you're an avid traveler.
If you're looking for coverage that goes above and beyond what most companies offer, you'll want to consider Medjet — especially if you're concerned about the cost of a medical evacuation.
It's also the perfect choice for anyone looking to do adventurous activities or travelers who are heading into a region where extreme weather events (such as hurricanes or floods), fires, or earthquakes are common.
Medjet also includes COVID-19 coverage, so if you're hospitalized abroad for COVID-19 and need to be repatriated, Medjet has you covered (with some restrictions). You can read Medjet's full COVID policy here for more information.
***
Nobody likes to imagine something going wrong on their trip. But accidents and emergencies do happen. Make sure you have the evacuation insurance coverage you need on your next trip. You won't regret it!


Book Your Trip: Logistical Tips and Tricks
Book Your Flight
Find a cheap flight by using Skyscanner. It's my favorite search engine because it searches websites and airlines around the globe so you always know no stone is being left unturned.
Book Your Accommodation
You can book your hostel with Hostelworld. If you want to stay somewhere other than a hostel, use Booking.com as it consistently returns the cheapest rates for guesthouses and hotels.
Don't Forget Travel Insurance
Travel insurance will protect you against illness, injury, theft, and cancellations. It's comprehensive protection in case anything goes wrong. I never go on a trip without it as I've had to use it many times in the past. My favorite companies that offer the best service and value are:
Want to Travel for Free?
Travel credit cards allow you to earn points that can be redeemed for free flights and accommodation — all without any extra spending. Check out my guide to picking the right card and my current favorites to get started and see the latest best deals.
Need Help Finding Activities for Your Trip?
Get Your Guide is a huge online marketplace where you can find cool walking tours, fun excursions, skip-the-line tickets, private guides, and more.
Ready to Book Your Trip?
Check out my resource page for the best companies to use when you travel. I list all the ones I use when I travel. They are the best in class and you can't go wrong using them on your trip.