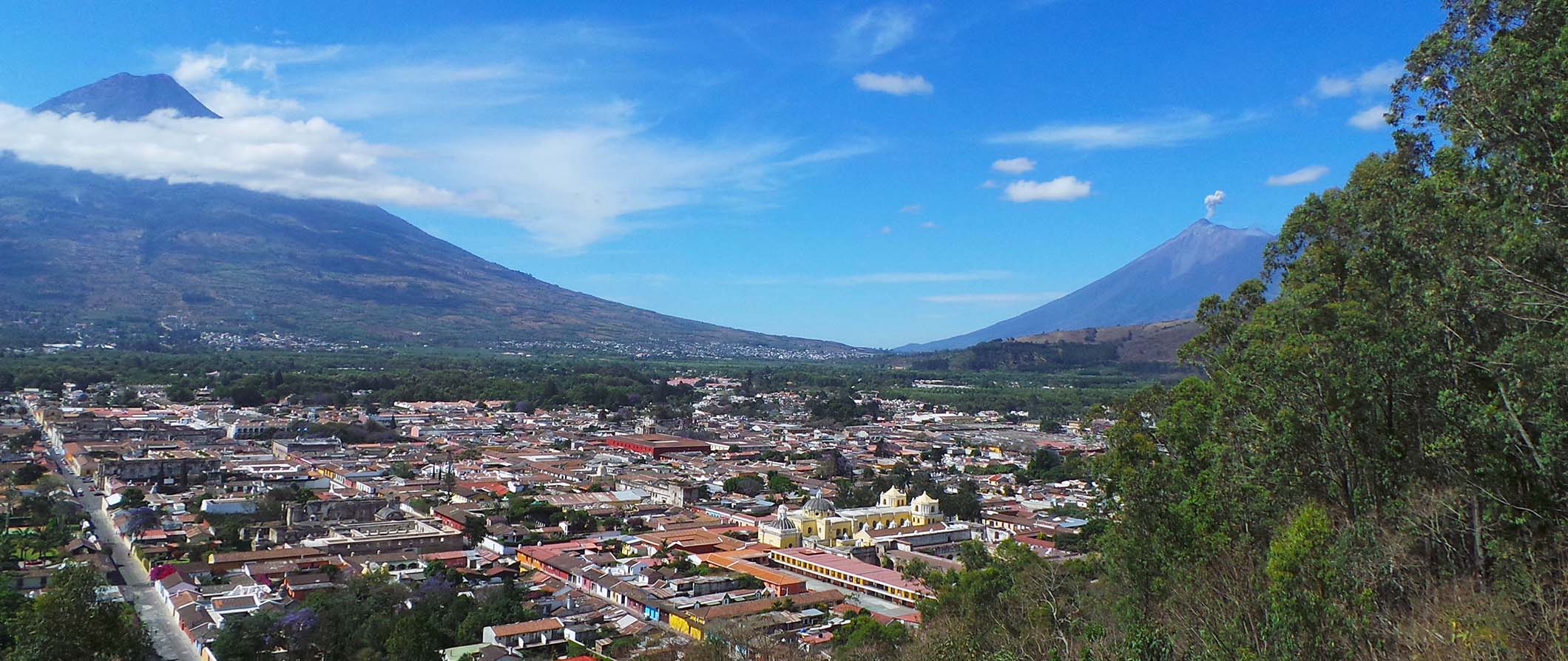 Guatemala is the Mayan heart of Central America. There are dozens of historical sites to explore in this country, but there are other charms here as well, such as the colonial city of Antigua, the lively market of Chichicastenango, the incredible ancient ruins of Tikal, and many awesome volcanoes and lakes. All that plus dense jungles, colonial cities, and relatively inexpensive food makes Guatemala one of the best places in the region. This travel guide can help plan your trip there and avoid the hordes of tourist who are slowly discovering this inexpensive and wonderful country.
Top 5 Things to See and Do in Guatemala
1. Take in Lake Atitlán
This lake is framed by three volcanoes and offers arguably the best spot to watch the sunset in Guatemala. On the northern coast of the lake lies the tourist village of Panajachel, a good base to arrange lake and volcanoes tours as well as to enjoy the many restaurants, bars, and nightlife in a beautiful lakeside setting.
2. Head to Antigua
This picturesque colonial city sits in a highland valley between three volcanoes and is full of characteristic colonial Spanish architecture, from its cobbled streets, churches, and houses, to its ruins, and parks. Head to the Plaza Mayor (central square) to take in its amazing gardens, palaces, and cathedral.
3. Stroll Tikal National Park
Guatemala's most famous cultural attraction. I loved these ruins — they made me feel like Indiana Jones. Come early and stay late as the park empties out in the afternoon when the tour groups leave, and you can have the place all to yourself. I also recommend sleeping over in the park to catch the sunrise. Admission is 150 GTQ.
4. Visit Semuc Champey
Semuc Champey consists of a 1,000-foot long limestone bridge over the Cahabòn River. Take a candlelit tour through the Kamba caves, go tubing down the Cahabòn, or swim in the turquoise pools along the bridge. FYI, the caves are privately owned and can only be visited with a guide. Most tour operators have day trips to both sites for 150-225 GTQ.
5. Chichicastenango Market
Most people who come to Guatemala visit Chichicastenango — the largest native market in North America. Every Thursday and Sunday is market day in "Chichi" when thousands of Quiche Mayans come to town to buy and sell handicrafts, flowers, poetry, trinkets, and textiles.
Other Things to See and Do
(Click the title to expand the text)
1. Museum of Archaeology and Ethnology
Located in Guatemala City, this museum houses the many artifacts uncovered from the Mayan archaeological sites in the country. It's actually a good place to start if you are planning to visit the Mayan sites as it will give you a good reference point from which to plan your trips and decide which sites you are most interested in. Admission for foreigners is 60 GTQ per person.
2. Yaxha Mayan Ruins
If the Tikal ruins are too "commercialized" for you, then consider the more secluded Yaxha ruins. The trail takes you through the jungle before you come to the Mayan complexes. Although smaller than Tikal, these ruins are less crowded and you can spend time more looking at ancient drawings and intricately carved hieroglyphs. Admission is around 15 GTQ per person.
3. Explore Quirigua
The archaeological site of Quirigua contains the largest stelae (standing stone slabs covered in drawings or carved into shapes) ever discovered in the Mayan world. Nine stelae are arranged around a central plaza, accompanied by altars carved into zoomorphic shapes. Although the stelae are unrestored, they are a magnificent sight; the largest of these, Stela E, is 25 feet tall.
4. Travel to Volcán de Pacaya
Lying close to Guatemala City and Antigua, Pacaya National Park is a popular tourist attraction. The volcano is still active and frequently erupts ash clouds over Antigua. The hike up is relatively easy, giving you lots of time to admire the view over the nearby city before you actually get the chance to peer into the volcano's cone.
5. Travel to Flores
This tourist-friendly island is in the middle of Lake Peten Itza. From here you can find bus rides offered to Tikal, which are some of the best preserved Mayan ruins in the world. Keep a look out for the howler monkeys while you explore the dense jungle here!
6. Learn about the ruins at El Mirador
El Mirador is perhaps the most undiscovered of the Mayan sites in Guatemala. The majority of complexes lie in the depths of the jungle and so remain relatively inaccessible to many tourists. Entry is 60 GTQ per person, though if you book a tour this price is usually included in your booking fee.
7. Explore Rio Dulce
Rio Dulce is a gorgeous river and popular backpacker destination in eastern Guatemala. Two towns, El Relleno and Fronteras, lie on either side of the river and are connected by one of the largest bridges in Central America. There is a lot of trekking and water activities in this area.
8. Visit the Antigua Market
This busy, sprawling market is colorful and somewhat chaotic. It is open-air, and filled with everything from fruits and vegetables, to handmade crafts and poultry. This is where the locals go, so be prepared for a lot of noise and some dustiness.
9. Relax at Monterrico
This is the most popular beach in the country. Located close to Guatemala City and Antigua, it's a great place to catch some sun and hit the waves. Just don't head out too far as there is a strong undertow here!
10. Purchase fabrics and textiles
Handcrafted traditional Mayan blouses and skirts, or huipiles and cortes, are specialty items here. Keep a look out for those that aren't entirely authentic.