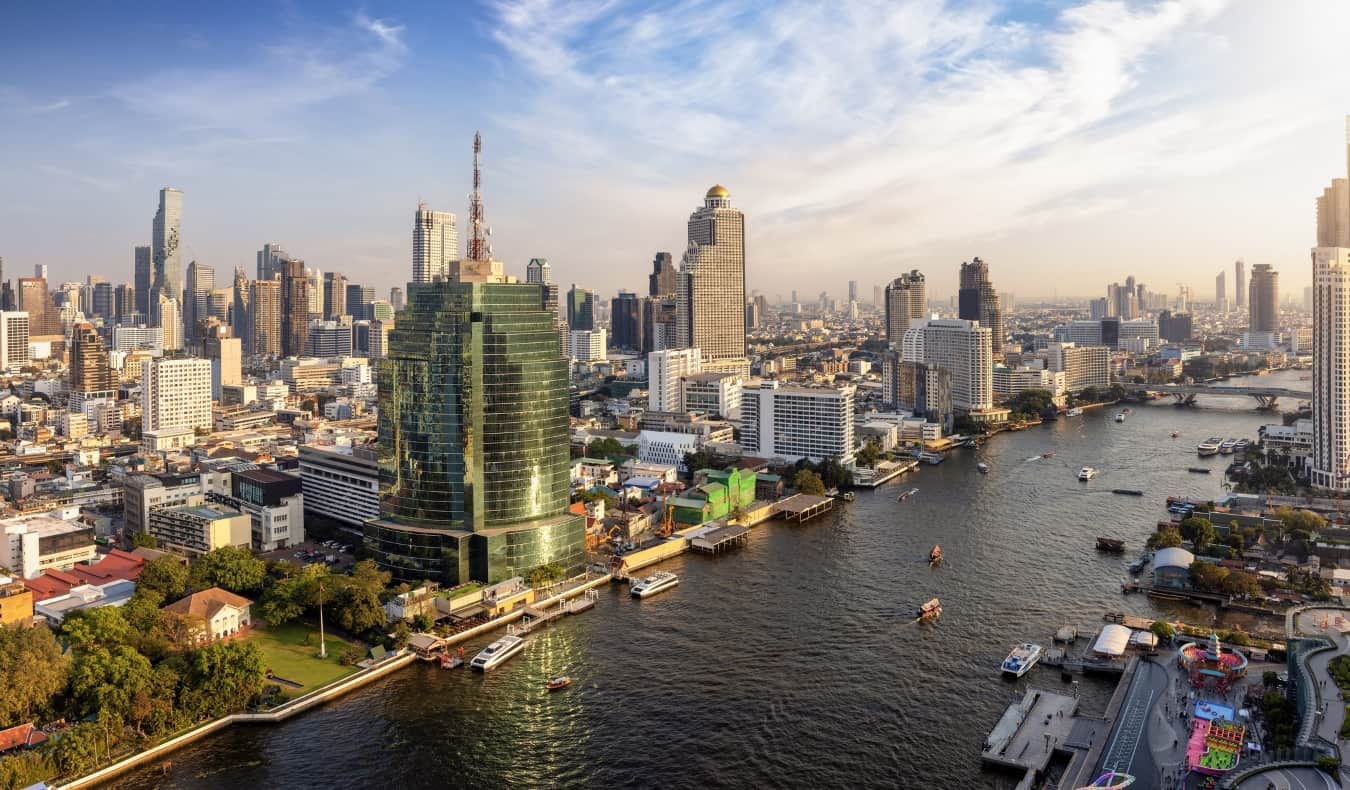 Last Updated: 9/26/23 | September 26th, 2023
Bangkok can be an overwhelming destination for tourists. It's depicted in many Western films as seedy, gritty, and intense, with a wild nightlife and never-ending traffic.
Most visitors don't stay for long, but if you're patient and begin to peel back the layers, you'll discover a complex, beautiful city filled with some of the friendliest and most thoughtful people you will ever meet (Thailand is called the Land of Smiles for a reason!) and delicious street food.
But is Bangkok a safe place to visit?
Just like any major city, you must be alert and aware of your surroundings as you explore. However, it's quite safe, and the risk of serious danger is very low (unless you are up to something illegal). You are most likely to encounter small scams designed to get a few extra bucks from you (more on that later).
Here's everything you need to know to stay safe in Bangkok:
11 Safety Tips for Bangkok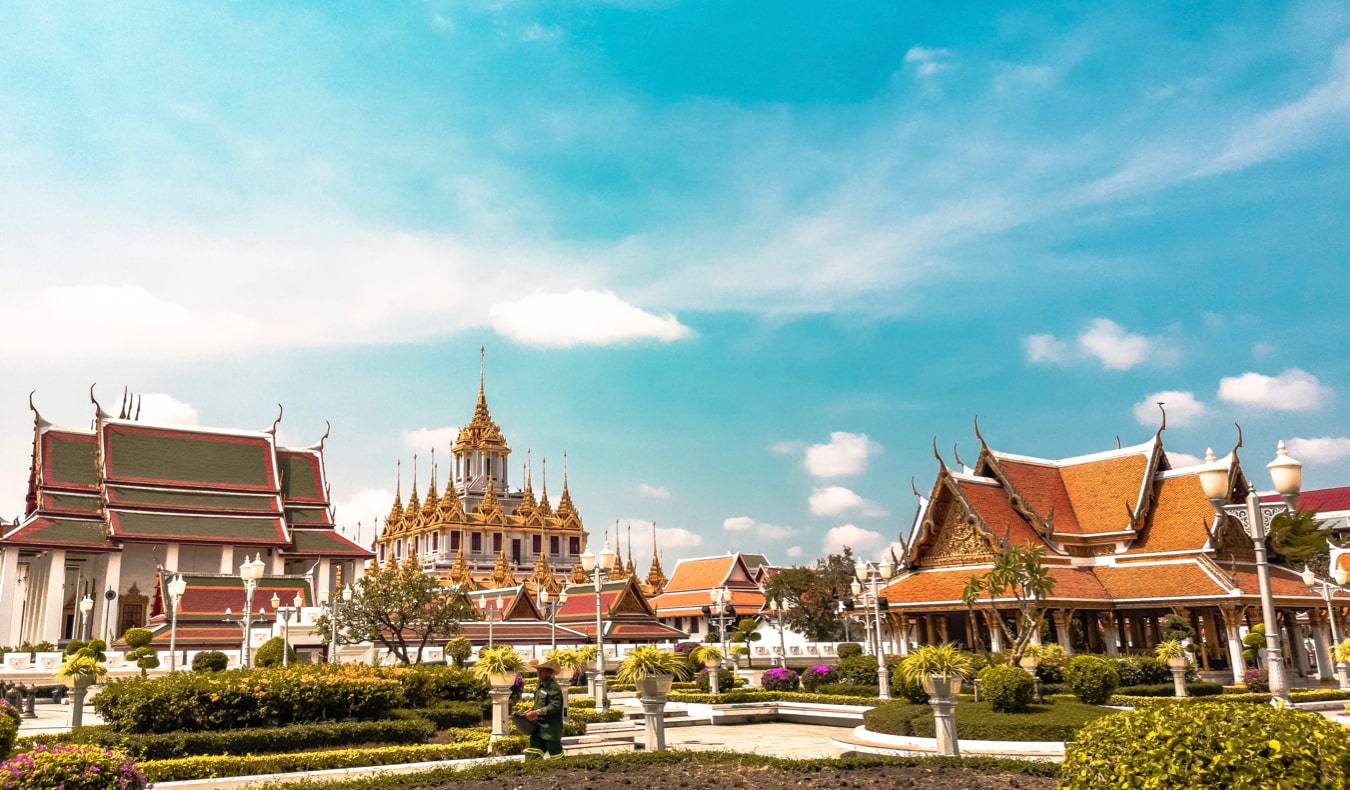 1. Be alert as a pedestrian – Traffic in Bangkok is chaotic and by far the most dangerous aspect of the city, with over 100,000 accidents that cause hundreds of deaths and thousands of injuries per year (1/3 of the victims are pedestrians). Motorbikes run red lights and drive on the sidewalks so it's always a good idea to be cautious when crossing the streets and walking around town. Look both ways and stay alert. (And, remember, they drive on the left side of the road!)
2. Carry a photocopy of your passport with you – This is a no-brainer for anyone who travels overseas. Put your real passport away in the lockbox provided by your hotel or hostel, and carry around a photocopy or a digital version on your phone or in your email.
3. Never leave your drink unattended – This is another universal safety tip. Drinks can be spiked at any moment, so always keep yours close, or hand it to someone you trust if you need to.
4. Do not take or accept any recreational drugs – While weed has been decriminalized, Thailand generally has a strict no-drugs policy. Anyone caught using or carrying illegal substances will go to jail (and likely be fined too).
5. Don't talk about the royal family – Under the lèse majesté law, you are forbidden to speak negatively of the king and the royal family. If you are caught insulting the monarchy, you can be sentenced to up to 15 years in prison.
Other countries may have lèse majesté laws, but Thailand's enforcement is the world's harshest. Over the years, people have faced lèse majesté charges over minor offenses: teenagers who wore crop tops (mocking the king, who was seen wearing one), a woman who wore black on the king's birthday, a man who mocked the king's dog on the internet, and individuals who have posted or liked Facebook posts criticizing the king, to name a few.
It's crucial you not discuss the king or royal family publicly or with locals, or you will face major consequences that all the travel insurance in the world will not protect you from!
6. Don't walk around at night intoxicated – This applies to every city, but it's especially important here as well. Bangkok has a wild nightlife and drunk people wandering around at night are common. They are also easy victims for petty theft, so if you do go out at night be sure to cab home just to be safe.
8. Download the Prey app to your phone and laptop – If your devices gets stolen, you'll be able to track them and remotely turn on your camera to photograph the thief (you can also wipe the data and message the thief too). It costs just $1.10/month.
9. Avoid outdoor ATMs – If you need to withdraw cash, only use ATMs inside buildings. Always be aware of your surroundings before you take out your wallet.
10. Don't pet street animals – Stray animals (both in the city and also around the country) may have diseases like scabies or rabies with rabies. Avoid petting street animals just to be safe. If possible, get your rabies vaccine before you go (and make sure your travel insurance plan covers animal injuries).
11. Buy travel insurance – No one wants to think about things going wrong on their trip, but being prepared and buying travel insurance is something I do before every trip. You should have it whenever you travel, but in a country where petty theft and scams are, unfortunately, a little more common, it's extra important. Be a smart traveler — buy travel insurance.
Here's a list of my recommended companies to help you buy a plan that suits your needs and budget.

How to Avoid Scams in Bangkok
Bangkok is generally safe for travelers and backpackers, but it's also incredibly hectic. Petty theft (including bag snatching) is the most common type of crime you'll encounter. Also, some people may try to rip you off, including taxi drivers who refuse to turn on their meters. Avoiding travel scams requires a lot of common sense and a healthy dose of suspicion. (You can read this post on travel scams to avoid for more info.)
Here are the two most common scams in Bangkok to be aware of:
1. Taxi scams
You hop into a taxi and realize the meter isn't running. You mention this to the driver and their response is that the meter is "broken," and he quotes you a price that is outrageously high. Or you might notice that the meter is working but the fare is rapidly increasing.
To avoid these scams, ask the staff at your hostel or hotel to give you an idea of how much a ride should cost before hailing a taxi. In my experience, if the cabbie tries to negotiate the rate, I use the one quoted to me. If he refuses, I get out and find someone who will turn the meter on. Ideally, only use taxis with working meters.
If the meter looks as though it's rising unusually fast, ask the driver to pull over and get out immediately.
Another situation you may encounter is your taxi driver "taking the scenic route." You'll end up sitting in traffic, and the cabbie will make money at your expense. We live in the age of technology, so if you're suspicious of your driver's route, pull your smartphone out and use Google Maps to find the quickest way to your destination. (Better yet, find out the optimum route ahead of time.)
Don't hesitate to show the phone to your driver and insist on taking this route. If you don't have data on your phone, make sure you download a map of the city so you can use it offline.
If you end up with a bad taxi experience, take a photo of the driver's ID/registration number and report him to Thailand's tourism board. And always, always use only official taxis or Grab (the local equivalent of Uber, which does not operate here).
2. The tourist site is "closed"/tuk-tuk ride scam
This is probably the most common scam in Bangkok. When visiting tourist attractions, often around Wat Phra Kaew, the Grand Palace, or Wat Arun, someone will randomly come up to you and say that the place is closed for a special ceremony or for lunch hour. Then, this overly helpful individual will offer to take you to places that are open. While touring the attractions, the driver will take you to a gem shop, a souvenir shop, or a tailor where they receive a commission.
A few hours later, the driver will drop you off at your original location once it's "reopened," and by that time you've realized that the site was open the entire time — you were just in the wrong part of the building.
This is where your good sense and confidence come into play. Avoid talking to these locals and firmly say "no thanks" and walk away. Then find the main entrance or ticket counter and see for yourself!
Another thing to note is that most attractions don't close for lunch — they close for the day. Look up the hours of operation before you go, so you know what to expect. Opening and closing times for the main attractions are almost always available online.

Frequently Asked Questions About Safety in Bangkok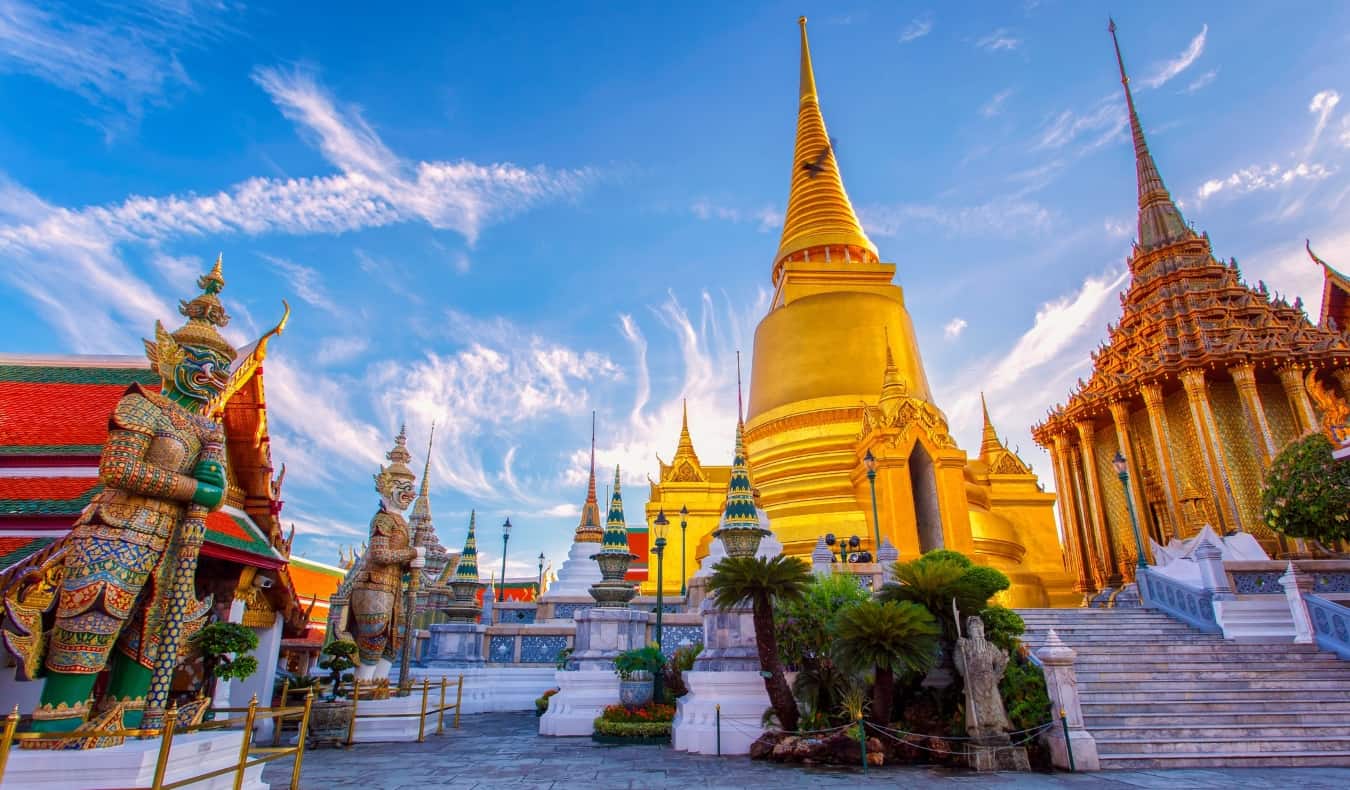 Below is a list of some of the common questions I get on safety in Bangkok, so you can be better prepared for your trip!
Is street food in Bangkok safe?
Yes, absolutely! Bangkok is considered the street food capital of the world, and you will not find a shortage of stalls selling delicious local dishes on every corner. Of course, if there is something that doesn't smell or look right then it might be best to avoid it. But if a street vendor has local customers, you can usually trust that it's safe.
Is the tap water in Bangkok safe?
According to the Bangkok Metropolitan Waterworks Authority, the city follows the World Health Organization standards for providing safe drinking water for the population. However, although the water is treated in plants, the pipes it travels through can be very old and dirty, which can lead to contamination. Locals usually boil the tap water first before drinking it, or they will purchase bottled water. I recommend getting a Lifestraw, a water bottle with a built-in filter, to ensure that your water is safe to drink while simultaneously avoiding single use plastic bottles.
Are taxis in Bangkok safe?
Taxis are safe and affordable and my preferred way to get around town. However, you may come across the occasional meter or "scenic route" scam. When you get into a cab, always check that it has a working meter and agree on a route prior to the start of your journey. (If you've read the section on taxi scams above, you will be well prepared for this type of situation.)
Is Bangkok safe for solo travelers?
Bangkok is safe for solo travelers, and a great first city to solo-travel in. I've been going there for the past 15 years and have rarely encountered any problems.
That said, there are areas of Bangkok that are all about partying and drinking, and the biggest incidents happen when people are drunk and stupid. Don't get too drunk. Also avoid illegal substances at all cost — Thailand is very, very strict on drugs, and you're going to be screwed if you get caught.
Is Bangkok safe for solo female travelers?
Solo female travelers should feel safe touring the city. It's very easy to meet other travelers, especially female ones, in Bangkok. Some precautions and planning are in order, though. Always have a downloaded map and translation app so you can find your way home or ask for help if you need it. Don't flaunt any valuables, and avoid taking taxis alone at night.
If you're still nervous about heading somewhere, ask to join a group at your hostel; groups are less likely to be victims of scammers or theft, and you'll feel safer that way.
Here are a few helpful posts on safety written by our solo female travel experts:
***
Bangkok has an electric energy to it, and with its endless supply of things to see and do, you will never be bored. I finally began to love the city when I got to know it beyond the temples and the typical tourist sites. Once I found hidden markets and amazing street stalls frequented only by locals, became friends with residents, and understood how Bangkok operated, I understood why people loved it so much.
Like any major city, Bangkok comes with its fair share of scammers and unruly drivers. But if you are smart and alert, trust your instincts, and follow this safety guide, you'll have an unforgettable experience while staying safe.
Get the In-Depth Budget Guide to Thailand!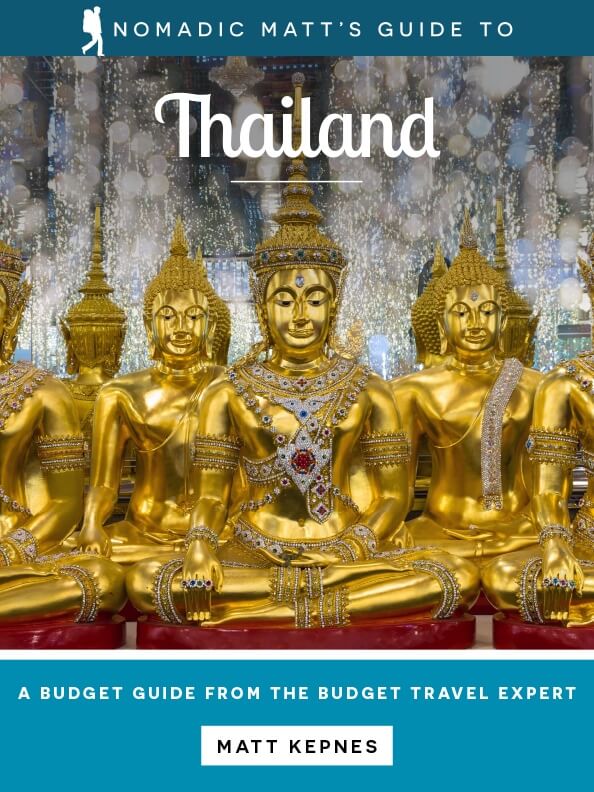 My detailed 350+ page guidebook is made for budget travelers like you! It cuts out the fluff found in other guidebooks and gets straight to the practical information you need to travel around Thailand. You'll find suggested itineraries, budgets, ways to save money, on and off-the-beaten-path things to see and do, non-touristy restaurants, markets, bars, safety tips, and much more! Click here to learn more and get your copy today.
Book Your Trip to Bangkok: Logistical Tips and Tricks
Book Your Flight
Use Skyscanner to find a cheap flight. They are my favorite search engine because they search websites and airlines around the globe so you always know no stone is left unturned!
Book Your Accommodation
You can book your hostel with Hostelworld as they have the biggest inventory and best deals. If you want to stay somewhere other than a hostel, use Booking.com as they consistently return the cheapest rates for guesthouses and cheap hotels.
Here's a list of my favorite hostels in Bangkok. And if you're wondering what part of town to stay in, here's my neighborhood breakdown of Bangkok!
Don't Forget Travel Insurance
Travel insurance will protect you against illness, injury, theft, and cancellations. It's comprehensive protection in case anything goes wrong. I never go on a trip without it as I've had to use it many times in the past. My favorite companies that offer the best service and value are:
Looking for the Best Companies to Save Money With?
Check out my resource page for the best companies to use when you travel. I list all the ones I use to save money when I'm on the road. They will save you money when you travel too.
Want More Information on Bangkok?
Be sure to visit our robust destination guide on Bangkok for even more planning tips!