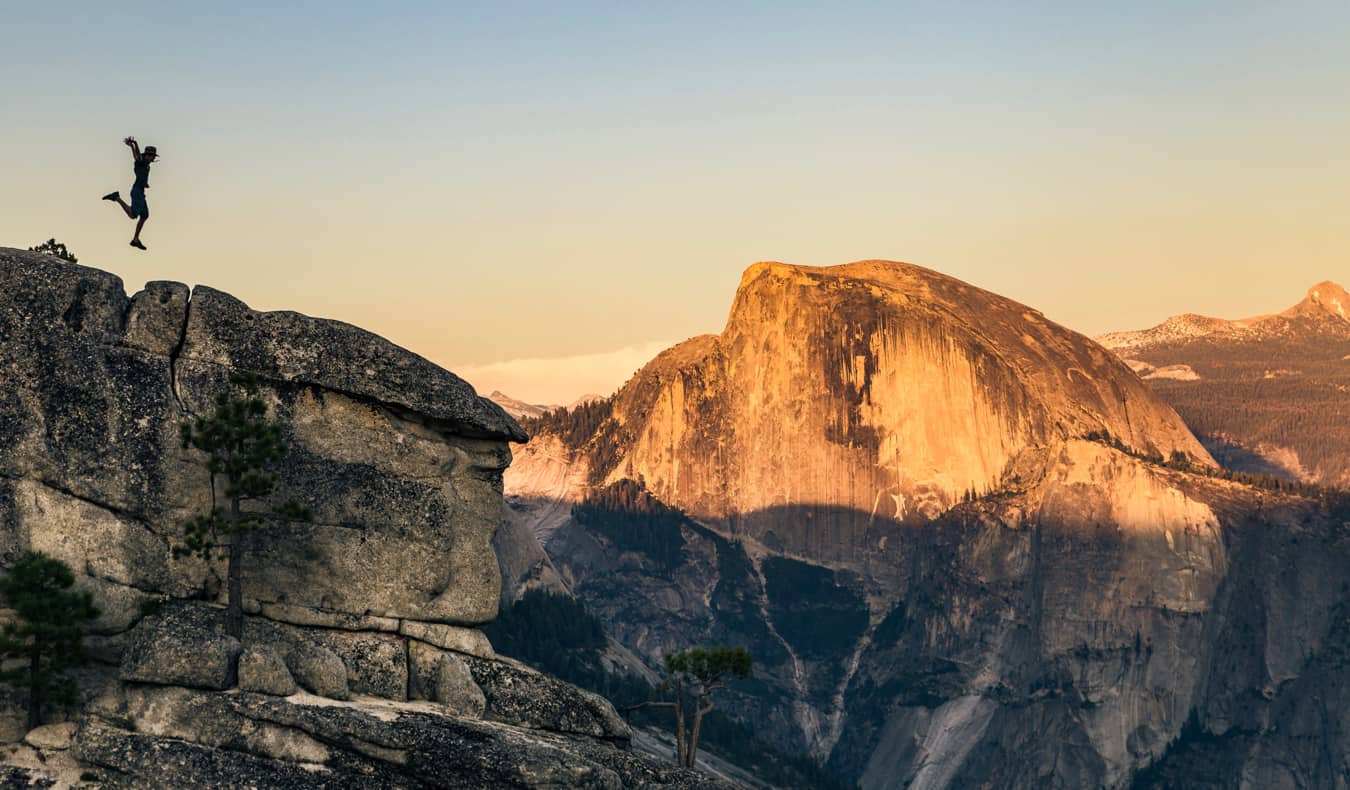 Last Updated: 6/27/22 | June 27th, 2022
Budget travelers love saving money. But one of the expenses that we shouldn't be cheap with is travel insurance.
After over 15 years of traveling the world, I still never leave home without it.
Why?
Because I've seen firsthand how useful it can be — and how much money it can save.
I've lost baggage, had my camera broken, and even needed emergency medical help over the years.
Travel insurance has been there for me each time. Not only has it saved me money but it's provided me with peace of mind as I explore.
I've written extensively over the years about why you need insurance, how to pick the right company, and listed my preferred providers.

Who is SafetyWing?
In 2018, a new insurance company emerged: SafetyWing. It is a fully remote Norwegian start-up based in California that focuses on coverage for long-term travelers and digital nomads. It is run by nomads and expats who know exactly what such travelers need.
SafetyWing offers basic insurance plans for a fraction of what other companies charge, although they are also less comprehensive. To me, they are the best overall travel insurance company out there.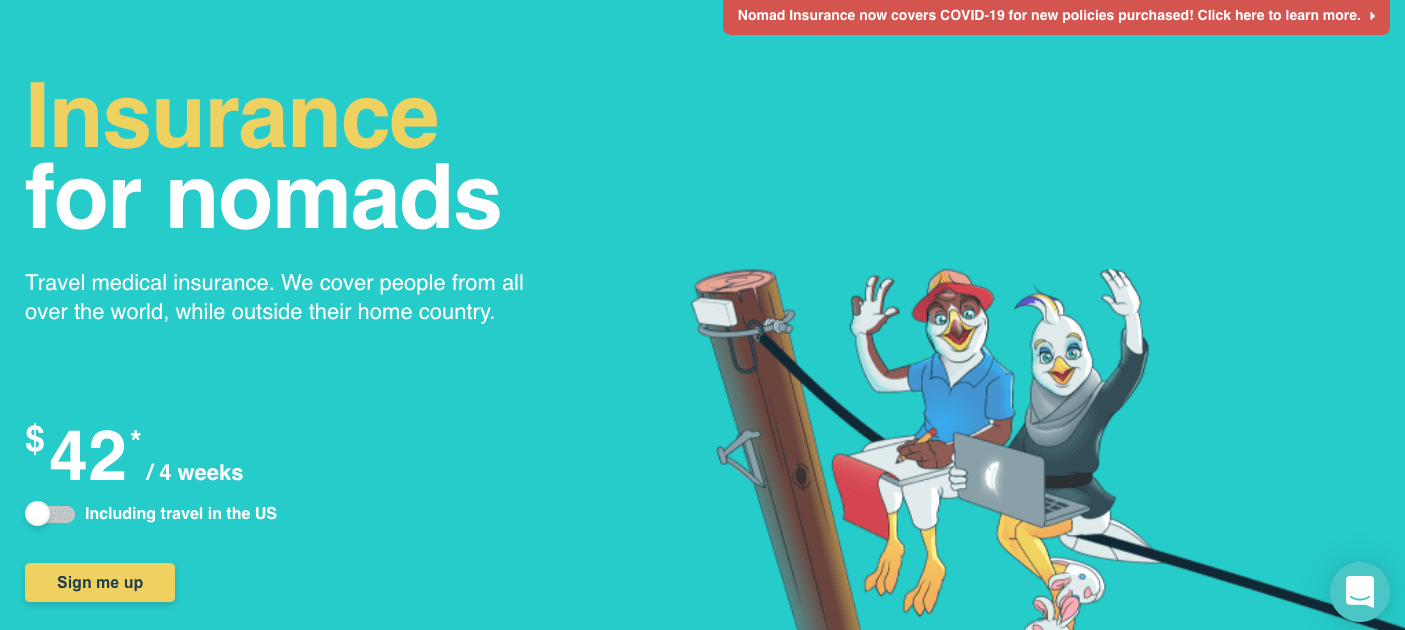 Their standard coverage costs just $42 USD for 4 weeks (for travelers aged 10-39). That's one of the lowest prices out there for reliable travel insurance.
Their coverage extends all the way to age 69, however, travelers aged 65-69 should expect to pay upwards of $144 USD per month for coverage.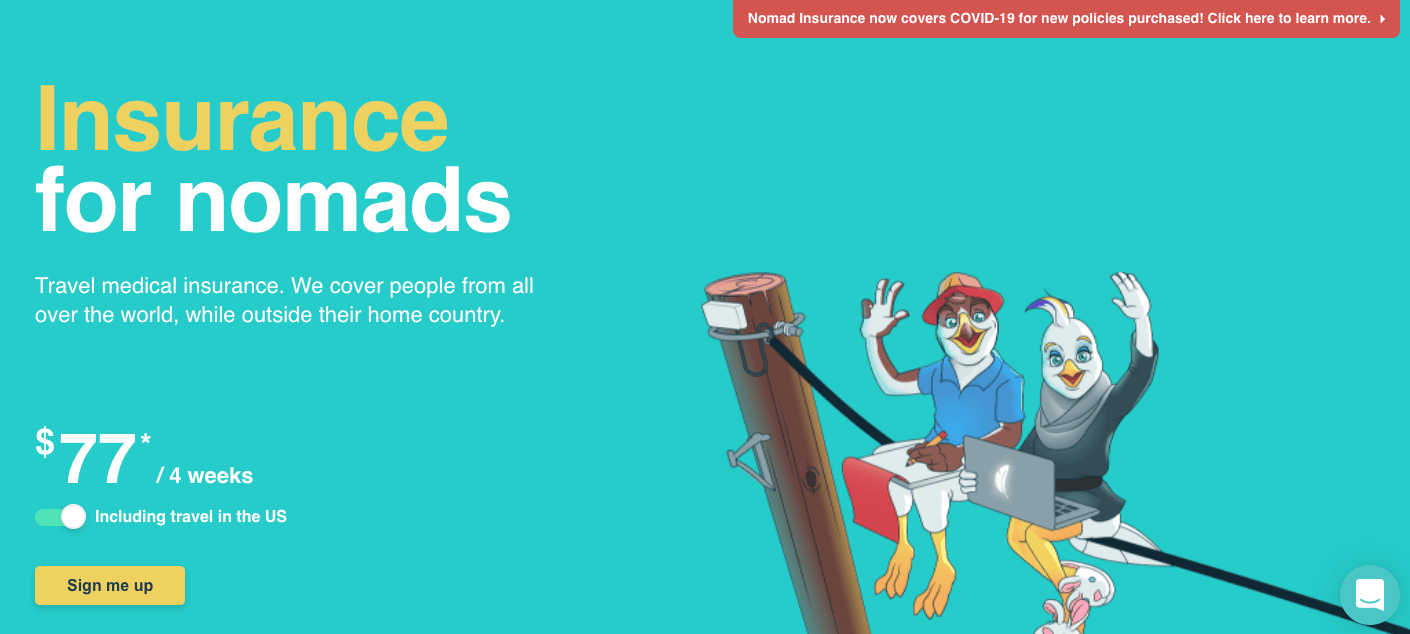 And while their base price jumps to $77 USD for coverage if you include travel to the US (again for travelers aged 10-39), that's still cheaper than a lot of the competition.
But is the coverage actually good? What about the customer service?
Today I want to review Safety Wing and talk about when it is — and isn't — worth using so you can better prepare for your next trip and ensure you have the coverage you need.

What Does SafetyWing Cover?
SafetyWing's standard plan is the "Nomad" plan. It's just $40 USD for four weeks of travel (outside the US). That works out to just $1.42 USD per day.
That plan includes the following:
$250,000 USD in emergency medical coverage
$1,000 USD for emergency dental care
$100,000 USD for medical evacuation
$10,000 USD for an evacuation due to political upheaval
$5,000 USD for a trip interruption
$200 USD for a travel delay
$12,500–25,000 USD for death or dismemberment
$20,000 USD for repatriation of remains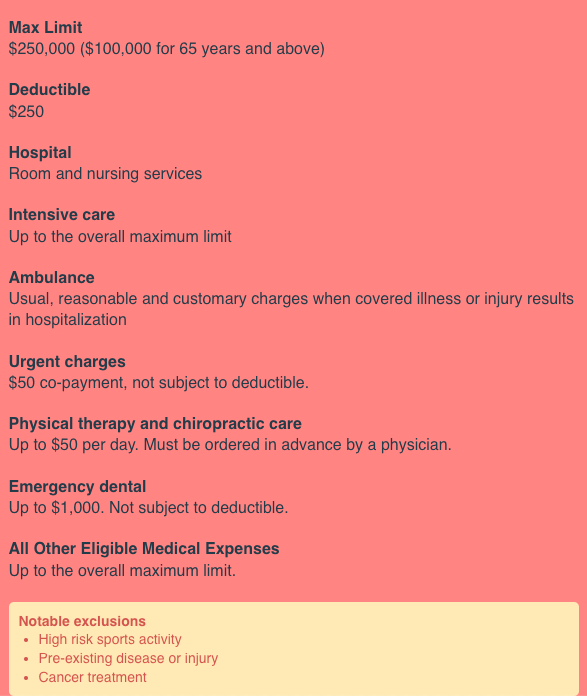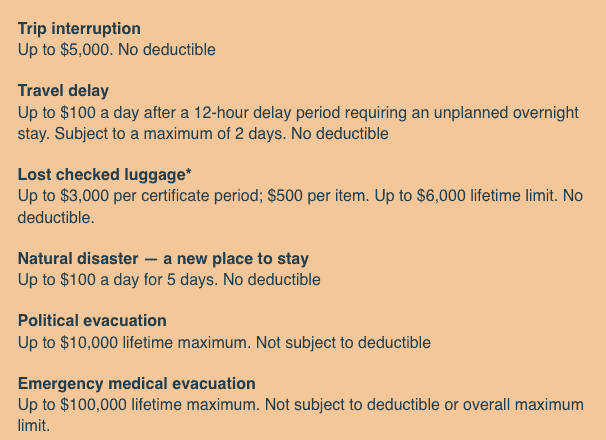 SafetyWing covers the basics. Its $100,000 USD for medical evacuation is on the low end, but unless you're heading out into the remote wilderness, that should be fine. (If you want higher coverage, get MedJet.)
Moreover, its travel-delay payout is pretty low, but airlines and most travel credit cards provide travel delay assistance too so you might not even need the coverage offered by SafetyWing. Additionally, it doesn't really cover expensive electronics, which sucks if you have a pricey camera or video gear.
As with most standard travel insurance plans, this one doesn't include pre-existing conditions or certain adventure sports, so it's not a good policy if you're going to do a lot of adventure activities on the road. If you plan on doing so, you're better off going with World Nomads.
You can read their description of coverage here.

What's Not Covered?
SafetyWing is primarily geared towards covering medical emergencies and basic travel mishaps (like delays and lost luggage). Here are some things that aren't covered:
Alcohol- or drug-related incidents.
Extreme sports & adventure activities (including boxing, ruby, parachuting, parasailing, whitewater rafting, bungee jumping, and more)
Pre-existing conditions or general check-ups
Trip cancellation
Lost or stolen cash
Deductibles and SafetyWing
Most travel insurance companies do not have a deductible (which is why they cost more per month), so I'm not a huge fan that SafetyWing does.
There is a $250 USD deductible for most expenses, which means that you need to pay the first $250 USD out of pocket before you are reimbursed. So, for example, say you get injured and your hospital visit costs $1,000. You have to pay $250 and SafetyWing pays the rest.
Obviously, if your bill is thousands of dollars, then $250 USD is a drop in the bucket. However, if it's only a couple hundred dollars, then you essentially are paying the whole thing out of pocket and won't get any assistance from SafetyWing. When I needed medical care for being stabbed in Colombia, it didn't even cost $250 USD, which means that if I had had SafetyWing, I wouldn't have been reimbursed.
SafetyWing is there to help you when BIG things go wrong. For minor expenses under $250 USD, you're on your own (which is why its plans are so much cheaper per month than other companies).
In short, if you want some basic medical coverage, don't really care about trip-delay coverage, and are OK covering the first $250 USD, then get SafetyWing, since it's only $40 USD per month.

Making a Claim
SafetyWing makes it easy to file a claim through their online portal. You just upload all the required documents, screenshots, and photos, and wait to hear back.
While I have used SafetyWing for my recent trips, I haven't submitted a claim with them so I don't know how good their procedures are yet. I asked around to some readers though. All but one said they were good to work with.
Based on reading their negative TrustPilot reviews, it seems that most people who had a negative experience either didn't know about the deductible or hated the length of time it took to get paid.
So, in my opinion, based on that, it looks like they probably have above average but not perfect customer service.

A Note About COVID
SafetyWing does include coverage for COVID-19. As long as the virus was not contracted before your plan starts, then it will be covered.
SafetyWing also covers quarantine costs (outside your home country) for up to $50 USD/day for 10 days (provided that you've had your plan for at least 28 days).
Since most travel insurance plans still don't offer coverage for COVID, this is a huge plus — especially as countries reopen and variants continue to spread.

Pros and Cons of SafetyWing
Here's a look that he pros and cons of SafetyWing at a glance to help you decide if it's the best insurance provider for you and your trip:
Most affordable travel insurance out there
High deductible ($250)
Offers coverage for COVID-19
Limited coverage for gear/electronics
You can buy plans online even if you're already
on your trip
Limited coverage for adventure activities
Easy to submit claims online
No trip cancellation coverage
After being abroad for 90 days, you keep your
medical coverage for 30 days in your home
country (15 days if you're from the U.S.)
Only covers up to age 69
Up to 2 children under 10 per family
(1 per adult) can be included for free
No need to set an end date (subscription
renews every 4 weeks)
Who is SafetyWing Good — and Not Good For?
SafetyWing is designed as mainly medical coverage for long-term travelers. Since SafetyWing is designed for the budget-conscious digital nomad, it doesn't cover some areas that might be more of a priority for a shorter-term traveler. Here's a quick chart to help you decide if SafetyWing is right for you:
Super frugal, long-term budget travelers
People traveling with a lot of electronics
Someone looking to only cover big expenses
Anyone needing comprehensive trip delay
or cancellation
People without lots of expensive electronics
People doing extreme sports/activities
Digital nomads who need medical coverage
for long-term travel
SafetyWing or World Nomads: Which Is Right For You?
SafetyWing and
SafetyWing is cheaper but its coverage is less comprehensive
SafetyWing is primarily focused on providing coverage for medical emergencies and not things like trip interruption or cancellation
World Nomads offers more robust coverage for things that might go wrong on the road, including stolen luggage, trip cancellation, and car rental damage
World Nomads offers coverage for more extreme adventure activities and sports
World Nomads does not have a deductible, but their prices are around 3x the price of SafetyWing

While every traveler has their own needs and budget, in general, SafetyWing is the best choice for digital nomads and budget travelers that are traveling on a one-way ticket without a fixed end date (especially if you're not traveling around the US, which raises the cost of SafetyWing plans significantly).

World Nomads is better for those going on shorter trips or for those who require more comprehensive coverage for one reason or another.

To learn more about World Nomads and what it covers, check out my detailed World Nomads review.

Paid as an annual contract, these plans start at just $153 USD per month. Unless you're an expat working abroad, however, you'll likely get by with just the "basic" Nomad plan.

***
Travel insurance is something I never leave home without. I know it's a boring topic to read about and research, but it can literally save you hundreds or thousands of dollars in bills! I hope this Safety Wing review was helpful.
And, the next time, you're on the road, consider SafetyWing. To me, they are the best overall travel insurance company out there.
You can use the booking widget below to get a quote:
For a comparison with other companies, check out this post that lists my five favorite travel insurance companies, along with their pros and cons.
Book Your Trip: Logistical Tips and Tricks
Book Your Flight
Find a cheap flight by using Skyscanner. It's my favorite search engine because it searches websites and airlines around the globe so you always know no stone is being left unturned.
Book Your Accommodation
You can book your hostel with Hostelworld. If you want to stay somewhere other than a hostel, use Booking.com as it consistently returns the cheapest rates for guesthouses and hotels.
Don't Forget Travel Insurance
Travel insurance will protect you against illness, injury, theft, and cancellations. It's comprehensive protection in case anything goes wrong. I never go on a trip without it as I've had to use it many times in the past. My favorite companies that offer the best service and value are:
Want to travel for free?
Travel credit cards allow you to earn points that can be redeemed for free flights and accommodation. They are what keep me traveling so much for so little. Check out my guide to picking the right card and my current favorites to get started and see the latest best deals.
Ready to Book Your Trip?
Check out my resource page for the best companies to use when you travel. I list all the ones I use when I travel. They are the best in class and you can't go wrong using them on your trip.