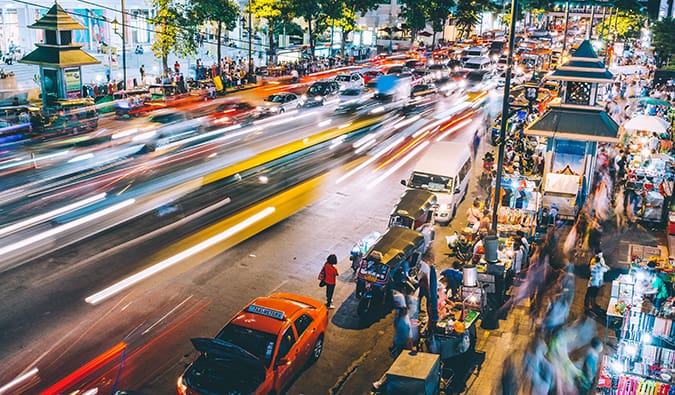 Last Updated: 7/23/2023 | July 23rd, 2023
I love Bangkok. It's one of my favorite cities in the world (I spent two years living here). It doesn't necessarily have tons of "tourist attractions," but its energy is contagious and the people are the best.
A city of eight million people spread out over 50 districts, Bangkok is HUGE.
Most visitors stick to just a few neighborhoods: Sukhumvit, Khao San, or Silom/Sathorn.
But Bangkok is more than these three areas and there are so many really amazing, hip, and interesting neighborhoods in the metropolis.
Today, I want to break down the best neighborhoods in Bangkok and the best accommodations in each of those neighborhoods so you can pick the right place to stay on your visit.
But, before I get into the specific neighborhoods and recommended places to stay, let me answer some of the most common questions I get asked about Bangkok:
What is the best neighborhood budget travelers?
Most budget travelers will want to stay near Khao San Road, which is in the Banglamphu neighborhood. Though it's changed a lot since COVID, it's still the main budget focal point of the city.
What is the best neighborhood in Bangkok for families?
Sukhimvit is a convenient, family-friendly neighborhood with lots of fun things to see and do that are suitable for kids. It's right in the middle of downtown and you'll find a lot of big name hotels there.
What is the best neighborhood in Bangkok for first-time visitors?
First-time visitors should say in Thong Lor/Ekamai. If you're a budget backpacker, Khao San Road in Banglamphu is probably best because that's where you will find all the other budget travelers.
What is the best neighborhood in Bangkok for nightlife?
Bangkok has nightlife everywhere and you can't go wrong no matter where you stay. My personal favorites are Thong Lor, Sukhumvit, and Khoa San Road.
What is the best neighborhood in Bangkok overall?
If you want to be in the middle of the action, stay in Sukhumvit, Sathorn/Silom, or Banglamphu. For something more laid back, stay in Ari.
Here's a detailed breakdown of each of the neighborhoods you should consider when you stay in Bangkok:
Bangkok Neighborhood Overview
Where to Stay for Everything: Thong Lor/Ekamai
This neighborhood is named after Thonglor Street, which is lined with upscale bars, clubs, restaurants, and boutique shops. This is probably the best area of town to eat, drink, and be merry in. Over the years, it has really developed into the "it" area of town and where I tend to stay when I visit. There are a lot of places to stay, tons of jazz bars, beer gardens, and, thanks to a decent-sized Japanese population, wonderful sushi, ramen, and izakaya joints. I think this is just the best overall area to stay in.
Best Places to Stay in Thong Lor/Ekamai
BUDGET: Augusta Hostel – This chill hostel is just 5 minutes from a BTS station. The design is sleek and modern and the beds have thick mattresses so you'll be able to get a decent sleep. There's a rooftop to hang out on too.
MID-RANGE: THA City Loft – THA is a modern, industrial-chic boutique hotel in the heart of Ekamai. The stylish rooms all have different hand-painted designs on the walls, and feature amenities like AC, free coffee/tea, and desks.
LUXURY: Metropole Bangkok – The Metropole Bangkok is a five-star hotel on a three-star price. Each room has luxury bedding, deep bathtubs, and air conditioning. Some even have a nice balcony. There is a fitness room and a fair-sized outdoor swimming pool, as well as a sauna and cold onsen (Japanese bath).
Where to Stay for Partying: Sathorn/Silom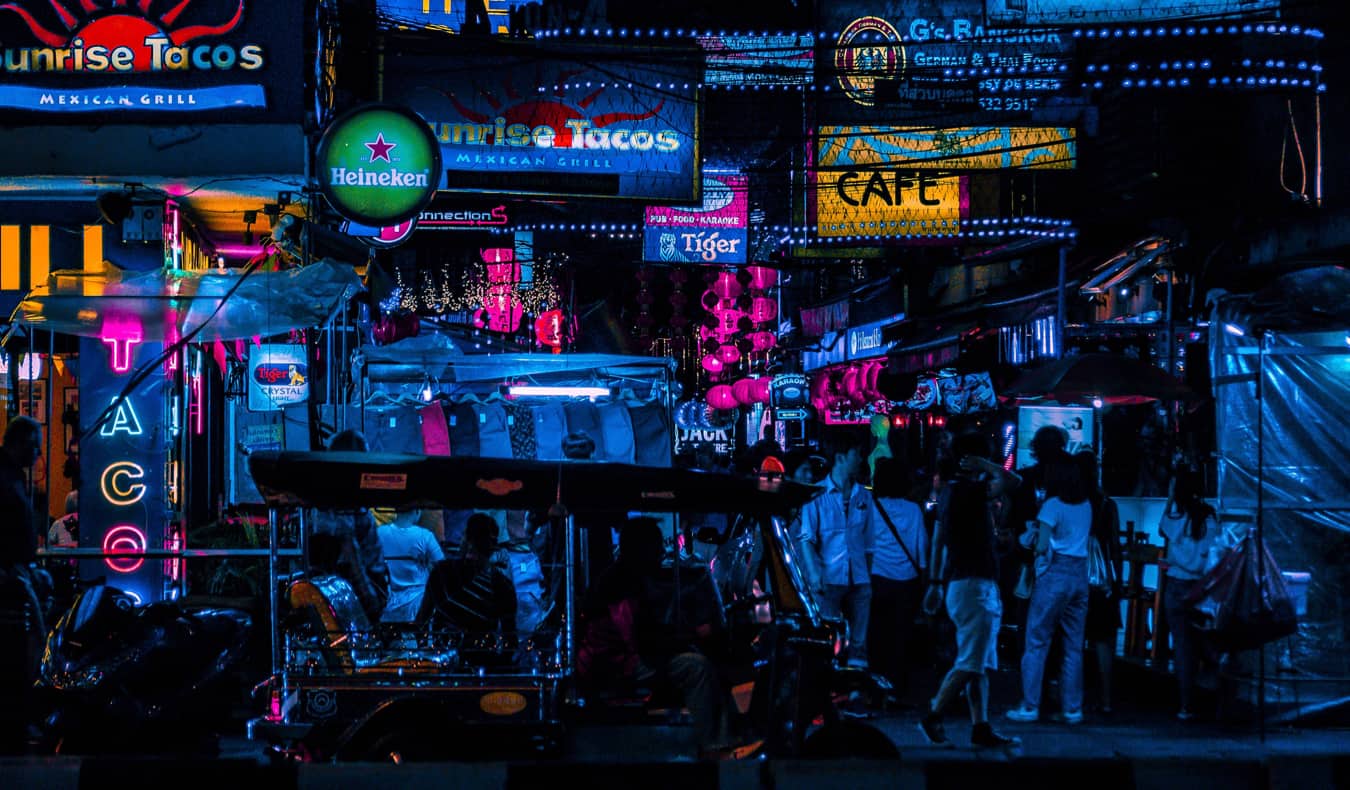 I'm going to combine these two areas into one mega area because, for a traveler, there's little difference! Sathorn is Bangkok's busy central business district with office workers bustling about during the day and tall skyscrapers dominating the skyline. The neighborhood runs from Lumpini Park to the Chao Phraya River and is full of elegant hotels and rooftop "sky bars" with mind blowing city views. The area south of Sathorn road is the old backpacker area and is full of cheap guesthouses and arty expat bars. The area is tame at night once everyone goes home after work.
Silom is the area just north of Sathorn and has everything from the wild nightlife of Patpong to classy, upscale restaurants. It's pretty tame during the day but, at night, this area is the biggest party/red light/LGBTQ district in the city!
Best Places to Stay in Sathorn
BUDGET: Tropical Summer Hostel – Tropical Summer is the kind of place that's a home away from home, with the owner, Francis, going out of his way to make you feel welcome. There's a cool rooftop and coffee bar downstairs for hanging out at. The hostel is sleek and modern, with bunks that almost feel more like individual pods.
MID-RANGE: House of Phraya Jasaen – This hotel is built inside a collection of seven old antique shop houses, and the rooms were remodeled to keep the building's character. It's a comfortable place to stay. The small spa has good rates for Thai massages and foot rubs, and the Koffie House makes a great iced coffee. There are options to book single rooms with a shared bathroom if you want privacy but are still on a budget.
LUXURY: Oakwood Hotel & Residence Bangkok – Oakwood Hotel & Residence Bangkok has a large outdoor swimming pool, buffet dining, a sauna and spa area, a full fitness center, limousine service, and a concierge that will plan out every last detail of your day. The staff really goes out of their way to make you feel comfortable and to answer your questions about the area. The rooms are large and well equipped, including mini-fridges stocked with snacks, and a tea and coffee maker.
Best Places to Stay in Silom
BUDGET: Kinnon Deluxe Hostel Coworking Cafe – This hostel is great for digital nomads or anyone who needs to do work on the road. There is a coworking space within the hostel and it's not a party hostel, so you can get a good sleep. One of the newer hostels in Bangkok, it has all the modern amenities that you need, including privacy curtains and individual reading lights on beds, and electronic lockers. There's also a rooftop to hang out on.
MID-RANGE: Prince Theatre Heritage Stay – This theatre-themed hotel has been around for 100 years, first as a casino and then a cinema. Now it's a boutique hotel located right along Chareon Krung's riverside street food area. The interior is all cinema-inspired, with a collection of private rooms, suites, lofts, family rooms, and shared dorms. The rooms and en suite bathrooms are clean, and the dorms are pods with plenty of privacy. The Boxoffice Bar & Cinema sells tasty cocktails and Thai food, and every evening there is a screening of a classic movie!
LUXURY: Amara Bangkok Hotel – It's worth it to upgrade when you stay here: if you can get a Club Cabana Room, you'll have access to two private jacuzzis directly from your room. Even if you don't upgrade, the rooms are spacious and come with luxury bedding, tea/coffee facilities, and rainfall showers. You have to take a swim in the rooftop infinity pool looking directly over the city! The AkaAza sky bar also offers a great view of the skyline in the evenings. The lobby snack bar has cheap snacks, beer, and drinks that you can take back to your room with you.
Where to Stay for Peace and Quiet: Ari
There's not much going on in this area of town for the "tourist." But there are many nice coffee shops, outdoor cafés, and restaurants here. Ari is not the most central, but public transit in Bangkok is cheap and easy to navigate. If you stay here, be sure to check out the nearby Chatuchak Weekend Market, an awe-inspiring place with more than 8,000 vendors. There's also a great night market for foodies all up and down the main road.
Best Places to Stay in Ari
BUDGET: The Yard Hostel – This ecological hostel is small. The rooms are made from old shipping containers, and the walls are insulated with recycled paper. They don't sell plastic bottles of water, but they offer clean water bottle refills. There's a big backyard with BBQs where people often cook together, and you can use the hostel's bicycles free of charge! The beds are comfy, with privacy curtains in the dorms.
MID-RANGE: LAF Hotel Aree – LAF Hotel is a pod hotel with cheap private pods (there are dorm pods too). Although the pods are small, their design makes the most of limited space, and they don't feel cramped. There's a bar on-site that sells nitro coffee and craft beer, and sometimes has live music.
LUXURY: Craftsman – The Craftsman is clean, modern, and quiet. The floor-to-ceiling windows in the bedroom offer lots of light, and the bathrooms come with walk-in showers and deep bathtubs. There's a small but nice swimming pool area outside and a well-equipped fitness center. This clean design of the hotel doesn't give it a lot of personality, but it's perfect for when you want some downtime. The full suites come with a kitchen area.
Where to Stay for Families: Sukhumvit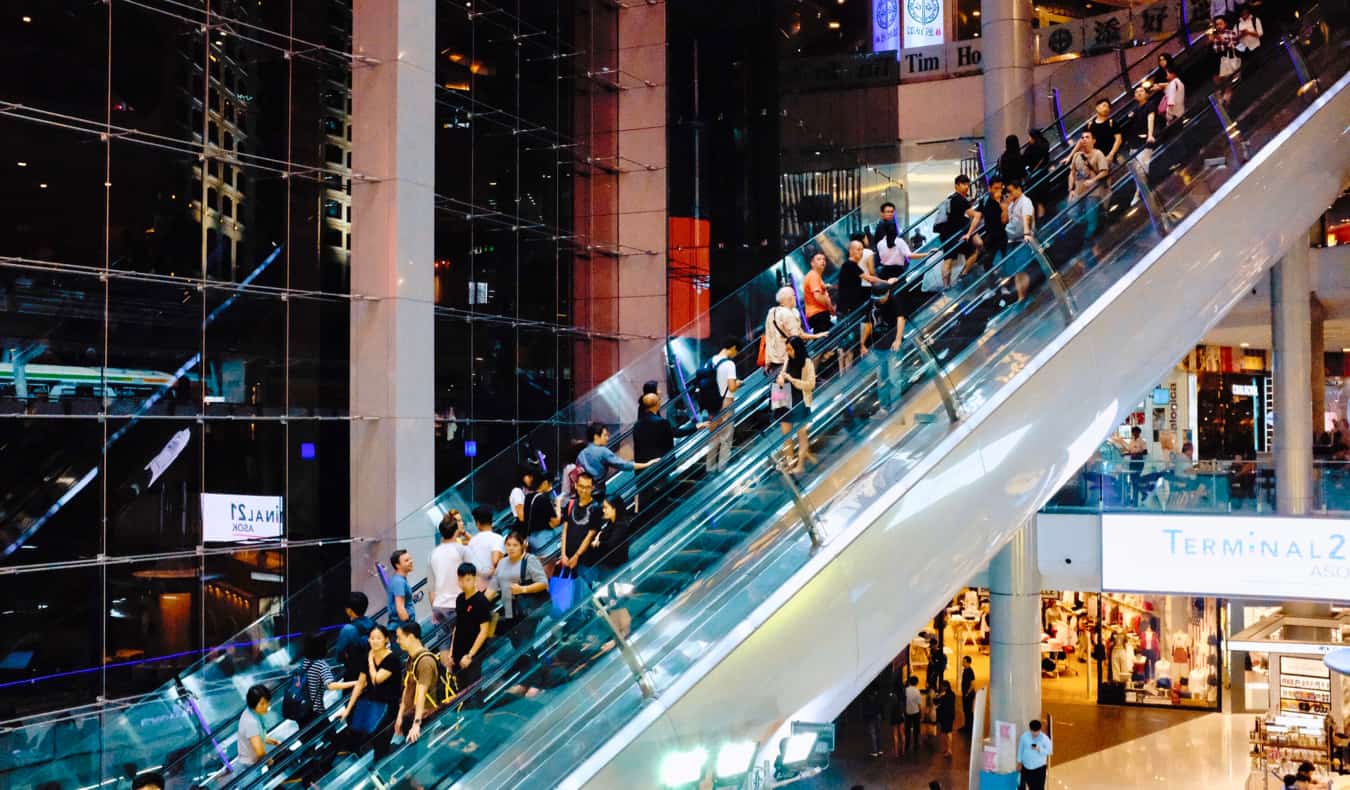 Sukhumvit is is a huge road that stretches across the entirety Bangkok but, when people refer to it as an "area", they mean the downtown part, which is ground zero for nightlife, restaurants, expats, shopping, and tourist attractions. You'll find a ton of restaurants, food markets, malls, hotels, and nightlife here. I like the areas around Soi 2, Soi 11, and Soi 23 the best (a soi is a side street). This is the most central area with most of the big name hotels so probably your best bet to stay if you are travelings with kids.
Best Places to Stay in Sukhumvit
BUDGET: Jellybean The Blocks Hostel – Jellybean The Blocks is a great hostel for socializing, with a rooftop terrace, a bar downstairs, and organized social events like pub crawls and movie nights. The dorms are small, but the beds are excellent and come with individual outlets and reading lights.
MID-RANGE: Grand President Hotel – The Grand President Hotel is a large hotel with three different towers, each with its own rooftop pool and restaurant. It's in the lively Sukhumvit 11 area, near tons of dining and nightlife options. There are nicely furnished studios and suites with marble flooring and contemporary decor, and some rooms come with a kitchenette for cooking.
LUXURY: Aloft Bangkok Sukhumvit 11 – I consider this to be the best value luxury hotel in the city. It may not be 5 stars but for the price, you can't beat it. Not only are the rooms amazing, but there is also so much going on here. The xyz(SM) bar is a really social place to grab a drink, and there's a re:mix(SM) lounge complete with a pool table and beanbag chairs. At the 24/7 shop you can pick up snacks and sweets. The fitness center is huge, but the real win is the rooftop pool with loungers and cabanas.
Where to Stay for Shopping: Pratunam
Pratunam is another good pick for shoppers. The Pratunam Market is open 24/7, and you can essentially replace your entire wardrobe here at wholesale prices. The small alleys and side streets are absolutely packed! If you stay in this neighborhood, don't miss the Baiyoke Tower — at 340 meters tall, it offers the best view of Bangkok I've seen.
Best Places to Stay in Pratunam
BUDGET: Good Day Hostel – Good Day Hostel is a laidback hostel right in the middle of the city's busiest shopping area. The dorm rooms are clean and orderly, and the beds have privacy curtains, individual reading lights, and individual outlets. There's a free 24-hour snack bar, and the tiny Canary Café has a small but delicious menu — try the Nutella crêpes for breakfast.
MID-RANGE: The Quarter Bangkok Ratchathewi – The Quarter calls itself a "poshtel," which means you get all the comforts of home but with a hostel's sociable atmosphere. It's also a co-working space for up to 20 people. The rooms are European-style and clean, with good beds and en suite bathrooms. Some have balconies, and there's a rooftop terrace to hang out on with hammocks for lounging. You also get a free breakfast each morning.
LUXURY: Pullman Bangkok King Power – Stay here if you need a break from Bangkok's busy-ness, and get a massage at the spa while you're at it. There's a swimming pool and outdoor bar, and no less than 6 dining areas. The rooms are beautiful and modern, with floor to ceiling windows and rain showers in the bathrooms.
Where to Stay for Foodies: Chinatown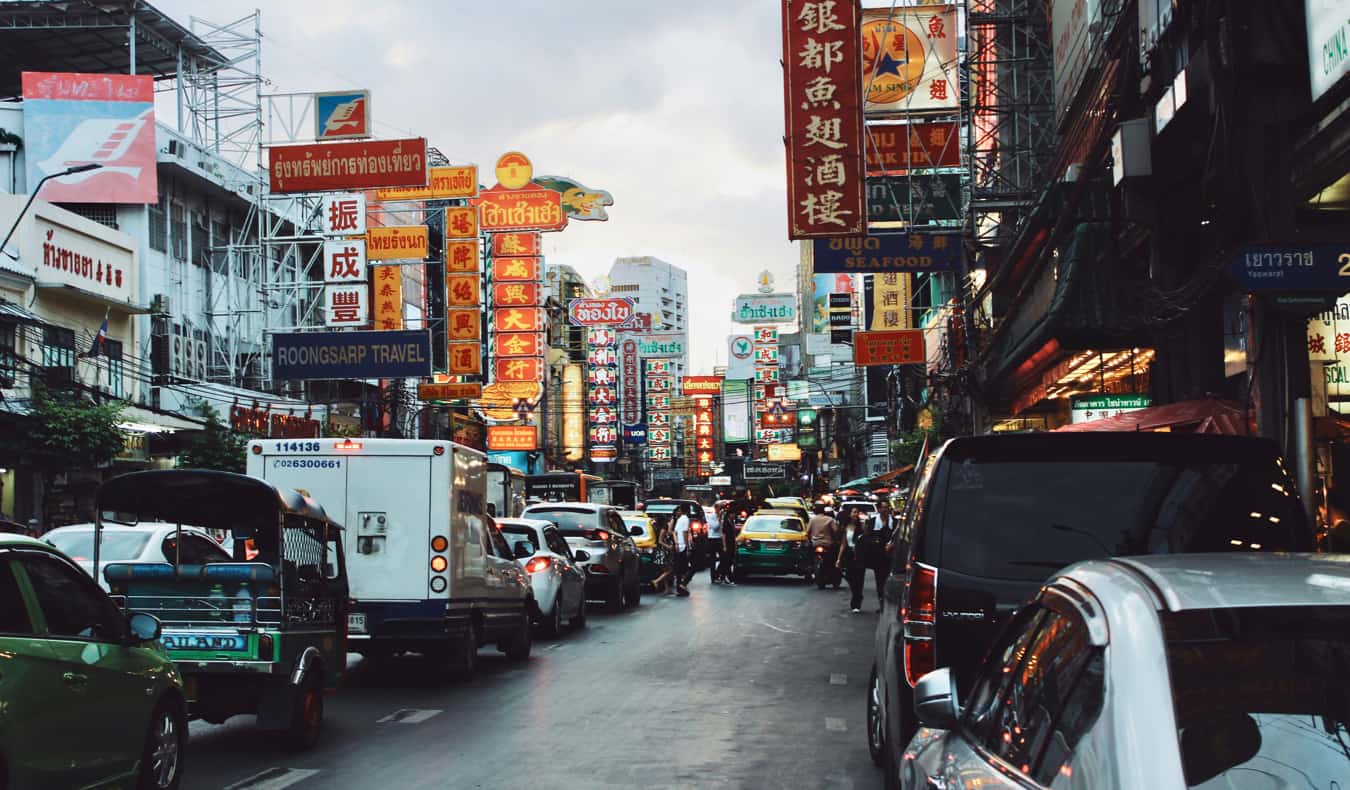 Bangkok is known for food BUT Chinatown is one of the best areas in the city for it. It's cheap, there are a million markets around, and there's a growing cocktail bar scene on Soi Nana (the non-sex street one). You'll want to check out Yaowarat Oad and its many street food vendors — just follow the crowds. It's also fun to wander among the lilies, birds of paradise, and orchids at Pak Klong Talad, the flower market at the north end of Chinatown. It's a really amazing, vibrant area of the city. If you want to stay in a more "hip" part of town, this area would be it.
Best Places to Stay in Chinatown
BUDGET: @Hua Lamphong Hostel – This hostel is pretty straightforward, with six-bed mixed-gender dorms, huge lockers, and en-suite bathrooms. It's in a perfect location for travelers, as Bangkok's train station is right across the street.
MID-RANGE: W22 by Burasari – The rooms here are plain but comfortable, with wood furnishings and decent beds, and the walls are well soundproofed (this is important when you're trying to get a good rest in Chinatown!). There is a rooftop bar, a laundry room, and a common area with a pool table. It's also next to Soi Nana, where some of the best bars and clubs are.
LUXURY: Shanghai Mansion Bangkok – This hotel is eccentric. Dragons, red chandeliers, woven tapestries, and a pool filled with fish in the atrium are just some of the things you'll notice immediately. The jazz bar on the main floor is a fun place to hang out, although drinks are pricier here. You also get complimentary dim sum high tea and a 20-minute massage at the spa.
Where to Stay for Sightseeing: Banglamphu
Banglamphu is full of historical temples and monuments and a stone's throw from the grand Palace, the boat to Wat Arun, and Wat Saket and its Golden Mount with a staircase leading to one of the best views over Bangkok. The epicenter of this area is Khao San Road, the super famous as a backpacker paradise chock-full of excellent hostels, cheap bars, backpacker clubs, and kitschy tourist shops. If you want to stay in the area but also want some peace and quiet, stay closer to the river or north of Khao San.
Best Places to Stay in Banglamphu
BUDGET: Mad Monkey Hostel – A backpacker institution near Khao San Road, Mad Monkey Hostel is one of the more European-style hostels in the city with comfy beds, curtains, and your own outlets and lamps! All the rooms have air-conditioning units. They also have a tour desk that has really competitive prices.
MID-RANGE: D&D Inn – D&D Inn is an institution on Khao San Road (it's been around forever!) and perfect for those with last-minute travel plans as there are always rooms available and reception is open 24 hours. There's a bar and a pool on the rooftop that gets packed with travelers. They upgraded the facilities and rooms in recent years and they don't look half bad and the rooms are cleaned often. Some rooms even have a fridge and a hairdryer, and the water pressure is great.
LUXURY: Nouvo City Hotel – The rooms at Nouvo City Hotel are bright and spacious, with a work area, rainfall showers, a minibar, bathrobes, slippers, satellite TV, and 24-hour room service. There are two pools: one on the third floor, and a more casual rooftop pool and Jacuzzi with loungers and cabanas overlooking the city. The pad thai at the Sara Restaurant has received an award from the Thai government (seriously), so make sure you try some before you leave!
***
I highly suggest you visit Bangkok, as you can't really understand the town's charms until you've been there. It's a big, big city and I've left off many neighborhoods as I think as a traveler, the ones above give you the best taste of the city and are the most central. Bangkok is huge but it is luckily well connected by public transportation so you won't have a problem getting around.


Get the In-Depth Budget Guide to Thailand!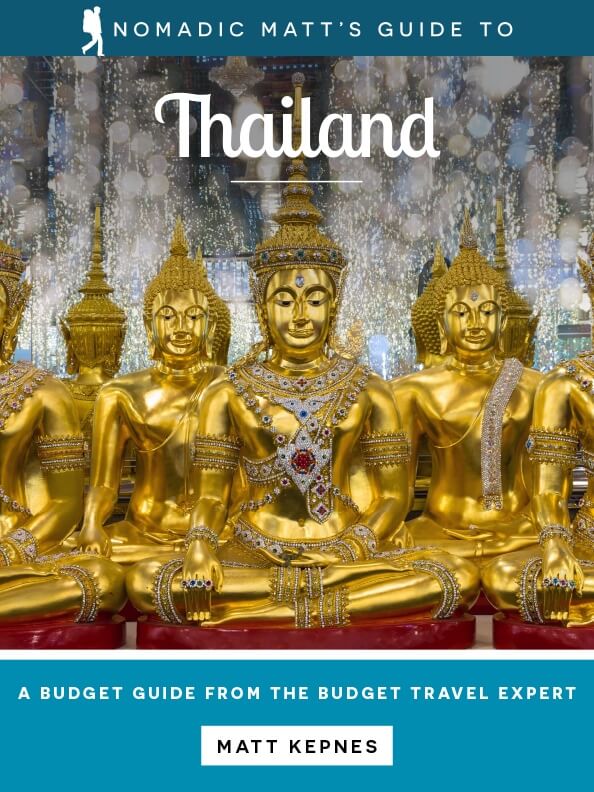 My detailed 350+ page guidebook is made for budget travelers like you! It cuts out the fluff found in other guidebooks and gets straight to the practical information you need to travel around Thailand. You'll find suggested itineraries, budgets, ways to save money, on and off-the-beaten-path things to see and do, non-touristy restaurants, markets, bars, safety tips, and much more! Click here to learn more and get your copy today.
Book Your Trip to Bangkok: Logistical Tips and Tricks
Book Your Flight
Use Skyscanner. This is my favorite search engines because they search websites and airlines around the globe so you always know no stone is left unturned.
Book Your Accommodation
You can book your hostel with Hostelworld as they have the biggest inventory and best deals. If you want to stay somewhere other than a hostel, use Booking.com as they consistently return the cheapest rates for guesthouses and cheap hotels.
If you're looking for more hostels, here is a list of all my favorite hostels in Bangkok.
Don't Forget Travel Insurance
Travel insurance will protect you against illness, injury, theft, and cancellations. It's comprehensive protection in case anything goes wrong. I never go on a trip without it as I've had to use it many times in the past. My favorite companies that offer the best service and value are:
Looking for the Best Companies to Save Money With?
Check out my resource page for the best companies to use when you travel. I list all the ones I use to save money when I'm on the road. They will save you money when you travel too.
Want More Information on Bangkok?
Be sure to visit our robust destination guide on Bangkok for even more planning tips!