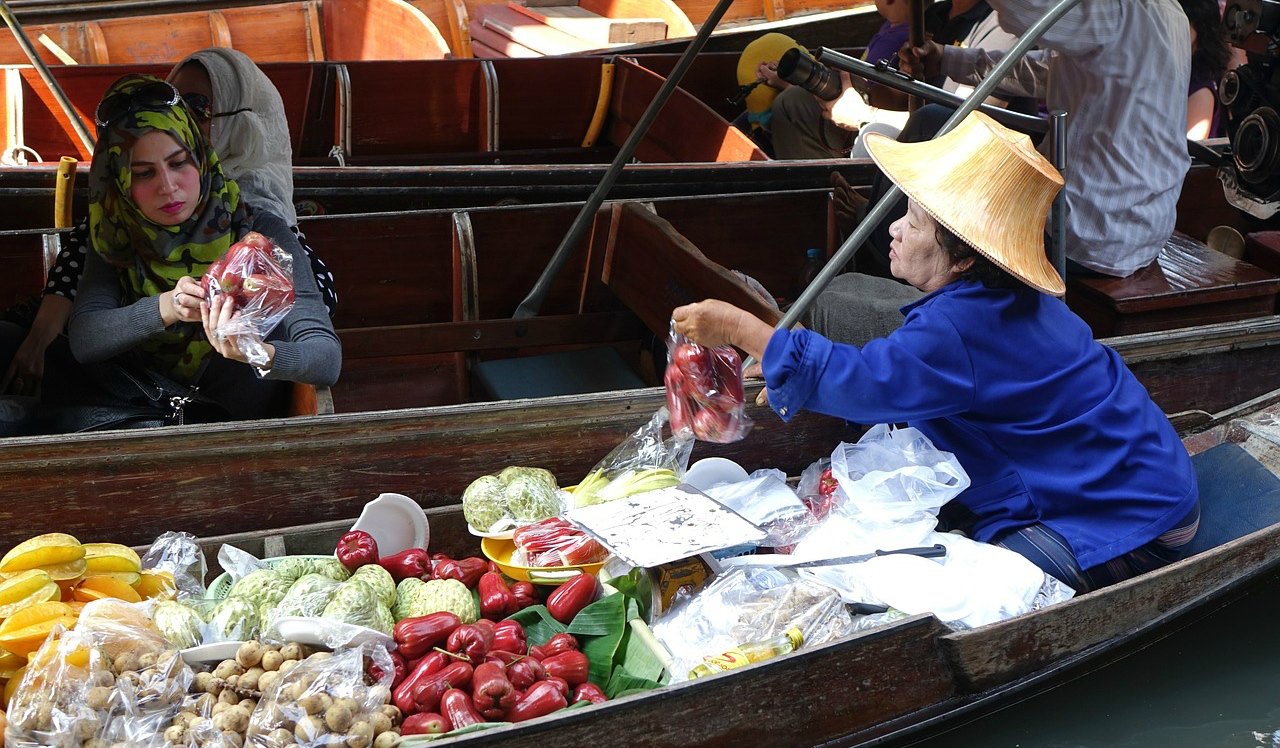 Updated: 02/04/19 | February 4th, 2019
It's 6pm in Bangkok, and all over, street vendors are busy selling food.
Thais do almost all of their grocery shopping on the street. Locals walk around with little bags full of rice, curry, noodles, or soup. With food so cheap and kitchens so few and far between, very few Thais in Bangkok cook their own meals. Sidewalk chairs are filled with coworkers sharing meals before they go home. Eating here is a social activity where hunger pangs, not the time of day, tell you when to eat.
Bangkok is a gastronomical dream, and wandering its streets is heaven. Stalls line the streets, selling everything from snacks to sit-down meals. Sections often specialize in certain products, and the time of day dictates which stalls will be where with the precision of a Swiss watch.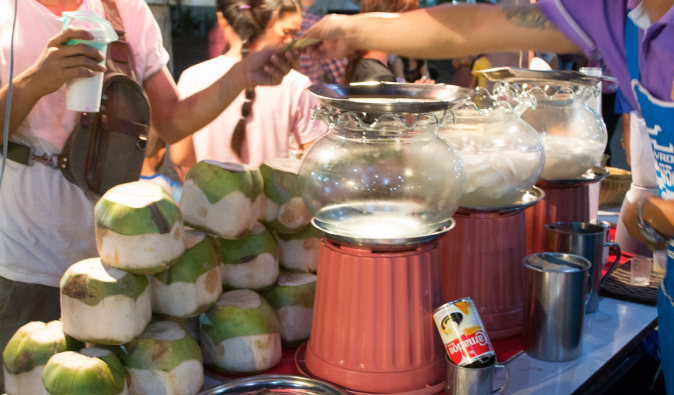 Waking up for breakfast, I strolled down the street. All around me Thais were buying breakfast (usually fruit or soup). Workers were buying their lunches, loading up on rice and curry, noodle dishes, and soup. The woman next to me was buying fruit.
I grabbed my fried bananas and went off to explore the city. After a few hours, I was hungry again. Thai food is delicious but not very filling, which is one of the reasons why Thais are always eating. They eat constantly throughout the day because they eat small meals. Thais traditionally eat very low-calorie meals, too, though the rise of the Western diet has recently led to an increase in obesity. Yet, for the most part, Thais are still tiny and much healthier than us—we could learn something from them.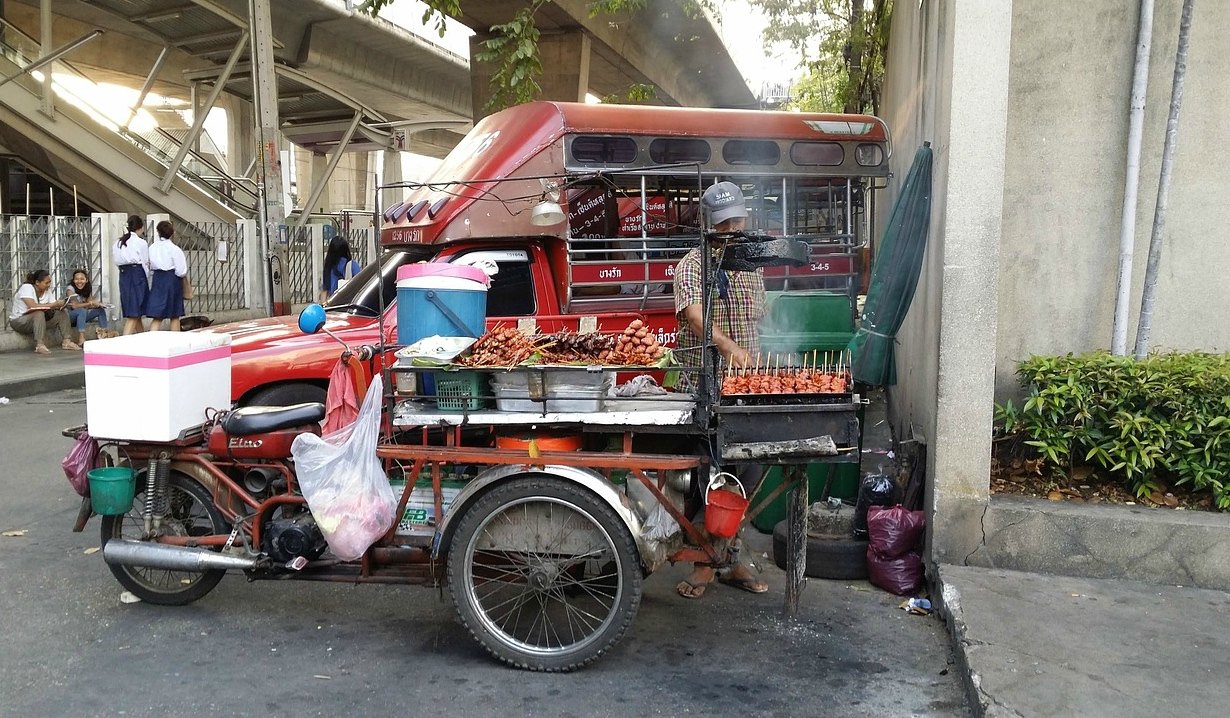 Now I was in Chinatown looking for a pre-lunch snack. The bananas were good, but I was craving something more. Around me were vendors selling candies, fried fish, Pad Thai, fruit, and meat on a stick—basically anything you could think of.
It was a buffet, and I wanted to choose everything.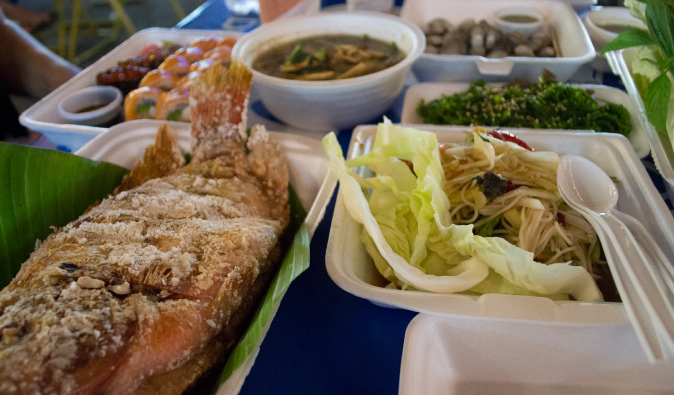 I decided on some chicken. The smell was powerful as the cook pasted it with spices over the grill. He handed it over to me, and as it steamed, I put it in my mouth. It was hot, but good. The chicken had a nice garlic taste to it. These BBQ sticks of meat are my favorite Thai street food. They make for the best late-night snack. Knowing my appetite, I also picked some chopped pineapple for the road and headed off to explore more.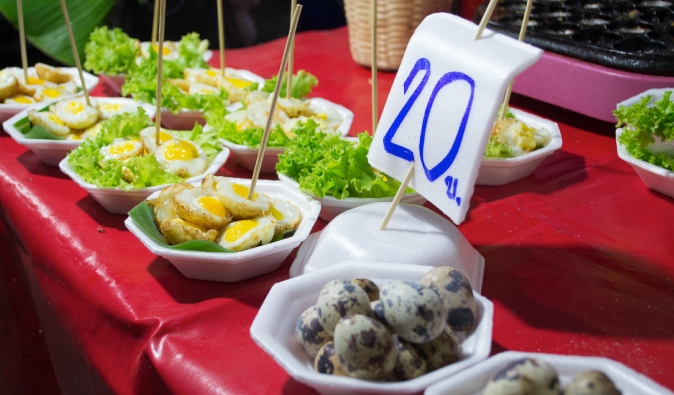 Lunchtime rolled around, and I sat myself down at a little stall. Thais were trickling out of their offices and descending on these vendors for their midday meals. I ordered some curry, Western style (mild). Thais love their curry and all throughout the streets, the smell of chili fills the air. The seats around me filled with locals chatting about the day. My Thai wasn't good enough to understand, so I just enjoyed my meal that was (still) too spicy for me.
After lunch, I continued trekking around. I let my nose guide me. I nibbled on my pineapple and picked up some fried wontons. When that was finished, I picked up some spring rolls. I find Thai spring rolls to be delicious—they're light, crispy, and the sweet chili sauce adds just the right element of spice.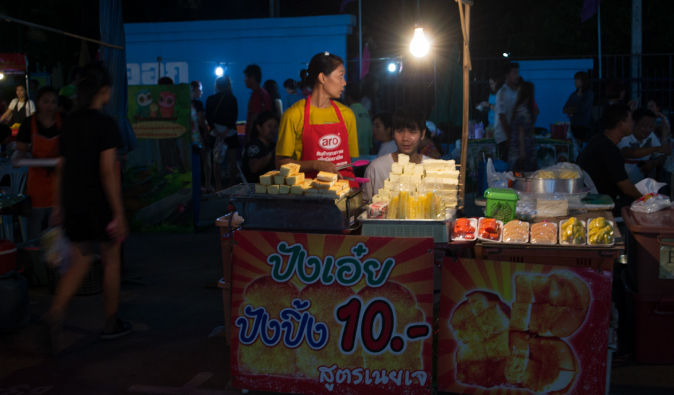 Dinnertime arrived as I made my way back downtown. It had been a good day of eating, and I was still stuffed. Dinner was going to be a small meal. Looking at all the shops around, I wondered what to eat. I had eaten so much already. I could smell curry and soup, and hear the frying of chicken and the cooking of fish. I'm never going to go hungry in this city.
I sat down for some pat gao paow. It's a chili dish with minced chicken and basil. I ordered it mai pet (not spicy) and ate it over a bowl of rice. Even to Thais, "not spicy" means a little chili, and for every mouthful I had, I needed two mouthfuls of water. Despite having lived in Thailand for a few months now, I'm still unaccustomed to spicy foods. I finished it off, my mouth as hot as a volcano as I thanked the cook.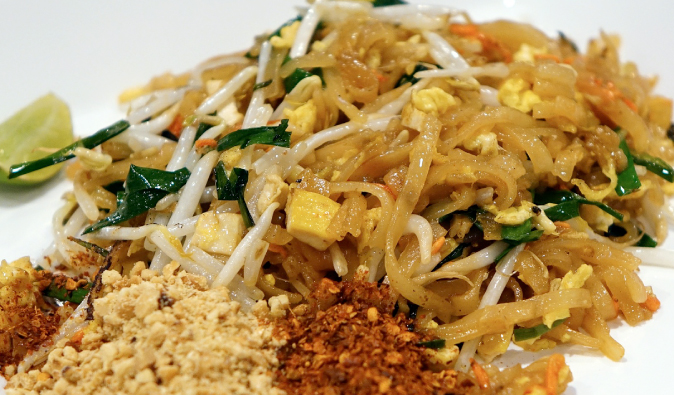 After a long day of eating, it was time to lie down on my couch, unbuckle the belt, and watch some TV. But not before I got some snacks for later.


Get the In-Depth Budget Guide to Thailand!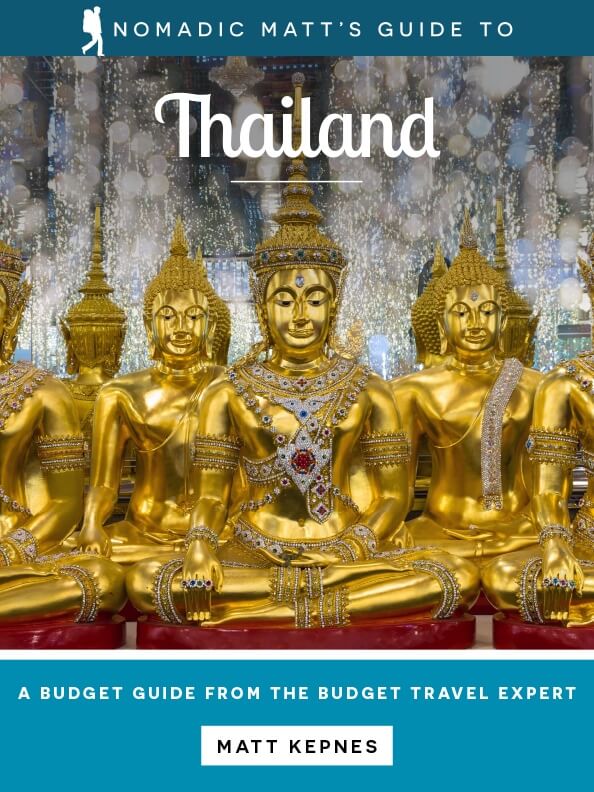 My detailed 350+ page guidebook is made for budget travelers like you! It cuts out the fluff found in other guidebooks and gets straight to the practical information you need to travel around Thailand. You'll find suggested itineraries, budgets, ways to save money, on and off-the-beaten-path things to see and do, non-touristy restaurants, markets, bars, safety tips, and much more! Click here to learn more and get your copy today.
Book Your Trip to Bangkok: Logistical Tips and Tricks
Book Your Flight
Use Skyscanner or Momondo to find a cheap flight. They are my two favorite search engines because they search websites and airlines around the globe so you always know no stone is left unturned. Start with Skyscanner first though because they have the biggest reach!
Book Your Accommodation
You can book your hostel with Hostelworld as they have the biggest inventory and best deals. If you want to stay somewhere other than a hostel, use Booking.com as they consistently return the cheapest rates for guesthouses and cheap hotels. My favorite places to stay are:
Don't Forget Travel Insurance
Travel insurance will protect you against illness, injury, theft, and cancellations. It's comprehensive protection in case anything goes wrong. I never go on a trip without it as I've had to use it many times in the past. My favorite companies that offer the best service and value are:
Looking for the Best Companies to Save Money With?
Check out my resource page for the best companies to use when you travel. I list all the ones I use to save money when I'm on the road. They will save you money when you travel too.
Want More Information on Bangkok?
Be sure to visit our robust destination guide on Bangkok for even more planning tips!