Bangkok is known around the world for its chaotic, crowded streets, cheap prices, wild nightlife, and never ending traffic. Most travelers either love or hate it. I used to hate it because of its pollution, noise, and crowds, but when I got to know it more, I changed my mind. The city is like an onion. It slowly reveals its secrets to those who spend a little extra time here. You'll find that this seemingly ugly city has a lot of beauty. There's not a lot for travelers "to do" here but when you stay a little while, you see this isn't a city of activities, it's one of friends, food, drinks, and life. There's a flow to it. I lived here in 2006, fell madly in love, and visit every year since! Let this travel guide show you there's more to the City of Angels than you think!
Typical Costs
Hostel prices – Dorm beds start at 100 THB, but nicer dorms in prime locations can cost up to 675 THB (which is a giant rip off). Private rooms in small guesthouses, especially those in the backpacker area of Khao San Road, start at 350 THB. There's a growing hostel scene downtown but I find the rooms expensive, especially when you can get cheaper accommodation as well as a nice social scene in Khao San Road.
Budget hotel prices – Budget hotels costs between 500-1,000 THB per night and include hot water and private bathrooms. Quality varies greatly so be sure to look at the reviews online. My favorite is Suk 11 Guesthouse (it's got a lot of character and is in a fantastic location) and rooms start at 500 THB per night.
Average cost of food – In Bangkok, you can eat from the street vendors for as little as 30 THB per meal (i.e. soup, pad thai, fried rice, som tam, etc), purchase a bag of freshly cut fruit or Thai ice tea for 20 THB, or get a grilled chicken, rice, and som tam meal for 150 THB. Sit down restaurants begin are 50 THB per meal while Western food begins at around 100 THB and go as high as you want! If you're eating downtown, expect a Western breakfast or lunch to cost between 150-200 THB. Many of the malls have huge (and popular) food courts where you can get a filling meal starting at 40 THB. Like the rest of Thailand, if you eat at the street markets like the locals, you'll be hard-pressed to spend more than 200 THB a day on food (and maybe not even close to that).
For specific restaurant suggestions and more details on the local market, see the in-depth guide at the end of this article.
Transportation costs – Although city buses can be very crowded, they are convenient and inexpensive. For 10 THB on the non-air conditioned buses and 15 THB on the air conditioned buses, you can travel pretty much anywhere in the city. The SkyTrain and Metro costs 15-50 THB per trip. Taxis throughout the city cost under 170 THB, and one from the airport to Khao San Road will set you back 400-500 THB.
Money Saving Tips
Bangkok can be a pretty cheap city if you avoid the higher end or Western influenced places. Sticking to the Thai places and cheap accommodation and you'll be hard pressed to spend a lot of money but here are some ways to save money in Bangkok:
Eat from the street stalls – Food from street vendors in Thailand is some of the best Thai food I have ever had and so cheap it is ridiculous. You can easily have a bowl of noodle soup, pad thai, or fried rice for 30 THB. The locals eat here, you should eat here. Not only is it the best food around, it's the cheapest!
Make sure your taxi turns on the meter – All taxis are required to use a meter when they have passengers with them. However, most will want to charge a higher 'flat rate' (instead of using the meter), especially if there's traffic. If this happens, just walk away and see if a different taxi will turn on their meter for you.
Negotiate with Tuk Tuk drivers – Unlike taxis, the Tuk Tuk drivers do not have meters, so be sure and set the fixed price before you take off. They are very friendly, but if you are going to play the naive tourist, you will get taken advantage of!
Use public transportation – Locals use the extensive bus and BTS systems to get wherever they need to go in Bangkok. To save money, you can do the same. A 20-minute taxi ride might cost you 120 THB, while the same ride in a bus might only cost 10 THB.
Avoid drinking on Khao San Road – While fun, a night out in the backpacker area of Khao San Road will leave your wallet empty. And, speaking of drinking, stick to beer. Cocktails and wine are mostly imported with high taxes so cost a lot more than the local beer.
Take the boats – There's a limited canal system in Bangkok that can get you around parts of the city quicker (especially from Khao San Rd to Siam Square) and cheaper than taxis or the Sky Train. Prices are between 5-15 THB depends on the distance.
Top Things to See and Do in Bangkok
Visit the Grand Palace and Wat Po – The palace was built over the course of three years at the end of the 18th century by King Rama I and is the official residence of the current monarch (though he doesn't live there any more, it is just used for ceremonies). This is also where you will see the temple of Wat Pra Kaeo which house the 15th century Emerald Buddha whose robes are rotated three times a year by no less than Thailand's king himself. Moreover, you'll find Wat Po to have the famous golden reclining Buddha statue. It costs 500 THB to enter the Grand Palace and 100 THB to enter Wat Po.
Explore Lumpini Park – Outdoor enthusiasts will find it hard to tear themselves away from Bangkok's Lumpini Park. Jogging paths, bicycle roads, picnic, and chess tables, Tai Chi classes, plenty of trees, weight-lifting, and rowboats for rent on its pair of lakes offer plenty to do and all the time in the world to do it.
The Royal Elephant Museum – Elephants have long played a significant role in the lives of the Thai people. The museum is located within the parliament compound and is a visual testament to the value of the largest land animal and to the beliefs surrounding its participation in religious ceremonies. The museum is open to the public every day from 9:30am to 4:00pm and is free with a ticket to the Grand Palace (or 100 THB when purchased separately).
Visit the Chatuchak Weekend Market  – The weekend market is an ideal place to buy anything and everything. This football-stadium sized market place offers the best place to get gifts, find knock-offs, barter, or have some good food. Definitely come here.
Temple hop – Bangkok is full of history, temples, and Thai ruins. There are about 10 main temples in the city, and you can easily just hire a guy to take you to all of them in one day. They are all have different architecture and layouts. It will take about five hours to see them all. If you don't have that much time, aside from the Grand Palace and Wat Po, make sure you check out Wat Arun, The Temple of the Dawn.
Hang out on Khao San Road – Khao San Road is the infamous backpacker/tourist street in Bangkok. All travel roads lead in and out of here. However, it is more than just a transit hub for travelers. Here, you can find nightlife, great food, great shopping stalls, tons of people watching, and activity all day and all night. Here's a video:
Visit the Floating Market – The floating market is just outside of Bangkok, and while mostly for tourists, I like visiting. The tours that come here are about half a day and leave early in the morning. It's not a great place to shop but the area is good for photography and eating, two things I love a lot.
Shop 'til you drop – Bangkok has so many malls that in the center alone, I can count 12 in a four-block radius. Bangkok has everything you could ever need and at great prices. Make sure you check out Siam Paragon (for designer clothes), Platinum (for cheap, trendy clothes), Pantip (for cheap electronics), and MBK (for cheap knockoffs).
See Jim Thompson's House – Jim Thompson was a silk merchant who disappeared under very mysterious circumstances back in the 1950s. His house across from MBK is a traditional teak style house and very informative about life in Thailand. Proceeds from the 150 THB (100 THB for students) entrance fee go to help orphaned children.
Take a day-trip to Ayutthaya – Just a short ride away, you'll find the old capital, which is home to the summer palace, tons of breathtakingly unique temples.
Catch a performance at Patravadi – This theater which lies on the river was founded by a Thai actress. It is a trendy place, and offers a variety of performances: acrobatics, drumming shows, theater, and dance.
Visit Chinatown – First, wander among the lilies, birds of paradise, and orchids at Pak Klong Talad, the flower market at the north end of Chinatown. From there, grab a bite to eat at one of the main enticing food stalls.
Watch a Puppet Show – A huge aspect of Thai drama revolves around puppetry. Two types are common – Nang (shadow puppets) and Hun (marionettes). If you're lucky, you can see a show at an outdoor festival; otherwise, head to the Thai Puppet Theatre.
Boat down the Bangkok canals – Known as the "Venice of the East", Bangkok used to be full of waterways and canals. While not as many of those exist as there used to, you can still see many of the old bridges and stilt houses crowding the waterways. You can still cruise along the Chao Phraya River to see some of what remains, usually for only about 100 THB. The Klhongs of Thonburi still offer picturesque views of the old wooden houses and colorful pots of flowers.
Shop the Chatuchak Weekend Market – The sheer size of this market is a tad overwhelming. With over 8,000 stalls, it is easy to get lost among the shuffle. While the prices aren't always bargain rates due to the tourist appeal, it is definitely something to experience. And you can always try and haggle your way to a fair price. You'll find everything from clothing to books to pets here. It's truly a one-stop, eclectic shop!
Take in the splendor of Vimanmek Mansion – Built in the year 1900 by HM King Rama V,  this royal palace is also the largest teakwood mansion in the world. It now houses the Thai National Heritage museum, and also boasts beautiful gardens and canals to explore on the estate. It is now full of collections of antiques, old photographs, porcelain, and memorabilia from the King's reign.
Head to the Dusit Zoo – Thailand's first zoo, built over 60 years ago, sits in the middle of Bangkok's administrative center, and is surrounded by important buildings like the Throne Hall, Parliament, and the Chitralada Palace. It is a fully functional park, with an animal hospital, education center, and museum. There is also a sightseeing train that takes you around the zoo to see the more than 1,600 animals there. Keep an eye out for the albino barking deer and the white Bengal tigers.
Get the In-Depth Budget Guide to Bangkok!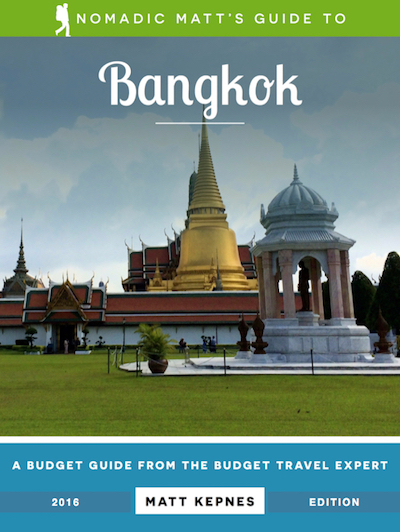 My detailed, 80 page guidebook is made for budget travelers like you! It cuts out the fluff found in other guidebooks and gets straight to the practical information you need to travel and save money while in Bangkok, a city I used to call home (so I know it really well!). You'll find suggested itineraries, budgets, ways to save money, on and off the beaten path things to see and do, non-touristy restaurants, markets, and bars, and much more!!
Click here to learn more and get started.