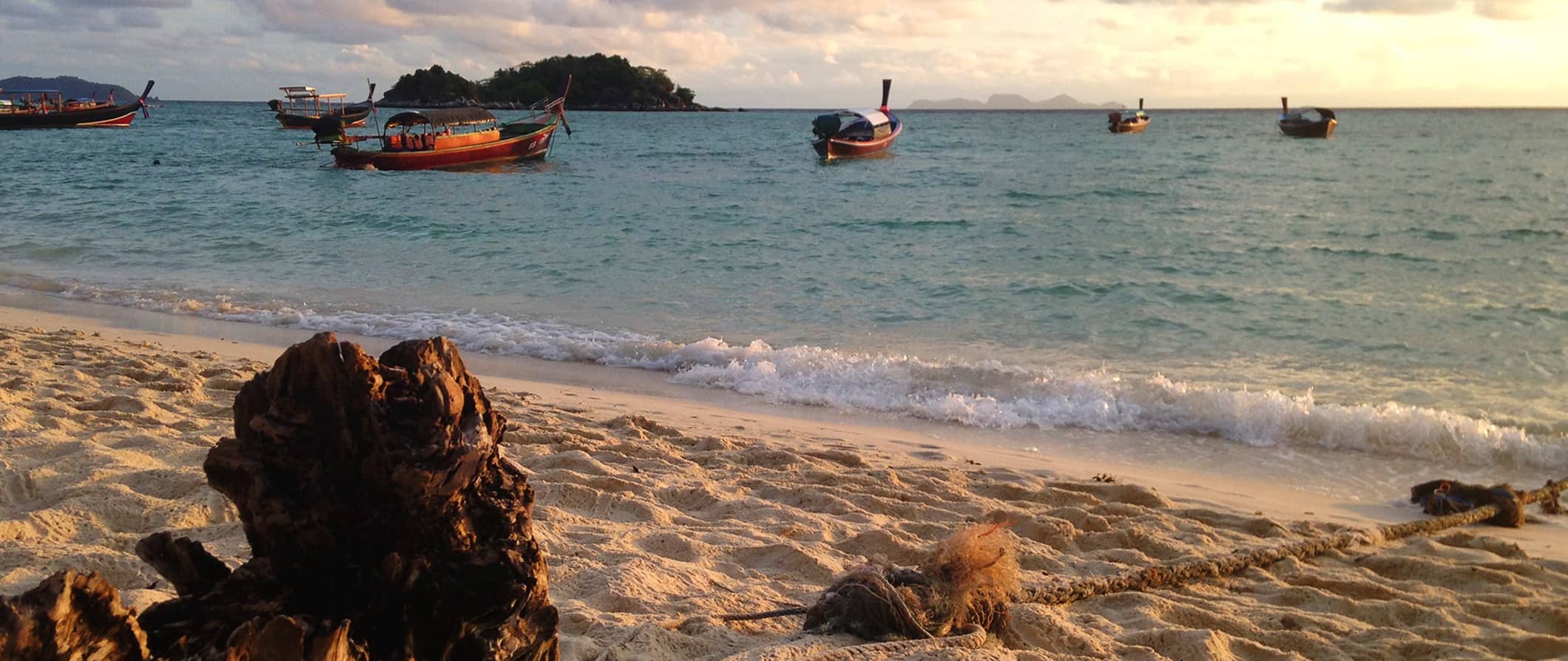 Located in Southern Thailand, this semi off-the-map island is one of my favorite places in the world.
When I first came to Thailand, not a lot of people backpacked Ko Lipe.
It saw few visitors and there was in indeed a last boat when the season ended.
I came for three days and lived here for a month.
I just loved it too much
Here on Ko Lipe, the super friendly locals bring in the daily catch for amazing seafood. The beaches are beautiful, the water warm, and the island cheap.
In the last few years, lots of people travel to Ko Lipe now as the island has developed a lot (boats run all year round now). I's not the sleepy little island it used to be but it's still way less developed than many other destinations in Thailand.
And, if you venture off Lipe to the nearby national park, you'll find the pristine beaches that attracted people to the area in the first place.
There's some impressive snorkeling near the island, a few hiking trails, and lovely beaches. (The island is so small that it only takes a few hours to walk around it.)
This Ko Lipe travel guide can help you determine what to see, how long to go for, how to save money, and everything in between!

Ko Lipe
Top 5 Things to See and Do in Ko Lipe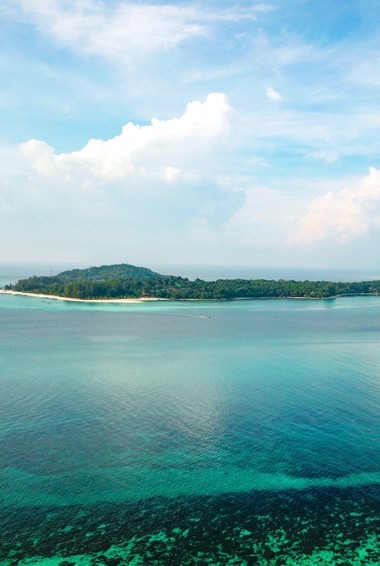 1. Go on the Ko Adang Excursion
Taking a boat over to this nearby island is a lot of fun. You get to sit back, throw down a drink or two, and enjoy the ocean scenery. The island itself is home to Pirate Falls and Chado Cliff, both of which are great, moderate hikes. You can hike up and get a great view of Ko Lipe from the top. Boat rides are usually around 550 THB ($17.45 USD).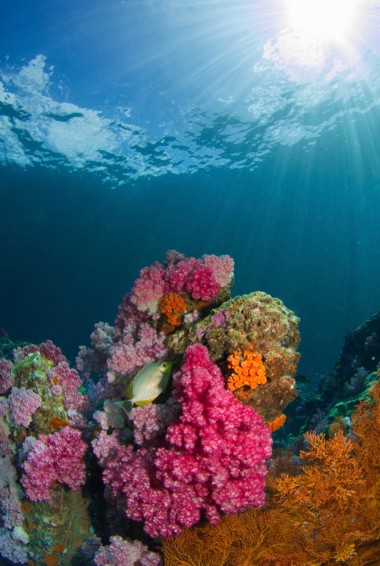 2. Go diving and snorkeling
Since you are bound to get into the water anyway, you might as well strap on a bit of equipment and really explore what's below the surface. The water along the beaches is often calm, clear, and shallow. There are also a ton of dive shops on the island if you want to dive.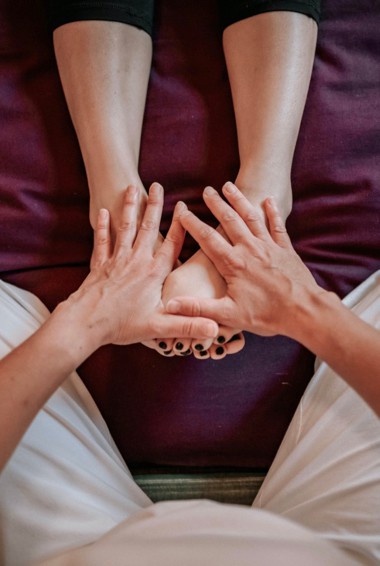 3. Get a massage
There are several places throughout the island to get massages. In the center of the island, there is even an offshoot of the well-known Wat Po Massage School. The massages here are much cheaper than other parts of Thailand. Massages usually run about 300 THB ($9.50 USD).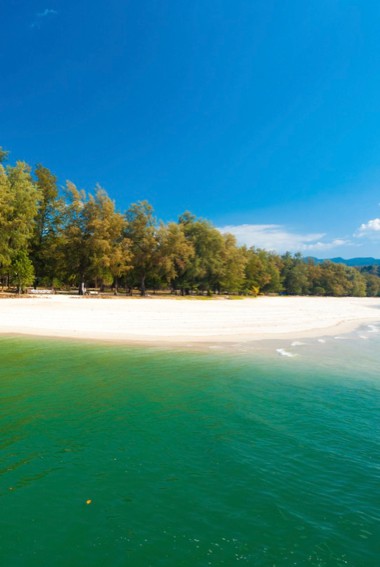 4. Visit Tarutao National Marine Park
Taking a day trip, or even a multi-day trip, around the islands is super fun and relaxing. There are various companies, all offering different trips and packages. Most of them offer great day trips with snorkeling, beach time, a beautiful sunset sail, and endless fruit, snacks, and drinks. It costs 200 THB ($6.35 USD) to enter.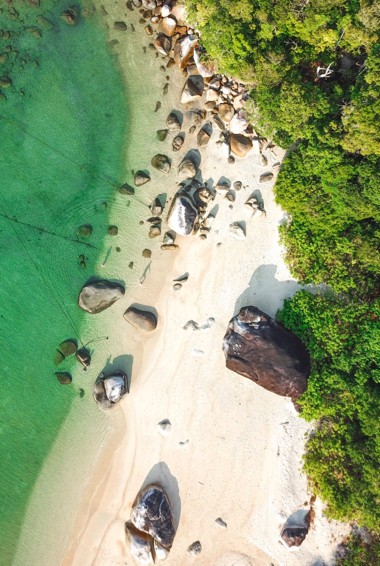 5. Relax on the beach
The beaches here are the largest and most sought-after attraction. The sand here is unlike anywhere else and the sunsets are amazing, especially during midspring through early summer. Pattaya Beach is the most well-known, however, there are also Sunrise Beach, Sunset Beach and Karma Beach to consider. The sunsets are free!
Other Things to See and Do in Ko Lipe
1. Go hiking
This beautiful island paradise is a great place for some light to medium hiking. The forest/seascape combination is beautiful, and there is lots of wildlife to observe. The hike to Cha Doa cliff is one of the best.
2. Hit the bars
In a place like this, it's hard to anything more than lie in a hammock, take daily naps, and drag your feet into a local bar. Everyone is so laid-back though, so take your time. Jack's Jungle Bar and Karma Bar are the places to be. There are plenty of bars to visit. You won't go thirsty!
3. Take a Batik course
The Lipe Resort offers a unique course in Batik painting. Batik is a cloth which uses a particular wax-resistant dying technique. Research has shown that this method dates back to the 4th century in Egypt. It is really neat to learn and a fun way to spend some time. You can take a class at the Lipe Art Garden for 1,500 BHT ($48 USD).
4. Eat your heart out
There are lots of delicious little places all over the island. PeeWee Bakery, Flour Power, and Pancake Lady are really popular breakfast spots. Banana Leaf is a great dinner spot; the drink prices are super cheap, and on some nights, they play movies projected onto a screen.
5. Check out the Buddhist temple
In the center of the island, lies the tiny Hantaly Buddhist temple. It is located on a hill in the jungle on the road from Sunrise Beach to Sunset Beach. It is small- not like some of the grand and gleaming gold temples, you might find in other parts of Thailand. A few monks live here, along with a bunch of dogs and cats. There is a donation box, which helps keep up the temple as well as take care of the animals.
6. Go kayaking
You can rent sea kayaks from some of the dive shops. It will take a couple of hours to kayak around the island. Play it smart and ask locals about the water conditions before heading out. Many of the resorts also offer kayaks to take out. You can get around the entire island in about 3 hours, or kayak to Ko Adang in less than an hour. One-hour rentals are from 200 THB ($6.35 USD); daily rentals are from 400 THB ($13 USD).
7. Spend time fishing
If you're an avid fisher, you can arrange for fishing trips along Ko Lipe. If you are in Tarutao National Park, fishing is prohibited, so make sure you find a guide that takes you to where fishing is permitted. There is great deep-sea fishing not too far from Ko Lipe.
8. Go sailing
Whether you're a beginner or experienced sailor, the island can cater to your needs. Sign up for a sailing course, or simply enjoy a day trip out around the islands. There are many options available for getting out on the water.
9. Island hop
Ko Lipe is a great destination for your first or last stop in Thailand, due to its proximity to many other smaller islands. You can take a boat to Pak Bara, Phuket, Phi Phi Island, and even Malaysia. There are several ferry and speedboat options to reach any of them.
10. Stroll down the Walking Street
The Walking Street is the center of town, and where you can find lots of restaurants, or grab a massage. It also has a large selection of shops to check out. Everything here is fairly cheap, and you can find everything from a sumptuous meal to a quick bite at a street stall vendor.
(Hey there! Wait one second! Did you know I also wrote an entire guidebook to Thailand filled with – not only even more detailed information on the things included on this page but also itineraries, maps, practical information (i.e. hours of operation, phone numbers, websites, prices, etc), cultural insights, and so much more? It has everything you want in a guidebook – but with a focus on budget and cultural travel! If you want to go into more depth and have something to take on your trip, click here for more about the book!)
Ko Lipe Travel Costs
Hostel prices – Unfortunately, there aren't many hostels to choose from on Ko Lipe. Most people tend to stay in bungalows, but there are some good places, like Ko Lipe Backpackers Hostel. Beds in dorms cost between 400-600 THB ($12.70-19 USD). Private hostel rooms aren't cheap here, costing around 947 THB ($40 USD) per night.
There is a campground (Lipe Camping Zone) with tents and basic rooms on the island if you'd like to sleep in nature. A two-bed tent starts from 400 THB ($12.70 USD).
Budget hotel prices – You can find cheap, basic bungalows that sleep two for around 850 THB ($27 USD) per night. For a nicer room with air-conditioning, expect to pay 1,000 THB ($32 USD) per night. Rooms at larger hotels start at around 1,350 THB ($43 USD) per night and usually include free WiFi and air-conditioning.
There is Airbnb, but the selection ranges widely. You can get a private room for around 630 THB ($20 USD) and a full apartment (usually a bungalow) for about 788 THB ($25 USD).
Average cost of food – Food is really cheap on Ko Lipe, except during peak end of the year holiday season. You can find cheap meals for 35 THB ($1.10 USD), whole fish for 100 THB ($3.15 USD), and other meals for around 60-85 THB ($1.90-2.70 USD). Eat at the street stalls, the food is not only cheap, it's utterly delicious. One of my favorite places to eat is called Jack's Jungle (get the coconut soup). When it comes to drinking, going to bars can become pricey with the cheapest beers costing about 60 THB ($1.90 USD) each and cocktails sometimes cost double or triple that. Whereas actually buying beers from 7-Eleven to drink on the street can be 25 THB ($0.80 USD) per can.
Backpacking Ko Lipe Suggested Budgets
Ko Lipe is quite cheap, although accommodations tend to run a bit higher than other islands in Thailand (this is especially true during peak season).
On a backpacking budget, you'll need about 1,090 THB ($33 USD) per day. On this suggested budget, you'll stay in a hostel dorm, eat at food stalls for most of your meals, and be able to enjoy a few drinks at night. Since you'll walk and beach activities are free, it's mostly food and accommodation that will kill your budget. Keep those under control and you'll be all set.
On a mid-range budget, expect to pay around 2,115 THB ($67 USD) a day. On this budget, you'll be able to stay in a private room at a 2-star hotel, eat at local sit-down restaurants, and enjoy a few more drinks with your meal. You'll also be able to take a few tours throughout your visit (like a day trip to Ko Adang or a snorkeling tour).
If you want luxury, that will start at 4,700 THB ($149 USD) per day. You'll get really nice 4-star resort (the island now has a ton), eat any and all the meals you want, drink what you want, get all the messages you want, and take part in as many excursions/activities as you like. The sky is the limit!
You can use the chart below to get some idea of how much you need to budget daily, depending on your travel style. Keep in mind these are daily averages – some days you'll spend more, some days you'll spend less (you might spend less every day). We just want to give you a general idea of how to make your budget. Prices are in USD.
Accommodation
Food
Transportation
Attractions
Average Daily Cost
Backpacker
$13
$10
$0
$15
$33
Mid-Range
$30
$15
$2
$20
$67
Luxury
$70
$25
$4
$50
$149
Ko Lipe Travel Guide: Money Saving Tips
Ko Lipe is one of the most affordable islands in Thailand. However, has it's become more popular in recent years, costs have risen a lot. Here is how to save money in Ko Lipe:
Avoid the holidays and peak season – Prices triple around Christmas and New Year's. Avoid this time of the year.
Stay longer – A lot of places in Ko Lipe will actually give a discount if you plan to stay between 3-5 days.
Book online – By booking early and online, you can avoid paying higher prices when you get there.
Use a water bottle with a purifier – It isn't safe to drink the tap water in Phi Phi, and although buying bottled water is cheap, it does add up — pick up a LifeStraw (it's good for the environment too!)
(Hey there! Wait one second! Did you know I also wrote an entire guidebook to Thailand filled with – not only even more detailed information on the things included on this page but also itineraries, maps, practical information (i.e. hours of operation, phone numbers, websites, prices, etc), cultural insights, and so much more? It has everything you want in a guidebook – but with a focus on budget and cultural travel! If you want to go into more depth and have something to take on your trip, click here for more about the book!)
Where To Stay in Ko Lipe
Ko Lipe has some great places to stay on it. Here are some of my favorite accommodations on the island:
How to Get Around Ko Lipe
Ko Lipe is small enough to walk around. You don't need anything else other than your own two feet.
However, longtail boats will take you from any point on the island to any other point on the island for 50 THB ($1.60 USD).
When to Go to Ko Lipe
November to April is peak season in Ko Lipe, with nearly constant warm temperatures and endless sunshine. The temperature averages about 85°F (29ºC) per day. Keep in mind that Ko Lipe isn't as developed as other islands, so you'll want to book your accommodations in advance if you're coming during peak season.
Low season is from May to October, and these months see a lot rainfall and cooler temperatures. Some tour operators close down during this time.
There's no wrong time to visit Ko Lipe but try to avoid the rainy season as the seas can be quiet rough and, when the weather is bad, it's bad.
(Hey there! Wait one second! Did you know I also wrote an entire guidebook to Thailand filled with – not only even more detailed information on the things included on this page but also itineraries, maps, practical information (i.e. hours of operation, phone numbers, websites, prices, etc), cultural insights, and so much more? It has everything you want in a guidebook – but with a focus on budget and cultural travel! If you want to go into more depth and have something to take on your trip, click here for more about the book!)
How to Stay Safe in Ko Lipe
Ko Lipe is an incredibly safe place to backpack and travel, especially because it's so chilled out compared to other places in Thailand. Crime is pretty non-existent here. If you're worried about scams, read this post on travel scams to avoid.
Nature is your biggest concern here. If you're going to be enjoying lots of water sports, make sure you ask a local about water conditions before you head out.
Always trust your gut instinct. If your hotel is seedier than you thought, get out of there. Make copies of your personal documents, including your passport and ID.
If you don't do it at home, don't do it when you're in Ko Lipe.
The most important piece of advice I can offer is to purchase good travel insurance. Travel insurance will protect you against illness, injury, theft, and cancellations. It's comprehensive protection in case anything goes wrong. I never go on a trip without it as I've had to use it many times in the past. You can use the widget below to find the policy right for you:
Ko Lipe Travel Guide: The Best Booking Resources
Below are my favorite companies to use when I travel to Ko Lipe. They are included here because they consistently turn up the best deals, offer world-class customer service and great value, and overall, are better than their competitors.
12go.asia – If you're looking up ferry schedules and prices to get to Ko Lipe, this website is the best place to do so. Otherwise, buy your tickets from an agent.
Airbnb – Airbnb is a great accommodation alternative for connecting with homeowners who rent out their homes or apartments. The big cities have tons of listings!
Hostelworld – This is the best hostel accommodation site out there, with the largest inventory, best search interface, and widest availability.
Agoda – Other than Hostelworld an Airbnb, Agoda is the best hotel accommodation site for Asia as it has the largest inventory and offers the best rates. If you want a guesthouse or hotel, book it via this website!
Intrepid Travel – If you want to do a group tour around Asia, go with Intrepid Travel. They offer good small group tours that use local operators and leave a small environmental footprint. If you go on a tour with anyone, go with them. And, as a reader of this site, you'll get a discount when you click the link!
Grassroots Volunteering – For volunteering, Grassroots Volunteering compiles a list of good local volunteer organizations that keep the money within the community.
Couchsurfing – This website allows you to stay on people's couches or spare rooms for free. It's a great way to save money while meeting locals who can tell you the ins and outs of their city. The site also lists events you can attend to meet people (even if you're not staying with someone).
World Nomads – I buy all my travel insurance from World Nomads. They have great customer service, competitive prices, and in-depth coverage. I've been using them since I started traveling in 2003. Don't leave home without it!
GO DEEPER: Nomadic Matt's In-Depth Budget Guide to Thailand!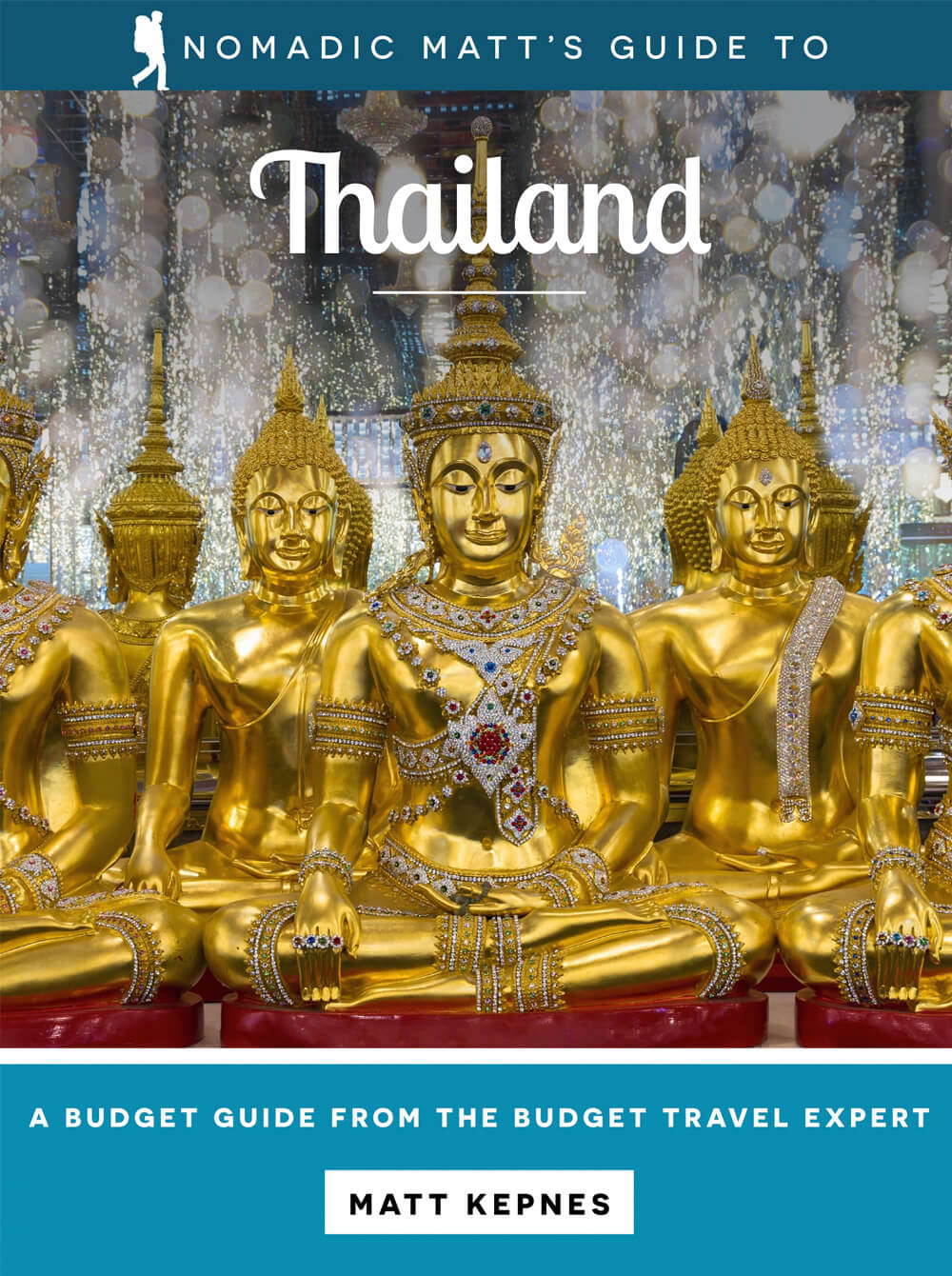 There's a lot of free information online but do you want to spend days searching for information? Prob not! That's why guidebooks exist.
While I have a lot of free tips on Thailand, I also wrote an entire book that goes into great detail on everything you need to plan a trip here on a budget! You'll get suggested itineraries, budgets, even more ways to save money, my favorites restaurants, maps, prices, practical information (i.e. phone numbers, websites, prices, safety advice, etc etc), and cultural tips.
I'll give the insider view of Thailand that I got from living and traveling here! The downloadable guide can be used on your Kindle, iPad, phone, or computer so you can have it with you when you go.
Ko Lipe Gear and Packing Guide
If you're heading on the road and need some gear suggestions, here are my tips for the best travel backpack and for what to pack!
The Best Backpack for Travelers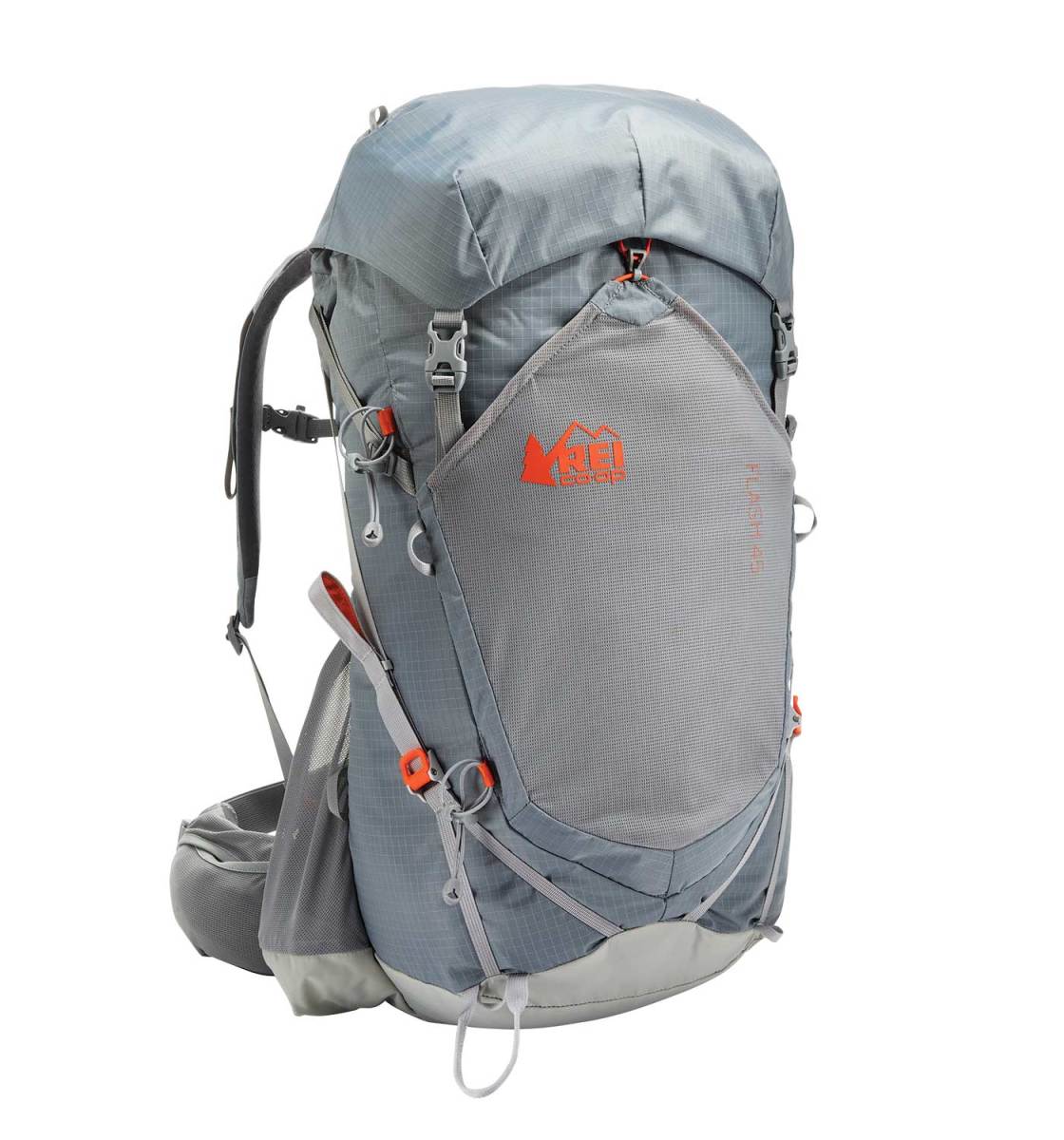 What's the best backpack for traveling long-term? I recommend the
REI Flash 45 Pack
. It's light and comfy, front loading, and fits perfectly in an airplane's overhead bin.
Size:
45-47L
Straps:
Thick and cushy with compression technology that pulls the pack's load up and inwards so it doesn't feel as heavy.
Features:
Removable top lid, large pocket at the front, hydration compatible, contoured hip belt
If you want something different, refer to my article on how to choose the best travel backpack for tips on picking a pack and other backpack suggestions.
What to Pack for Your Trip
Clothes
1 pair of jeans (heavy and not easily dried, but I like them; a good alternative is khaki pants)
1 pair of shorts
1 bathing suit
5 T-shirts (Unbound Merino is my preferred company. If you're a member of NM+, you can get 15% off your purchase)
1 long-sleeved T-shirt
1 pair of flip-flops
1 pair of sneakers
6 pairs of socks (I always end up losing half)
5 pairs of boxer shorts (I'm not a briefs guy!)
1 toothbrush
1 tube of toothpaste
1 razor
1 package of dental floss
1 small bottle of shampoo
1 small bottle of shower gel
1 towel
Deodorant
Small Medical Kit (safety is important!!!)
Miscellaneous
Female Travel Packing List
I'm not a woman, so I don't know what a woman wears, but Kristin Addis, our solo female travel guru, wrote this list as an addition to the basics above:
Clothing
1 swimsuit
1 sarong
1 pair of stretchy jeans (they wash and dry easily)
1 pair of leggings (if it's cold, they can go under your jeans, otherwise with a dress or shirt)
2-3 long-sleeve tops
2-3 T-shirts
3-4 spaghetti tops
1 light cardigan
Toiletries
1 dry shampoo spray & talc powder (keeps long hair grease-free in between washes)
1 hairbrush
Makeup you use
Hair bands & hair clips
Feminine hygiene products (you can opt to buy there too, but I prefer not to count on it, and most people have their preferred products)
For more on packing, check out these posts:
Ko Lipe Travel Guide: Suggested Reading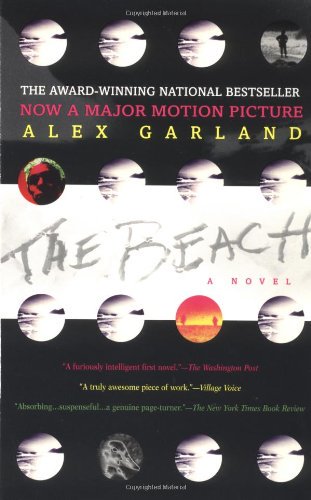 The Beach, by Alex Garland
This story about backpackers and their search for off-the-beaten path "authentic" paradise is one many of us can relate to. Following Richard and his quest to "do something different" in Thailand, he heads off the beaten path in hopes of an authentic experience but finds that things aren't always what they appear. The book is part adventure and part an exploration of why travelers always search for utopias and the consequences of that quest. It was turned into a movie featuring Leonardo DiCaprio back in the 90s. However, the book is a lot different (and much better). Focusing on the ideal of travel, I can't recommend the book enough.



Sightseeing, by Rattawut Lapcharoensap
This collection of masterful stories from award-winning author Rattawut Lapcharoensap is an absolute must-read if you're visiting Thailand. Each story has a different theme, whether it's a tale of family bonds, young romance, generational conflict, or the cultural shifts occurring in modern Thailand. You'll be hooked right from the first story about a beachside motel owner that falls in love with a young American tourist.




Anna and the King of Siam by Margaret Landon
Anna Leonowens was a young Englishwomen who inevitably changed the course of Thai history. She was hired in the 1860's by King Mongkut of Siam to help him communicate with foreign governments, and also to be the tutor to his children (and his favorite concubines). This book is about Leonowens' experiences, including the tutoring of young prince Chulalongkorn, who was so impressed by Western ideals he went on to become one of the country's most progressive kings. This book is beautifully written and gives some insight into untouched Thailand.



Mad About the Mekong, by John Keay
The author's story retraces the voyage of Francis Garnier, a historic 19th-century French explorer who sailed up the Mekong River looking for the "back door" into China. Keay describes the modern world of the Mekong River from Vietnam up through Cambodia, Laos, Thailand, and Burma, while recreating Garnier's failed voyage which included two ships bearing naturalists, soldiers, artists, and geologists. It's a fascinating read.




The Orchid House, by Lucinda Riley
Julia Forrester, a concert pianist, spent much of her childhood in her grandfather's hothouse at the Wharton Estate in England where he tended to exotic orchids. After losing her child and husband, Julia heads back to the hothouse where she meets Kit Crawford, heir to the estate. When they discover an old diary, Julia sets out to find her grandmother and to uncover the truth about the love affair that almost destroyed the estate. This book jumps back and forth between the world of Wharton Park and Thailand during WWII, with plenty of twists and turns to keep you reading!



Bangkok 8, by John Burdett
Bangkok 8 is a thrilling detective novel based on the murder of a suave Marine sergeant under a bridge in Bangkok. There are just two witnesses: two cops, and within minutes one of them is murdered. His partner, Sonchai Jitpleecheep, sets out on a mission to find the killer. Sonchai is paired with a beautiful FBI agent (who inevitably wins his heart), and is soon launched into a sinister world of drugs, prostitution, and corruption. This one will keep you on the edge of your seat.




Private Dancer, by Stephen Leather
Here's a little insight into Bangkok's wild go-go scene. Peter wanders into a go-go bar and meets the love of his life: Joy, a stunningly beautiful (and young) pole dancer. But Pete is soon launched into a life of drugs, sex, and deception as he discovers that his private dancer is not who she says she is. This book is a #1 bestseller in Thailand!
Ko Lipe Travel Guide: Related Articles
Want more tips for your trip? Check out all the articles I've written on Thailand travel and continue planning your trip: