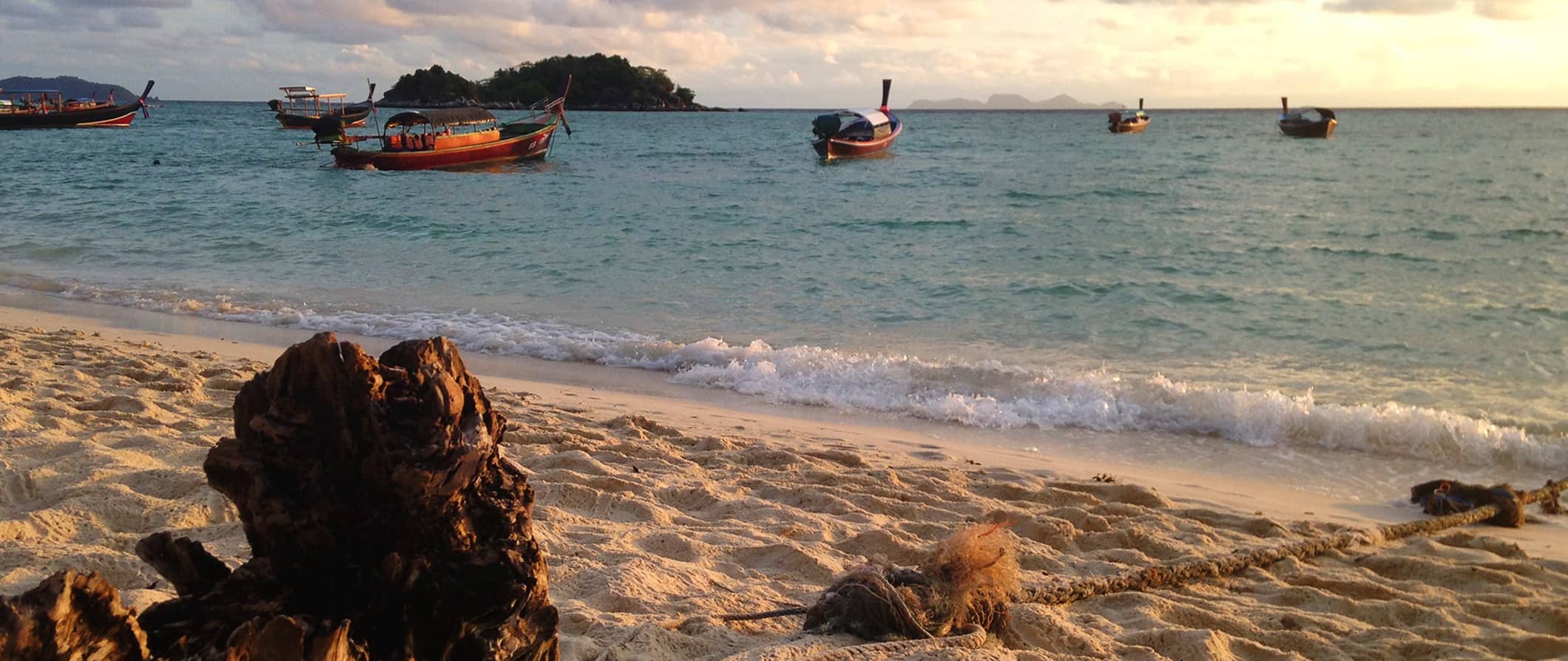 Located in southern Thailand, this semi-off the map island is one of my favorite places in the world. Here on Ko Lipe, the super friendly locals bring in the daily catch for amazing seafood. The beaches are beautiful, the water warm, and the island cheap. I came for three days and lived here for a month. In the last few years, it has become very developed and it's not the sleepy little island it used to be but it's still way less developed than many other destinations in Thailand. Moreover, you're near a pristine and undeveloped national marine park where you can snorkel and enjoy some beaches to yourself!
Top 5 Things to See and Do in Ko Lipe
1. Go on the Ko Adang Excursion
Taking a boat over to this nearby island is a lot of fun. You get to sit back, throw down a drink or two, and enjoy the ocean scenery. The island itself is home to Pirate Falls and Chado Cliff—both of which are great, moderate hikes. You can hike up and get a great view of Ko Lipe from the top. Boat rides are usually around 550 THB.
2. Go diving and snorkeling
Since you are bound to get into the water anyway, you might as well strap on a bit of equipment and really explore what's below the surface. The water along the beaches is often calm, clear, and shallow—and there are reefs to explore as well. There are a ton of dive shops on the island and nothing is too expensive. 8 mile Rock and the Yong Hua Shipwreck are two great diving options.
3. Get a massage
There are several places throughout the island to get massages. In the center of the island, there is even an offshoot of the well-known Wat Po Massage School. The massages here are much cheaper than other parts of Thailand. Massages usually run about 300 THB.
4. Visit the National Park
Taking a day trip, or even a multi-day trip, around the islands is super fun and relaxing. There are various companies, all offering different trips and packages. Most of them offer great day trips with snorkeling, beach time, a beautiful sunset sail, and endless fruit, snacks, and drinks. It costs 200 THB to enter.
5. Relax on the beach
The beaches here are the largest and most sought-after attraction. The sand here is unlike anywhere else and the sunsets are often amazing, especially during midspring through early summer. Pattaya Beach is the most well-known, however, there are also Sunrise Beach, Sunset Beach and Karma Beach to consider. The sunsets are free!
Other Things to See and Do
(Click the title to expand the text)
1. Go hiking
This beautiful island paradise is a great place for some light to medium hiking. The forest-seascape combination is beautiful and there is lots of wildlife on which to spy. The hike to Cha Doa cliff is great.
2. Hit the bars
In a place like this, it's hard to anything more than lie in a hammock, take daily naps, and drag your feet into a local bar. Everyone is so laid-back though, so take your time. Jack's Jungle Bar and Karma Bar are the places to be. There are plenty to choose from- you won't go thirsty!
3. Take a Batik course
The Lipe Resort offers a unique course in Batik painting. Batik is a cloth which uses a particular wax-resistant dying technique. Research has shown that this method dates back to the 4th century in Egypt. It is really neat to learn and a fun way to spend some time.
4. Eat your heart out
There are lots of delicious little places all over the island. PeeWee Bakery, Flour Power, and Pancake Lady are really popular breakfast spots. Banana Leaf is a great dinner spot; the drink prices are super cheap and on some nights, they play movies projected onto a screen.
5. Check out the Buddhist temple
In the center of the island, lies the very small Hantaly Buddhist temple. It is located on a hill in the jungle on the road from Sunrise Beach to Sunset Beach. It is small- not like some of the grand and gleaming gold temples you might find in other parts of Thailand. A few monks live here, along with a bunch of dogs and cats. There is a donation box, which helps keep up the temple as well as take care of the animals.
6. Go kayaking
You can rent sea kayaks from some of the dive shops. It will take a couple of hours to kayak around the island. Do play it smart and ask locals about the water conditions before heading out. Many of the resorts also offer kayaks to take out. You can get around the entire island in about 3 hours, or kayak to Ko Adang in less than an hour. One-hour rental from 200 baht; daily rentals from 400 baht.
7. Spend time fishing
If you're an avid fisher, you can arrange for fishing trips along Ko Lipe. If you are in Taratuo National Park, fishing is prohibited- so make sure you find a guide that takes you to where fishing is permitted. There is great deep-sea fishing not too far from Ko Lipe.
8. Go sailing
Whether you're a beginner or experienced sailor, the island can cater to your needs. Sign up for a sailing course, or simply enjoy a day trip out around the islands. There are many options available for getting out on the water.
9. Island hop
Ko Lipe is a great destination for your first or last stop in Thailand, due to its close proximity to many other smaller islands. You can take a boat to Pak Bara, Phuket, Phi Phi Island, and even Malaysia. There are several ferry and speedboat options to reach any of them. Taratup adventure tours also offers several trips that stop for diving or snorkeling along your route!
10. Stroll down the Walking Street
The Walking Street is the center of town, and where you can find lots of restaurants, or grab a massage. It also has a large selection of shops to check out. Everything here is fairly cheap, and you can find everything from a lavish meal to a quick bite at a street stall vendor.
Typical Costs
Hostel prices
– Unfortunately, there aren't many hostels to choose from on Ko Lipe. My suggested places are:
It only has two dorm rooms (beds 400-600 THB). There is a campground with tents and basic rooms on the island, if you'd like to sleep in nature.
Budget hotel prices – You can find cheap, basic bungalows that sleep two for around 850 THB per night. For a nicer room with air-conditioning, expect to pay 1,000 THB per night. Rooms at larger hotels start at around 1,350 THB per night, and usually include free WiFi and air-conditioning. There is Airbnb, but the selection ranges widely. Most availability falls between 700 THB (shared or private rooms) and 1,400 THB (the whole apartment).
Average cost of food – Food is really cheap on Ko Lipe, except during peak end of the year holiday season. You can find cheap meals for 35 THB, whole fish for 100 THB, and other meals for around 60-85 THB. Eat at the street stalls, the food is not only cheap, it's utterly delicious. One of my favorite places to eat is called Jack's Jungle (get the coconut soup). When it comes to drinking, going to bars can become pricey with the cheapest beers costing about 60 THB each and cocktails sometimes cost double or triple that. Whereas actually buying beers from 7-Eleven to drink on the street can be 25 THB per can.
Transportation costs – There's no transport on the island besides long-tail boats, which can drop you off on different spots on the island for about 50 THB. But to be honest, Ko Lipe is so small that you can simply walk everywhere. Most round-trip ferry rides to and from other islands cost around 1,200 THB.
Suggested daily budget
1200 THB / 33 USD (Note: This is a suggested budget assuming you're staying in a hostel, eating out a little, cooking most of your meals or eating cheap street food, and using local transportation. Using the budget tips below, you can always lower this number. However, if you stay in fancier accommodation or eat out more often, expect this to be higher!)
Money Saving Tips
Avoid the holidays and peak season – Prices triple around Christmas and New Year's. Avoid this time of the year.
Stay longer – A lot of places in Ko Lipe will actually give a discount if you plan to stay between 3-5 days. Staying longer can pay off!
Book online – By booking early and online, you can avoid paying higher prices when you get there.
GO DEEPER: Nomadic Matt's In-Depth Budget Guide to Thailand!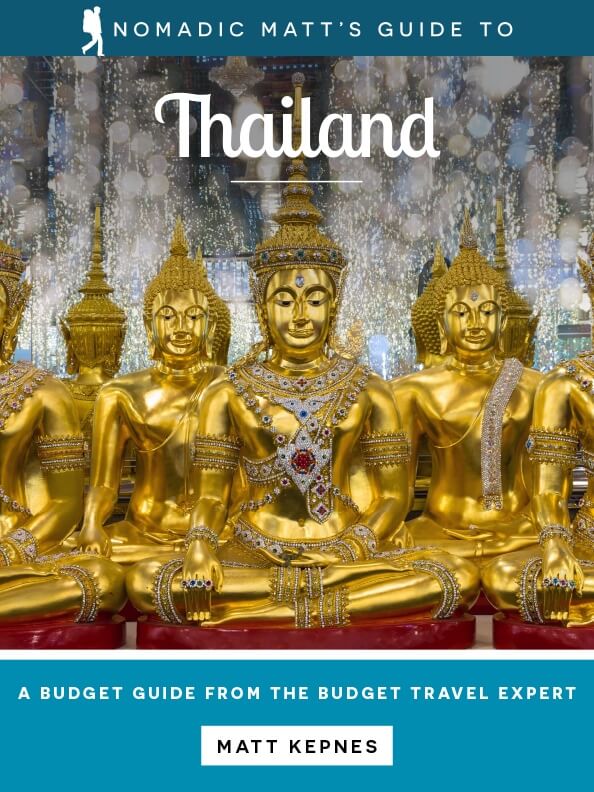 I spent over two years living in Thailand and run tours through the country. I know the country like back of my hand. Go deeper with my detailed digital guidebook made for budget travelers like you! This book gets straight to the practical information you need for your trip to Thailand. I get to the good stuff that has made me a NYT best selling writing. In this book, you'll have all the above information plus suggested itineraries, budgets, more ways to save money, far more on and off the beaten path things to see and do, detailed transportation and getting around information, island and region profiles, my favorite non-touristy restaurants, markets, bars, attractions, and much more!! Just click here to learn more and download the guide.
My Other Must Have Guides For Traveling to Ko Lipe