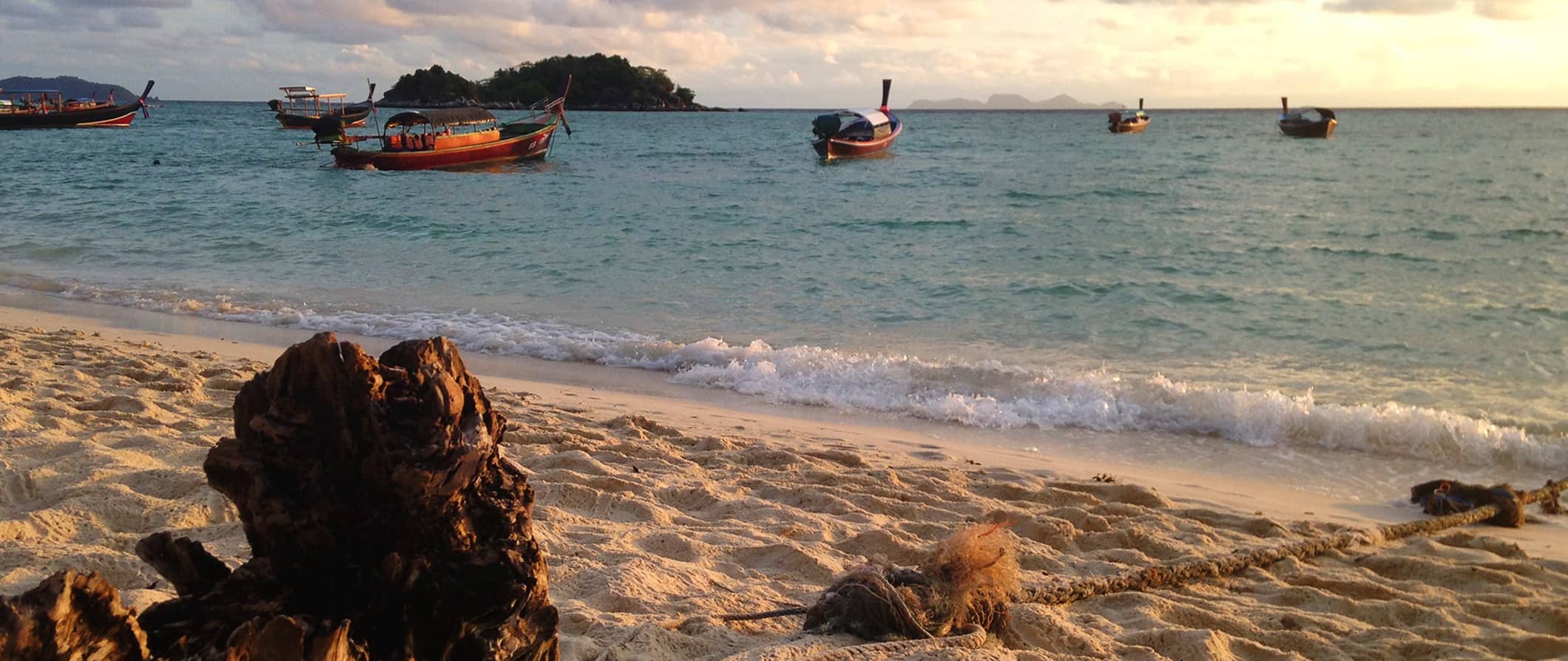 Located in Southern Thailand, this semi-off-the-map island is one of my favorite places in the world. A tiny island in the southwest of the country close to the Malaysian border, Ko Lipe was virtually untouched when I first arrived. It saw few visitors (the ferry boats didn't even run here year-round) so I came for three days to relax and enjoy quiet island life.
I ended up staying for a month.
In the last few years, more people have started traveling to Ko Lipe as the island has developed a lot (boats run all year round now). It's not the sleepy little island it used to be, but it's still way less developed than many other destinations in Thailand.
On Ko Lipe, the locals bring in the daily catch for amazing seafood meals. The beaches are beautiful, with warm water and stunning views, and the pace of life here is slow and laid-back.
And, if you venture off Ko Lipe to the nearby national park, you'll find the pristine beaches that attracted people to the area in the first place.
There's some impressive snorkeling near the island, a few hiking trails, and plenty of lovely beaches. The island is so small that it only takes a few hours to walk around it too.
This Ko Lipe travel guide can help you plan your trip, save money, and make the most of your time in this tropical paradise!
Top 5 Things to See and Do in Ko Lipe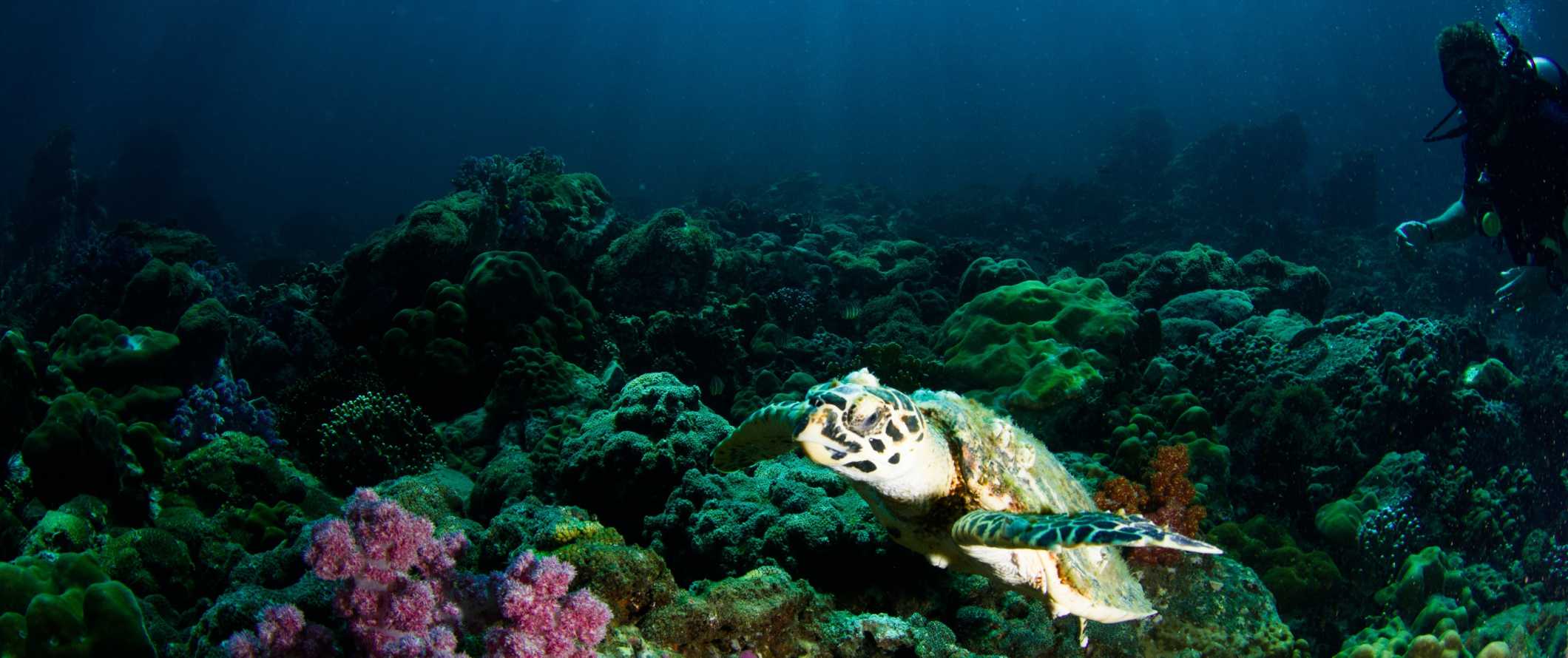 1. Visit Ko Adang
Taking a boat to this nearby island is a lot of fun. Sit back, have a drink or two, and enjoy the scenery. The island is home to Pirate Falls and Chado Cliff, both of which are great, moderate hikes where you'll enjoy a stunning view of Ko Lipe at the top. A round-trip boat ride is around 200-400 THB.
2. Go snorkeling
Since you are bound to get into the water anyway, you might as well strap on a bit of equipment and explore what's below the surface. The water along the beaches is often calm, clear, and shallow. You can rent equipment for around 100 THB or take a day tour that includes equipment and lunch for 700-800 THB.
3. Get a massage
There are several places throughout the island to get a relaxing massage. In the center of the island, there is even an offshoot of the well-known Wat Po Massage School. The massages here are much cheaper than in other parts of Thailand. Massages usually run about 400-600 THB.
4. Explore Tarutao National Marine Park
Taking a day trip, or even a multi-day trip, around the islands is super fun and relaxing. Most tours offer day trips with snorkeling, beach time, a beautiful sunset sail, and endless fruit, snacks, and drinks. The park costs 200 THB to enter.
5. Relax on the beach
The beaches here are the main reason people visit Ko Lipe. The sand here is unlike anywhere else and the sunsets are amazing, especially from mid-spring through early summer. Pattaya Beach is the most well-known, however, there's also Sunrise Beach, Sunset Beach, and Karma Beach
Other Things to See and Do in Ko Lipe
1. Go hiking
This beautiful island paradise is a great place for some light to medium hiking. The forest/seascape combination is beautiful, and there is lots of wildlife to observe. The hike to Chado Cliff is one of the best, offering incredible views from the top. It takes around 45-60 minutes and is pretty steep, so be sure to wear comfortable shoes.
2. Hit the bars
In a place like this, it's hard to do anything more than lie in a hammock, take daily naps, and drag your feet to a local bar to grab a drink and mingle with locals and travelers alike. There are plenty of bars to visit, with a much more chill vibe than other islands in Thailand. There are lots of small bars all around the island, though some of the most popular bars are Benny's on the Beach, Elephant, and Zodiac.
3. Take a Batik course
The Lipe Resort offers a unique course in Batik painting. Batik is a traditional textile technique that uses wax and dye to create art. Research has shown that this method dates to the 4th century in Egypt. It is really neat to learn and a fun way to spend some time. You can take a class at the Lipe Art Garden for 1,500 THB.
4. Eat your heart out
There are lots of delicious little places to eat all over the island. Thai Pancake Lady is a popular breakfast spot, offering a huge variety of pancakes, from fruit-based to Nutella-filled. Banana Tree is a great dinner spot where the drink prices are super cheap. Both of these spots are located on Walking Street, the main thoroughfare on the island and where you'll find plenty of other eateries as well.
5. Check out the Buddhist temple
In the center of the island lies the tiny Hantaly Buddhist temple. It is located on a hill in the jungle, on the road from Sunrise Beach to Sunset Beach. Unlike some of the grand and gleaming gold temples that you might find in other parts of Thailand, Hantaly is small. Just a few monks live here, along with a bunch of dogs and cats. There is a donation box, which helps keep up the temple as well as take care of the animals so give generously if you can.
6. Kayak the island
Kayaking is a great way to check out all the beaches on the island, as it takes just 2-3 hours to kayak around the island. Alternatively, you can kayak to Ko Adang in less than an hour. Just be sure to play it smart and ask locals about the water conditions before heading out. You can rent sea kayaks from some of the dive shops, and many of the resorts also offer kayaks to take out. One-hour rentals are 150-200 THB while daily rentals cost around 400-500 THB.
7. Go fishing
If you're an avid fisher, you can arrange fishing trips in the waters around Ko Lipe. If you are in Tarutao National Park, fishing is prohibited, so make sure you find a guide that takes you to where fishing is permitted. There is great deep-sea fishing not too far from Ko Lipe, where you can catch mackerel, barracuda, grouper, snapper, sailfish, and more. You can arrange a tour from your accommodations or at the pier.
8. Sail or boat around the island
Whether you're a beginner or experienced sailor, there's something for everyone on Ko Lipe. Sign up for a sailing course or simply enjoy a day trip out around the islands and soak up the sunshine and the views. In addition to sailing, you can also take a speedboat or longtail boat tour or hire one out for a day to cruise around on your own terms. Hiring a longtail boat and driver for a day costs around 1,200-1,500 THB.
9. Island hop
Ko Lipe is a great destination for your first or last stop in Thailand, due to its proximity to many other smaller islands. You can take a boat to Pak Bara, Phuket, the Phi Phi Islands, and even Malaysia, which is only a 90-minute journey away. There are several ferry and speedboat options to reach any of them. Ticket prices and schedules vary depending on the time of year, so be sure to check if the route is still running as sometimes availability is limited in the off-season. In high season, a one-way ticket from Ko Lipe to Langkawi in Malaysia is 1,000 THB.
10. Stroll down Walking Street
Walking Street is the center of town and where you'll find everything from restaurants and street stall vendors to little shops and massage spots. Everything here is fairly cheap and it's a good place to book excursions as well. Anything else you might need, from ATMs and 7-Elevens to a health clinic and hospital, is located here.
11. Go diving
As a protected site, Tarutao Marine National Park offers pristine waters with tons of marine life to see on an underwater adventure. Some of the most popular dive sites are Stonehenge, Yong Hua Wreck, and 8-Mile Rock. There are a ton of dive shops and schools on the island, with Castaway Divers, Ko Lipe Diving, and Adang Sea Divers all offering a huge array of diving trips and courses. A two-dive trip costs 2,800-3,000 THB while a three-day PADI course is 13,500-14,500 THB.

For more information on other cities and islands in Thailand, check out the guides below:
(Hey there! Wait one second! Did you know I also wrote an entire guidebook to Thailand filled with – not only even more detailed information on the things included on this page but also itineraries, maps, practical information (i.e. hours of operation, phone numbers, websites, prices, etc), cultural insights, and so much more? It has everything you want in a guidebook – but with a focus on budget and cultural travel! If you want to go into more depth and have something to take on your trip, click here for more about the book!)
Ko Lipe Travel Costs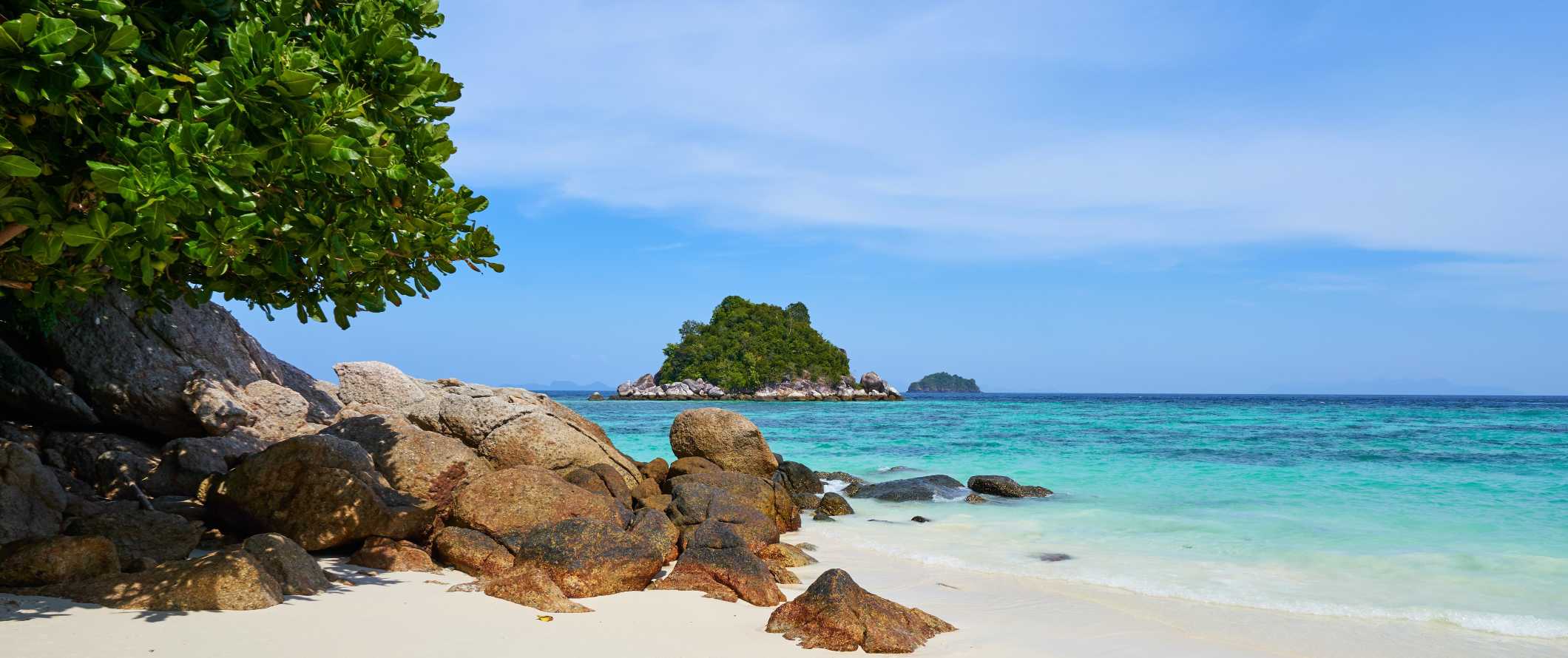 Hostel prices – Unfortunately, there aren't many hostels on Ko Lipe as most people tend to stay in bungalows. During high season, beds in 4-6-person dorms cost 450-850 THB. There aren't any hostels with large dorm rooms here. Private hostel rooms aren't cheap, costing around 900-1,500 THB per night.
In the low season, a dorm bed costs 250-425 THB, while private rooms are 700-859 THB per night. Amenities are basic at hostels on Ko Lipe as the focus is on getting out and enjoying the natural surroundings. Most have free Wi-Fi but do not include breakfast.
There are no campgrounds on Ko Lipe, but you can camp on nearby Ko Adang for 350 THB per night for a basic plot without electricity.
Budget hotel prices – In the high season, you can find cheap bungalows that sleep two for around 850 THB per night. Rooms at larger hotels start at around 1,350-1,800 THB per night and usually include free Wi-Fi, free breakfast, and air-conditioning.
In the low season, basic bungalows can be found for 650-800 THB per night, while resort rooms or nicer bungalows are 1,200-1,500 THB.
On Airbnb, entire homes/apartments (usually a bungalow) cost around 1,500-1,800 THB per night. Private rooms aren't as common and start around 1,200 THB per night.
Average cost of food – Thai cuisine is aromatic and flavorful, with a wide selection of spicy salads, creamy curries, soups, and stir-fries. Thailand's neighbors, including Malaysia, Laos, and Myanmar, have all left their mark on the country's cuisine.
Thai cuisine uses a wide variety of ingredients in each dish, with common spices and fresh herbs including garlic, basil, galangal, cilantro, lemongrass, kaffir lime leaves, chilies, shrimp paste, and fish sauce. In central and southern Thailand, coconut milk is commonly used in curries and desserts. Being an island, there's a lot of fish and seafood in the dishes on Ko Lipe.
Rice and noodles are both central to Thai cuisine. Popular dishes include tom yum goong (hot and sour soup with shrimp), massaman curry, pad thai (a stir-fried noodle dish), som tam (spicy papaya salad), kao phad (fried rice), khao man gai (rice with boiled chicken), and satay (grilled meat on skewers, served with a peanut dipping sauce).
Food is cheap on Ko Lipe, except during the year holiday season. Eat at the street stalls where the food is cheap and utterly delicious. You can find grilled skewers for 10-20 THB, a pancake for 20-50 THB, pad thai for 60 THB, and other takeaway meals for around 60-85 THB.
A meal at a casual restaurant on the beach costs 90-120 THB for a traditional Thai curry, while a seafood dish is 200-350 THB. Restaurants on Walking Street are generally on the more expensive side, costing 120-150 THB for a stir fry dish.
Western cuisine is more expensive on Ko Lipe, costing 200-450 THB for a pasta dish, nachos, or burger.
When it comes to drinking, going to bars can become pricey, with the cheapest beers costing about 60 THB each, though they can be higher on the beach at 80-100 THB each. Cocktails are 150-220 THB on the beach. Keep in mind that you can save money by buying beers from convenience stores and then drinking them on the beach.
For non-alcoholic drinks, a cappuccino is 70 THB while a fruit shake, which are everywhere on the island, is around the same.
There's no point cooking your own meals here as the food stalls are so cheap!
Backpacking Ko Lipe Suggested Budgets
On a backpacking budget, expect to spend about 1,125 THB per day. On this budget, you'll stay in a hostel dorm, eat at food stalls for all of your meals, walk around the island, enjoy a few drinks from the convenience store, and stick to mostly free activities like swimming and enjoying the beach.
On a mid-range budget of 2,400 THB a day, you'll be able to stay in a private room or bungalow, eat at food stalls and the occasional local sit-down restaurant, enjoy a few more drinks, and do more paid activities like diving or kayaking.
On a "luxury" budget of 4,775 THB per day or more, you can stay in a hotel, eat out for all your meals anywhere you want, drink more, hire a boat, get massages, and do whatever tours and activities you want. This is just the ground floor for luxury though. The sky is the limit!
Accommodation
Food
Transportation
Attractions
Average Daily Cost
Backpacker
500
275
0
350
1,125
Mid-Range
850
600
150
800
2,400
Luxury
1,350
1,075
500
1,850
4,775
Ko Lipe Travel Guide: Money-Saving Tips
Ko Lipe is one of the most affordable islands in Thailand. However, as it's become more popular in recent years, costs have risen a lot. It's easy to splash out here now. Here are some tips to help you save money during your stay:
Avoid the holidays and peak season – Prices triple around Christmas and New Year's. Avoid this time of the year if you're on a budget.
Stay longer – A lot of places on Ko Lipe give a discount if you plan to stay between 3-5 days. Ask for discounts if you extend your stay.
Hit happy hour – Many bars and resorts on the beach offer happy hours where you can get cheaper drinks. Stick to drinking during happy hour if you want to go to the bar.
Eat off Walking Street – Restaurant prices are highest on this main drag, so meander just a short way away to find better prices (and better food).
Use a water bottle with a purifier – It isn't safe to drink the tap water in Ko Lipe, and although buying bottled water is cheap, it does add up — pick up a LifeStraw, which have built-in filters to ensure your water is always clean and safe (it's good for the environment too!)
(Hey there! Wait one second! Did you know I also wrote an entire guidebook to Thailand filled with – not only even more detailed information on the things included on this page but also itineraries, maps, practical information (i.e. hours of operation, phone numbers, websites, prices, etc), cultural insights, and so much more? It has everything you want in a guidebook – but with a focus on budget and cultural travel! If you want to go into more depth and have something to take on your trip, click here for more about the book!)
Where to Stay in Ko Lipe
Ko Lipe has some great places to stay. Here are some suggested accommodations on the island:
How to Get Around Ko Lipe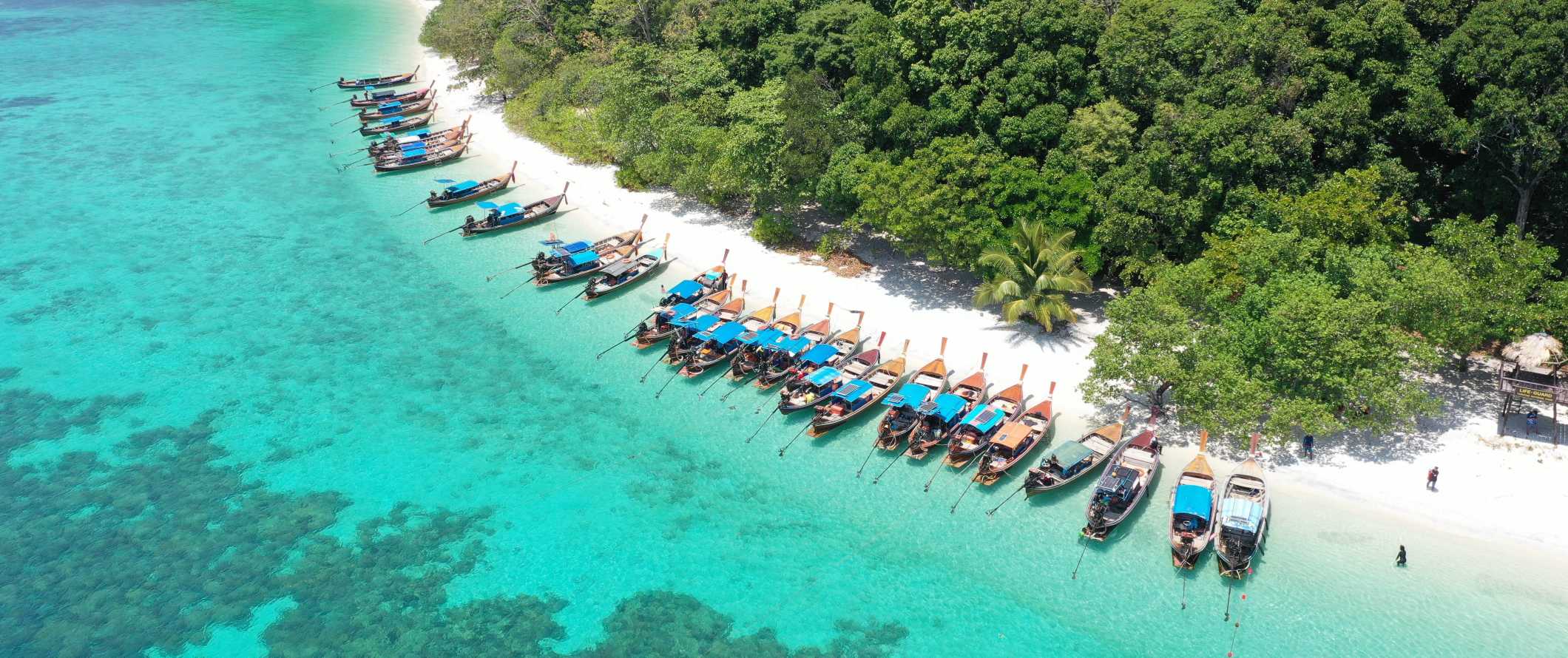 Ko Lipe is small enough to walk around. You don't need anything else other than your own two feet. You can walk the length of the entire island in about an hour.
Boat – Longtail boats can take you from any point on the island to any other point on the island for 100 THB.
Taxi – For longer distances if you don't feel like walking, you can take a motorbike taxi. It costs around 50 THB to go anywhere on the island.
When to Go to Ko Lipe
November to April is peak season in Ko Lipe, with nearly constant warm temperatures and endless sunshine. The temperature averages 29°C (85°F).
Keep in mind that Ko Lipe isn't as developed as other islands, so you'll want to book your accommodations in advance if you're coming during peak season as places can sell out.
The low season is from May to October. These months see a lot of rainfall and cooler temperatures, averaging around 25°C (78°F). Some tour operators and hotels close during this time and ferries from the mainland are greatly reduced. Some routes are not operational in the off-season so be sure to plan ahead.
There's no wrong time to visit Ko Lipe but try to avoid the rainy season. The sea can be quite rough and when the weather is bad, it's bad.
(Hey there! Wait one second! Did you know I also wrote an entire guidebook to Thailand filled with – not only even more detailed information on the things included on this page but also itineraries, maps, practical information (i.e. hours of operation, phone numbers, websites, prices, etc), cultural insights, and so much more? It has everything you want in a guidebook – but with a focus on budget and cultural travel! If you want to go into more depth and have something to take on your trip, click here for more about the book!)
How to Stay Safe in Ko Lipe
Ko Lipe is an incredibly safe place to backpack and travel. It's much more relaxed compared to other places in Thailand. It's a great place for solo travelers, including solo female travelers.
As in any destination, keep your valuables secure and out of reach just to be safe. When out at the bar, always keep an eye on your drink and avoid walking home at night intoxicated.
Scams are rare here, but if you're worried about getting ripped off you can read this post on common travel scams to avoid.
Nature is your biggest concern here. If you're going to be enjoying lots of water sports, make sure you ask a local about water conditions before you head out.
If you go hiking, bring a hat, water, and sunscreen just to be safe.
If you experience an emergency, dial 191 for assistance.
Always trust your gut instinct. Make copies of your personal documents, including your passport and ID. Forward your itinerary along to loved ones so they'll know where you are.
For more information about safety in Southeast Asia, check out this article.
The most important piece of advice I can offer is to purchase good travel insurance. Travel insurance will protect you against illness, injury, theft, and cancellations. It's comprehensive protection in case anything goes wrong. I never go on a trip without it as I've had to use it many times in the past. You can use the widget below to find the policy right for you:
booking_resources_seasia country="Ko Lipe"]
Get the In-Depth Budget Guide to Thailand!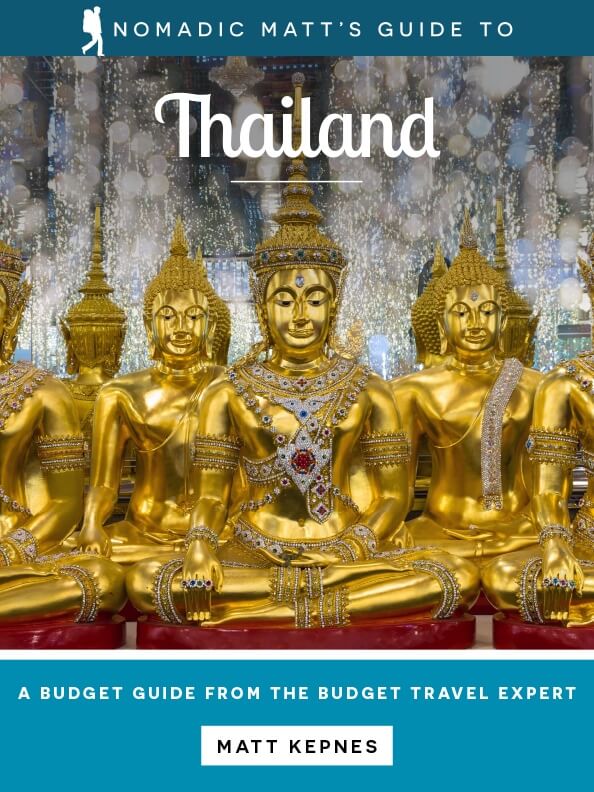 My detailed 350+ page guidebook is made for budget travelers like you! It cuts out the fluff found in other guidebooks and gets straight to the practical information you need to travel around Thailand. You'll find suggested itineraries, budgets, ways to save money, on and off-the-beaten-path things to see and do, non-touristy restaurants, markets, bars, safety tips, and much more! Click here to learn more and get your copy today.
Ko Lipe Travel Guide: Related Articles
Want more tips for your trip? Check out all the articles I've written on Thailand travel and continue planning your trip: