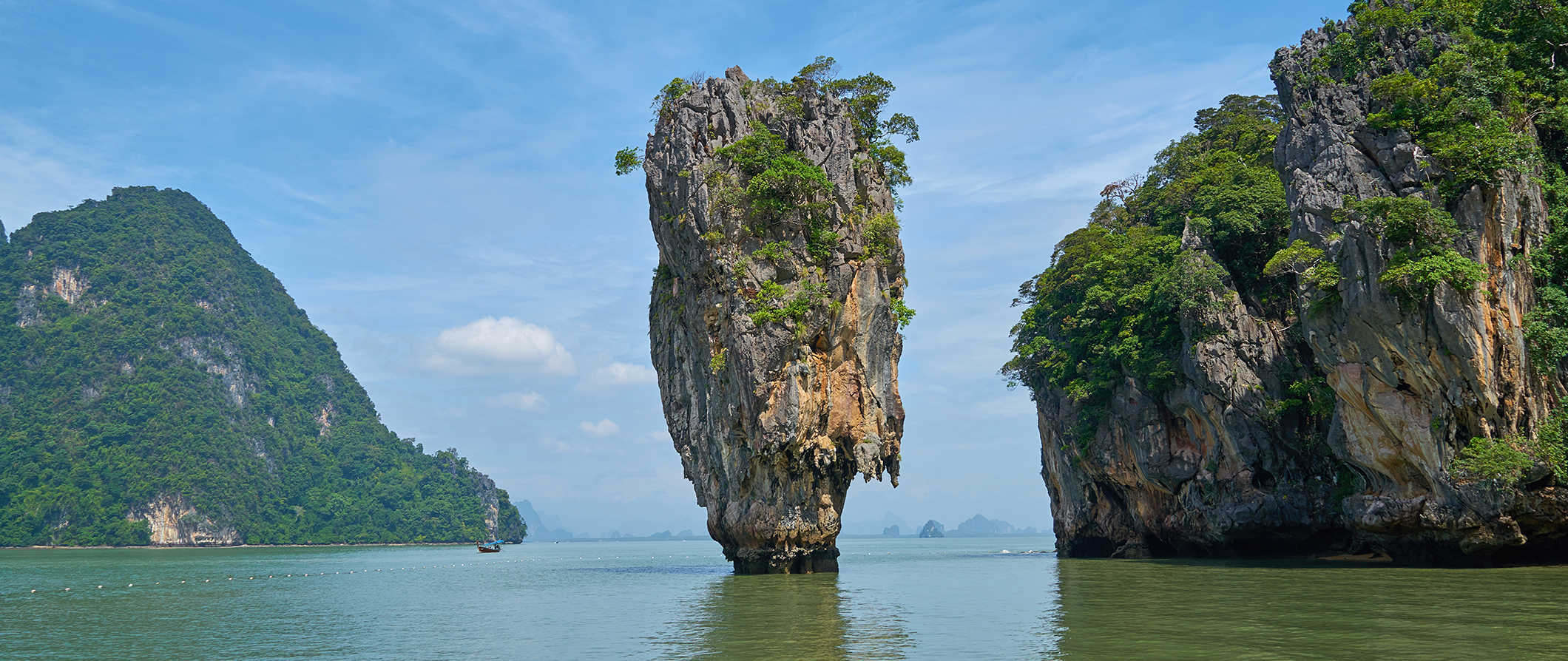 Phuket is one of the most popular destinations in Thailand. The island is the biggest in the country and boasts a wide range of beaches as well as a vibrant nightlife and large expat scene.
Backpacking, partying, coming to learn Muay Thai, lounging at the resorts — Phuket is one of those places that has something for everyone.
That said, Phuket also illuminates the good and bad of Thai tourism — from overdeveloped beaches and sex tourism to tiny towns with no tourists that showcase authentic Thailand.
While most visitors stick to the overdeveloped south, if you stay away from Patong Beach, you can avoid most of the overdevelopment and crowds. In fact, the north part of the island is one of my favorite places to visit in all of Thailand. It's a paradise!
This travel guide to Phuket will show you the best places to visit, help you save money, and ensure you make the most of your time on this popular island getaway!
Top 5 Things to See and Do in Phuket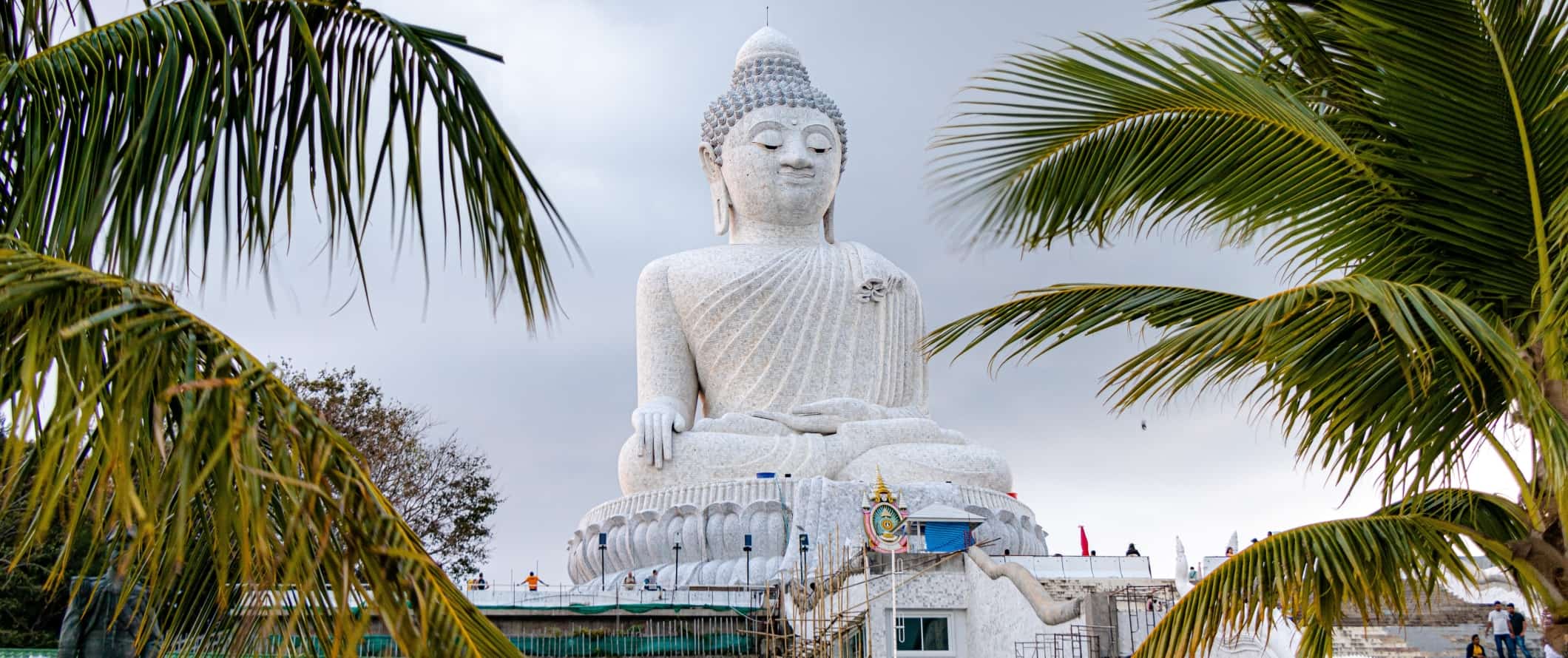 1. Chill on the beach
Phuket is all about the beaches. If you stay away from Patong Beach, you can avoid most of the overdevelopment, expensive prices, and crowds. Do this, and you'll see that Phuket is a lovely destination. Check out Mai Khao, Surin, Freedom, and Naithon for the best beaches!
2. Visit the temples
Most of Phuket's population is Thai-Buddhist and there are close to 40 Buddhist Temples located all over the island. Phuket's Big Buddha is one of the island's most important; Wat Suwan Khiri Khet, the only temple in Karon Beach, is small but attractive; and Wat Chalong is also beautiful.
3. Cruise Phang Nga Bay
Lined by limestone cliffs, collapsed caves, and archaeological sites, these glorious emerald-green waters form a delightful bay. It's also where the James Bond movie The Man with the Golden Gun was filmed. Day trips can be had from anywhere on the island and cost 3,500 THB.
4. Visit the gibbons
Run by volunteers and financed by donations, the Gibbon Rehabilitation Center rescues gibbons from captivity. There is no touching, but visitors can watch them from a viewing platform. On your two-hour visit, you'll learn about gibbons. A visit costs 4,000 THB and you must book in advance.
5. Tour the Similan Islands
Just 84 kilometers (52 miles) northwest of Phuket are the Similan Islands. It's one of the few places in Thailand with environmental protection. Only two (#4 and #8) of the nine islands are publicly accessible. The preserve is open to visitors from October 15-May 15 and costs 500 THB to enter.
Other Things to See and Do in Phuket
1. Skip Patong
This is the main tourist section of Phuket, filled with crowded beaches, resorts, hawkers, bars, and sadly, a lot of sex tourists. Unless you want to get drunk a lot, try to avoid this beach at all costs (although I do still recommend taking a cooking class near here). There are much better beaches around, like Hat Karon, Surin, and Mai Khao Beach.
2. Learn to cook traditional Thai food
If you are looking to learn how to make Thai food, take a class at Pum's Thai Cooking School. It's one of the best souvenirs you can take back with you: the knowledge to make some of your favorite dishes from Thailand! There are several of these schools in Thailand, and the one in Phuket is on Patong Beach. You can take classes ranging from 30 minutes to 6 hours. Classes start at 500 THB for a 30-minute mini-class, and full classes (3+ hours) start from 1,500 THB.
3. Watch a Muay Thai fight
To see something truly Thai, watch some Muay Thai. This is a form of combat that combines striking techniques using fists, elbows, knees, and shins, and is known as "the art of eight limbs." It requires extreme mental and physical discipline to train to be a Muay Thai fighter. The Patong Boxing Stadium is the destination to see regular matches or go to Patong Beach where you can watch these disciplined fighters in action. You can usually find tickets for around 1,500-2,000 THB.
4. Visit Khao Phra Thaeo Wildlife Park
Take a trip to the Khao Phra Thaeo Conservation Development and Extension Center, a center focused on preserving the environment. The center contains a park with giant trees in the midst of dense a dense forest that is home to a number of endangered animals and wildlife including boars, mouse deer, langurs, and gibbons. It's also the last remaining evergreen rainforest of Phuket. Make sure to check out the Nam Tok Sai waterfall, which is located close to the park headquarters. There is also a floating restaurant located in the mangroves! Admission is 200 THB.
5. See the Thalang National Museum
If you are eager to find out more about historical Phuket, visit the Thalang National Museum. The museum holds an exhibition of ancient artifacts from Old Phuket and items used during the war with Myanmar (1809-1812). Learn about the local life through exhibits on the island's tin mining history, indigenous culture, and Chinese heritage. There's a monument outside to Thao Thep Krasattri and Thao Si Sunthon, two sisters revered heroines who helped save Phuket during the Battle of Thalang during the Burmese-Siamese War. Visiting this museum is a great way to immerse yourself in the history of the island. It's 30 THB.
6. Enjoy the viewpoints
Phuket has many scenic viewpoints that are great for taking in the stunning island views. Promthep Cape and Karon View Point tend to be the most popular, but another great spot is the Kata viewpoint. Nothing is better than watching a golden sunset from these points. Your camera will thank you!
7. Rent a bike
Renting either a bike or motorbike gives you the freedom to explore Phuket. Find your way to Laem Singh Beach, a more secluded and laid-back spot with some great snorkeling opportunities. Just be careful as biking in Phuket can be a little dangerous as traffic is hectic at times. You can expect to pay about 250 THB a day for a basic motorbike. If you'd rather do a guided half-day bike tour, expect to pay around 1,800 THB.
8. Explore Sirinat National Park
This national park was founded in the early 1980s and consists of three beach areas along the northwest coast of Phuket. It includes the beaches Nai Yang, Sai Kaew, and Mai Khao, as well as the mangrove forest where saltwater and freshwater mix. This is a good place for camping too if you enjoy the outdoors. During the spring, endangered Leatherback Turtles come here to lay their eggs. Park entrance costs 200 THB. The park is closed between June 1st-July 31st.
9. Check out the Phuket Mining Museum
Located in Kathu, this museum highlights the history of Phuket's mining industry (tin mining has been a large industry here). It's located in a spacious, colonial villa and is one of the most interesting museums on the island. There are a couple of neat models and even a re-creation of an opium den! Some of the models seem so real, it's like you are living it. You also get a chance to see some of the mining methods used back when Phuket was a major tin mining center. Entry is 100 THB.
10. Stroll the Phuket Weekend Market
Known also as the Naka market, this market is located right outside of Phuket Town. It offers a crazy assortment of local and secondhand goods, interesting objects, and a huge variety of food. The market is broken up into two sections: the covered section (which sells everything from jeans to pirated DVDs), and the open market (which has food, food, and more food). It's open Sundays from 4pm-10pm.
11. Go snorkeling
Phuket has over 30 beaches, and all of them are pretty incredible. While not all of them are great for snorkeling, some of the best are Laem Singh Beach, Ao Sane, Ya Nui, and Surin. You might want to bring your own gear, as renting it all the time can get a bit pricy. It is possible to buy some cheap gear in Phuket too. Snorkel rental is generally around 200 THB for a mask, snorkel, and fins. Alternately, you can do a snorkeling day trip, which generally costs around 2,500 THB and includes pickup at your hotel, gear, and food while you're out on the boat.
12. Visit the Soi Dog Foundation
Soi Dog Foundation is a charity that helps the stray dogs and cats you see on the streets of Phuket (soi means street in Thai). The non-profit has been extremely successful, and since its founding in 2003, has reduced the stray dog population by over 90% through its spay/neuter programs. To meet and play with the animals (weekdays only), submit a volunteering form on their website. Longer volunteer opportunities are also offered, and donations are always welcome.
13. Explore some waterfalls
Some of the biggest and best waterfalls in Thailand are in Phuket. Bang Pae, Ton Sai, and Kathu are the three most popular. They are all at the end of scenic nature walks too. Kathu is free and entry to Khao Phra Thaeo National Park for Bang Pae and Ton Sai is 200 THB.
14. Visit an elephant sanctuary
Riding an elephant is the dream of many a tourist – until you realize how badly elephants are treated and the injuries that they incur all in the name of a quick ride. Luckily, in recent years there's been a large movement to protect the elephants and raise awareness as to why riding them is an unethical practice. Visiting or volunteering at an elephant sanctuary is the best way to see these majestic beasts, and one of the oldest sanctuaries is Phuket Elephant Sanctuary. A half-day visit including lunch and transportation to the sanctuary costs 3,000 THB. Whatever you do, don't ride elephants!

For more information on other cities and islands in Thailand, check out the guides below:
(Hey there! Wait one second! Did you know I also wrote an entire guidebook to Thailand filled with not only even more detailed information on the things included on this page but also itineraries, maps, practical information (i.e. hours of operation, phone numbers, websites, prices, etc.), cultural insights, and so much more? It has everything you want in a guidebook – but with a focus on budget and cultural travel! If you want to go into more depth and have something to take on your trip, click here for more about the book!)
Phuket Travel Costs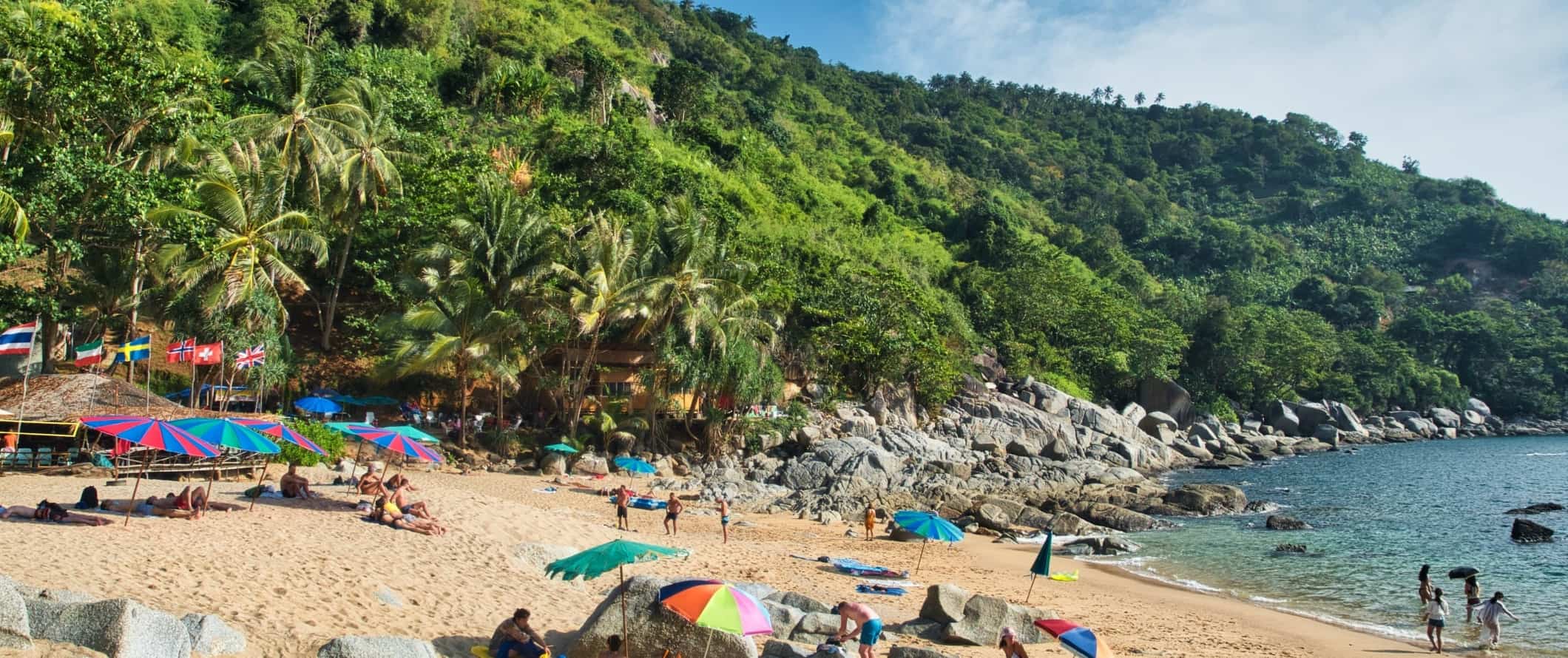 Hostel prices – A bed in a dorm with 4-6 beds costs 350-450 THB per night while a bed in an 8-10-bed dorm costs 275-350 THB. Private rooms for two people with ensuite bathrooms cost 650-800. Free Wi-Fi, linens, and air-conditioning are standard at hostels in Phuket. Breakfast isn't usually included, although some have cafes where you can purchase breakfast.
Hostels in Phuket often have extra amenities and offerings, such as free drinks, coworking spaces, and outdoor swimming pools. Lub d Patong even has a Muay Thai boxing ring in the middle of their lobby.
There are also campgrounds on Phuket. Expect to pay 200 THB per person for a basic plot and tent. If you have your own tent, it's usually around 150 THB.
Budget hotel prices – A night in a centrally located budget hotel costs around 850-1,200 THB for a room with air-conditioning and free Wi-Fi. About half of the hotels include free breakfast.
Phuket surprisingly has some of the least-expensive 5-star hotels in Thailand, often as low as 2,500 THB per night! The Memory at On On Hotel is a great choice (and it was featured in the movie The Beach)! Prices remain fairly consistent across the island, even away from busy Patong.
Private Airbnb rooms are 600-825 THB per night, while entire villas or apartments average 1,200 THB per night.
Food – Over the centuries, Thai cuisine has taken on influences from neighboring countries, including India, Malaysia, Indonesia, Laos, Myanmar, and Cambodia. All these influences mesh to become Thai's flavorful national cuisine, which is aromatic and spicy. Expect a lot of curries, salads, soups, and stir-fries that differ based on region.
Thai cuisine uses fresh (not dried) herbs and spices, with many ingredients used in one dish to create layers of flavor. Typical flavors include garlic, basil, galangal, cilantro, lemongrass, kaffir lime leaves, chilies, shrimp paste, and fish sauce. Coconut milk is commonly used in curries and desserts, especially in central and southern Thailand.
Popular dishes include tom yum goong (hot and sour soup with shrimp), massaman curry, pad thai (a stir-fried noodle dish), som tam (spicy papaya salad), kao phad (fried rice), khao man gai (rice with boiled chicken), and satay (grilled meat on skewers, served with a peanut dipping sauce).
In Phuket, Hokkien mee is an incredibly popular noodle dish that originated in China but arrived here by way of nearby Malaysia. Being an island, seafood is a big part of most of Phuket's dishes.
Dessert is usually fruit or various dishes comprised of coconut milk or glutinous rice. Mango sticky rice combines all these elements in a popular choice.
Compared to the rest of Thailand, food is a bit more expensive in Phuket. Lunch at a casual Thai restaurant costs around 150-180 THB. A dish, such as a curry or fried rice, at a nice sit-down restaurant offering traditional cuisine costs 190-280 THB.
Western meals start at around 330 THB, even for a basic pizza. Dinner with drinks typically costs around 270-300 THB or more, but it can be more expensive if you're right on Patong Beach. If you are having a fish meal or getting wine, expect to pay around 500-675 THB. In the major tourist area, you'll probably pay 25% more.
You can grab a beer for about 60-75 THB, but on Bangla Road they're 100 THB or higher. Remember that buying beers from 7-Eleven vs in bars and restaurants saves you lots of money.
If you eat at the street stalls, the food is not only cheap, but it's also utterly delicious. A meal from a street stall can cost as little as 80-120 THB.
A week of groceries including basic staples like rice, veggies, and some meat or fish costs around 1,040 THB.
Backpacking Phuket Suggested Budgets
On a backpacker budget, expect to spend about 1,100 THB per day. On this budget, you can get a bed in a hostel dorm, cook some meals and eat cheap street food, limit your drinking, use public transportation to get around, and stick to mostly free or cheap activities like hiking and enjoying the beaches.
On a mid-range budget of 2,525 THB per day, you can stay in a private hostel room or Airbnb, eat out for most meals, enjoy a few drinks, take the occasional taxi, and do more paid activities like cooking classes or watching Muay Thai fights.
On a "luxury" budget of 4,475 THB per day or more, you can stay in a hotel, eat out for all your meals, drink as much as you want, rent a scooter or take more taxis, and do whatever tours and activities you want. This is just the ground floor for luxury though. The sky is the limit!
Accommodation
Food
Transportation
Attractions
Average Daily Cost
Backpacker
350
200
250
300
1,100
Mid-Range
800
550
575
600
2,525
Luxury
1200
875
900
1500
4,475
Phuket Travel Guide: Money-Saving Tips
Although Phuket is more expensive than many other islands in Thailand, there are still plenty of ways to save money here:
Eat street food – Don't be afraid to eat the street food here. It's safe — even safer than most restaurants. The best of Thailand's food is on the street, and it costs a fraction of what you pay at a restaurant.
Buy beer at convenience stores – Buy your beers from the supermarket or convenience stores as they are much cheaper here than anywhere else.
Ride in a songthaew or rent a bike – Songthaews are converted pickup trucks that act as shared taxis and cost less than a tuk-tuk or a taxi. If you are looking to get around on your own, renting a bike is also a great option and can usually be done for about 250 THB per day.
Come during low season – Prices drop drastically during the rainy season between May-October. If you don't mind a bit of rain, this is a cheap time to visit.
Stay with a local – Couchsurfing connects you with locals who not only provide a free place to stay but who can share their insider tips and advice with you.
Bargain hard – When shopping at the markets, use your negotiation skills. The rule of thumb is the more you buy, the cheaper the prices so shop in packs for the best deals.
Use a water bottle with a purifier – It isn't safe to drink the tap water in Phuket, and although buying bottled water is cheap, it does add up. Instead, pick up a LifeStraw, which have built-in filters to ensure your water is always clean and safe (it's good for the environment too!)
(Hey there! Wait one second! Did you know I also wrote an entire guidebook to Thailand filled with – not only even more detailed information on the things included on this page but also itineraries, maps, practical information (i.e. hours of operation, phone numbers, websites, prices, etc), cultural insights, and so much more? It has everything you want in a guidebook – but with a focus on budget and cultural travel! If you want to go into more depth and have something to take on your trip, click here for more about the book!)
Where to Stay in Phuket
Phuket has tons of cheap accommodation. Here are my suggested places to stay in Phuket:
How to Get Around Phuket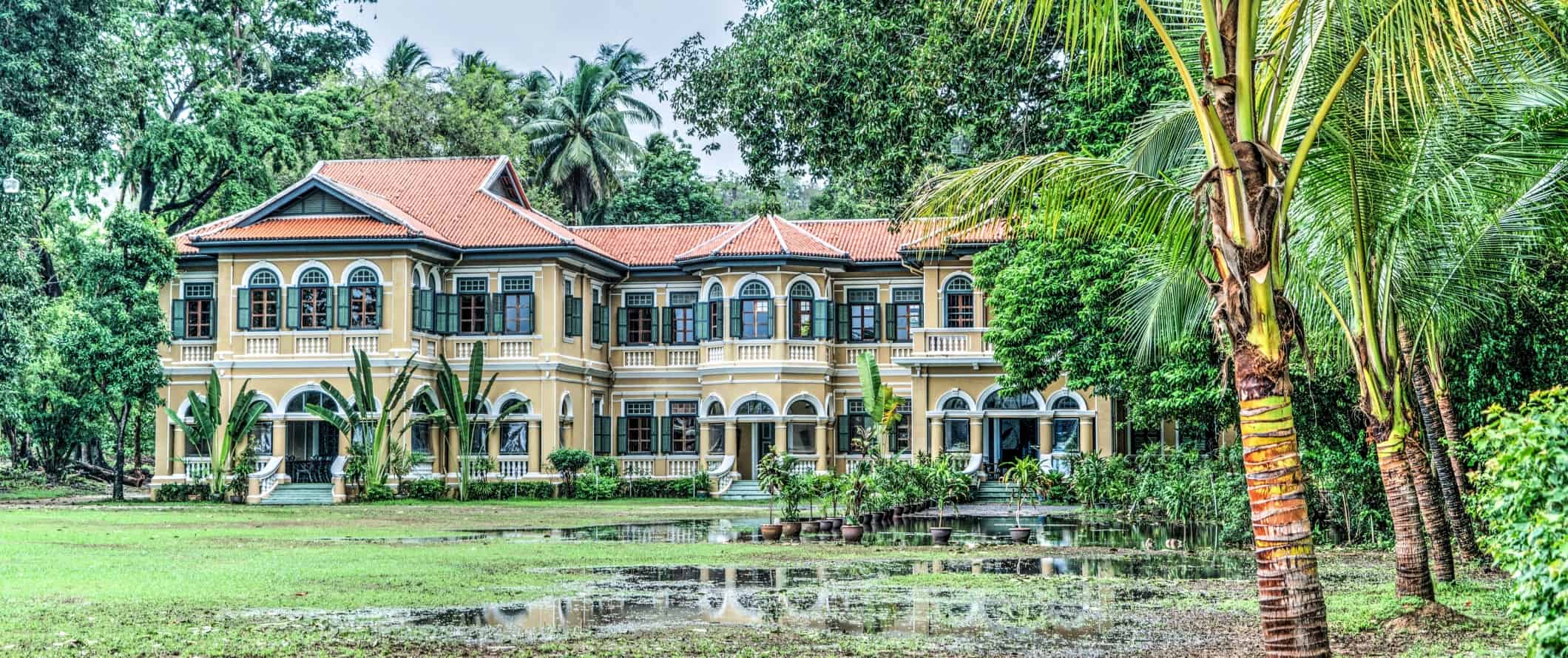 Local Bus – Small buses connect Phuket's Old Town with the main beach resorts around the island, like Patong and Karon. They're slow because of the number of stops to make, but they're cheap and reliable. Shared minibusses are also common. It's just 100-200 THB to get across the island or 150 THB from the airport to Patong Beach, but it can be an exercise in patience.
Songthaews – Songthaews are covered trucks that have been converted into multi-passenger vehicles (the truck's box is usually converted with two wooden benches for seating). There are no set stops like the local bus — you just have to flag one down that is headed in your direction and get off when you need to. There is usually a sign on the dashboard to let you know where the final stop is. Negotiate your fare ahead of time. A ride in a songthaew usually starts around 25-50 THB.
A songthaew from Patong Beach to the airport costs 1,000 THB, and to other beaches (like Kamala, Kata, or Surin) it costs around 500 THB.
Motorbike Taxi – A motorbike taxi costs about 60 THB per short journey around town. It's quick but it's not the safest option so I'd probably avoid them if you can.
Tuk-Tuk – The tuk-tuks in Phuket look more like songthaews than the tuk-tuks in other parts of Thailand. These can be even more expensive than metered taxis because the drivers work together to avoid undercutting each other. Since there is no public transportation between the beaches, and because other transportation tends to stop early in the evening, tuk-tuk drivers know that they can charge higher prices. A 3-kilometer (2-mile) ride in a tuk-tuk can cost about 335 THB. Shorter distances average about 100 THB.
Taxi – Metered taxis are expensive, but sometimes they're cheaper than tuk-tuks. Their fares start at 50 THB per two kilometers. Non-metered taxis typically charge flat rates and are not really necessary for long distances. An hour-long journey from the airport to Patong is around 900 THB.
Ridesharing – The Grab app is like the Uber of Thailand — prices are cheaper than taxis, and you're driven by a local in their vehicle. You can pay via the app or in cash, and you get a price estimate for your journey before you even get in the car. Having said that, in Phuket, the prices are sometimes not much different than taxis. You can get from Patong to Karon for less than 200 THB, while Kata to Karon is about 120 THB.
Car Rental – Cars can be rented for around 1,000 THB a day. I only suggest doing this if you're with a family or a group that wants to split the cost. Make sure you have travel insurance though as the roads can be hectic and accidents are common.
When to Go to Phuket
Like the other islands in this part of Thailand, the peak season in Phuket is from November to April. If you travel from May through October, you avoid the busiest season and save quite a bit of money, although it may be rainy.
November to February are the coolest months, with temperatures between 23-30°C (73-86°F). February is the driest month and is the best time of the year to be a beach bum.
The end of March to mid-May is the hottest time of year. It's just before monsoon season hits, so humidity is high and temperatures soar into the high 30s°C (90s°F). If you can't tolerate the heat, don't come during this time.
Mid-May to October is the Monsoon season in Phuket. Although it rains for a while each day, the temperature averages about 28°C (84°F) per day. If you don't mind a bit of rain, this is an excellent time to visit.
(Hey there! Wait one second! Did you know I also wrote an entire guidebook to Thailand filled with – not only even more detailed information on the things included on this page but also itineraries, maps, practical information (i.e. hours of operation, phone numbers, websites, prices, etc), cultural insights, and so much more? It has everything you want in a guidebook – but with a focus on budget and cultural travel! If you want to go into more depth and have something to take on your trip, click here for more about the book!)
How to Stay Safe in Phuket
Phuket is safe, especially for solo travelers, including solo female travelers. It's one of the easiest places in Thailand to meet other solo travelers, so you're never really on your own here.
That said, petty theft (including bag snatching) can occur here so always keep an eye on your belongings, especially in popular tourist areas. Avoid flashing your valuables and don't leave any valuables unattended when at the beach.
Solo female travelers should generally feel safe here, though the standard precautions apply (don't leave your drink unattended at the bar, don't walk home alone intoxicated, etc.)
Patong is a party destination so most people run into problems here when they're drunk and stupid. Don't overdo it, and always be mindful of your alcohol consumption. Although uncommon, travelers have been known to fail victim to drugging so they can be mugged or molested. Never leave your drink unattended or accept drinks from strangers for that reason.
Do not do drugs or participate in the sex industry. Both can have severe consequences here and lead to huge fines and jail time. Don't risk it.
If you're worried about scams, read this post on common travel scams to avoid.
If you experience an emergency, dial 191 for assistance.
Always trust your gut instinct. Make copies of your personal documents, including your passport and ID. Forward your itinerary along to loved ones so they'll know where you are.
For more information about safety in Southeast Asia, check out this article.
The most important piece of advice I can offer is to purchase good travel insurance. Travel insurance will protect you against illness, injury, theft, and cancellations. It's comprehensive protection in case anything goes wrong. I never go on a trip without it as I've had to use it many times in the past. You can use the widget below to find the policy right for you:
Phuket Travel Guide: The Best Booking Resources
These are my favorite companies to use when I travel. They consistently have the best deals, offer world-class customer service and great value, and overall, are better than their competitors. They are the companies I use the most and are always the starting point in my search for travel deals.
Skyscanner – Skyscanner is my favorite flight search engine. They search small websites and budget airlines that larger search sites tend to miss. They are hands down the number one place to start.
Hostelworld – This is the best hostel accommodation site out there with the largest inventory, best search interface, and widest availability.
Agoda – Other than Hostelworld, Agoda is the best hotel accommodation site for Asia.
Booking.com – The best all around booking site that constantly provides the cheapest and lowest rates. They have the widest selection of budget accommodation. In all my tests, they've always had the cheapest rates out of all the booking websites.
Get Your Guide – Get Your Guide is a huge online marketplace for tours and excursions. They have tons of tour options available in cities all around the world, including everything from cooking classes, walking tours, street art lessons, and more!
SafetyWing – Safety Wing offers convenient and affordable plans tailored to digital nomads and long-term travelers. They have cheap monthly plans, great customer service, and an easy-to-use claims process that makes it perfect for those on the road.
LifeStraw – My go-to company for reusable water bottles with built-in filters so you can ensure your drinking water is always clean and safe.
Unbound Merino – They make lightweight, durable, easy-to-clean travel clothing.
Get the In-Depth Budget Guide to Thailand!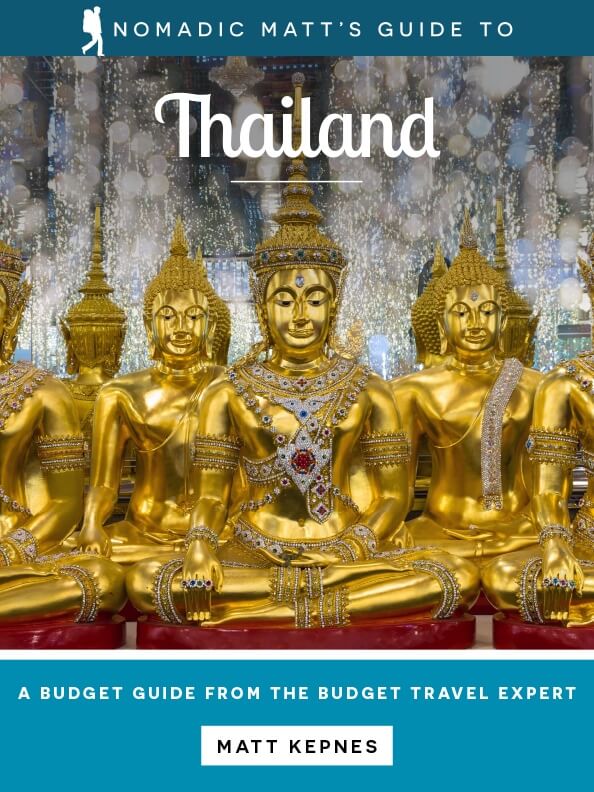 My detailed 350+ page guidebook is made for budget travelers like you! It cuts out the fluff found in other guidebooks and gets straight to the practical information you need to travel around Thailand. You'll find suggested itineraries, budgets, ways to save money, on and off-the-beaten-path things to see and do, non-touristy restaurants, markets, bars, safety tips, and much more! Click here to learn more and get your copy today.
Phuket Travel Guide: Related Articles
Want more tips for your trip? Check out all the articles I've written on Thailand travel and continue planning your trip: