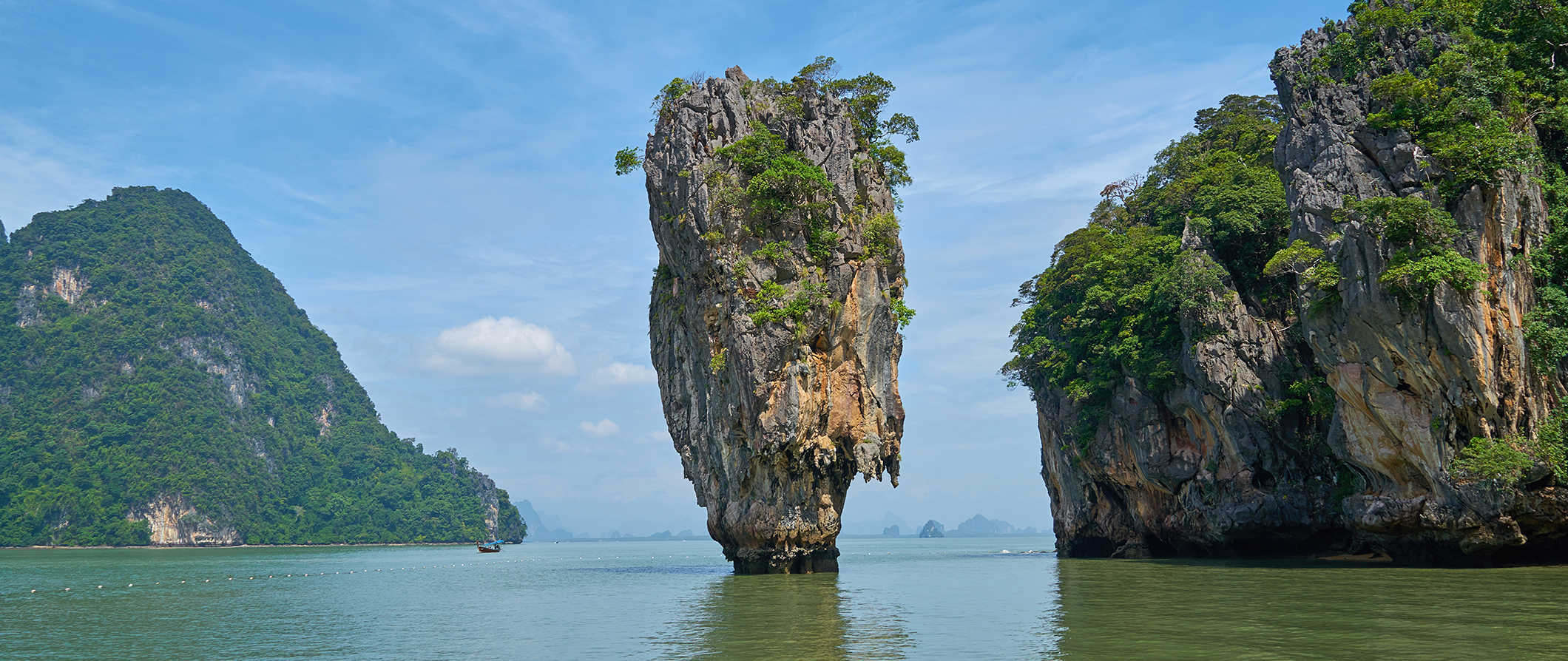 Phuket is the biggest destination for tourism in Thailand. This is where you see all the good and bad of Thai tourism – from overdeveloped beaches and sex tourism, to tiny towns with no tourists and authentic Thailand. You'll find great beaches and amazing activities this island, and if you stay away from Patong Beach, you can avoid most of the over-development and crowds. Phuket draws a lot of tourists, and if you really want to enjoy the area, get out of the main spots.
Top 5 Things to See and Do in Phuket
1. Chill on the beach
Phuket is all about the beaches. If you stay away from Patong Beach, you can avoid most of the overdevelopment, expensive prices, and crowds and see how Phuket is a lovely destination. Check out Mai Khao, Surin, Freedom, and Naithon for the best beaches!
2. Visit the temples
Most of Phuket's population is Thai-Buddhist and there are close to 40 Buddhist Temples located all over the island. Phuket's Big Buddha is one of the island's most important, Wat Suwan Khiri Khet; the only temple in Karon Beach, is small but attractive; Wat Chalong, which has been welcoming visitors for over a century.
3. Cruise Phang Nga Bay
Lined by limestone cliffs and collapsed caves, these glorious emerald-green waters form a delightful bay. This is one of the most gorgeous spots on Phuket, and it's where the James Bond movie The Man With the Golden Gun was filmed. Day trips can be had from anywhere on the island; cruises from 2,650 baht.
4. Visit the gibbons
Run by volunteers and financed by donations, the Gibbon Rehabilitation Center rescues gibbons held in captivity, then rehabilitates them before safely reintroducing them to the wild. There is no touching of the animals but visitors can watch them from a viewing platform and talk to the volunteers about the work done at the center.
5. Make a trip to the Similian Islands
Just 84km northwest of Phuket are the Similan Islands. It's one of the few places in Thailand where there is some environmental protection! The Similan Islands are a nationally protected nature preserve of nine islands, but only two (#4 and #8) are allowed to have people on them.
Other Things to See and Do
(Click the title to expand the text)
1. Skip Patong
This is the main tourist section of Phuket, filled with crowded beaches, resorts, hawkers, stores, bars, and sadly, a lot of sex tourists. Unless you want to get drunk a lot, try to avoid this beach at all costs (although I do still recommend taking a cooking class near here!)
2. Learn to cook traditional Thai food
If you are looking to learn some Thai cooking tricks, take a class at Pum's Thai Cooking School. Located near Patong Beach, you can take classes ranging from 30 minutes to 6+ hours. Why not get a souvenir you can take back with you, and bring back the knowledge of how to make some of your favorite dishes from Thailand! Classes start at 500 THB.
3. Watch some Muay Thai fighting
To see something truly Thai, book yourself in to watch some Muay Thai. This is a form of combat that combines striking techniques using fists, elbows, knees, and shins, and is known as "the art of eight limbs." It requires extreme mental and physical discipline to train to be a Muay Thai fighter. The Saphan Hin Stadium is the destination to see regular matches or go to Patong Beach where you can watch these disciplined fighters in action. You can usually find tickets starting around 1,300 THB.
4. Khao Phra Thaeo Wildlife Park
Take a trip to the Khao Phra Thaeo Conservation Development and Extension Center, a center focused on preserving the environment. The center contains a park which is home to a number of endangered animals, and also contains giant trees in the midst of dense a dense forest. Make sure to check out the Nam Tok Sai waterfall, which is located close to the park headquarters. There is also a floating restaurant located in the mangroves! Admission is 400 THB.
5. Stop at the Thalang National Museum
If you are eager to find out more about historical Phuket, then make a visit to the Thalang National Museum. The Museum holds an exhibition of ancient artifacts from Old Phuket and items used during the war with Burma. This is a great way to immerse yourself in the history of the island. It's 30 THB for entry.
6. Enjoy the viewpoints
Phuket has many viewpoints- there are 10 in total. Promthep tends to be the most popular, but other great spots include the Kata viewpoint. Nothing is better than watching a golden sunset from these points. Your camera will thank you!
7. Rent a bike
Renting either a bike or motorbike will give you more freedom to explore Phuket. Find your way to Laem Singh Beach, a more secluded and laid-back spot with some great snorkeling opportunities. Be careful- biking in Phuket can be a little tumultuous. You can expect to pay about 200 THB a day for a bike.
8. Explore Sirinat National Park
This national park was founded in the early '80s, and consists of three beach areas along the northwest coast of Phuket. It includes a couple of beaches, including Nai Yang, Sai Kaew, and Mai Khao, as well as the mangrove forest where the saltwater and freshwater mix. This is a good place for camping. During the spring, endangered Leatherback Turtles come here to lay their eggs. Park entrance costs 200 THB.
9. Check out the Phuket Mining Museum
Located in Kathu, this museum is one of the most interesting in my opinion. There are a couple of neat models, and even a recreation of an opium den! Some of the models seem so real, it's like you are living it. You will get a chance to see some of the mining methods used back when Phuket was a major tin mining center. Entry is 100 THB.
10. Stroll the Phuket Weekend Market
Known also as the Naka market, this market is located right outside of Phuket Town. It is a crazy assortment of local and secondhand goods, interesting objects, and a huge variety of food. The market is broken up into two sections- the covered section (everything from jeans to pirated DVDs), and the open market (food, food, food!)
11. Snorkel the waters
Phuket has over 33 beaches, all of them pretty incredible. While not all of them are great for snorkeling, some of the best are Laem Singh Beach, Ao Sane, Ya Nui, and Surin. You might want to bring your own gear, as renting can get a bit pricy. It is possible to buy some cheap gear in Phuket if you look hard enough.