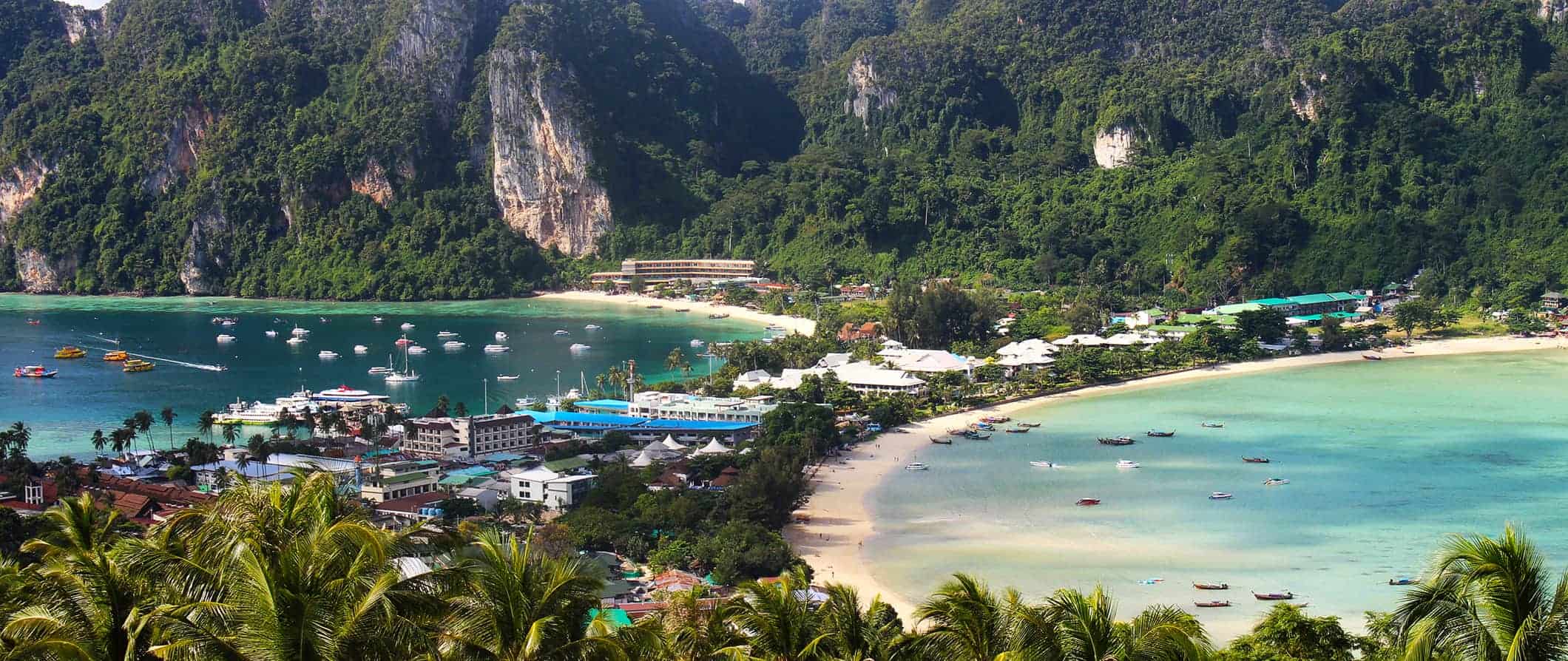 Ko Phi Phi is one of the most popular tourist islands in Thailand. From the famous of Maya Bay (made famous by the Leonardo DiCaprio movie: The Beach) to the monkeys on the aptly named "Monkey Beach" to the diving, nightlife, and resorts, Phi Phi is one of the biggest destinations in the country. Destroyed by the tsunami in 2004, the island has been rebuilt and developed to an even greater extent than before. Though I've had a lot of fun here, I don't particularly like Ko Phi Phi. It's very overdeveloped, overpriced, and the beaches are just ruined. Most people just come here to party. If you stay at the resorts on the north of the island, Phi Phi is beautiful (but those places are expensive). Then again, hundreds of thousands of people visit each year and love it. So you'll have to decide for yourself but if you do visit Ko Phi Phi, here's what to do!

Ko Phi Phi
Top 5 Things to See and Do in Ko Phi Phi
1.Visit Maya Bay
Made famous for its starring role in the Leonardo DiCaprio film, The Beach, Maya Bay is on Ko Phi Leh and is usually included with all the island/snorkeling trips you see advertised. The beach is stunning, with 100 metre-high cliffs on three sides of the beach. Visit in the morning or late afternoon to avoid the crowd. Tours start from 600 THB.
2. Hike to Phi Phi Viewpoint
The twenty-minute walk up to the Viewpoint will be rewarded by an amazing panoramic view of Phi Phi Le and Phi Phi Don. The viewpoint is over 600 feet high, so you'll need to be reasonably fit to get here. There are a lot of steep staircases and trails leading up there. But the view is really amazing and there's a restaurant on top now if you want a drink!
3. Go rock climbing
With the rugged landscape and steep cliffs, Ko Phi Phi is an ideal destination to climb. You can arrange a tour that will take you by boat to one of the islands' limestone rock faces that is suitable for climbing. Most places charge around 1000 THB for a half-day. Tonsai Tower is a rock climbers paradise.
4. Go diving
There are plenty of great diving sites around Ko Phi Phi, including at Hin Muang. This diving site boasts the highest vertical wall in Thailand at 60 meters. Leopard sharks, whale sharks, manta rays and reef sharks patrol the depths at the site but its crowning glory is the huge purple rock. Currents can be strong, so be cautious.
5. Visit Bamboo Island
The island lies 8 miles from Ko Phi Phi and is home to the coral garden Hin Klang. Tons of day trips go there. I highly recommend it. It's a beautiful, relaxing isand with better beachs than Phi Phi! You'll have to pay the 400 THB entrance fee, but most of the tours include that in their costs.
Other Things to See and Do
(Click the title to expand the text)
1. Enjoy the nightlife
Nightlife here is crazy. Fire shows and Thai boxing matches are a regular occurrence at the beach bars. Often times, there are massive beach parties. For live music, make your way to the fantastically named Rolling Stoned Bar. Partying is not cheap here and is one of the reasons people end up spending too much money here!
2. Dive the King Cruiser Wreck
One of the best dive sites off Ko Phi Phi is the King Cruiser wreck. The passenger ship sunk in 1997 when it hit the Anemone reef. This site is packed with fish including clown fish, tuna and barracuda, not to mention the sea anemones that cling to every surface of the reef. Keep an eye out for the occasional leopard shark.
3. Check out Thai Boxing
The Reggae Bar offers Thai boxing nightly. You can get big buckets of booze, and if you are in the mood you can even get out in the ring yourself. Winners receive free buckets for their tables! Some local matches are schedule, and if you are lucky, you'll find some high-stakes fights with professionals brought in. The bar also has large screen TVs that show a range of sports.
4. Hang out on Monkey Beach
Monkey Beach is one of the most beautiful beaches in Thailand, not just Ko Phi Phi. Powder white sands and excellent diving makes this a popular spot but one of the coolest things about it is the monkeys that come down to the beach. DO NOT FEED THE MONKEYS!
5. Go deep-sea fishing
One of the more expensive activities you can do off the coast of Ko Phi Phi is deep sea fishing. At about 2,700 THB for eight hours, it is pricey but for that, you'll get the chance to fish for tuna, barracuda, dorado, king mackerel and sailfish. For an added twist, night fishing is a great way to experience the nocturnal life of the waters surrounding the islands.
6. Watch the sunset by kayak
You can rent sea kayaks or arrange a kayak tour. Sunset tours head out on ocean kayaks to Wang Long bay. However, there are plenty of other tour options available, so explore your options. The island is great for kayaking, and nothing beats getting to see the sunset from the water.
7. Learn to cook traditional Thai food
If you are looking to learn some Thai cooking tricks, take a class at Pum's Thai Cooking School. Located in the Tonsai Village, you can take classes ranging from 30 minutes to 6+ hours. Why not get a souvenir you can take back with you, and bring back the knowledge of how to make some of your favorite dishes from Thailand! Classes start at 500 THB.
8. Hop aboard a booze cruise
While there is nightlife aplenty, if you are looking at getting out on the water while enjoying some rum punch, Captain Bob's offers a fun way to see some of the most beautiful spots in the Phi Phi islands. It departs from Tonsai Bay, and includes lunch, snacks, and (in addition to booze!) snorkeling and kayaks. Prices start at 2,500 THB.
9. Stroll the Phi Phi market
If you want to get a good glimpse at what life is like in Phi Phi, you have to make a stop at the market. Located in Tonsai Village, you can expect to find a ton of local veggies, fruits, and seafood, at pretty reasonable prices. It is open daily. Make sure you come hungry!