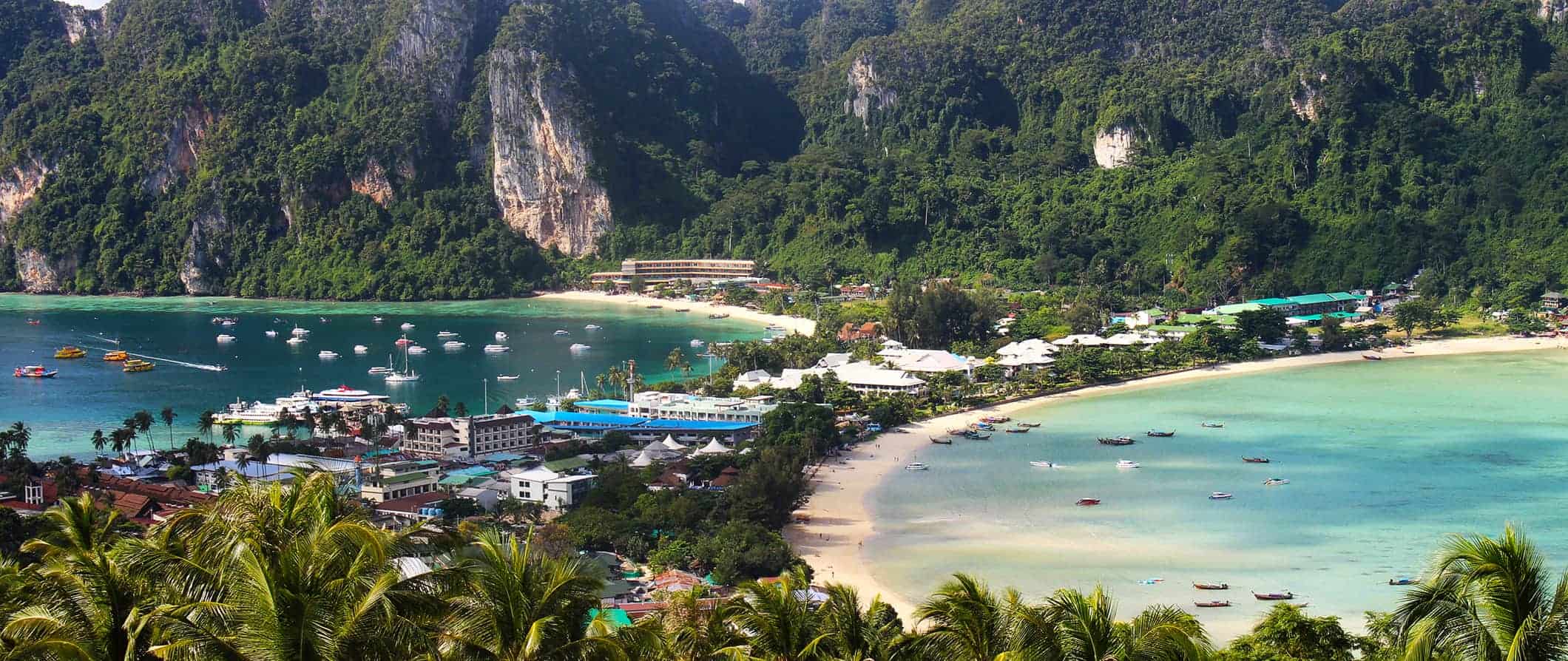 Ko Phi Phi is one of the most popular tourist islands in Thailand.
Traveling to there for a short stay or just backpacking around Ko Phi Phi is one of the most popular things for people to do while they are in Thailand.
From beautiful Maya Bay (made famous by the Leonardo DiCaprio movie: The Beach) to the monkeys on the aptly named "Monkey Beach" to the diving, nightlife, and resorts, Phi Phi is one of the biggest destinations in the country.
Destroyed by the tsunami in 2004, the island has been rebuilt and developed to an even greater extent than before.
Though I've had a lot of fun here, I don't particularly like Ko Phi Phi. The main area of the island very overdeveloped, overpriced, and the beaches are just ruined. Most people just come here to party.
If you stay at the resorts on the north of the island, Phi Phi is beautiful, deserted, and a tropical paradise (but those places are expensive).
Then again, hundreds of thousands of people visit each year and love it. So you'll have to decide for yourself but if you do visit Ko Phi Phi, here's what to do!

Ko Phi Phi
Top 5 Things to See and Do in Ko Phi Phi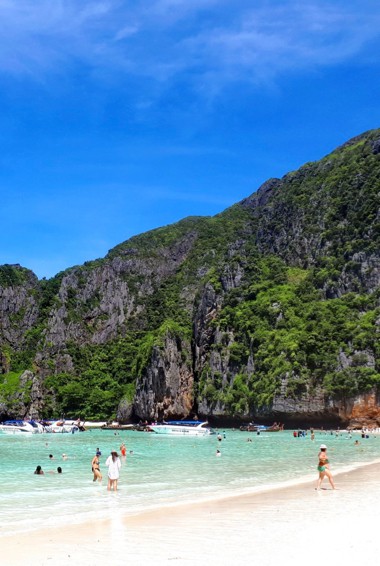 1.Visit Maya Bay
Made famous from the movie The Beach, Maya Bay is beautiful. You're no longer allowed to snorkel in the bay or step foot on the beach (the government has banned tourism to protect the coral reef), but you can still take a boat into the bay. Tours start from 600 THB ($19 USD).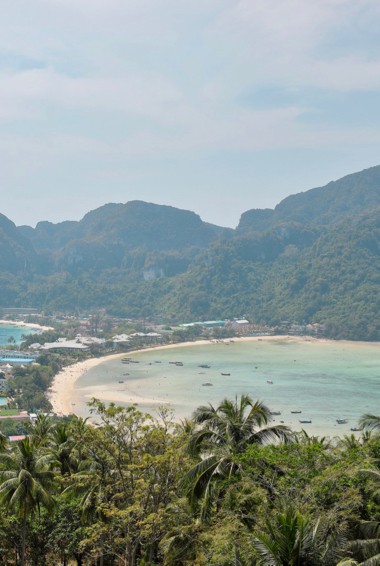 2. Hike to Phi Phi Viewpoint
The twenty-minute walk up to the viewpoint will be rewarded by an amazing panoramic view of the area. The viewpoint is over 600 feet high, so you'll need to be reasonably fit to get here. There are a lot of steep staircases and trails leading up there. But the view is really amazing and there's a restaurant on top now if you want a drink!
3. Go rock climbing
With the rugged landscape and steep cliffs, Ko Phi Phi is an ideal destination to climb. You can arrange a tour that will take you by boat to one of the islands' limestone rock faces that is suitable for climbing. Most places charge around 1000 THB ($31 USD) for a half-day. Tonsai Tower is a rock climbers paradise.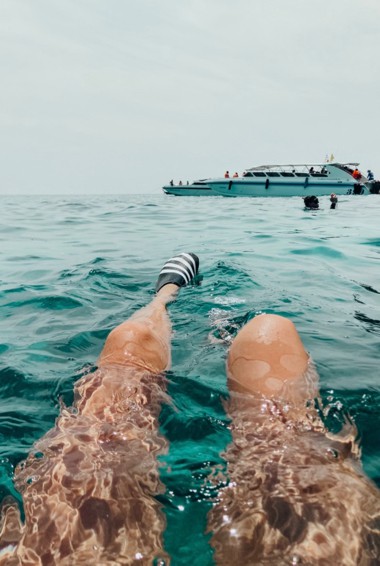 4. Go diving or snorkeling
There are plenty of great diving sites around Ko Phi Phi, including at Hin Muang. This diving site boasts the highest vertical wall in Thailand at 60 meters. Leopard sharks, whale sharks, manta rays and reef sharks patrol the depths at the site but its crowning glory is the huge purple rock. Currents can be strong, so be cautious. Diving trips to at Hin Muang start from around 3,950 THB ($124 USD) for experienced divers.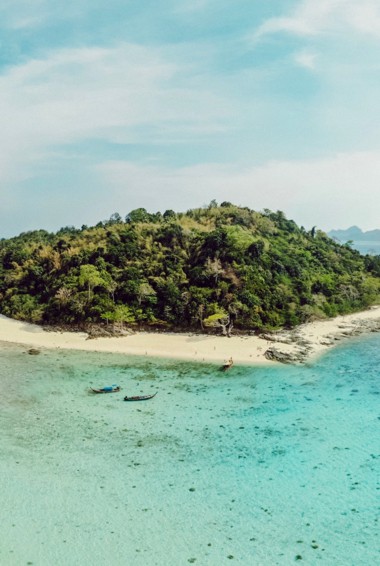 5. Visit Bamboo Island
The island lies 8 miles (13 kilometers) from Ko Phi Phi and is home to the coral garden Hin Klang. Tons of day trips go there. I highly recommend it. It's a beautiful, relaxing island with better beaches than Phi Phi! You'll have to pay the 400 THB ($13 USD) entrance fee, but most of the tours include that in their costs.
Other Things to See and Do in Ko Phi Phi
1. Enjoy the nightlife
Nightlife here is crazy. Fire shows and Thai boxing matches are a regular occurrence at the beach bars. Nearly every night of the week, there are massive beach parties. For live music, make your way to the aptly named Rolling Stoned Bar. Partying is not cheap here and is one of the reasons people end up spending too much money!
2. Dive the King Cruiser Wreck
One of the best dive sites off of Ko Phi Phi is the King Cruiser wreck. The passenger ship sunk in 1997 when it hit the Anemone reef. This site is packed with fish including clownfish, tuna, and barracuda, not to mention the sea anemones that cling to every surface of the reef. Keep an eye out for the occasional leopard shark.
3. Check out Thai Boxing
The Reggae Bar offers Thai boxing nightly. You can get big buckets of booze, and if you are in the mood you can even get out in the ring yourself. Winners receive free buckets for their tables! Some local matches are scheduled, and if you are lucky, you'll find some high-stakes fights with professionals. The bar also has large screen TVs that show a range of sports.
4. Hang out on Monkey Beach
Monkey Beach is one of the most beautiful beaches in Thailand, not just Ko Phi Phi. Powder white sands and excellent diving makes this a popular spot but one of the coolest things about it is the monkeys that come down to the beach. DO NOT FEED THE MONKEYS!
5. Go deep-sea fishing
One of the more expensive activities you can do off the coast of Ko Phi Phi is deep sea fishing. At about 2,700 THB ($85 USD) for eight hours, it is pricey but for that, you'll get the chance to fish for tuna, barracuda, dorado, king mackerel, and sailfish. You can also go night fishing, which is a great way to experience the nocturnal life of the waters surrounding the islands.
6. Watch the sunset by kayak
You can rent sea kayaks or arrange a kayak tour from just about anywhere on Ko Phi Phi. Sunset tours head out on ocean kayaks to Wang Long Bay. However, there are plenty of other tour options available, so explore your options. The island is great for kayaking, and nothing beats getting to see the sunset from the water.
7. Learn to cook traditional Thai food
If you are looking to learn some Thai cooking tricks, take a class at Pum's Thai Cooking School. Located in Tonsai Village, you can take classes ranging from 30 minutes to 6+ hours. The best souvenir is bringing back the knowledge of how to cook some of your favorite dishes from Thailand! Classes start at 500 THB ($16 USD) for a 30-minute mini-class, but a full class (3+ hours) starts from 1500 THB ($47 USD).
8. Hop aboard a booze cruise
While there is nightlife aplenty if you are looking at getting out on the water while enjoying some rum punch, Captain Bob's offers a fun way to see some of the most beautiful spots in the Phi Phi islands. It departs from Tonsai Bay and includes lunch, snacks, and (in addition to booze!) snorkeling and kayaks. Prices start at 2,500 THB ($78 USD).
9. Stroll the Phi Phi market
If you want to get a good glimpse at what life is like in Phi Phi, you have to make a stop at the market. Located in Tonsai Village, you can expect to find a ton of local veggies, fruits, and seafood, at pretty reasonable prices. It is open daily. Make sure you come hungry!
10. Go jungle trekking
AnTrak Phi Phi This new tour company takes 10 people on an afternoon jungle trek through the center of the island. It's a fun and interesting way to see the island's interior, secluded beaches, lookout points, and learn about some of the flora and fauna. Water, headlamps, and food are included. A trek costs 1,390 THB ($44 USD).
(Hey there! Wait one second! Did you know I also wrote an entire guidebook to Thailand filled with – not only even more detailed information on the things included on this page but also itineraries, maps, practical information (i.e. hours of operation, phone numbers, websites, prices, etc), cultural insights, and so much more? It has everything you want in a guidebook – but with a focus on budget and cultural travel! If you want to go into more depth and have something to take on your trip, click here for more about the book!)
Ko Phi Phi Travel Costs
Hostel prices – Ko Phi Phi is one of the most expensive islands in Thailand. Basic dorm rooms start at 300 THB ($9 USD) for many beds in large dorms, but you can find some for around 200 THB ($6 USD) per night (but they're in not-so-great hostels). Most dorm beds fall into the 500-600 THB ($16-19 USD) range. Private rooms for two people with an ensuite bathroom start at 600 THB ($19 USD). Most hostels include air-conditioning.
Budget hotel prices – Two-star hotels start around 480 THB ($15 USD) for a private double room with a fan. A nicer room costs from 1,000 THB ($31 USD) for a double private room with air-conditioning. Most places have free Wifi included, During the off season you can find private bungalows for as low as 800 THB ($25 USD). On Airbnb, you can find shared rooms in apartments for 490 THB ($15 USD). You can find entire apartments/homes for an average of 2,450 THB ($77 USD) per night, while some are as low as 1,050 THB ($33 USD).
If you're looking for a quiet place to sleep, do NOT book accommodation near the beach! Most hostel/hotel owners will warn you before you check in; the party rages on the beach until 1am (everything shuts down precisely at this time).
Average cost of food – Food is the cheapest in Tonsai village. The open-air local restaurants near the beach have dishes starting from 150 THB ($5 USD) for local cuisine. One of my favorite places to eat for fantastic Thai cuisine is Garlic 1992, and The Beacha Club also has a lovely, no frills cafe right on the beach (try the pineapple fried rice). The Phi Phi food market in the center of town has rock-bottom prices for local seafood, fruits, and vegetables. Eat at the street stalls, the food is not only cheap, it's utterly delicious. Western food is quite a bit more expensive, and you're likely to pay around 250 THB ($8 USD) for a mediocre pizza. When it comes to drinking, going to bars can become pricey with the cheapest beers costing about 60 THB ($2 USD) each and cocktails costing triple that amount. Whereas actually buying beers from 7-Eleven to drink on the street can be 25 THB ($0.80 USD) per can.
Backpacking Ko Phi Phi Suggested Budgets
Because it's one of the most popular islands in Thailand, Ko Phi Phi is definitely one of the most expensive destinations in the country. Here's what to expect.
On a backpacking budget, you'll spend about 1,596 THB ($50 USD) per day. This is a suggested budget assuming you're staying in a lower-end hostel dorm, taking two long-tail boat taxis, hopping on a super basic tour around the islands' most famous attractions (like Monkey Beach and Maya Bay), eating at a local restaurant for one meal per day (and then hitting up the local market for street food), and picking up a few beers from the 7 Eleven. If you want to reduce this budget, skip the taxi boats between beaches and simply hop on a day tour.
On a mid-range budget, expect to pay 2,395 THB ($75 USD) a day. On this budget you'll stay in a private room (fan only) in a 2-star hotel, splurge on one nice local meal with a few drinks per day (and then eat street food otherwise), take two long-tail boat taxis per day, and then enjoy 2-3 attractions per day (like a basic boat tour and a visit to Bamboo Island). If you want a better room with air-con, or a private hostel room, expect to add an additional 475 THB ($15 USD) daily to your budget.
A luxury budget will cost you from 7,374 THB ($231 USD) per day. This will give you an ultra nice room at a luxury resort away from the loud parties, as well as all the nice meals you'd like (and a few cocktails to go with it). You can hire a private long-tail boat taxi for the day, and do all the guided tours you want — including a deep-sea fishing trip or a booze cruise. If you want to spread your activities out over a few days, you can also do a diving trip.
You can use the chart below to get some idea of how much you need to budget daily, depending on your travel style. Keep in mind these are daily averages – some days you'll spend more, some days you'll spend less (you might spend less every day). We just want to give you a general idea of how to make your budget. Prices are in USD.
Accommodation
Food
Transportation
Attractions
Average Daily Cost
Backpacker
$6
$15
$10
$19
$50
Mid-Range
$15
$15
$10
$35
$75
Luxury
$100
$30
$16
$85
$231+
Ko Phi Phi Travel Guide: Money Saving Tips
Ko Phi Phi is easily one of Thailand's most expensive islands, especially if you're here to do a lot of partying. That being said, you can really do a budget-friendly trip if you're smart about it. Here are some ways to save money on Ko Phi Phi:
Go during the low season – If you travel during May through October, you will be missing the peak season, and save quite a bit, even though you might catch some rain.
Cheap drinks at Tiger Bar – Head to the Tiger Bar between midnight and 10 am for a free bucket of Sang Som whiskey, RedBull and Coke.
Drink at 7-Eleven – Beers and drinks are heavily discounted when purchased at 7-Eleven. Purchase a few beers before you go out to the bars and cut your night's budget by a lot.
Eat in Tonsai – Eat in Tonsai village rather than on the beach, as the beachfront restaurants tend to have higher prices for much the same quality of food.
Work for bars – Many bars will give you free drinks if you spend a couple of hours handing out flyers for their venue during the afternoon.
Bargain – If hiring out a long-tail boat, be sure to bargain with the owner as the prices are always up for negotiation.
Group together to charter a longboat – If you'd like to see Ko Phi Phi Leh or other islands, get a group together and charter a long-tail boat. Split between four or more people, and it should be cheaper than an organized tour.
Couchsurf – Nothing's cheaper than sleeping for free. Couchsurfing connects you with locals who will give you not only a free place to stay, but also a local tour guide who can introduce you to all the great places to see.
Use a water bottle with a purifier – It isn't safe to drink the tap water in Phi Phi, and although buying bottled water is cheap, it does add up — pick up a LifeStraw (it's good for the environment too!)
Where To Stay in Ko Phi Phi
Looking for accommodation in Ko Phi Phi? Here are some of my favorite places to stay:
Rock Backpacker (my favorite cheap place to stay, and a great place to make friends — you'll have to book this one when you arrive)
How to Get Around Ko Phi Phi
You don't have many options for getting around Ko Phi Phi, but as you'll see, you don't really need a lot of options. There are no cars or motorbikes on the island — just an occasional motorized vehicle to transport construction gear or garbage!
Walk – There are no taxis or buses on Ko Phi Phi, so you'll be mostly walking everywhere! It's not a huge island, so you'll be okay using man power to get around. If you book your hostel/hotel in advance, someone will be at the pier to collect your baggage in a cart to bring it to your accommodations (sometimes included in the price of your bed/room, but not always).
Long-Tail Boat – Travel between islands and beaches is best done by long-tail boat, which costs around 150 THB ($5 USD) per person for shorter trips. Longer trips are charged by the hour. If you want to see all the major highlights (like Monkey Beach and Maya Bay), just round up some friends and negotiate with a long-tail boat owner on the beach. If there are four of you, you can pay 500 THB ($16 USD) each for a full day on a private boat. Negotiate a little, and you're likely to get it for cheaper.
When to Go to Ko Phi Phi
Peak season in Phi Phi is from November to April. If you travel during May through October, you'll avoid peak season and save quite a bit of money (even though you might catch some rain). However, November to April offers cooler temperatures and nicer weather, with constant sunshine and clear skies.
November to February are the coolest months, with temperatures between 73-86°F (23-30°C). February is the driest month, and is the best time to come if you're simply wanting to soak up the sun on the beaches or enjoy some water sports.
The end of March to mid-May is the hottest time to be on Ko Phi Phi. It's just before monsoon season hits, so humidity is high and temperatures soar into the high 90s°F (30s°C). The crowds slacken during this time, however, so it's quite a nice time to visit if you don't mind the heat.
Monsoon season is from mid-May to October, with May, September, and October being the wettest months. The average daily temperature during this time is 84°F (28°C). If you don't mind a bit of afternoon rain, prices are cheapest during this time and there are very few crowds. There's never really a bad time to visit!
(Hey there! Wait one second! Did you know I also wrote an entire guidebook to Thailand filled with – not only even more detailed information on the things included on this page but also itineraries, maps, practical information (i.e. hours of operation, phone numbers, websites, prices, etc), cultural insights, and so much more? It has everything you want in a guidebook – but with a focus on budget and cultural travel! If you want to go into more depth and have something to take on your trip, click here for more about the book!)
How to Stay Safe in Ko Phi Phi
Ko Phi Phi is an incredibly safe place to backpack and travel. Petty theft (including bag snatching) is the most common type of crime in Ko Phi Phi. If you're worried about scams, read this post on travel scams to avoid.
Generally, I've rarely seen any problems here and I've been coming here for over ten years!
Always trust your gut instinct. If your hotel is seedier than you thought, get out of there. Make copies of your personal documents, including your passport and ID.
If you don't do it at home, don't do it when you're in Ko Phi Phi.
This is a notorious party island. The biggest incidents happen when people are being drunk and stupid. Those buckets of booze can be lethal, and unfortunately travelers do need to stay alert for predators slipping drugs into their drinks. Avoid illegal substances at all cost — Thailand is very, very strict on drugs!
The most important piece of advice I can offer is to purchase good travel insurance. Travel insurance will protect you against illness, injury, theft, and cancellations. It's comprehensive protection in case anything goes wrong. I never go on a trip without it as I've had to use it many times in the past. You can use the widget below to find the policy right for you:
Ko Phi Phi Travel Guide: The Best Booking Resources
Below are my favorite companies to use when I travel to Ko Phi Phi. They are included here because they consistently turn up the best deals, offer world-class customer service and great value, and overall, are better than their competitors.
12go.asia – If you're looking up ferry schedules and prices to get to Ko Phi Phi, this website is the best place to do so. Otherwise, buy your tickets from an agent.
Airbnb – Airbnb is a great accommodation alternative for connecting with homeowners who rent out their homes or apartments. The big cities have tons of listings!
Hostelworld – This is the best hostel accommodation site out there, with the largest inventory, best search interface, and widest availability.
Agoda – Other than Hostelworld an Airbnb, Agoda is the best hotel accommodation site for Asia as it has the largest inventory and offers the best rates. If you want a guesthouse or hotel, book it via this website!
Intrepid Travel – If you want to do a group tour around Southern Asia, go with Intrepid Travel. They offer good small group tours that use local operators and leave a small environmental footprint. If you go on a tour with anyone, go with them. And, as a reader of this site, you'll get a discount when you click the link!
Grassroots Volunteering – For volunteering, Grassroots Volunteering compiles a list of good local volunteer organizations that keep the money within the community.
Couchsurfing – This website allows you to stay on people's couches or spare rooms for free. It's a great way to save money while meeting locals who can tell you the ins and outs of their city. The site also lists events you can attend to meet people (even if you're not staying with someone).
World Nomads – I buy all my travel insurance from World Nomads. They have great customer service, competitive prices, and in-depth coverage. I've been using them since I started traveling in 2003. Don't leave home without it!
GO DEEPER: Nomadic Matt's In-Depth Budget Guide to Thailand!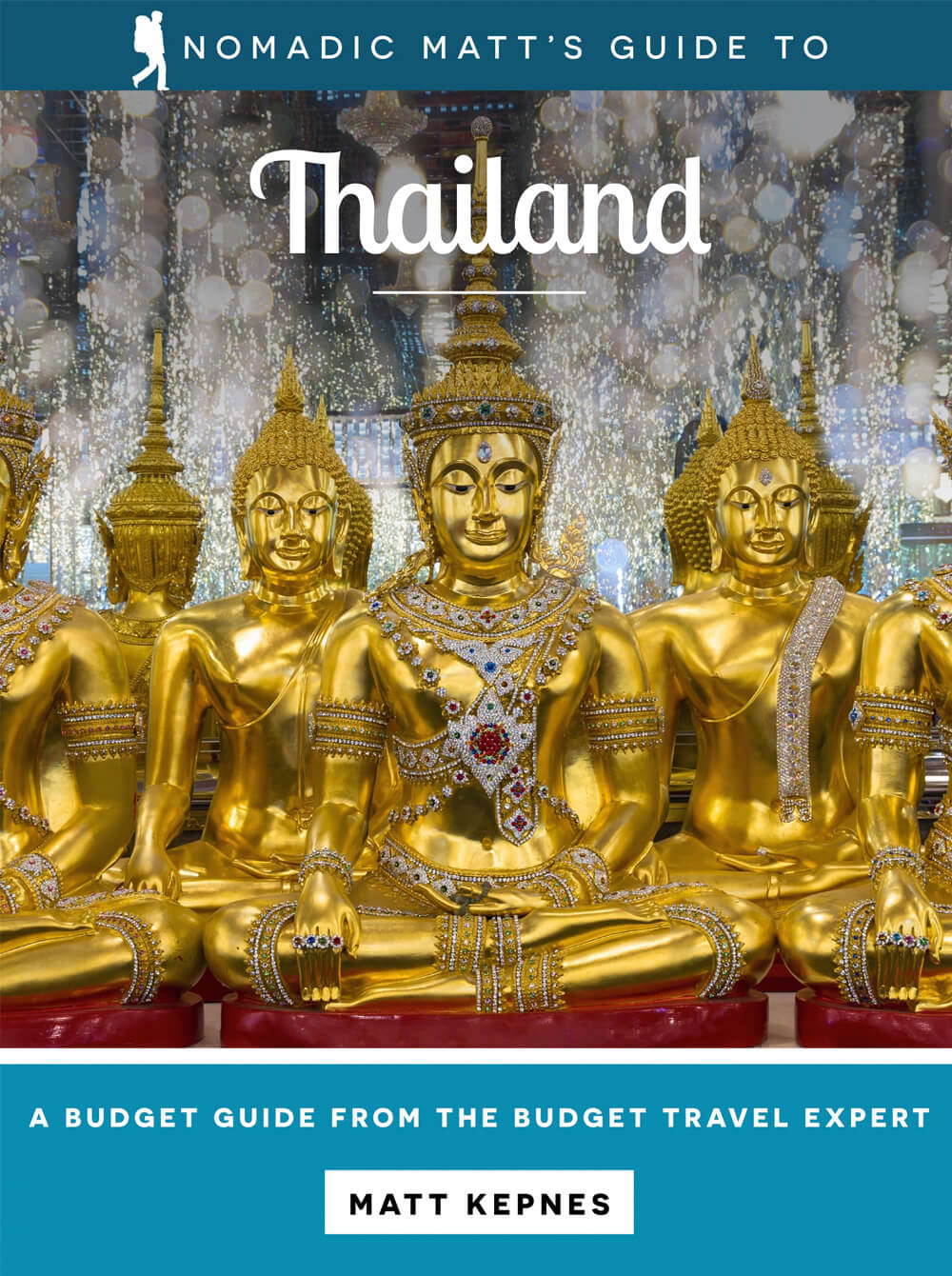 There's a lot of free information online but do you want to spend days searching for information? Prob not! That's why guidebooks exist.
While I have a lot of free tips on Thailand, I also wrote an entire book that goes into great detail on everything you need to plan a trip here on a budget! You'll get suggested itineraries, budgets, even more ways to save money, my favorites restaurants, maps, prices, practical information (i.e. phone numbers, websites, prices, safety advice, etc etc), and cultural tips.
I'll give the insider view of Thailand that I got from living and traveling here! The downloadable guide can be used on your Kindle, iPad, phone, or computer so you can have it with you when you go.
Ko Phi Phi Gear and Packing Guide
In this section, I'll give you my suggestion for the best travel backpack and tips on what to pack for your trip to Ko Phi Phi.
The Best Backpack for Ko Phi Phi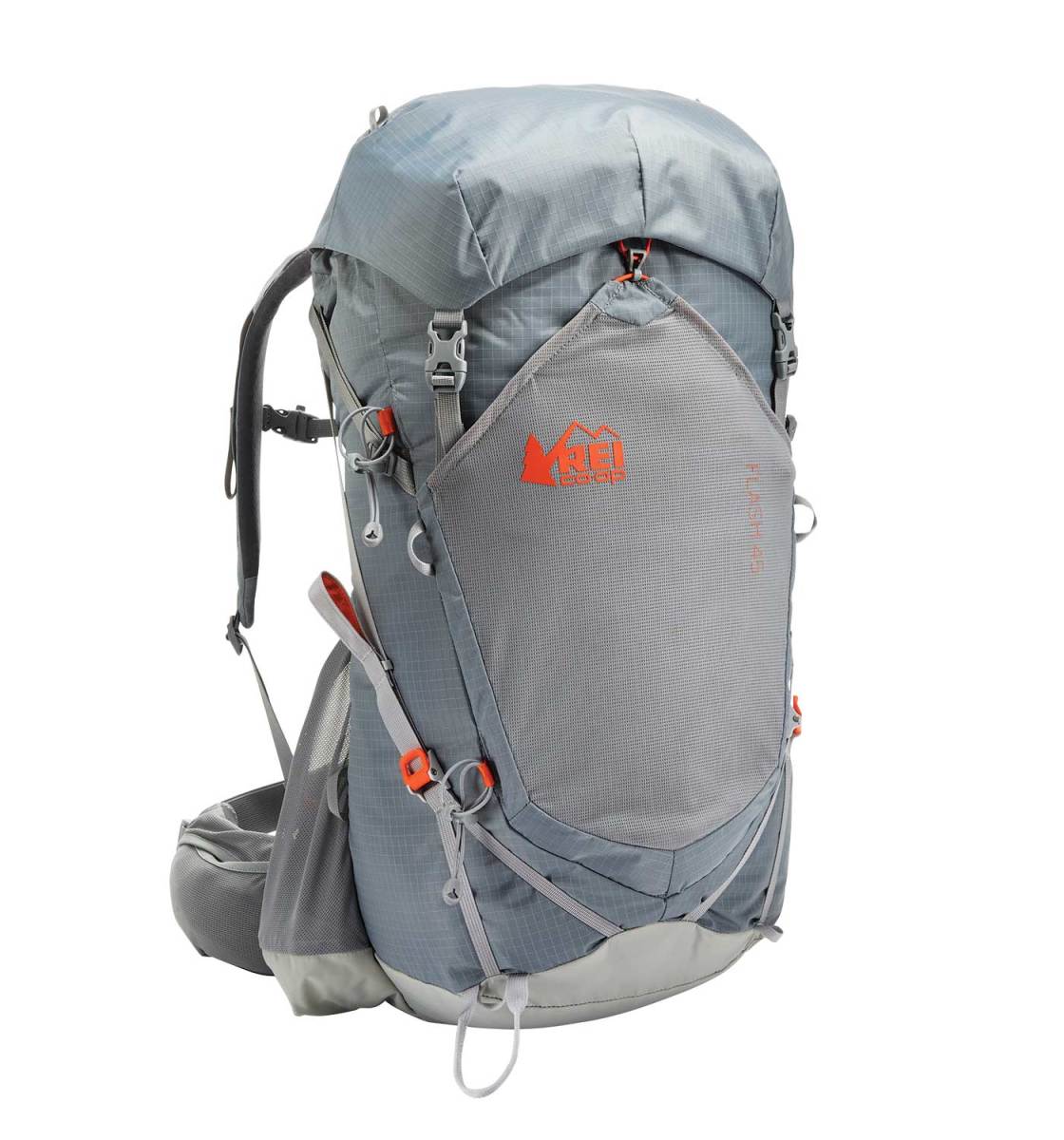 What's the best backpack for traveling around Ko Phi Phi? I recommend the
REI Flash 45 Pack
. It's light and comfy, front loading, and fits perfectly in an airplane's overhead bin.
Size:
45-47L
Straps:
Thick and cushy with compression technology that pulls the pack's load up and inwards so it doesn't feel as heavy.
Features:
Removable top lid, large pocket at the front, hydration compatible, contoured hip belt
If you want something smaller or different, refer to my article on how to choose the best travel backpack for more tips and tricks on how to pick a backpack (as well as more pack suggestions)!
What to Pack for Ko Phi Phi
Clothes
1 pair of jeans (heavy and not easily dried, but I like them; a good alternative is khaki pants)
1 pair of shorts
1 bathing suit
5 T-shirts
1 long-sleeved T-shirt
1 pair of flip-flops
1 pair of sneakers
6 pairs of socks (I always end up losing half)
5 pairs of boxer shorts (I'm not a briefs guy!)
1 toothbrush
1 tube of toothpaste
1 razor
1 package of dental floss
1 small bottle of shampoo
1 small bottle of shower gel
1 towel
Deodorant
Small Medical Kit (safety is important!!!)
Miscellaneous
Female Travel Packing List
I'm not a woman so I don't know what a woman wears, but Kristin Addis, our solo female travel guru, wrote this list as an addition to the basics above:
Clothing
1 swimsuit
1 sarong
1 pair of stretchy jeans (they wash and dry easily)
1 pair of leggings (if it's cold, they can go under your jeans, otherwise with a dress or shirt)
2-3 long-sleeve tops
2-3 T-shirts
3-4 spaghetti tops
1 light cardigan
Toiletries
1 dry shampoo spray & talc powder (keeps long hair grease free in between washes)
1 hairbrush
Makeup you use
Hair bands & hair clips
Feminine hygiene products (you can opt to buy there too, but I prefer not to count on it, and most people have their preferred products)
For more on packing, check out these posts:
Ko Phi Phi Travel Guide: Suggested Reading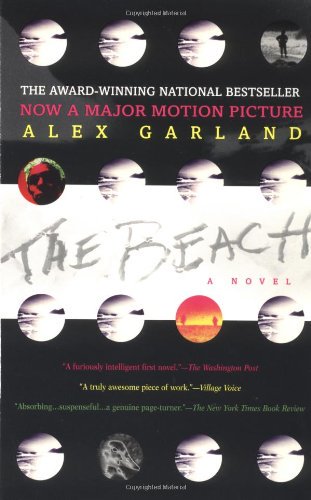 The Beach, by Alex Garland
This story about backpackers and their search for off-the-beaten path "authentic" paradise is one many of us can relate to. Following Richard and his quest to "do something different" in Thailand, he heads off the beaten path in hopes of an authentic experience but finds that things aren't always what they appear. The book is part adventure and part an exploration of why travelers always search for utopias and the consequences of that quest. It was turned into a movie featuring Leonardo DiCaprio back in the 90s. However, the book is a lot different (and much better). Focusing on the ideal of travel, I can't recommend the book enough.



Sightseeing, by Rattawut Lapcharoensap
This collection of masterful stories from award-winning author Rattawut Lapcharoensap is an absolute must-read if you're visiting Thailand. Each story has a different theme, whether it's a tale of family bonds, young romance, generational conflict, or the cultural shifts occurring in modern Thailand. You'll be hooked right from the first story about a beachside motel owner that falls in love with a young American tourist.




Anna and the King of Siam by Margaret Landon
Anna Leonowens was a young Englishwomen who inevitably changed the course of Thai history. She was hired in the 1860's by King Mongkut of Siam to help him communicate with foreign governments, and also to be the tutor to his children (and his favorite concubines). This book is about Leonowens' experiences, including the tutoring of young prince Chulalongkorn, who was so impressed by Western ideals he went on to become one of the country's most progressive kings. This book is beautifully written and gives some insight into untouched Thailand.



Mad About the Mekong, by John Keay
The author's story retraces the voyage of Francis Garnier, a historic 19th-century French explorer who sailed up the Mekong River looking for the "back door" into China. Keay describes the modern world of the Mekong River from Vietnam up through Cambodia, Laos, Thailand, and Burma, while recreating Garnier's failed voyage which included two ships bearing naturalists, soldiers, artists, and geologists. It's a fascinating read.




The Orchid House, by Lucinda Riley
Julia Forrester, a concert pianist, spent much of her childhood in her grandfather's hothouse at the Wharton Estate in England where he tended to exotic orchids. After losing her child and husband, Julia heads back to the hothouse where she meets Kit Crawford, heir to the estate. When they discover an old diary, Julia sets out to find her grandmother and to uncover the truth about the love affair that almost destroyed the estate. This book jumps back and forth between the world of Wharton Park and Thailand during WWII, with plenty of twists and turns to keep you reading!



Bangkok 8, by John Burdett
Bangkok 8 is a thrilling detective novel based on the murder of a suave Marine sergeant under a bridge in Bangkok. There are just two witnesses: two cops, and within minutes one of them is murdered. His partner, Sonchai Jitpleecheep, sets out on a mission to find the killer. Sonchai is paired with a beautiful FBI agent (who inevitably wins his heart), and is soon launched into a sinister world of drugs, prostitution, and corruption. This one will keep you on the edge of your seat.




Private Dancer, by Stephen Leather
Here's a little insight into Bangkok's wild go-go scene. Peter wanders into a go-go bar and meets the love of his life: Joy, a stunningly beautiful (and young) pole dancer. But Pete is soon launched into a life of drugs, sex, and deception as he discovers that his private dancer is not who she says she is. This book is a #1 bestseller in Thailand!
Ko Phi Phi Travel Guide: Related Articles
Want more tips for your trip? Check out all the articles I've written on Thailand travel and continue planning your trip: