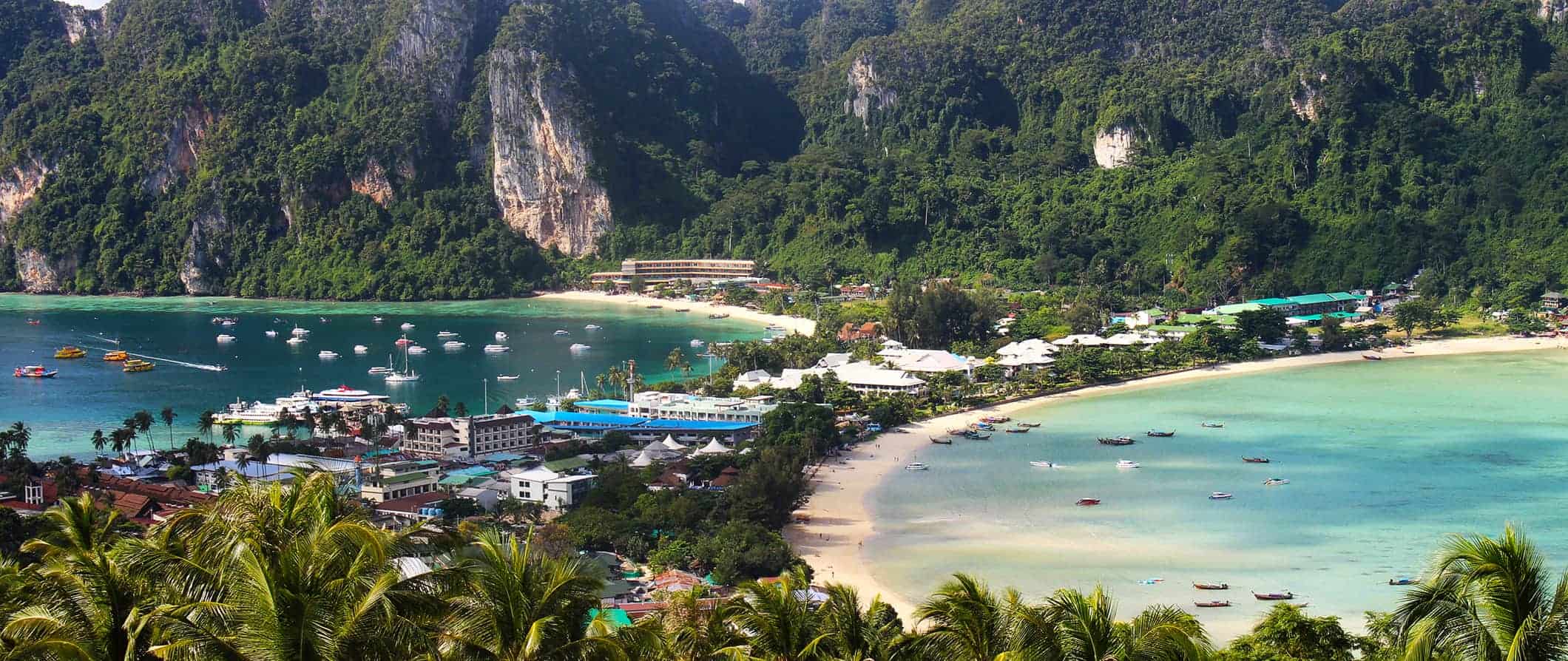 Ko Phi Phi is one of the most popular tourist islands in Thailand. From beautiful Maya Bay (made famous by the Leonardo DiCaprio movie: The Beach) to the monkeys on the aptly named "Monkey Beach" to the diving, nightlife, and resorts, Phi Phi is one of the biggest destinations in the country.
Destroyed by the tsunami in 2004, the island has been rebuilt and developed to an even greater extent than before. Unfortunately, Ko Phi Phi has suffered from overtourism in the worst way, with over 5,000 people visiting Maya Bay per day, polluting the area with countless speedboats and trash.
The Thai government closed the area for almost 4 years, and as it has only recently reopened to tourism, with many caveats in place.
Though I've had a lot of fun here, I don't particularly like Ko Phi Phi. The main area of the island is very overdeveloped, overpriced, and the beaches are ruined. Most people come here only to party.
If you stay at the resorts on the north of the island, Phi Phi is beautiful, deserted, and a tropical paradise (but those places are expensive).
Then again, hundreds of thousands of people visit each year and love it. You'll just have to decide for yourself.
If you do visit, this travel guide to Ko Phi Phi can help you plan your trip, save money, and make the most of your time here!
Top 5 Things to See and Do in Ko Phi Phi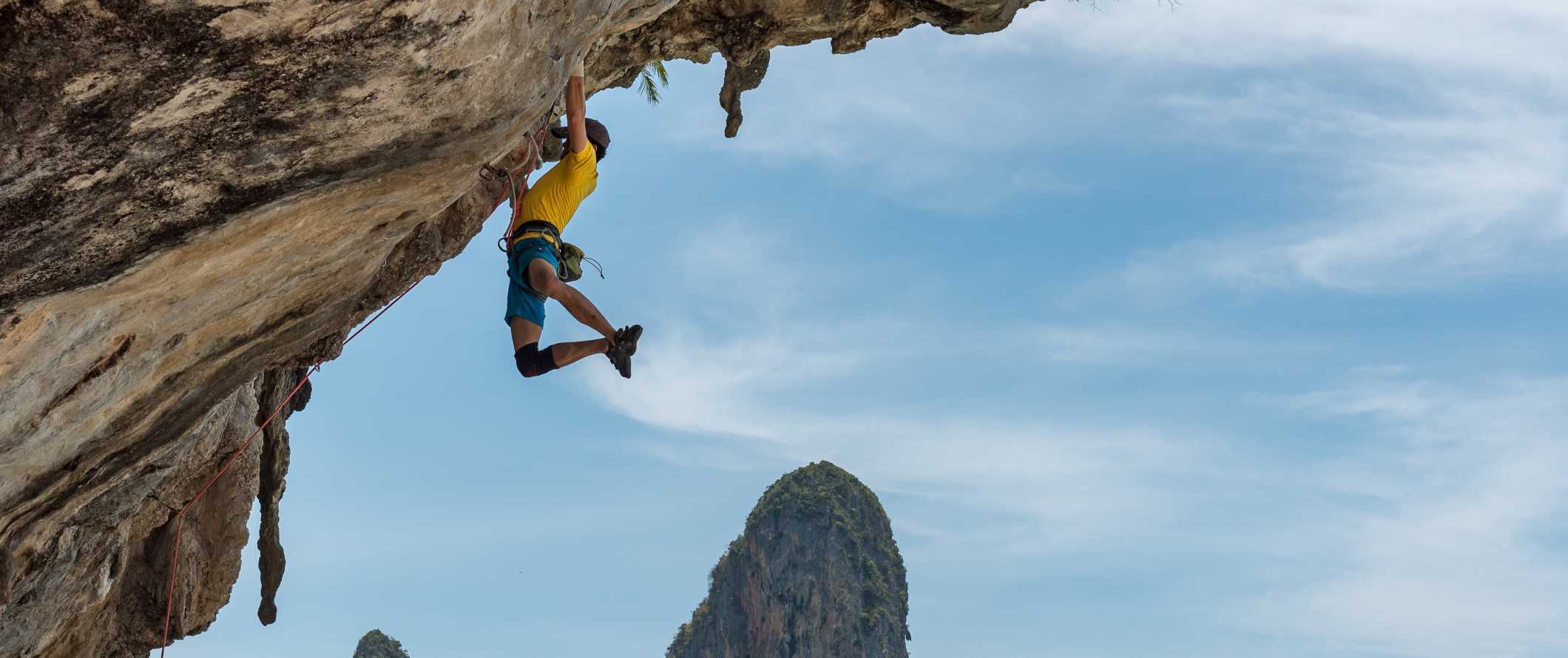 1.Visit Maya Bay
Made famous from the movie The Beach, Maya Bay is beautiful. After closing the area in 2018 to allow the ecosystem to recover, Maya Bay just reopened in early 2022. Boats are no longer allowed in the bay and tourists can stay on the beach for one hour and cannot swim. Tours start from 1,500 THB.
2. Hike to Phi Phi Viewpoint
After the twenty-minute walk up to this viewpoint, you'll be rewarded with an amazing panoramic view of the island. The viewpoint is over 182 meters (600 feet) high, with a lot of steep staircases and trails, so you'll need to be reasonably fit to get there.
3. Go rock climbing
With the rugged landscape and steep cliffs, Ko Phi Phi is an ideal climbing destination. You can arrange a tour that takes you to one of the islands' limestone rock faces that are suitable for climbing. Most places charge around 1,000-1,500 THB for a half-day trip.
4. Go diving or snorkeling
There are plenty of great diving sites around Ko Phi Phi, including at Hin Muang, which boasts the highest vertical wall in Thailand at 60 meters (197 feet). Leopard sharks, whale sharks, manta rays, and reef sharks patrol the depths, but the site's crowning glory is a huge purple rock. Diving trips start from around 3,950-4,500 THB.
5. Visit Bamboo Island
This island is home to the coral garden Hin Klang. I highly recommend taking a day trip here, as it's a beautiful, relaxing island with better beaches than Phi Phi. The entrance fee is 400 THB, but most of the tours include that, which are generally around 1,800 THB for a day trip.
Other Things to See and Do in Ko Phi Phi
1. Enjoy the nightlife
The nightlife here is wild. The go-to drink is a literal bucket of alcohol comprised of an energy drink, can of soda, and liquor — a potent mixture! Fire shows and Thai boxing matches are a regular occurrence at the beach bars, and bars not located on the beach often have pools or stunning rooftop decks. Many have no official closing hour, staying open until the last partiers call it quits. Nearly every night of the week there are massive beach parties. Just keep in mind that partying is not cheap here!
2. Dive the King Cruiser Wreck
One of the best dive sites near Ko Phi Phi is the King Cruiser wreck, where a passenger ship sunk in 1997 after hitting the Anemone Reef. This site is packed with fish including clownfish, tuna, lionfish, and barracuda, not to mention the sea anemones that cling to every surface of the reef. Keep an eye out for the occasional leopard shark or turtle. Due to the depth of the wreck at 30 meters (98 feet) below the surface, only experienced divers are allowed to dive this site. Two-dive packages generally cost around 4,000 THB.
3. Watch Muay Thai (Thai boxing)
The Reggae Bar offers Muay Thai shows nightly, where you can get big buckets of booze and watch the show. If you are in the mood, you can even get out in the ring yourself. Winners receive free buckets for their tables! Some local matches are scheduled, and if you are lucky, you'll find some high-stakes fights featuring professional fighters.
4. Hang out on Monkey Beach
Monkey Beach is one of the most beautiful beaches in Thailand. Powder white sands and excellent diving makes this a popular spot, but the coolest thing about it is the monkeys that come down to the beach. Beware that the monkeys are crafty and will steal anything that you leave unattended — even if you're standing right there. And whatever you do, do not feed or try to pet the monkeys!
5. Go deep-sea fishing
One of the more expensive activities that you can do off the coast of Ko Phi Phi is deep sea fishing. Generally, you need to charter an entire boat, so get together with a few others to share the cost. A full-day charter costs around 10,000-16,000 THB, which includes lunch, guides, equipment, and live bait. You'll get the chance to fish for tuna, barracuda, dorado, king mackerel, and sailfish, all of which can be cooked for you right on the boat or taken back to your accommodation. You can also go night fishing, which is a great way to experience the nocturnal life of the waters surrounding the islands.
6. Watch the sunset by kayak
You can rent sea kayaks or arrange a kayak tour from just about any beach on Ko Phi Phi. The island is great for kayaking, and nothing beats getting to see the sunset from the water. Sunset tours head out on ocean kayaks to Wang Long Bay. However, there are plenty of other tours available, so explore your options. Renting your own kayak generally costs 150-200 THB per hour, while half-day tours are around 900-1,100 THB.
7. Learn to cook traditional Thai food
If you are looking to learn Thai cooking, take a class at Pum Thai Cooking School. Located in Tonsai Village, you can take classes ranging from 30 minutes to 6 hours. Classes start at 300 THB for a 30-minute mini-class, but a 3-4-hour class, during which you'll make several dishes, is 1,300-1,900 THB. Learning how to make these delicious meals is the best souvenir you can bring home with you!
8. Hop aboard a booze cruise
While there is nightlife aplenty on the island, if you want to get out on the water while enjoying some rum punch, there are many booze cruises offering just that. Captain Bob's offers a fun way to see some of the most beautiful spots in the Phi Phi islands, with unlimited booze, lunch, snacks, snorkeling, and kayaks. After the trip, the party continues until 8:30pm, with more unlimited drinks, of course. It departs from Tonsai Bay at 1pm and costs 2,500 THB.
9. Stroll the Phi Phi market
If you want a glimpse at what life is like in Phi Phi, stop by the market. Located in Tonsai Village, you can expect to find a ton of local veggies, fruits, and seafood, at reasonable prices. Tourists don't really frequent this market, so it's a great way to experience local culture. It is open daily. Make sure you come hungry!
10. Swim with bioluminescent plankton
This unique marine plant glows blue in the dark, almost like fireflies of the water. You can see and swim with them by taking a nighttime boat tour or by diving at night. Guides take you to the best spots for seeing these creatures creating beautiful displays in the water. Boat tours start at 990 THB.
For more information on other cities and islands in Thailand, check out the guides below:
(Hey there! Wait one second! Did you know I also wrote an entire guidebook to Thailand filled with – not only even more detailed information on the things included on this page but also itineraries, maps, practical information (i.e. hours of operation, phone numbers, websites, prices, etc), cultural insights, and so much more? It has everything you want in a guidebook – but with a focus on budget and cultural travel! If you want to go into more depth and have something to take on your trip, click here for more about the book!)
Ko Phi Phi Travel Costs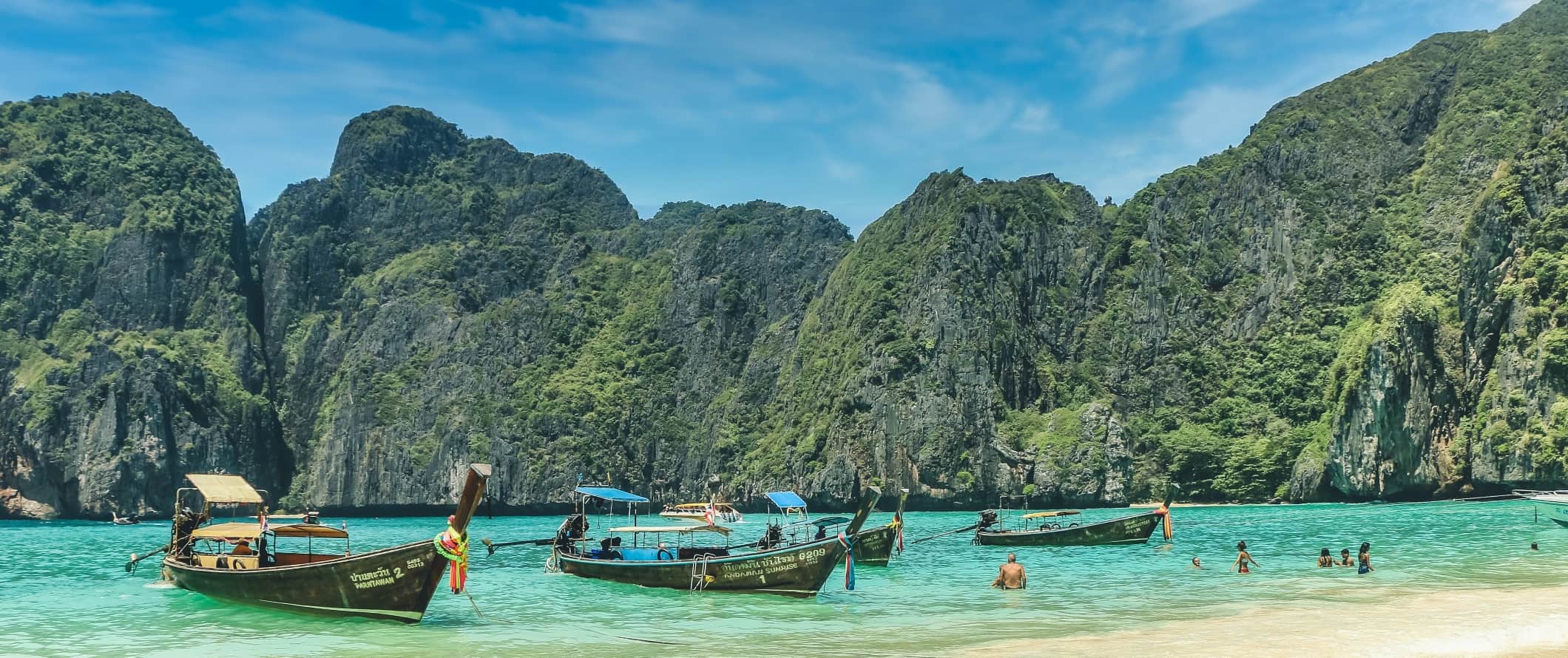 Hostel prices – Ko Phi Phi is one of the most expensive islands in Thailand. Because it's so small, there aren't a ton of accommodation options to choose from and prices don't fluctuate too much with the seasons.
A bed in a large dorm with 10 or more beds costs 300-350 THB per night, though you can find some for around 200 THB per night (but they're in not-so-great hostels). Most dorm beds fall into the 400-600 THB range for a bed in an 8-10-bed dorm.
Private rooms for two people with an ensuite bathroom start at 750 THB. Most hostels include free Wi-Fi, free coffee and tea, and air-conditioning. Breakfast is usually not included.
Budget hotel prices – In the high season, two-star hotels start around 750 THB for a private double room with a fan. A nicer room costs from 1,000 THB for a double private room with air-conditioning, while an entire basic bungalow that sleeps two starts at 900-1,200 THB.
During the off-season, you can find private rooms for 600 THB and entire bungalows for as low as 600-800 THB.
Most hotels have free Wi-Fi, air conditioning, private bathrooms, and individual private balconies. Many have outdoor pools as well.
On Airbnb, you'll mostly find entire villas and bungalows, which average 2,450 THB per night, though some basic ones are as low as 1,050 THB.
If you're looking for a quiet place to sleep, do NOT book accommodation near the beach! Most hostel/hotel owners will warn you before you check in; the party rages on the beach until 1am (everything shuts down precisely at this time).
Average cost of food – Thai cuisine is spicy and contains layers of flavor, with an abundance of curries, salads, soups, and stir-fries. Thailand's neighbors, including Malaysia, Laos, and Myanmar, have all left their mark on the country's cuisine.
Thai cuisine uses many ingredients, with typical spices and fresh herbs including garlic, basil, galangal, cilantro, lemongrass, kaffir lime leaves, chilies, shrimp paste, and fish sauce. In central and southern Thailand, coconut milk is commonly used in curries and desserts. Being an island, there's a lot of fish and seafood in the dishes on Ko Phi Phi.
Popular dishes include tom yum goong (hot and sour soup with shrimp), massaman curry, pad thai (a stir-fried noodle dish), som tam (spicy papaya salad), kao phad (fried rice), khao man gai (rice with boiled chicken), and satay (grilled meat on skewers, served with a peanut dipping sauce). Dessert is usually fruit or various dishes comprised of coconut milk or glutinous rice, with mango sticky rice being a popular dessert.
Compared to the rest of Thailand, food is expensive on Ko Phi Phi. You'll find the cheapest food in Tonsai village.
The open-air local restaurants near the beach have dishes starting at 150-180 THB for local cuisine. One of my favorite places for fantastic Thai cuisine is Garlic 1992. The Beacha Club also has a lovely, no-frills cafe right on the beach (try the pineapple fried rice).
The Phi Phi food market in the center of town has rock-bottom prices for local seafood, fruits, and vegetables. A snack at one of the vendors here costs 10-20 THB. Go around to a few different ones and soon, you'll have made a meal of it.
Another budget-friendly way to eat on Ko Phi Phi is by eating at the street stalls, where the food is not only cheap but delicious. A dish such as pad thai from these stands costs 60-100 THB.
Western food is quite a bit more expensive. You're likely to pay around 185-250 THB for a mediocre pizza or burger, while pasta dishes are 220-380 THB.
When it comes to drinking, going to bars can become pricey. The cheapest beers cost about 60-80 THB each and cocktails cost triple that amount at 180 THB. You can save money here by buying beers from convenience stores where they are half that price.
If you plan to cook your own meals, a week's worth of basic staples like rice, veggies, and some meat or fish costs around 1,100 THB.
Backpacking Ko Phi Phi Suggested Budgets
On a backpacking budget of 1,575 THB per day, you can stay in a hostel dorm, eat cheap street food and cook some meals, buy cheap beer from the convenience store, walk everywhere, and do mostly free activities like swimming and lounging on the beach.
On a mid-range budget of 3,700 THB per day, you can stay in a private room, splurge on one nice local meal and a few drinks per day (and then eat street food for your other meals), and do more paid activities like kayaking or diving.
On a "luxury" budget, expect to spend 5,200 THB or more per day. This covers a private bungalow away from the loud parties, all the nice meals you'd like, more drinks, hiring a boat to get around, and doing whatever tours and activities you want. This is just the ground floor for luxury though. The sky is the limit!
Accommodation
Food
Transportation
Attractions
Average Daily Cost
Backpacker
500
350
325
400
1,575
Mid-Range
850
700
350
1,100
3,700
Luxury
1,200
1,050
450
2,500
5,200
Ko Phi Phi Travel Guide: Money-Saving Tips
Ko Phi Phi is easily one of Thailand's most expensive islands, especially if you're here to party. That being said, you can still have a budget-friendly trip if you're smart about it. Here are some ways to save money on Ko Phi Phi:
Go during the low season – You'll miss peak season if you travel from May through October, which means you'll avoid peak-season prices. Just plan for a bit of rain.
Buy beer at convenience stores – Beers and drinks are heavily discounted when purchased at convenience stores, costing half the price you'd pay at the bar. Purchase a few beers before you go out to the bars and cut your night's budget by a lot.
Eat in Tonsai – Eat in Tonsai village rather than on the beach, as the beachfront restaurants tend to have higher prices for the same food.
Work for bars – Many bars give you free drinks if you spend a couple of hours handing out flyers for their venue during the afternoon.
Bargain hard – If hiring out a long-tail boat, be sure to bargain with the owner. Prices are always up for negotiation.
Group together to charter a longboat – If you'd like to see Ko Phi Phi Leh or other islands, get a group together and charter a long-tail boat. Split between four or more people, and it should be cheaper than an organized tour. If you're traveling solo, ask around at your hostel.
Stay with a local – Couchsurfing connects you with locals who not only provide a free place to stay but who can introduce you to all the great places to see. It's the best way to meet people and get insider tips.
Use a water bottle with a purifier – It isn't safe to drink the tap water in Phi Phi, and although buying bottled water is cheap, it does add up — pick up a LifeStraw, which have built-in filters to ensure your water is always clean and safe (it's good for the environment too!)
Where to Stay in Ko Phi Phi
Looking for accommodation in Ko Phi Phi? Here are some of my suggested places to stay:
How to Get Around Ko Phi Phi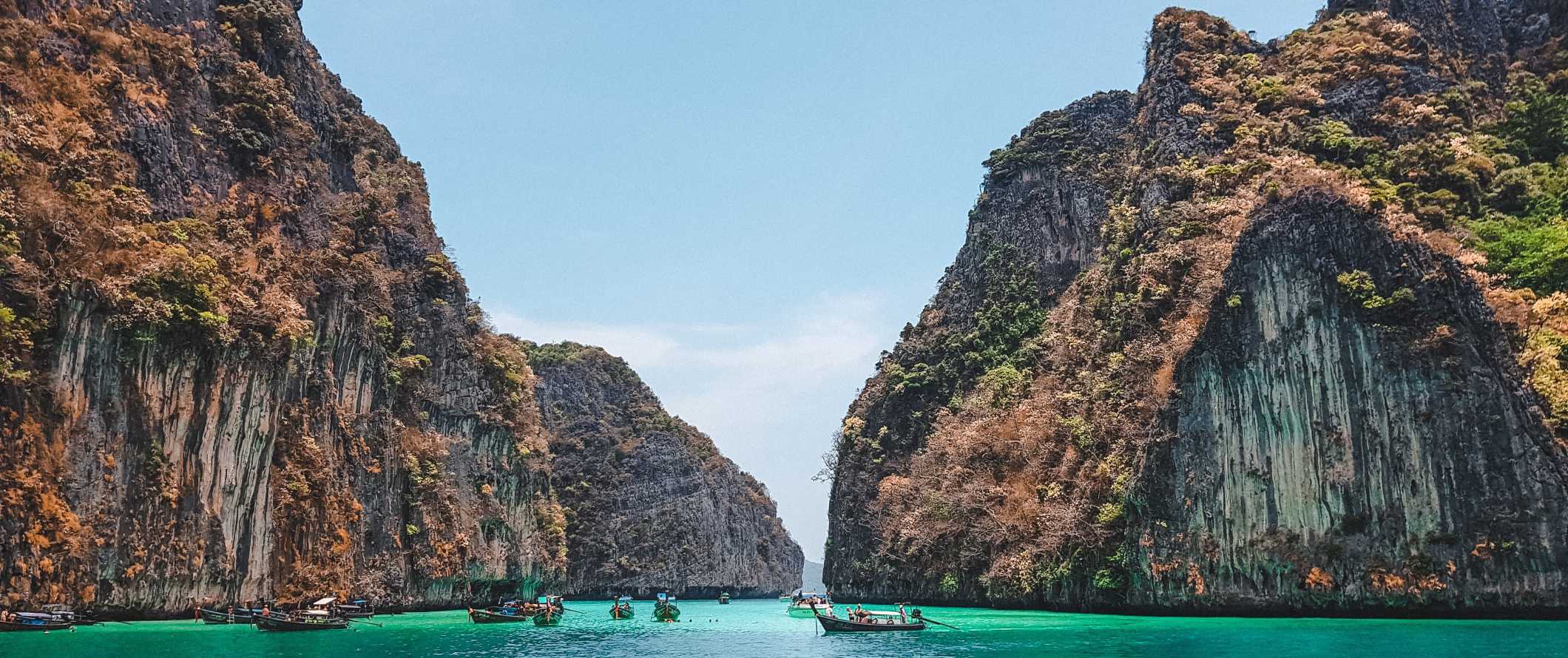 You don't have many options for getting around Ko Phi Phi, but as you'll see, you don't really need a lot of options. There are no cars or motorbikes on the island — just an occasional motorized vehicle to transport construction gear or garbage!
Walk – There are no taxis or buses on Ko Phi Phi, so you'll be mostly walking everywhere! If you book your hostel/hotel in advance, someone will be at the pier to collect your baggage in a cart to bring it to your accommodations (sometimes included in the price of your bed/room, but not always).
Long-tail boat – Travel between islands and beaches is best done by long-tail boat, which costs around 150 THB per person for shorter trips. Longer trips are charged by the hour and get cheaper the longer you hire the boat. If you want to see all the major highlights (like Monkey Beach and Maya Bay), just round up some friends and negotiate with a long-tail boat owner on the beach. If there are four of you, you can pay 650-1,000 THB each for a full day on a private boat, including lunch and snorkeling gear. Negotiate a little, and you're likely to get it for cheaper.
When to Go to Ko Phi Phi
Peak season in Phi Phi is from November to April. If you travel between May and October, you'll avoid peak season and save quite a bit of money (even though you might catch some rain). However, November to April offers cooler temperatures and nicer weather, with constant sunshine and clear skies.
November to February are the coolest months, with temperatures between 23-30°C (73-86°F). February is the driest month and is the best time to come if you're simply wanting to soak up the sun on the beaches or enjoy some water sports.
The end of March to mid-May is the hottest time to be on Ko Phi Phi. It's just before monsoon season hits, so humidity is high and temperatures soar into the 30s°C (90s°F). The crowds slacken during this time, however, so it's quite a nice time to visit if you don't mind the heat.
Monsoon season is from mid-May to October, with May, September, and October being the wettest months. The average daily temperature during this time is 28°C (84°F). If you don't mind a bit of afternoon rain, prices are cheapest during this time and there are very few crowds.
(Hey there! Wait one second! Did you know I also wrote an entire guidebook to Thailand filled with – not only even more detailed information on the things included on this page but also itineraries, maps, practical information (i.e. hours of operation, phone numbers, websites, prices, etc), cultural insights, and so much more? It has everything you want in a guidebook – but with a focus on budget and cultural travel! If you want to go into more depth and have something to take on your trip, click here for more about the book!)
How to Stay Safe in Ko Phi Phi
Ko Phi Phi is a safe place to backpack and travel, even if you're traveling solo and even as a solo female traveler. I've rarely seen any problems here and I've been coming here for over ten years.
Petty theft (including bag snatching) is the most common type of crime in Ko Phi Phi so always keep your eye on your belongings, especially in popular tourist areas. Don't leave any valuables unattended at the beach and when you go out partying only bring the cash you need.
Solo female travelers should feel safe here, though the standard precautions apply (never leave your drink unattended at the bar, never walk home alone intoxicated, etc.)
Scams here are rare but if you're worried about getting ripped off, read this post on common travel scams to avoid.
This is a notorious party island so the biggest incidents happen when people are being drunk and stupid. Those buckets of booze can be lethal, and unfortunately, travelers do need to stay alert for predators slipping drugs into their drinks. Watch your drink at all times and avoid illegal substances at all costs — Thailand is very, very strict on drugs!
If you experience an emergency, dial 191 for assistance.
Always trust your gut instinct. Make copies of your personal documents, including your passport and ID. Forward your itinerary along to loved ones so they'll know where you are.
For more information about safety in Southeast Asia, check out this article.
The most important piece of advice I can offer is to purchase good travel insurance. Travel insurance will protect you against illness, injury, theft, and cancellations. It's comprehensive protection in case anything goes wrong. I never go on a trip without it as I've had to use it many times in the past. You can use the widget below to find the policy right for you:
Ko Phi Phi Travel Guide: The Best Booking Resources
These are my favorite companies to use when I travel. They consistently have the best deals, offer world-class customer service and great value, and overall, are better than their competitors. They are the companies I use the most and are always the starting point in my search for travel deals.
Skyscanner – Skyscanner is my favorite flight search engine. They search small websites and budget airlines that larger search sites tend to miss. They are hands down the number one place to start.
Hostelworld – This is the best hostel accommodation site out there with the largest inventory, best search interface, and widest availability.
Agoda – Other than Hostelworld, Agoda is the best hotel accommodation site for Asia.
Booking.com – The best all around booking site that constantly provides the cheapest and lowest rates. They have the widest selection of budget accommodation. In all my tests, they've always had the cheapest rates out of all the booking websites.
Get Your Guide – Get Your Guide is a huge online marketplace for tours and excursions. They have tons of tour options available in cities all around the world, including everything from cooking classes, walking tours, street art lessons, and more!
SafetyWing – Safety Wing offers convenient and affordable plans tailored to digital nomads and long-term travelers. They have cheap monthly plans, great customer service, and an easy-to-use claims process that makes it perfect for those on the road.
LifeStraw – My go-to company for reusable water bottles with built-in filters so you can ensure your drinking water is always clean and safe.
Unbound Merino – They make lightweight, durable, easy-to-clean travel clothing.
Get the In-Depth Budget Guide to Thailand!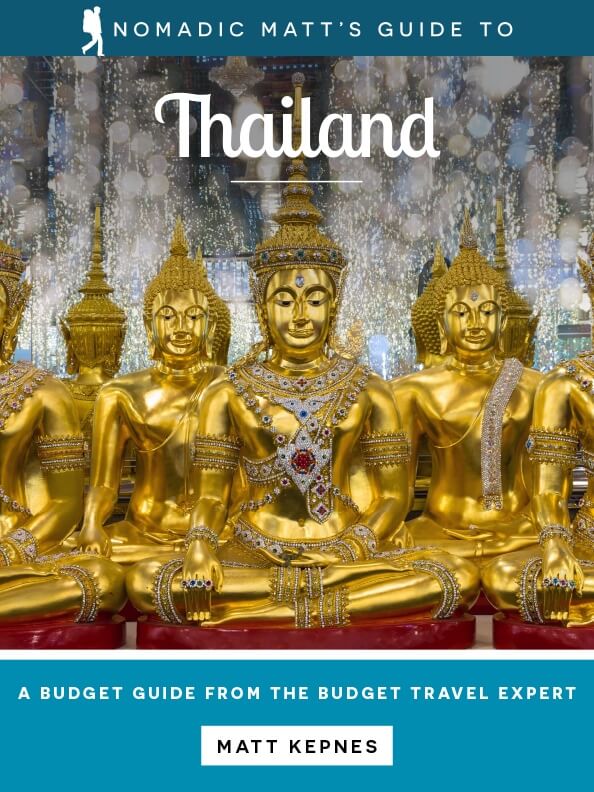 My detailed 350+ page guidebook is made for budget travelers like you! It cuts out the fluff found in other guidebooks and gets straight to the practical information you need to travel around Thailand. You'll find suggested itineraries, budgets, ways to save money, on and off-the-beaten-path things to see and do, non-touristy restaurants, markets, bars, safety tips, and much more! Click here to learn more and get your copy today.
Ko Phi Phi Travel Guide: Related Articles
Want more tips for your trip? Check out all the articles I've written on Thailand travel and continue planning your trip: