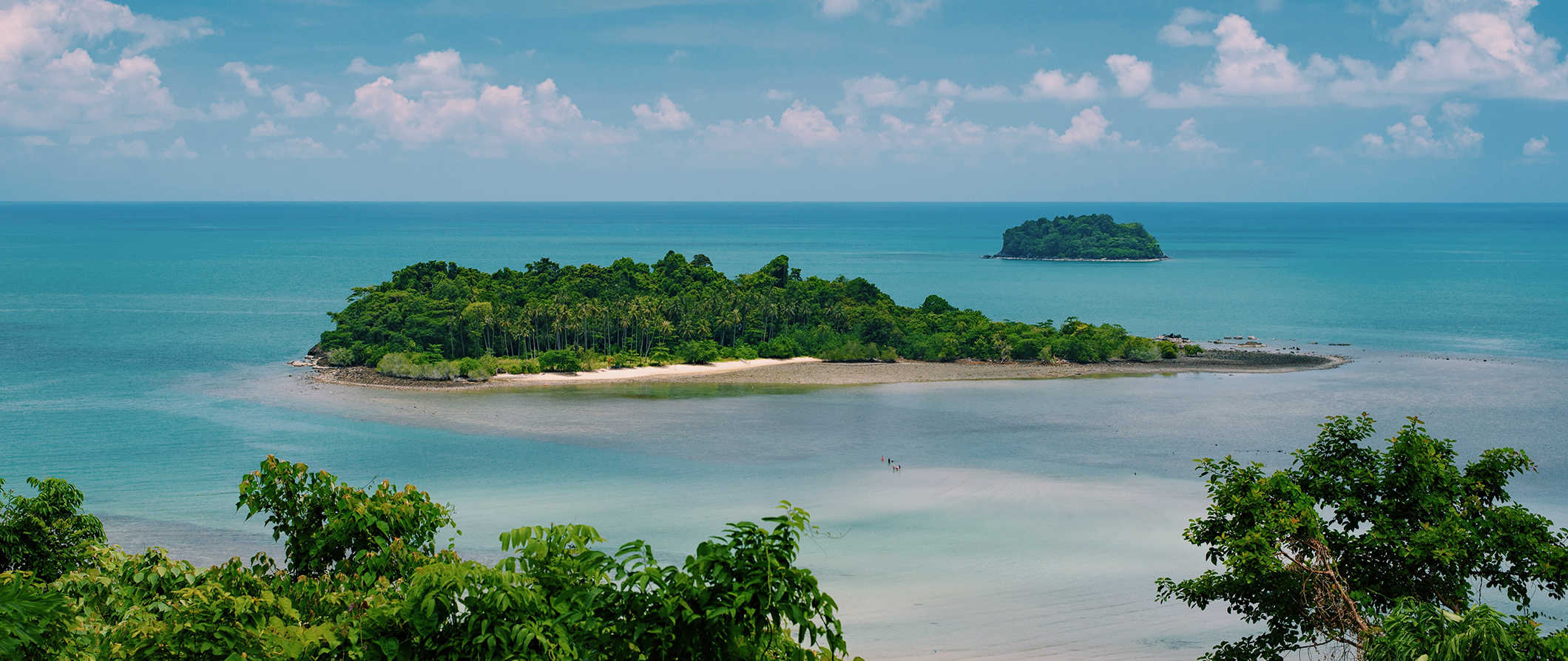 Ko Chang is an island paradise with its jungle-covered mountains, sparkling blue bays, vibrant coral reefs, and cascading waterfalls.
It's the second-largest island in Thailand so there is a lot of space to move around and get away from the crowds.
The island has definitely seen a rise in tourism over the last few years and while it is a still a relative "secret" to most tourists, the word is out in the backpacking/budget travel scene.
Because of this, you'll find plenty of luxury accommodation options intermingled with affordable budget options. There's something for every budget here.
Prices on the island are much cheaper when compared to other popular islands and its relative size and location means that even when the island is busy, it doesn't feel that busy.
Despite its recent increase in tourism, Ko Chang still offers a lot of peace and quiet. This guide will help you make the most of your time on Ko Chang.

Ko Chang
Top 5 Things to See and Do in Ko Chang
1. Go Diving
Ko Chang is part of a marine park with the same name and there is a lot to do in the area. For divers, this marine park is excellent. There are a lot of reefs nearby and because Ko Chang is still "off the grid" you'll find most of these reefs still in tact and not overfished. Go with Scuba Dawgs and you'll get two dives for 2,700 THB ($85 USD).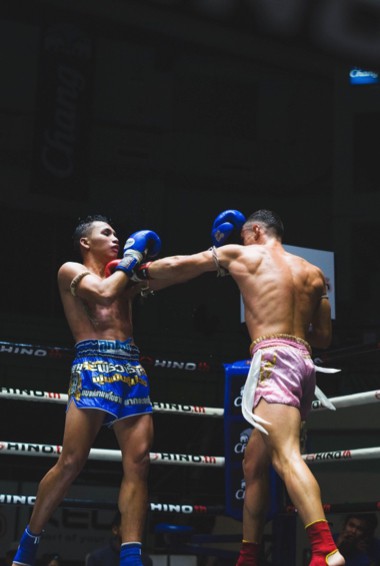 2. Learn Muay Thai
Koh Chang has a handful of Muay Thai gyms for experienced fighters to train, but some offer beginner-friendly classes as well. The Ko Chang Thai Boxing Camp is one of the best places to learn, offering classes for 600 THB ($19 USD) per two-hour session. Check to see if there are any matches happening during your visit. They're always intense and a lot of fun!
3. Eat at the White Sand Beach Night Market
Every evening there is a night food market at the center of White Sand Beach. Vendors set up on the beach side of the road selling everything from BBQ meats to fruit and other special Thai dishes. It's cheap to eat here, and you can easily fill up on kebabs and sticky rice. The grilled fish is delicious too.
4. Escape to Other Islands
If Ko Chang is too touristy for you, you can head to the other islands of Ko Kood, Ko Maak, Ko Khlum, or Ko Rang. Luckily, most of these islands are undeveloped. Some are privately owned and can be rented out cheaply. The smaller ones have only a bungalow or two and if you looking to really get away from everything, skip Ko Chang and head to these little villages.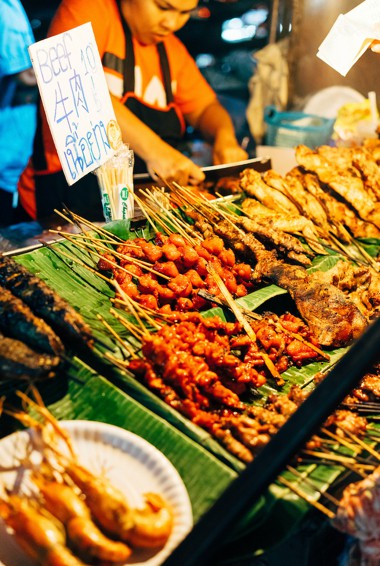 5. Take a cooking class
While Kati Culinary is one of the most popular restaurants on the island (for tourists and locals), you can also learn how to cook traditional Thai food here under the guidance of the restaurant's head chef. You'll spend about five hours with the chef, learning how to use secret ingredients and preparing a feast that you'll later enjoy. It costs about 1,595 THB ($50 USD).
Other Things to See and Do in Ko Chang
1. See the waterfalls
There are seven main waterfalls to visit on Ko Chang, the most popular being Klong Plu. Its accessible and has a large swimming area. Kai Bae, Klong Jao Leuam, Than Mayom, and Klong Nonsi are other noteworthy waterfalls. For Than Mayom and Klong Plu, you'll have to pay the national park entrance fee, which is 200 THB ($6 USD).
2. Have fun on Hat Sai Khao Beach (White Sand Beach)
White Sand Beach is where most of the resorts and high-end accommodations are, as well as the expensive restaurants. It's definitely the most developed part of Ko Chang, but you can't deny it's a really beautiful beach. The town itself is lively and full of shops, restaurants, and nightlife options, including nightly live music at Oodies and late-night fun at Zap Bar. If your aim is to avoid the touristy areas, this isn't the place for you. If you just want to have fun and meet people, come here.
3. Visit the Bang Bao floating village
Ko Chang has its very own floating village, right at Bang Bao pier where many of the snorkeling and diving tours depart from. However, in recent years it hasn't retained much of its original fishing village charm — it's now essentially a souvenir shopping hub for tourists. Many of the buildings have been turned into restaurants, shops or guesthouses, although a few locals do still fish here. But if you're coming here anyway, look around and take some photos. It's very beautiful, especially the views from the lighthouse at the end of the pier.
4. Hike Salak Phet
Since Ko Chang is so big, it's heavily forested and contains quite a few mountains. There are a few official hiking trails where you can go on your own and a few unofficial ones if you just want to explore, though I recommend getting a local to go with you. Salek Phet is the highest mountain on the island, and it has some incredible panoramic views from the top, but it can be difficult to get to. Ask your hostel about tours, or see if they will recommend some other routes.
5. Go snorkeling
If you're not interested in diving, snorkeling is another way to enjoy Ko Chang's underwater playground. The coral reefs are full of fish and it's easy to find snorkeling tours all over the island. (It's actually cheaper if you walk up to the boat and get a ticket yourself, though.) Most tours include a full lunch on the boat as well. You can find tours starting around 600 THB ($16 USD) but others are in the 1,500 THB ($47 USD) range for a full day.
6. Mu Koh Chang National Park View Point
The Mu Ko Chang National Park View Point gives you a clear view overlooking Ko Chang's forests, the surrounding ocean, and the islands off in the distance. It's easy to get to — the route is well marked from the main road. Plus, it's free! There's a nice beach nearby with food kiosks and swings hanging from palm trees, and other hiking trails will take you to waterfalls and mountains. I recommend going to the viewpoint at sunset.
7. Take a sailing trip
Who doesn't love a good catamaran trip at sea? Some companies around Ko Chang will take you on a leisurely day trip to enjoy sun, swimming, snorkeling, and sometimes even fishing. It's a nice way to spend your day simply hang out and soaking up the weather. Sea Adventures Catamaran Tours is one company you should tour with, and they offer a full barbecue lunch. Tours start around 1,750 THB ($55 USD).
8. Check out the Treetop Adventure Park
One of the best ways to see Ko Chang's tropical rainforest up close is by visiting the Treetop Adventure Park. You can explore the forest canopy with swinging bridges, rope walks, Tarzan swings, and even slides. There's also a zip line! It's probably not a place to visit if you're afraid of heights, but the guides are excellent and well trained, and the bird's eye views are amazing. If you're traveling with children they will love this place. Tickets are 1,250 THB ($40 USD) for the full day.
9. Kayak to Koh Suwan and Koh Rom islands
If you're spending time on the south end of Klong Prao beach or Kai Bae beach, you'll notice some islands off the coast. Koh Suwan and Koh Rom are the closest islands, and in a kayak, you can paddle there in about 20-30 minutes from the beach. They're a whole lot quieter than Ko Chang, so pull up your kayak and go for a swim, and enjoy the peace and quiet. If your hostel or hostel doesn't rent kayaks, you can find rentals on the south end of Klong Prao for about 300 THB ($9 USD) per hour. Some places also have stand up paddle boards.
10. Hang out at Loney Beach
Many backpackers end up at Lonely Beach, where most of the guesthouses, bars, clubs, and parties are. Here's where you'll find cheap accommodation, decent shops, and a relatively nice beach. This place is where you come to recharge after weeks/months of backpacking. Hang out on the beach by day, party at night!
11. Go jungle trekking
If you feel like doing more than just a hike, there are many half-day or full-day trekking tours on the island. You'll get to see the many gorgeous waterfalls, vibrant green trees, rare reptiles, and more just make sure to bring lots of water! Half-day tours start at 700 baht, full-day tours start at 1,200 baht.
Ko Chang Travel Costs
Hostel prices – Ko Chang has a small selection of hostels, but they're affordable and most are comfortable. Beds in a dorm start from 255 THB ($8 USD) per night, but if you want a nicer dorm with air conditioning (and better quality overall), expect to pay around 480 THB ($15 USD) per night. Private hostel rooms start from 795 THB ($25 USD).
Budget hotel prices – A basic budget room without air conditioning starts from 635 THB ($20 USD). Nicer rooms with amenities like air conditioning start around 890 THB ($28 USD), but if you want something closer to White Sand Beach you'll pay more like 1,200 THB ($38 USD) per night.
In Thailand, it's actually usually cheaper to book your accommodations online via websites like Booking.com and Agoda than to show up in person. While some places allow you to negotiate rates, most places don't (unless you are booking long term). The online booking websites offer discounts far better than what you'll get offered if you just show up, so always book online if you can!
Food – If you stay away from the big resort areas and mostly stick to street vendors, you'll not only eat delicious Thai food but it'll also be very cheap. There are vendors scattered roadside all over Ko Chang. Kebabs cost as little as 5 THB ($0.15 USD) each, while a plate of rice and curry will cost from 40-50 THB ($1.25-1.60 USD). Basically, anything with an English menu will cost you minimum 100 THB ($3.15 USD), but you can find a great meal at a sit-down restaurant for between 150-300 THB ($4.70-9 USD). There are tons of excellent seafood restaurants all over the island. Some suggested places to eat are Friend Seafood just north of Took Kata, or Lantalay Seafood. For some fresh and delicious Thai food, check out Kati Culinary (in Klong Prao). Service is slow because everything is made from scratch, but the food here is incredible. Apple is another great restaurant. It serves better-than-average Thai and Italian dishes. And for a great coffee and a fancier cafe experience, check out Fig Cafe (they have some great vegetarian and vegan options too).
Activities – You can enjoy plenty of free activities on Ko Chang, like hanging out at the beaches or hitting the hiking trails. Cheap activities include renting a kayak for 300 THB ($9 USD) or a Muay Thai lesson starts from 600 THB ($19 USD). Snorkeling tours will cost you between 600-1500 THB ($16-47 USD), while diving trips start from 2,700 THB ($85 USD).
Backpacking Ko Chang Suggested Budgets
How much does it cost to visit Ko Chang?
If you're backpacking Ko Chang, plan to budget about 1,000-1,300 THB ($30-40 USD) per day. This will get you a bed in a hostel dorm without air conditioning, plenty of street food, and some basic activities (like a Muay Thai lesson or a kayak rental).
On a mid-range budget of 2,512-2,827 THB ($80-90 USD) per day, you can afford to stay in a private hotel room with A/C, pay for songtaews everywhere, eat anything you want, and do more excursions like sailing or snorkeling trips.
If you're looking to stay in Western hotels or expensive resorts, eat mostly Western food or in tourist areas, drink a lot, do a lot of diving, you'll spend around 5,025 THB ($160 USD) per day. After that, the sky is the limit.
You can use the chart below to get some idea of how much you need to budget daily, depending on your travel style. Keep in mind these are daily averages – some days you'll spend more, some days you'll spend less (you might spend less every day). We just want to give you a general idea of how to make your budget. Prices are in USD.
Accommodation
Food
Transportation
Attractions
Average Daily Cost
Backpacker
$10
$5
$5
$10-20
$30-40
Mid-Range
$30-40
$10
$10
$30
$80-90
Luxury
$75
$30
$10
$50
$160+
Ko Chang Travel Guide: Money Saving Tips
Thailand is an inexpensive country and it is hard to overspend. However, there are a few things that will blow your budget (such as alcohol and tours). If you're on a really tight budget (or just want to cut costs), here's how to save even more money during your visit.
Go local – The easiest way to save money in Ko Chang is to simply live like a local. Take local buses, eat street food, and drink local beer. The average Thai lives on a less than 7,750 THB ($233 USD) per month in Bangkok, and on even less in the countryside. If you stay at cheap guesthouses and eat street food, you can spend as little as 335 THB ($10 USD) per day.
Eat street food – Speaking of street food, don't be afraid to eat it. It's safe — sometimes it's even safer than restaurant food. If it wasn't, Thai people wouldn't be packed in the food stalls each day. You'll find the best Thai food on the street and it will cost you a fraction of what you pay at a restaurant.
Take advantage of happy hour – Ko Chang's many happy hours have half-priced drinks and 2-for-1 specials.
Buy beer at 7-Eleven – Buying beer at Thailand's ubiquitous 7-Elevens and drinking outside will save you quite a bit on your bar tab. A beer in 7-Eleven is about 35 THB ($1.05 USD), while the same beer will cost 100-170 THB ($3-5 USD) in a restaurant or bar.
Don't book any tours before you arrive – Want to take a cooking class? Go zip-lining? Trek in the jungle? Dive? Wait until you get into Thailand to book anything. Travel agencies are located all over the tourist areas, looking to sell their tours. Time to brush up on your negotiation skills. You're able to purchase these tours online before you arrive, but you'll be paying a lot more!
Couchsurf – Nothing's cheaper than sleeping for free. Couchsurfing connects you with locals who will give you not only a free place to stay but also a local tour guide who can introduce you to all the great places to see.
Stay in hostels – Hostels are both an economical and social choice for Ko Chang. There are tons to choose from, especially in the really touristy areas of Thailand. Bring some earplugs and prepare to save a lot of money!
Pack a water bottle – A water bottle with a purifier will come particularly in handy in Southeast Asia. My preferred bottle is LifeStraw ($49.99).
Stick to Lonely Beach – Lonely Beach is where most of the backpackers hang out, and you'll find the cheapest dining and accommodation options here. It's not as developed as the resort areas!
Where to Stay in Ko Chang
Looking for accommodation in Ko Chang? Here are some of my favorite places to stay in Ko Chang.
How to Get Around Ko Chang
Songtaew – There are no metered taxis on Ko Chang, and the only public transport available are the pick-up trucks (songtaews). Fares are usually listed inside the songtaew, and most drivers are good about charging you the proper prices (you'll sometimes get a shady driver, but it's rare). Rates from the Ao Sapporot or Centrepoint ferry pier to your accommodation will be between 50-150 THB ($1.50-4.70 USD).
You should be able to get to anywhere on the island for 200 THB ($6.30 USD) or less. Kai Bae to Lonely Beach is 50 THB ($1.60 USD), and White Sand Beach to Lonely Beach is 100 THB ($3.20 USD). Klong Prao to Bang Bao is 150 THB ($4.70 USD).
Motorbike/Scooter – Renting a motorbike or scooter is a popular way to get around Ko Chang, but you should feel comfortable enough driving one before you rent. They offer greater flexibility and cheaper rates than songtaews. You can rent a motorbike or scooter for about 250 THB ($7.85 USD) per day, but the price tends to decrease the longer you book. If you're there for longer, you can get a motorbike for 200 THB ($6.30 USD) per five days.
Car Rentals – Car rentals are only necessary if you want to do lots of day tripping or you want to maximize the most of your time on Ko Chang. For example, driving from Salak Phet to Lonely Beach is a 31-mile (50-kilometer) journey one-way, which isn't very comfortable on a two-person scooter. Rental rates start around 1,300 THB ($40 USD) per day for a smaller vehicle, while a pick-up truck starts at about 1,900 THB ($60 USD).
When to Go to Ko Chang
Ko Chang's "cool" season is from November to the end of February, and this is when the island is busiest. Each day has plenty of sunshine and blue skies. The average daily temperatures during this time are between 80-85°F (27-30°C), so as you can see, it's not exactly cool! If you don't mind the crowds, this is a good time to visit.
The hottest days occur from March to April, where temperatures are above 91°F (33°C) on most days. The humidity is also high during this time. A lot of Thais also choose to vacation during these months, so the island will still be very busy — especially during Songkran, Thailand's water festival (which occurs in April). Incidentally, this is a great way to cool down from the heat!
The rainy season happens from the end of May until the end of October. Ko Chang is much quieter during these months, and prices are also a lot lower. Rainy season doesn't mean there's a constant downpour, either. Most likely you'll experience rain each day for a brief amount of time. If you want to just hang out and relax, this is a good time to visit.
How to Stay Safe in Ko Chang
Ko Chang is an incredibly safe place to backpack and travel — even if you're traveling solo and even as a solo female traveler. Violent attacks are uncommon. Petty theft (including bag snatching) is the most common type of crime here. There are some common scams around like unmetered taxis but for the most part, this is a safe place to travel. People are nice and helpful and you're unlikely to get into trouble. The people who do tend to be involved with drinking or drugs or sex tourism.
For tips on specific scams, read this article on the 14 major travel scams to avoid.
Remember to always trust your gut instinct. If a taxi driver seems shady, stop the cab and get out. If your hotel is seedier than you thought, get out of there. Make copies of your personal documents, including your passport and ID. Forward your itinerary along to loved ones so they'll know where you are.
If you don't do it at home, don't do it here!
The most important piece of advice I can offer is to purchase good travel insurance. Travel insurance will protect you against illness, injury, theft, and cancellations. It's comprehensive protection in case anything goes wrong. I never go on a trip without it as I've had to use it many times in the past.
I use World Nomads when I travel. The widget below can help you pick the right policy for your trip:
Photo credits: 3 – rubixcuben, 6 – Franklin Heijnen