Eat Like a King in Bangkok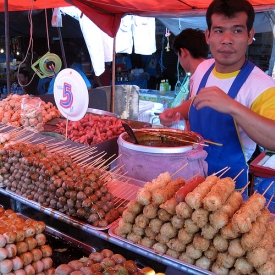 Thailand is known for its delicious food. The country's capital Bangkok is one of the best to get food- both local and international. This cosmopolitan city has some of the best food from around the world. There's nothing you can't get (except Ethiopian as that restaurant recently closed). Whenever I leave Bangkok, I always miss the variety of food I can get in the city. Within walking distance from my apartment is great local food, great Mexican, good Italian, and one of my all time favorite sushi places. You can eat like a king in this city. The down side though is that some of this great world class food also comes with world class prices.
Now one of the best Thailand tips I can give you is to eat lots of Thai food when you visit, though sometimes you might want to mix it up. Variety is the spice of life after all. If you find yourself in Bangkok, looking for some international and local food but at a reasonable price, there are plenty of places to do it.
Thai food may be all over the place but if you are looking for great areas of Bangkok to eat in, you'll find great local markets at:
Soi Rambuttri in Banglamphu- At the far corner of this street is a night market that offers great food at local prices. The guy in front of the 7-11 has delicious food but watch out- it's spicy!
Sukhimvit Soi 33- Right across the street from me, I get to choose between every Thai food imaginable. I walk away stuffed for less than a dollar. Make sure you have the Pad Thai. Even my Thai friends were impressed with how good it is.
Sukhimvit Soi 38 (Thong Lo)- This corner has some amazing local food. You'll find everything you want here. It's a very popular area for dinner. The vendors begin to set up around 5 pm and go until about 2 am. Just exit BTS Thong Lo and you'll see it.
If you are looking for a good guide to street markets in Bangkok, this page is the ultimate resource.
After gorging on Thai food, you might want to get something else. Well, the downside is that all the really good international food is pretty expensive. Compared to back home it's not expensive but by local standards, it's pricey. I love good food as much as the next person but I hate paying a lot for it. But after a few years living in Bangkok, I've managed to find a few good deals. Here are some ways to eat like a king at good restaurants in Bangkok without blowing your budget:
Tapas- There is a good tapas restaurant called Tapas on Sukhimvit Soi 11. Go there before 7 for 2 for 1 Sangria and 3 for 2 tapas. There is a new restaurant that opened up called Catalina at the end of Soi 11. It's nicer and has a bigger menu but does cost a bit more. I'd recommend it over Tapas.
Japanese- The Japanese area of town has great sushi that is ridiculously overpriced. Maru is probably the best restaurant in Bangkok for very traditional Japanese food but a meal will cost around $100 USD. For sushi that is just as good but half the price, head to Isao. It's some of the best sushi I have ever had! There is also Zen down in Silom that is good.
Italian- The best value Italian food is Bella Napoli on Sukhimvit Soi 31. Pizzas are only a few hundred baht and the pasta is just as good. Best of all? It's delicious. Lemoncello on Sukhimvit Soi 11 is also really good.
Arab food- Head down to Nana and Sukhimvit Soi 5 for amazingly delicious and cheap Arab food. Get some great shwarma for only 40 baht. The whole area is filled with good Middle Eastern food.
Mexican- Head to Coyote's in Silom or Sukhimvit 31 for free margaritas on Wednesday (for girls. It's 1/2 price for men) and 200 baht lunch courses. If you want to spend a lot of money, head to Senor Pico's on Sukhimvit Soi 20. Sunrise Tacos will offer you good late night snacks. They aren't the best but when it's 4am and you are a little drunk, they taste delicious.
English- If you are really in the mood for English food, head to the Londoner Pub for lunch. They offer specials and 2 for 1 drinks. There are also about 4 other English pubs in that area if you don't like the Londoner.
Chinese- Head to Chinatown and you'll find everything your heart desires for less than 100 baht per meal.
Israeli- Shoshana's is the best place for Israeli. Located in the street next to Khao San Rd, this place offers mouth watering falafel and other Israeli food. A meal here will cost you less than 200 baht.
Vegetarian- The best vegetarian food in Bangkok is Mai Kaidee's. This place is behind the Burger King near Khao San Rd. Everything is made fresh and it's all about 80 baht. They even offer cooking classes.
Indian- There is a lot of Indian food in Bangkok. A lot. Overall, it's all fairly cheap. The problem comes in finding good Indian food. Moghul Room on Sukhimvit Soi 11 is the best value for your money and very tasty. I bring all the people who visit me there and no one is disappointed. Indus is also really good if you are looking for something a bit fancier.
Bangkok has an amazing variety of food. From great local food to amazing international food, Bangkok has it all. It's one of the reasons why I like living here so much. I eat very well. Now, the next time you visit, you can eat well too.
Want more about Bangkok? See this comprehensive guide to eating, drinking, sightseeing, and having fun in one of my favorite cities in the world.