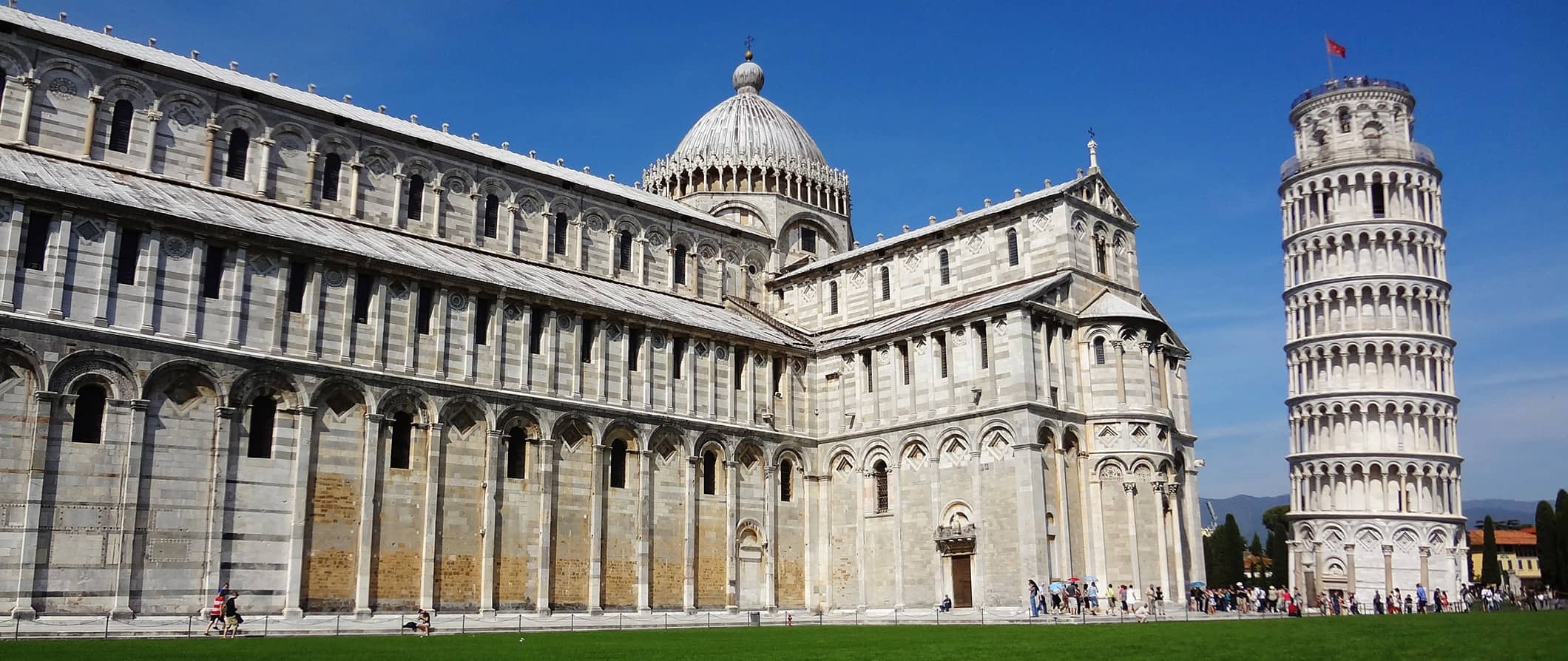 Located in Tuscany, most people visit and travel to Pisa as a day trip from Florence to see the tower (and take those cheesy but super fun photos of them pushing it over or holding it up) but there's a lot more to see and do here than just.
There are historical churches, tons of outdoor activities, delicious food, and lots of history. I urge you to spend a night or two in the city and roam around.
Traveling to Pisa is best enjoyed when you can slow down and enjoy every moment, whether it's perusing the free artwork at Palazzo Blu or people watching at Piazza dei Cavallieri.
Few tourists stay in the city or roam outsider the tower area so, when you do, you'll have the city to yourself and get to see the real local side of the city.
This Pisa travel guide includes all the practical tips and tricks you need to make the most of your visit.

Pisa
Top 5 Things to See and Do in Pisa
1. The Leaning Tower
The Leaning Tower is one of the most famous landmarks in Europe. Although it was meant to be perfectly vertical, the tower started leaning during construction. Come take a look at the tower, walk to the top if it's not closed for restoration, and take the quintessential picture of you trying to hold it up (or push it over)! Admission to the top is €18 EUR.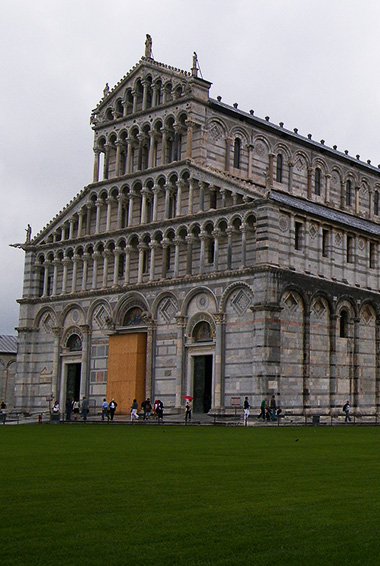 2. Admire the Duomo
Construction of the cathedral began in the 11th century, but some of its most-prominent features, including the bronze doors, weren't added until the 16th-century. The building is stunning, and you could spend a long time admiring all of the artistic details built into the design. Entry is free!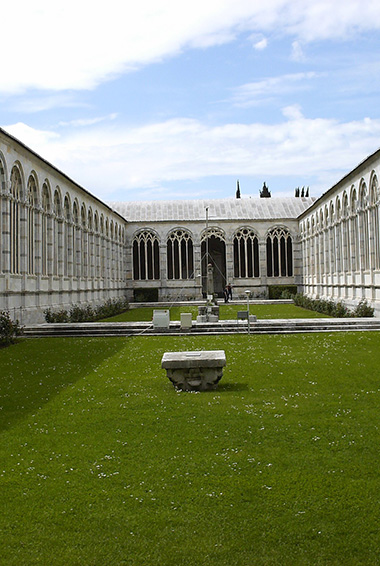 3. Visit Camposanto
According to legend, this cemetery was built on the spot where the Crusaders placed the soil they brought back from the Holy Land. There is a beautiful garden in the cloistered quadrangle, although many of the frescoes have been moved to the Frescoes Room. It's €5 EUR to visit.
4. See Museo di San Matteo
This is an art and history museum housed inside a 13th-century Benedictine convent with a special collection of art from the churches of Pisa. Despite its somewhat petite size, this museum is host to one of the biggest exhibits of Tuscan renaissance art in all of Europe. Admission is €5 EUR and it's open daily (except Mondays).
5. Take a day trip to Lucca
Lucca is a beautiful, small city that is only a 25-minute train ride from Pisa. Walk or bike along the 16th century fortified walls, explore medieval and renaissance buildings, and absorb the city's atmosphere. There are over 100 churches! (Lucca also makes a good day trip from Florence.)
Other Things to See and Do in Pisa
1. Visit the Baptistery of St. John
Located right next to the Leaning Tower of Pisa, the Baptistery of St. John is actually slightly taller than the Tower. Construction of the Baptistery began in the 12th century. The exterior is highly ornamental with intricately-carved reliefs. Its unusual stacked domes and bronze John the Baptist make it one of the most interesting pieces of architecture in Pisa! Because the interior is very plain, it may not be worth battling the crowds to go inside. If you do, it costs €5 EUR ($5.60 USD).
2. Check out the Museo dell'Opera del Duomo
At the east end of Piazza del Duomo is the Museo dell'Opera del Duomo. This building houses an art collection related to the Duomo and Battistero. The ivory sculpture of Madonna and Child carved by Giovanni Pisano in 1299 is one of the museum's best highlights. Note: This is currently closed for extensive renovations. Check when you arrive to find more information.
3. See Piazza dei Cavalieri
Piazza dei Cavalieri (Knights' Square) was once the center of medieval Pisa and likely the site of the Roman Forum. Here you will see the ornate Palazzo dei Cavalieri (Palace of the Convoy), which was once the headquarters for the Knights of St. Stephen, covered with sgraffiti (wall decor) showing allegorical figures and zodiac signs. Now it's the Normale di Pisa University, founded by Napoleon. The Palazzo dell'Orologio (Clock Palace) once the seat of the government in medieval times, is now the university library.
4. Attend a local cultural event
The Gioco del Ponte (Battle on the Bridge) is a historical reenactment that occurs every summer when teams of 20 attempt to battle across the Ponte di Mezzo. Everyone dresses up in 16th-century Spanish costume and plays out battling scenes, including the march of the troops and a "call to arms." On June 16th is the Luminara Festival when all the lights along the river are dimmed, and thousands of candles are lit in honor of patron Saint San Renieri.
5. See the Chiesa di Santa Maria della Spina
Originally built between 1223-1230, this church located on the Arno riverbank is an awesome example of Gothic architecture. The outside of it is extremely ornate and covered in statues and tabernacles. The main attraction, the Madonna of the Rose by Andrea and Nino Pisano, is located inside. Sometimes there are temporary exhibits inside the building.
6. Check out the University of Pisa
First founded in 1343, this is one of the oldest universities in Italy and one of the most respected in Europe. The campus is beautiful with lots of interesting architecture to take in. The oldest academic botanical garden, known as the Orto Botanico di Pisa, can also be found here and dates back to 1544. You can visit the gardens for €4 EUR ($4.50 USD).
7. Get your art fix for free
Palazzo Blu (the Blue Palace) lies along the river in the historic center. It is home to over 300 artworks ranging from the 14th to 20th centuries, many created by famous Pisan artists. Entry is free and open daily (except Mondays) from 10am-7pm with extended hours on the weekends. There are sometimes temporary exhibits as well, but you'll pay about €4 EUR ($4.50 USD) for those. It's worth checking to see what's on, though. The Palazzo Blu has been known to host exhibits from Salvador Dalí and Toulouse-Lautrec.
For more information on specific destinations in Italy, check out these guides:
Pisa Travel Costs
Hostel prices – There aren't many hostels in Pisa. If you come off season, you'll pay is around €20 EUR ($22 USD) a night for a 4-6 bed dorm room but around €25-35 EUR ($28-40 USD) in the high season. Expect to pay around €50 EUR ($56 USD) for a private room in the low season (€70 EUR/$79 USD in the high season).
Budget hotel prices – A night in a 2-star budget hotel starts around €36 EUR ($40 USD) for basic, small room with a private bathroom. This is true for both peak season and off season.
On Airbnb, you can find shared rooms starting around €18 EUR ($20 USD) per night, but private rooms are about the same. Entire apartments start around €50 EUR ($56 USD) per night. During the high season, prices double.
Average cost of food – It's easy to have a great (and expensive) Italian meal here, but it's also easy to eat for less than €15 EUR ($17 USD) a day. Most restaurant meals with wine will cost around €25 EUR ($28 USD) per person. In tourist hot spots, add about €12 EUR ($13.50 USD) to that. Quick eats like pizza, paninis, and light snacks will cost between €3-5 EUR ($3.40-5.60 USD). Fast food will cost €9 EUR ($10 USD) for a value meal.
At all restaurants, add €1-3 EUR ($1.10-3.35 USD) for the "coperto" (sit down fee) and bread. If you're staying somewhere with a kitchen, expect to pay €60 EUR ($67 USD) per week for groceries that will include pasta, vegetables, chicken, and other basic foods. If you find a discount grocer like Eurospin, In's Mercato, LD Market, Lidl or Penny Market, you'll pay a lot less.
Backpacking Pisa Suggested Budgets
On a backpacker's budget in Pisa, you'll spend about €47 EUR ($53 USD) per day. The budget will cover a hostel dorm, cooking about 75% of your meals, some wine, public transportation, and any free activities in the city.
On a more mid-range budget of about €102 EUR ($115 USD), you can stay in a two-star budget hotel/Airbnb/private hostel room, enjoy a few cheap meals and drinks, public transportation, a few Ubers, and a couple of paid museums and tours. The biggest part of this budget will be accommodation as it's a bit pricey in the city.
If you want to live the high life here, a luxury budget will cost you at least €207 EUR ($233 USD) per day. You'll be able to stay in a nice 4-star hotel, eat and drink whatever you want, take taxis everywhere, and see and do any activity or tour you want. The sky is the limit (and this budget range is the floor).
You can use the chart below to get some idea of how much you need to budget daily. Keep in mind these are daily averages – some days you'll spend more, some days you'll spend less (you might spend less every day). We just want to give you a general idea of how to make your budget. Prices are in USD.
Accommodation
Food
Transportation
Attractions
Average Daily Cost
Backpacker
$20
$15
$8
$10
$53
Mid-Range
$40
$30
$15
$30
$115
Luxury
$70
$85
$40
$40
$235
Pisa Travel Guide: Money Saving Tips
Pisa is a tourist hotspot thanks to the Leaning Tower, which means it can be kind of pricey to visit. Here are some ways to save money in Pisa:
Avoid the summer – Summertime is hot, crowded, and expensive. Tourist flock to the city as they stop by on their way through Italy, so accommodations are pricier and harder to come by. Consider going in the offseason around February when the weather is perfect you have the town to yourself.
Pass on the bread – Some restaurants will charge you extra for bread or breadsticks on the table but not tell you about it until the check comes, and you've polished it off. Send it back if you don't want to be tempted.
Drink the tap water – Ask for tap water or you will automatically get expensive bottled water included on your bill. Moreover, you can refill your bottles of water at any of the drinking fountains throughout Italy. The water is fine to drink.
Eat a panini & pizza – Eating out every meal in the popular cities of Italy is an expensive affair. Buy paninis and pizza by the slice for just a few dollars, and save a lot of money.
Couchsurf – Accommodation is quite expensive in Italy. Use Couchsurfing to stay with locals who have extra beds and couches for free, get a kitchen, and make a local friend! I use the service a lot and find it not only saves me money, but I meet great people too.
Go on a free walking tour – This is a great way to learn the history behind the places you are seeing and to avoid missing any must-see stops. AiroTour Pisa has a tour that can show you what the city has to offer. Advance reservations are required.
Where To Stay in Pisa
Pisa doesn't have many hostels, but here are my recommended places to stay in Pisa that are good value:
How to Get Around Pisa
Pisa is a very small city, so it's easy to get around on foot. Most of the major attractions are within walking distance. Your transportation options are limited, but they include:
Bus – There is a small network of buses in Pisa that will take you just about everywhere you need to go. The bus fare is 1.50 EUR ($1.70 USD) for a single ride ticket. Tickets are purchased on the bus.
Taxis – Taxis are very expensive here (like everywhere in Italy), so it's best to avoid them and walk through the city instead. If you do take them. base rates are from 3.15 EUR ($3.55 USD) and then 1.05 EUR ($1.18 USD) per kilometer. A 10-minute ride from the Leaning Tower would cost about 7.70 EUR ($8.65 USD).
When to Go to Pisa
Peak season is during the summer, from June to September. Although it's very busy during these months, the weather is always fantastic — there's almost constant sunshine, and the skies are clear and blue. The average temperature during this time is 86°F (30°C).
April to May is the shoulder season, and in my opinion this is the best time to visit. It's warm, prices are lower, and all the sites are uncrowded. The average temperature is 64°F (18°C) per day.
Winter in Pisa is from October to March. Temperatures rarely drop below 41°F (5°C) and February can sometimes to be rainy.
How to Stay Safe in Pisa
Pisa is a very safe place to backpack and travel – even if you're traveling solo or even as a solo female traveler. Your bigget concern here is pick-pocketing, which unfortunately is a common occurence at the Leaning Tower. Keep your money safe, and be vigilant!
If you're worried about getting scammed, you can read about the 14 travel scams to avoid right here.
Always trust your gut instinct. If a taxi driver seems shady, stop the cab and get out. If your hotel is seedier than you thought, get out of there. Make copies of your personal documents, including your passport and ID. Forward your itinerary along to loved ones, so they'll know where you are.
If you don't do it at home, don't do it in Pisa!
The most important piece of advice I can offer is to purchase good travel insurance. Travel insurance will protect you against illness, injury, theft, and cancellations. It's comprehensive protection in case anything goes wrong. I never go on a trip without it as I've had to use it many times in the past. You can use the widget below to find the policy right for you:
Pisa Travel Guide: The Best Booking Resources
These are my favorite companies to use when I travel to Pisa. They are included here because they consistently find deals, offer world-class customer service and great value, and overall, are better than their competitors. They are the ones I use the most and are always the starting points in my search for travel deals.
Momondo – This is my favorite booking site. I never book a flight without checking here first.
Skyscanner – Skyscanner is another great flight search engline which searches a lot of different airlines, including many of the budget carriers that larger sites miss. While I always start with Momondo, I use this site too as a way to compare prices.
Airbnb – Airbnb is a great accommodation alternative for connecting with homeowners who rent out their homes or apartments.
Hostelworld – This is the best hostel accommodation site out there, with the largest inventory, best search interface, and widest availability.
Couchsurfing – This website allows you to stay on people's couches or spare rooms for free. It's a great way to save money while meeting locals who can tell you the ins and outs of their city. The site also lists events you can attend to meet people (even if you're not staying with someone).
Booking.com – The best all around booking site that constantly provides the cheapest and lowest rates. They have a no money down policy, great interface, and the widest selection of budget accommodation. In all my tests, they've always had the cheapest rates out of all the booking websites.
ItaliaRail – A great resource to use when planning your trip via train around Italy is ItaliaRail. You can compare prices, routes, and schedules and save up to 60% on your tickets.
Intrepid Travel – If you want to do a group tour around Europe, go with Intrepid Travel. They offer good small group tours that use local operators and leave a small environmental footprint. If you go on a tour with anyone, go with them. And, as a reader of this site, you'll get a discount when you click the link!
The Man in Seat 61 – This website is the ultimate guide to train travel anywhere in the world. They have the most comprehensive information on routes, times, prices, and train conditions. If you are planning a long train journey or some epic train trip, consult this site.
Rome 2 Rio – This website allows you to see how to get from point A to point B the best and cheapest way possible. It will give you all the bus, train, plane, or boat routes that can get you there as well as how much they cost.
FlixBus – German based Flixbus has routes between 20 European countries with prices starting as low €5 EUR ($6 USD)! Their buses include WiFi, electrical outlets, and up to three 3 free bags.
Bla Bla Car – BlaBlaCar is a ridesharing website that lets you share rides with vetted local drivers by pitching in for gas. You simply request a seat, they approve, and off you go! It's a cheaper and more interesting way travel than by bus or train!
Take Walks – A day tour company in Italy (as well as other destinations). What makes them so good is they get you inside access to attractions and places you can't get elsewhere. Their guides rock too!
EatWith – This website allows you to eat home cooked meal with locals. Locals post listings for dinner parties and specialty meals that you can sign up for. There is a fee (everyone sets their own price) but this is a great way to do something different, pick a local's brain, and make a new friend.
World Nomads – I buy all my travel insurance from World Nomads. They have great customer service, competitive prices, and in-depth coverage. I've been using them since I started traveling in 2003. Don't leave home without it!
Pisa Gear and Packing Guide
If you're heading on the road and need some gear suggestions, here are my tips for the best travel backpack and for what to pack!
The Best Backpack for Travelers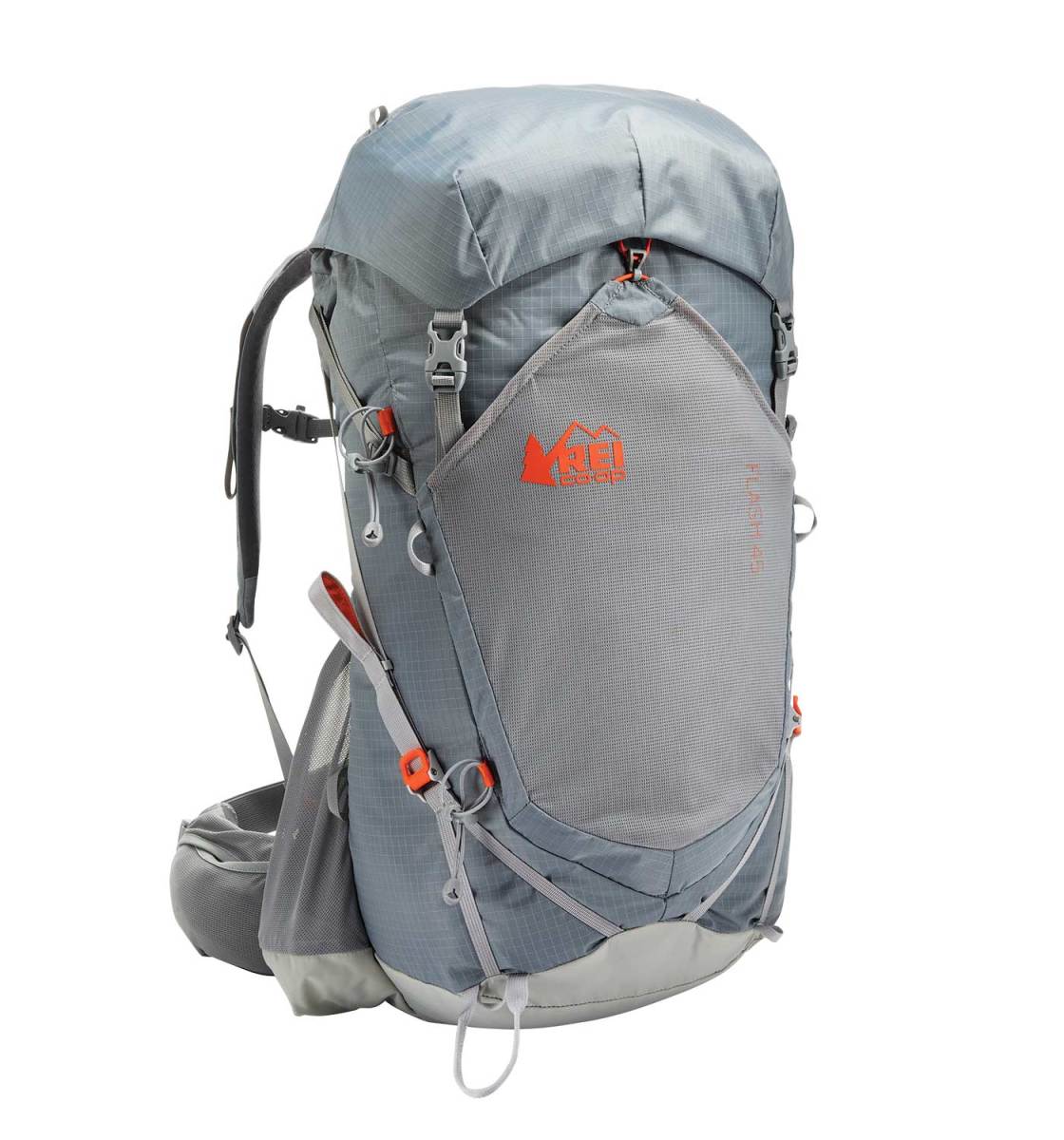 What's the best backpack for traveling long-term? I recommend the
REI Flash 45 Pack
. It's light and comfy, front loading, and fits perfectly in an airplane's overhead bin.
Size:
45-47L
Straps:
Thick and cushy with compression technology that pulls the pack's load up and inwards so it doesn't feel as heavy.
Features:
Removable top lid, large pocket at the front, hydration compatible, contoured hip belt
If you want something different, refer to my article on how to choose the best travel backpack for tips on picking a pack and other backpack suggestions.
What to Pack for Your Trip
Clothes
1 pair of jeans (heavy and not easily dried, but I like them; a good alternative is khaki pants)
1 pair of shorts
1 bathing suit
5 T-shirts (Unbound Merino is my preferred company. If you're a member of NM+, you can get 15% off your purchase)
1 long-sleeved T-shirt
1 pair of flip-flops
1 pair of sneakers
6 pairs of socks (I always end up losing half)
5 pairs of boxer shorts (I'm not a briefs guy!)
1 toothbrush
1 tube of toothpaste
1 razor
1 package of dental floss
1 small bottle of shampoo
1 small bottle of shower gel
1 towel
Deodorant
Small Medical Kit (safety is important!!!)
Miscellaneous
Female Travel Packing List
I'm not a woman, so I don't know what a woman wears, but Kristin Addis, our solo female travel guru, wrote this list as an addition to the basics above:
Clothing
1 swimsuit
1 sarong
1 pair of stretchy jeans (they wash and dry easily)
1 pair of leggings (if it's cold, they can go under your jeans, otherwise with a dress or shirt)
2-3 long-sleeve tops
2-3 T-shirts
3-4 spaghetti tops
1 light cardigan
Toiletries
1 dry shampoo spray & talc powder (keeps long hair grease-free in between washes)
1 hairbrush
Makeup you use
Hair bands & hair clips
Feminine hygiene products (you can opt to buy there too, but I prefer not to count on it, and most people have their preferred products)
For more on packing, check out these posts:
Pisa Travel Guide: Related Articles
Want more info? Check out all the articles I've written on backpacking/traveling Italy and continue planning your trip: