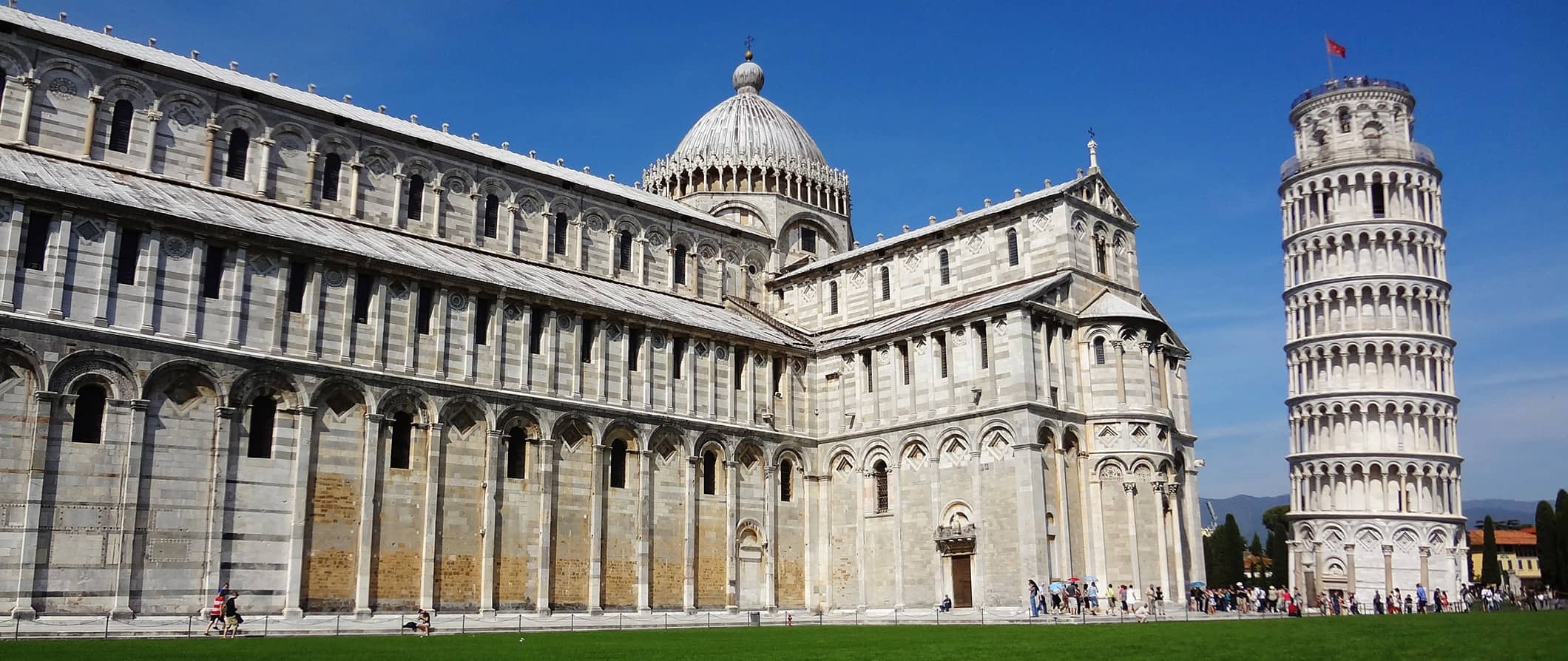 Located in Tuscany, most people visit Pisa as a day trip from Florence to see the Leaning Tower and take those cheesy (but fun) photos of them pushing it over or holding it up.
But there's a lot more to Pisa than just the tower, which, along with the Cathedral, Baptistery, and Campo Santo comprise a UNESCO World Heritage Site. There are beautiful historic churches, tons of outdoor activities, delicious food, and lots of history. You can easily spend a couple of days here without getting bored.
Because it's a day trip destination, few tourists stay in the city — or even visit beyond the tower area — so if you do stay longer you'll have the city to yourself.
This Pisa travel guide can help you plan your trip, save money, and make the most of your time in this underrated destination!
Top 5 Things to See and Do in Pisa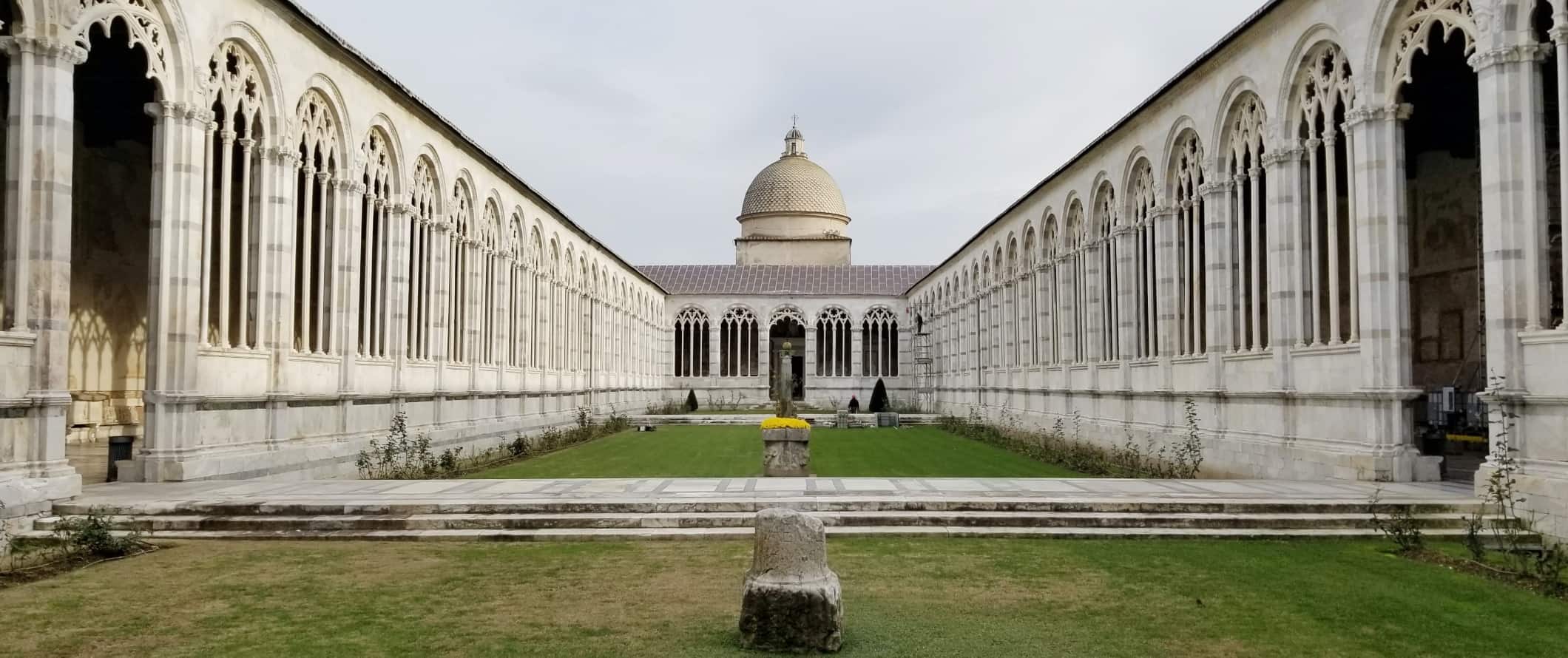 1. See the Leaning Tower
Pisa's most famous attraction was started in 1173 and finished in 1399. It's the bell tower of Pisa's cathedral, located next door. Although it was meant to be perfectly vertical, the tower started leaning during construction due to the weight of the building on an unstable foundation. Come take a look at the Romanesque tower, walk the 251 steps to the top, and take the quintessential picture of you trying to hold it up (or push it over)! Admission to the top is 20 EUR or 27 EUR for a ticket that includes all the monuments in the complex. DiscoveryPisa runs guided tour of all three sites for 30 EUR if you want a more detailed experience.
2. Admire the Duomo
Construction of this medieval Roman Catholic cathedral began in the 11th century, but some of its most prominent features, including the bronze doors, weren't added until the 16th century. The stunning building, designed in the Pisan Romanesque style, is impressive inside and out, with lines of columns and arches, a Byzantine-style mosaic at the apse, and a golden ceiling added by the Medicis (a powerful Italian dynasty) in the 16th century. It's free to enter, but you have to get a ticket that designates a time slot from the ticket office (if you buy a ticket to the Leaning Tower, entrance to the cathedral is included, so you won't need to get a separate ticket). Just be sure to dress respectfully since it is a religious site.
3. Visit Camposanto
According to legend, this cemetery was built on the spot where Crusaders placed soil they brought back from the Holy Land ("Campo Santo" translates as "Holy Field"). There is a beautiful garden in the cloistered quadrangle, numerous 14th-century frescoes in the Frescoes Room, and three chapels. The lamp that Galileo (the father of observational astronomy) used in his astronomical calculations is located in the Aulla Chapel. It's 7 EUR to visit on its own, though it's also part of the 27 EUR Combined Tower Ticket.
4. Tour the Museo di San Matteo
This is an art and history museum housed inside an 11th-century Benedictine convent with a special collection of art from the churches of Pisa. Despite its somewhat petite size, this museum is host to one of the biggest exhibits of Tuscan Renaissance art in all of Europe. Most of the museum focuses on works from the early medieval period to the 16th century, but there is also an exhibit with artifacts discovered from archaeological excavations in and around Pisa. Admission is 5 EUR.
5. Take a day trip to Lucca
Lucca is a beautiful, small city that's only a 25-minute train ride from Pisa. Walk or bike along the 16th-century fortified walls, explore medieval and renaissance buildings, climb the 14th-century tower for views over the city, and absorb the city's atmosphere. Lucca is known as the city of 100 churches due to the many, many churches here. (Lucca also makes a good day trip from Florence.)
Other Things to See and Do in Pisa
1. Take a free walking tour
One of the first things I do when I arrive in a new city is take a free walking tour. It's the best budget-friendly way to see the highlights and connect with a local guide who can answer all your questions. Free Walking Tour Pisa offers regular tours that cover all the main sights. Just be sure to tip your guide!
2. Visit the Baptistery of St. John
Located right next to the Leaning Tower of Pisa, the Baptistery of St. John is a religious building that's actually taller than the Leaning Tower. Construction of the Baptistery began in 1152 and was completed in 1363. The exterior is highly ornamental with intricately carved reliefs and is a mix of Romanesque and Gothic styles. Its unusual stacked domes and bronze John the Baptist statue make it one of the most interesting pieces of architecture in Pisa. Because the interior is very plain, it may not be worth battling the crowds to go inside. If you do, it costs 7 EUR (also included in the 27 EUR Tower Combination Ticket).
3. Check out the Museo dell'Opera del Duomo
At the east end of Piazza del Duomo is the Museo dell'Opera del Duomo. This building houses an art collection related to the Duomo and Baptistery. The ivory sculpture of Madonna and Child carved by Giovanni Pisano in 1299 is one of the museum's best highlights. There's also a cafe with an outdoor terrace that offers unobstructed views of the Leaning Tower. Admission is 7 EUR (also included in the 27 EUR Tower Combination Ticket).
4. See Piazza dei Cavalieri
Piazza dei Cavalieri (Knights' Square) was once the center of medieval Pisa and likely the site of the city's Roman Forum. Here you can see the ornate Palazzo dei Cavalieri (Palace of the Convoy), which was once the headquarters for the Knights of St. Stephen (a Catholic military order founded in 1561). Today, it's home to the Normale di Pisa University, a university founded by Napoleon Bonaparte in 1810. The Palazzo dell'Orologio (Clock Palace), once the seat of the government in the Middle Ages, is now the university library.
5. Attend a local cultural event
The Gioco del Ponte (Battle on the Bridge) is a historical reenactment that occurs every summer when teams of 20 attempt to battle across the Ponte di Mezzo. It's part of Pisan June, a series of events that take place throughout the month of June in honor of the city's patron saint, San Renieri. Everyone dresses up in 16th-century costumes and plays out battle scenes, including the march of the troops and a "call to arms." On June 16th, the Luminara Festival takes place, when all the lights along the river are dimmed and thousands of candles are lit. Check the local tourism office to see what other events and festivals are happening during your visit.
6. See the Chiesa di Santa Maria della Spina
Originally built between 1223-1230, this church is located on the Arno riverbank and is an awesome example of Gothic architecture. Its name derives from the fact that it supposedly used to hold a thorn from Jesus's crown of thorns. The exterior is extremely ornate and covered in statues and tabernacles. The main attraction, the Madonna of the Rose by Andrea and Nino Pisano, is located inside, where there are sometimes temporary exhibits as well. It's free to visit.
7. Check out the University of Pisa
First founded in 1343, this is one of the oldest universities in Italy and one of the most respected in Europe. The campus is beautiful, with lots of interesting architecture to admire. The oldest academic botanical garden in Europe, which dates to 1544 and is known as the Orto Botanico di Pisa, can also be found here. Admission for the garden is 4 EUR and includes access to the university's Botanical Museum, too.
8. Get your art fix for free
Palazzo Blu (the Blue Palace) is an art and cultural center in a 14th-century mansion along the Arno River in Pisa's historic center. It is home to over 300 works of art ranging from the 14th to 20th centuries, many created by famous Pisan artists. The Palazzo Blu has been known to host exhibits from masters like Salvador Dalí and Toulouse-Lautrec. There are also several rooms set up like the 19th-century aristocratic mansion that the building once was, as well as an exhibition dedicated to archaeology and medieval history. Admission is 3 EUR (sometimes with an additional fee for temporary exhibitions).
9. Visit the seaside
Pisa's historic monuments get all the hype, and few visitors realize just how close the city is to the Mediterranean. For less than 4 EUR round-trip, you can take a 15-minute bus ride to the beach town of Marina di Pisa. Stick your toes in the sand, walk along the boardwalk, dine at one of the many harborfront restaurants, and watch the sunset over the water.
10. See Pisa's most famous mural
Located on the back of the Sant'Antonio Abate church, this mural was created by pop artist Keith Haring in 1989. He regarded it as one of his most important works and was one of the last murals he completed before his death just one year later. Entitled "Tuttomondo," which translates to "All World," the mural's numerous cartoon figures represent different aspects of peace and harmony. It's one of the largest murals in all of Europe.

For more information on other cities in Italy, check out these guides:
Pisa Travel Costs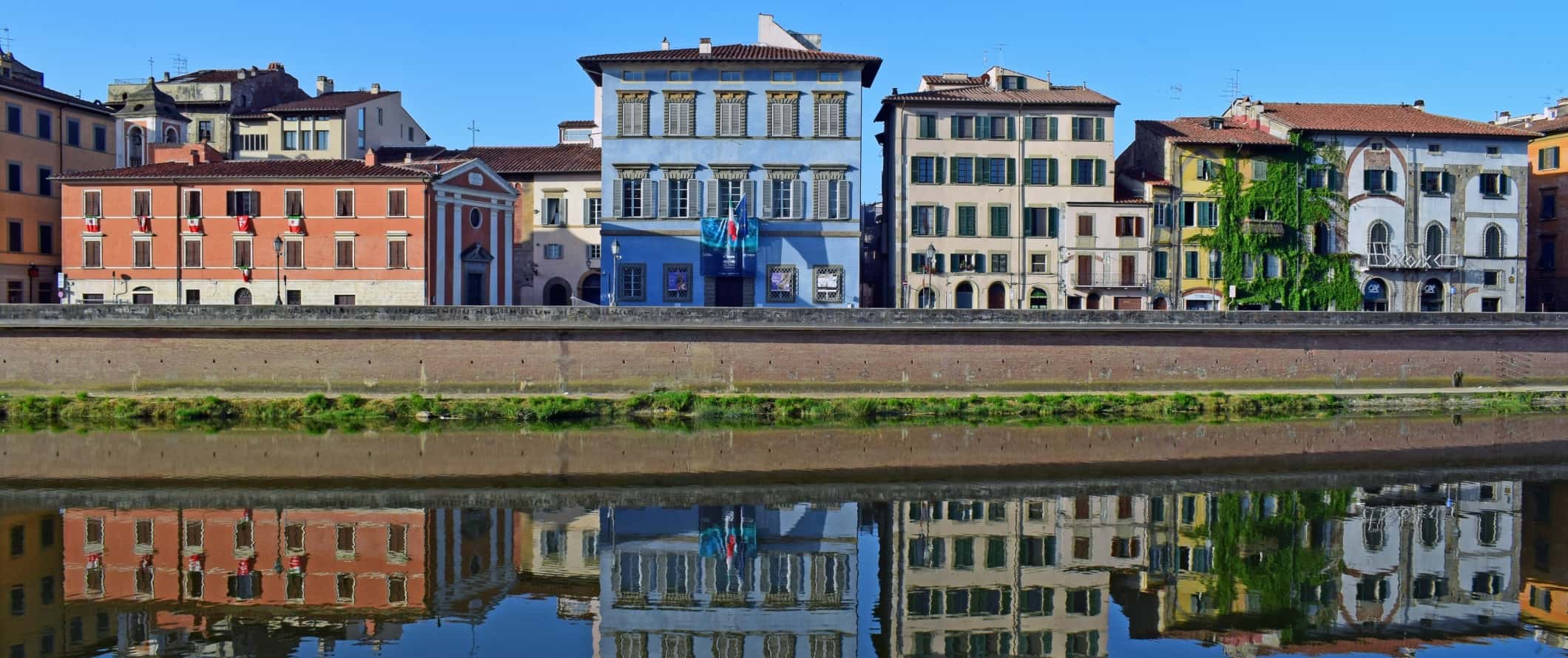 Hostel prices – For a bed in a dorm with 6-8 beds, prices range from 29-40 EUR per night. For a private room, expect to pay 75-110 EUR. Free Wi-Fi is standard but self-catering facilities and free breakfast are rare. Prices don't fluctuate too much per season.
Budget hotel prices – Prices range from 55-75 EUR per night for a budget hotel. Expect basic amenities like free Wi-Fi, TV, and AC. Some include free breakfast.
On Airbnb, you can find private rooms starting at 35-55 EUR per night. Entire homes/apartments cost 65-90 EUR and up per night. Expect prices to double if you don't book early.
Average cost of food – Italian cuisine is beloved around the world, though every region in Italy offers its own distinct flavor. Tomatoes, pasta, olives, and olive oil form the backbone of most meals, with meat and fish and various cheeses rounding out the menu.
In Pisa, seafood is very popular, owing to the city's location on the coast. Don't miss trying fried eels, crostini toscani (chicken liver pate), and tagliatelle al tartufo (pasta with truffles).
Quick eats like pizza, paninis, and light snacks cost between 3-7 EUR. Fast food (think McDonald's) costs 7 EUR for a value meal. Chinese restaurants, where main dishes cost only 6-9 EUR, are another option for affordable eats.
Most mid-range restaurant meals with wine and an appetizer cost around 25 EUR. Expect to pay more for meals bought in touristy areas of the city. For a more casual pasta or pizza meal, expect to pay closer to 10-15 EUR. Seafood dishes start at around 15-20 EUR.
Beer costs around 4.50 EUR while a latte/cappuccino is 1.50 EUR. Bottled water is less than 1 EUR.
If you're staying somewhere with a kitchen, expect to pay 50-60 EUR per week for groceries. This gets you basic staples like pasta, rice, seasonal produce, and some meat.
Backpacking Pisa Suggested Budgets
On a backpacker budget of 60 EUR per day, you can stay in a hostel dorm, cook all your meals, limit your drinking, take public transportation to get around, and stick to mostly free activities like seeing the Leaning Tower and taking free walking tours. If you want to enjoy a couple of drinks, add 5-10 EUR to your daily budget.
On a mid-range budget of 135 EUR per day, you can stay in a budget hotel or private room on Airbnb, eat out for most meals, enjoy a couple of drinks, take the occasional taxi to get around, and do more paid activities like climbing the Leaning Tower and visiting the museums.
On a "luxury" budget of 225 EUR or more per day, you can stay in a nicer hotel or Airbnb, eat out for all your meals, drink as much as you want, take more taxis or rent a car, and do whatever tours and activities you want. This is just the ground floor for luxury though. The sky is the limit!
Accommodation
Food
Transportation
Attractions
Average Daily Cost
Mid-Range
70
30
15
20
135
Pisa Travel Guide: Money-Saving Tips
Pisa is a tourist hotspot thanks to the Leaning Tower, which means it can be kind of pricey to visit — especially during the summer. However, outside the main tourist area, the city is not too expensive. Here are some ways to save money in Pisa:
Avoid the summer – Summertime is hot, crowded, and expensive. Tourists flock to the city as they stop by on their way through Italy, so accommodations are pricier and harder to come by. Consider visiting in the shoulder season when the weather is still nice and the crowds have thinned.
Get a combination monument ticket – No matter what attractions in Pisa you plan on seeing, you'll save money by getting a combination ticket. You can get a ticket that includes all of the main historic sights and climbing the tower for 27 EUR, or just the sights without the tower for 10 EUR. Considering a ticket to a single attraction is 7 EUR and the tower itself is 20 EUR, if you only visit three sights, you're already saving money.
Pass on the bread – Some restaurants charge extra for bread or breadsticks on the table — but they won't tell you about it until the bill comes. Send it back if you don't want to be tempted.
Eat cheap – Eating out every meal is expensive. Buy paninis and pizza by the slice for just a few dollars to save money. Additionally, if you're on a tight budget, cook most of your meals. Groceries are affordable and you'll save a ton.
Stay with a local – Accommodation is quite expensive in Pisa so use Couchsurfing to stay with locals for free. Not only will you save money but you'll get to connect with a local who can share their insider tips and advice!
Go on a free walking tour – This is a great way to learn the history behind the places you are seeing and to avoid missing any must-see stops. Just be sure to tip your tour guide at the end!
Bring a water bottle – The tap water here is safe to drink so bring a reusable water bottle to save money and reduce your plastic use. LifeStraw is my go-to brand as their bottles have built-in filters to ensure your water is always clean and safe.
Where to Stay in Pisa
Pisa doesn't have many hostels so be sure to book early if you want budget accommodation. Here are my recommended places to stay in Pisa:
How to Get Around Pisa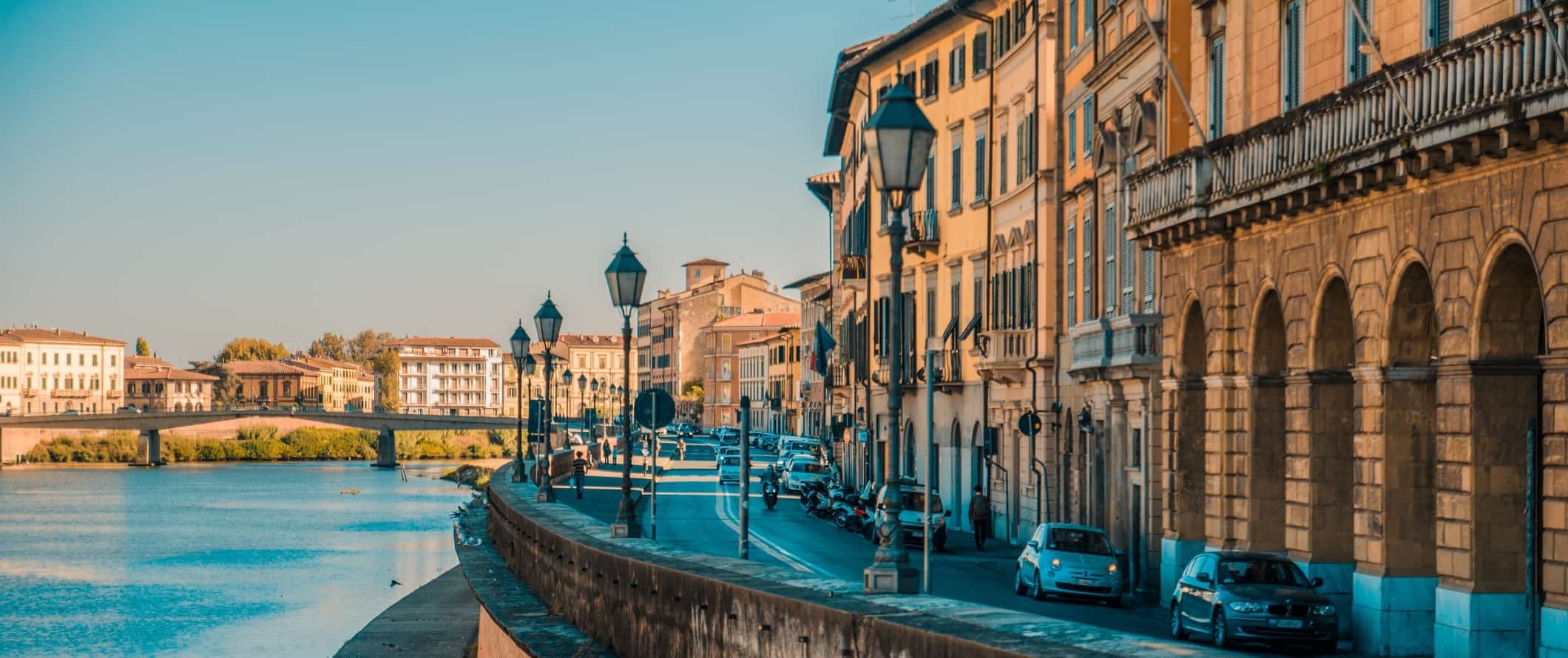 Public transportation – Pisa is a very small city, so it's easy to get around on foot. Most of the major attractions are within walking distance but there is a small network of buses in Pisa that can take you just about everywhere you need to go. Bus fare is 1.50 EUR for a single ticket and tickets are purchased on the bus.
Taxis – Taxis are expensive here so it's best to avoid them. If you do take them, base rates are 3.15 EUR and then 1.52 EUR per kilometer. They add up fast so stick to the bus!
Bike rental – Pisa has lots of bike routes in and around the city. You can find bike rentals for around 15 EUR per day. E-bikes start at 34 EUR per day.
Car rental – Car rentals are super affordable here, costing as little as 20 EUR per day for a multi-day rental. That said, you don't need a car to get around Pisa so I'd skip the rental unless you're heading out to explore the region. Just be cautious as Italian drivers are known to be aggressive. For the best rental car deals, use Discover Cars
When to Go to Pisa
Peak season in Pisa is during the summer, from June to September. Although it's very busy during these months, the weather is fantastic. There's almost constant sunshine and the skies are clear and blue. Temperatures hover between 26-30°C (78-86°F). Expect crowds and high prices. Book early if you're visiting during this time.
April to May is the shoulder season, and (in my opinion) this is the best time to visit. It's warm, prices are lower, and all the sites are uncrowded. The average temperature is 18°C (64°F) per day.
Winter in Pisa is from October to March. Temperatures rarely drop below 5°C (41°F) and February can sometimes be rainy. This isn't the best time to visit, but the city is quieter and a bit cheaper.
How to Stay Safe in Pisa
Pisa is a very safe place to backpack and travel — even if you're traveling solo and even as a solo female traveler. Your biggest concern here is going to be pickpocketing, which is a common occurrence at the Leaning Tower. Keep your valuables safe and out of sight and always be vigilant, especially on public transportation as pickpockets can strike on crowded buses.
Be mindful of street vendors who sell fake items (including fake luxury goods). Vendors can be aggressive so it's best to ignore them. You can be fined by the police for buying from illegal street vendors so simply pass them by.
While scams here are rare, if you're worried about getting ripped off you can read about common travel scams to avoid right here.
Solo female travelers should generally feel safe here, however, the standard precautions apply (never leave your drink unattended at the bar, never walk home alone intoxicated, etc.).
If you experience an emergency, dial 113 for assistance.
Always trust your gut instinct. Make copies of your personal documents, including your passport and ID. Forward your itinerary along to loved ones, so they'll know where you are.
The most important piece of advice I can offer is to purchase good travel insurance. Travel insurance will protect you against illness, injury, theft, and cancellations. It's comprehensive protection in case anything goes wrong. I never go on a trip without it as I've had to use it many times in the past. You can use the widget below to find the policy right for you:
Pisa Travel Guide: The Best Booking Resources
These are my favorite companies to use when I travel. They consistently have the best deals, offer world-class customer service and great value, and overall, are better than their competitors. They are the companies I use the most and are always the starting point in my search for travel deals.
Skyscanner – Skyscanner is my favorite flight search engine. They search small websites and budget airlines that larger search sites tend to miss. They are hands down the number one place to start.
Hostelworld – This is the best hostel accommodation site out there with the largest inventory, best search interface, and widest availability.
Booking.com – The best all around booking site that constantly provides the cheapest and lowest rates. They have the widest selection of budget accommodation. In all my tests, they've always had the cheapest rates out of all the booking websites.
HostelPass – This new card gives you up to 20% off hostels throughout Europe. It's a great way to save money. They're constantly adding new hostels too. I've always wanted something like this and glad it finallt exists.
Get Your Guide – Get Your Guide is a huge online marketplace for tours and excursions. They have tons of tour options available in cities all around the world, including everything from cooking classes, walking tours, street art lessons, and more!
The Man in Seat 61 – This website is the ultimate guide to train travel anywhere in the world. They have the most comprehensive information on routes, times, prices, and train conditions. If you are planning a long train journey or some epic train trip, consult this site.
Rome2Rio – This website allows you to see how to get from point A to point B the best and cheapest way possible. It will give you all the bus, train, plane, or boat routes that can get you there as well as how much they cost.
FlixBus – Flixbus has routes between 20 European countries with prices starting as low 5 EUR! Their buses include WiFi, electrical outlets, a free checked bag.
SafetyWing – Safety Wing offers convenient and affordable plans tailored to digital nomads and long-term travelers. They have cheap monthly plans, great customer service, and an easy-to-use claims process that makes it perfect for those on the road.
LifeStraw – My go-to company for reusable water bottles with built-in filters so you can ensure your drinking water is always clean and safe.
Unbound Merino – They make lightweight, durable, easy-to-clean travel clothing.
Top Travel Credit Cards – Points are the best way to cut down travel expenses. Here's my favorite point earning credit cards so you can get free travel!
Walks of Italy – This walking tour company provides inside access to attractions and places you can't get elsewhere. Their guides rock and they have some of the best and most insightful tours in all of Italy.
BlaBlaCar – BlaBlaCar is a ridesharing website that lets you share rides with vetted local drivers by pitching in for gas. You simply request a seat, they approve, and off you go! It's a cheaper and more interesting way to travel than by bus or train!
Pisa Travel Guide: Related Articles
Want more info? Check out all the articles I've written on backpacking/traveling Italy and continue planning your trip: