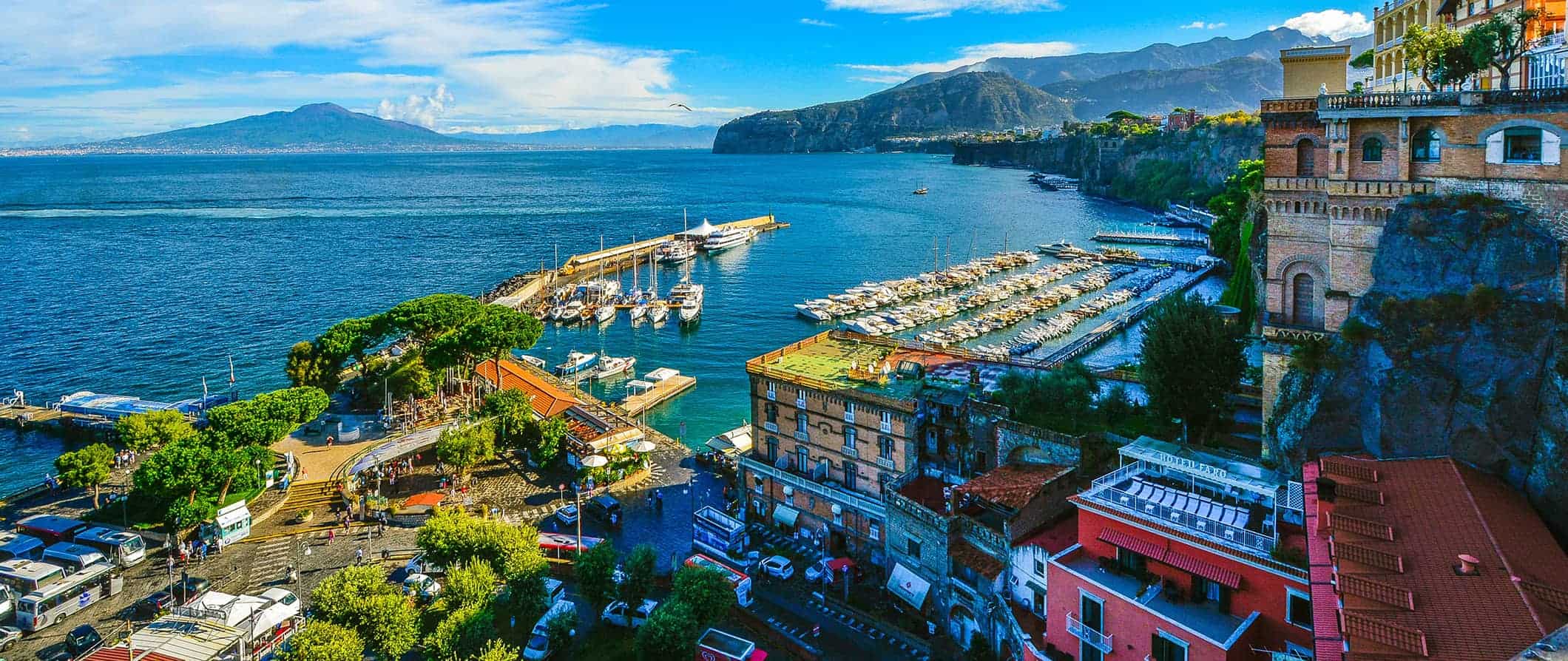 Sorrento is a small city in southwestern Italy, surrounded by a dreamy landscape of rolling hills, deep valleys, and the Lattari Mountains.
In the town itself, there isn't a whole lot to do, but Sorrento makes an ideal starting point for numerous excursions to nearby cities and islands around the famous Amalfi Coast, like Capri and Ischia.
Sorrento makes for a nice stop for a couple of days to enjoy the Mediterranean vibes, though I think it's best used as a gateway city to the rest of the region. I especially love driving along the winding coastal roads overlooking the sea. The area is the perfect place for a road trip.
You can use this Sorrento travel guide to help you plan your visit, save money, and make the most out of your time in this beautiful slice of Italia.
Top 5 Things to See and Do in Sorrento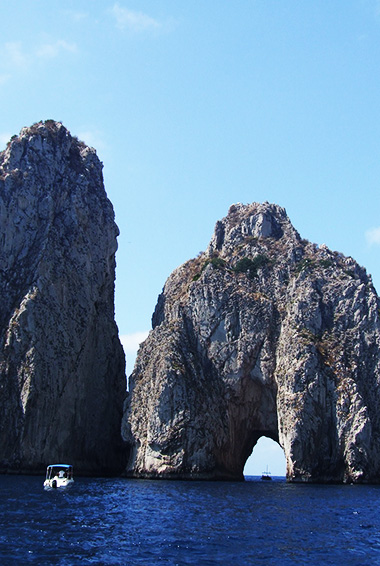 1. Head to Capri
Just a quick ferry ride from Sorrento, Capri has beautiful beaches, delicious seafood, small villages to explore, and hiking trails. Make sure you go to the famous Blue Grotto, a small cave where the light turns the water neon blue.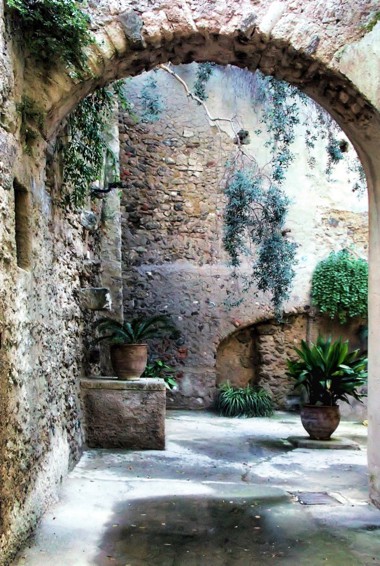 2. Visit Castello Aragonese
Located on Ischia, this castle dates to the 5th-century. At various points in time, it has served as a defensive stronghold, a noble's court, and even a convent. Admission to the site costs 12 EUR.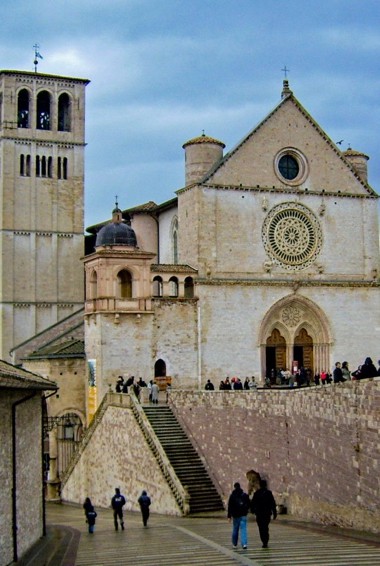 3. Tour the Convent di San Francesco
Three buildings form the Convent di San Francesco: the church, the convent, and the famous cloister. The convent preserves important works in wood and its unique 14th-century architecture incorporates styles from pagan temples and ancient settlements.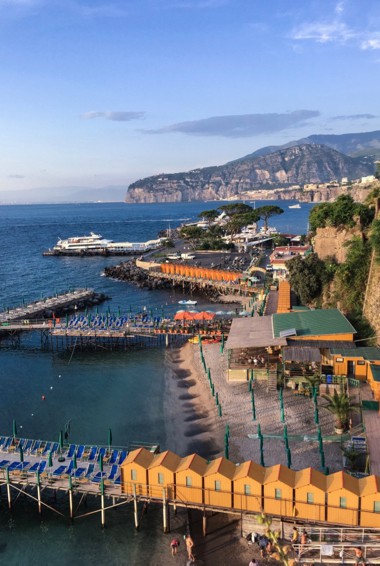 4. Hit the beach
The beaches around Sorrento are beautiful. Marina Grande and Marina Piccola are two popular spots, though you're better off heading to Bagni Regina Giovanna for a more relaxing and local spot that has fewer crowds.
5. Visit the Museo Correale
The collection here is extensive and includes Japanese, Chinese, Neapolitan, and European art dating from the 17th century. There are also some old furnishings, ceramics, and Roman and Greek artifacts. Admission is 8 EUR.
Other Things to See and Do in Sorrento
1. Admire the Duomo
The simple Romanesque exterior of this 15th-century cathedral is very misleading. While it looks plain, the interior is lined with beautiful original furnishings, including wooden choir stalls and the original marble bishop's throne. There are several stunning frescoes too. Admission is free.
2. Head to Sorrento Cape
Here you will find sandy beaches and the archaeological site of the villa of Pollio Felice. Back in the 1st century BCE, elite Romans started building vacation villas along the coast. Pollio Felice was one such person. He was a member of the Pozzuoli noble family, and while there are a few remains left behind from his villa, there's also a reconstructed model of his villa in the Georges Vallet Archeological Museum. The cape and villa are just 3.5km (2.1 miles) outside Sorrento. Admission is free.
4. Explore Marina di Puolo
This picturesque seaside village has just a couple of hundred inhabitants. It was a popular hideaway for Pollio Felice (mentioned above) and most people come here to escape the crowds and lounge around on the beach. Here you'll also find Punta Campanella, a protected coastal nature reserve where you can do some short day hikes. Both make nice side trips from Sorrento.
5. Explore Ischia
Ischia is just like the island of Capri — but without all the tourists. It's cheaper, and though it lacks the Blue Grotto, I think it's a better island to visit because it sees far fewer crowds. Here you'll find secluded beaches, thermal spas, and Castello Aragonese (which dates to 471 BCE). The ferry from Sorrento costs around 20 EUR (you can check routes and prices via FerryHopper).
6. Learn the art of marquetry
Sorrento is known for its marquetry handicrafts, a term that refers to inlaid objects (like pearls or other decorative materials) on wood. You can visit the Museo Bottega della Tarsia Lignea to learn about this art form. The 18th-century museum building also hosts paintings and prints from the 19th century that showcases what the region looked like at the time. Admission is 8 EUR.
7. Visit the Archaeological Museum
The Territorial Archaeological Museum George Vallet is located in a Neoclassical building. The collection consists of archaeological artifacts and art unearthed along the Sorrento Peninsula. They have temporary exhibits often too and there are some pieces from ancient Greece as well. Entry is free, though it's temporarily closed due to COVID.
8. Eat your heart out
Italy is a country for foodies, and Sorrento is no exception. To take in all that Sorrento has to offer, take a food tour. Sorrento Food Tours offers tasty tours around the city that can introduce you to the best the city has to offer (they have a food and wine tour too in case you get thirsty!). Tours cost around 75 EUR per person.
9. Visit Pompeii and Herculaneum
Although Naples is usually the hopping off point for exploring Pompeii and Herculaneum, it's easy to do so from Sorrento as well. Exploring the incredibly well-preserved ruins of these ancient towns is a must. Entry to Pompeii is 16 EUR and Herculaneum is 11 EUR.
For more information on other desintations in Italy, check out these guides:
Sorrento Travel Costs
Hostel prices – Hostels are limited here. A bed in a dorm with 6-8 beds costs 20 EUR per night while private rooms start at 55 EUR per night. Free Wi-Fi is standard and some hostels also include free breakfast.
There are a handful of campgrounds nearby for those traveling with a tent. A basic plot for two costs 28-35 EUR per night for a pitch without electricity.
Budget hotel prices – There aren't a lot of options for a two-star budget hotel in Sorrento. For a three-star budget hotel, prices range from 80-140 EUR per night. Expect basic amenities like free Wi-Fi, TV, AC, and occasionally free breakfast.
On Airbnb, you can find private rooms for 40-90 EUR per night. You can also rent entire homes for 100-200 EUR per night.
Average cost of food – Italian cuisine is beloved around the world, though every region in Italy offers its own distinct flavor. Tomatoes, pasta, olives, and olive oil form the backbone of most meals, with meat and fish and various cheeses rounding out the menu. In Sorrento, pizza is a must, owing to its invention in nearby Naples (locals actually argue they have better pizza than Naples). Seafood, too, is a huge staple here. Local favorites are gnocchi alla Sorrentina (potato gnocchi), spaghetti e Vongole (spaghetti with clams), octopus casserole, sauteed shrimp, and of course gelato and limoncello.
A casual meal of pizza or pasta shouldn't cost much more than 12 EUR. Sandwiches and pizza by the slice are usually just 2-7 EUR.
If you want to splash out, a three-course meal at a mid-range restaurant serving traditional cuisine costs around 30 EUR.
Fast food (think burger and fries) costs around 7 EUR. Beer is around 4-5 EUR while a latte/cappuccino costs around 1.25 EUR. Bottled water is less than 1 EUR.
If you're staying somewhere with a kitchen, a week's worth of groceries costs 45-60 EUR. This gets you basic staples like pasta, seasonal produce, and some meat or seafood.
Backpacking Sorrento Suggested Budgets
On a backpacker budget of 50 EUR per day, you can stay in a hostel dorm, cook all your meals, limit your drinking, take public transportation to get around, and stick to mostly free activities like the beaches and visiting the cathedral. If you plan on drinking, add 5-10 EUR to your daily budget.
On a mid-range budget of 125 EUR per day, you can stay in a private Airbnb, cook most of your meals, enjoy a couple of drinks, take the occasional taxi to get around, and do more paid activities like visiting museums and day-tripping to the islands.
On a "luxury" budget of 255 EUR or more per day, you can stay in a hotel, eat out for all your meals, drink more, rent a car, and do whatever tours and activities you want. This is just the ground floor for luxury though. The sky is the limit!
You can use the chart below to get an idea of how much you need per day. Keep in mind these are daily averages – some days you'll spend more, some days you'll spend less (you might spend less every day, who knows!). We just want to give you a general idea of how to budget your money. Prices are in EUR.
Accommodation
Food
Transportation
Attractions
Average Daily Cost
Backpacker
20
10
10
10
50
Mid-Range
50
35
15
25
125
Sorrento Travel Guide: Money-Saving Tips
Sorrento is a popular destination that caters to more upscale travelers. During the summer, it gets very crowded and pricey so you need to watch your budget. Here are some ways to save money when you visit Sorrento:
Get off the beaten track – Consider visiting Ischia instead of Capri to save some money and beat the crowds, or stay in one of the small neighboring villages at a bed and breakfast instead of in the center of Sorrento.
Eat pizza and paninis – It may not always be the healthiest option, but you will find pizzas and paninis at most restaurants for a much more affordable rate than the main dishes. Most pizzas cost under 10 EUR.
Drink the tap water – When at a restaurant, ask for tap water or you will automatically get expensive bottled water included on your bill instead.
Buy your own alcohol – You can buy a great bottle of wine for 6 EUR at the grocery store. It's much cheaper than going to a bar.
Stay with a local – Accommodation here can be expensive so use Couchsurfing to find a local who can host you for free. It's the best way to save money while connecting with someone who can share their insider tips and advice.
Bring a water bottle – The tap water here is safe to drink so bring a reusable water bottle to save money and reduce your plastic use. LifeStraw is my go-to brand as their bottles have built-in filters to ensure your water is always clean and safe.
Where to Stay in Sorrento
There are only a few hostels in Sorrento. My recommended places to stay when you visit the city are:
How to Get Around Sorrento
Public transportation – Sorrento's city center is very small and walkable (only 17,000 people live here), but if you want to get up into the hillside or explore any neighboring areas you have to take public transportation.
Buses around the city cost 1.20 EUR and must be bought at kiosk shops or the train station (you can't purchase tickets onboard). Buses run between Sorrento and Meto, Sant'Agnello, Piano, and Massa Lubrense.
If you want to get to the other major towns on the Amalfi Coast (like Salerno and Positano), you can take the SITA buses. These buses cost 1.30-6 EUR, depending on the distance.
Train – The Circumvesuviana railway connects the towns along the Amalfi Coast, but it's not connected with the national rail, so you can't purchase tickets on Trenitalia. You have to purchase tickets at the station, and most take cash only. Tickets from Naples to Sorrento cost about 4.50 EUR.
Ferry – If you want to visit Capri, there are frequent ferry services from Sorrento. Tickets cost between 15-20 EUR. A ferry from Sorrento to Ischia costs between 20-22 EUR and takes about an hour.
Taxi – Taxis are costly in Sorrento. If you must take one, the starting fare is around 4 EUR and they go up by around 1.40 EUR per mile. Skip them if you can!
Bike rental – If you don't want to walk or bus, you can rent a bike here for as little as 5 EUR per day.
Car rental – Cars can be rented for 20-25 EUR per day for a multi-day rental. While you won't need one to get around Sorrento, they can come in handy if you want to travel along the coast or do some day trips.
When to Go to Sorrento
Summer in Sorrento is the best time to visit but it's also peak season. The beaches are busy, the waters are warm, and the sun is endless! Peak season is from June to August, with July and August being the busiest months. Temperatures hover around 31°C (88°F) so you can enjoy plenty of beach time. Expect accommodation to fill up and prices to rise.
Even spring and fall are busy, with crowds lingering around Sorrento until mid-October. The weather is still warm, and some people swim until the end of September (or even later). In October, the average daily temperature is 23°C (73°F). Spring tends to be drier than fall, however.
The average temperature in the winter is 11°C (53°F) daily. It's quiet around here this time of year; summer is definitely more exciting so I'd likely skip a winter visit.
How to Stay Safe in Sorrento
Sorrento is very safe to visit as violent crimes here are incredibly rare. As in other destinations in Italy, scams and pickpocketing are common so keep your valuables secure and out of sight when on the bus or when in crowded tourist areas.
Don't leave any valuables on the beach when swimming either as they might get snatched.
As in any city, never leave your drink unattended while at the bar. Also, never walk home alone at night if you've been drinking just to be safe.
If you're worried about getting scammed, you can read about common travel scams to avoid right here.
If you experience an emergency, dial 113 for assistance.
Always trust your gut instinct.
If you wouldn't do it at home, don't do it in Sorrento!
The most important piece of advice I can offer is to purchase good travel insurance. Travel insurance will protect you against illness, injury, theft, and cancellations. It's comprehensive protection in case anything goes wrong. I never go on a trip without it as I've had to use it many times in the past. You can use the widget below to find the policy right for you:
Sorrento Travel Guide: The Best Booking Resources
These are my favorite companies to use when I travel. They consistently have the best deals, offer world-class customer service and great value, and overall, are better than their competitors. They are the companies I use the most and are always the starting point in my search for travel deals.
Skyscanner – Skyscanner is my favorite flight search engine. They search small websites and budget airlines that larger search sites tend to miss. They are hands down the number one place to start.
Hostelworld – This is the best hostel accommodation site out there with the largest inventory, best search interface, and widest availability.
Booking.com – The best all around booking site that constantly provides the cheapest and lowest rates. They have the widest selection of budget accommodation. In all my tests, they've always had the cheapest rates out of all the booking websites.
HostelPass – This new card gives you up to 20% off hostels throughout Europe. It's a great way to save money. They're constantly adding new hostels too. I've always wanted something like this and glad it finallt exists.
Intrepid Travel – If you want to do group tours, go with Intrepid. They offer good small group tours that use local operators and leave a small environmental footprint. And, as a reader of this site, you'll get exclusive discounts with them too!
Get Your Guide – Get Your Guide is a huge online marketplace for tours and excursions. They have tons of tour options available in cities all around the world, including everything from cooking classes, walking tours, street art lessons, and more!
Eurail – If you are going to Europe and taking a lot of high speed or long distance trains, get a rail pass. I've used a rail pass three times and saved hundreds of dollars each time. The math just works.
The Man in Seat 61 – This website is the ultimate guide to train travel anywhere in the world. They have the most comprehensive information on routes, times, prices, and train conditions. If you are planning a long train journey or some epic train trip, consult this site.
Rome2Rio – This website allows you to see how to get from point A to point B the best and cheapest way possible. It will give you all the bus, train, plane, or boat routes that can get you there as well as how much they cost.
FlixBus – Flixbus has routes between 20 European countries with prices starting as low 5 EUR! Their buses include WiFi, electrical outlets, a free checked bag.
SafetyWing – Safety Wing offers convenient and affordable plans tailored to digital nomads and long-term travelers. They have cheap monthly plans, great customer service, and an easy-to-use claims process that makes it perfect for those on the road.
ItaliaRail – A great resource to use when planning your trip via train around Italy as you can compare prices, routes, and schedules and save up to 60% on your tickets.
BlaBlaCar – BlaBlaCar is a ridesharing website that lets you share rides with vetted local drivers by pitching in for gas. You simply request a seat, they approve, and off you go! It's a cheaper and more interesting way to travel than by bus or train!
Sorrento Gear and Packing Guide
If you're heading on the road and need some gear suggestions, here are my tips for the best travel backpack and for what to pack!
The Best Backpack for Travelers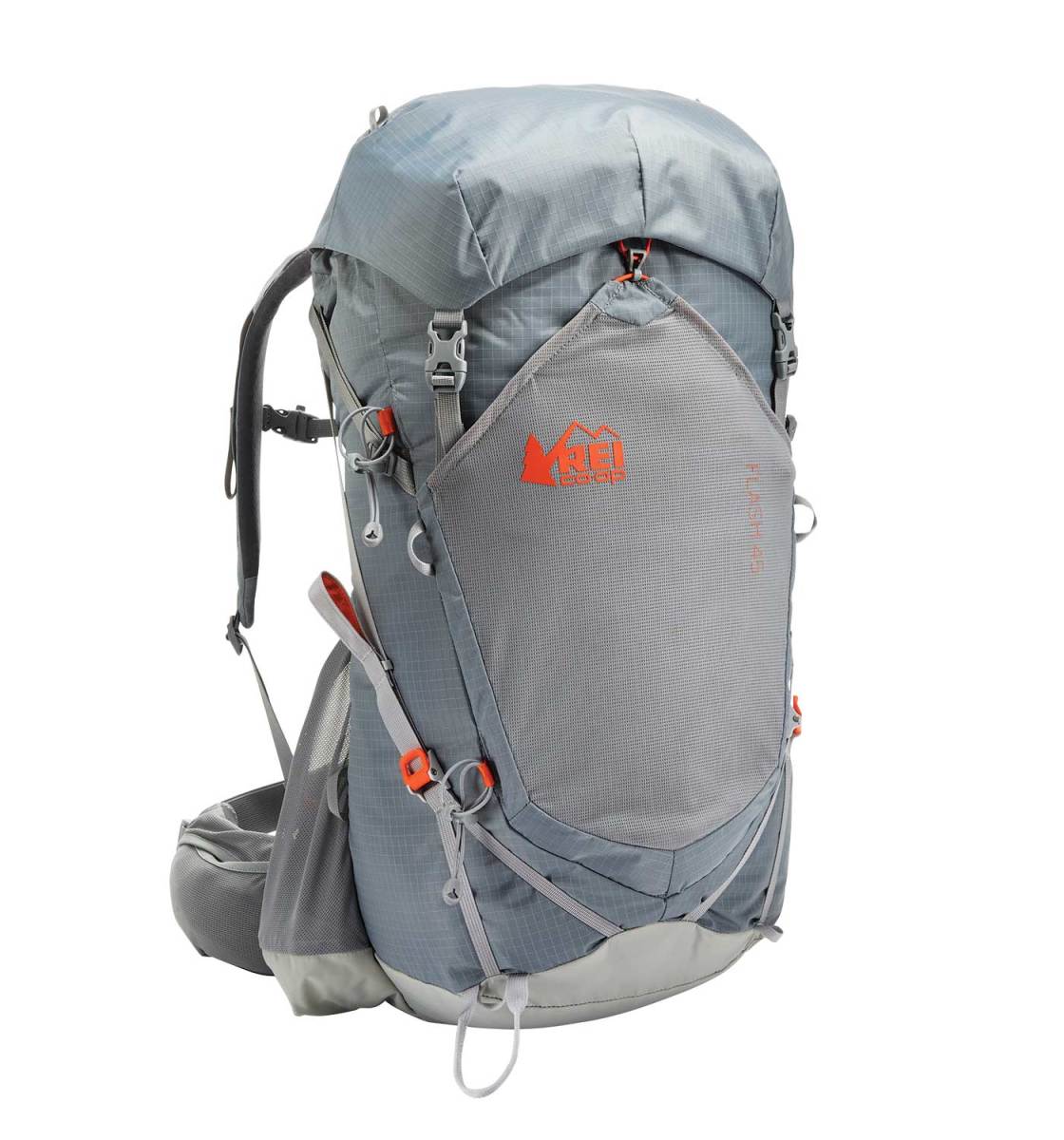 What's the best backpack for traveling long-term? I recommend the
REI Flash 45 Pack
. It's light and comfy, top loading, and fits perfectly in an airplane's overhead bin.
Size:
45-47L
Straps:
Thick and cushy with compression technology that pulls the pack's load up and inwards so it doesn't feel as heavy.
Features:
Removable top lid, pocket at the front, hydration compatible, contoured hip belt
If you want something different, refer to my article on how to choose the best travel backpack for tips on picking a pack and other backpack suggestions.
What to Pack for Your Trip
Clothes
1 pair of jeans (heavy and not easily dried, but I like them; a good alternative is khaki pants)
1 pair of shorts
1 bathing suit
5 T-shirts (Unbound Merino is my preferred company. If you're a member of NM+, you can get 15% off your purchase)
1 long-sleeved T-shirt
1 pair of flip-flops
1 pair of sneakers
6 pairs of socks (I always end up losing half)
5 pairs of boxer shorts (I'm not a briefs guy!)
1 toothbrush
1 tube of toothpaste
1 razor
1 package of dental floss
1 small bottle of shampoo
1 small bottle of shower gel
1 towel
Deodorant
Small Medical Kit (safety is important!!!)
Miscellaneous
Female Travel Packing List
I'm not a woman, so I don't know what a woman wears, but Kristin Addis, our solo female travel guru, wrote this list as an addition to the basics above:
Clothing
1 swimsuit
1 sarong
1 pair of stretchy jeans (they wash and dry easily)
1 pair of leggings (if it's cold, they can go under your jeans, otherwise with a dress or shirt)
2-3 long-sleeve tops
2-3 T-shirts
3-4 spaghetti tops
1 light cardigan
Toiletries
1 dry shampoo spray & talc powder (keeps long hair grease-free in between washes)
1 hairbrush
Makeup you use
Hair bands & hair clips
Feminine hygiene products (you can opt to buy there too, but I prefer not to count on it, and most people have their preferred products)
For more on packing, check out these posts:
Sorrento Travel Guide: Related Articles
Want more info? Check out all the articles I've written on backpacking/traveling Italy and continue planning your trip: