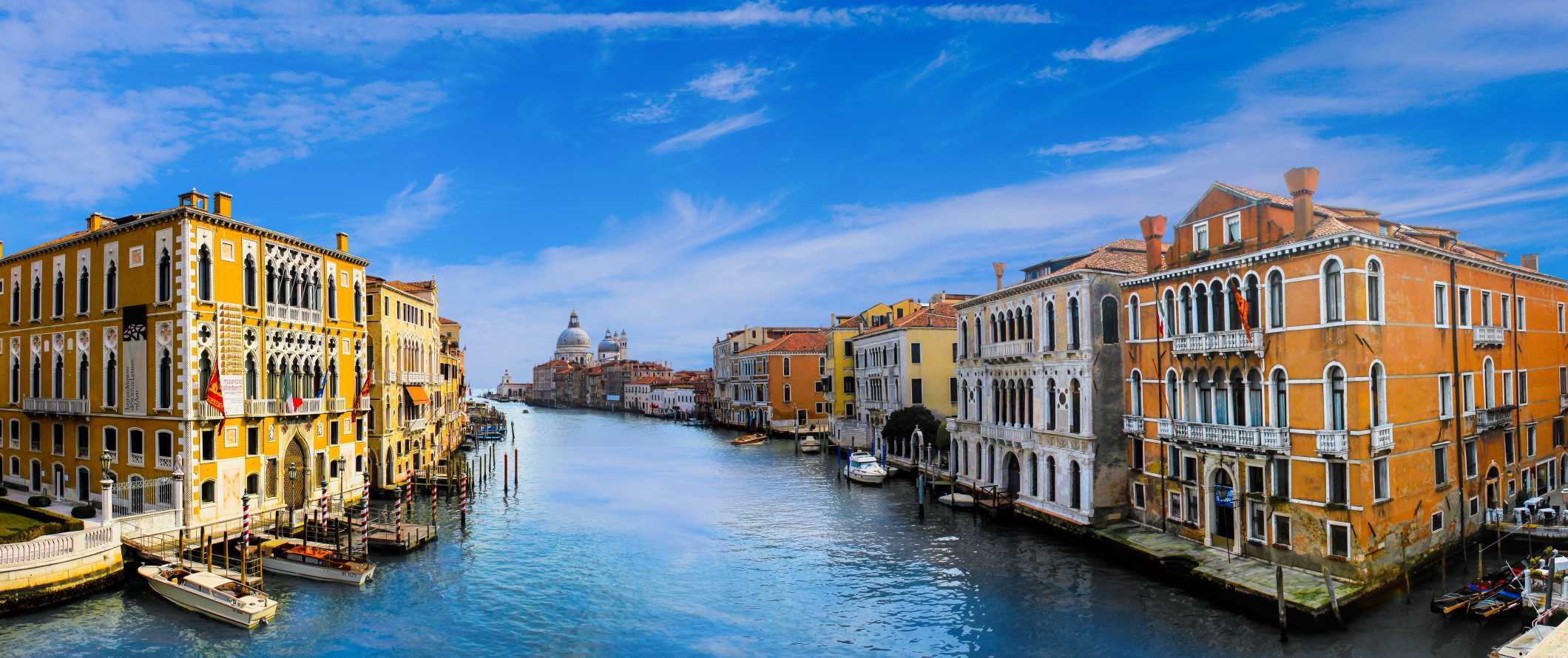 With its iconic canals, picturesque gondolas, and winding streets, it's no surprise that Venice is considered one of the most romantic cities in the world. But while the city is popular with honeymooners, it's also a huge destination for cruisers and backpackers too.
It should be obvious as to why.
Venice is beautiful, fun, and full of narrow streets and alleys to get lost in. It's a magical place unlike any other. There are museums, palaces, historic town squares to explore, and endless gelato to eat.
Unfortunately, the city is also expensive and overtourism has become a real problem. No matter what time of the year, you're going to encounter crowds. In fact, if you come in the summer, it's going to be unbearable (and if you come when a cruise ship is docked, it's even more unbearable!)
But that doesn't mean you should skip a visit!
You can avoid the crowds if you skirt around the center of the city and head to some of the outer islands like Burano and Morano. Tourists tend to cluster in a few places and are easy to escape.
This travel guide to Venice can help you beat the crowds, save money, and make the most of your time in this famous Italian city!
Top 5 Things to See and Do in Venice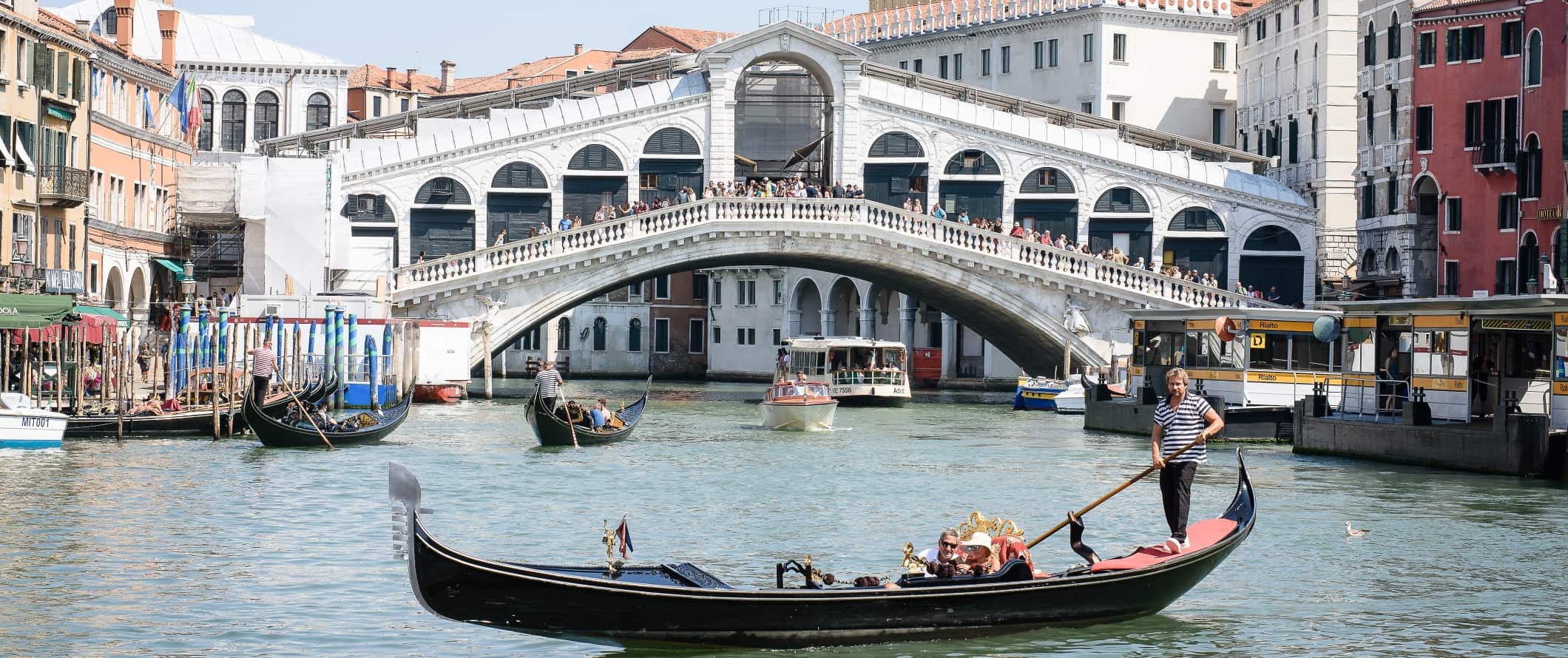 1. Visit the Basilica San Marco
St. Mark's Basilica is dedicated to the patron saint of the city and is located in the Piazza San Marco. While there has been a place of worship on this site since 820 CE, the current basilica was built in 1063. It's filled with amazing 11th-century mosaics, marble-covered walls, statues, and five, gold-covered Byzantine domes. The High Altar also supposedly contains some of St. Mark's remains. It's 3 EUR to visit the basilica (or 6 EUR for a skip-the-line ticket). There are also a variety of combined entrance tickets depending on which attractions in the complex you want to visit. The Complete Basilica Ticket, which includes the Basilica, Pala d'Oro (golden altar), Museum, and Loggia Cavalli (terrace with views and other exhibits), costs 20 EUR, which includes skip-the-line entry. You can also do a guided tour after hours when the crowds have left with Walks of Italy for around 100 EUR.
2. Walk across Rialto Bridge
While it's now one of four bridges that cross the Grand Canal, for centuries, the Rialto Bridge was the only way to get from one side to the other. Originally built as a floating bridge in the 12th century, it was first constructed for easier access to the Rialto Market (hence the bridge's name). The current iteration of the bridge, completed in 1591, was created by Antonio da Ponte, who beat out Michelangelo for the job. The entire bridge is made of Istrian stone and crosses the Grand Canal at its narrowest point, connecting the San Polo and San Marco districts. To beat the crowds, come at sunrise.
3. Tour the Doge's Palace
Located in St. Mark's Square, Doge's Palace is one of Venice's main landmarks and was the home of the duke who ruled Venice. The massive building was originally built in the 14th century in the Venetian Gothic style, though it has been renovated, extended, and modified over the centuries. The interior is filled with artwork, gilded ceilings, and an armory. You can also descend into the prisons and cross the famous Bridge of Sighs. Admission is 26 EUR as part of the Combined Museums of San Marco ticket, which includes entrance to the Correr Civic Museum, the National Archaeological Museum, and the monumental rooms of the Marciana National Library.
4. Attend Carnival
Carnival is ten days of masquerade madness every February leading up to Mardi Gras, the day before the start of Lent on Ash Wednesday. The tradition goes back centuries, starting in the 12th century and reaching the height of popularity in the 18th century. The festival was on pause for nearly two centuries, starting in 1798 when the city was under Austrian rule (when masks were banned). It wasn't until 1979 when Carnival was revived. Today, it is one of the biggest festivals in Italy, with millions of people attending every year. The iconic and diverse masks are a central part of the festivities and every year there is a contest for the most beautiful mask. If you have the funds, you can even pay to attend a traditional masquerade ball! (Book your accommodation early as the city fills up months in advance).
5. Day trip to Burano
This island makes for a great trip from the main island and it's much less crowded. Burano is known for its colorful buildings; the government actually regulates house painting on this island so the place retains its charm and history. Wander the streets and admire the many art galleries and shops here. There's even a leaning bell tower, kind of like the one in Pisa. Burano is only 7 kilometers (4 miles) from Venice, which is a 45-minute trip by vaporetto (water bus).
Other Things to See and Do in Venice
1. Take a walking tour
The first thing I do when I arrive in a new city is take a free walking tour. It's the best way to see the main sights on a budget while connecting with a local guide who can share their insider tips and advice. Venice Free Walking Tour runs regular free tours that cover all the highlights. Just be sure to tip your guide at the end!
If you want to invest in your experience and take a more detailed walking tour, my favorite company is Take Walks. They have amazing walking tours and boat tours all around the city. They use expert local guides so you'll not only have fun but you'll learn a lot too!
2. Wander the Piazza San Marco
This is the most famous and largest piazza (city square) in Venice. The grand square has long been a popular meeting spot for Venetians and is home to many important city highlights, including the basilica, its bell tower, the Doges Palace, and the National Archaeological Museum. (You can visit all of these sights on a combined Piazza San Marco ticket, which costs 26 EUR). The Piazza is most impressive when approached from the water as you get a full sense of the scale and history of these antiquated buildings.
3. Head to the island of Lido
If you want to escape the city, Lido is a nearby island where people go to relax on the beach. There are lots of picturesque canals here, as well as restaurants, cafes, and bars. Every August, the world of cinema descends on Lido for the Venice Film Festival, the oldest and one of the most prestigious film festivals in the world. Lido is only a 20-minute vaporetto ride (water bus) from Venice. A round-trip ticket costs 10 EUR, or for 13 EUR you can get a round-trip ticket that can be used for the buses on Lido too.
4. Visit Murano Island
Close to Venice, this island is the home of the famous Murano glassblowers, who have been creating intricate glassworks here since 1291. Although Murano is filled with expensive souvenirs (avoid buying anything on the island if you're on a budget!), you can still have an educational and fun afternoon learning and watching how the glass is blown. The Murano Glass Factory only costs 5 EUR, which includes the glass blowing demonstration and guided tour of the factory. To get to Murano, you can take the ferry for 8 EUR.
5. Wander the Rialto Market
The Rialto Market is Venice's main market and it has been around for the past 700 years. It's a huge food market with all kinds of meat, produce, and fish. Come in the morning before the market is flooded with tourists to watch all the hustle and bustle. You'll find the market northwest of the Rialto Bridge in the district of San Polo.
6. Tour the Peggy Guggenheim Collection
This is the personal art collection of art collector Peggy Guggenheim, located in her former mansion along the banks of the Grand Canal. It is a massive, avant-garde collection of art with works from more than 200 artists. While modern art is not my favorite kind of art, there are countless pieces by surrealists, abstract expressionists, and Italian futurists that make this worth a visit. There's also an outdoor sculpture garden. Admission is 16 EUR.
7. Climb the Campanile di San Marco
Built in 1912, this tower in Piazza San Marco is a replica of the original Bell Tower of St. Mark (which was built in the 16th century and collapsed in 1902). It said that every last detail of the structure is a match. Standing at almost 100 meters (328 feet) tall, it's the tallest structure in Venice. The tower was originally constructed for defensive purposes so that watchmen could see ships coming in and out of the city. For 10 EUR, you can climb up through the inner workings and get a panoramic view of the city.
8. Watch the Vogalonga
The Vogalonga is a non-competitive 20-mile marathon rowing event held annually in May. This tradition originated in 1974 as a protest against the increasing amount of powerboats taking over Venice's waters. Thousands of people from all over the world take part every year, in all different kinds of boats, including gondolas, kayaks, canoes, dragon boats, stand-up paddleboards, and more (some people even swim!). It's incredible to watch and one of the biggest events of the year.
9. Visit the National Archaeological Museum
This museum was created in 1523 by Italian nobleman and cardinal, Domenico Grimani. Although it's a small museum, the National Archaeological Museum's collection of Greek sculptures, Roman busts, funerary stelae, and other relics date back as far as the 1st century BCE. Tickets are 26 EUR as part of the Combined Museums of Piazza San Marco (which includes entrance to the Doge's Palace, the National Archaeological Museum, and the monumental rooms of the Marciana National Library).
10. Check out the Correr Civic Museum
The Correr Civic Museum includes an expansive collection of art and artifacts showcasing the city's history, as well as works from the homes of former royals (including Napoleon Bonaparte). You can spend hours here viewing the frescoes, ancient maps, statues, religious paintings, and more. Tickets are 26 EUR as part of the Combined Museums of Piazza San Marco (which includes entrance to the Doge's Palace, the National Archaeological Museum, and the monumental rooms of the Marciana National Library).
11. Peruse the art at the Galleria dell'Accademia
The Galleria dell'Accademia was established by Napoleon Bonaparte and is home to numerous artistic works from the 14th-18th centuries, including masterpieces from Bellini and Tintoretto. Its most famous piece, however, is Leonardo da Vinci's small ink drawing titled Vitruvian Man (however, it's rarely on display due to the fragile and light-sensitive nature of the work). Tickets are 12 EUR.
12. Explore the Jewish Ghetto
The Jewish Ghetto is a neighborhood located in the north-western part of Venice. It's considered to be the world's first ghetto, established in 1516 when everyone in the city's Jewish community was forced to relocate here. They were only allowed out during the day and then were locked up and heavily guarded in the evening. Despite its troubling history, the Jewish Ghetto is now full of restaurants, shops, museums, and synagogues. It's a lively place to explore but is often overlooked by tourists.
13. Take a food tour
To learn more about the history and culture behind Venice's cuisine, take a food tour. It's the best way to eat your way around the city sampling the best eats Venice has to offer while learning what makes the cuisine unique. Devour Tours runs in-depth food tours led by expert local guides that will introduce you to the food culture and its history. If you're a foodie like me who wants to learn more about the history and culture behind each dish, these tours are for you! Tours start at 89 EUR.

For more information on other cities in Italy, check out these guides:
Venice Travel Costs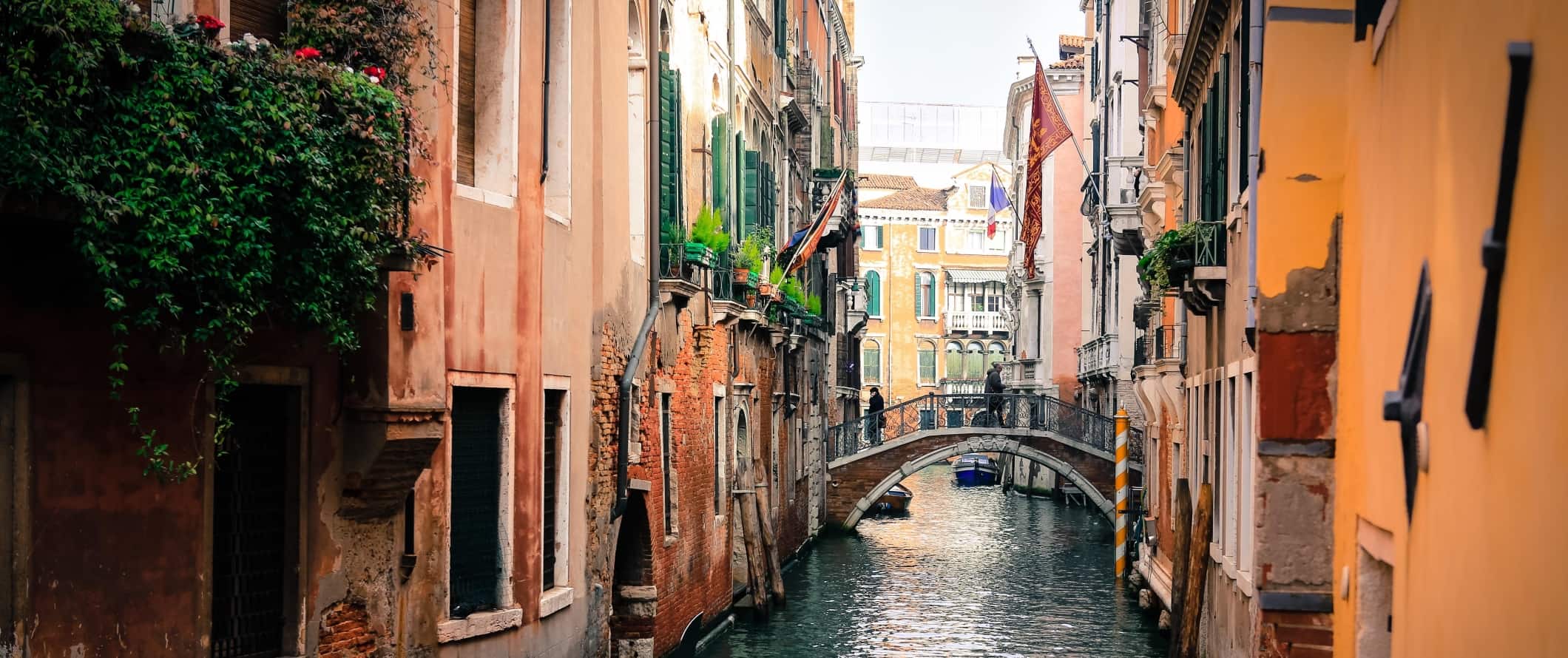 Hostel prices – A dorm bed in a hostel usually costs 27-45 EUR per night for a 4-6-bed dorm in peak season and 22-30 EUR per night off-peak. Private rooms cost between 75-150 EUR per night in peak season and 60-85 EUR in the off-season. Free Wi-Fi is standard and several hostels have kitchens or a bar/cafe on the premises. None of the hostels in Venice currently offer free breakfast.
For those traveling with a tent, camping outside the city costs 15-30 EUR per night for a basic pitch without electricity. There are also small lodges and cabins for 30-50 EUR.
Budget hotel prices – A room in a two-star budget hotel in Venice costs 75-125 EUR per night in peak season and 50-65 in the off-season. Free Wi-Fi is included and some also include free breakfast.
On the main island, Airbnb has private rooms starting from 60-80 EUR per night. Entire apartments go for closer to 125-150 EUR per night. Expect to pay double that price if you don't book early.
Average cost of food – Italian cuisine is beloved around the world, though every region in Italy offers its own distinct flavor. Tomatoes, pasta, olives, and olive oil form the backbone of most meals, with meat and fish and various cheeses rounding out the menu.
In Venice, seafood is an important staple, with popular traditional dishes being bigoli in salsa (pasta in anchovy sauce), risotto al nero di seppia (risotto with cuttlefish ink), and fried sardines.
Overall, eating in Venice is really expensive. It's hard to get a cheap meal in the city. If you do want to eat out, it's better to go out for lunch rather than dinner since lunch menus are often around 15-20 EUR.
If you want to splash out, a mid-range meal with drinks and an appetizer costs 35-50 EUR. A set, 4-course meal is 65-70+ EUR.
Fast food (think McDonald's) costs around 8.50 EUR for a combo meal. Sandwiches are usually just 3-7 EUR, while pizza is 5-8 EUR for a small and 12-15 EUR for a large.
Beer is 4-5 EUR, a glass of wine is 3-4 EUR, and cocktails start at 7-9 EUR. A latte/cappuccino is closer to 2 EUR while bottled water is 1 EUR.
If you plan on cooking your own food, a week's worth of groceries costs around 50-60 EUR. This gets you basic staples like rice, pasta, produce, and some meat or seafood.
Backpacking Venice Suggested Budgets
On a backpacking budget of 60 EUR per day, you can stay in a hostel dorm, cook all of your meals, limit your drinking, take public transportation to get around, and do mostly free activities like taking free tours and wandering the markets. If you plan on drinking, add 5-10 EUR to your daily budget.
On a mid-range budget of 145 EUR per day, you can stay in a private Airbnb or private hostel room, eat out for most meals, enjoy a few drinks, take the occasional water taxi to get around, and do more paid activities like day-tripping to the nearby islands and touring the museums and galleries.
On a "luxury" budget of 265 EUR or more per day, you can stay in a hotel, eat out for all your meals, drink as much as you want, take more taxis, and do whatever tours and activities you want. This is just the ground floor for luxury though. The sky is the limit!
Accommodation
Food
Transportation
Attractions
Average Daily Cost
Backpacker
25
15
10
10
60
Mid-Range
75
35
15
20
145
Venice Travel Guide: Money-Saving Tips
It doesn't matter what time of year you visit, Venice is going to be expensive. That said, here some ways to you can lower your expenses when you visit Venice:
Don't eat at Piazza San Marco – This is the area with the most tourists, making it much more expensive. Avoid eating here at all costs, no matter how tempting the cafe patios might be.
Cook your food – Food is one of the biggest costs in the city so if you're on a budget it's a good idea to cook your own meals. It's not fancy but you'll save a ton!
Walk around and get lost – Venice is so beautiful that it's a thrill just strolling through the city seeing the old building, churches, artists, and, best of all, get a bit of people-watching in.
Use discount vaporetto tickets – Get a day pass (or multi-day pass) for the water bus if you plan on traveling around the city a lot. It can save you money after just a few trips.
Get a combined museum pass – There are a couple of main options for combined museum passes: St. Mark's Square Museum Pass (which costs 26 EUR for admission to all the attractions in St. Marks Square) or the Venice Museum Pass (which costs 36 EUR for admission to the St. Marks' Square museums as well as 9 other museums, including the Murano Glass Museum).
Get the Venezia Unica Pass – If you are going to do lots of sightseeing, this pass gives you discounts to the top museums, tours, and attractions. It is priced to save you money when compared to buying separate tickets. You go online and pick out what you want to see ahead of time. The price varies depending on what you want to see but you'll save a lot.
Buy your own booze – You can buy a great bottle of wine for under 10 EUR at the store. Getting your own bottle is a much more economical way to drink. Sit in one of the squares, have a glass of wine, and watch the world go by.
Stay with a local – Accommodation is very expensive in Venice. Try using Couchsurfing to stay with locals for free and make a new friend to show you around this amazing city.
Go on a free walking tour – This is the best way to learn about the city on a budget. Just be sure to tip your guide at the end!
Bring a water bottle – The tap water here is safe to drink so bring a reusable water bottle to save money and reduce your plastic use. LifeStraw is my go-to brand as their bottles have built-in filters to ensure your water is always clean and safe.
Where to Stay in Venice
Finding an affordable place to stay in Venice is challenging, but not impossible. My recommended places to stay in Venice are:
How to Get Around Venice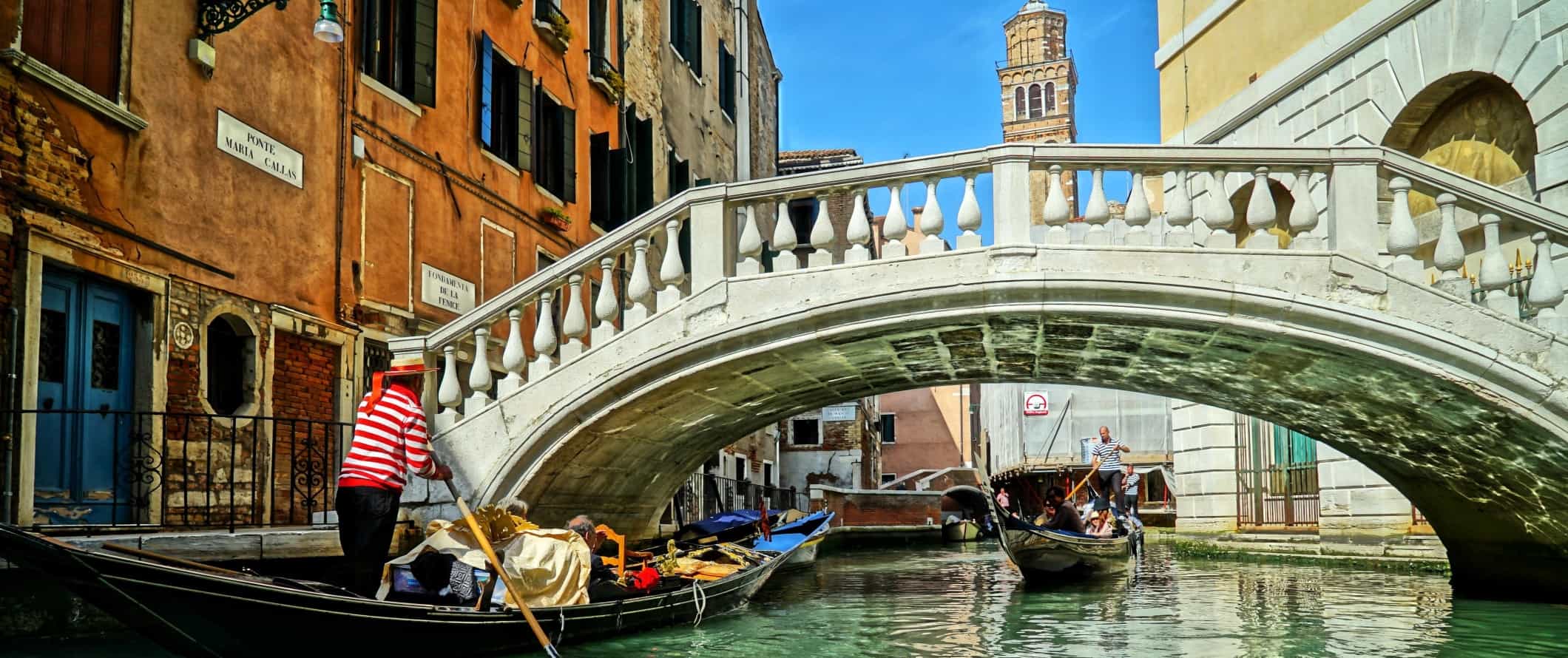 Venice is a pedestrian city. Unless you're taking water taxis or floating buses, you'll be walking everywhere.
Vaporetto – A vaporetto is a floating "bus" that can get you just about everywhere you need to go. They're not cheap, with one-way tickets costing 7.50 EUR. Tickets are valid for 75 minutes. You can get a 24-hour pass for 20 EUR, a 48-hour pass for 30 EUR, a 72-hour pass for 40 EUR, or a 7-day pass for 60 EUR.
If you're traveling to Murano, Torcello, or Lido, you'll be on the same vaporetto system but on a larger boat known as motonave. The prices are the same.
Water taxi – Private water taxis are incredibly expensive and should be avoided unless you're in a huge rush or you have lots of luggage. Rates start at 15 EUR and then 2 EUR per minute. If you want to order a water taxi to your hotel, you'll pay a surcharge.
When to Go to Venice
Venice is at its peak busyness in the summer. Prices skyrocket and the crowds are intense. Temperatures hover around 18-28°C (66-83°F) from June through August. If possible, I'd avoid visiting during this time as the city is bursting with cruisers and the crowds are massive.
Spring is a beautiful time to visit since temperatures are more manageable, usually between 17-22°C (63-72°F), and the city is not overly crowded.
Tourism also eases off in the fall and winter, and temperatures are cooler, ranging from 4-12°C (44-55°F). However, this is also known as the acqua alta ("high water") period, where flooding in the streets can occur.
In February, Carnevale takes over the city. It's a great time, but expect chaos and inflated prices.
Overall, you're going to face crowds whenever you go, but if you can avoid peak summer you'll find the city pleasant to visit.
How to Stay Safe in Venice
Venice is a very safe place to backpack and travel. As with most of Italy's cities, Venice's biggest safety risk is petty theft and pickpocketing. This is especially true in crowded tourist areas and on public transportation, so keep a close eye on your belongings and never flash your valuables when out and about.
Scams here are rare, but if you're worried about getting ripped off, you can read about common travel scams to avoid here.
Solo female travelers should generally feel safe here, however, the standard precautions apply (never leave your drink unattended at the bar, never walk home alone intoxicated, etc.)
If you come during autumn or the winter, you may be at risk for acqua alta ("high water"). Flooding is a common occurrence due to rising ocean levels. Choose accommodations closer to the upper part of town, near Piazzale Roma or the rail station.
If you experience an emergency, dial 113 for assistance.
Always trust your gut instinct. Make copies of your personal documents, including your passport and ID. Forward your itinerary along to loved ones so they'll know where you are.
The most important piece of advice I can offer is to purchase good travel insurance. Travel insurance will protect you against illness, injury, theft, and cancellations. It's comprehensive protection in case anything goes wrong. I never go on a trip without it as I've had to use it many times in the past. You can use the widget below to find the policy right for you:
Venice Travel Guide: The Best Booking Resources
These are my favorite companies to use when I travel. They consistently have the best deals, offer world-class customer service and great value, and overall, are better than their competitors. They are the companies I use the most and are always the starting point in my search for travel deals.
Skyscanner – Skyscanner is my favorite flight search engine. They search small websites and budget airlines that larger search sites tend to miss. They are hands down the number one place to start.
Hostelworld – This is the best hostel accommodation site out there with the largest inventory, best search interface, and widest availability.
Booking.com – The best all around booking site that constantly provides the cheapest and lowest rates. They have the widest selection of budget accommodation. In all my tests, they've always had the cheapest rates out of all the booking websites.
HostelPass – This new card gives you up to 20% off hostels throughout Europe. It's a great way to save money. They're constantly adding new hostels too. I've always wanted something like this and glad it finallt exists.
Get Your Guide – Get Your Guide is a huge online marketplace for tours and excursions. They have tons of tour options available in cities all around the world, including everything from cooking classes, walking tours, street art lessons, and more!
The Man in Seat 61 – This website is the ultimate guide to train travel anywhere in the world. They have the most comprehensive information on routes, times, prices, and train conditions. If you are planning a long train journey or some epic train trip, consult this site.
Rome2Rio – This website allows you to see how to get from point A to point B the best and cheapest way possible. It will give you all the bus, train, plane, or boat routes that can get you there as well as how much they cost.
FlixBus – Flixbus has routes between 20 European countries with prices starting as low 5 EUR! Their buses include WiFi, electrical outlets, a free checked bag.
SafetyWing – Safety Wing offers convenient and affordable plans tailored to digital nomads and long-term travelers. They have cheap monthly plans, great customer service, and an easy-to-use claims process that makes it perfect for those on the road.
LifeStraw – My go-to company for reusable water bottles with built-in filters so you can ensure your drinking water is always clean and safe.
Unbound Merino – They make lightweight, durable, easy-to-clean travel clothing.
Top Travel Credit Cards – Points are the best way to cut down travel expenses. Here's my favorite point earning credit cards so you can get free travel!
Walks of Italy – This walking tour company provides inside access to attractions and places you can't get elsewhere. Their guides rock and they have some of the best and most insightful tours in all of Italy.
BlaBlaCar – BlaBlaCar is a ridesharing website that lets you share rides with vetted local drivers by pitching in for gas. You simply request a seat, they approve, and off you go! It's a cheaper and more interesting way to travel than by bus or train!
Venice Travel Guide: Related Articles
Want more info? Check out all the articles I've written on backpacking/traveling Italy and continue planning your trip: