With its historical canals, gondolas, and winding streets, Venice is considered one of the most romantic and visited cities in the world. The city is almost always on everyone's "must see" list – and judging by the crowds, people do a good job of crossing it off their list! I find Venice to beautiful, fun, and a great place to get lost in. However, the city is very expensive, especially on the main island. Luckily, Venice doesn't need to cost a fortune, and there are a few ways to make this city budget friendly. You can use the tips in this guide to turn expensive Venice into a budget-friendly destination.
Top 5 Things to See and Do in Venice
1. Enter Basilica San Marco
St. Mark's Basilica is the third building on its spot on the Piazza San Marco. Two other churches were there previously, the first built to hold the stolen bones of St. Mark.The current is filled with amazing mosaics, domes, statues, and the High Altar that supposedly contains some of the saint's remains.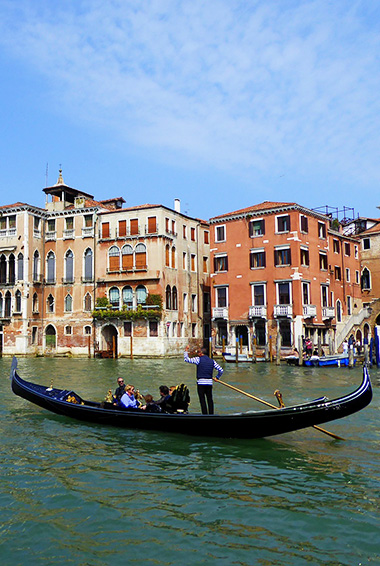 2. Take a Gondola ride
Some may say the gondolas of Venice are a tourist trap, but so are a lot of other fun things! A gondola ride can be very romantic if taken around dusk, and if the price seems too high, split with ride others. A typical ride costs 90 EUR during the day, and expect closer to 140 EUR at night.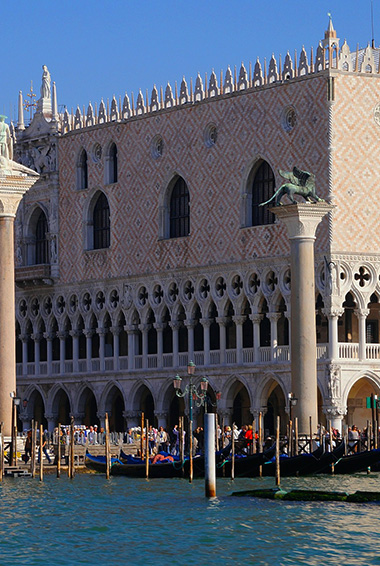 3. Tour the Doge's Palace
The facade The palace is located on St. Mark's Square and features beautiful arches and pink and white marble on the facade. The inside of the palace is remarkable and filled with artwork. Tours will take visitors across the Bridge of Sighs to the nearby prison cells (one housed Cassanova). Admission is 19 EUR (and includes entrance to Museo Correr).
4. See the Venice Carnival
This is ten days and nights of masquerade madness in February before Lent. The tradition goes back centuries and is one of the biggest parties and festivals in Italy. If you have the funds, you can even pay to attend a traditional masquerade ball. Make plans early as the entire city becomes packed and accommodation more expensive the closer you get to the festival.
5. Take a trip to Burano
Burano is known for its colorful, block-like buildings. The government actually regulates house-painting on this island so the place retains its charm and history. Wander the streets and admire the many art galleries and shops along the way.
Other Things to See and Do
(Click the title to expand the text)
1. Visit the Piazza San Marco
This is the most famous piazza in Venice. It's crowded, full of pigeons, and occasionally flooded, but despite the crowds, it's a majestic place.
2. Go explore Lido
If you want to escape the city, Lido is an island between Venice and the sea that has a beach on where you can relax. Cabanas can also be rented.
3. Visit Murano Island
Close to Venice, nearby Murano island is the tourist trap home of the famous glass blowers of the famous Murano glass. Although the island is filled with expensive souvenirs (avoid buying anything on the island!), it can still be an educational and fun afternoon learning and watching how the glass is blown.
4. Visit the markets
Venice has great markets where you can buy some delicious food at a fraction of the cost than at the restaurants. The morning fish market is my favorite. Head there early to watch the restaurant owners pick their fish and stay for the old ladies picking their dinners. There is also an organic produce market on Mondays.
5. Explore the Peggy Guggenheim Collection
This is a massive, avant-garde collection of art, comprised of more than 200 artists. There are countless pieces by surrealists, abstract expressionists, and Italian futurists. In addition to works by Max Ernst, Jackson Pollock, and various other big-name artists, the collection also includes local works. Admission is 15 EUR. It's open daily (except Tuesdays) from 10am-6pm.
6. Climb the Campanile di San Marco
Built in 1912, this tower is actually a replica of the original Bell Tower of St. Mark. It is said that every last detail of the structure is a match. For 8 EUR, you can climb up through the inner workings and get a great view of the city.
7. Watch the Voga Longa
Held annually on May 23rd, this is a marathon rowing event. This tradition originated as a protest to the increasing amount of power boats throughout Venice waters. In order to receive recognition, you have to row 20 miles in under 3.5 hours.
8. I Tre Mercanti
This food gallery can be found just a stone's skip away from St. Marco's Square. The specialty here is Italian dishes but the cool part is the number of regional specialties from around Italy. It's kind of like heaven.
9. Take a professional tour
If you want to get an in-depth look into the city, consider taking a tour from a company like Context Tours. They are not cheap but it will give you a deeper understanding of the place's history. Take Walks also runs good tours too!
Typical Costs
Hostel prices
– There are no cheap dorms or hostels on the actual island. The best value accommodations are just outside the city at the camping grounds. These dorms will cost around 10-15 EUR per night. If you wish to stay in the city, expect to pay around 30-50 EUR per night for a dorm room. Private rooms that sleep two start around 70 EUR. The price usually includes free WiFi and linens. You can book your hostel with
Hostelworld
.
Budget hotel prices – While budget hotels can be found for as little as 65 EUR per night, you'll likely have to pay double that — or more — if you plan on staying right in the center. Breakfast is usually included though. Use Booking.com as they consistently return the cheapest rates. On Airbnb, you can find shared rooms starting around 20 EUR per night or you can rent entire homes starting at 45 EUR and up.
Average cost of food – Eating in Venice is really expensive. It's better to eat out for lunch rather than dinner since lunch menus are often under 20 EUR. If you go out for dinner, expect to pay between 35-55 EUR for a meal with drinks. Add 3 EUR for the "coperto" (sit down fee) that covers service and the bread at the table.There are a few places to get cheap snacks (pizza, sandwiches) but for the most part, budget a lot of money for food. If you find a discount grocer like Eurospin, In's Mercato, LD Market, Lidl or Penny Market or you shop at the local farmer's markets, you can get a week's worth of groceries for about 60 – 70 EUR.
Transportation costs – Venice is a pedestrian's city. Unless you're taking water taxis or floating buses, you'll be walking. You can cross the canals by foot using bridges or you can take a "traghetto" (a gondola) for 2 EUR. If you need to get to places that are a bit further or your feet need a break, the floating buses, or "vaporetto," cost 7.50 EUR for a one way, one hour trip. A 1-day ticket is 20 EUR and a 7-day pass is 60 EUR.
Suggested daily budget
40-80 EUR / $51-91 USD (Note: This is a suggested budget assuming you're staying in a hostel, eating out on a the cheap, cooking a few meals, and using local transportation. If you stay in fancier accommodation or eat out more, expect this to be higher!)
Money Saving Tips
Don't eat at Piazza San Marco – This is the area with the most tourist, hence making it much more expensive. Avoid eating here at all costs, not matter how tempting the cafe patios might be.
Pack a picnic – Small markets are abundant around the city, so fill up with some fresh veggies, fruit, cheese, and wine, and enjoy a delicious meal at a fraction of the cost it would be to go out.
Walk and get lost -Venice is so beautiful that you can spend time strolling through the city seeing the old building, churches, artists, and, best of all, get a bit of people-watching in. The island is small, so don't worry, you can't get that lost.
Discount bus tickets – If you are staying for a longer period of time, consider purchasing a discount card for the floating bus, or vaperatto, services. You can potentially save 25% on a seven-day pass by going through VeniceConnected.com.
Get the Venezia Unica Pass – If you are going to do lots of sightseeing, this pass will give you discounts to the top museums, tours, and attractions. It is priced to save you money when compared to buying separate tickets. You go online and pick out what you want to see ahead of time. The price varies depending on what you want to see.
Drink the tap water – Ask for tap water or you will automatically get expensive bottled water included on your bill. Moreover, you can refill your bottles of water at any of the drinking fountains throughout the city.
Buy lots of wine – You can buy a great bottle of wine for 4 EUR. Getting your own bottle is a much more economical way to great! Sit in one of the squares, have a glass of wine, and watch the world go by.
Couchsurf – Accommodation is very expensive in Venice. Try to use Couchsurfing to stay with locals for free and get a new friend to show you around this amazing city.
Go on a free walking tour – This is a great way to learn the history behind the places you are seeing and to avoid missing any must-see stops. Venice Free Walking Tour has a few tours that can show you what the city has to offer. Booking in advance is required.
My Must Have Guides For Traveling to Venice