Milan is recognized worldwide as one of the design and fashion capitals of the world. It's also popular destination for people who visit Italy, thanks in part to it having the second-largest airport in the country.
I'll be honest: Milan didn't thrill me when I visited. I found it a bit run down.
But, in the last decade, it has grown and cleaned itself up a bit.
Milan has a lot for travelers to see and do beyond just fashion. You have the beautiful Milan Cathedral and Sforzesco Castle, a 15th-century castle that houses Michelangelo's last sculpture. Then there's Leonardo da Vinci's The Last Supper, located inside Santa Maria delle Grazie church. In short, Milan has no shortage of history and culture to bask in.
While it's no Rome or Florence, Milan is still worth a few nights (maybe longer if you're looking to enjoy the glitzy, fashionista side of the city).
This travel guide Milan travel guide to help you plan your trip, save money, and make the most out of your time in this fashion-forward metropolis.
Top 5 Things to See and Do in Milan
1. Visit the Duomo
With over 3,500 statues, 135 spires, and five bronze doors, it is not surprising that it took 500 years to complete the Milan Cathedral. Be sure to admire the view from the top. The stairs cost 15 EUR while the elevator is 20 EUR.
2. Relax in Parco Sempione
Parco Sempione is home to the Sforzesco Castle, an aquarium, Triennale di Milano (a design and art museum), Branca Tower, and a handful of bars and cafes. This is a tranquil place to wander for hours or to sit and have a picnic in the grass.
3. Explore Sforzesco Castle
Built in the 15th century, this castle houses 12 museums and a vast archive of artifacts. Two noteworthy museums include the Museum of Ancient Art and the Museum Pietà Rondanini. The castle entrance is free, but admission to all of the museums costs 10 EUR.
4. Admire the Last Supper
This Leonardo da Vinci masterpiece resides in the church of Santa Maria delle Grazie. The Last Supper is remarkably well preserved and historians still haven't solved all its mysteries. Book in advance if you are going during peak season. Tickets cost 26 EUR.
5. Watch some football
If you're a football (soccer) fan, book yourself tickets to a match at San Siro stadium. Milan is home to two of the world's best football teams: AC Milan and Inter Milan. Games are super lively and a great way to connect with locals. Tickets start at 20-30 EUR.
Other Things to See and Do in Milan
1. Take a walking tour
One of the best ways to get to know Milan is to walk around it with a local! You'll get your bearings, a history lesson, and see the main highlights as you explore. For free walking tours, check out Citywalkers or Milan Free Tour. Their tours cover the main sights and are perfect for budget travelers. Just be sure to tip your guide at the end.
If you're looking for more in-depth tour of the Last Supper and Duomo, check out Take Walks. They run the best paid tours in the city.
2. See Leonardo's Horse
Located in the Piazella Dello Sporto, Leonardo's Horse is one of the world's largest bronze equine statues. Created by Nina Akamu in the 1990s, the design is based entirely on Leonardo da Vinci's sketches from when he was commissioned by the Duke of Milan Ludovico il Moro in 1482. da Vinci was meant to create the world's largest bronze horse statue dedicated to the Duke's father, Francesco, but it was never completed. The horse stands over 24-feet tall and weighs 15 tons.
3. Roam the flea markets
While Milan is renowned for its high-end fashion and designer labels, it is also home to its fair share of flea markets. Fiera di Senigallia, the city's most popular and retro flea market, sells disco gear and comic books, among many other treasures while Papiniano (near Fiera di Senigallia) is known for shoes and houseware goods. If you time your visit for the end of the month, Antiquariato sul Naviglio is a good place to go antique hunting (it happens on the last Sunday of the month).
4. Visit Pinacoteca di Brera
Pinacoteca di Brera is one of the main art galleries in Milan. It contains works from Raphael, Mantegna, Rembrandt, and other masters. Its most famous artwork is Mantegna's Lamentation of Christ, a dramatic painting that shows Jesus lying in rigor mortis on a mortuary slab. Admission is 15 EUR.
5. Wander Idroscalo Park
Idroscalo Park is centered on Idroscalo Lake, a man-made lake offering a green escape from Milan's concrete jungle. There are plenty of places for cycling, hiking, and having a picnic. During the summer, there are evening performances in the park featuring everything from modern dance to live orchestras. Pack a lunch, bring a book, and lounge away the afternoon.
6. Walk along Corso Magenta
In the northwestern part of Milan, this street is home to several cafes, shops, and Baroque palaces. It's a beautiful street to wander and gives you an awesome sense of "being in Italy." The Santa Maria delle Grazie church and convent, which houses The Last Supper, are here.
7. Tour the canals
Surprised to hear that there are canals in Milan? Well, there are — two to be exact. Based in the Navigli district, these canals offer a unique perspective of the city and are best enjoyed during the summer months when you can take a lazy boat trip (or even a Venetian gondola). Be sure to check out Boffalora sopra Ticino village or the stately villas of the Robecco sul Naviglio commune. The Navigli district is a quiet neighborhood and makes for a restful break from the hustle and bustle of the city.
8. Wander the Giardini della Guastalla
Known as the Gardens of the Guastalla, these are some of the oldest gardens in Milan. The gardens date back to the 16th century and have been open to the public since the early 1900s. Amongst the tall stemmed plants and blooming flowers, you'll find a fish bath filled with carp and redfish, marble statues, and an area to play bocce. Giardini della Guastalla is located near the Duomo. Admission is free.
9. Go shopping
If you are looking to do some serious shopping or even just window shop, go to the Galleria Vittorio Emanuele II. This is an intense shopping center with an iron and glass roof that took 12 years to construct. It's home to fashion giants such as Prada and Gucci. Buy yourself a 12 EUR coffee and watch as the Milanese high society passes through.
For more information on other destinations in Italy, check out these guides:
Milan Travel Costs
Hostel prices – A bed in a dorm with 6-8 beds ranges from from 15-30 EUR per night. Private rooms start at 60-100 EUR. Hostels usually have free Wi-Fi, and some include breakfast.
Budget hotel prices – There aren't many two-star budget hotels in Milan. For a three-star budget hotel, prices range from 45-95 EUR per night. Expect basic amenities like TV, Wi-Fi, AC, and a coffee/tea maker. Some also include free breakfast.
On Airbnb, you can find private rooms ranging from 40-90 EUR per night. Entire homes (usually studio apartments) cost closer to 100-120 EUR per night.
Average cost of food – Italian cuisine is beloved around the world, though every region in Italy has its own distinct flavor. Tomatoes, pasta, olives, and olive oil form the backbone of most meals, with meat and fish and various cheeses rounding out the menu. In Milan, risotto alla Milanese, veal cutlets, meat ravioli, and cassoeula (a meat and cabbage stew) are all popular dishes.
Lunch in the city starts at 15 EUR, with dinner in a restaurant costing anywhere from 35-40 EUR for a three-course meal with drinks.
If you want to splash you, expect to pay around 75 EUR for dinner and drinks.
Quick eats like pizza, paninis, and light snacks cost 3-8 EUR. Consider getting a panzerotto at Luini (close to the Duomo and the Galleria), or pizza at Mr. Panozzos (in the Citta' Studi area).
Fast food (think McDonald's) costs 8 EUR for a combo meal. Beer is around 5 EUR while a latte or cappuccino is under 2 EUR. Bottled water is around 1 EUR.
If you plan on cooking your own food, a week's worth of groceries costs around 40-60 EUR. This gets you basic staples like pasta, rice, seasonal produce, and some meat.
Backpacking Milan Suggested Budgets
On a backpacking budget of 50 EUR per day, you can stay in a hostel dorm, cook all of your meals, limit your drinking, take public transportation to get around, and do mostly free activities like enjoying the parks and visiting the castle. If you plan on drinking, add 5-10 EUR to your daily budget.
On a mid-range budget of 120 EUR per day, you can stay in a private Airbnb or private hostel room, eat out for most meals, enjoy a few drinks, take the occasional taxi to get around, and do more paid activities like visiting museums and taking a paid walking tour.
On a "luxury" budget of 245 EUR or more per day, you can stay in a hotel, eat out for all your meals, drink as much as you want, rent a car or take more taxis, and do whatever tours and activities you want. This is just the ground floor for luxury though. The sky is the limit!
You can use the chart below to get an idea of how much you need per day. Keep in mind these are daily averages – some days you'll spend more, some days you'll spend less (you might spend less every day, who knows!). We just want to give you a general idea of how to budget your money. Prices are in EUR.
Accommodation
Food
Transportation
Attractions
Average Daily Cost
Backpacker
20
10
10
10
50
Mid-Range
60
25
15
20
120
Milan Travel Guide: Money-Saving Tips
This is one of the most expensive cities in Italy and it's not the easiest to save money in. However, its not impossible either. Here are some ways to save money in Milan so you don't break the bank:
Don't eat in Station Square – The restaurants around here are tourist traps and are vastly overpriced. Head a few blocks outside of this area for authentic and less expensive food.
Avoid the taxis – Taxis are expensive here (the base fare is 6 EUR and then it's 1.35 EUR for each additional kilometer). Stick to public transportation if you're on a budget.
Take the Radiobus – Radiobus is an on-request bus network that runs from 8pm-2am to provide safe and reliable night transportation. Tickets are 3 EUR or less, making this an affordable way to get around at night instead of taxis.
Do some cheap shopping – If you don't want to miss out on the fashion experience, head to the Brera District for some less expensive but trendy boutique stores.
Get a city pass – If you are going to do lots of sightseeing, the Milan City Pass can give you discounts/free entry to the top museums, tours, and attractions. A one-day pass costs 11 EUR, a two-day pass costs 17 EUR, and a three-day pass is just 19.50 EUR.
Skip the bread – Some restaurants charge you extra for the bread or breadsticks on the table but won't tell you about it until the bill comes. If you're on a tight budget, decline the bread.
Take a free walking tour – A free walking tour is the best way to get familiar with a new city while learning lots of interesting history in the process. Citywalkers and Milan Free Tour are both great, budget-friendly options.
Stay with a local – Make a local friend and get a free place to stay by using Couchsurfing! This is the best way to save money and connect with a local who can share their insider tips.
Bring a water bottle – The tap water here is safe to drink so bring a reusable water bottle to save money and reduce your plastic use. LifeStraw is my go-to brand as their bottles have built-in filters to ensure your water is always clean and safe.
Where to Stay in Milan
Milan has lots of great hostels in it (a lot more now than when I first started visiting). My recommended places to stay in Milan are:
How to Get Around Milan
Public transportation – Milan's public transportation is run by the Azienda Trasporti Milanesi (ATM) and uses the same ticketing system across all modes of transportation (bus, tram, subway). Each ticket costs 2 EUR for 90 minutes. You can ride as many buses/trams/trains in that period as you like.
You can purchase a 10-ride pass for 18 EUR or a 24-hour pass for 11 EUR. A 48-hour pass is 17 EUR. There's a week-long pass as well, but it doesn't cover unlimited rides, so you're better off with one of the options listed above.
Radiobus tickets (a night bus service) cost about 3 EUR and runs from Milan to neighboring towns.
You can use the ATM app to purchase tickets or buy them at the metro station.
Milan's subway system is the fastest and easiest way to get around town. There are four lines, and they cover most of the main attractions.
If you're going to or from the airport, the Malpensa Express train is a great way to zip in and out of town to catch your flight. A one-way ticket costs 13 EUR.
Taxi – Taxis are expensive, with a base fare of 6 EUR. Skip the taxis here as they add up fast!
Uber is available here, but it too isn't cheap. Stick to the bus and subway if you can.
Bike rental – Milan is the most bike-friendly city in Italy, home to over 220km of bike lanes. You can find bike rentals starting at 15 EUR per day.
Car rental – Car rentals can be found for as little as 20 EUR per day for a multi-day rental. You won't need one for the city, but having a vehicle for day trips might be helpful. That said, I wouldn't rent a car here unless you're an experienced driver as Italian drivers can be a bit aggressive.
When to Go to Milan
The summer months (June to August) are sunny and hot, with daily averages hovering around 29°C (84°F). This is the most popular time to visit, so the city is lively but it's also busy so be sure to book your accommodation in advance.
The shoulder seasons are the best time to visit Milan, from April-May and then September-October. You'll avoid peak tourism season and the weather is still warm. The average temperature in May is 22°C (71°F) while in October it's 18°C (62°F).
Temperatures cool off considerably from November to March, with lots of fog. It's much quieter in Milan during these months. Expect daily highs around 7°C (44°F).
If your biggest reason for visiting Milan is for its shopping and fashion, Fashion Week takes place twice a year (autumn/winter and spring/summer) and is a big deal. I have never been, as it's not really my thing, but the celebrations are legendary. You need to book accommodations far in advance as the city fills up during this time and everything becomes a lot more expensive.
How to Stay Safe in Milan
Milan is a very safe place to backpack and travel as violent crime is rare. Pickpocketing is the most common crime you'll face, so you should be vigilant around Central Station and the area around the Piazza Duca D'Aosta.
Always keep your valuables secure and out of sight, just to be safe (especially on public transportation).
As in any city, never leave your drink unattended at the bar. Also, never walk home alone at night if you've been drinking.
Scams here are rare, but if you're worried about getting ripped off you can read about common travel scams to avoid right here.
Avoid Parco Sempione at night, especially if you're alone. The same goes for the Arc of Peace.
If you experience an emergency, dial 113 for assistance.
Always trust your gut instinct. Make copies of your personal documents, including your passport and ID.
If you wouldn't do it at home, don't do it in Milan!
The most important piece of advice I can offer is to purchase good travel insurance. Travel insurance will protect you against illness, injury, theft, and cancellations. It's comprehensive protection in case anything goes wrong. I never go on a trip without it as I've had to use it many times in the past. You can use the widget below to find the policy right for you:
Milan Travel Guide: The Best Booking Resources
These are my favorite companies to use when I travel. They consistently have the best deals, offer world-class customer service and great value, and overall, are better than their competitors. They are the companies I use the most and are always the starting point in my search for travel deals.
Skyscanner – Skyscanner is my favorite flight search engine. They search small websites and budget airlines that larger search sites tend to miss. They are hands down the number one place to start.
Hostelworld – This is the best hostel accommodation site out there with the largest inventory, best search interface, and widest availability.
Booking.com – The best all around booking site that constantly provides the cheapest and lowest rates. They have the widest selection of budget accommodation. In all my tests, they've always had the cheapest rates out of all the booking websites.
HostelPass – This new card gives you up to 20% off hostels throughout Europe. It's a great way to save money. They're constantly adding new hostels too. I've always wanted something like this and glad it finallt exists.
Intrepid Travel – If you want to do group tours, go with Intrepid. They offer good small group tours that use local operators and leave a small environmental footprint. And, as a reader of this site, you'll get exclusive discounts with them too!
Get Your Guide – Get Your Guide is a huge online marketplace for tours and excursions. They have tons of tour options available in cities all around the world, including everything from cooking classes, walking tours, street art lessons, and more!
Eurail – If you are going to Europe and taking a lot of high speed or long distance trains, get a rail pass. I've used a rail pass three times and saved hundreds of dollars each time. The math just works.
The Man in Seat 61 – This website is the ultimate guide to train travel anywhere in the world. They have the most comprehensive information on routes, times, prices, and train conditions. If you are planning a long train journey or some epic train trip, consult this site.
Rome2Rio – This website allows you to see how to get from point A to point B the best and cheapest way possible. It will give you all the bus, train, plane, or boat routes that can get you there as well as how much they cost.
FlixBus – Flixbus has routes between 20 European countries with prices starting as low 5 EUR! Their buses include WiFi, electrical outlets, a free checked bag.
SafetyWing – Safety Wing offers convenient and affordable plans tailored to digital nomads and long-term travelers. They have cheap monthly plans, great customer service, and an easy-to-use claims process that makes it perfect for those on the road.
ItaliaRail – A great resource to use when planning your trip via train around Italy as you can compare prices, routes, and schedules and save up to 60% on your tickets.
Take Walks – This walking tour company provides inside access to attractions and places you can't get elsewhere. Their guides rock and they have some of the best and most insightful tours in all of Italy.
Fat Tire Tours – For bike tours, use this company. They have fun, interactive tours led by expert local guides. You'll get to see all the main sights without breaking the bank!
BlaBlaCar – BlaBlaCar is a ridesharing website that lets you share rides with vetted local drivers by pitching in for gas. You simply request a seat, they approve, and off you go! It's a cheaper and more interesting way to travel than by bus or train!
Milan Gear and Packing Guide
If you're heading on the road and need some gear suggestions, here are my tips for the best travel backpack and for what to pack!
The Best Backpack for Travelers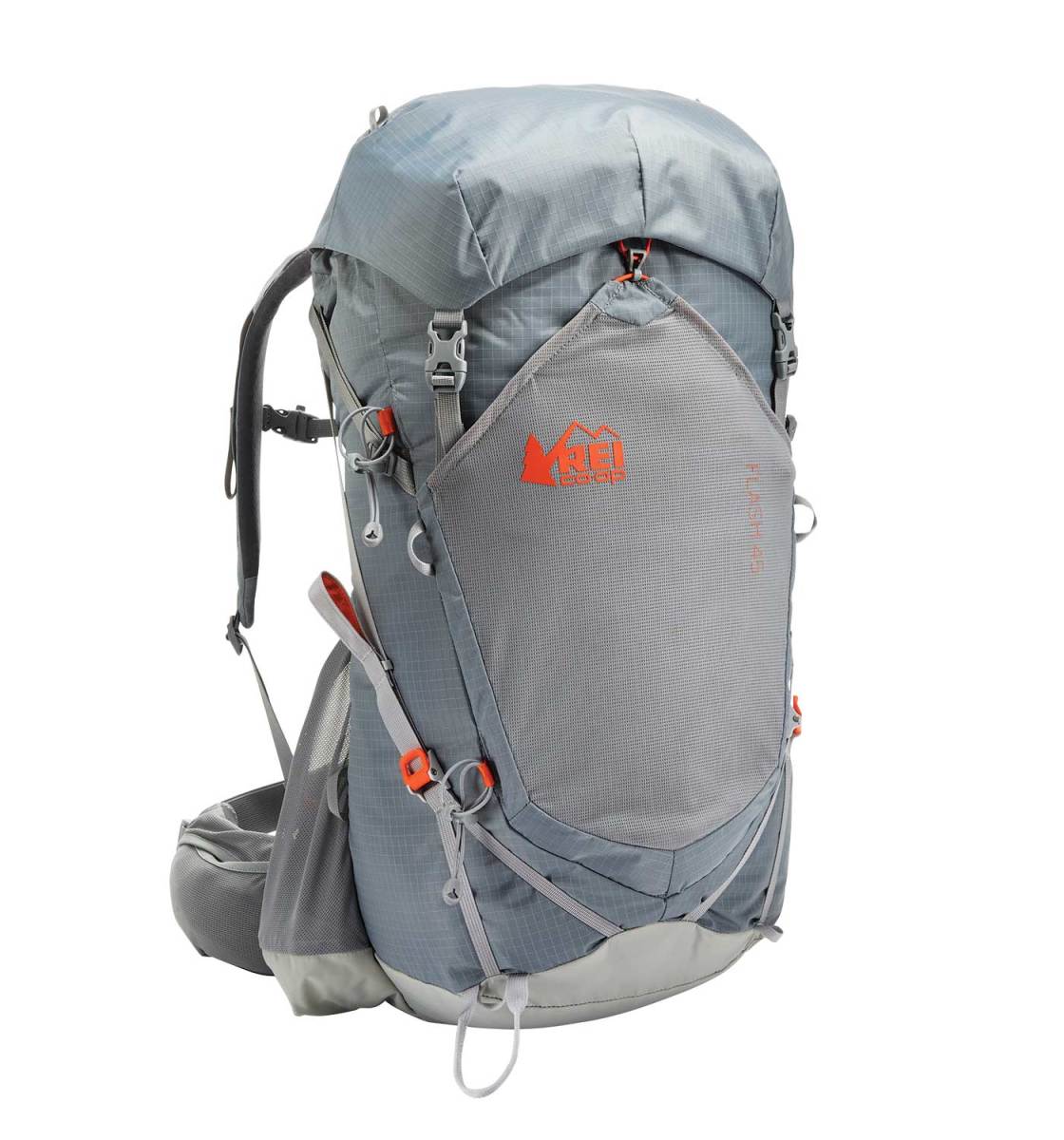 What's the best backpack for traveling long-term? I recommend the
REI Flash 45 Pack
. It's light and comfy, top loading, and fits perfectly in an airplane's overhead bin.
Size:
45-47L
Straps:
Thick and cushy with compression technology that pulls the pack's load up and inwards so it doesn't feel as heavy.
Features:
Removable top lid, pocket at the front, hydration compatible, contoured hip belt
If you want something different, refer to my article on how to choose the best travel backpack for tips on picking a pack and other backpack suggestions.
What to Pack for Your Trip
Clothes
1 pair of jeans (heavy and not easily dried, but I like them; a good alternative is khaki pants)
1 pair of shorts
1 bathing suit
5 T-shirts (Unbound Merino is my preferred company. If you're a member of NM+, you can get 15% off your purchase)
1 long-sleeved T-shirt
1 pair of flip-flops
1 pair of sneakers
6 pairs of socks (I always end up losing half)
5 pairs of boxer shorts (I'm not a briefs guy!)
1 toothbrush
1 tube of toothpaste
1 razor
1 package of dental floss
1 small bottle of shampoo
1 small bottle of shower gel
1 towel
Deodorant
Small Medical Kit (safety is important!!!)
Miscellaneous
Female Travel Packing List
I'm not a woman, so I don't know what a woman wears, but Kristin Addis, our solo female travel guru, wrote this list as an addition to the basics above:
Clothing
1 swimsuit
1 sarong
1 pair of stretchy jeans (they wash and dry easily)
1 pair of leggings (if it's cold, they can go under your jeans, otherwise with a dress or shirt)
2-3 long-sleeve tops
2-3 T-shirts
3-4 spaghetti tops
1 light cardigan
Toiletries
1 dry shampoo spray & talc powder (keeps long hair grease-free in between washes)
1 hairbrush
Makeup you use
Hair bands & hair clips
Feminine hygiene products (you can opt to buy there too, but I prefer not to count on it, and most people have their preferred products)
For more on packing, check out these posts:
Milan Travel Guide: Related Articles
Want more info? Check out all the articles I've written on backpacking/traveling Italy and continue planning your trip: