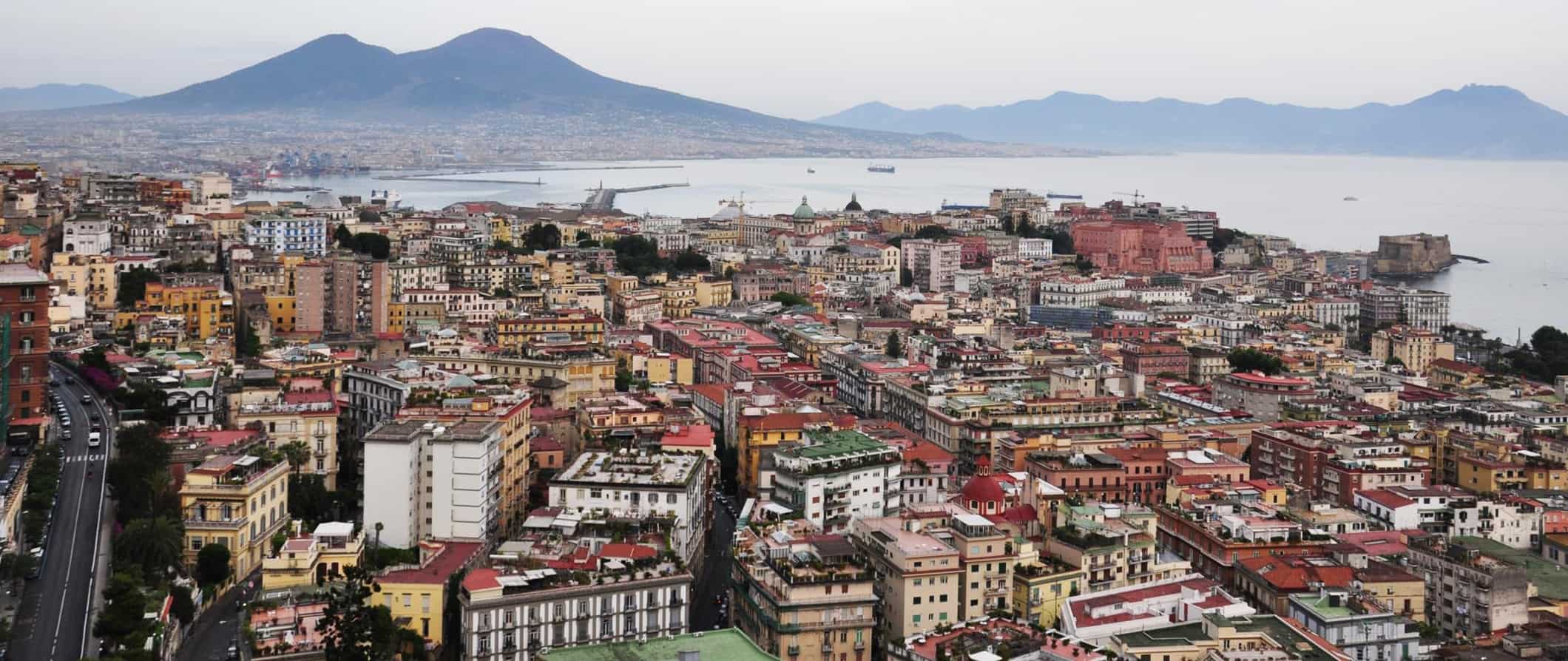 Naples, made famous as the birthplace of pizza, is a gritty city home to a wealth of historical treasures. The medieval Naples Cathedral, the 18th-century Villa Comunale park, and nearby Pompeii make Naples a must-see destination for history buffs and foodies alike.
Naples is the gateway to the south of Italy so you're very likely to come here if you're crisscrossing the country. Its location near Pompeii, Capri, and Sorrento makes it the perfect starting point for exploring the region.
Best of all, it's a foodie city like no other; I ate my weight in pizza during my visit!
This Naples travel guide can help you plan your trip, save money, and make the most of your time in this iconic Italian city!
Top 5 Things to See and Do in Naples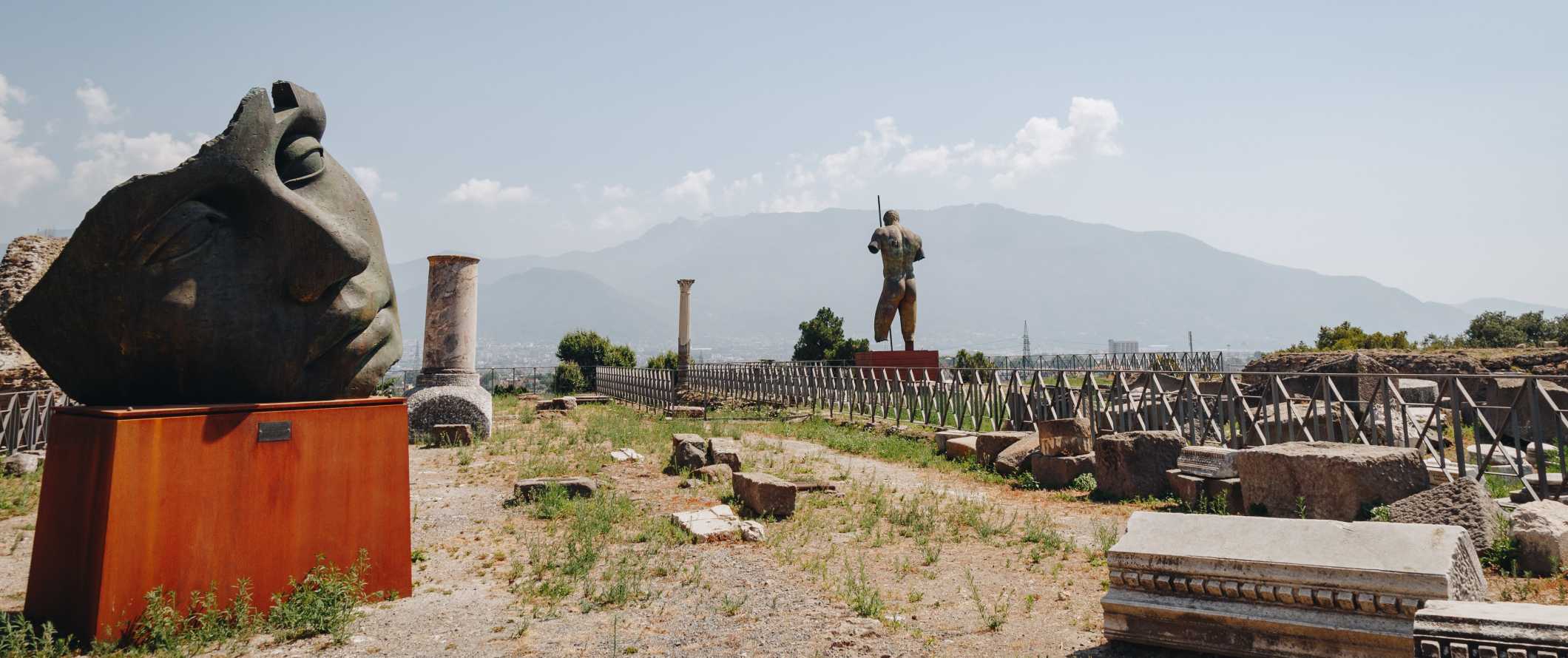 1. Visit the Archaeological Museum of Naples
This museum has one of the world's best collections of Greek and Roman artifacts from both the city of Naples and nearby Pompeii. There's ancient jewelry, mosaics, bronzes, sculptures, and a cast of a girl who perished in the eruption of Mount Vesuvius in 79 CE. The museum also contains a room that is referred to as the "Secret Cabinet," a collection of 1st-century Roman erotic art from Pompeii and Herculaneum. Admission is 15 EUR.
2. Check out Villa Comunale
King Ferdinand IV designed this strip of seaside land as a park for Bourbon royalty in the 1780s. Except for special events, it was closed to the public until 1869 after the unification of Italy. In addition to beautiful walkways and gardens, there is a vintage aquarium and several ornate fountains lining the 1-kilometer (0.62 miles) promenade.
3. Hike Mount Vesuvius
Mount Vesuvius is the volcano that wiped out Pompeii and Herculaneum in 79 CE, killing thousands of people in the process. The hike is a fairly steep climb, but a short one (it's just 30-60 minutes). At the top, you'll be able to look into the volcano's crater and out across the Bay of Naples. The entry fee is 10 EUR and it must be purchased online in advance. It's easy to get here from Naples by taking the train and then transferring to a shuttle bus.
4. Explore Pompeii
The archaeological site of Pompeii lives up to the hype. Buried under 4-6 meters (13-20 feet) of volcanic ash when Mount Vesuvius erupted, the ancient Roman city was preserved as a snapshot in time. Today, you can wander the expansive, 160-acre UNESCO World Heritage Site with its excavated villas, baths, amphitheater, mosaics, frescoes, and gruesome casts of victims in their final moments. It's a fascinating place, and I spent a whole day here. You can visit the site on your own for 16 EUR, but the best way to make the most of your time is to take a guided tour to get the context of all the buildings and remains.
5. See the Duomo
The Duomo is a 13th-century Gothic cathedral dedicated to the city's patron saint, San Gennaro. The church is decorated with frescoes, reliefs, and mosaics from across the centuries. You can also descend into the crypt to see the archaeological remains of the ancient paleo-Christian church that the cathedral was built on top of. Every year, the Duomo hosts the Festival of San Gennaro, where a vial of the saint's dried blood is taken out of storage in hopes that it will liquefy. Legend states that if the blood does not liquefy, tragedy will befall Naples.
Other Things to See and Do in Naples
1. Take a free walking tour
One of the first things I do in a new destination is to take a free walking tour. It's the best way to see the main highlights and learn about the city from a local guide who can answer all your questions. Free Walking Tour Napoli offers a solid free tour that covers all the main sights. Just be sure to tip your guide at the end!
2. Shop at Piazza del Mercato
This market has been Naples' main market square since the 13th century. It sells everything from household goods to fresh produce and handmade souvenirs. During the Christmas season, this place is jam-packed with even more stalls selling festive goods.
3. Watch a show at Teatro San Carlo
Opened in 1737, this is the world's oldest opera house, having survived wars, fires, and revolutions. The inside, with blue upholstery, gold décor, sparkling chandeliers, and almost 1,400 seats gives off a lavish and ornate atmosphere. If you can't catch a show here, at least do a guided tour for 7 EUR.
4. Explore Herculaneum
Herculaneum is the lesser-known cousin of Pompeii. It used to be a fishing village of about 4,000 inhabitants who all befell the same fate as the citizens of Pompeii. The site is also very well preserved and usually has fewer tourists. While I wouldn't skip Pompeii, you should also try to work in a visit here too. Tickets are 11 EUR. If you want to do a guided tour with an archeologist, tours are 45 EUR.
5. Watch a film under the stars
Every summer there is an open-air film festival held here called N'ato Cinema. It starts at the beginning of June and then runs every week until the end of July, with screenings of international films and family films. Tickets are just 4.50 EUR.
6. Visit Villa Floridiana
Originally built in 1816 as a gift from King Ferdinand I to his second wife Duchess Lucia Migliaccio, this estate has beautifully manicured gardens, expansive views over Naples Bay, and an ornate fountain filled with turtles. It also houses the National Museum of Ceramics. With over 6,000 pieces in the collection, you'll see everything from Japanese Edo ceramics to European pieces. It's 4 EUR to visit the museum.
7. Tour the Anfiteatro Flavio
This was once the third-largest amphitheater in all of Italy, dating back to 1 CE (only the Roman Colosseum and the amphitheater in Capua are larger). Started under Emperor Vespasian and completed by his son, over 40,000 people used to gather here to watch gladiator matches and other entertainment. Today, you can tour the various fallen columns and learn more about the history of the stadium and its events. Admission is 4 EUR.
8. Visit Museo Nazionale di Capodimonte
This is the Neapolitan National Gallery, a museum featuring work by Baroque and Renaissance artists. Some of the big names here include Giordano, Caravaggio, Bellini, El Greco, and Titian. Works date from the 13th to 18th century. Admission is 12 EUR.
9. Wander through Castelnuovo
Castelnuovo is a large medieval castle that stands out along the coastline. Come here to visit the art museum, which houses a gallery of 17th-19th century Italian paintings, including works from Luigi Crisconio and Carlo Vanvitelli. It's 6 EUR to visit and you will get some great views over Naples and the coast too.
10. Take the Underground Tour
This was my favorite activity in Naples. Located in the city center, you can take an underground tour to explore some of the historic ruins of the city, including ancient reservoirs and the remains of a Roman-era theater. You'll learn about how the city has been built upon and changed over its 2,400-year history. It costs 80 EUR, but it's worth every penny.
For more information on other cities in Italy, check out these guides:
Naples Travel Costs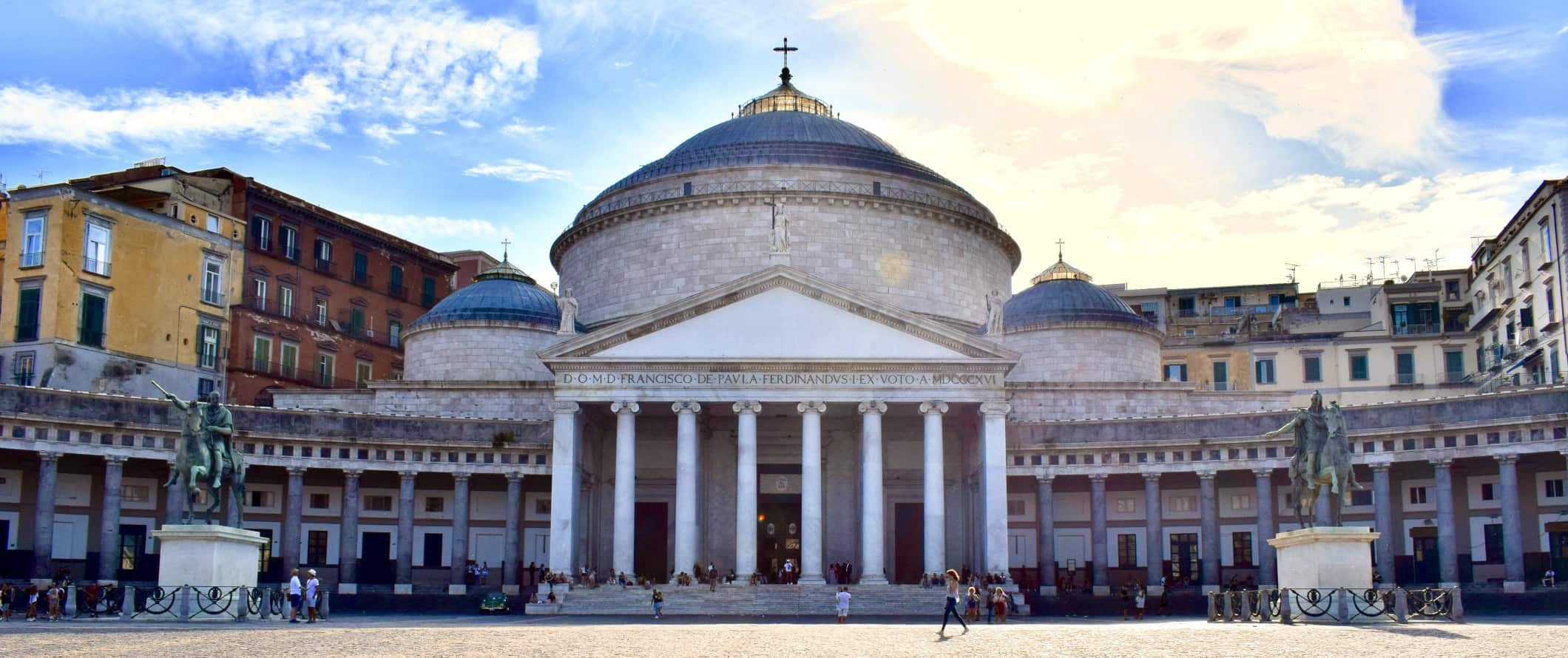 Hostel prices – A dorm bed in a hostel with 4-6 beds costs 28-35 EUR per night, while a bed in a room with 8-12 beds costs 20-27 EUR per night. Private rooms range from 75-100 EUR per night. Prices don't fluctuate much with the seasons. Hostels usually include free Wi-Fi and some also include free breakfast.
For those traveling with a tent, camping is available outside the city for as little as 10 EUR per night for one person and a basic plot without electricity.
Budget hotel prices – There aren't many two-star budget hotels in Naples. For a three-star budget hotel, prices range from 60-100 EUR per night. Expect basic amenities like free Wi-Fi, AC, TV, and a coffee/tea maker. Some also include free breakfast.
On Airbnb, you can find private rooms for 35-60 EUR per night. Entire apartments cost closer to 100 EUR per night but expect prices to double if you don't book early.
Average cost of food – Italian cuisine is beloved around the world, though every region in Italy offers its own distinct flavor. Tomatoes, pasta, olives, and olive oil form the backbone of most meals, with meat and fish and various cheeses rounding out the menu.
Pizza, popularized here in the 18th century, is a must when you're in Naples. Spaghetti alla puttanesca (spaghetti with capers) and Caprese salad (a fresh salad with tomatoes, basil, and mozzarella) are two other local favorites.
Overall, you can eat very cheaply in Naples. As the birthplace of pizza, there is no shortage of options under 10 EUR. Try Pizzeria Sorbillo (it's famous for a reason). Most casual restaurants offer pizza or pasta dishes for 10 EUR or less.
For other affordable eats, head to just about anywhere along Via dei Tribunali. Chinese takeout is another low-cost option, costing 5-7 EUR for a dish.
If you want to splash out, a three-course meal at a mid-range restaurant serving traditional Italian cuisine costs around 25 EUR.
Fast food (thick McDonald's) costs around 8 EUR for a combo meal. Beer is around 3 EUR while a latte/cappuccino costs around 1.50 EUR. Bottled water is less than 1 EUR.
If you're staying somewhere with a kitchen, a week's worth of groceries costs 50-60 EUR. This gets you basic staples like pasta, seasonal produce, and some meat.
Backpacking Naples Suggested Budgets
On a backpacking budget of 60 EUR per day, you can stay in a hostel dorm, cook all your meals, limit your drinking, take public transportation to get around, and do mostly free activities like strolling the parks and taking free walking tours. If you plan on drinking, add 5-10 EUR to your daily budget.
On a mid-range budget of 135 EUR per day, you can stay in a private Airbnb, eat out for most meals, enjoy a few drinks, take the occasional taxi to get around, and do more paid activities like visiting the museums and taking a day trip to Pompeii.
On a "luxury" budget of 230 EUR or more per day, you can stay in a hotel, eat out for all your meals, drink more, rent a car or take more taxis, and do whatever tours and activities you want. This is just the ground floor for luxury though. The sky is the limit!
Accommodation
Food
Transportation
Attractions
Average Daily Cost
Backpacker
25
15
10
10
60
Mid-Range
70
30
15
20
135
Naples Travel Guide: Money-Saving Tips
Naples isn't as expensive as northern Italian cities like Rome or Florence but it's still easy to blow your budget if you eat out a lot and do lots of activities. Fortunately, there are lots of ways to save here too. Here's how you can save money in Naples:
Eat on the cheap – Have a pizza or take a sandwich to go for just a few dollars to help manage your spending. Pizza is the best food in Naples and won't break the bank.
Get the Visitalia Tourist Card Napoli – If you are going to do lots of sightseeing, this tourist card provides discounts on the top museums, tours, and attractions. It's priced to save you money compared to buying separate tickets and includes free public transportation. A one-day pass costs 14.50 EUR, a two-day pass costs 19 EUR, and a three-day pass costs 23.50 EUR. There's even a week-long pass for just 26.80 EUR.
Buy wine instead of going to a bar – You can buy a great bottle of wine for just a few euros at the store. It's a lot cheaper than drinking at the bar.
Stay with a local – Accommodation is quite expensive in Italy, even in the hostels. Use Couchsurfing to stay with locals who have extra beds and couches for free. It's a great way to save money and connect with locals who can share their tips and advice. Just make sure to send your requests early.
Go on a free walking tour – This is a great way to learn the history behind the places you are seeing and to avoid missing any must-see stops. Free Walking Tour Napoli runs regular tours to help you get your bearings and see the main highlights. Just don't forget to tip your tour guide!
Bring a water bottle – The tap water here is safe to drink so bring a reusable water bottle to save money and reduce your plastic use. LifeStraw is my go-to brand as their bottles have built-in filters to ensure your water is always clean and safe.
Where to Stay in Naples
Looking for an affordable place to stay when you visit? Here are some of my recommended places to stay in Naples:
How to Get Around Naples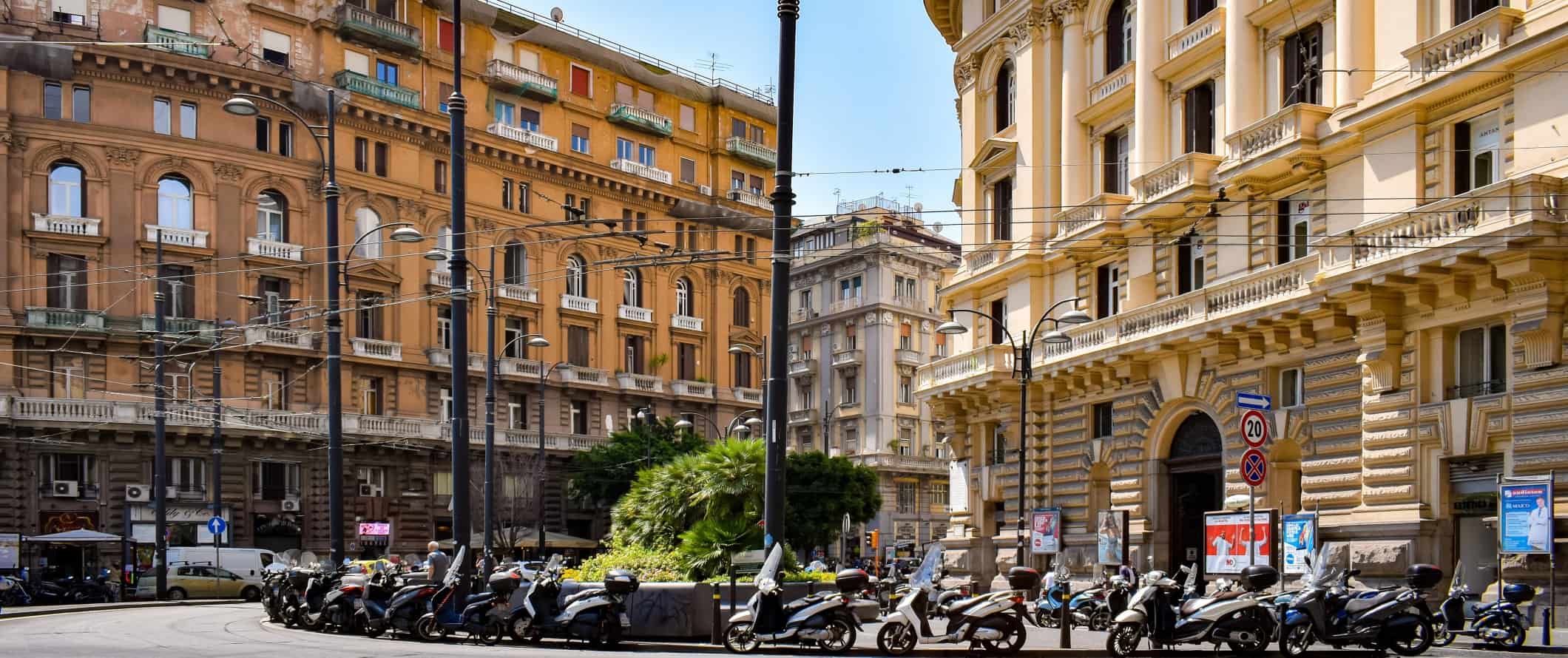 Public transportation – When it comes to public transportation in Naples, it's best to get a TIC (Ticket Integrato Campani) ticket, which works on all city metro, bus, and funicular services. A single ticket costs 1.60 EUR and is good for 90 minutes. A one-day pass is 4.50 EUR and a weekly ticket is 15.80 EUR.
The bus isn't the most efficient way to get around Naples, but it's useful for navigating Corso Umberto (the long main commercial street) since there is a designated bus lane.
Naples has a metro, but it doesn't have an extensive network so the bus is usually a better idea.
Train – The Circumvesuviana trains from Napoli Centrale runs to Sorrento for 4.50 EUR, and Herculaneum for 2.20 EUR. Pompeii costs just 2.80 EUR. The Ferrovia Cumana trains run to Pozzuoli for 2.20 EUR.
A great resource to use when planning your trip via train is ItaliaRail.
Taxis – Taxis are not cheap here. Meter rates start from 4.25 EUR and cost 1 EUR per kilometer. Skip the taxis if you can as they add up fast. If you do need a taxi, make sure the driver uses the meter so you don't get ripped off.
Bike rental – Naples is a bike-friendly city and rentals can be found for as little as 10 EUR per day.
Car rental – Cars can be rented for around 30-40 EUR per day for a multi-day rental. However, traffic in Naples is terrible so I'd only rent a car if you're heading out to do some day trips. Additionally, drivers here are on the aggressive side, so I'd only rent a car if you're an experienced driver.
When to Go to Naples
Thanks to its location on the Mediterranean, Naples is warm year-round. The summer months (June-August) are the most popular time to visit but they are also scorching, with temperatures usually above 31°C (88°F). July is also the driest month of the year. Many Italians take their vacations in August, so it gets particularly crowded here then. Expect accommodation to be booked well in advance (and to be more expensive) during this time.
Personally, I think the shoulder seasons are the best time to visit Naples (April-May and September-October). You'll avoid peak tourism season and you'll still have nice weather. Temperatures average around 22°C (72°F) which is much more tolerable.
This is especially a good time to visit Naples if your priority is going to Pompeii or Herculaneum. There will be fewer crowds and you will be a lot more comfortable exploring the ruins in cooler temperatures. There isn't much shade at these sites and very few places to sit and take breaks.
December to February are the coldest months, with daily highs around 8°C (46°F). This isn't the best time to visit, but prices will be a little lower and the crowds are gone.
How to Stay Safe in Naples
Naples is a very safe place to backpack and travel but often gets a bad rap for being a bit grittier than other places in Italy. Pickpocketing is the most common crime you'll encounter here so you need to stay vigilant in crowded areas (especially on public transportation). Always keep your valuables secure and out of reach.
When taking a taxi, always make sure they use the meter so you don't get ripped off.
Solo female travelers should generally feel safe here, however, the standard precautions apply (don't leave your drink unattended at the bar, don't walk around alone at night intoxicated, etc.).
While scams here are rare, if you're worried about getting ripped off you can read about common travel scams to avoid here.
The Spanish Quarter is a little sketchy at night, so avoid that area after dark or if you're alone.
If you're walking everywhere, stay alert! The traffic in Naples is crazy, and drivers do not respond to traffic lights very well. Be careful when crossing the street.
If you experience an emergency, dial 113 for assistance.
Always trust your gut instinct. Make copies of your personal documents, including your passport and ID.
The most important piece of advice I can offer is to purchase good travel insurance. Travel insurance will protect you against illness, injury, theft, and cancellations. It's comprehensive protection in case anything goes wrong. I never go on a trip without it as I've had to use it many times in the past. You can use the widget below to find the policy right for you:
Naples Travel Guide: The Best Booking Resources
These are my favorite companies to use when I travel. They consistently have the best deals, offer world-class customer service and great value, and overall, are better than their competitors. They are the companies I use the most and are always the starting point in my search for travel deals.
Skyscanner – Skyscanner is my favorite flight search engine. They search small websites and budget airlines that larger search sites tend to miss. They are hands down the number one place to start.
Hostelworld – This is the best hostel accommodation site out there with the largest inventory, best search interface, and widest availability.
Booking.com – The best all around booking site that constantly provides the cheapest and lowest rates. They have the widest selection of budget accommodation. In all my tests, they've always had the cheapest rates out of all the booking websites.
HostelPass – This new card gives you up to 20% off hostels throughout Europe. It's a great way to save money. They're constantly adding new hostels too. I've always wanted something like this and glad it finallt exists.
Get Your Guide – Get Your Guide is a huge online marketplace for tours and excursions. They have tons of tour options available in cities all around the world, including everything from cooking classes, walking tours, street art lessons, and more!
The Man in Seat 61 – This website is the ultimate guide to train travel anywhere in the world. They have the most comprehensive information on routes, times, prices, and train conditions. If you are planning a long train journey or some epic train trip, consult this site.
Rome2Rio – This website allows you to see how to get from point A to point B the best and cheapest way possible. It will give you all the bus, train, plane, or boat routes that can get you there as well as how much they cost.
FlixBus – Flixbus has routes between 20 European countries with prices starting as low 5 EUR! Their buses include WiFi, electrical outlets, a free checked bag.
SafetyWing – Safety Wing offers convenient and affordable plans tailored to digital nomads and long-term travelers. They have cheap monthly plans, great customer service, and an easy-to-use claims process that makes it perfect for those on the road.
LifeStraw – My go-to company for reusable water bottles with built-in filters so you can ensure your drinking water is always clean and safe.
Unbound Merino – They make lightweight, durable, easy-to-clean travel clothing.
Top Travel Credit Cards – Points are the best way to cut down travel expenses. Here's my favorite point earning credit cards so you can get free travel!
BlaBlaCar – BlaBlaCar is a ridesharing website that lets you share rides with vetted local drivers by pitching in for gas. You simply request a seat, they approve, and off you go! It's a cheaper and more interesting way to travel than by bus or train!
Naples Travel Guide: Related Articles
Want more info? Check out all the articles I've written on backpacking/traveling Italy and continue planning your trip: