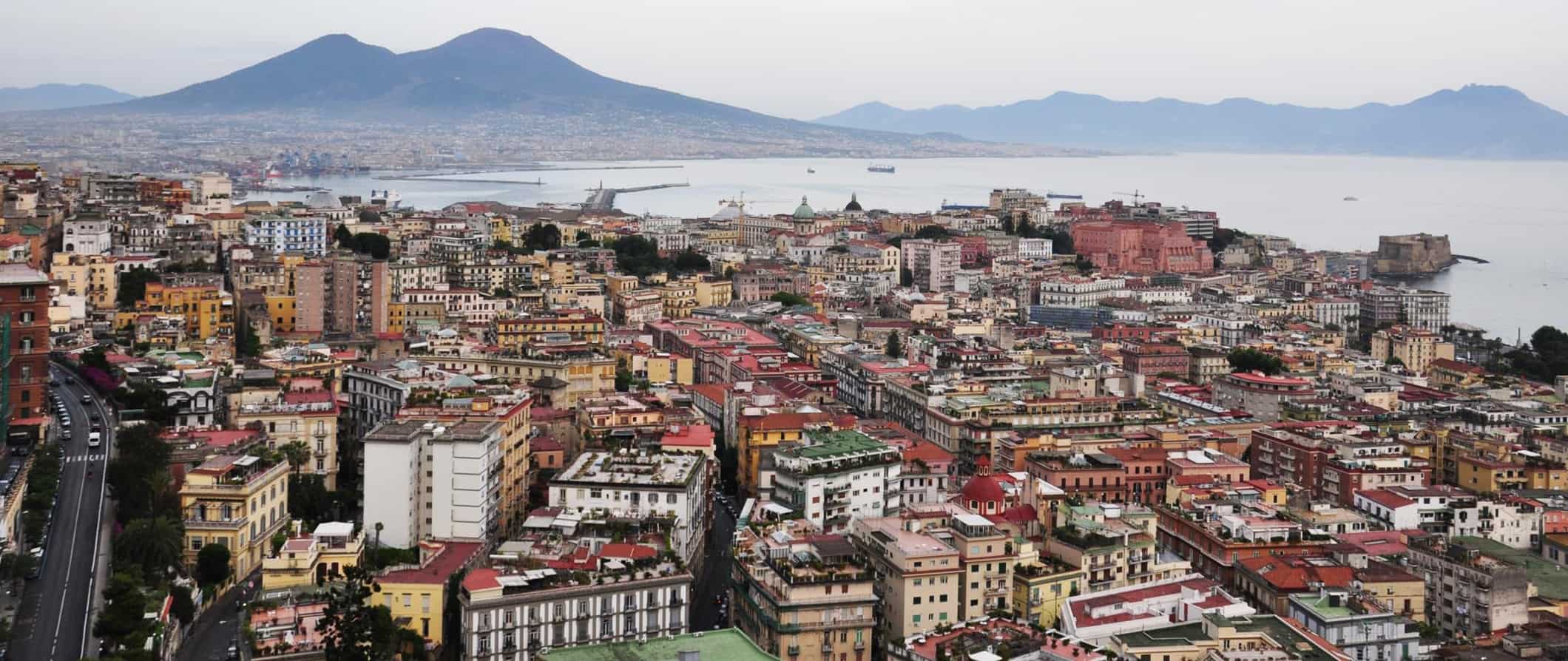 Lots of people backpack around Naples or visit the city as they travel the southern part of Italy. It's a gateway to the south so you're very likely to come here.
Naples, famous for its pizza and its wealth of historical attractions, is gritty in a run-down "it has character" kind of way.
It's the birthplace of pizza, home to a wealth of historical treasures like the Duomo and Villa Comunale, and has a really incredible and fascinating underground city tour.
Plus, it's food city like no other! I ate so much pizza here that I basically became one.
Naples' location near Pompeii, Capri, and Sorrento also makes it a good starting point for exploring the region.
This travel guide to Naples will give you the best places to visit, tell you how to save money, how to get around, give you costs, and help you plan the best trip to this city!

Naples
Top 5 Things to See and Do in Naples
1. Visit the Archaeological Museum of Naples
The museum has one of the world's best collections of Greek and Roman artifacts from the city as well as nearby Pompeii. There's glass, mosaics, sculptures, and even the casts of the bodies found at Pompeii. It's very informative. Admission is €8 EUR ($9 USD) and it's open daily (except Tuesdays) from 9am-7:30pm.
2. Check out Villa Comunale
This once prestigious strip of seaside land was originally designed for Bourbon royalty. It was closed off to the public until 1869. In addition to beautiful walkways, there is a vintage aquarium, and several ornate fountains. Come here for a stroll and to enjoy the ocean views.
3. Go on the Naples Underground Tour
This was my favorite activity in Naples. Located in the city center, you take an underground tour of some of the ruins of the city, see ancient reservoirs, and learn about how the city has been built upon and changed over thousands of years. Prices start at €80 EUR ($90 USD) but it is worth every penny.
4. Be awed by Pompeii
One of the best-preserved Roman ruins in Italy, Pompeii lives up to the hype. Make sure you take a guided tour so you will get the context of all the buildings and remains, as there are quite a few sites. I spent a whole day at Pompeii. Visit the site on your own for €11 EUR ($12.30 USD), or take a guided tour. These start from €33 EUR ($37 USD).
5. Take a peek in the Duomo
The Duomo is a 13th-century Gothic cathedral dedicated to the city's patron saint, San Gennaro. Every year, the Duomo hosts the Festival of San Gennaro, and a vial of the saint's blood is taken out of storage in hopes that it will liquefy. It's quite the event, but the church is still beautiful even if you can't make the festival.
For more information on specific destinations in Italy, check out these guides:
Other Things to See and Do in Naples
1. Shop at Piazza del Mercato
This market has been Naples' main market square since the 13th century. It sells everything from household goods to fresh produce and handmade souvenirs. During the Christmas season, this place is jam-packed with even more stalls selling festive goods.
2. Watch a show at Teatro San Carlo
Opened in 1737, this is the world's oldest opera house. The inside, with blue upholstery, gold décor, and sparkling chandeliers, is quite ornate. If you can't catch a show here, at least do a tour. They start from €9 EUR ($10 USD).
3. Explore Herculaneum
Herculaneum is the lesser-known cousin of Pompeii. It used to be a fishing village of about 4,000 inhabitants who all befell the same fate as the citizens of Pompeii. The site is also very well preserved and usually has fewer tourists. While I wouldn't skip Pompeii, you should also try to work in a visit here too. Tickets are from €13 EUR ($14.55 USD).
4. Watch a film under the stars
Every summer there is an open-air film festival named N'ato Cinema at the Nato di Bagnoli base. It starts at the beginning of June and then runs every week from Thursday to Sunday until the end of July, with screenings of international films and family films. Tickets are just €4.50 EUR ($4 USD).
5. Visit Villa Floridiana
Originally built in 1816 as a gift from King Ferdinand I to his second wife, duchess Lucia Migliaccio, this estate has beautifully manicured gardens, expansive views over Naples Bay, and an ornate fountain filled with turtles. It also houses the National Museum of Ceramics. With over 6,000 pieces in the collection, you'll see everything from Japanese Edo ceramics to European pieces. It's €4 EUR ($4.50 USD) to visit the museum.
6. Tour the Anfiteatro Flavio
This was once the third largest amphitheater in all of Italy. Over 20,000 people used to gather here to watch crazy, bloody events like gladiator matches. Today, you can tour the various fallen columns and learn more about the history of the stadium and its events. Admission is €4 EUR ($4.50 USD), and it's open daily (except Tuesdays) from 9am until an hour before sunset.
7. Visit Museo Nazionale di Capodimonte
This is the Napolitan National Gallery – a museum featuring work by Baroque and Renaissance artists. Some of the big names here include Giordano, Caravaggio, Bellini, and Titian. Admission is €12 EUR ($13.45 USD), and it's open daily (except Wednesdays) from 8:30am-7:30pm.
8. Wander through Castelnuovo
Castelnuovo is the large medieval castle that stands out along the coastline. Come here to visit the art museum, which houses a gallery of 17th-19th century Italian paintings including works from Luigi Crisconio and Carlo Vanvitelli. It's €6 EUR ($6.70 USD) to visit and you will get some great views over Naples and the coast.
9. Hike up Mount Vesuvius
Mount Vesuvius is the volcano that wiped out Pompeii and Herculaneum in 79 AD. Although it's still active, there's little chance of it erupting anytime soon. The hike is a fairly steep climb, but a short one (it should only take 30-60 minutes), and at the top you'll be able to look into the volcano's crater and out across the Bay of Naples. To get to the start of the hike, take the Vesuvio Express bus from the Ercolano Scavi station (which is on the Circumvesuviana train line). It's €10 EUR ($11.20 USD) round-trip, plus the entry fee to the volcano, which is another €10 EUR ($11.20 USD).
Naples Travel Costs
Hostel prices – You will pay around €15-17 EUR ($17-19 USD) per night for a 4-6 bed dorm room and at least €40 EUR ($45 USD) for a private room. Most private rooms start from €67 EUR ($75 USD), however. Hostels in Naples usually include free wifi, breakfast, and linens.
Budget hotel prices – A night in a two-star budget hotel starts around €31 EUR ($35 USD) and includes a private bathroom, free wifi, and (sometimes) breakfast.
On Airbnb, you can find shared rooms starting around €18 EUR ($20 USD) per night, while private rooms start from €31 EUR ($35 USD). Entire apartments start from around €40 EUR ($45 USD) per night.
Average cost of food – You can eat very cheaply in Naples. As the birthplace of pizza, there is no shortage of options under €10 EUR ($11 USD). Try Pizzeria Sorbillo (it's famous for a reason). For other affordable eats, head to just about anywhere along Via dei Tribunali.
If you want a meal from a higher-end restaurant, expect to spend around €25 EUR ($28 USD) for dinner including a drink. The coperto (table charge) is usually €3 EUR ($3.35 USD) and is a rip-off, but unfortunately built into every bill.
If you're staying somewhere with a kitchen, you can cook your own food, with groceries (basic foodstuffs like pasta, vegetables, chicken, etc.) costing around €60 EUR ($67 USD) per week. If you find a discount grocer like Eurospin, Lidl or Penny Market, you'll pay a lot less.
Backpacking Naples Suggested Budgets
If you are backpacking Naples, you'll spend around €51 EUR ($57 USD) per day. With this budget, you'll be staying in a hostel dorm, cooking most of your meals, eating the cheap pizza and paninis of the city, using public transportation, taking a free walking tour, and maybe doing a paid attraction or two.
On a more mid-range budget of about €110 EUR ($125 USD) per day, you'll get a two-star budget hotel or a private hostel room, cheap local eats, a nice dinner or two, an occasional taxi, and a couple of attractions per day including a trip to Pompeii. You won't be living large, but you'll be able to see everything you need.
On a luxury travel budget, expect to spend at least €250 EUR ($280 USD) per day. You'll get a 4-star hotel, private transportation, meals and drinks at any restaurant you want, and all the sightseeing and tours you want. After that, the sky is the limit. When you got money, there's no need to really budget, right?
Use the chart below to get some idea of how much you need to budget daily, depending on your travel style. Keep in mind these are daily averages – some days you'll spend more, some days you'll spend less (you might spend less every day). We just want to give you a general idea of how to make your budget. Prices are in USD.
Accommodation
Food
Transportation
Attractions
Average Daily Cost
Backpacker
$17
$15
$5
$20
$57
Mid-Range
$35
$20
$20
$50
$125
Luxury
$55
$90
$35
$100
$280
Naples Travel Guide: Money-Saving Tips
Naples isn't as expensive as northern Italian cities like Rome or Florence so you get more bang for your Euro here. But there's always to save money when you visit Naples:
Eat on the cheap – Have a pizza or take a sandwich to go for just a few dollars to help manage your spending. Pizza is the best food in Naples and won't break the bank, so it's a win-win. You can get a pizza for under €10 EUR ($11 USD).
Get the Visitalia Tourist Card Napoli – If you are going to do lots of sightseeing, this tourist card will give you discounts to the top museums, tours, and attractions. It is priced to save you money when compared to buying separate tickets. A one-day pass costs €14.50 EUR ($16.25 USD) and also includes free public transportation.
Drink the tap water – The water here is fine to drink. Refill your water bottles and always ask for tap water at a restaurant (or you'll be charged!).
Buy wine instead of going to a bar – You can buy a great bottle of wine for €4 EUR ($4.50 USD). It's a lot cheaper than drinking at the bar.
Couchsurf – Accommodation is quite expensive in Italy, even in the hostels. Use Couchsurfing to stay with locals who have extra beds and couches for free. I use the service a lot and find it not only saves me money, but I meet great people too.
Go on a free walking tour – This is a great way to learn the history behind the places you are seeing and to avoid missing any must-see stops. Take the Free Walking Tour Napoli to get your bearings in the city.
Where To Stay in Naples
Looking for a place to stay when you visit? Here are some of my recommended places to stay in Naples:
How to Get Around Naples
Traffic in Naples is crazy and taxis tend to be expensive so walk whenever possible.
When it comes to public transportation in Naples, it's best to get a TIC (Ticket Integrato Campani) ticket which works on all city metro, bus, and funicular services. A single ticket costs €1.60 EUR ($1.80 USD) and is good for 90 minutes. A one-day pass is €4.50 EUR ($5 USD), and a weekly ticket is €15.80 EUR ($17.70 USD).
Bus – The bus isn't the most efficient way to get around Naples, but it's useful for navigating Corso Umberto (the long main commercial street) since there is a designated bus lane.
Train – Naples has a metro, but it doesn't have an extensive network so the bus is usually a better idea.
The Circumvesuviana trains from Napoli Centrale runs to Sorrento for €3.90 EUR ($4.40 USD), and Herculaneum for €2.20 EUR ($2.45 USD). Pompeii costs just €2.80 EUR ($3.15 USD). Ferrovia Cumana trains run to Pozzuoli for €2.20 EUR ($2.47 USD).
Otherwise, a great resource to use when planning your trip via train is ItaliaRail.
Funicular – A handful of funicular services will take you to Vomero, while another connects Mergellina to Posillipo.
Taxis – Taxis are not cheap. Meter rates start from €3.50 EUR ($3.90 USD) and then cost €0.83 EUR ($0.93 USD) per kilometer. Most rides around the city are from minimum €15 EUR ($17 USD).
When to Go to Naples
Thanks to its location in South Italy on the Mediterranean, Naples is warm year-round. However, shoulder seasons are the best time to visit Naples. This is from April to May and then from September to October. You'll avoid peak tourism season when you come during the shoulder seasons, and you'll still have nice weather. Temperatures average around 72°F (21°C) for most of the shoulder seasons.
This is especially a good time to visit Naples if your priority is going to Pompeii or Herculaneum. There will be fewer crowds, and you will be a lot more comfortable exploring the ruins in cooler temperatures than in the searing heat of summer. There isn't much shade at these sites and very few places to sit and take breaks.
The summer months (from June to August) are scorching, with temperatures often being around 88°F (31°C). July is also the driest month of the year. Many Italians take their vacations in August, so it gets particularly crowded here then. December to February are the coldest months, with a high of 13°C (55°F).
How to Stay Safe in Naples
Naples is a very safe place to backpack and travel, but often gets a bad rep for being seedy and more dangerous compared to other places in Italy. Pickpocketing is the most common crime you'll face, and as always, you need to stay vigilant in crowded areas (especially on public transportation).
If you're worried about getting scammed, you can read about the 14 travel scams to avoid right here.
The Spanish Quarter is a little sketchy at times, so avoid that area after dark or if you're alone.
If you're walking everywhere, stay alert! The traffic in Naples is crazy, and drivers do not respond to traffic lights very well. Be careful when crossing the street.
Always trust your gut instinct. If a taxi driver seems shady, stop the cab and get out. If your hotel is seedier than you thought, get out of there. Make copies of your personal documents, including your passport and ID.
If you don't do it at home, don't do it in Naples!
The most important piece of advice I can offer is to purchase good travel insurance. Travel insurance will protect you against illness, injury, theft, and cancellations. It's comprehensive protection in case anything goes wrong. I never go on a trip without it as I've had to use it many times in the past. You can use the widget below to find the policy right for you:
Naples Travel Guide: The Best Booking Resources
These are my favorite companies to use when I travel to Naples. They are included here because they consistently find deals, offer world-class customer service and great value, and overall, are better than their competitors. They are the ones I use the most and are always the starting points in my search for travel deals.
Momondo – This is my favorite booking site. I never book a flight without checking here first.
Skyscanner – Skyscanner is another great flight search engline which searches a lot of different airlines, including many of the budget carriers that larger sites miss. While I always start with Momondo, I use this site too as a way to compare prices.
Airbnb – Airbnb is a great accommodation alternative for connecting with homeowners who rent out their homes or apartments.
Hostelworld – This is the best hostel accommodation site out there, with the largest inventory, best search interface, and widest availability.
Couchsurfing – This website allows you to stay on people's couches or spare rooms for free. It's a great way to save money while meeting locals who can tell you the ins and outs of their city. The site also lists events you can attend to meet people (even if you're not staying with someone).
Booking.com – The best all around booking site that constantly provides the cheapest and lowest rates. They have a no money down policy, great interface, and the widest selection of budget accommodation. In all my tests, they've always had the cheapest rates out of all the booking websites.
ItaliaRail – A great resource to use when planning your trip via train around Italy is ItaliaRail. You can compare prices, routes, and schedules and save up to 60% on your tickets.
Intrepid Travel – If you want to do a group tour around Europe, go with Intrepid Travel. They offer good small group tours that use local operators and leave a small environmental footprint. If you go on a tour with anyone, go with them. And, as a reader of this site, you'll get a discount when you click the link!
The Man in Seat 61 – This website is the ultimate guide to train travel anywhere in the world. They have the most comprehensive information on routes, times, prices, and train conditions. If you are planning a long train journey or some epic train trip, consult this site.
Rome 2 Rio – This website allows you to see how to get from point A to point B the best and cheapest way possible. It will give you all the bus, train, plane, or boat routes that can get you there as well as how much they cost.
FlixBus – German based Flixbus has routes between 20 European countries with prices starting as low €5 EUR ($6 USD)! Their buses include WiFi, electrical outlets, and up to three 3 free bags.
Bla Bla Car – BlaBlaCar is a ridesharing website that lets you share rides with vetted local drivers by pitching in for gas. You simply request a seat, they approve, and off you go! It's a cheaper and more interesting way travel than by bus or train!
Take Walks – A day tour company in Italy (as well as other destinations). What makes them so good is they get you inside access to attractions and places you can't get elsewhere. Their in-depth Pompeii tour is a must if yu're going to the site!
EatWith – This website allows you to eat home cooked meal with locals. Locals post listings for dinner parties and specialty meals that you can sign up for. There is a fee (everyone sets their own price) but this is a great way to do something different, pick a local's brain, and make a new friend.
World Nomads – I buy all my travel insurance from World Nomads. They have great customer service, competitive prices, and in-depth coverage. I've been using them since I started traveling in 2003. Don't leave home without it!
Naples Gear and Packing Guide
If you're heading on the road and need some gear suggestions, here are my tips for the best travel backpack and for what to pack!
The Best Backpack for Travelers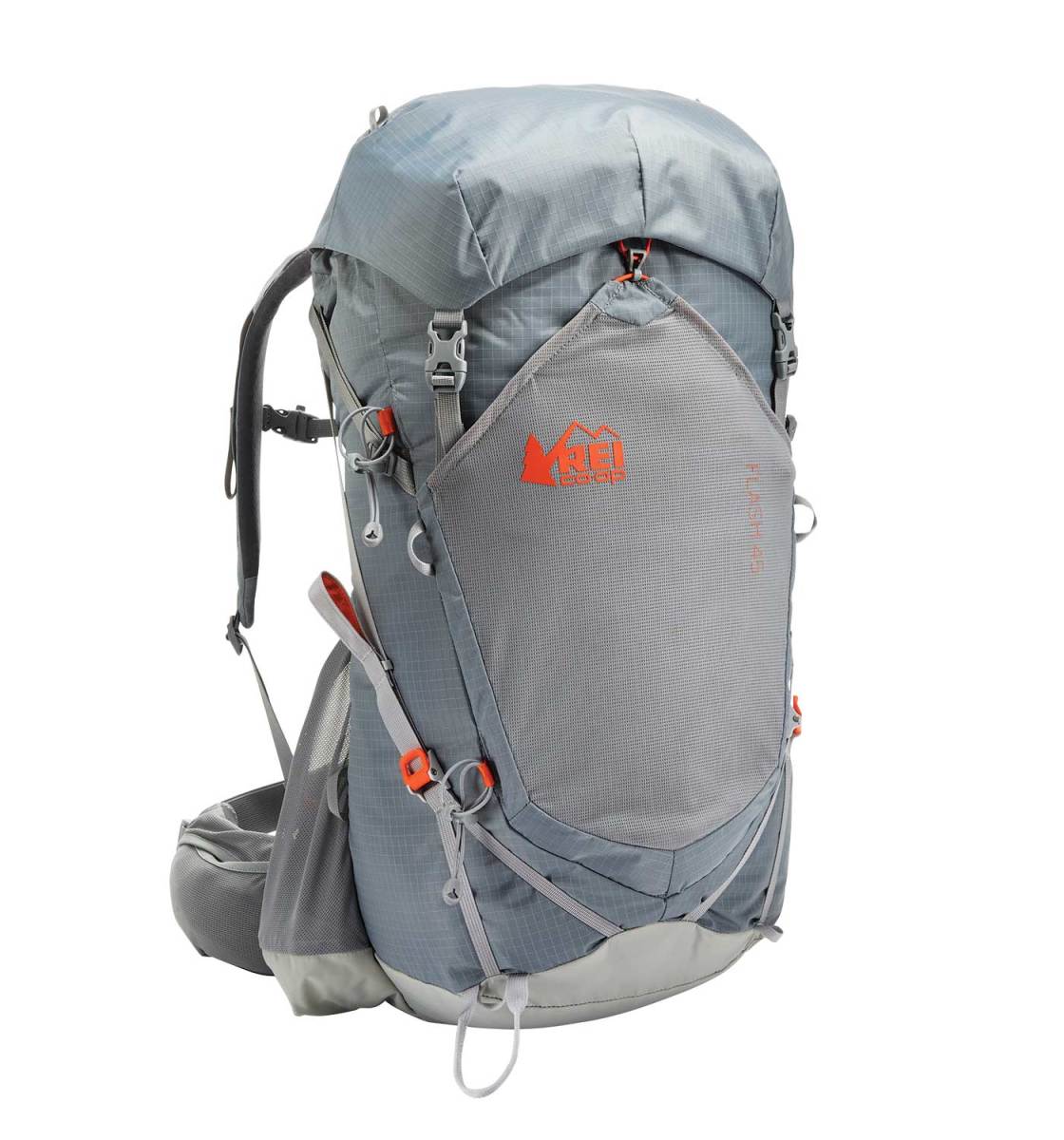 What's the best backpack for traveling long-term? I recommend the
REI Flash 45 Pack
. It's light and comfy, front loading, and fits perfectly in an airplane's overhead bin.
Size:
45-47L
Straps:
Thick and cushy with compression technology that pulls the pack's load up and inwards so it doesn't feel as heavy.
Features:
Removable top lid, large pocket at the front, hydration compatible, contoured hip belt
If you want something different, refer to my article on how to choose the best travel backpack for tips on picking a pack and other backpack suggestions.
What to Pack for Your Trip
Clothes
1 pair of jeans (heavy and not easily dried, but I like them; a good alternative is khaki pants)
1 pair of shorts
1 bathing suit
5 T-shirts (Unbound Merino is my preferred company. If you're a member of NM+, you can get 15% off your purchase)
1 long-sleeved T-shirt
1 pair of flip-flops
1 pair of sneakers
6 pairs of socks (I always end up losing half)
5 pairs of boxer shorts (I'm not a briefs guy!)
1 toothbrush
1 tube of toothpaste
1 razor
1 package of dental floss
1 small bottle of shampoo
1 small bottle of shower gel
1 towel
Deodorant
Small Medical Kit (safety is important!!!)
Miscellaneous
Female Travel Packing List
I'm not a woman, so I don't know what a woman wears, but Kristin Addis, our solo female travel guru, wrote this list as an addition to the basics above:
Clothing
1 swimsuit
1 sarong
1 pair of stretchy jeans (they wash and dry easily)
1 pair of leggings (if it's cold, they can go under your jeans, otherwise with a dress or shirt)
2-3 long-sleeve tops
2-3 T-shirts
3-4 spaghetti tops
1 light cardigan
Toiletries
1 dry shampoo spray & talc powder (keeps long hair grease-free in between washes)
1 hairbrush
Makeup you use
Hair bands & hair clips
Feminine hygiene products (you can opt to buy there too, but I prefer not to count on it, and most people have their preferred products)
For more on packing, check out these posts:
Naples Travel Guide: Related Articles
Want more info? Check out all the articles I've written on backpacking/traveling Italy and continue planning your trip:
Photo credits: 3 – Nicola, 4 – Justin Ennis