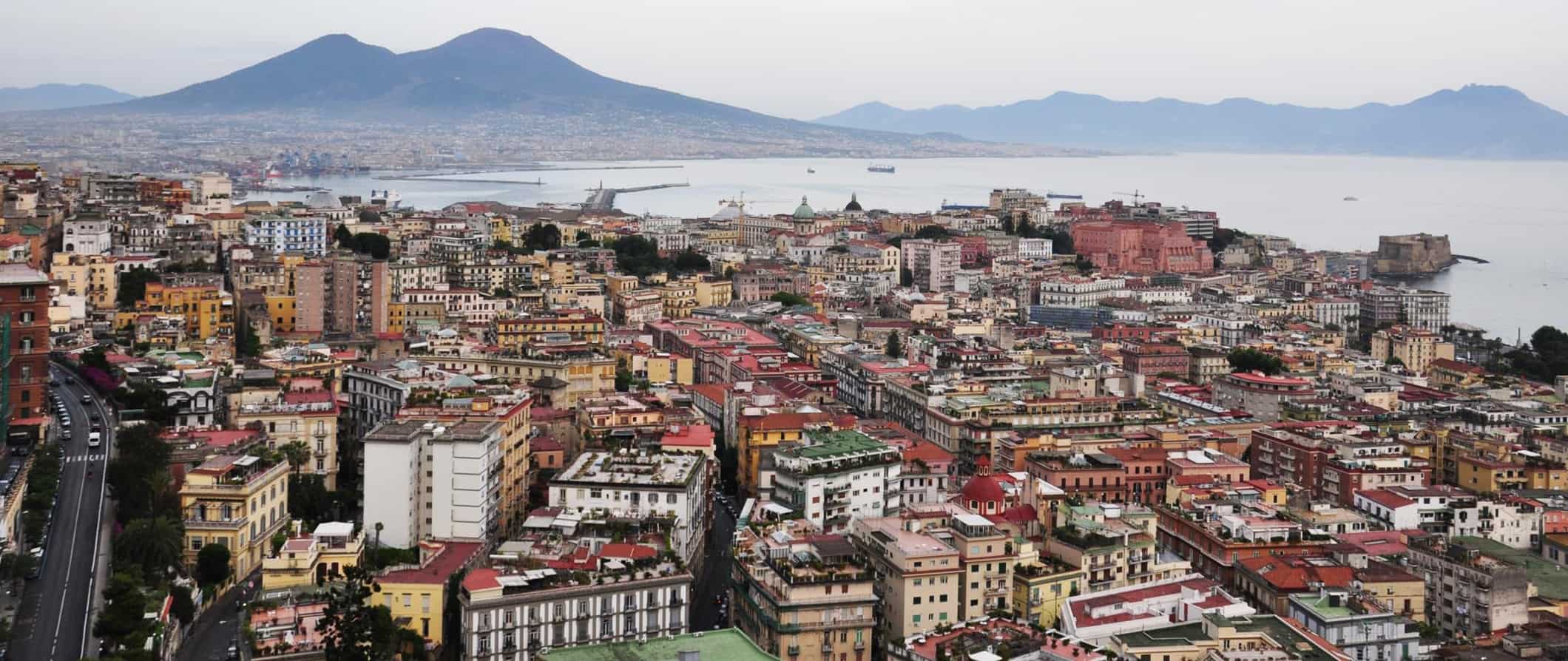 Naples, famous for its crime and pizza, is gritty in a run-down not cool "it has character" way. Naples isn't the prettiest of Italian cities nor is it one of the safest. It has a well-deserved reputation for muggings. I can't say I love Naples but it's definitely an interesting place to visit. It's the birthplace of pizza and that is reason alone to visit for at least a couple of days. Additionally, its close proximity to in Pompeii, Capri, and Sorrento makes it a good starting point for exploring the region.
Top 5 Things to See and Do in Naples
1. Visit the Archaeological Museum of Naples
One of the world's best collections of Greek and Roman artifacts can be found here. You will find a lot of art from the city as well as nearby Pompeii. There's glass, mosaics, sculptures, and even the casts of the bodies found in Pompeii. Admission is 8 EUR and it's open daily (except Tuesdays) from 9am-7:30pm.
2. Check out Villa Comunale
This once prestigious strip of seaside land was originally designed for royalty. In addition to beautiful walkways, there is a vintage aquarium, several fountains, a tennis club, and a bandstand to check out.
3. Go on the Naples Underground Tour
This was my favorite activity in Naples. Located in the city center, you take an underground tour of some of the ruins of the city, see ancient reservoirs, and learn about how the city has been built up and changed over thousands of years. Prices start at 80 EUR but worth every penny.
4. Be awed by Pompeii
One of the best-preserved Roman ruins in Italy, Pompeii lives up to the hype. Make sure you take a guided tour so you can get the context of all the buildings and sites as there are few sites. I spent a whole day at the site, and I felt like I could have spent even more time there.
5. Take a peek in the Duomo
The Duomo is a 13th-century Gothic cathedral dedicated to the city's patron saint. Every year, a huge festival is held when a vial of his blood is taken out of its storage place in hopes that it will liquefy. It's quite the event, but the church is still very beautiful even if you can't make the festival.
Other Things to See and Do
(Click the title to expand the text)
1. Shop at Piazza del Mercato
This place has the best market in the city and is great for authentic Italian shopping if that's your thing.
2. Watch a show at Teatro San Carlo
Opened in 1737, this is the world's oldest surviving opera house. The inside is very ornate and the colors of the paintings radiate. You can sense the luxury that the old aristocracy demanded from the opera.
3. Explore Herculaneum
The lesser-known cousin of Pompeii. The site is also very well preserved and filled with much, much fewer tourists. While I wouldn't skip Pompeii, you should also try to work in a visit here too as it's a beautiful site filled with ruins and is, in many ways, on par with Pompeii.
4. Attend the Open-air Cinema Festival
Every summer, this cinema festival offers something different to do in the evening. It is always really nice outside, and the films are shown on one of the largest projection screens in Italy. A ticket is 3.50 EUR.
5. Visit Villa Floridiana
Originally built as a gift from King Ferdinand I to his second wife, this lush estate is home to beautifully manicured gardens and original furnishings. The real treasure is the National Museum of Ceramics. With over 6,000 pieces in the collection, you'll see everything from Japanese Edo ceramics to range of European pieces.
6. Imagine the violence at Anfiteatro Flavio
This was once the third largest amphitheater in all of Italy. Over 20,000 people used to gather here just to watch crazy, blood-driven events like gladiator matches. Today, you can tour among the various fallen columns and learn more about the history behind the intricate mechanisms used throughout the stadium. Admission is 4 EUR and it's open daily (except Tuesdays) from 9am until an hour before sunset.
7. Museo Nazionale di Capodimonte
This is the Napolitan National Gallery – a museum featuring work by Baroque and Renaissance artists. Some of the big names here include Giordano, Caravaggio, Bellini, and Titian. Admission is 7.50 EUR and it's open daily (except Wednesdays) from 8:30am-7:30pm.
8. Wander through Castelnuovo
This is a large medieval castle that lies along the coastline. Come here to visit the city museum, a gallery of 19th-century Italian paintings, or to check out the view of the city.
Typical Costs
Hostel prices
– Expect to pay around 15-17 EUR per night for a 4-6 bed dorm room and around 50 EUR for a private room. Hostels in Naples usually includes free WiFi, breakfast, and linens. My suggested place is:
Budget hotel prices – A night in a 2-star budget hotel starts around 35 EUR and includes usually a private bathroom, free WiFi, breakfast, and television. On Airbnb, you can find shared rooms starting around 10 EUR per night while entire apartments being at 30 EUR per night.
Average cost of food – It's easy to have a great (and expensive) meal anywhere in Italy, but it's also easy to eat for less than 15 EUR a day if you make the effort. You can eat very cheaply in this town. As the birthplace of pizza, there is no shortage of options under 10 EUR. If you want a nicer meal, expect to spend around 25 EUR for dinner including a drink. The coperto (table charge) is usually 1-3 EUR and is a rip off, but unfortunately built into every bill. If you're feeling ambitious and staying somewhere with a kitchen, you can cook your own food, with groceries (basic food stuffs like pasta, vegetables, chicken, etc) costing around 60 EUR per week. If you find a discount grocer like Eurospin, In's Mercato, LD Market, Lidl or Penny Market, you'll pay a lot less.
Transportation costs – Traffic in Naples is nuts, and taxis tend to be expensive. Walk where you can. Public transportation in Naples is all owned by different companies, so it's best to get a 1-day pass (4.50 EUR) that works on all of them. Transportation passes for a single bus journey cost 1.50 EUR and are valid for 90 minutes. There is also a metro, but it doesn't have an extensive network, so isn't generally worth the ride.
Suggested daily budget
40-50 EUR / $51-61 USD (Note: This is a suggested budget assuming you're staying in a hostel, eating out on the cheap, and using local transportation. Using the budget tips below, you can always lower this number. If you stay in fancier accommodation or eat out more, expect this to be higher! It's just a guideline!)
Money Saving Tips
Eat on the cheap – Have a pizza or take a sandwich to go for just a few dollars to help manage your spending. Pizza is the best food in Naples and won't break the bank, so it's a win-win.
Visitalia Tourist Card Napoli – If you are going to do lots of sightseeing this will give you discounts to the top museums, tours, and attractions. It is priced to save you money when compared to buying separate tickets. A 1-day pass costs 14.50 EUR and also includes free public transportation.
Drink the tap water – The water here is fine to drink. Refill your water bottles and always ask for tap water at a restaurant (or you'll be charged!).
Buy lots of wine – You can buy a great bottle of wine for 4 EUR. It's a lot cheaper than drinking at the bar.
Couchsurf – Accommodation is quite expensive in Italy, even in the hostels. Use Couchsurfing to stay with locals who have extra beds and couches for free. I use the service a lot and find it not only saves me money, but I meet great people too.
Go on a free walking tour – This is a great way to learn the history behind the places you are seeing and to avoid missing any must-see stops. Take the Free Walking Tour Napoli to get your bearings in the city.
My Must Have Guides For Traveling to Naples