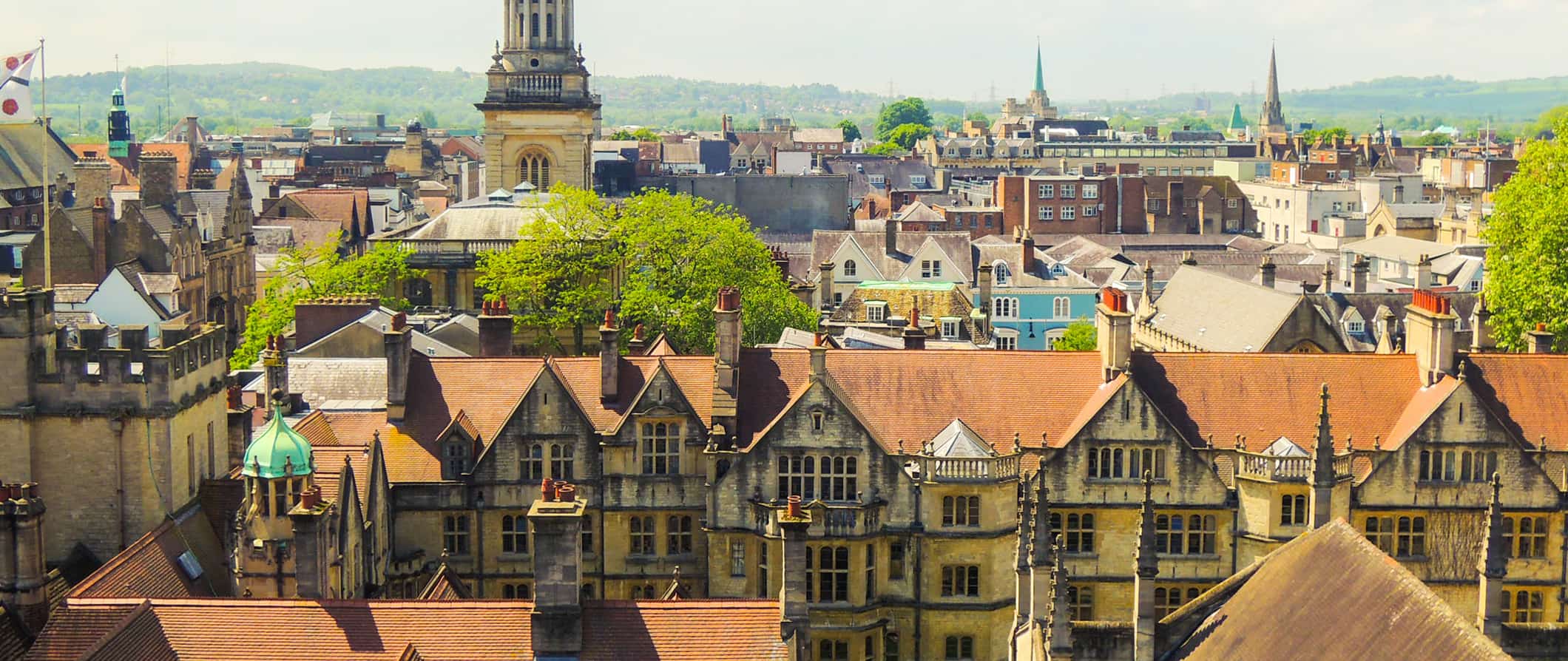 Oxford is a charming city, famed for its prestigious university. It can be stuffy at times, feeling a bit too proper and strict, and lacking the cut-loose university town feel that cities like Bristol have. However, visiting Oxford and seeing the old architecture more than makes up for it.
This city has a lot of history and the university is one of the oldest in the world. It's a short ride from London anyways.
This travel guide to Oxford can help you plan your trip there and do so on a budget!
Click Here for City Guides

Oxford
Top 5 Things to See and Do in Oxford
1. Tour Oxford
The University of Oxford is the main attraction in Oxford. You can take guided tours of all the colleges in Oxford. They provide a look at university life, the history of the school, the architecture, and more. It's free if you arrange one through the tourism office.
2. Visit Balliol College
Founded in 1263, Balliol College is one of the oldest colleges in the University of Oxford. This college was one of the first to create academic opportunities for women and the walls inside are lined with portraits of women graduates. Sit on the lawn, bring a lunch, and soak up the friendly and informal vibe of Balliol College for an afternoon.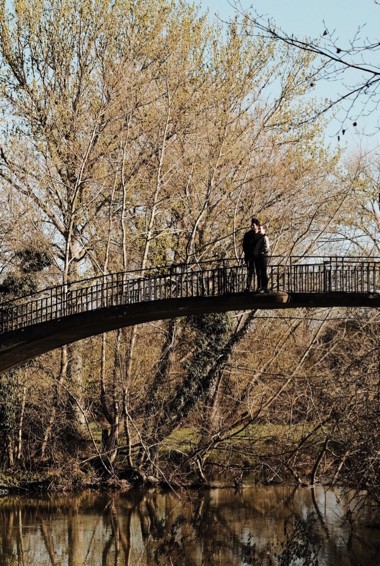 3. Take photos in South Park
Located in east Oxford, South Park is the largest park in Oxford, with free admission and a sweeping view of the city, including the university skyline. On a nice day, the park is filled with people getting a tan, playing sports, and eating.
4. Walk under Hertford Bridge
Known as the 'bridge of sighs' because college students sigh under it on their way to take exams, Hertford Bridge has an iconic design resembling the Rialto Bridge in Venice. It's a pretty bridge. Walk underneath to the Turf Tavern and commiserate with the students over a pint.
5. Visit the Ashmolean Museum
Founded in 1683, this is Britain's oldest public museum. It recently went through a renovation and displays Ancient Egyptian art, as well as an impressive Eastern Art collection. Make sure to see the Amarna Princess Fresco and the Alfred Jewel before you leave. Admission is free.
Other Things to See and Do in Oxford
1. University of Oxford Botanical Gardens
When it opened in 1621, the botanical gardens were the first of its kind in the UK. Today, the collection includes traditional English landscape designs and some of the UK's oldest redwood trees. Admission is £5.45 ($6.80 USD). Discounts are available for students and seniors.
2. Shop for snacks at the Covered Market
This 250-year-old historical market has dozens of coffee bars, restaurants, traditional butchers, fish merchants, and independent shops – you'll be able to try everything from artisanal sausage to sushi. There are a lot of homemade meals served here and it's the best place to do some cheap shopping for groceries in the city. There are also lots of local vendors selling their handmade wares, including clothing, souvenirs, and jewellery.
3. Browse the Bodleian Library
As the main research library of the University of Oxford, the Bodleian is one of the oldest libraries in Europe and the second largest library in the UK (after London's British Library). It opened in 1602. The English Gothic architecture on the building is very beautiful—so much so that it has served as a set for many films and books, including the first two Harry Potter films. (Its Divinity School, with its fan-vaulted ceiling and ornate decoration, was used as the Hogwarts hospital wing.)
4. Go punting
During the summer, punting is a quirky and unique-to-Oxford activity. Punting is essentially pushing a boat around the rivers and canals of the university with a pole. Punting season takes place from mid-March to mid-October when you can rent a boat or hire someone to take you. Rentals cost around £18-25 ($22-31 USD) per hour and can fit up to 5 people.
5. Visit the Museum of Natural History
This museum holds the University's scientific collections of zoological, entomological, geological, paleontological, and mineralogical specimens. The exhibits are devoted to the history and diversity of life on Earth. One of their most famous exhibits is the Oxford Dodo. It has the only surviving dodo soft tissue remains in the world as well as a dodo skull. Admission is free.
6. Learn medieval life at Oxford Castle Prison
Originally built in the 11th century, exhibitions highlight some of the past residents of the prison and tells the stories of their crimes (from murder to tyranny and religious rebellion) and their eventual executions. Part of the prison includes Saxon St George's Tower, which you can climb to the top for a 360-degree panoramic view. There is also a two-hour historical ghost walking tour (The Bill Spectre Ghost Trail) that departs from here and provides visitors with real-life ghost stories from Oxford. Admission is £12.95 ($16 USD), with discounts available. Bill Spectre's Ghost Trail is £12 ($15 USD) and only runs Friday and Saturday evenings.
7. Get lost in Blackwell's Books
For the bookworm in you, this 10,000 square foot store is the largest bookstore in Europe. The bookstore first opened in 1879. In the basement there's a huge inverted step pyramid lined with 3 miles of shelves, and according to the Guinness Book of World Records is the largest bookselling room in the world. If you love books, you got to visit.
8. Take a day trip to Blenheim Palace
This underrated attraction is just eight miles outside of Oxford. Aside from the amazing Baroque architecture, the rooms are preserved with their original furniture and the grounds include a beautiful garden and a butterfly house. The entire palace is filled with statues, tapestries, priceless furniture and fine china, and huge oil paintings. You're free to wander around the grand staterooms on your own, but there are also free 45-minute tours every 30 minutes. Be sure to see the Blenheim Tapestries, which are composed of 10 large hangings that commemorate the first duke's conquests. Fun fact: this 17th century palace is the only non-royal house that's still allowed to be referred to as a palace. Admission is £28.50 ($35.50 USD).
10. Have a pint at the student pubs
A lot of Oxford's energy comes from the huge student population. You'll find everything from small, quirky dive bars to romantic cocktail bar. The Eagle and Child pub on St Giles' street is one of the most famous of Oxford's pubs. The pub was a popular meeting spot for literary heavyweights like J. R. R. Tolkien and C. S. Lewis back in their time.
For more information on specific cities, check out these guides!
Oxford Travel Costs
Hostel prices – Hostels cost between £18-23 ($22 USD–$29 USD) for a dorm room, though you can find even cheaper prices during the off season, though be wary of booking during special student/university events. Avoid alumni weekend which takes place in September and the annual Oxford Boat Race which draws 250,000 visitors around Easter.
Private rooms start around £60 ($75 USD) during the summer months and about 10% cheaper in the off-season.
Budget hotel prices – Nightly rates for a budget two-star hotel room with a private ensuite bathroom start at about £96 ($110 USD) in peak season. In the off-season, budget rooms start from about £65 ($80 USD).
There are lots of Airbnb options in Oxford. A shared room (like a bed in a dorm) averages about £25 ($31 USD) per night, while a private room is about £40-50 ($50-$62 USD) per night. A full apartment averages between £64-80 ($80-100 USD) per night.
Food – You can eat cheap in Oxford if you stick to street eats and food vendors (plus many of the hostels have free breakfast). If you eat out, stick to the cafes centered close to the university. Most give discounts to students, and whether you pick up a sandwich, salad, or bagel, you won't pay more than £7 for a meal (even if you aren't a student).
You'll find most student restaurants on and around George Street with small takeaway windows and stands selling everything from falafel to burritos.
Fast food (think McDonald's) will cost you around £5 ($6 USD), and a pint at a tavern will cost around £3 ($3.75 USD). If you want a nicer meal at a sit-down restaurant expect to pay around £25 ($31 USD), including a drink. A three-course meal (with bubbly) at a fine-dining restaurant will cost around £40 ($50 USD).
A week's worth of basic groceries (fruits, veggies, pasta, chicken, sandwich stuff) will cost between £40-£50 ($52—$60 USD). The best places to buy cheap groceries are Lidl, Aldi, and Sainsbury's.
Backpacking Oxford Suggested Budgets
If you're backpacking Oxford, expect to spend about £56 ($70 USD) per day. This budget will cover a hostel dorm, public transit, street food and cooking your own meals, and mostly free attractions. If you're traveling during the shoulder season, you can reduce this budget by a few dollars each day for accommodations.
A mid-range budget of about £120 ($150 USD) will cover staying in a private Airbnb room, eating out for most of your meals, public transit, and about one paid attraction each day.
On a luxury budget of about £305 ($380 USD) or more per day, you can get an excellent four-star hotel, eat at nice restaurants, have some drinks, and take a few taxis. You'll also enjoy a tour or a few attractions. The sky is the limit!
You can use the chart below to get some idea of how much you need to budget daily, depending on your travel style. Keep in mind these are daily averages – some days you'll spend more, some days you'll spend less (you might spend less every day). We just want to give you a general idea of how to make your budget. Prices are in USD.
Accommodation
Food
Transportation
Attractions
Average Daily Cost
Backpacker
$20
$25
$10
$15
$70
Mid-Range
$50
$50
$10
$40
$150
Luxury
$200
$100
$30
$50
$380
Oxford Travel Guide: Money Saving Tips
As one of the UK's biggest university towns, there's plenty of low costs things to do. With plenty of cheap pubs, student-centered restaurants, and lots of public spaces, there are a lot of ways to cut your costs and save money here. Here are my top ways to save money when you visit Oxford:
Get cheap food – Head out to neighborhoods outside the city center where most students live. Jericho is a residential area just north of the city center. Walton Street is popular with students because of the casual, bohemian atmosphere and the many hipster bars, brewpubs and budget dining options. Cowley Road, just southeast of central Oxford, also has a lot of student housing and therefore many budget restaurants popular with students—chains like Nando's and local burger stands.
See the student theater – You can see cheap and cutting-edge student theater during term time for a couple of pounds at the Burton Taylor theater (near the bus station). It's a small theater, but because it hosts many student and independent productions, you can find a good deal on the ticket prices—even for last-minute, day-of admission.
Stay in an Oxford University dorm – When classes aren't in session, it's possible to stay in a dorm on the university campus. Exeter College, part of the University of Oxford and located in the center of the city with several buildings, offers a bed-and-breakfast style accommodation in the dormitory. Rooms are only available during the Easter, summer and winter vacations.
Save money on rideshares – Uber is way cheaper than taxis and are the best way to get around a city if you don't want to wait for a bus or pay for a taxi. Using the Uber Pool option, you can share a ride to get even better savings (though you can get your own car too). You can save $15 off your first Uber ride with this code: jlx6v.
Couchsurf – If you're on a budget you'll definitely want to try couch surfing. it's a great way to cut costs while connecting to the local scene. Many students will be away in the summer, however, so be sure to apply early.
Where To Stay in Oxford
Oxford is on the smaller side, so there are not as many hostels here as in other cities in the United Kingdom. Here are some of my favorite hostels in Oxford:
How to Get Around Oxford
The easiest way to get around Oxford, especially if you stick to the central tourist areas, is by walking or even on bike. Oxford is an easily walkable city and compact enough to get around by foot wherever you need to go.
Bus – There is an extensive bus network through Oxford to get around if you choose to take public transportation. Three separate bus companies operate public transport in Oxford, with single trip fares as low as £1.20 ($1.50 USD) with day passes around £2 ($2.50 USD).
Bicycle – There are a number of dockless bike companies operating in Oxford, meaning the bikes can be picked up and left anywhere on the sidewalk. Look for Pony Bikes and Mobike which you can rent directly from their respective apps and pay as little as £0.50 ($.75 USD) to unlock and then just 69 pence ($.85 USD) per minute. If you'd rather pay for a full day, you can rent a bike for as little as £13 ($16 USD). Oxford is very bike-friendly if you stick to the bike paths.
Taxis – Taxis cost about £6 ($7.80 USD) per one mile, but the price decreases the further you go. For example, a six-mile journey will cost you around £24 ($31.20 USD) (but more during peak hours). You can also use an app such as "mytaxi" to order your ride. Given how expensive they are, I wouldn't take one unless absolutely necessary.
Uber – Uber is available in Oxford but again walking or cycling are the easiest way to get around in the compact city. You can save $15 off your first Uber ride with this code: jlx6v.
When to Go to Oxford
Summer is peak tourism season, and temperatures are the warmest during this time – but rarely ever above 72°F (22°C). Locals who are in Oxford during the summer quarter make the most of the warm weather, and there are occasional events, markets, and small festivals taking place.
The University of Oxford has three terms per year for students. The Michaelmas term runs from October to December, the Hilary term from January to March, and the Trinity term from April to June. During the final weeks of each term, expect to find over-stressed and extra-anxious students, so it's best to visit when school is not in session.
Spring (late March to June) and autumn (September to November) are also fantastic times to visit when the city is abuzz with student life, as temperatures are mild, and it's drier than other times throughout the year. Winter lasts from December to February, and tourism crowds will thin out dramatically during this time. Temperatures rarely dip below freezing, and prices are slightly lower as well.
How to Stay Safe in Oxford
Oxford is safe and the risk of violent crime is low. The biggest risk is petty theft and pickpocketing, especially in the busy student pubs and clubs. If you're partying in the student pubs, just stay alert and aware of your surroundings, and avoid dimly-lit alleys and pathways when heading home. Pickpocketers tend to work in teams, so stay alert and be aware of your surroundings.f
You can read about the 14 travel scams to avoid right here.
Always trust your gut instinct. If your hotel is seedier than you thought, get out of there. Make copies of your personal documents, including your passport and ID. Forward your itinerary along to loved ones so they'll know where you are.
As a general rule, if you don't do something at home, don't do it in Oxford!
The most important piece of advice I can offer is to purchase good travel insurance. Travel insurance will protect you against illness, injury, theft, and cancellations. It's comprehensive protection in case anything goes wrong. I never go on a trip without it as I've had to use it many times in the past. You can use the widget below to find the policy right for you:
Oxford Travel Guide: The Best Booking Resources
These are my favorite companies to use when I travel to Oxford. They are included here because they consistently find deals, offer world-class customer service and great value, and, overall, are better than their competitors. They are the ones I use the most and are always the starting points in my search for travel deals.
Momondo – This is my favorite booking site. I never book a flight without checking here first.
Skyscanner – Skyscanner is another great flight search engline which searches a lot of different airlines, including many of the budget carriers that larger sites miss. While I always start with Momondo, I use this site too as a way to compare prices.
Airbnb – Airbnb is a great accommodation alternative for connecting with homeowners who rent out their homes or apartments. (If you're new to Airbnb, get $35 off your first stay!)
Hostelworld – This is the best hostel accommodation site out there, with the largest inventory, best search interface, and widest availability.
Couchsurfing – This website allows you to stay on people's couches or spare rooms for free. It's a great way to save money while meeting locals who can tell you the ins and outs of their city. The site also lists events you can attend to meet people (even if you're not staying with someone).
Booking.com – The best all around booking site that constantly provides the cheapest and lowest rates. They have a no money down policy, great interface, and the widest selection of budget accommodation. In all my tests, they've always had the cheapest rates out of all the booking websites.
Intrepid Travel – If you want to do a group tour around England, go with Intrepid Travel. They offer good small group tours that use local operators and leave a small environmental footprint. If you go on a tour with anyone, go with them. And, as a reader of this site, you'll get a discount when you click the link!
The Man in Seat 61 – This website is the ultimate guide to train travel anywhere in the world. They have the most comprehensive information on routes, times, prices, and train conditions. If you are planning a long train journey or some epic train trip, consult this site.
Rome 2 Rio – This website allows you to see how to get from point A to point B the best and cheapest way possible. It will give you all the bus, train, plane, or boat routes that can get you there as well as how much they cost.
BlaBlaCar – BlaBlaCar is a ridesharing website that lets you share rides with vetted local drivers by pitching in for gas. You simply request a seat, they approve, and off you go! It's a cheaper and more interesting way travel than by bus or train!
EatWith – This website allows you to eat home cooked meal with locals. Locals post listings for dinner parties and specialty meals that you can sign up for. There is a fee (everyone sets their own price) but this is a great way to do something different, pick a local's brain, and make a new friend.
World Nomads – I buy all my travel insurance from World Nomads. They have great customer service, competitive prices, and in-depth coverage. I've been using them since I started traveling in 2003. Don't leave home without it!
Oxford Gear and Packing Guide
If you're heading on the road and need some gear suggestions, here are my tips for the best travel backpack and for what to pack!
The Best Backpack for Travelers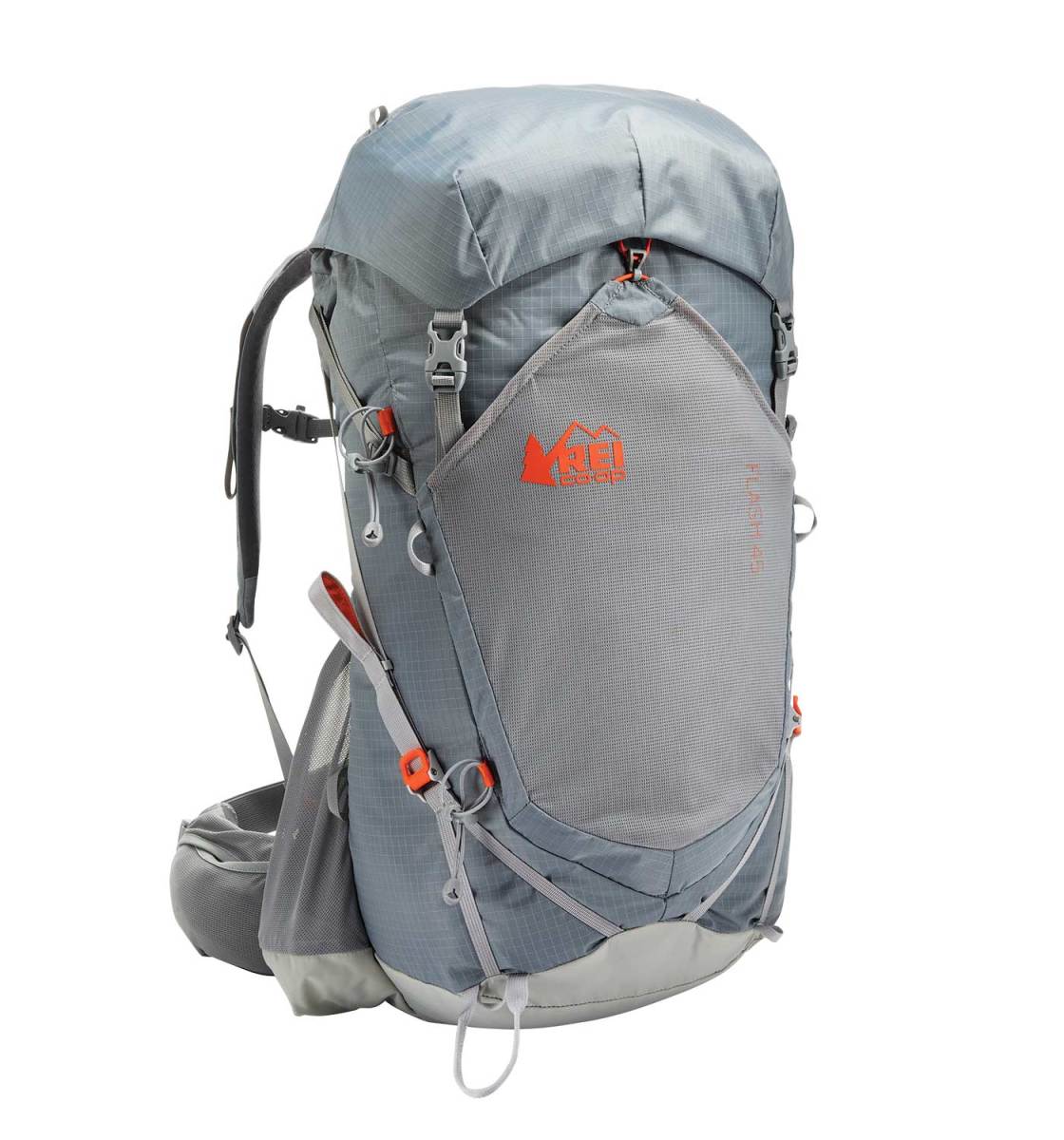 What's the best backpack for traveling long-term? I recommend the
REI Flash 45 Pack
. It's light and comfy, front loading, and fits perfectly in an airplane's overhead bin.
Size:
45-47L
Straps:
Thick and cushy with compression technology that pulls the pack's load up and inwards so it doesn't feel as heavy.
Features:
Removable top lid, large pocket at the front, hydration compatible, contoured hip belt
If you want something different, refer to my article on how to choose the best travel backpack for tips on picking a pack and other backpack suggestions.
What to Pack for Your Trip
Clothes
1 pair of jeans (heavy and not easily dried, but I like them; a good alternative is khaki pants)
1 pair of shorts
1 bathing suit
5 T-shirts (Unbound Merino is my preferred company. If you're a member of NM+, you can get 15% off your purchase)
1 long-sleeved T-shirt
1 pair of flip-flops
1 pair of sneakers
6 pairs of socks (I always end up losing half)
5 pairs of boxer shorts (I'm not a briefs guy!)
1 toothbrush
1 tube of toothpaste
1 razor
1 package of dental floss
1 small bottle of shampoo
1 small bottle of shower gel
1 towel
Deodorant
Small Medical Kit (safety is important!!!)
Miscellaneous
Female Travel Packing List
I'm not a woman, so I don't know what a woman wears, but Kristin Addis, our solo female travel guru, wrote this list as an addition to the basics above:
Clothing
1 swimsuit
1 sarong
1 pair of stretchy jeans (they wash and dry easily)
1 pair of leggings (if it's cold, they can go under your jeans, otherwise with a dress or shirt)
2-3 long-sleeve tops
2-3 T-shirts
3-4 spaghetti tops
1 light cardigan
Toiletries
1 dry shampoo spray & talc powder (keeps long hair grease-free in between washes)
1 hairbrush
Makeup you use
Hair bands & hair clips
Feminine hygiene products (you can opt to buy there too, but I prefer not to count on it, and most people have their preferred products)
For more on packing, check out these posts:
Oxford Travel Guide: Related Articles
Want more info? Check out all the articles I've written on backpacking/traveling England and continue planning your trip: