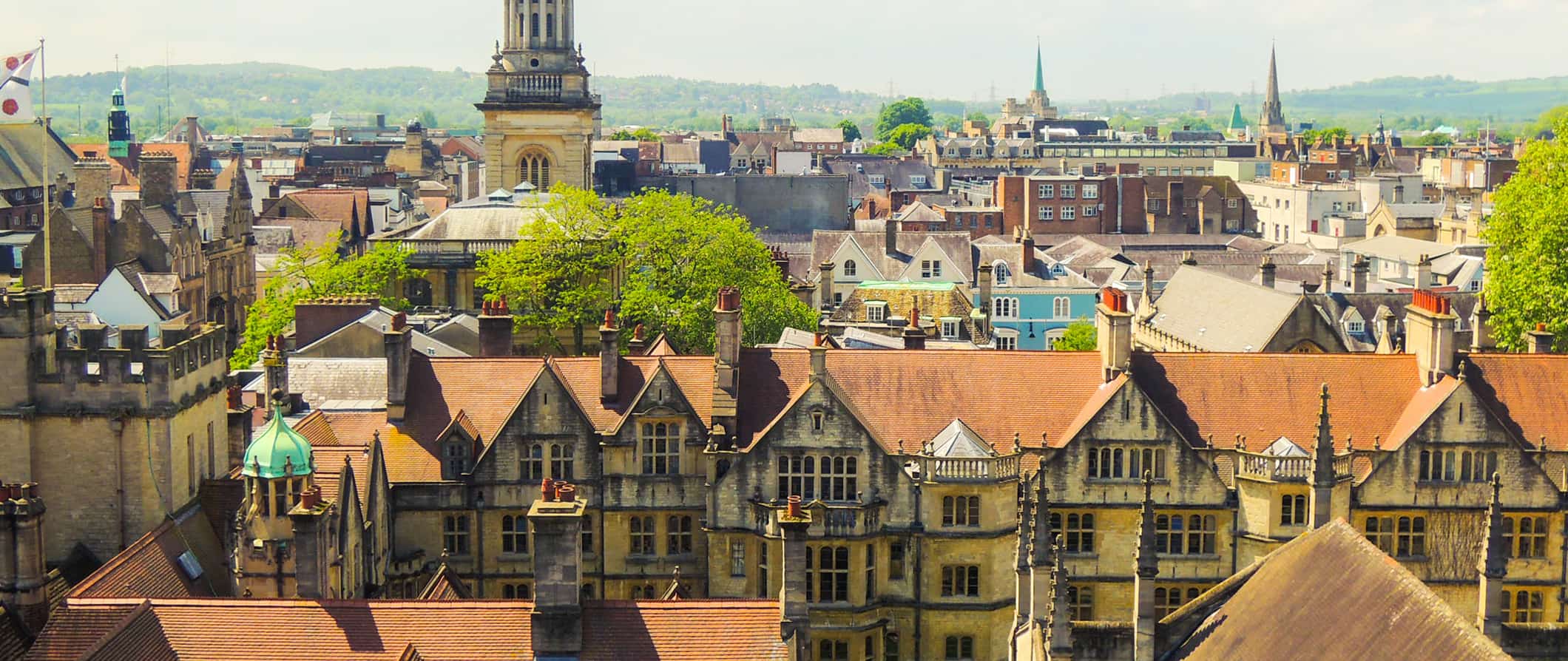 Oxford is a charming, historic city located just a short ride from London. The city is famed for its prestigious university, which is one of the oldest in the world (it was founded in the 11th century).
Oxford first earned fame in the Middle Ages as a hub for theological learning. It then expanded into medicine and law. Today, the university is home to over 24,000 students and you can study with the best and brightest in pretty much any field here.
While the city can feel stuffy and lacks the cut-loose university town feel that cities like Bristol have, visiting Oxford and seeing the old architecture more than makes up for it.
This Oxford travel guide can help you plan your trip, save money, and ensure you have an amazing visit to the historic city!
Top 5 Things to See and Do in Oxford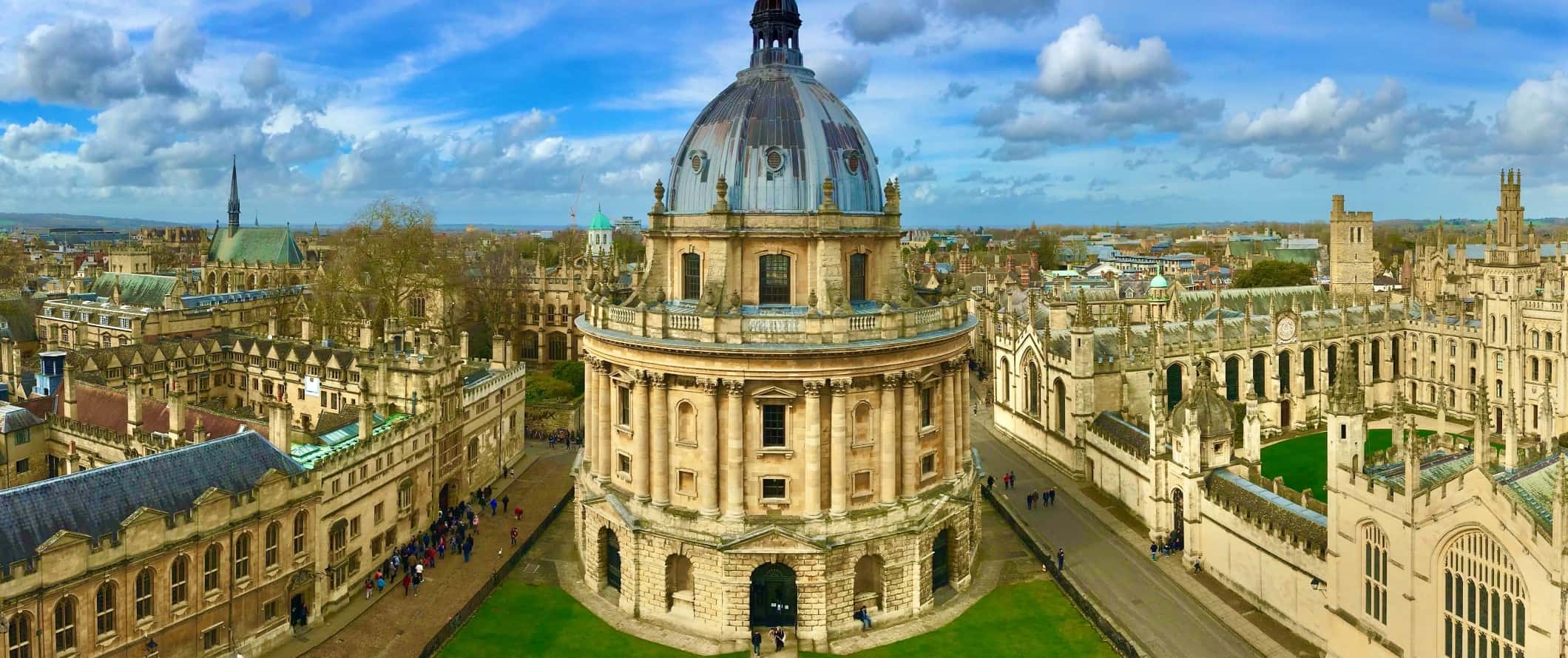 1. Tour Oxford
The University is the main attraction here. 24,000 students study at the famed college and on a visit to Oxford, you can tour fascinating museums, botanical gardens, and relax in the many pristine green spaces around campus. Bodleian Libraries offers guided tours of the university, including the inside of many historic buildings, which have been featured in countless movies over the years (including Harry Potter). They provide a look at university life, the history of the school, the architecture, and more. Tours last a couple of hours and cost 20 GBP.
2. Visit Balliol College
Founded in 1263 by wealthy landowner John I de Balliol, Balliol College is one of the oldest colleges in the University of Oxford. After Balliol's death, his widow Dervorguilla continued to fund the founding of the college. This college was one of the first to create academic opportunities for women after only admitting men for 700 years and now the walls inside are lined with portraits of female graduates. Four Prime Ministers are alumni of Balliol college, as well as influential philosophers like Adam Smith and Aldous Huxley. It's a prestigious college within Oxford and has a student body of about 400 who study Biology, English, History, Law, and more.
3. Admire South Park
Located in east Oxford, South Park is the largest park in Oxford, with free admission and a sweeping view of the city, including the university skyline. The land was privately owned until 1932 when the Oxford Preservation Trust acquired it and transformed it into a public park. The park is a favorite spot for photographers and from the highest point you'll be able to see the towers of Oxford College. Within the park, you'll find a 19th-century bridge and the Oxford Artisan Distillery. On a nice day, the park is filled with locals getting a tan, playing sports, and lounging. There are also a variety of events held there throughout the year including parades, firework displays, food festivals, and concerts.
4. Stroll under Hertford Bridge
This bridge is known as the 'Bridge of Sighs' because college students sigh under it on their way to take exams, and because it resembles the Bridge of Sighs in Venice. Hertford Bridge has an iconic design and connects the Old and New Quadrangles of Hertford College. It was completed in 1914 and serves as a convenient link between the two buildings. Visit the nearby Turf Tavern and commiserate with the students over a pint. You'll be drinking in good company — Elizabeth Taylor, Stephen Hawking, and Margaret Thatcher have all paid a visit to Turf Tavern over the years.
5. Visit the Ashmolean Museum
Founded in 1683, this is Britain's oldest public museum with a focus on art and archeology. It was originally constructed to house a "cabinet of curiosities" that Elias Ashmole donated to the University of Oxford in 1677. Ashmole's collection was combined with older university treasures that supposedly included Guy Fawkes' lantern and Jacob's Coat of Many Colors. It recently went through a renovation in 2009 and displays Ancient Egyptian art, as well as an impressive Eastern Art collection. Today the museum is also working to preserve history, while simultaneously decolonizing the language and practices surrounding certain exhibits. Make sure to see the Amarna Princess Fresco and the Alfred Jewel before you leave. Admission is free.
Other Things to See and Do in Oxford
1. Take a free walking tour
One of the first things I do in a new city is take a free walking tour. It's the best way to get the lay of the land and connect with a local guide. Footprints Tours are run by students and offer a solid introduction to the city. Just be sure to tip your guide at the end!
2. Admire the University of Oxford Botanical Gardens
When it opened in 1621, the botanical gardens here were the first of their kind in the UK. Today, the collection includes traditional English landscape designs and some of the UK's oldest redwood trees. There are over 5,000 plant species here spread out over 4.5 acres. Admission is 6.30 GBP and pre-booking is highly recommended to guarantee entry.
3. Shop for snacks at the Covered Market
This historic 250-year-old market has dozens of coffee bars, restaurants, traditional butchers, fish merchants, and independent shops. You'll be able to find everything from artisanal sausage to sushi. There are a lot of homemade meals served here and it's the best place to do some cheap shopping for groceries in the city. In addition to food, there are also lots of local vendors selling handmade wares, including clothing, souvenirs, and jewelry.
4. Browse the Bodleian Library
As the main research library of the University of Oxford, the Bodleian is one of the oldest libraries in Europe and the second-largest library in the UK (after London's British Library). Opened in 1602, its English Gothic architecture is gorgeous — so much so that it has served as a set for numerous films, including the first two Harry Potter films (its Divinity School, with its fan-vaulted ceiling and ornate decoration, was used as the Hogwarts hospital wing.) Entry is free and tours start at 9 GBP.
5. Go punting
Punting is a quirky and unique summer activity in Oxford. It's essentially pushing a small boat around the River Thames or the River Cherwell with a pole. Punting season takes place from mid-March to mid-October when you can rent a boat or hire someone to take you. Rentals cost 30 GBP per hour and can fit up to 5 people.
6. Visit the Museum of Natural History
Established in 1850, this museum holds the University's scientific collections of zoological, entomological, geological, paleontological, and mineralogical specimens. The exhibits are devoted to the history and diversity of life on Earth. One of their most famous exhibits is the Oxford Dodo. It has the only surviving dodo soft tissue remains in the world as well as a dodo skull (the dodo is an extinct flightless bird that was endemic to Mauritius). Admission is free.
7. Learn about medieval life at Oxford Castle Prison
Originally built in the 11th century, visiting this Norman castle prison (which was in operation until 1996) is like stepping back in time. You can descend into a 900-year-old crypt and then climb to the top of Saxon St George's Tower for a 360-degree panoramic view of the surrounding area. You'll also learn about the past residents of the prison and hear stories of their crimes, which range from murder to tyranny to religious rebellion. Admission is by guided tour only and costs 15.25 GBP.
8. Get lost in Blackwell's Books
For the bookworm, this historic shop is a must. Opened in 1879, it's home to the Norrington Room, which holds the Guinness Record for the largest bookselling room in the world. Named after Sir Arthur Norrington, a former president of Trinity College, the 10,000-square-foot (929-square-meter) basement is just one of Blackwell's four floors of books.
9. Take a day trip to Blenheim Palace
This underrated attraction is just 8 miles (12 kilometers) outside of Oxford. Built in the early 18th century, it is the seat of the Dukes of Marlborough and a UNESCO World Heritage Site. Aside from the amazing Baroque architecture, the rooms are preserved with their original furniture and the grounds include a beautiful garden and a butterfly house. The entire palace is filled with statues, tapestries, priceless furniture and fine china, and huge oil paintings. Highlights include the room in which Winston Churchill was born and the Blenheim Tapestries, which are 10 large tapestries that commemorate the first duke's conquests. Fun fact: this 17th-century palace is the only non-royal house in the UK that's still allowed to be referred to as a palace. Admission to the palace, park, and gardens is 35.00 GBP.
10. Have a pint at the student pubs
A lot of Oxford's energy comes from the huge student population. Around Oxford, you'll find everything from small, quirky dive bars to romantic cocktail bars. The Eagle and Child pub on St Giles' street is one of the most famous of Oxford's pubs. The pub was a popular meeting spot for literary heavyweights like J.R.R. Tolkien and C.S. Lewis.
For more information on other cities in England, check out these guides:
Oxford Travel Costs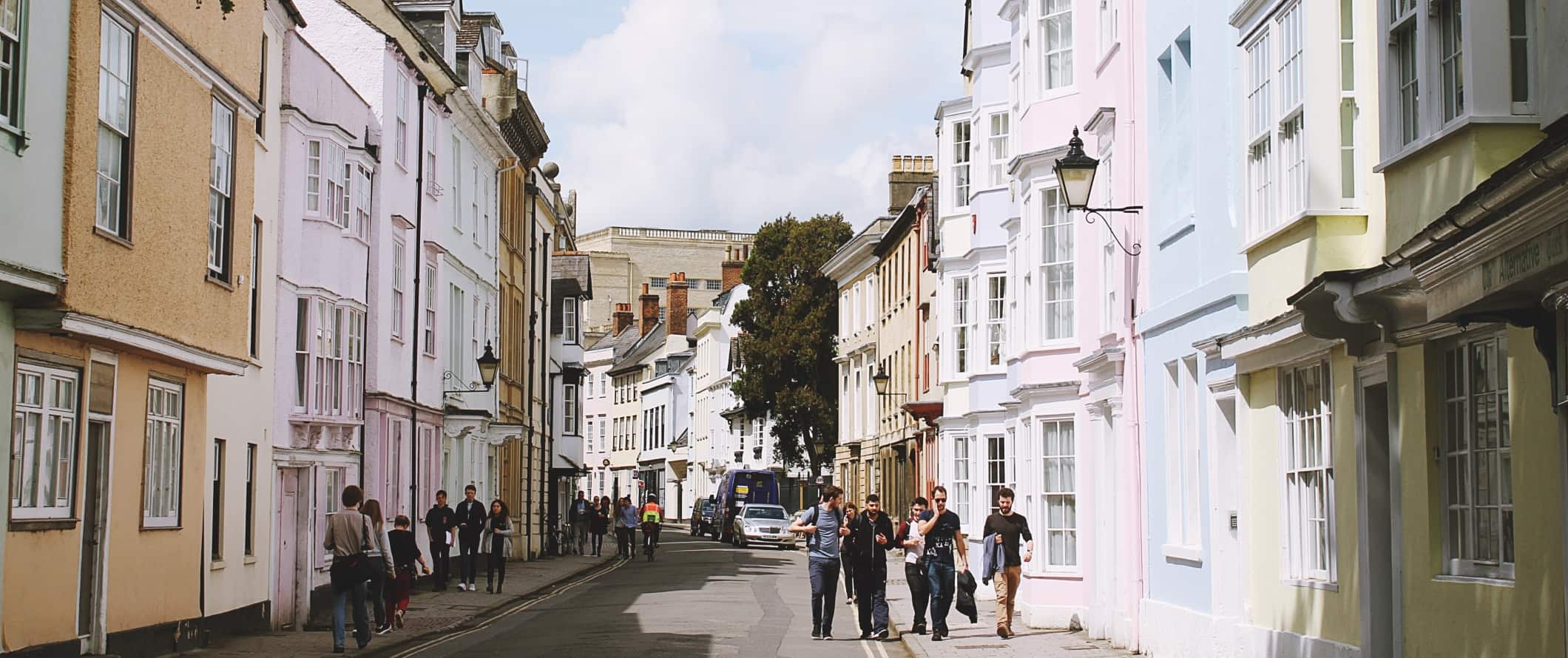 Hostel prices – There is currently just one hostel in Oxford and a bed in a dorm with 8 beds costs 35-40 GBP. Free Wi-Fi and self-catering facilities are included.
For those traveling with a tent, camping is available outside the city for 14 GBP per night. This gets you a basic tent plot without electricity.
Budget hotel prices – Budget hotels that include free Wi-Fi and breakfast start at around 80 GBP per night.
There are lots of Airbnb options available in Oxford. A private room costs at least 25-35 GBP per night, while an entire home/apartment starts around 60-90 GBP per night.
Avoid visiting during alumni weekend (which takes place in September) and the annual Oxford Boat Race, which draws 250,000 visitors around Easter. The city fills up fast and prices rise!
Food – While British cuisine has evolved in leaps and bounds due to immigration (and colonialism), it's still very much a meat and potatoes country. Fish and chips remain a popular staple for both lunch and dinner while roasted and stewed meats, sausages, meat pies, and the quintessential Yorkshire pudding are all common options as well. Curry (and other Indian dishes, such as tikka masala), are super popular here too.
You can eat cheaply in Oxford if you stick to the cafes centered close to the university. Most give discounts to students, and whether you pick up a sandwich, salad, or bagel, you won't pay more than 9 GBP for a meal (even if you aren't a student).
You'll find most student restaurants on and around George Street with small takeaway windows and stands selling everything from falafel to burritos. Fast food (think McDonald's) costs around 7 GBP for a combo meal while a pint at a pub costs around 5 GBP.
A personal pizza can cost as little as 5.55 GBP while Chinese food costs around 8 GBP for a meal.
Expect to pay 12 GBP for a meal at an inexpensive casual restaurant, while a three-course meal at a mid-range restaurant costs 25 GBP per person, including a drink.
If you're cooking your own food, a week's worth of groceries costs around 40-60 GBP. The best places to buy cheap groceries are Lidl, Aldi, and Sainsbury's.
Backpacking Oxford Suggested Budgets
If you're backpacking Oxford, expect to spend about 70 GBP per day. This budget covers a hostel dorm, public transit, limiting your drinking, cooking your own meals, and doing mostly free attractions like hanging out in the parks and exploring Oxford University. If you plan on drinking, add 5-10 GBP per day to your budget.
A mid-range budget of 140 GBP per day covers staying in a private Airbnb room or private hostel room, eating out for most of your meals, taking the occasional taxi, enjoying a few drinks, and doing some paid activities like a guided tour of Oxford or going punting.
On a "luxury" budget of about 240 GBP or more per day, you can stay in a hotel, eat out anywhere you want, drink more, rent a car or bike to explore, and do as many tours and activities as you want. This is just the ground floor for luxury though. The sky is the limit!
Accommodation
Food
Transportation
Attractions
Average Daily Cost
Backpacker
35
15
10
10
70
Mid-Range
65
35
15
25
140
Oxford Travel Guide: Money-Saving Tips
As one of the UK's biggest university towns, Oxford has many free and low-cost things to do. With plenty of cheap pubs, student-focused restaurants, and lots of public spaces, cutting your costs and saving money is easy here. Here are my top ways to save money when you visit Oxford:
Take a free walking tour – One of the best ways to learn about Oxford is with a free walking tour. Footprints Tours runs free walking tours that can introduce you to the city. Just be sure to tip your guide!
Cook your own food – Like elsewhere in the UK, eating out in Oxford will destroy your budget. Cook as much as you can to save money.
Eat cheap food – If you do plan on eating out, head out to neighborhoods outside the city center, where most of the students live. Stick to fast food and take-out joints for the cheapest options.
Bike or walk everywhere – Oxford is not a large city so you can pretty much walk or bike everywhere. Skip the taxis and public transportation if you can.
See the student theater – You can see cheap and cutting-edge student theater for a couple of pounds at the Burton Taylor Studio (near the bus station). It's a small theater, but because it hosts student and independent productions, you can find a good deal on the ticket prices — even for last-minute tickets.
Stay in an Oxford University dorm – When classes aren't in session, it's possible to stay in a dorm on the university campus. Exeter College is located in the center of the city and offers bed-and-breakfast-style accommodation in the dormitory. Rooms are only available during the Easter, summer, and winter vacations. (Not currently available due to COVID).
Stay with a local – If you're on a budget you'll definitely want to try Couchsurfing. It's a great way to cut costs while connecting to the local scene. Many students are away in the summer, however, so be sure to apply early.
Bring a water bottle – The tap water here is safe to drink so bring a reusable water bottle to save money and reduce your plastic use. LifeStraw is my go-to brand as their bottles have built-in filters to ensure your water is always clean and safe.
Where to Stay in Oxford
Oxford currently has just one operational hostel. Fortunately, it's a good one!
How to Get Around Oxford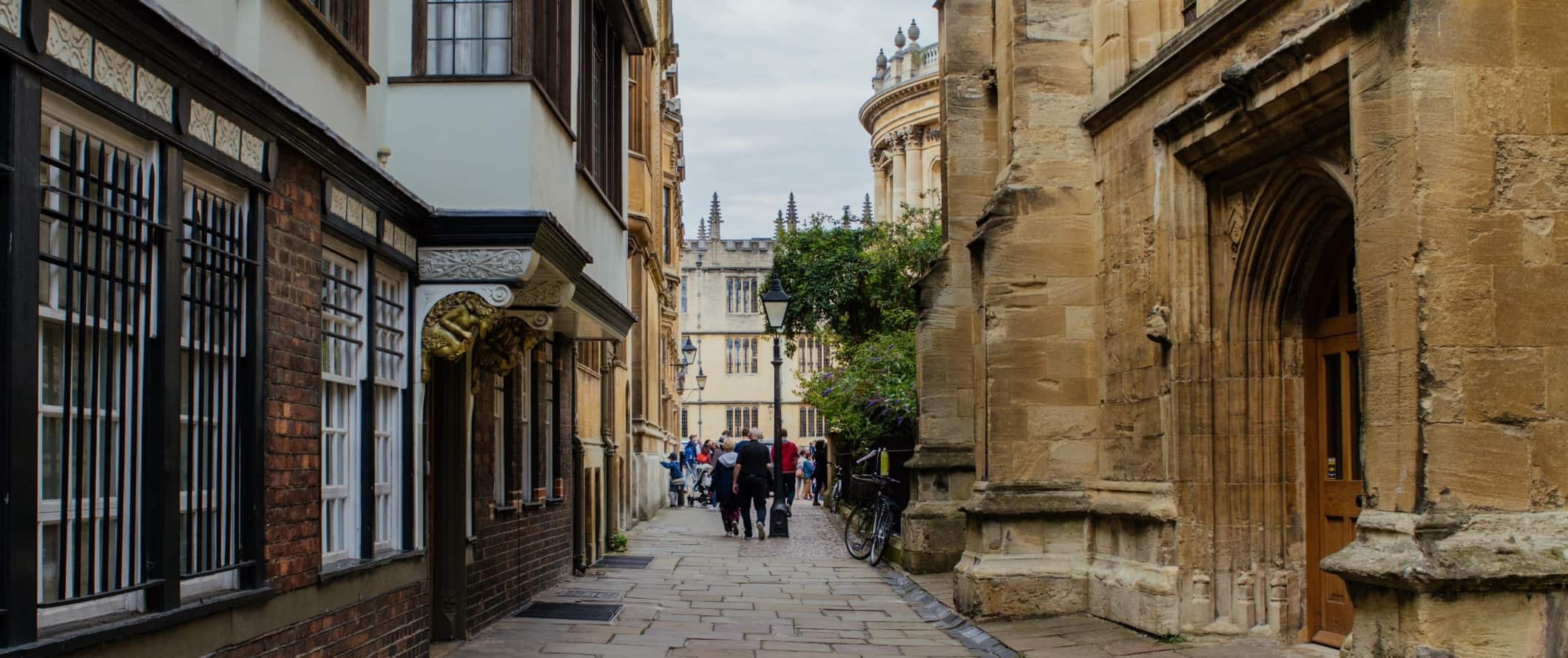 The easiest way to get around Oxford, especially if you stick to the central tourist areas, is by walking. Oxford is compact enough to get around on foot.
Bus – There is an extensive bus network through Oxford to get around if you choose to take public transportation. Three separate bus companies operate public transport in Oxford, with single trip fares as low as 1.20 GBP and day passes costing around 3.90 GBP.
Bicycle – Oxford is very bike-friendly if you stick to the bike paths. Pony Bikes and Donkey Bikes are dockless bike companies operating in Oxford, meaning the bikes can be picked up and left anywhere on the sidewalk. Download and rent directly from their respective apps.
If you'd rather pay for a full day of access, you can rent a bike from Summertown Cycles for as little as 18 GBP for your first day (6 GBP for each following day). Brompton Bike Hire offers folding bikes for 5 GBP per day, which you can pick up from the self-serve bike locker next to Oxford Station.
Taxi – Taxis cost around 4.60 GBP to start and 2.40 GBP per mile, but the price depends on the time of day and traffic. You can also use an app like MyTaxi to order your ride. Given how expensive they are, I wouldn't take one unless absolutely necessary.
Uber – Uber is available in Oxford, but again, walking or cycling are the easiest way to get around in the compact city so I'd skip them if you can.
Car rental – Car rentals can be found for as little as 25 GBP per day for a multi-day rental. Keep in mind you'll be driving on the left and that most cars have a manual transmission. Drivers need to be at least 21 and have had their license for at least one year.
For the best car rental prices, use Discover Cars.
When to Go to Oxford
Summer (July-August) is peak tourism season in Oxford, and temperatures are the warmest during this time — but rarely do they go above 22°C (72°F). It's perfect weather for exploring, punting, and relaxing in the many parks.
Spring (May-June) and autumn (September-October) are also fantastic times to visit as the city is abuzz with student life and temperatures are mild. This is my favorite time to visit.
Winter lasts from December through February, and tourism crowds thin out dramatically during this time. Temperatures can dip below freezing, and prices are slightly lower. The days are cold and grey, however, so I wouldn't suggest visiting during this time if you can avoid it.
How to Stay Safe in Oxford
Oxford is safe and the risk of violent crime is low. The biggest risk here is petty theft and pickpocketing, especially in the busy student pubs and clubs (however, it's still quite rare).
Solo travelers, including female travelers, should generally feel safe here, however, the standard precautions apply (never leave your drink unattended at the bar, never walk home alone intoxicated, etc.).
If you're partying in the student pubs, be aware of your surroundings and avoid dimly lit alleys and pathways when heading home. Pickpockets tend to work in teams, so stay alert and keep your valuables tucked away.
Scams here are rare, but if you're worried about getting ripped off you can read about common travel scams to avoid here.
If you experience an emergency, dial 999 for assistance.
The most important piece of advice I can offer is to purchase good travel insurance. Travel insurance will protect you against illness, injury, theft, and cancellations. It's comprehensive protection in case anything goes wrong. I never go on a trip without it as I've had to use it many times in the past. You can use the widget below to find the policy right for you:
Oxford Travel Guide: The Best Booking Resources
These are my favorite companies to use when I travel. They consistently have the best deals, offer world-class customer service and great value, and overall, are better than their competitors. They are the companies I use the most and are always the starting point in my search for travel deals.
Skyscanner – Skyscanner is my favorite flight search engine. They search small websites and budget airlines that larger search sites tend to miss. They are hands down the number one place to start.
Hostelworld – This is the best hostel accommodation site out there with the largest inventory, best search interface, and widest availability.
Booking.com – The best all around booking site that constantly provides the cheapest and lowest rates. They have the widest selection of budget accommodation. In all my tests, they've always had the cheapest rates out of all the booking websites.
HostelPass – This new card gives you up to 20% off hostels throughout Europe. It's a great way to save money. They're constantly adding new hostels too. I've always wanted something like this and glad it finallt exists.
Get Your Guide – Get Your Guide is a huge online marketplace for tours and excursions. They have tons of tour options available in cities all around the world, including everything from cooking classes, walking tours, street art lessons, and more!
The Man in Seat 61 – This website is the ultimate guide to train travel anywhere in the world. They have the most comprehensive information on routes, times, prices, and train conditions. If you are planning a long train journey or some epic train trip, consult this site.
Rome2Rio – This website allows you to see how to get from point A to point B the best and cheapest way possible. It will give you all the bus, train, plane, or boat routes that can get you there as well as how much they cost.
FlixBus – Flixbus has routes between 20 European countries with prices starting as low 5 EUR! Their buses include WiFi, electrical outlets, a free checked bag.
SafetyWing – Safety Wing offers convenient and affordable plans tailored to digital nomads and long-term travelers. They have cheap monthly plans, great customer service, and an easy-to-use claims process that makes it perfect for those on the road.
LifeStraw – My go-to company for reusable water bottles with built-in filters so you can ensure your drinking water is always clean and safe.
Unbound Merino – They make lightweight, durable, easy-to-clean travel clothing.
Top Travel Credit Cards – Points are the best way to cut down travel expenses. Here's my favorite point earning credit cards so you can get free travel!
BlaBlaCar – BlaBlaCar is a ridesharing website that lets you share rides with vetted local drivers by pitching in for gas. You simply request a seat, they approve, and off you go! It's a cheaper and more interesting way to travel than by bus or train!
Oxford Travel Guide: Related Articles
Want more info? Check out all the articles I've written on backpacking/traveling England and continue planning your trip: