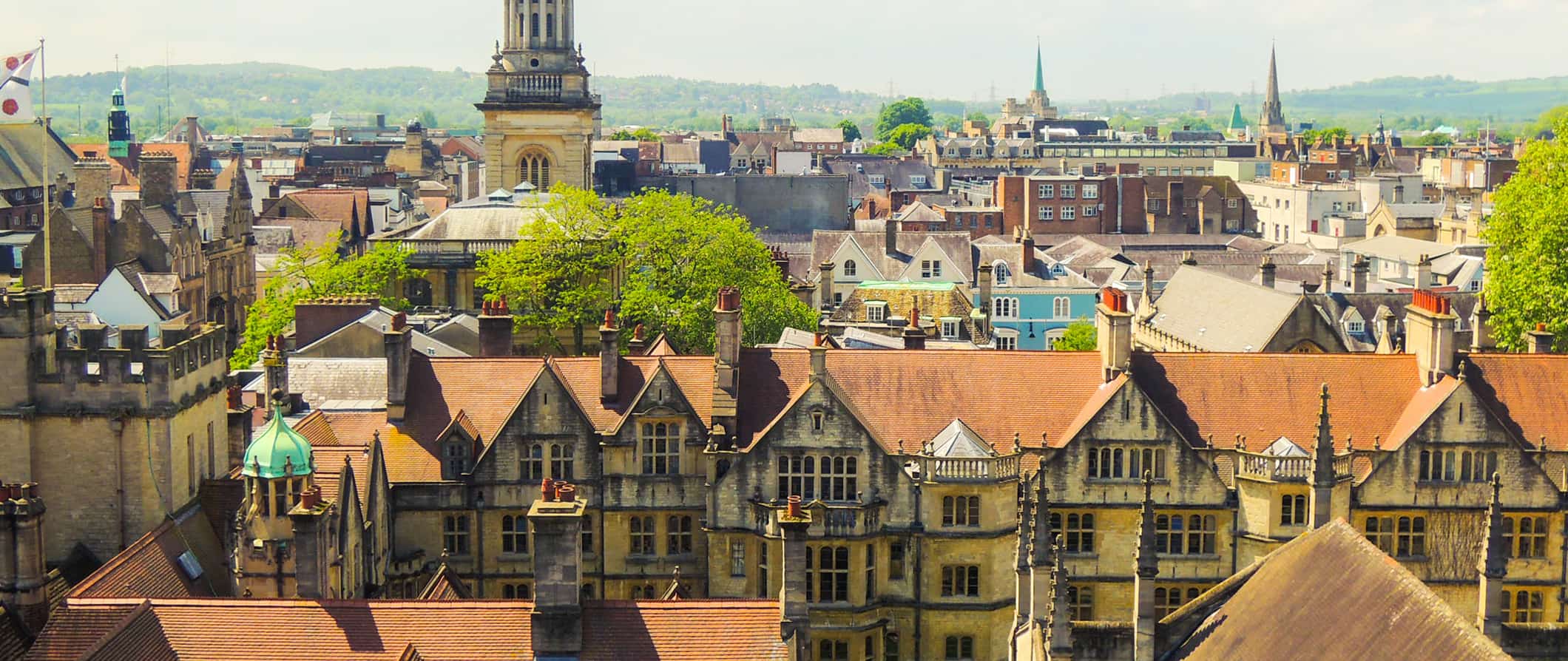 Oxford is a charming city, famed for its prestigious university. It can be stuffy at times, feeling a bit too proper and strict, and lacking the cut-loose university town feel that cities like Bristol have. However, the city and old architecture is beautiful and I loved wandering through the campus and having a cheap beer at one of the student pubs. This city has a lot of history and the university is one of the oldest in the world. If that's something you are into (I am!), consider a visit — it's a short ride from London anyways. It's an easy day or overnight trip and, since it's a university town, there's plenty of affordable options here too!
Top 5 Things to See and Do in Oxford
1. Tour Oxford
You can take guided tours of all the colleges in Oxford. They provide a look at university life, the history of the school, the architecture, and more. Most colleges require an entrance fee, but if you go on the tour set up through the tourism office, you can avoid the cost.
2. Visit Balliol College
Founded in 1263 and part of Oxford College, this college was one of the first to create academic opportunities for women. Sit on the lawn, bring a lunch, and soak up the friendly and informal vibe of Balliol College for an afternoon.
3. South Park
Located in east Oxford, South Park is the largest park in Oxford, with free admission and a sweeping view of the city. On a nice day, the park is filled with people getting a tan, playing sports, and eating. Pack a lunch and enjoy a nice picnic!
4. Hertford Bridge
Known to the locals as the 'bridge of sighs' because college students would sigh under it on their way to take their exams. It's a pretty bridge, and you can walk underneath the bridge to the Turf Tavern and commiserate with the students over a pint.
5. The Ashmolean Museum
Founded in 1683, this is Britain's oldest public museum. It recently went through a renovation and displays Ancient Egyptian art, as well as an impressive Eastern Art collection. Make sure to see the Amarna Princess Fresco and the Alfred Jewel before you leave. Admission is free.
Other Things to See and Do
(Click the title to expand the text)
1. University of Oxford Botanical Gardens
The Gardens are one of Oxford's most scenic spots to take in the scenery and slower pace of town. It's a great place for a quiet stroll, and admission is only 5 GBP (discounts are available for students and seniors).
2. Visit the Covered Market
This historical market is a great place to walk through and taste the local food. There are a lot of homemade meals served here, and it's the best place to do some cheap shopping for groceries in the city.
3. Bodleian Library
As the main research library of the University of Oxford, the Bodleian is one of the oldest libraries in Europe. It opened in 1602, and was based on the collection of Thomas Bodley. Presently, it has one of the largest collections of books in the world. The architecture on the building is very beautiful, making it definitely worth a visit!
4. Go punting
During the summer, punting is an ever-popular activity. Punting is essentially pushing a boat around the rivers and canals of the university of a pole. You can rent a boat or hire someone to take you, and many bring food and wine with them to make for a more interesting day. Rentals cost around 20-25 GBP per hour, and can fit up to 5 people.
5. Museum of Natural History
This museum holds the University's scientific collections of zoological, entomological, geological, paleontological, and mineralogical specimens. The exhibits are devoted to the history and diversity of life on Earth. If you are interested in learning about nature, then this extensive collection is for you. Best of all, it's free!
6. Oxford Castle Unlocked
This 1000 year old castle/prison is an interesting exhibit of medieval life. Originally built in the 11th century, there are plenty of stories to read about past inmates and the crazy forms of punishment that were practiced at the time. There is also a two-hour historical ghost walking tour that departs from here. Admission is 10.75 GBP, with discounts available.
7. St. Mary's Church
Located on the Thames, you have to travel by boat to get here. The architecture of the church is really unique and well preserved. It is too often overlooked, so don't miss it.
8. Blackwell's Books
For the bookworm in you, this 10,000 square foot store is the largest bookstore in Europe. If you're in need of some new reading material (or just like to browse) be sure to check it out.
9. Blenheim Palace
This underrated attraction is just eight short miles outside of Oxford. Featured in the movie Hamlet, it's a magnificent place to check out. Aside from the amazing architecture, the rooms are preserved with their original furniture and the grounds include a beautiful garden and a butterfly house. Admission is steep, however, with adult tickets priced at 24 GBP.