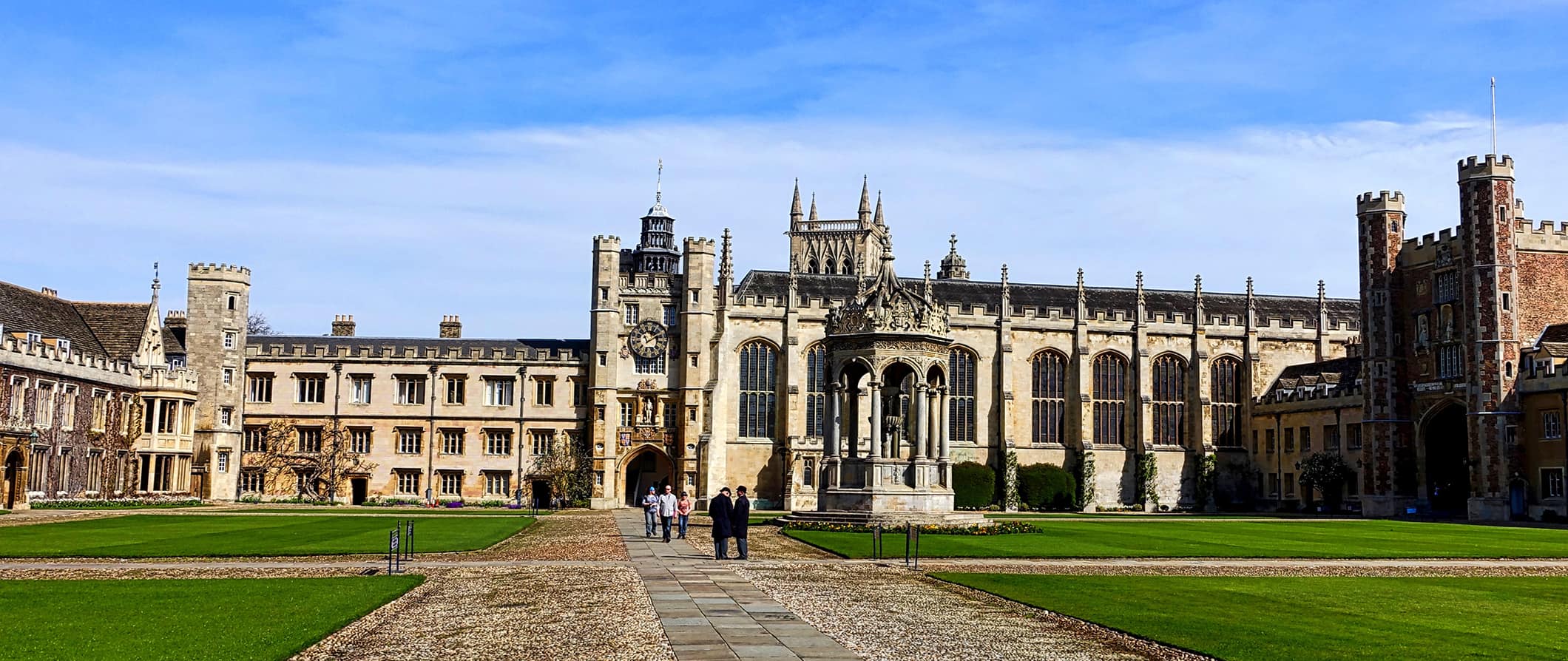 Cambridge offers some of England's best universities, parks, museums, and theatrical productions. It is known for its friendly people, academia, and great student parties. Like Oxford, life here revolves around the university, as does much of its tourism. However, you can find a lot to do here that isn't related to the university. All in all, Cambridge makes for a good place to spend a couple of days. The city is close to London, making it a prime option for a day trip out of the capital.
Top 5 Things to See and Do in Cambridge
1. Visit the colleges
Cambridge University is beautiful, with buildings dating back hundreds of years. Most of the colleges are worth a look. Kings and Queens Colleges arguably have the most beautiful buildings. Colleges are typically closed to visitors during the exam period during the last week of May and the first week of June.
2. Walk along the Backs
This is a great place to walk that gives you a scenic tour of the city. You can walk through Kings College and see a collection of stores and shops along the way as well as meander a few of the little rivers throughout the city. Beautiful way to spend a nice day.
3. Fitzwilliam Museum
The Fitzwilliam Museum is the art and antiquities museum of the University of Cambridge. Some highlights include masterpieces by Titian, Rubens, Van Dyck, Canaletto, Hogarth, Gainsborough, Constable, Monet, Degas, Renoir, Cézanne and Picasso. Best of all? The museum is free.
4. Visit Great St. Mary's Church
This is a free church to visit, and worth it for seeing some of the best preserved 15th-century English architecture in the country. If you want to go up to the bell tower (which you definitely should do because you get great views of the city), admission is 4 GBP.
5. Go punting
Punting is the classic Cambridge sport and involves pushing a wooden boat with a pole against the river's bottom. There are guided tours from around 12 GBP or you rent your own boat and try to punt yourself. Most guided tours are run by students and often will give you some really good insight into what it is like to study in Cambridge.
Other Things to See and Do
(Click the title to expand the text)
1. Botanical Garden of Cambridge University
If you want to spend a quiet afternoon out, head to the Botanical Gardens. They are beautiful and a definite highlight of the area. They cost 5 GBP to enter.
2. Attend a lecture
While some of the lectures are closed for members only, if you research ahead of time, you can visit one that is open to the public.
3. ADC Theatre
Take in an amateur show at the ADC Theatre. It's the University's playhouse and offers productions starting at 4 GBP. It offers something different from the normal fare of activities and gives you a way to see the local art scene.
4. Do a walking tour of Cambridge
Cambridge is just a great place to walk around. If you can't afford any of the activities, just walk around and enjoy the beauty of the parks, river, and colleges. Audio tours are available from the tourist office for 5 GBP and make for an easy, cheap way to spend a day.
5. Cambridge Shakespeare Festival
Every summer, six Shakespeare plays are performed in the gardens of the various colleges. Come early as the good spots fill up quick. Tickets are 16 GBP per performance.
6. Go rowing
Cambridge is renowned for rowing on the Cam. All colleges and some schools have their own clubs, and there are over half a dozen large 'town' clubs. Besides punting, this is the most popular activity in town. Any hostel can help you get on a boat or tour.
7. Visit Angsley Abbey
Less than 7 miles outside of Cambridge, Angsley Abbey is a beautiful manor with peaceful gardens. You can tour the load mill, the house, and the grounds for 12.50 GBP (discounts available). It's a great escape to country life and gives you a good idea of England's social history.
Typical Costs
Hostel prices – Youth hostels will cost 25 GBP for a dorm night, while private rooms begin around 50 GBP per night. There are only a couple hostels in Cambridge so be sure to book in advance. There are also a few campgrounds outside the city with basic facilities for anyone with a tent and cost between 8-15 GBP per night. You can book your hostel with Hostelworld.
Budget hotel prices – You can stay in a budget hotel for about 70 GBP in Cambridge, though prices will drop by 5-15 GBP per night during the off-peak months. Use Booking.com as they consistently return the cheapest rates. Airbnb is a common option for budget travelers in the city. For shared accommodation, you can expect to pay 35 GBP per night and around 55 GBP for an entire home or apartment.
Average cost of food – You can eat at a noodle shop for 1 GBP, get a lunch special at an Italian restaurant for 6 GBP, and a deli style restaurant for 5 GBP. Since there are so many broke college kids in the city, there are a lot of budget food options in this city. It's one of the best places to eat on the cheap in the country! Buying your own food will cost you around 40-55 GBP a week at a grocery store. Dinners out will cost between 10-25 GBP depending on the type of restaurant. Since it is a student town, you can find a lot of good deals, so be on the lookout.
Transportation costs – Cambridge is pedestrian-friendly, and you shouldn't have to travel any other way within city limits. If you take the city bus, you should expect to pay 1-3 GBP per ride. Try to have exact change as the bus drivers here seem resistant to handing you the correct change. You can also consider buying an all-day pass for 4 GBP. Bike rentals are also available and are a great way to explore the outer areas of the city. Full-day rentals will cost around 10 GBP. Additionally, you'll pay between 7-30 GBP for a bus or train to/from London (it's only an hour away!)
Suggested daily budget
40-50 GBP / 50-62 USD (Note: This is a suggested budget assuming you're staying in a hostel, eating out a little, cooking most of your meals, and using local transportation. Using the budget tips below, you can always lower this number. However, if you stay in fancier accommodation or eat out more often, expect this to be higher!)
Money Saving Tips
Attend a lecture – Attending a lecture at the University is well worth it. You can experience what the students do and be immersed in the academic world for an afternoon. (Just walk right in!)
Walk in the parks – The parks are mostly free here (the Botanical Garden charges a small entrance fee) and they are a great way to escape the noise of the busy city and take in some of Cambridge's quieter scenery.
May Week – This actually takes place in the first half of June and lasts about 10 days. After exams are over, students relax with lots of rowing, open air events, parties and summer balls. As a tourist, you are likely to benefit from lower prices and opportunities to witness lots of free and interesting open-air spectacles during May Week so try and attend!
Couchsurf – If you're on a budget you'll definitely want to try couch surfing. it's a great way to cut costs while connecting to the local scene. Many students will be away in the summer, however, so be sure to apply early.
Take a free walking tour – If you want to get a better feel for the city, be sure to take a free walking tour. They only last a couple hours and are a great way to engage with the city's history. Footprints Tours offers free walking tours daily during peak season and on the weekends during late autumn and winter.
Save money on rideshares – Uber is way cheaper than taxis and are the best way to get around a city if you don't want to wait for a bus or pay for a taxi. The Uber Pool option is where can you share a ride to get even better savings (though you can get your own car too). You can save $15 off your first Uber ride with this code: jlx6v.
My Must Have Guides For Traveling to Cambridge