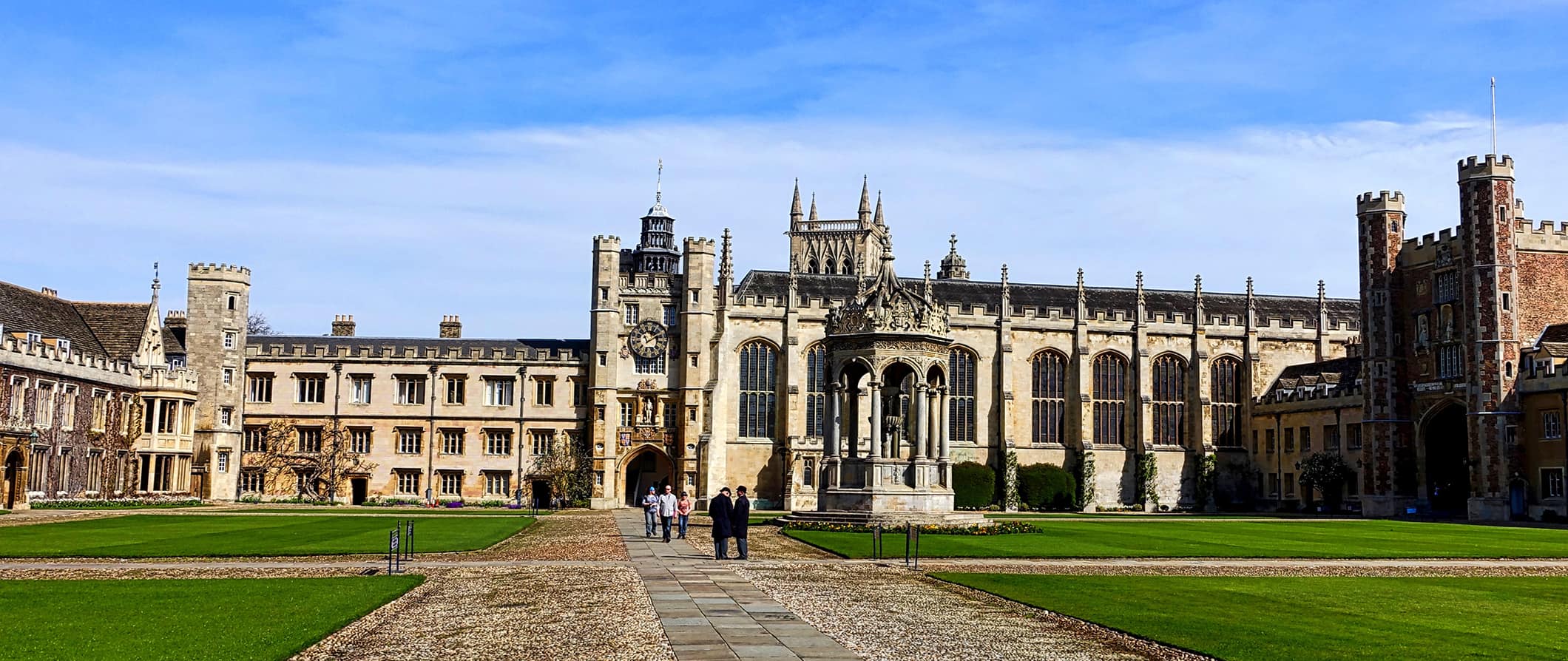 Cambridge is an iconic English city home to some of the country's best universities, parks, museums, and theatrical productions. It's a lively small city with a young student population that keeps things affordable.
Like Oxford, life here revolves around the university, but there are many other things to do here as well. I enjoyed the museums, wandering around the parks, and embracing the relaxed pace of life (there are only around 125,000 people here compared to the almost 10 million in London!).
Since Cambridge is just a few hours from London, the city is a popular day-trip destination, however, I enjoyed it enough that I would recommend it for at least a night since there's so much to do here.
This Cambridge travel guide can help you plan your visit to this fun, beautiful, and historic destination.
Top 5 Things to See and Do in Cambridge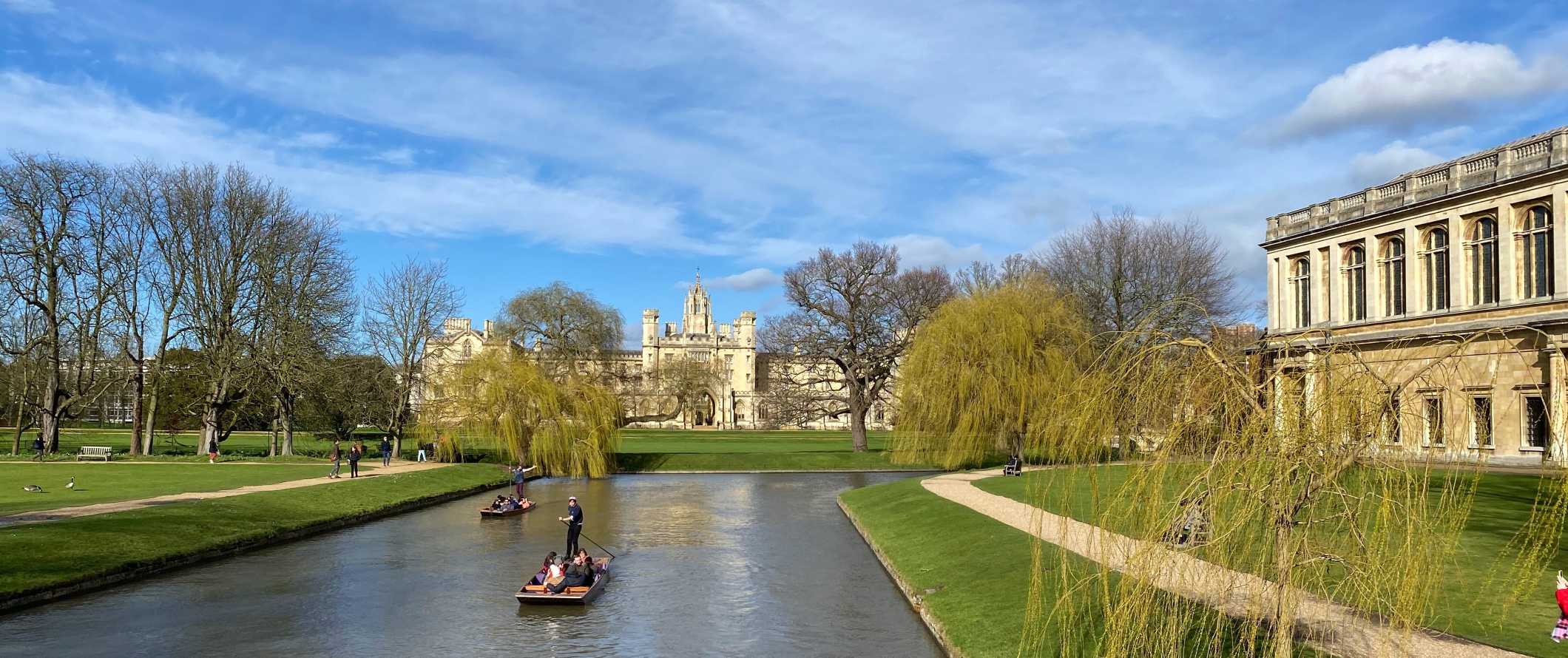 1. Visit the colleges
Founded in 1209, Cambridge University is an architectural marvel made up of 31 colleges. The school's Kings and Queens Colleges have the most beautiful buildings, while Corpus Christi, St. Johns, and Trinity have iconic, stunning quads. Pembroke has buildings from every century since its foundation in 1347, while Newnham College has stunning gardens and gorgeous architecture. Spend some time wandering the university.
2. Visit the Fitzwilliam Museum
Founded in 1816, the Fitzwilliam Museum is the art and antiquities museum of the University of Cambridge. It has more than half a million works of art, including masterpiece paintings and historical artifacts, with origins ranging from ancient Egyptian, Greek, and Roman antiquities to modern-day art. Some highlights include masterpieces by Rembrandt, Rubens, Gainsborough, Constable, Monet, Degas, Renoir, Cézanne, and Picasso. Admission is free.
3. Visit Great St. Mary's Church
This university church is home to some of the best-preserved English architecture in the country. Constructed in the 15th century, this Late Gothic church offers excellent panoramic views of the city from its bell tower at the top of 123 steps. Admission is free and the bell tower costs 6 GBP. The award-winning Michaelhouse Café located inside the medieval chapel within the church offers breakfast and lunch 7 days a week.
4. Go punting and see the Backs
Punting is a classic Cambridge sport that involves pushing a wooden boat with a pole (instead of rowing with oars). Punting is the only way to see the Cambridge Backs, a picturesque area along the River Cam named for the view of the (literal) backs of the nearby colleges (Magdalene, St John's, Trinity, Trinity Hall, Clare, King's, and Queens'). Punting along the tranquil, tree-lined river is also the best way to take in the sights of some of Cambridge's most famous landmarks such as King's College Chapel, The Wren Library at Trinity College, and the Bridge of Sighs. Guided tours start at 20 GBP but can be as much as 100 GBP depending on the type of tour and season. Make sure you only book with a licensed operator. Renting your own boat costs around 20-35 GBP.
5. Shop at Cambridge's market square
Since the Middle Ages, vendors have been selling their wares at Cambridge's market square in the center of town. Open daily from 10am-4pm, you can find everything from second-hand clothing and bikes to cheap eats and local produce. Even if you don't purchase anything, walking the aisles is a nice way to spend some time taking in the city and people-watching.
Other Things to See and Do in Cambridge
1. Take a free walking tour
Cambridge is a great place to walk around for a few hours, admiring the beauty of the parks, river, and old historic buildings. A free walking tour is the best way to get the lay of the land and see the main sights (it's how I start all my visits to a new city). Footprints Walking Tours has the best free walking tour in the city. It lasts a couple of hours and includes all the main highlights. Just be sure to tip your guide at the end!
2. Visit the Botanical Garden of Cambridge University
For a quiet afternoon, head to the Botanical Gardens. John Stevens Henslow, the mentor to Charles Darwin, created the gardens for research purposes in 1831. Today, the gardens boast over 8,000 plant species from around the world. Hang out in the Woodland Garden and Lake, or visit the Glasshouse Range, a series of buildings with themed environments, including deserts and tropical rainforests. The Winter and Autumn Gardens are seasonal glasshouses that are especially colorful during the right months! Admission is 7.50 GBP.
3. Attend a lecture
It's possible to attend one of the university's lectures if you plan ahead by looking at the list of public talks on the university's website. They have lectures on everything from molecular science to the global learning crisis to archaeological mysteries. Talks are usually free and operate on a first-come, first-serve basis.
4. See a show at the ADC Theatre
To take in the local art scene, attend an amateur performance at the ADC (Amateur Dramatic Club) Theatre. The university's playhouse is entirely student-run, offering productions by students and other local theatrical groups. In operation since 1855, ADC is the oldest university playhouse in the country and has been the launching point for the careers of countless famous actors and comedians. Tickets are 7-16 GBP depending on the show and day of the week.
5. Attend the Cambridge Shakespeare Festival
Every summer over the course of six weeks, more than 25,000 people gather to see different Shakespeare plays performed in the gardens of the various colleges. Arrive early as the good spots fill up quickly (there are only 200 seats on a first-come, first-served basis). There's also a picnic area if you want to bring a blanket and a snack to enjoy before the performance. Tickets are 18 GBP per performance.
6. Watch a rowing race
Cambridge is renowned for its rowing club. All colleges have their own clubs, which compete with one another in regular races. Besides punting, this is the most popular activity in town. Watch a race from the river's edge or grab a pint and sit outside at the riverside pub, The Plough to cheer on the athletes.
7. Visit Anglesey Abbey
Less than 7 miles (11 kilometers) outside of Cambridge, Anglesey Abbey is a stunning Jacobean country house with colorful gardens and a working watermill. Originally built in 1600 (but extensively remodeled in the early 1900s), the interior consists of medieval vaulting, 17th-century paneling, and rooms full of antique furniture and books. Two of the main highlights are the pair of Tudor royal portraits, including the earliest likeness of Henry VIII. In the early spring, a carpet of white snowdrops blooms across the 100 acres of gardens, making for a scenic stroll. You can tour the watermill, the house, and the grounds for 15 GBP.
8. Tour Wren Library
While at Trinity College, be sure to stop at the Wren Library to see its impressive collection of 55,000 books — all of which were published before 1820. A.A. Milne's original Winnie the Pooh is here as Milne and his son, Christopher Robin, were graduates from Cambridge. Named for famous architect Christopher Wren (whose masterpiece is St. Paul's Cathedral in London), the building was completed in 1695 and is an important piece of history itself. Visiting is free, though it is currently closed to tourists due to COVID.
9. Explore the Polar Museum
If you're interested in learning about the world's earliest explorers, visit the Polar Museum (part of the Scott Polar Research Institute). It was founded in 1920 as a memorial to explorer Captain Robert Falcon Scott, who famously died with his team in 1912 on his return trip from the South Pole. There are photographs, archival videos, ship models, drawings, paintings, and even the last letters written by Scott during his final journey. It's free to visit.
For more information on other cities in England, check out these guides:
Cambridge Travel Costs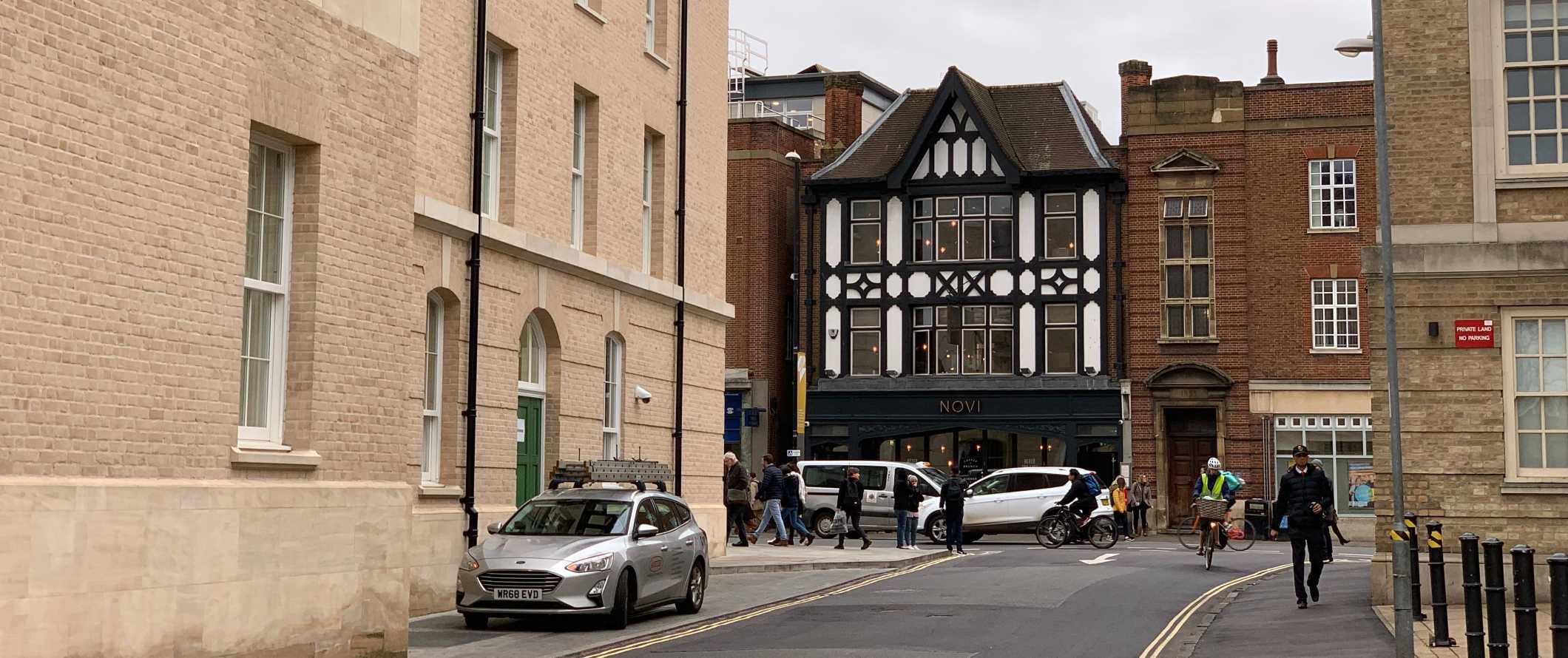 Hostel prices – Cambridge currently has one hostel. A bed in a dorm with 4-6 beds costs 20 GBP per night. Currently, due to COVID, you can only book private rooms, which cost around 59 GBP per night. Free Wi-Fi is included, and there is a bar on-site as well as self-catering facilities.
If you have a tent, there are campgrounds outside the city with basic facilities that cost between 15-20 GBP per night for a tent pitch without electricity.
Budget hotel prices – A budget hotel costs 50-60 GBP per night (70-80 GBP in high season). Expect basic amenities like free Wi-Fi, coffee/tea maker, TV, and AC.
When university is not in session (and when there is no pandemic), you can book a room to stay at one of the colleges. Prices vary but expect to spend around 75 GBP per night (although prices can be as low as 55 GBP and as high as 100 GBP).
Airbnb is available around Cambridge, with private rooms costing 65-90 GBP per night while an entire home or apartment costs 90-140 GBP. Prices are slightly higher in the summer months. There are much cheaper options further out in the countryside if you have a car.
Food – While British cuisine has evolved in leaps and bounds due to immigration (and colonialism), it's still very much a meat and potatoes country. Fish and chips remain a popular staple for both lunch and dinner while roasted and stewed meats, sausages, meat pies, and the quintessential Yorkshire pudding are all common options as well. Curry (and other Indian dishes, such as tikka masala), are super popular too.
Since there are so many college kids in the city, there are a lot of budget food options here. Lunch specials cost around 8 GBP, and you can get a deli-style sandwich for around 5 GBP. If you have an appetite, don't miss the heaping portions of Jollof (a rice dish that's popular in West Africa) at Africfood's food stall in Cambridge Market for 9 GBP.
Dinners out cost between 11-20 for a main dish. A burger at a pub costs 12-15 GBP. But, since Cambridge is a student town, there are often cheaper specials and happy hours away from the touristy areas of Sidney Street, Fitzroy Street, and Bridge Street.
For a multi-course meal and a drink in a mid-range restaurant, expect to pay closer to 30 GBP. Fast food like McDonald's costs around 6 GBP for a combo meal.
Beer is around 5 GBP while a latte/cappuccino is 3 GBP. Bottled water is around 1.50 GBP.
Buying your own food at a grocery store costs 40-55 GBP for a week's worth of groceries. This gets you basic staples like rice, pasta, vegetables, and some meat. The best places to buy cheap groceries in the UK are Lidl, Aldi, Sainsbury's, or Tesco.
Backpacking Cambridge Suggested Budgets
If you're backpacking Cambridge, expect to spend about 55 GBP per day. This budget covers a hostel dorm, walking and taking public transportation, cooking all your meals, limiting your drinking, and doing mostly free activities like free walking tours and free museum visits. If you plan on drinking, add another 5-10 GBP to your daily budget.
A mid-range budget of 150 GBP per day covers staying in a private Airbnb or private hostel room, eating out for most meals, having a few drinks, taking the occasional taxi, and doing more paid activities such as going punting or visiting the botanical garden.
On a "luxury" budget of 245 GBP or more per day, you can stay in a hotel, eat out anywhere you want, drink more, rent a car or take more taxis, and do as many tours and activities as you want. This is just the ground floor for luxury though. The sky is the limit!
Accommodation
Food
Transportation
Attractions
Average Daily Cost
Cambridge Travel Guide: Money-Saving Tips
Since Cambridge is a student-oriented city, you can find lots of ways to cut corners on your budget. Here are my top tips for saving money when you visit Cambridge:
Attend a lecture – Attending a free lecture at the university is well worth it. You can experience what the students do and be immersed in the academic world for an afternoon. Check the university's website for the official public talks to play student for the day!
Walk in the parks – The parks are mostly free here (the Botanical Garden charges a small entrance fee) and are a great place to relax. Bring a book, pack a snack, and lounge the day away!
Take a free walking tour – If you want to get a better feel for the city, be sure to take a free walking tour. They only last a couple of hours and are a great way to engage with the city's history. Don't forget to tip your tour guide!
Visit the Visitor Information Centre – Pop into the Visitor Information Centre as they often have discounted tickets for punting and other activities around the city. They can let you know what's happening and show you how to save money.
Stay with a local – If you're on a budget, use Couchsurfing to get free accommodation. It's a great way to cut costs while connecting with a local. Many students are away in the summer, however, so be sure to apply early.
Bike or walk everywhere – Cambridge is not a large city so you can pretty much walk or bike everywhere. Skip taxis and public transportation if you're on a budget.
Bring a water bottle – The tap water here is safe to drink so bring a reusable water bottle to save money and reduce your plastic use. LifeStraw is my go-to brand as their bottles have built-in filters to ensure your water is always clean and safe.
Where to Stay in Cambridge
Cambridge only has one hostel; everything else is a budget hotel or a guesthouse. With limited budget accommodation, you should book early. Here are my suggested places to stay:
How to Get Around Cambridge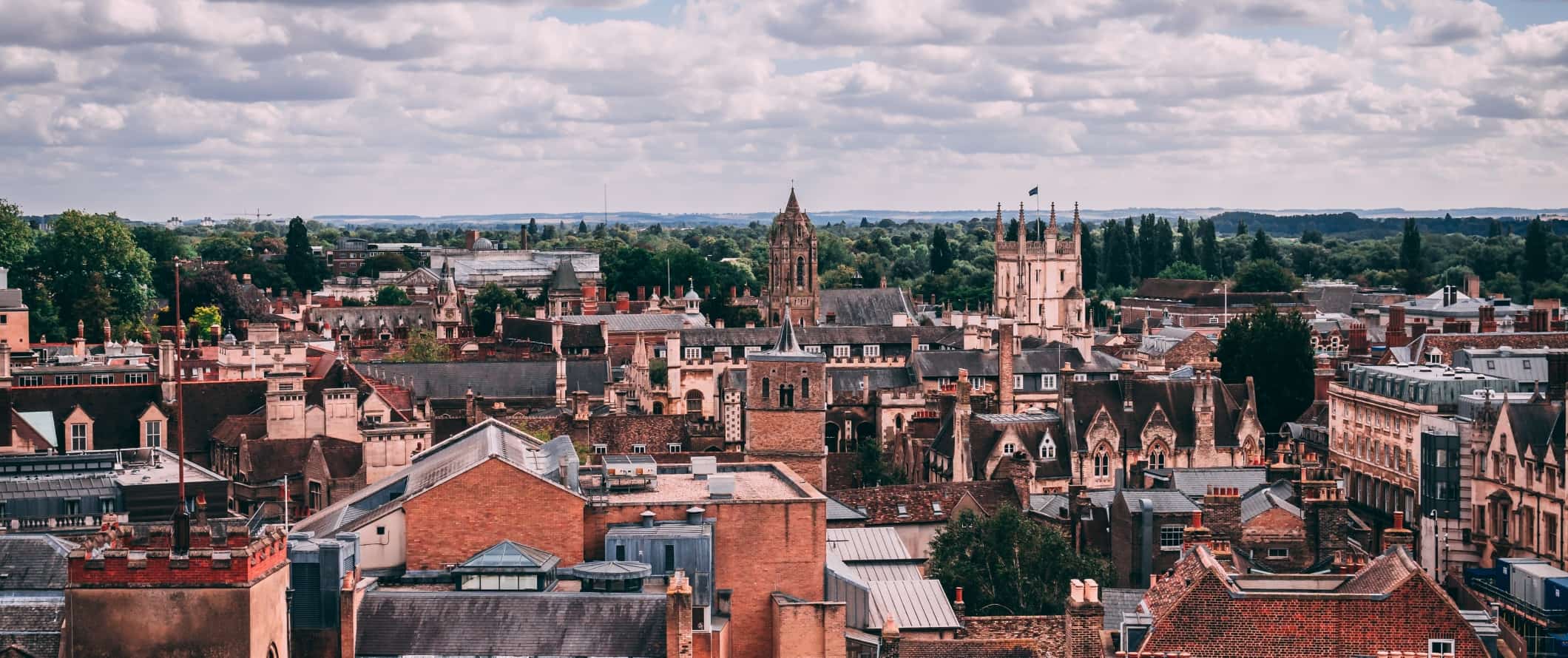 Public transportation – Cambridge is pedestrian-friendly and you can pretty much walk everywhere. However, there's also a bus available if you need to go further afield.
City bus fares cost 1-3 GBP per ride depending on how far you go. An all-day pass is 4.50 GBP.
Additionally, London is only an hour away from Cambridge by bus or train, making it easy to plan a day or weekend trip to the university town. Flixbus has tickets for as little as 4 GBP, but the timings are pretty anti-social (think midnight or later). National Express has options for around 21 GBP but you have to change at Heathrow.
Expect to pay anywhere between 8-29 GBP for a train that is quicker and more direct (trains leave from Liverpool Street, Kings Cross, and St Pancras and take 50 minutes to 1.5 hours depending on which station you leave from). Note: buying in advance can lower prices significantly.
Bicycle – Renting a bike is a great way to explore the outer areas of the city. Full-day rentals (8 hours) cost around 15 GBP.
Taxi – Taxis start at 2.80 GBP and go up 1.75 GBP per mile. Since prices add up fast, I suggest skipping the taxis if you can.
Ridesharing – Uber is available here, however, since you can walk everywhere and the bus is super affordable, I suggest skipping the rideshares.
Car rental – Car rentals can be found for as little as 18 GBP per day for a multi-day rental, however, you definitely don't need one to explore the city. I'd only suggest a car rental if you're traveling around the region. Just remember that driving is on the left and that most vehicles have manual transmissions.
For the best car rental prices, use Discover Cars.
When to Go to Cambridge
Like London, Cambridge can be rainy and foggy year-round. Summer is the hottest time of year, with temperatures averaging 20°C (68°F) between June and September. This is also Cambridge's peak travel season, so expect bigger crowds and inflated prices (especially during festivals and events).
Spring and autumn are the shoulder seasons, with milder temperatures and moderate rainfall. The atmosphere in town is upbeat, as the school year is in full swing. Prices are also lower, so you can afford to splurge a little more.
Winter can be very cold, with temperatures hovering around 6°C (43°F). December and January can be rainy, so be sure to pack lots of layers if you visit during this time.
How to Stay Safe in Cambridge
Cambridge is one of the safest cities in the UK. But like anywhere, it's good to keep your wits around you — especially after a fun night out. If you keep your valuables secure and use common sense, you won't have any trouble here.
Solo female travelers should generally feel safe here, however, the standard precautions apply (never leave your drink unattended at the bar, never walk home alone intoxicated, etc.).
Everywhere around the university is generally quite safe. It gets seedier if you venture into the King's Hedges or Arbury areas, but even in those places, you're unlikely to get into much trouble.
While scams here are rare, if you're worried about getting ripped off you can read about common travel scams to avoid here.
If you do experience an emergency, dial 999 for assistance.
The most important piece of advice I can offer is to purchase good travel insurance. Travel insurance protects you against illness, injury, theft, and cancellations. It's comprehensive protection in case anything goes wrong. I never go on a trip without it as I've had to use it many times in the past. You can use the widget below to find the policy right for you:
Cambridge Travel Guide: The Best Booking Resources
These are my favorite companies to use when I travel. They consistently have the best deals, offer world-class customer service and great value, and overall, are better than their competitors. They are the companies I use the most and are always the starting point in my search for travel deals.
Skyscanner – Skyscanner is my favorite flight search engine. They search small websites and budget airlines that larger search sites tend to miss. They are hands down the number one place to start.
Hostelworld – This is the best hostel accommodation site out there with the largest inventory, best search interface, and widest availability.
Booking.com – The best all around booking site that constantly provides the cheapest and lowest rates. They have the widest selection of budget accommodation. In all my tests, they've always had the cheapest rates out of all the booking websites.
HostelPass – This new card gives you up to 20% off hostels throughout Europe. It's a great way to save money. They're constantly adding new hostels too. I've always wanted something like this and glad it finallt exists.
Get Your Guide – Get Your Guide is a huge online marketplace for tours and excursions. They have tons of tour options available in cities all around the world, including everything from cooking classes, walking tours, street art lessons, and more!
The Man in Seat 61 – This website is the ultimate guide to train travel anywhere in the world. They have the most comprehensive information on routes, times, prices, and train conditions. If you are planning a long train journey or some epic train trip, consult this site.
Rome2Rio – This website allows you to see how to get from point A to point B the best and cheapest way possible. It will give you all the bus, train, plane, or boat routes that can get you there as well as how much they cost.
FlixBus – Flixbus has routes between 20 European countries with prices starting as low 5 EUR! Their buses include WiFi, electrical outlets, a free checked bag.
SafetyWing – Safety Wing offers convenient and affordable plans tailored to digital nomads and long-term travelers. They have cheap monthly plans, great customer service, and an easy-to-use claims process that makes it perfect for those on the road.
LifeStraw – My go-to company for reusable water bottles with built-in filters so you can ensure your drinking water is always clean and safe.
Unbound Merino – They make lightweight, durable, easy-to-clean travel clothing.
Top Travel Credit Cards – Points are the best way to cut down travel expenses. Here's my favorite point earning credit cards so you can get free travel!
BlaBlaCar – BlaBlaCar is a ridesharing website that lets you share rides with vetted local drivers by pitching in for gas. You simply request a seat, they approve, and off you go! It's a cheaper and more interesting way to travel than by bus or train!
Cambridge Travel Guide: Related Articles
Want more info? Check out all the articles I've written on backpacking/traveling England and continue planning your trip: