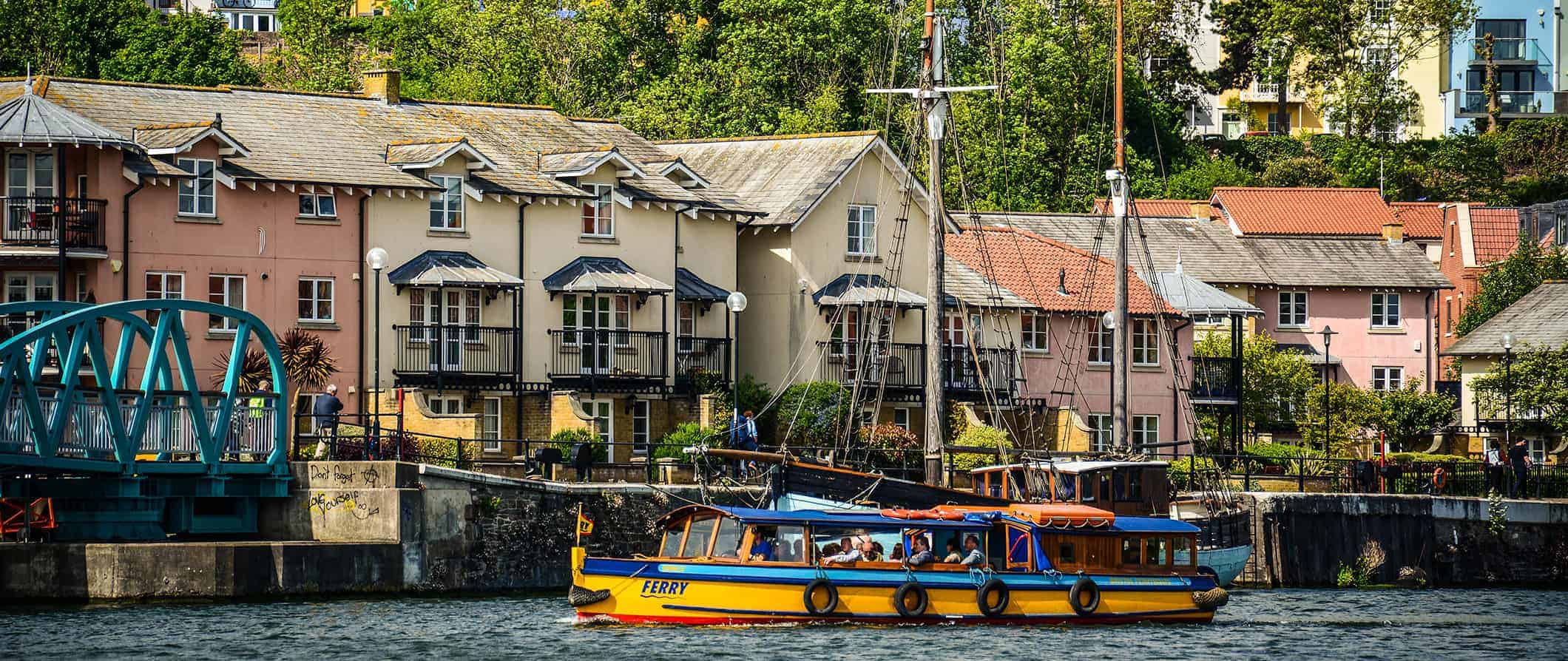 Bristol is a city bursting with great restaurants, fascinating history, diverse activities, and lots of art. I enjoyed the energetic and artsy vibe the city had. Bristol is a college town with a youthful feeling and it's full of great ways to save money — from the museums and cathedrals to the cheap transportation and landmarks. There are a lot of great parks to lay around in, interesting museums and historic homes, and a waterfront filled with art galleries and restaurants. Bristol also makes for a good base of operations for visiting Bath. This guide will help you enjoy the city as much as I did — it's one of my favorites in England!
Top 5 Things to See and Do in Bristol
1. Clifton Suspension Bridge
This is Bristol's most famous landmark. Suspended high above a river, this is not an attraction for those afraid of heights. The bridge gives you sweeping views of the river and surrounding parks and buildings.
2. Visit the Bristol Cathedral
This is one of the true must-sees in Bristol. It's a beautiful cathedral that was built during the Norman Era and originally the abbey of St. Augustine (you know the guy with the quote). It's open daily and admission is free. It's grand and should not be missed.
3. Visit King Street
King Street is a fascinating, historical part of Bristol. It used to be where the old sailing barges docked after their journeys from South Wales. Now the area is the heart of the theatrical district and features outstanding bars and restaurants too.
4. St Nicholas Market
Just off the old Corn Exchange, this is an awesome, bustling market with more shops than you could go through in an afternoon. There seems to be an endless number of farmers' stalls, with amazing local produce, second-hand bookshops, and vintage clothing stores.
5. Bristol Museum and Art Gallery
A museum is awesome because it coves a little bit of everything. From archaeology to dinosaurs to English history to art (from all ages), it's the area's largest museum and one of my personal favorites. It's not too overwhelming and it's easy to see in a day. Plus, like all public museums in England, it's free!
Other Things to See and Do
(Click the title to expand the text)
1. Take a Pirate Walks tour
This is a short guided tour that takes you to some of Bristol's oldest neighborhoods as well as the historic harbor. You'll learn about Bristol's 16th to 18th-century history, especially that involving the slave travel. It's a great history lesson and only costs 10 GBP.
2. The S.S. Great Britain
Located in the harbor, this was the world's first steam-powered passenger liner. A ticket is 14 GBP, and while it's not a must see, it's something interesting to do. Discounts are available for students, seniors, and kids.
3. Visit Bath
The site of the ancient Roman baths are a quick train ride away. It's a common day trip from Bristol and I highly recommend it. It's an interesting, cool place.
4. Bristol Zoo and Gardens
At over 12 acres of beautifully landscaped land, this zoo and garden blends animal life into the surrounding scenery. There are over 450 species of exotic and endangered animals to see—and you can even walk across a rope bridge with monkeys. The penguin exhibit is pretty neat, as well. Admission is 17 GBP for adults, with discounts available for students, seniors, and kids.
5. Wookey Hole Caves
While there is also adventure golf, penny arcades, and toy shops here, the historical museum and museum are the main attraction here. You can take a boat ride through the murky cave waters and learn about spelunking. Supposedly, a witch used to live here. Admission is 17.53 GBP is you purchase online and in advance. Discounts are available, as well.
6. Watershed Media Center
This is a highly prized event venue and picture-house, for Bristol. There is a neat blend of old and new digital media to check out here and an interesting program of independent films. On Sundays, there are food discounts. Tickets are 6.50-9 GBP, and half-price for anyone under 24.
7. The Outer Edge
If you are looking for some adventure activities, this is a great place, with a huge variety of offerings. There is rock climbing, abseiling, kayaking, canoeing, hill walking, gorge walking, archery, rock pool jumping, wild camping, and mountain biking. There is something for everyone!
Typical Costs
Hostel prices – Hostels will cost you 15-30 GBP a night for a dorm bed. There aren't many options in the city when it comes to hostels though. Expect to pay between 40-50 GBP for a private room. Most hostels are located in the heart of the city. There are no campgrounds in the immediate area, but if you branch out from the city you can find some. Expect to pay around 15 GBP for a plot with basic facilities. You can book your hostel with Hostelworld.
Budget hotel prices – The average price for a hotel is 65 GBP a night for a double during the summer. A few of the budget hotels also include breakfast, so be sure to keep your eyes peeled! Use Booking.com as they consistently return the cheapest rates. Airbnb is the best budget choice in the city. You'll pay around 25 GBP for a shared room and can rent an entire home or apartment (which you'll find more options for) for around 60 GBP per night.
Average cost of food – You can eat a basic meal out in Bristol for 6 GBP, usually from a pub or a fast-food joint. Many of the cafes and restaurants offer inexpensive cuisine, usually costing around 12 GBP. However, if you eat at the waterfront or at a nice restaurant, expect to spend around 25 GBP per person. If you choose to cook, basic groceries like rice, fruits, veggies, pasta, chicken, and sandwich stuff will cost you between 35-50 GBP per week. If you're on a budget, cooking for yourself is a great way to save a few pounds.
Transportation costs – Bus prices will depend on how far you're going, but expect to pay between 1-3 GBP for a single fare. The city center is easily walkable but to get to some of the outer parts of the city you'll need to take a bus. Getting to Bristol via bus or train will take a few hours from London, although ticket fares will vary wildly between 20-80 GBP depending on when you buy and when you ride.
Suggested daily budget
40 GBP / 50 USD (Note: This is a suggested budget assuming you're staying in a hostel, eating out a little, cooking most of your meals, and using local transportation. Using the budget tips below, you can always lower this number. However, if you stay in fancier accommodation or eat out more often, expect this to be higher!)
Money Saving Tips
Play in the park – Often times it seems like Bristol is one giant park. There are many great places to relax, play Frisbee, talk to friends, and have a picnic. It's a low-cost way to spend an afternoon, hang out, and people watch.
Visit the museums – Learn about Bristol's fascinating history by going to the museums, which are all free.
Eat cheap – Eating fish and chips at pubs along the pier will save you money on food. Meals here cost only a few pounds, and while it's not the healthiest meal around, it's certainly the cheapest. For further savings, simply cook for yourself!
Eat with the students – Since Bristol is a college town, you can find lots of cheap sandwich shops and restaurants. If you flock to where the students go, you'll save money on your meals. Don't hesitate to ask some locals for suggestions!
Couchsurf – With a large student population you should be able to find someone to host you. just be sure to ask early. Keep in mind that it is a student city, so many hosts might be away during the summer.
Take a free walking tour – If you're there on a weekend, be sure to take a free walking tour. It lasts a couple hours and is a nice way to get a sense of the city. Bristol Free Walking Tour offers tours every weekend, twice per day. You can just show up at the meeting location — no advanced booking is required.
Save money on rideshares – Uber is way cheaper than taxis and are the best way to get around a city if you don't want to wait for a bus or pay for a taxi. The Uber Pool option is where can you share a ride to get even better savings (though you can get your own car too). You can save $15 off your first Uber ride with this code: jlx6v.
My Must Have Guides For Traveling to Bristol