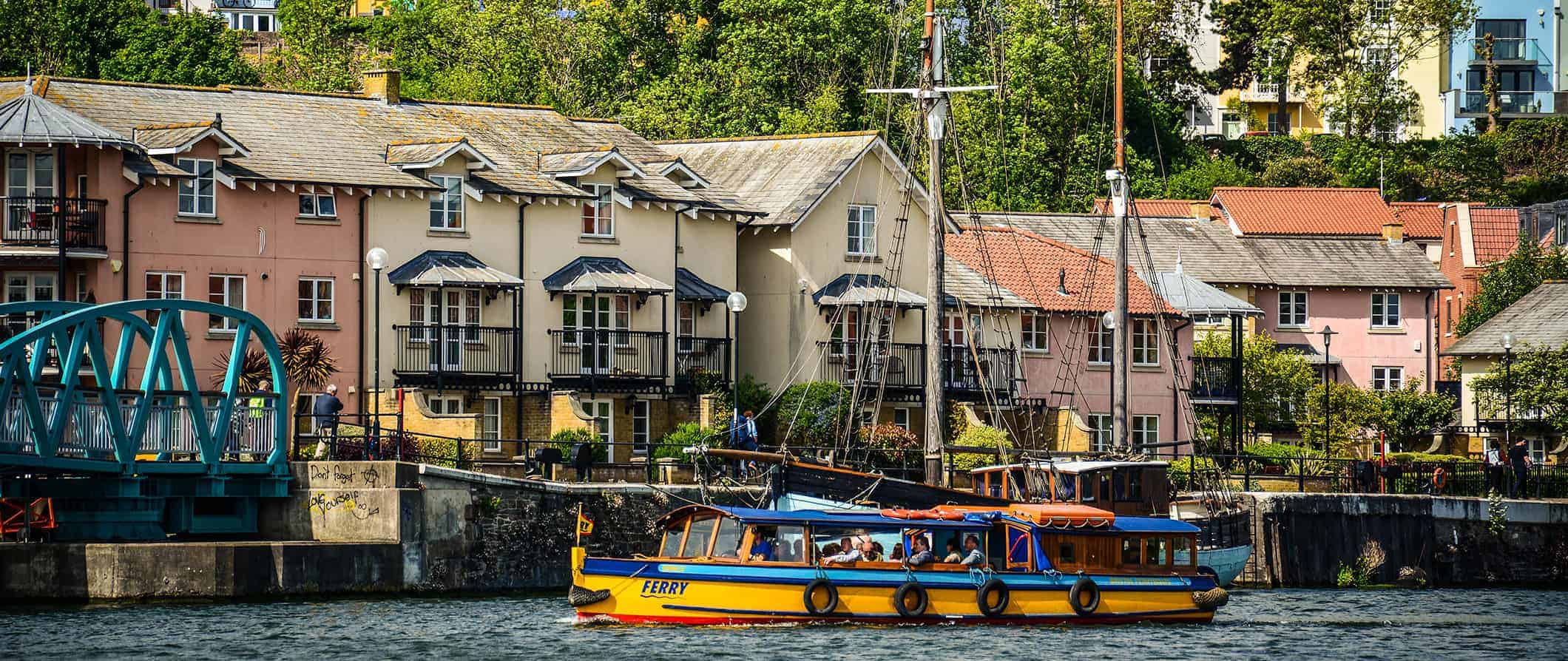 Bristol is an energetic and artsy city bursting with a robust restaurant scene, fascinating history, and lots of art. A college town with a youthful feeling, the city is full of great budget experiences, plenty of parks to relax in, interesting museums and historic homes, and a waterfront lined with art galleries and eateries.
Bristol is one of my favorite places to visit in England, and I'm not the only one who thinks so: in both 2014 and 2017, Bristol was named the best UK city. And that's not the only award Bristol can claim — it won the European Green Capital Award in 2015, and in 2017 became a UNESCO City of Film.
In short, Bristol has a lot to offer. It's an underrated city often overshadowed by England's more international hubs but it's definitely worth visiting for a day or two.
This travel guide to Bristol can help you plan a fun, affordable trip to this unappreciated gem!
Top 5 Things to See and Do in Bristol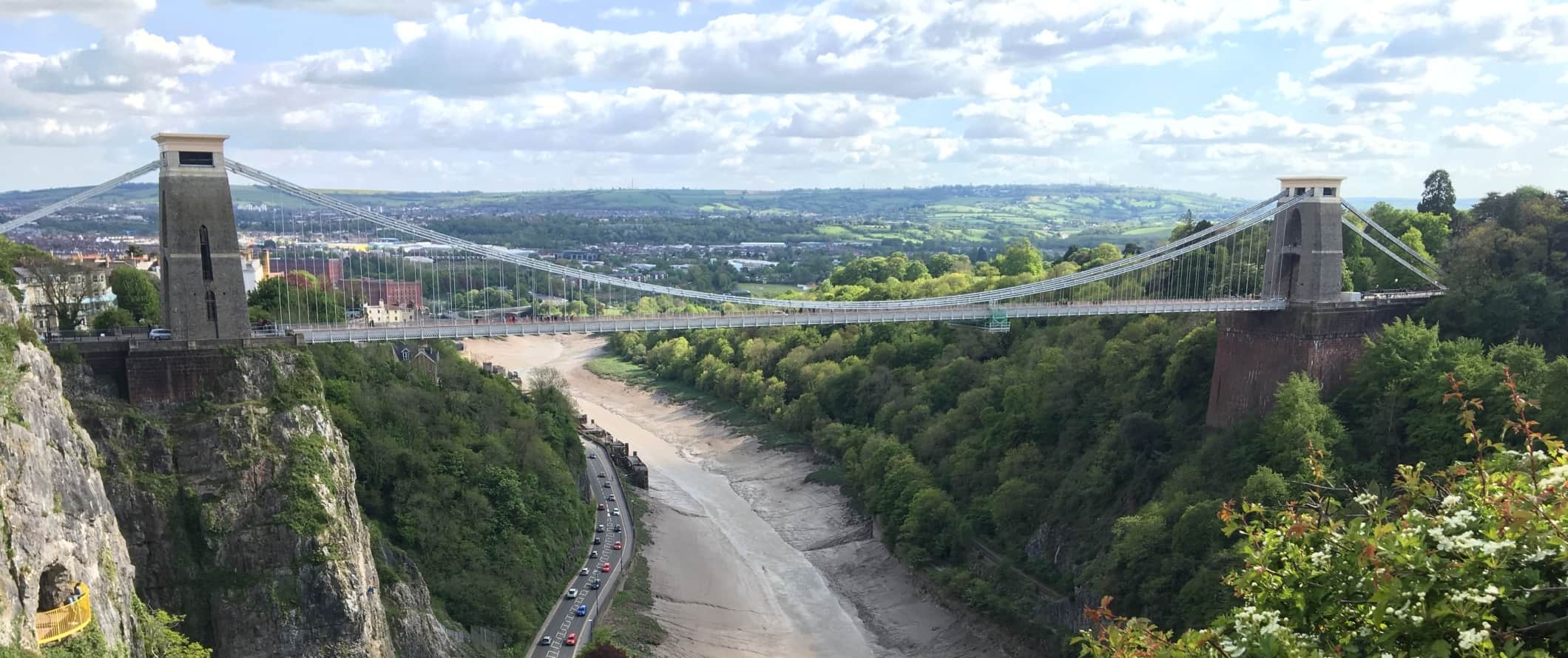 1. See the Clifton Suspension Bridge
Bristol's most famous landmark is suspended 100 meters (330 feet) above the Avon River. Designed by Isambard Kingdom Brunel, it is considered the mark of a turning point in the history of engineering, took 33 years to complete, and is now one of the oldest surviving iron suspension bridges in the world. The bridge provides sweeping views of the river and surrounding parks and buildings. The first modern bungee jump took place here in 1979 (though it was illegal at the time). It costs 1 GBP to cross the bridge in a car but is free for pedestrians and cyclists.
2. Visit Bristol Cathedral
Dating back to the 12th century, Bristol Cathedral was originally the abbey of St. Augustine. Parts of the Cathedral include Romanesque architecture and large vaulted ceilings in the nave, choir, and aisles, although the nave wasn't built until 300 years after the rest of the cathedral. It's open daily and admission is free. There aren't currently any tours on offer but the welcome leaflet is useful to discover more about the building.
3. Learn nautical history aboard the SS Great Britain
Also designed by Brunel, the SS Great Britain was the world's first steam-powered passenger liner. It was also the first screw-propelled, ocean-going, wrought iron ship. Built in 1843, it used both sail and steam power simultaneously, allowing it to travel across the Atlantic in half the time of other ships. You can visit the boat, its dockside museum, and even climb the rigging. Tickets are 19.50 GBP and you have to book an admission slot when you buy them. Tickets also permit free re-entry for one year from the date of first use in case you want to come back another day.
4. Visit St Nicholas Market
This bustling market has more shops than you could go through in an afternoon. Spend some time checking out the endless number of stalls offering seasonal local produce, second-hand books, vintage clothing, and more. It's been trading since 1743 and now runs multiple different markets a week: St Nicholas Indoor market (Mon-Sat, 9.30am-5pm); Bristol Farmers' and Producers' market (every two weeks); Street Food Market (Tues and Fri, 11am-2.30pm) and Bristol Indies' Market (Fri-Sat, 10am to 5pm).
5. Enjoy the street art
Bristol is believed to be the hometown of the covert but famous British street artist Banksy. Because of that claim to fame, street art abounds here, including many originals by Banksy himself (although sadly a few have been removed). There are a few areas that are hotspots for street art by other artists too, including Stokes Croft, Bedminster & Southville, Park Street, Nelson Street, and Bristol Harbourside. Where the Wall runs tours of Bristol's street art scene for 15 GBP. They also offer self-guided tours that cost 10 GBP for 2 people and street art classes for 20 GBP too. They can sell out quickly so it's best to book in advance.
Other Things to See and Do in Bristol
1. Take a Pirate Walks tour
The Bristol Pirate Walks are short guided tours that take you to some of Bristol's oldest neighborhoods. You'll learn about Bristol's early history in the 16th, 17th, and 18th centuries when slavery, maritime trading, and piracy were part of daily life. Tours cost 12.50 GBP and include visits to sites related to the legendary Long John Silver and Blackbeard's Lair. Call ahead to check availability.
2. Hang out on King Street
King Street is a fascinating, historic part of Bristol dating to the 17th century. It used to be where the old sailing barges docked after their journeys from South Wales. Now the area is the heart of Bristol's theater district and features numerous bars and restaurants too. The oldest continually operating theatre in England, Bristol Old Vic, is located on King Street. Tickets to a show start at 8 GBP.
3. Daytrip to Bath
The site of the ancient Roman baths is just a quick train ride away. The Romans used this area as their spa retreat up until the 5th century. Whether you're interested in seeing the baths, cathedrals, or Jane Austen's home (her family lived here in the early 19th century), Bath is an easy and enjoyable day trip from Bristol. Trains from Bristol to Bath run all day and it's just a 16-minute ride for 8.80 GBP (return).
4. Explore the Wookey Hole Caves
This unique geological area, comprised of a series of limestone caves formed by an underground river, is another short day trip from Bristol. During your visit, you can take a 35-minute tour, stop in the historical museum, and view artifacts that archaeologists have uncovered in the caves. You can also take a boat ride through the murky cave waters and learn about spelunking. Don't miss the famous Witch of Wookey Hole, a human-shaped stalagmite that legend says is a witch who was turned to stone. Most of the attractions are geared for children and families (other attractions at the site include animatronic dinosaurs). Admission is 19.95 GBP and you need to book a timeslot.
5. Take a stroll along the Bristol Harbour
The historic Bristol Harbour along the Avon River was traditionally known as the Floating Harbor because the water levels neither rise nor fall, keeping everything constant. Today, the harbor is home to most of Bristol's busy street life and many of the city's tourist attractions, including the Watershed Media Center and the M Shed Museum. In July, the free Bristol Harbour Festival features a weekend of activities on the waterfront including live music, dance performances, spoken word, food markets, circus acts, and more.
6. Tour the Bristol Aquarium
In a city with such close ties to the sea, it's no wonder the Bristol Aquarium has several unique exhibitions on display. There's an underwater tunnel that takes you through a recreated environment and even a sunken ship inside. The real attraction, though, is the Urban Jungle which features hundreds of exotic plants and trees, including mangroves. The jungle's underwater environment is home to stingrays and freshwater fish from the Amazon rainforest. Tickets to the museum are 19.25 GBP, though you can also buy a 4-pack of adult tickets for a discount if traveling in a group. It's a good place to visit if you're traveling with kids.
7. Wander the Bristol Museum and Art Gallery
Bristol's largest museum is home to an extensive collection of art and artifacts, including works from Bellini, Renoir, Hepworth, Sisley, and Bomberg. The ground floor has a collection of Egyptian mummies and other ancient artifacts, as well as displays dedicated to rare gems and crystals. Possibly the oddest yet most beloved part of the museum is Alfred the Gorilla, a mascot for the city. The gorilla originally lived in the Bristol Zoo, but since his death in 1948, he has been housed in a glass case on the second floor of the museum (he was even stolen for a few years in the 50s). Admission is free.
8. Visit M Shed
For a more in-depth look at the city of Bristol itself, visit this free museum. Over 3,000 artifacts comprise the museum's exhibitions, which focus on the people and history of the city. The exhibition includes a collection of historic vessels, such as a fireboat and the oldest surviving steam tugboat (which is moored outside the museum). Admission is free.
9. Take a harbor tour
For an even closer look at the harbor, Bristol Ferry Boats offers daily harbor tours leaving from the city center. You float past all of Bristol's maritime sights during the hour-long tour and learn more about the city. They also offer specialized cruises (such as a gin cruise) on certain days of the week. Tickets to the daily harbor tour are 9.75 GBP. There's also an option to do a tour on The Matthew, a replica of John Cabot's 1497 ship that he used to discover Newfoundland, or you can do a cruise of the Avon Gorge that goes under the Clifton Suspension Bridge (23 GBP).
10. Meander through Castle Park
Before being destroyed in World War II, Bristol's main shopping district was located on the site of what is now this large harbor-side park. The park is home to several ruins: the 14th-century tower of St Mary-le-Port Church, the 12th-century St Peter's Church (now a memorial to those who died in the Bristol Blitz), and vestiges of Bristol Castle itself. Stop in for a hot drink at the Vaulted Chambers Café, located within the last above-ground remnants of Bristol Castle.
11. Take a free walking tour
One of the first things I do in a new destination is to take a free walking tour. It's the best budget-friendly way to see the main sights and connect with a local guide who can answer all your questions. Bristol Free Walking Tour hosts two-hour tours (they don't run in winter) that can show you all the highlights. They meet in front of the Victoria Rooms, next to the fountains. There's no need to book; just turn up a few minutes before it starts. Just be sure to tip your guide at the end!
For more information on other cities in England, check out these guides:
Bristol Travel Costs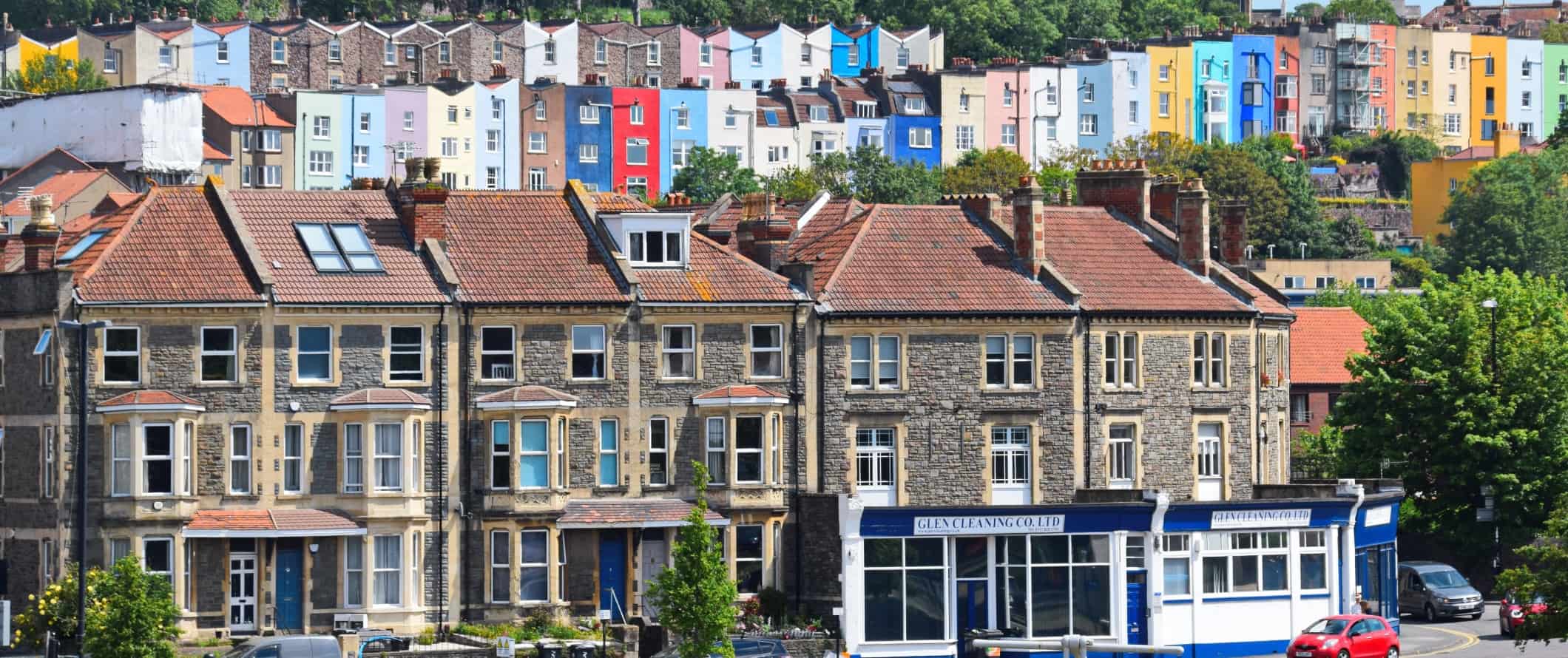 Hostel prices – There aren't too many hostel options in the city and some close in the off-season. A dorm with 4-8 beds costs 20 GBP. Several of the hostels are still currently only offering private rooms from 70 GBP and up per night due to COVID -19. Free Wi-Fi is standard and most hostels also have self-catering facilities.
There is only one campground in the immediate area (Ennywevers Campsite), but if you branch out from the city you can find others. Expect to pay around 10 GBP for a basic tent plot without electricity.
Budget hotel prices – Budget two-star hotels cost 70 GBP per night (its closer to 80-90 GBP in high season). Free Wi-Fi is standard and breakfast is often included.
There are also lots of Airbnb options in Bristol. Private rooms start at 35 GBP per night (although 50 GBP is more realistic, particularly in peak season), while a full apartment averages 90-100 GBP per night.
Food – While British cuisine has evolved in leaps and bounds due to immigration (and colonialism), it's still very much a meat and potatoes country. Fish and chips remain a popular staple for both lunch and dinner while roasted and stewed meats, sausages, meat pies, and the quintessential Yorkshire pudding are all common options as well. Curry (and other Indian dishes, such as tikka masala), are super popular too.
For falafel or sandwiches, prices start at around 6 GBP. A cheap pub meal of fish and chips costs around 10 GBP.
A meal at a casual pub or restaurant costs 12-16 GBP for a main course while a pint of beer costs 5-6 GBP. Dining on the waterfront or at a mid-range restaurant costs around 30 GBP for a multi-course meal with a drink.
Fast food (think McDonald's) costs around 6 GBP for a combo meal while pizza starts at 9 GBP. Indian food starts at 10 GBP for a main dish.
Lattes/cappuccinos cost around 3.40 GBP while bottled water is around 1.20 GBP.
If you choose to cook your own meals, a week's worth of groceries costs 40-50 GBP . This gets you basic staples like rice, pasta, seasonal produce, and some meat.
Backpacking Bristol Suggested Budgets
If you're backpacking Bristol, expect to spend 55 GBP per day. This budget covers a hostel dorm, taking public transit, limiting your drinking, cooking your own meals, and doing mostly free activities like museum visits and seeing the suspension bridge. If you plan on drinking, add 5-10 GBP per day to your budget.
A mid-range budget of 135 GBP per day covers staying in a private Airbnb room or private hostel, eating out for most of your meals, taking the occasional taxi, having a few drinks, and a few paid activities such as a harbor cruise or street art tour.
On a "luxury" budget of 220 GBP or more per day, you can stay in a hotel, eat out anywhere you want, drink more, rent a car or take more taxis, and do whatever tours and activities you want. This is just the ground floor for luxury though. The sky is the limit!
Accommodation
Food
Transportation
Attractions
Average Daily Cost
Mid-Range
70
35
10
20
135
Bristol Travel Guide: Money-Saving Tips
With cheap pubs, public parks, an accessible waterfront, and a few hostels, there are plenty of ways to save money in Bristol. Here are my top ways to save money when you visit:
Chill in the park – It seems like Bristol is one giant park, with many great places to relax, play Frisbee, read, and picnic. It's a low-cost way to spend an afternoon, hang out, and people-watch.
Eat cheap – Bristol is a college town with lots of cheap sandwich shops and restaurants. Flock to where the students go to save money on your meals. Popular places for students include St. Nick's Market, the Harbourside Market, and places along Wapping Wharf (Bertha's for pizza is a great stop).
Visit the museums – Learn about Bristol's fascinating history by going to the museums, all of which are free.
Take a free walking tour – If you're there on a weekend, be sure to take a free walking tour. It lasts a couple of hours and is a nice way to get a sense of the city. Bristol Free Walking Tour offers free tours that cover the highlights. Visit Bristol also offers several free self-guided audio tours for download on their website.
Stay with a local – If you're on a budget, use Couchsurfing to stay with a local. It's a great way to cut costs while getting insider tips and advice. Just note that many students are away during the summer so be sure to apply early.
Bring a water bottle – The tap water here is safe to drink so bring a reusable water bottle to save money and reduce your plastic use. LifeStraw is my go-to brand as their bottles have built-in filters to ensure your water is always clean and safe.
Where to Stay in Bristol
Bristol has a few hostels; however, most are not currently booking dorms due to COVID safety protocols. Nevertheless, here are my favorite places to stay in Bristol for when things open up again:
How to Get Around Bristol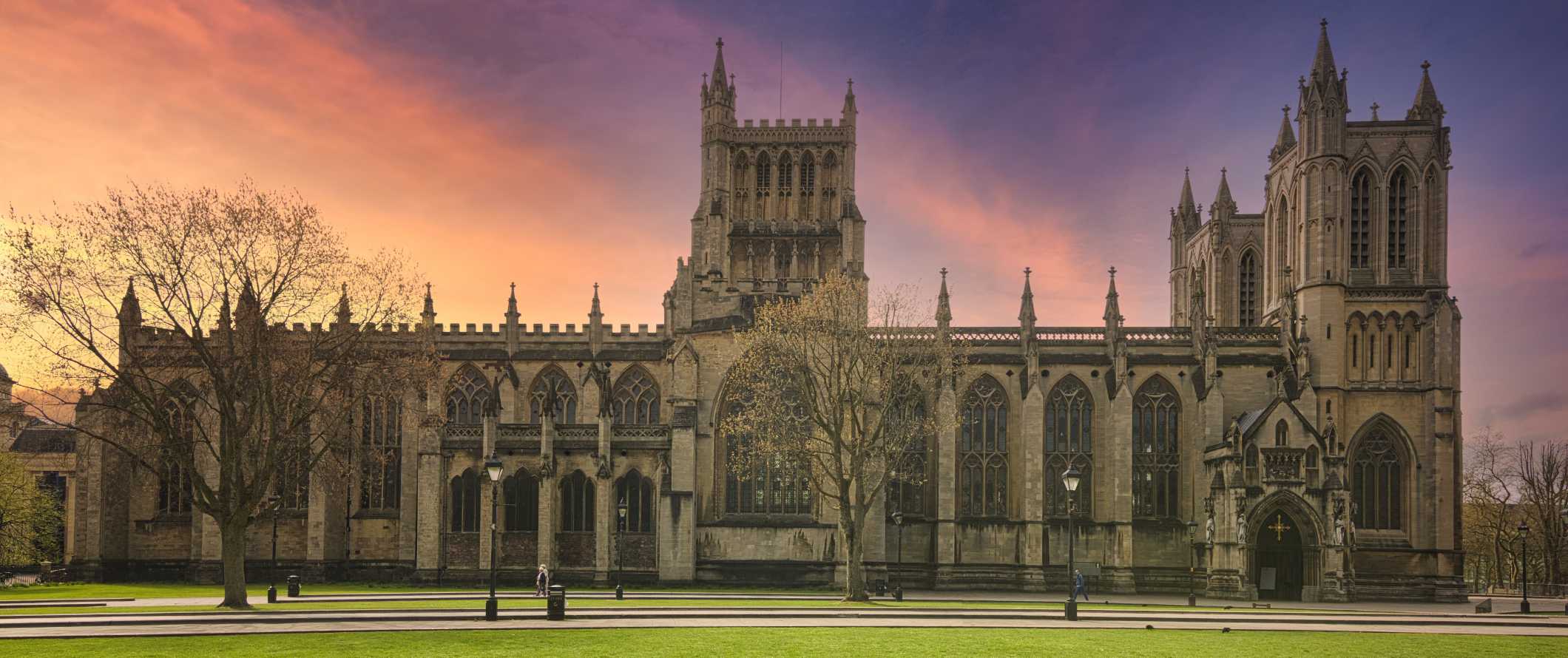 Public transportation – Public transit for Bristol and the surrounding area operates on a zone system, so bus prices depend on how far you go. A single fare in Zone A (Bristol and the immediate area) costs 3.50 GBP, with a daily cap of 6 GBP (the price of a Zone A day pass). The city center is easily walkable but to get to some of the outer parts of the city you need to take a bus.
Bicycle – Bristol is a bike-friendly city, ranking as the UK's best city for cycling. Cycle the City and Bristol Cycle Shack both offer day rentals for 15-18 GBP. If you're planning to cycle outside of the main city area to enjoy the riverside country trails, consider getting an electric bike or a mountain bike to make the trip easier. You can even cycle all the way to Bath (there's a bike path and it's just 13 miles). Electric bike rentals cost 35 GBP per day (8 hours).
Taxi – Taxis are readily available, with prices starting at 2.60 GBP and going up 2.13 GBP per mile. Given how expensive they are, I wouldn't take one unless absolutely necessary.
Ridesharing – Uber is available in Bristol but again walking or cycling are the easiest (and cheapest) ways to get around in the compact city.
Car rental – Car rentals can be found for as little as 20 GBP per day for a multi-day rental. Keep in mind that traffic flows on the left and that most cars have a manual transmission. You don't need a car to explore the city, however, it might be helpful if you want to explore the region.
For the best car rental prices, use Discover Cars.
When to Go to Bristol
Bristol doesn't get too cold, but like most English cities, it also doesn't get too hot. Summer is peak tourism season and temperatures are the warmest during this time – but rarely are they ever above 22°C (72°F). People make the most of the warm weather and during July and August, there are tons of events and festivals happening along the Bristol harbor. One of the most famous is the Bristol International Balloon Fiesta when hundreds of hot air balloons fill the sky during the first two weeks of August.
Spring (late March-June) and autumn (September-November) are also fantastic times to visit, as temperatures are mild and the summer crowds have thinned out. You can still walk everywhere and hang out in the parks. Just bring a rain jacket.
Winter lasts from December to February and temperatures can dip below freezing (0°C/32°F). While prices are a bit lower, I wouldn't visit during the winter as you'll miss out on the parks and other outdoor activities.
How to Stay Safe in Bristol
Bristol is a safe city and the risk of violent crime here is low. Solo female travelers should generally feel safe here, however, the standard precautions apply (never leave your drink unattended at the bar, never walk home alone intoxicated, etc.).
Scams and pickpocketing can occur around high-traffic areas, especially on busy weekend nights in the city center when partygoers are a little less aware. Always keep your valuables secure and out of sight just to be safe.
If you're partying in the student pubs, be aware of your surroundings and avoid dimly lit alleys and pathways when heading home. Pickpockets tend to work in teams, so stay alert and be aware of your surroundings.
Solo female travelers should generally feel safe here, however, the standard precautions apply (never leave your drink unattended at the bar, never walk home alone intoxicated, etc.).
Scams here are rare, but if you're worried about getting ripped off you can read about common travel scams to avoid here.
If you experience an emergency, dial 999 for assistance.
The most important piece of advice I can offer is to purchase good travel insurance. Travel insurance protects you against illness, injury, theft, and cancellations. It's comprehensive protection in case anything goes wrong. I never go on a trip without it as I've had to use it many times in the past. You can use the widget below to find the policy right for you:
Bristol Travel Guide: The Best Booking Resources
These are my favorite companies to use when I travel. They consistently have the best deals, offer world-class customer service and great value, and overall, are better than their competitors. They are the companies I use the most and are always the starting point in my search for travel deals.
Skyscanner – Skyscanner is my favorite flight search engine. They search small websites and budget airlines that larger search sites tend to miss. They are hands down the number one place to start.
Hostelworld – This is the best hostel accommodation site out there with the largest inventory, best search interface, and widest availability.
Booking.com – The best all around booking site that constantly provides the cheapest and lowest rates. They have the widest selection of budget accommodation. In all my tests, they've always had the cheapest rates out of all the booking websites.
HostelPass – This new card gives you up to 20% off hostels throughout Europe. It's a great way to save money. They're constantly adding new hostels too. I've always wanted something like this and glad it finallt exists.
Get Your Guide – Get Your Guide is a huge online marketplace for tours and excursions. They have tons of tour options available in cities all around the world, including everything from cooking classes, walking tours, street art lessons, and more!
The Man in Seat 61 – This website is the ultimate guide to train travel anywhere in the world. They have the most comprehensive information on routes, times, prices, and train conditions. If you are planning a long train journey or some epic train trip, consult this site.
Rome2Rio – This website allows you to see how to get from point A to point B the best and cheapest way possible. It will give you all the bus, train, plane, or boat routes that can get you there as well as how much they cost.
FlixBus – Flixbus has routes between 20 European countries with prices starting as low 5 EUR! Their buses include WiFi, electrical outlets, a free checked bag.
SafetyWing – Safety Wing offers convenient and affordable plans tailored to digital nomads and long-term travelers. They have cheap monthly plans, great customer service, and an easy-to-use claims process that makes it perfect for those on the road.
LifeStraw – My go-to company for reusable water bottles with built-in filters so you can ensure your drinking water is always clean and safe.
Unbound Merino – They make lightweight, durable, easy-to-clean travel clothing.
Top Travel Credit Cards – Points are the best way to cut down travel expenses. Here's my favorite point earning credit cards so you can get free travel!
BlaBlaCar – BlaBlaCar is a ridesharing website that lets you share rides with vetted local drivers by pitching in for gas. You simply request a seat, they approve, and off you go! It's a cheaper and more interesting way to travel than by bus or train!
Bristol Travel Guide: Related Articles
Want more info? Check out all the articles I've written on backpacking/traveling England and continue planning your trip: