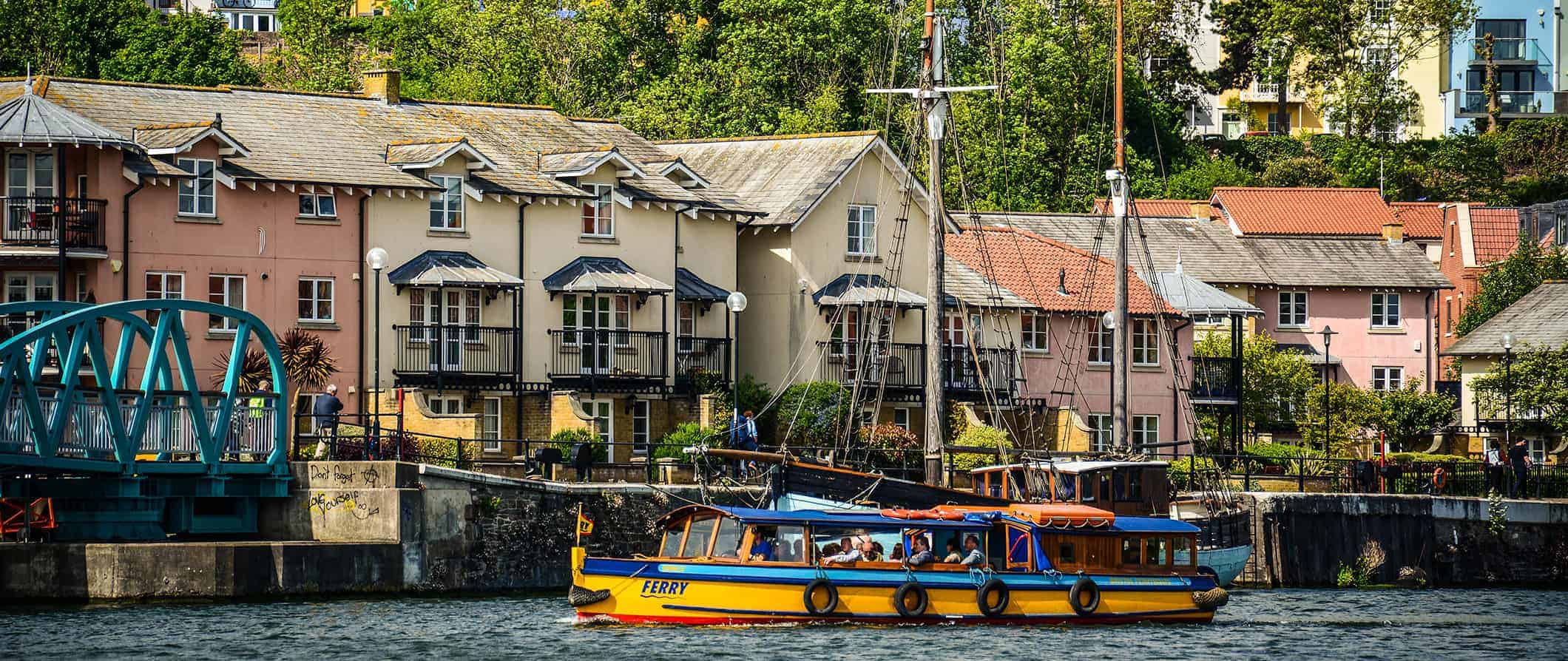 Bristol is a city bursting with great restaurants, fascinating history, diverse activities, and lots of art. I enjoyed the energetic and artsy vibe the city had. Bristol is a college town with a youthful feeling and it's full of great ways to save money — from the museums and cathedrals to the cheap transportation and landmarks. There are a lot of great parks to lay around in, interesting museums and historic homes, and a waterfront filled with art galleries and restaurants. Bristol also makes for a good base of operations for visiting Bath. This guide will help you enjoy the city as much as I did — it's one of my favorites in England!
Top 5 Things to See and Do in Bristol
1. Clifton Suspension Bridge
This is Bristol's most famous landmark. Suspended high above a river, this is not an attraction for those afraid of heights. The bridge gives you sweeping views of the river and surrounding parks and buildings.
2. Visit the Bristol Cathedral
This is one of the true must-sees in Bristol. It's a beautiful cathedral that was built during the Norman Era and originally the abbey of St. Augustine (you know the guy with the quote). It's open daily and admission is free. It's grand and should not be missed.
3. Visit King Street
King Street is a fascinating, historical part of Bristol. It used to be where the old sailing barges docked after their journeys from South Wales. Now the area is the heart of the theatrical district and features outstanding bars and restaurants too.
4. St Nicholas Market
Just off the old Corn Exchange, this is an awesome, bustling market with more shops than you could go through in an afternoon. There seems to be an endless number of farmers' stalls, with amazing local produce, second-hand bookshops, and vintage clothing stores.
5. Bristol Museum and Art Gallery
A museum is awesome because it coves a little bit of everything. From archaeology to dinosaurs to English history to art (from all ages), it's the area's largest museum and one of my personal favorites. It's not too overwhelming and it's easy to see in a day. Plus, like all public museums in England, it's free!
Other Things to See and Do
(Click the title to expand the text)
1. Take a Pirate Walks tour
This is a short guided tour that takes you to some of Bristol's oldest neighborhoods as well as the historic harbor. You'll learn about Bristol's 16th to 18th-century history, especially that involving the slave travel. It's a great history lesson and only costs 10 GBP.
2. The S.S. Great Britain
Located in the harbor, this was the world's first steam-powered passenger liner. A ticket is 14 GBP, and while it's not a must see, it's something interesting to do. Discounts are available for students, seniors, and kids.
3. Visit Bath
The site of the ancient Roman baths are a quick train ride away. It's a common day trip from Bristol and I highly recommend it. It's an interesting, cool place.
4. Bristol Zoo and Gardens
At over 12 acres of beautifully landscaped land, this zoo and garden blends animal life into the surrounding scenery. There are over 450 species of exotic and endangered animals to see—and you can even walk across a rope bridge with monkeys. The penguin exhibit is pretty neat, as well. Admission is 17 GBP for adults, with discounts available for students, seniors, and kids.
5. Wookey Hole Caves
While there is also adventure golf, penny arcades, and toy shops here, the historical museum and museum are the main attraction here. You can take a boat ride through the murky cave waters and learn about spelunking. Supposedly, a witch used to live here. Admission is 17.53 GBP is you purchase online and in advance. Discounts are available, as well.
6. Watershed Media Center
This is a highly prized event venue and picture-house, for Bristol. There is a neat blend of old and new digital media to check out here and an interesting program of independent films. On Sundays, there are food discounts. Tickets are 6.50-9 GBP, and half-price for anyone under 24.
7. The Outer Edge
If you are looking for some adventure activities, this is a great place, with a huge variety of offerings. There is rock climbing, abseiling, kayaking, canoeing, hill walking, gorge walking, archery, rock pool jumping, wild camping, and mountain biking. There is something for everyone!