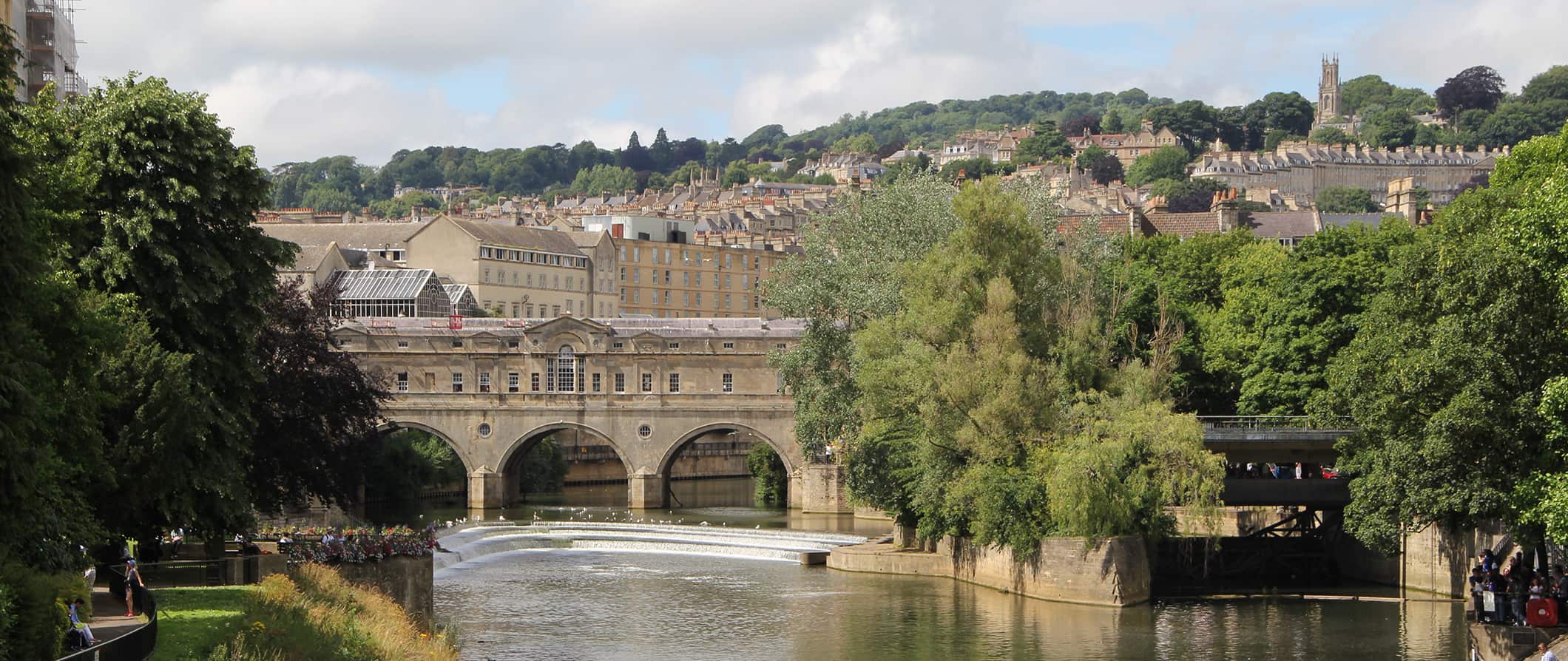 Thanks to the area's hot springs, Bath has been attracting visitors for thousands of years. The Romans starting visiting around 70 CE, laying the groundwork for the baths that they continually used and expanded upon until the 5th century.
The city became popular as a spa town during the Georgian era (1714-1830), leading to a proliferation of beautiful Georgian architecture that characterizes the city today.
Though known as a luxury vacation spot, there are many free things to do in Bath that make it worth spending a day or two visiting. With stunning architecture, a beautiful cathedral, the historic baths, and home to the famous 18th- and 19th-century writer Jane Austen, Bath has plenty to keep you entertained during your visit.
This travel guide to Bath can help you have fun, save money, and make the most of your visit.
Top 5 Things to See and Do in Bath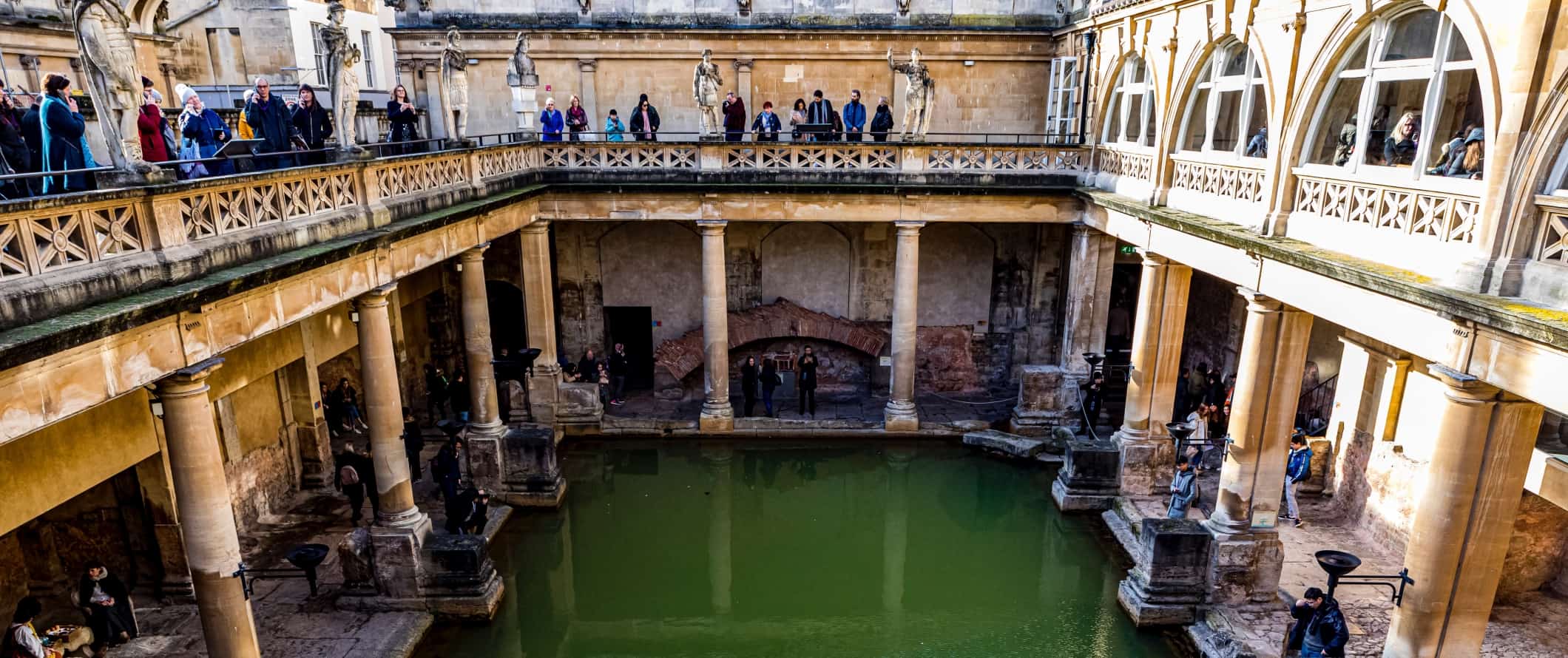 1. Learn about the Roman Baths
The Romans used this area as their spa retreat up until the 5th century. You can visit the ruins of the old bathhouses, see Roman construction and engineering, and listen to a great audio tour by author Bill Bryson. Admission is 19-25 GBP depending on the season and day of the week.
2. Stroll around Royal Victoria Park
Bath's largest park dates to 1830. Spanning almost 60 acres, it was opened by Queen Victoria (then just an 11-year-old princess) and is designed like traditional English gardens (e.g. lots of roses and lavender), making it a very scenic spot to wander. Bath's iconic Royal Crescent of terraced homes overlooks the park.
3. Explore Bath Abbey
Built in 1499, this medieval church is famous for its unique Gothic architecture (it's shaped as a cruciform and its ceiling uses fan vaulting). The church is well-preserved and you can tour the tower to learn more about its history. Admission is by donation and tower tours are 10 GBP.
4. Experience history at No. 1 Royal Crescent
This collection of homes was completed in 1774 and is an excellent example of Georgian architecture. While the exteriors of the homes are admirable, you can also tour the interior to see what domestic life was like in the 18th century. Admission is 10 GBP.
5. Admire Pulteney Bridge
Pulteney Bridge is one of the most beautiful and romantic bridges in England. It's a postcard-perfect spot for views of the town and the Avon River. Designed in a Palladian style, there are shops that line both sides of the bridge.
Other Things to See and Do in Bath
1. Take a free walking tour
One of the first things I do in a new destination is to take a free walking tour. It's the best budget-friendly way to see the main sights and connect with a local guide who can answer all your questions. Footprints Tours hosts two-hour tours that can show you all the highlights. Just be sure to tip your guide at the end! (Tours currently on pause due to COVID).
Additionally, you can go with the Mayor of Bath Honorary Guides. Their free tours are a complimentary service offered by the city led by knowledgeable locals. Tours are hosted daily and last two hours. You'll need to book in advance to secure your space.
2. Visit the Victoria Art Gallery
This public museum boasts a collection of over 15,000 British paintings, sculptures, and decorative arts dating back over 600 years. Highlights include the landscape and portrait oil paintings by Thomas Gainsborough, an 18th-century English Romantic artist who lived in Bath. The upper gallery has quirky decorative arts, including over 400 delicate Georgian drinking glasses and a huge collection of pottery dogs. Admission is 6 GBP.
3. Enjoy the Jane Austen Centre
Bath has a permanent collection of Jane Austen memorabilia as Austen lived in Bath for most of her life and used the city as a setting in many of her novels. Visit the Centre to join talks, activities, and see contemporary exhibits on her life and works. Guides in period dress wandering the center complete the atmosphere and you can extend your visit by enjoying an afternoon tea at the center's Regency Tea Room. Die-hard Jane Austen fans may want to attend the annual Jane Austen Festival, which takes place in September of each year. Admission costs 12.50 GBP.
4. Shop on Walcot Street
Known as the "Artisan Quarter," Walcot Street is Bath's hipster district, the equivalent to London's Camden Town. Bath's oldest commercial street, today Walcot is lined with unique shops, including artisanal cheese shops, independent cafes, and vintage antique stores. On the weekends, there's an open-air market where you browse for funky and bohemian souvenirs. If you're looking for a curated experience, Savouring Bath offers a food tour along Walcot Street for 65 GBP.
5. Study astronomy at Herschel Museum of Astronomy
If you're interested in the history and science of astronomy, this is an awesome museum. William Herschel discovered the planet Uranus in 1781 in the garden of the preserved townhouse in which the museum is housed. Exhibitions include what was once the world's most powerful telescope, Herschel's travel diary, pocket globes, and other astronomical instruments. You can also wander the Georgian garden in which Herschel made his discovery. Admission is 9.50-11.50 GBP depending on the season.
6. Experience the world of fashion
Founded in the 1960s, the Fashion Museum contains over 30,000 pieces of clothing items and accessories that date back to the 18th century. The collection was started by Doris Langley Moore, a designer, collector, writer, and scholar who lived in England and was an early female fashion historian. The main collection, A History of Fashion in 100 Objects, includes many costume pieces throughout history (such as a pair of decorated gloves from the time of Shakespeare). The Dress of The Year is an annual exhibition that changes each year to showcase contemporary fashion highlights from the previous year. Admission is 9.50 GBP.
7. Learn about Bath's working history
The Museum of Bath at Work takes a unique look at the working history of the city to the present day. The museum recreates the workshops of several types of local businesses throughout history, all on display in a former eighteenth-century indoor tennis court. Opened in 1978, the original collection at the museum started with the remnants from a mineral water bottle business based in Bath. If you're interested in social history or the rise of industrialization, this place is worth a visit. Admission is 8 GBP.
8. Enjoy Bath's iconic Georgian architecture
Bath is generally regarded as one of the prettiest English towns, thanks to its 18th-century Georgian-era architecture. In fact, the entire city center is a UNESCO World Heritage Site, the only such city in the UK. Be sure to walk down Great Pulteney Street, a long thoroughfare with expansive Georgian buildings on either side. Another spot to take in the Georgian architecture is at the Royal Crescent — a sweeping arc of Georgian townhouses.
9. Shop in a bustling open-air market
Green Park Station was a former railway station that has found new life as one of Bath's most unique shopping attractions. The open-air market has numerous independent shops, restaurants, and cafés. Visit on specific days of the week for special markets: a farmer's market on Saturdays, a flea market on the first Sunday of every month, and an antique market on the last Sunday of every month.
10.Walk the Bath Skyline
For panoramic views of the city, stroll the Bath Skyline path, a tranquil and mostly flat path that leaves straight from the city center. There are 6-mile (9.6km) and 3-mile (4.8km) loops, with a breakdown of each route on the National Trust website. Plenty of benches dot the path should you need to take a break.
11. Relax at Thermae Bath Spa
This is the only city in the UK where you can bathe in natural thermal waters. This award-winning spa is a four-story day spa with various thermal baths and even a rooftop pool offering incredible views over the city. A two-hour spa session costs 37-42 GBP depending on the day of the week. This is a very popular thing to do in Bath, so if you'd like to partake, book in advance.
For more information on other cities in England, check out these guides:
Bath Travel Costs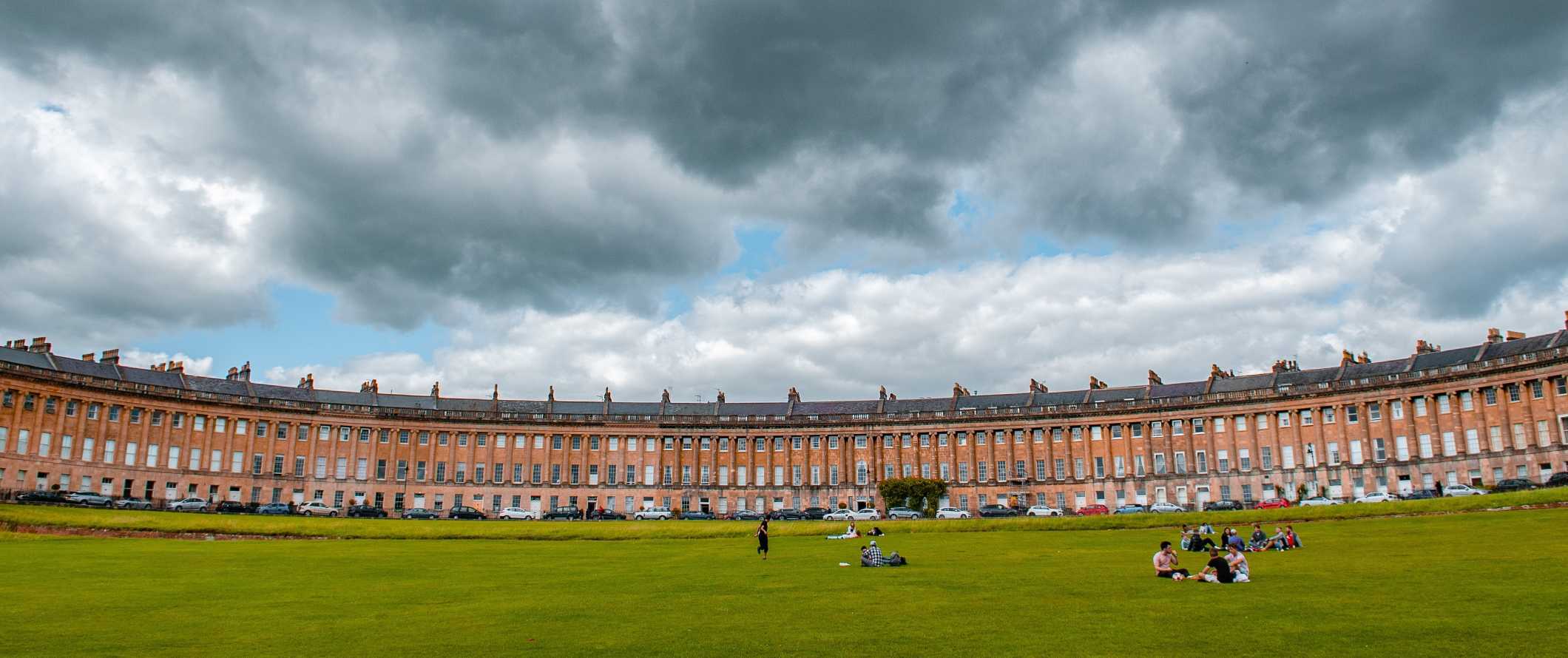 Hostel prices – A bed in a dorm with 4-8 beds costs 16-20 GBP per night, while a 10-12-bed dorm costs 14-16 GBP. A private double room costs 55-75 GBP. Free Wi-Fi is standard though most hostels do not have self-catering facilities.
For those traveling with a tent, camping is available outside the city center in nearby Somerset. A basic tent plot costs 25 GBP.
Budget hotel prices – A budget hotel room starts at 80 GBP per night. Bath isn't exactly a budget destination, so don't expect a lot of great deals. On the plus side, many budget hotels include free breakfast.
There are lots of Airbnb options in Bath. A private room costs 50-65 GBP per night while an entire home/apartment averages 85-110 GBP per night.
Food – While British cuisine has evolved in leaps and bounds due to immigration (and colonialism), it's still very much a meat and potatoes country. Fish and chips remain a popular staple for both lunch and dinner while roasted and stewed meats, sausages, meat pies, and the quintessential Yorkshire pudding are all common options as well. Curry (and other Indian dishes, such as tikka masala), are super popular too. A local specialty to try are Bath buns, a sweet roll topped with crushed sugar and raisins.
You can eat cheap in Bath if you stick to basic pub meals and cheap take-out like falafel, sandwiches, and fish and chips, as they cost as little as 6 GBP. There are also many Indian and Thai restaurants offering mains from 8 GBP.
For a mid-range meal at a restaurant, expect to pay 14-20 GBP. A pint of beer costs 5 GBP while a glass of wine costs around 7 GBP. Restaurants here are very expensive, so expect to spend about 35 GBP or more for a nice sit-down meal with appetizers and a drink.
Fast food (think McDonald's) costs around 6 GBP for a combo meal while pizza costs 6-9 GBP. A latte or cappuccino is around 3 GBP while bottled water is under 1 GBP.
If you plan to cook your own food, a week's worth of groceries costs 45-55 GBP. This gets you basic staples like pasta, rice, veggies, and some meat.
Backpacking Bath Suggested Budgets
If you're backpacking Bath, expect to spend about 50 GBP per day. This budget covers a hostel dorm, taking public transit and walking everywhere, cooking your own meals, limiting your drinking, and doing mostly free activities like enjoying the parks and taking a free walking tour. If you plan on drinking, add 5-10 GBP to your daily budget.
A mid-range budget of about 135 GBP covers staying in a private Airbnb room or private hostel room, eating out for most of your meals, taking the occasional taxi, having a couple drinks, and doing more paid activities such as visiting the baths and touring the abbey.
On a "luxury" budget of 245 GBP or more per day, you can stay in a budget hotel, eat out for all your meals, drink as much as you want, rent a car or take more taxis, and do as many tours and activities as you want. This is just the ground floor for luxury though. The sky is the limit!
Accommodation
Food
Transportation
Attractions
Average Daily Cost
Mid-Range
55
45
15
20
135
Bath Travel Guide: Money-Saving Tips
Bath isn't a budget-friendly destination, which is why many travelers choose to visit on a day trip. However, there are quite a few ways to enjoy the city without spending too much. Here are some money-saving tips when visiting Bath:
Visit the parks and gardens – There are a handful of large parks and gardens throughout Bath. Pack a picnic, bring a book, and spend an afternoon relaxing.
Eat at the pubs – Bath has some delicious but expensive restaurants, so eat cheaper meals at the pubs and taverns where you'll experience the local flavor. If you're on a tight budget, skip the pubs and cook for yourself. You'll save a ton!
Walk everywhere – Bath isn't a big city, so you can save yourself a few pounds by walking everywhere.
Take a free walking tour – If you want to get a better feel for the city, be sure to take a free walking tour. They last a couple of hours and are a great way to learn about the city's history on a budget.
Stay with a local – If you're on a budget, use Couchsurfing to stay with a local. It's an easy and enjoyable way to cut costs while connecting to the local scene and getting insider tips.
Bring a water bottle – The tap water here is safe to drink so bring a reusable water bottle to save money and reduce your plastic use. LifeStraw is my go-to brand as their bottles have built-in filters to ensure your water is always clean and safe.
Where to Stay in Bath
Here are some of my favorite hostels in Bath:
How to Get Around Bath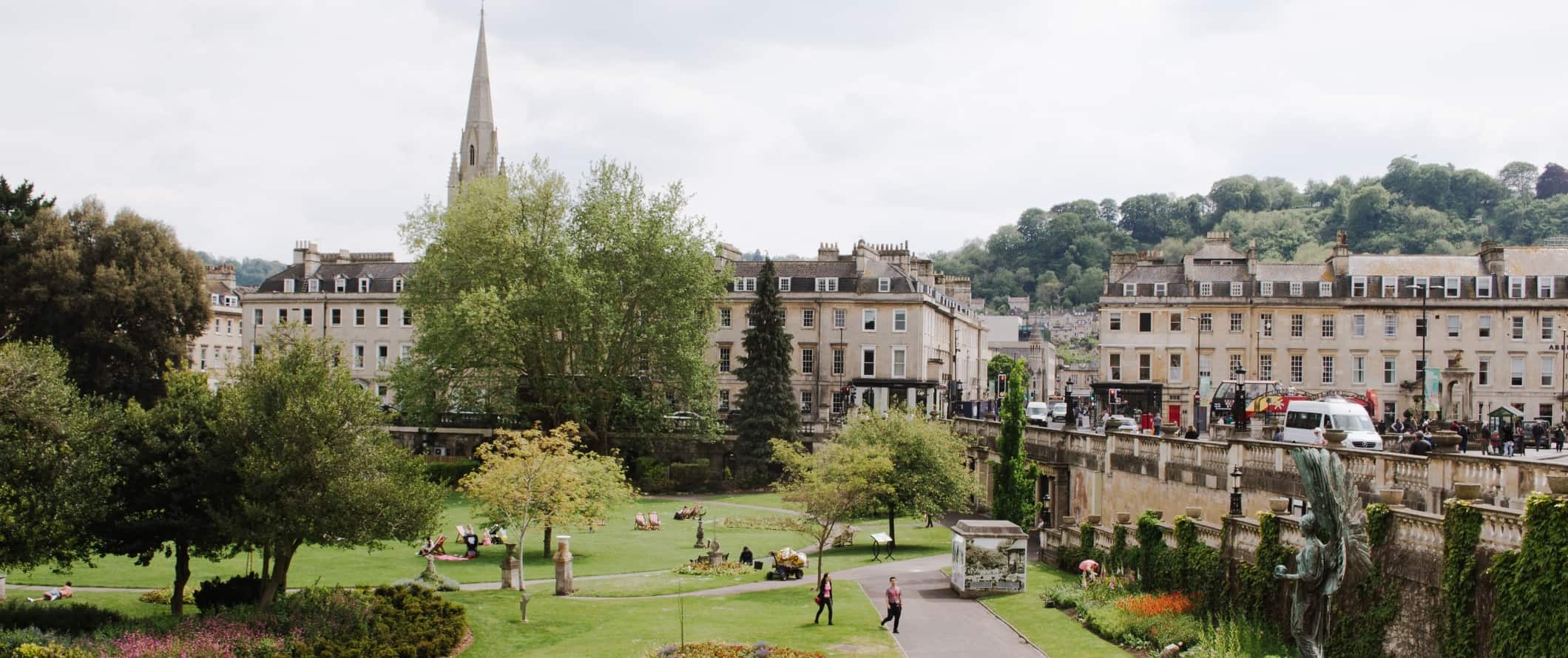 Public transportation – If you're staying within the city limits, it's best to walk or take the bus to get around. A one-day pass ticket costs 4.30 GBP and the bus covers all the main sights. However, since the city is so small, you can easily walk everywhere to save money.
Bicycle – A single-day rental costs 20 GBP for a regular bike and 45 GBP for an e-bike. You can rent bikes from Green Park Bike Station, Bath Narrowboats, or Julian House Bike Workshop.
Taxi – Taxis are readily available, with prices starting at 2.80 GBP and going up around 2.20 GBP per mile. Given how expensive they are, I wouldn't take one unless absolutely necessary.
Ridesharing – Uber is available in Bath and is a little cheaper than taking a taxi. However, walking and cycling are the easiest (and cheapest) ways to get around this compact city.
Car rental – Car rentals can be found for as little as 20 GBP per day for a multi-day rental. Keep in mind you'll be driving on the left and that most cars have a manual transmission. You don't need a car to explore Bath, however, it might be helpful if you want to explore the region at large.
When to Go to Bath
Spring (late March to June) is the peak tourism season as that's when the flowers are in bloom, though it can get pretty wet and rainy during this time. In May, during the annual Bath Festival, the city really comes to life. It's an open-air celebration of music and literature which takes over the city for nearly two weeks. The weather is warm enough and the city is lively. It's the best time to visit.
Summer is the warmest season but temperatures are rarely ever above 22°C (72°F). Expect many street festivals and public events in the late spring and early summer.
For fans of the city's most famous writer and resident, the annual Jane Austen Festival takes place every September. Expect street theater, literary walking tours, and even a costumed ball. Book your accommodation early as the city fills up. During autumn, temperatures are mild and, outside the festivals, the city is a bit quieter.
Winter lasts from December to February and tourism crowds thin out dramatically during this time. Temperatures dip below freezing 0°C (32°F), and prices are slightly lower. The Bath Christmas Market starts at the end of November and sees the streets of Bath's city center filled with seasonal decorations, Christmas lights, and many local makers and designers selling artisan gifts and typical Christmas market foods.
How to Stay Safe in Bath
Bath is a safe destination and the risk of violent crime here is low. Solo female travelers should generally feel safe here, however, the standard precautions apply (never leave your drink unattended at the bar, never walk home alone intoxicated, etc.).
That said, petty crime such as pickpocketing or theft can occur so keep your valuables out of sight just to be safe. Pickpockets tend to work in teams, so stay alert and be aware of your surroundings. Always keep your valuables secure and out of sight when at the bar or in crowded areas and you should be fine.
When out at the bar, always keep an eye on your drink. Never walk home alone intoxicated either.
If you experience an emergency, dial 999 for assistance.
Scams here are rare, however, you can read about the common travel scams to avoid if you want to learn more.
Always trust your gut instinct. Make copies of your personal documents, including your passport and ID. Forward your itinerary along to loved ones so they'll know where you are.
The most important piece of advice I can offer is to purchase good travel insurance. Travel insurance will protect you against illness, injury, theft, and cancellations. It's comprehensive protection in case anything goes wrong. I never go on a trip without it as I've had to use it many times in the past. You can use the widget below to find the policy right for you:
Bath Travel Guide: The Best Booking Resources
These are my favorite companies to use when I travel. They consistently have the best deals, offer world-class customer service and great value, and overall, are better than their competitors. They are the companies I use the most and are always the starting point in my search for travel deals.
Skyscanner – Skyscanner is my favorite flight search engine. They search small websites and budget airlines that larger search sites tend to miss. They are hands down the number one place to start.
Hostelworld – This is the best hostel accommodation site out there with the largest inventory, best search interface, and widest availability.
Booking.com – The best all around booking site that constantly provides the cheapest and lowest rates. They have the widest selection of budget accommodation. In all my tests, they've always had the cheapest rates out of all the booking websites.
HostelPass – This new card gives you up to 20% off hostels throughout Europe. It's a great way to save money. They're constantly adding new hostels too. I've always wanted something like this and glad it finallt exists.
Intrepid Travel – If you want to do group tours, go with Intrepid. They offer good small group tours that use local operators and leave a small environmental footprint. And, as a reader of this site, you'll get exclusive discounts with them too!
Get Your Guide – Get Your Guide is a huge online marketplace for tours and excursions. They have tons of tour options available in cities all around the world, including everything from cooking classes, walking tours, street art lessons, and more!
Eurail – If you are going to Europe and taking a lot of high speed or long distance trains, get a rail pass. I've used a rail pass three times and saved hundreds of dollars each time. The math just works.
The Man in Seat 61 – This website is the ultimate guide to train travel anywhere in the world. They have the most comprehensive information on routes, times, prices, and train conditions. If you are planning a long train journey or some epic train trip, consult this site.
Rome2Rio – This website allows you to see how to get from point A to point B the best and cheapest way possible. It will give you all the bus, train, plane, or boat routes that can get you there as well as how much they cost.
FlixBus – Flixbus has routes between 20 European countries with prices starting as low 5 EUR! Their buses include WiFi, electrical outlets, a free checked bag.
SafetyWing – Safety Wing offers convenient and affordable plans tailored to digital nomads and long-term travelers. They have cheap monthly plans, great customer service, and an easy-to-use claims process that makes it perfect for those on the road.
BlaBlaCar – BlaBlaCar is a ridesharing website that lets you share rides with vetted local drivers by pitching in for gas. You simply request a seat, they approve, and off you go! It's a cheaper and more interesting way to travel than by bus or train!
Bath Gear and Packing Guide
If you're heading on the road and need some gear suggestions, here are my tips for the best travel backpack and for what to pack!
The Best Backpack for Travelers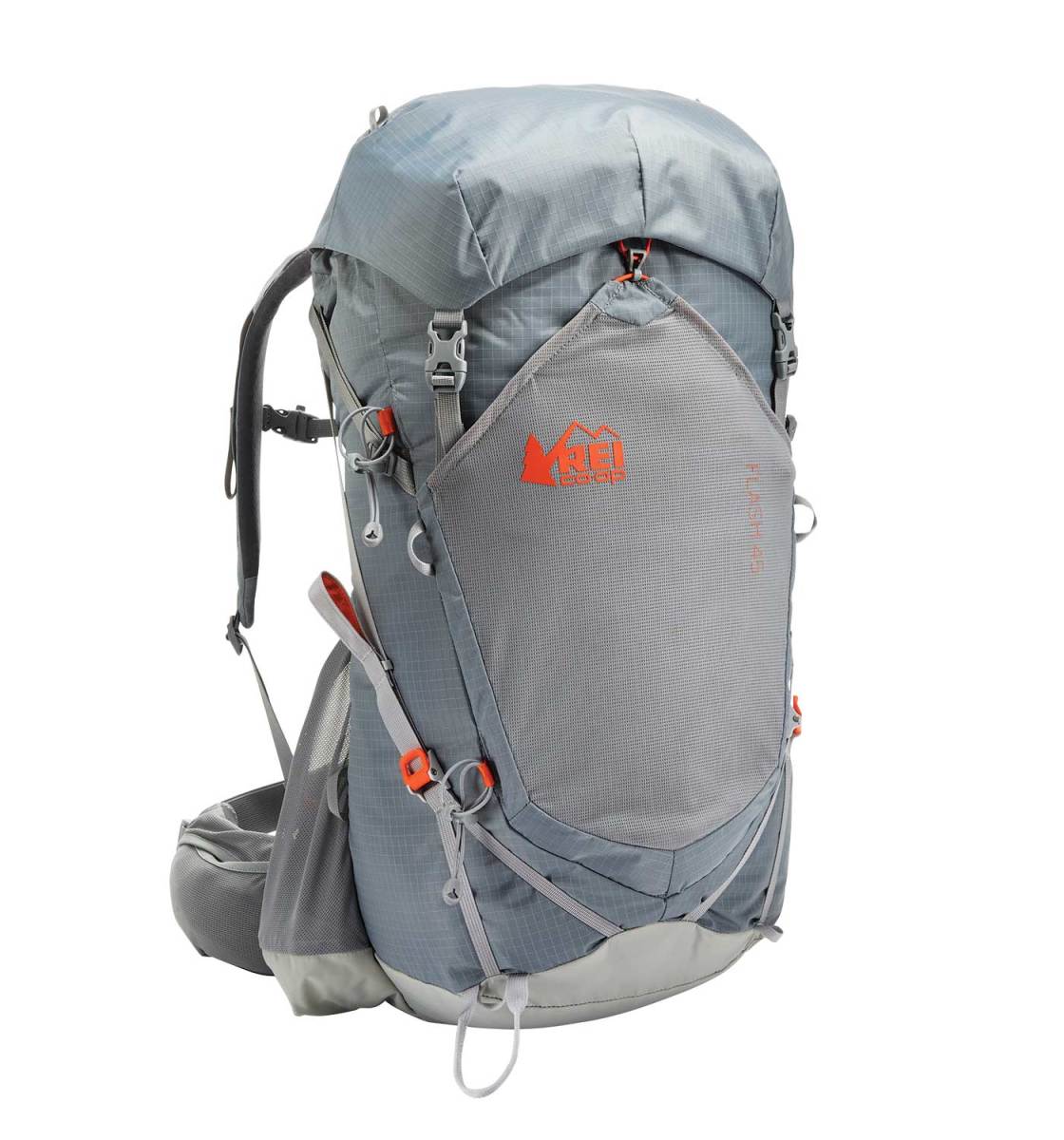 What's the best backpack for traveling long-term? I recommend the
REI Flash 45 Pack
. It's light and comfy, top loading, and fits perfectly in an airplane's overhead bin.
Size:
45-47L
Straps:
Thick and cushy with compression technology that pulls the pack's load up and inwards so it doesn't feel as heavy.
Features:
Removable top lid, pocket at the front, hydration compatible, contoured hip belt
If you want something different, refer to my article on how to choose the best travel backpack for tips on picking a pack and other backpack suggestions.
What to Pack for Your Trip
Clothes
1 pair of jeans (heavy and not easily dried, but I like them; a good alternative is khaki pants)
1 pair of shorts
1 bathing suit
5 T-shirts (Unbound Merino is my preferred company. If you're a member of TNN+, you can get 15% off your purchase)
1 long-sleeved T-shirt
1 pair of flip-flops
1 pair of sneakers
6 pairs of socks (I always end up losing half)
5 pairs of boxer shorts (I'm not a briefs guy!)
1 toothbrush
1 tube of toothpaste
1 razor
1 package of dental floss
1 small bottle of shampoo
1 small bottle of shower gel
1 towel
Deodorant
Small Medical Kit (safety is important!!!)
Miscellaneous
Female Travel Packing List
I'm not a woman, so I don't know what a woman wears, but Kristin Addis, our solo female travel guru, wrote this list as an addition to the basics above:
Clothing
1 swimsuit
1 sarong
1 pair of stretchy jeans (they wash and dry easily)
1 pair of leggings (if it's cold, they can go under your jeans, otherwise with a dress or shirt)
2-3 long-sleeve tops
2-3 T-shirts
3-4 spaghetti tops
1 light cardigan
Toiletries
1 dry shampoo spray & talc powder (keeps long hair grease-free in between washes)
1 hairbrush
Makeup you use
Hair bands & hair clips
Feminine hygiene products (you can opt to buy there too, but I prefer not to count on it, and most people have their preferred products)
For more on packing, check out these posts:
Bath Travel Guide: Related Articles
Want more info? Check out all the articles I've written on backpacking/traveling England and continue planning your trip: