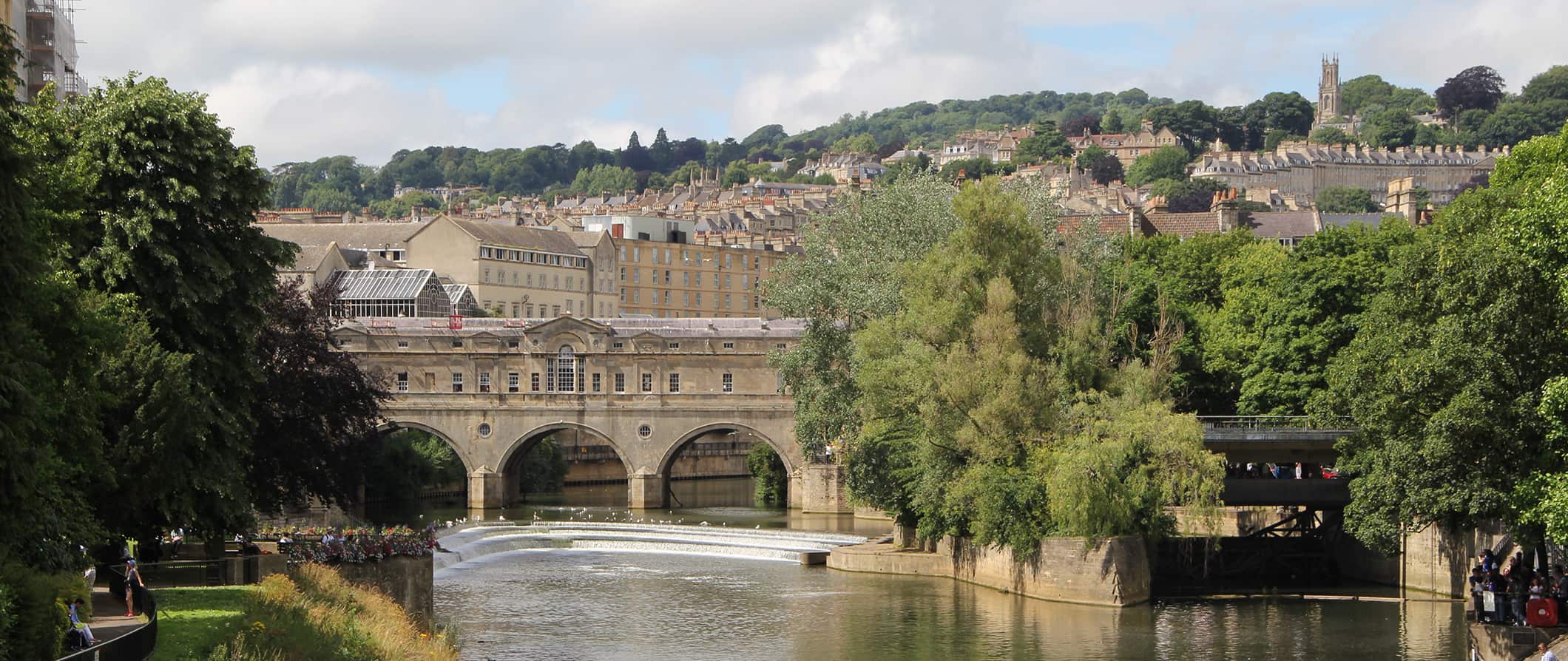 Bath, England offers plenty of history. Whether you're interested in seeing cathedrals, Jane Austen's home, or the famous Roman baths, this town has you covered. Here you can indulge in luxurious hot springs and spas and high-end restaurants if you feel like breaking the bank. But while the city has a lot of luxury to offer, there are many free things to do here that make it a great day trip from nearby Bristol. Since it's expensive, however, unless you are really into spas I would suggest visiting here as a day trip — don't bother staying over. The biggest draw to the city are the ancient Roman Baths and they don't take that long to see. If you plan to stay longer, this travel guide can help give you ideas to fill your days.
Top 5 Things to See and Do in Bath
1. The Roman Baths
These Roman baths are what draws the majority of people to visit. The Romans used this area as their spa retreat many centuries ago. You can visit the ruins of the old bath houses, see Roman construction and engineering, and listen to a great audio tour by famed travel writer Bill Bryson. Admission is 15 GBP.
2. Royal Victoria Park
The biggest park in Bath has a golf course and botanical garden. It's a great place to have a picnic and during the summer months, you'll find a lot of people playing sports in the park.
3. Bath Abbey
This church is famous for its unique and interesting Gothic architecture. It was built in 1499 and is extremely popular so visit during the morning to beat the crowds. I was impressed by its grandeur and how well preserved it was. Entry is by donation.
4. The Royal Crescent
This is a collection of homes that were completed in 1774. It is the first of the eight crescents and remains unique in its' shape and design. The exterior of the homes is easily admirable, but you can tour the inside of one home, as well. Admission is 10 GBP.
5. Pulteney Bridge
Pulteney Bridge is one of the most beautiful and romantic bridges in England, and people come from all over to take picturesque, romantic photos of the town and river from it. The views are really stunning though the crowds really annoying.
Other Things to See and Do
(Click the title to expand the text)
1. Victoria Art Gallery
This important city gallery contains 600 oil paintings and over 5,000 pieces of art of other mediums. Like all national museums in England, entrance is free though it costs 4 GBP to see the large exhibitions.
2. Take a hot bath
In the heart of Bath is the Thermae Bath Spa, just one block away from the original Roman Baths. This is the only place in Britain where you can bathe in natural hot waters so if you want to experience what the Romans felt, head over here. However, the spa is not cheap (expect to pay around 70 GBP for a basic treatment) so if you are on a tight budget, skip it. Maybe just go home and take a hot bath instead.
3. The Jane Austen Exhibition
Bath has a permanent collection of Jane Austen memorabilia. She used to live here, and now her home functions as a museum. If you are a literary fan, they do a great job giving you information about her life and works. Admission costs 11 GBP, with discounts available.
4. Walcot Street
This is considered Bath's Camden Town. It is very bohemian and filled with bargain antiques in many of the shops. On the weekends, there is an open air market. You can find an eclectic mix of shops and restaurants here so be sure to spend some time exploring.
5. Hershel Museum of Astronomy
This is an awesome museum to check out if you are interested in the history and science of astronomy. The house is where William Hershel discovered the planet Uranus in 1781, and it also contains what was once the world's most powerful telescope. Adult admission is 6.50 GBP, with discounts available for kids, students, seniors, and groups.
6. Watch a cricket match
Checking out a cricket game on Saturdays or Sundays can be great fun. It's a popular sport in England. Though games can run very long, learning about the English's love of cricket will teach you something about English culture.
7. Experience the world of fashion
The Fashion Museum (formerly known as the Museum of Costume) contains over 30 000 pieces of clothing items and accessories that date back to the 16th century. Admission is 8.25 GBP, with discounts available for seniors, students, and kids.
8. Learn about Bath's working history
The Bath at Work museum takes a unique angle to show the working history of the city — it focuses on the rise of one family's bottling business in the age of mechanization. If you do have any interest in social history or the rise of industrialization, you should consider a visit. I liked it but then again I'm a nerdy history major! Admission is 6 GBP.
Typical Costs
Hostel prices – You can stay at a comfortable hostel in Bath for about 15-25 GBP per night for a dorm bed. A private room at a hostel will cost you around 65 GBP. Keep in mind Bath is small, and there aren't that many hostels available. If you are set on a hostel, be sure to book in advance. WiFi is standard at all the hostels, and the YMCA hostel even includes free breakfast. Camping is available in the area, though a site will cost you around 20 GBP for a pitch and basic facilities. You can book your hostel with Hostelworld.
Budget hotel prices – Hotels start at 70 GBP for a twin/double room, and go up from there. Bath isn't exactly a budget destination, so don't expect a lot of great deals. On the plus side, many budget hotels include free breakfast. Use Booking.com as they consistently return the cheapest rates. For the budget minded, renting an apartment from a local might be your best bet as a shared apartment will cost around 20 GBP per night (though there are not many shared accommodations available on Airbnb). For an entire apartment or home, expect to pay 65 GBP per night.
Average cost of food – You can eat fish and chips for about 6 GBP, meat pies, and other lunch items are also in the same range. Restaurants here are very expensive, so expect to spend about 30 GBP or more for a nice sit-down meal. You can eat a week's worth of groceries (rice, fruits, veggies, pasta, chicken, sandwich stuff, etc) for 40-50 GBP.
Transportation costs – If you're staying within the city limits, it's best to walk or take the bus. A one-day bus ticket costs around 4 GBP. However, since the city is pretty small, you are better off walking everywhere and using the money for attractions. Bath is also an easy city to get to. It's about two hours from London, with tickets costing around 21 GBP. It's also a stone throw from Bristol, costing only 4 GBP to visit by bus. Bike rentals are available in the city, as well. A day rental will cost around 15 GBP.
Suggested daily budget
50 GBP / 62 USD (Note: This is a suggested budget assuming you're staying in a hostel, eating out a little, cooking most of your meals, and using local transportation. Using the budget tips below, you can always lower this number. However, if you stay in fancier accommodation or eat out more often, expect this to be higher!)
Money Saving Tips
Eat at the pubs – Bath has some delicious but expensive restaurants, so eat cheaper meals at the pubs and taverns where you'll experience the local flavor. Expect a cheap pub meal to be about 8 GBP, as opposed to 19 GBP or more at a restaurant.
Walk everywhere – Bath isn't a big city, so you can save yourself a few pounds by walking everywhere. Put that money toward a visit to the spa!
Couchsurf – While it is a small city, there are plenty of couch surfing hosts to be found. Since Bath does get busy in the summer, however, and since many locals will take their own holidays then, you'll want to send your requests well in advance.
Save money on rideshares – Uber is way cheaper than taxis and are the best way to get around a city if you don't want to wait for a bus or pay for a taxi. The Uber Pool option is where can you share a ride to get even better savings (though you can get your own car too). You can save $15 off your first Uber ride with this code: jlx6v.
My Must Have Guides For Traveling to Bath