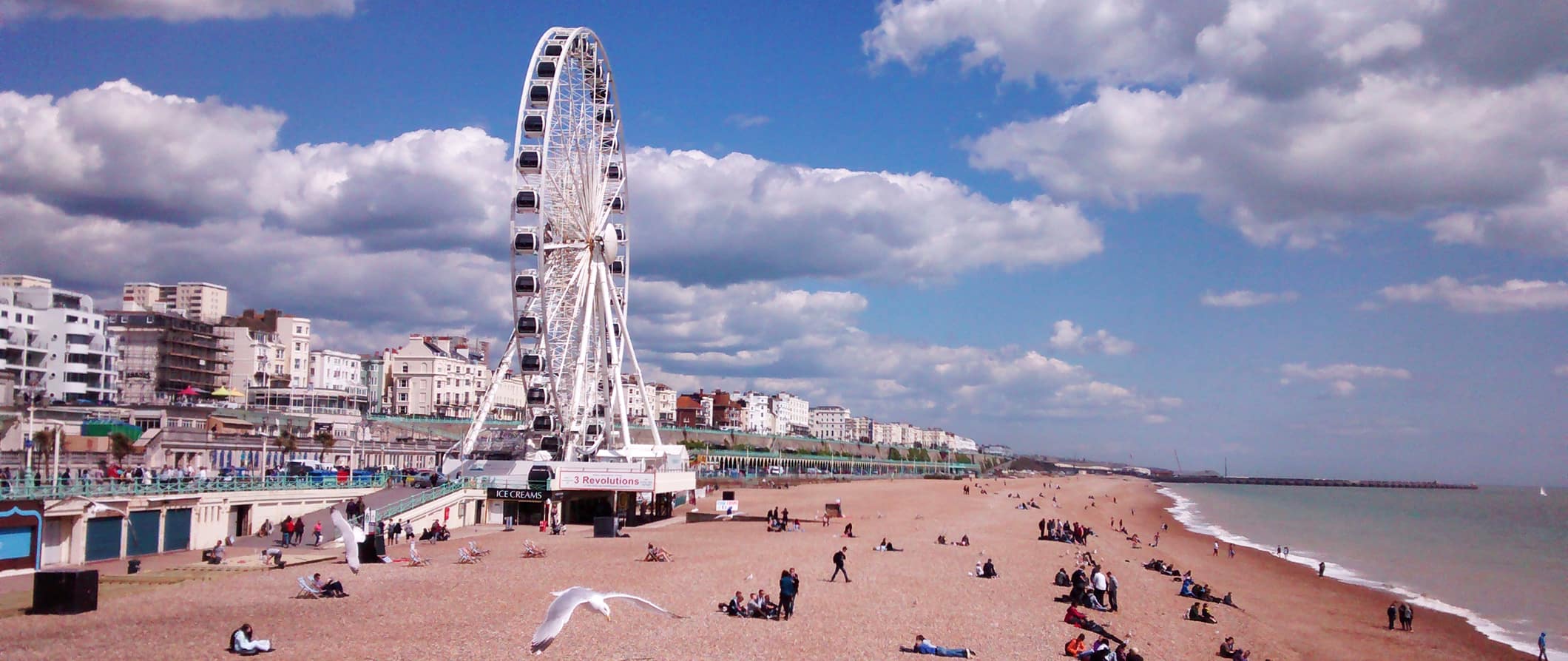 Brighton is a seaside resort town on the southern coast of England that's known for being quirky, bohemian, artsy, and very LGBTQ-friendly. It's an extremely popular place to visit in the summer. I like this town, even during the summer when it gets crowded.
Considered the hippest city in the UK, Brighton comes to life during the summer with festivals and events. There's a lot to do here beyond just going to the beach or shows and I think people really miss out on the charm of the city when they just focus on those two things. Brighton is actually a fun year-round destination for anyone looking for a short trip from London.
This travel guide to Brighton will help you plan a fun, affordable, and off-the-beaten-path visit to the city.
Top 5 Things to See and Do in Brighton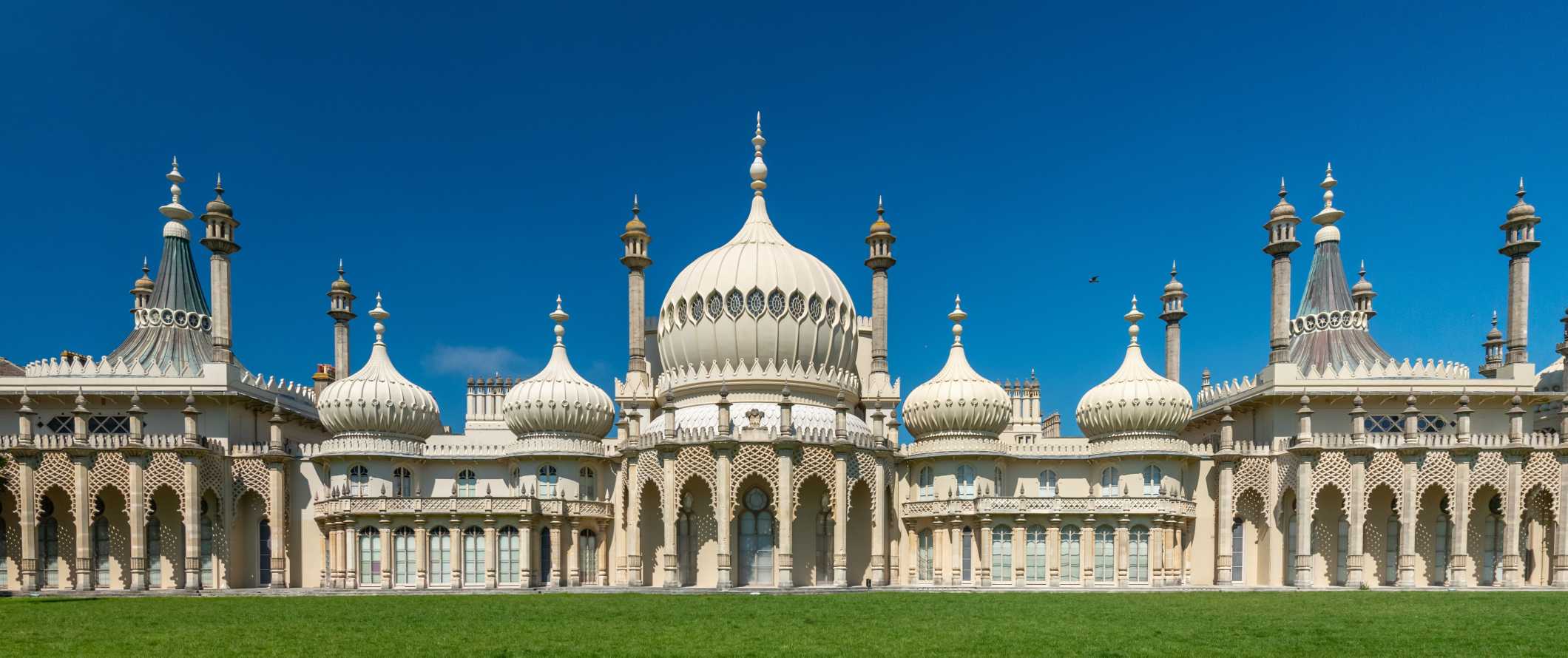 1. Wander the Brighton Pier
Brighton's most famous attraction, the Brighton Palace Pier is a great place for a stroll. It's particularly beautiful during sunset and sunrise. During the day, lots of people come and hang out at the arcades and restaurants. It's great for relaxing and people-watching.
2. Visit the Royal Pavilion
Completed in 1823, the Royal Pavilion is Brighton's most iconic building. It was often used as a royal summer home and during World War II it was transformed into a military hospital. There's also a pretty garden in front that you can visit for free to get photos of the exterior. Adult admission is 16 GBP.
3. Spend time at Brighton Beach
Brighton Beach can get touristy and crowded in the summer, but it's the best place to swim and get some sun. At the western end of Brighton Beach, near Hove Beach, there is a colorful row of beach huts perfect for some Insta-worthy pictures.
4. Day trip to Seven Sisters Country Park
Located within the South Downs National Park, the Seven Sisters Country Park is a great place for a quiet afternoon in nature. The park includes a number of chalk cliffs that run right up to the seaside. You can find several walking trails, canoeing, and paddleboarding options here. Admission is free.
5. Hike Devil's Dyke
The largest dyke in the UK, this valley is part of the Southern England chalk formation. It's home to beautiful wildlife, from birds to butterflies, and in recent years has become a popular spot for hang-gliding. It's only accessible by car and parking costs 6 GBP per day.
Other Things to See and Do in Brighton
1. Explore the city through the eyes of a local
Brighton Greeters is a free program that connects visitors with a volunteer local guide. Your guide will spend two hours showing you around the city on a personalized tour. It's a unique way to see Brighton and a cool way to connect with an insider. It's best to book early on in your visit so that you can get plenty of local tips for the rest of your trip. I can't recommend it enough!
2. See contemporary art at Fabrica Gallery
Located in a former Regency church, this artist-run visual art gallery is free to visit and a wonderful spot for afternoon inspiration. Exhibitions change several times a year and in the past have included video installations, contemporary photography exhibits, and large sculpture works. It's only open for special exhibitions, so visit their website for a schedule of shows. If you visit on a weekend, you can also pop into their new café for a drink and snack.
3. Take a break at St. Anne's Well Gardens
A beautiful and expansive park near the Hove seafront, St. Anne's Well Gardens is named after its chalybeate spring (a spring with a heavy concentration of iron in the water). Legend has it that the spring's waters are the tears of a woman named Annafrieda, shed after she learned that her lover had been murdered. The park has tennis courts, a children's play area, and numerous local and exotic trees. There's a small garden café in the park too.
4. Explore under the sea
First founded in 1871, Sea Life Center is the world's oldest operating aquarium. The aquarium's star attraction is the new Day & Night exhibition, which includes a 24-hour window into what life in a coral reef looks like, featuring Black Tip Reef Sharks and stingrays. As you walk through the Day & Night aquarium, the lighting changes so you can see different species living in different environments. Other experiences include exploring the Rainforest Adventure zone and riding on an indoor glass-bottom boat (requires a separate ticket). Admission starts at 17.50 GBP if you book online.
5. Attend the Brighton Festival
Every May, Brighton puts on the second-largest art festival in Great Britain, with music, theater, dance, art, and more. Tens of thousands of people attend the event so make sure you book accommodation in advance. Best of all, the festival is free!
6. Attend a special event at the Brighton Centre
The Brighton Centre is a huge conference and exhibition center designed in the Brutalist style. Located right on the waterfront, this is where you'll find big-name concerts, shows, and special events. Check out the calendar to find out what's on or stop in to see if there are any day-of tickets available.
7. Get lost in the Brighton Toy & Model Museum
For something a little unusual, the Toy & Model Museum is a fun escape. Located underneath the central train station, this museum has over 10,000 items in its collection, including working toy trains, vintage toys, and 20th-century packaging and advertisements. It's quirky but also super interesting. Admission is 6.50 GBP.
8. Party in Kemptown
Brighton is unofficially known as the queer capital of the UK, and most of the gay and lesbian nightlife is in the Kemptown neighborhood along St. James Street. Just a few blocks from Brighton Pier, there are many great LGBTQ-owned bars, venues, and clubs here. The Charles Street Tap is a long-running gay bar with pub nights and pop music blasting on the TV screens, while The Queens Arms is a small venue with daily cabaret shows. If you're looking to belt some music, Bar Broadway welcomes everyone for show tunes with sing-a-longs.
9. Enjoy panoramic views from the i360 tower
Opened in 2016, this is one of Brighton's newest attractions. The British Airways i360 tower stands 162 meters (53ft) tall and is located at the foot of the former West Pier. Designed by the team behind the London Eye, the i360 cost 46 million GBP to build and offers panoramic views over Brighton. On a clear day, you may even be able to see the Isle of Wight some 40 miles away. The experience takes less than 30 minutes and costs 16.50 GBP.
10. Shop in the Lanes
The Lanes are a famous spot to catch a glimpse of that hippie Brighton vibe. This area is a collection of narrow streets and alleys, or lanes, with lots of independent small shops, restaurants, and street art. Look for the North Lane Bazaar shopping streets and just poke around the different shops for souvenirs.
For more information on other cities in England, check out these guides:
Brighton Travel Costs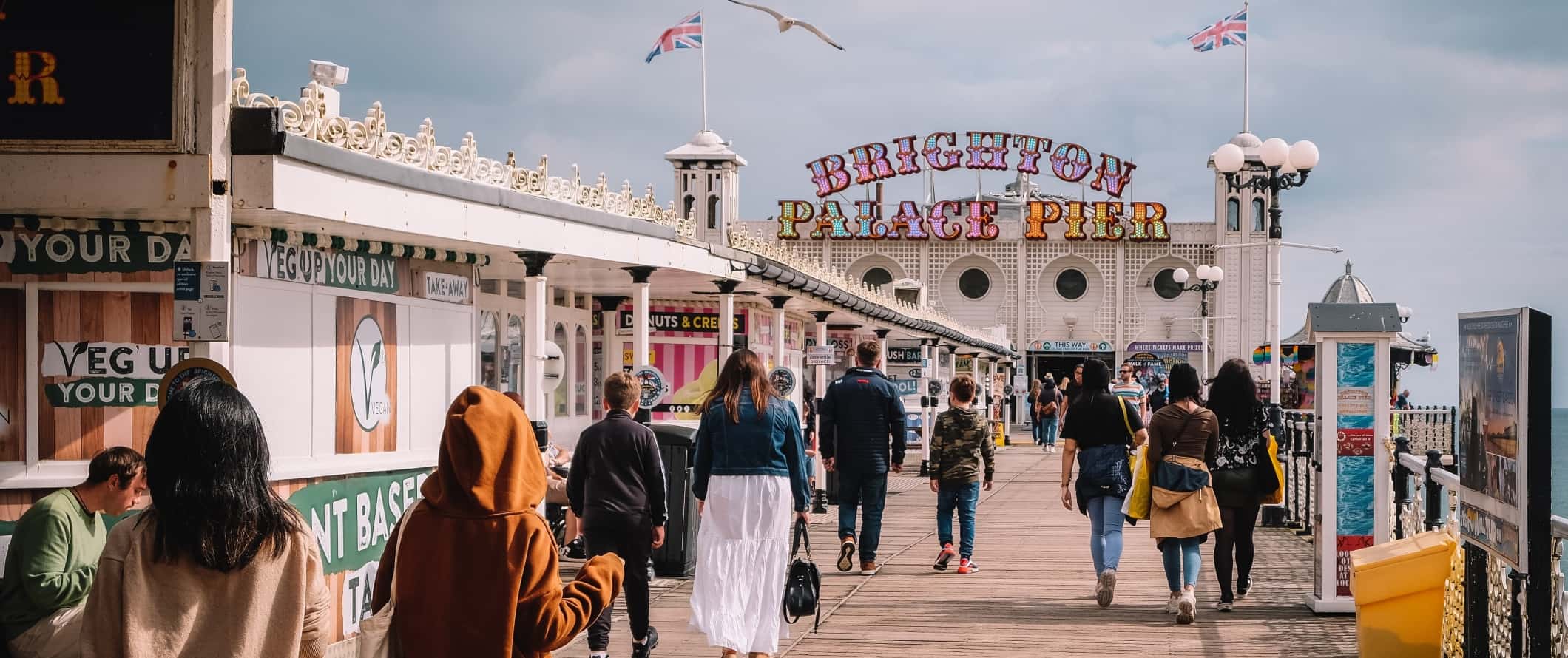 Hostel prices – A dorm with 4-8 beds costs 26-36 GBP per night. Private rooms start around 60 GBP. Free Wi-Fi is standard and most hostels have either self-catering facilities or free breakfast.
Since Brighton is surrounded by a national park, there are also plenty of camping options available in the area. For a basic tent plot, expect to pay 10-20 GBP per night for a pitch without electricity.
Budget hotel prices – Budget hotel room start at 60 GBP per night. Expect basic amenities like TV, coffee/tea makers, and AC.
There are also lots of Airbnb options in Brighton. Private rooms start at 40-60 GBP per night, while a full apartment averages 80-100 GBP per night.
Food – While British cuisine has evolved in leaps and bounds due to immigration (and colonialism), it's still very much a meat and potatoes country. Fish and chips remain a popular staple for both lunch and dinner while roasted and stewed meats, sausages, meat pies, and the quintessential Yorkshire pudding are all common options as well. Curry (and other Indian dishes, such as tikka masala), are super popular too.
You can find fish and chips or a kebab for about 5 GBP. Indian lunch specials are around 8-10 GBP. Pizza, burritos, and sandwiches are 5-9 GBP while a fast food combo (think McDonald's) is around 6 GBP.
For a mid-range meal at a pub or restaurant, expect to pay between 12-16 GBP for a main course, while a pint of beer costs around 5 GBP. Sunday roasts (13-15 GBP) are a well-known tradition in Brighton, like most of the United Kingdom. Usually served with lots of vegetables, this is a hearty way to end your week.
Some good places for a roast are The Royal Sovereign Pub, The Dover Castle, and The Dorset Bar & Restaurant.
A latte or cappuccino costs around 3 GBP while bottled water is under 1 GBP.
A week's worth of basic groceries costs between 40-50 GBP. This gets you basic staples like rice, pasta, vegetables, and some meat. The best places to buy cheap groceries are Lidl, Aldi, and Sainsbury's.
Backpacking Brighton Suggested Budgets
If you're backpacking Brighton, expect to spend around 56 GBP per day. This budget covers staying in a hostel dorm, walking and using public transit to get around, cooking all of your meals, limiting your drinking, and doing mostly free activities like walking tours and hanging out at the beach. If you plan on drinking, add 5-10 GBP to your daily budget.
On a mid-range budget of about 120 GBP per day, you can stay in a private hostel room or private Airbnb, eat out for most meals at cheap pubs and fast food joints, have a couple drinks, take the occasional taxi to get around, and do more paid activities like visit the Sea Life Center and the Toy Museum.
On a "luxury" budget of 260 GBP or more per day, you can stay in a hotel, eat out anywhere you want, drink more, rent a car or take more taxis, and do as many activities and tours as you want. This is just the ground floor for luxury though. The sky is the limit!
Accommodation
Food
Transportation
Attractions
Average Daily Cost
Mid-Range
50
35
15
20
120
Brighton Travel Guide: Money-Saving Tips
While the UK is one of the most expensive countries in the world, Brighton is more affordable than other cities thanks to its cheap pubs, public parks, free beaches, and affordable hostels. Here are my top ways to save money when you visit Brighton:
Visit the parks and gardens – Brighton has numerous parks and gardens that are beautiful to explore during the summer months — and they're free!
Buy an all-day bus ticket – If you need to use the public buses to get around, save money by getting an all-day bus pass for 5.20 GBP. It's the cheapest way to get around.
Eat cheap – If you are going to eat out, stick to fish and chips and other pub foods. While it's not the healthiest option, it's the most budget-friendly. For further savings, cook for yourself!
Relax at the beach – Sunday is beach day and the Brighton Pier and Brighton Beach attract tourists and day-trippers from the surrounding area. Wander around and take in the scene for free.
Take a free walking tour – If you want to get a better feel for the city, be sure to take a free walking tour. They only last a couple of hours and are a great way to engage with the city's history. Both Real Brighton Tours and the Brighton Greeters have excellent guides and cover all the highlights.
Stay with a local – If you're on a budget, use Couchsurfing to stay with a local for free. It's an easy and enjoyable way to cut costs while connecting to the local scene and getting insider tips and information.
Bring a water bottle – The tap water here is safe to drink so bring a reusable water bottle to save money and reduce your plastic use. LifeStraw is my go-to brand as their bottles have built-in filters to ensure your water is always clean and safe.
Where to Stay in Brighton
As a relatively popular weekend destination, Brighton has a few budget-friendly accommodation options. Here are my suggested places to stay in Brighton:
How to Get Around Brighton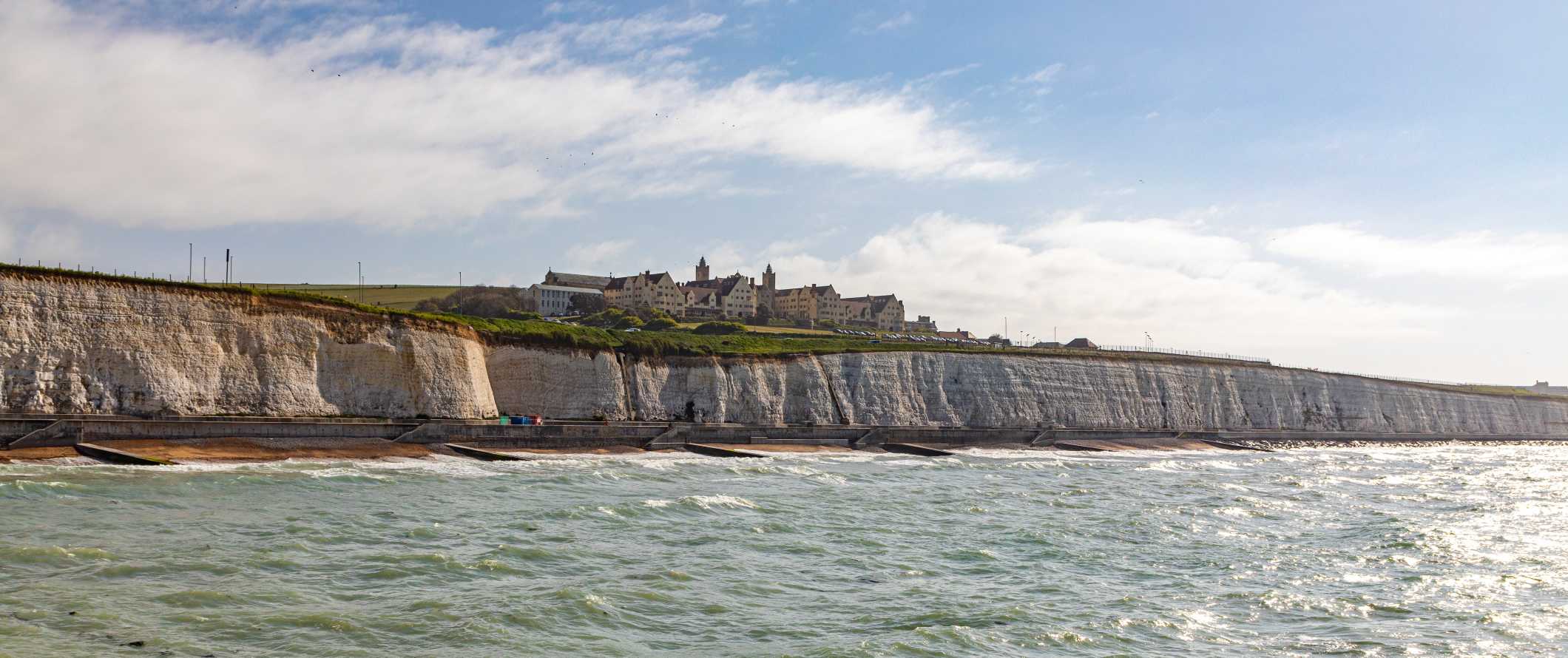 Public transportation – The best way to get around Brighton, especially if you stick to the central area, is by foot. The city is relatively compact and everything is easy to reach. However, there is an extensive bus network through Brighton and Hove to get around if you need it.
Fares in the center of the city are 2.20 GBP while fares outside the downtown core cost 2.70 GBP. A single-day pass (called a "citySAVER") is 5.20 GBP. Tickets can be bought on the bus or in advance through pay stations and shops around the city.
Bicycle – Brighton is a very bike-friendly city, and in fact, Cycling England chose it as one of six Cycling Demonstration Towns to encourage and promote cycling. Brighton's public bike-sharing program is BTN BikeShare and you can find docking stations all over the city. Unlock a bike for 1 GBP and then it's just 3p/minute.
Bike rentals from private companies start around 25 GBP per day.
Taxis – Taxis cost 2.80 GBP to start and then 2.20 GBP per mile. Given how expensive they are, I wouldn't take one unless absolutely necessary.
Ridesharing – Uber is available in Brighton but, again, walking or cycling are the easiest ways to get around the city on a budget.
Car rentals – Car rentals can be found for as little as 20 GBP per day for a multi-day rental. Keep in mind you'll be driving on the left and that most cars have a manual transmission. You don't need a car to explore the city, however, it might be helpful if you want to explore the region.
When to Go to Brighton
Summer is peak tourism season here, and temperatures are the warmest during this time – but rarely are they ever above 27°C (80°F). Brighton is bursting at the seams during this time and the city offers a fun, lively atmosphere thanks to the many seaside attractions. People make the most of the warm weather and there are constantly tons of events and festivals happening. Prices are a little higher so be sure to book early to save money and secure your spot (accommodation can sell out when festivals are happening).
Spring (April-June) and autumn (September-October) are also fantastic times to visit, as temperatures are mild and the crowds have thinned out. It's still warm enough to hike and explore though you won't be able to hit the beach.
Winter lasts from December to February, and tourism crowds thin out drastically during this time. Temperatures rarely dip below 3°C (37°F), and prices are slightly lower as well. While it's a fine time to visit, I would try to aim for the shoulder season or summer instead just to beat the grey winter weather.
How to Stay Safe in Brighton
Brighton is safe and the risk of violent crime here is low. Solo female travelers should generally feel safe here, however, the standard precautions apply (never leave your drink unattended at the bar, never walk home alone intoxicated, etc.).
Scams and pickpocketing can occur around high-traffic areas, especially around tourist attractions like the Pier and Brighton Beach. Pickpockets tend to work in teams so stay alert and be aware of your surroundings. Always keep your valuables secure and out of sight.
Avoid leaving your belongings unattended on the beach as bags and purses can get swiped. If you're out enjoying the nightlife in Brighton, keep your belongings close to deter potential pickpockets and always keep an eye on your drink.
You can read about the most common travel scams to avoid here.
Always trust your gut instinct. Make copies of your personal documents, including your passport and ID. Forward your itinerary along to loved ones so they'll know where you are.
If you experience an emergency, dial 999.
The most important piece of advice I can offer is to purchase good travel insurance. Travel insurance will protect you against illness, injury, theft, and cancellations. It's comprehensive protection in case anything goes wrong. I never go on a trip without it as I've had to use it many times in the past. You can use the widget below to find the policy right for you:
Brighton Travel Guide: The Best Booking Resources
These are my favorite companies to use when I travel. They consistently have the best deals, offer world-class customer service and great value, and overall, are better than their competitors. They are the companies I use the most and are always the starting point in my search for travel deals.
Skyscanner – Skyscanner is my favorite flight search engine. They search small websites and budget airlines that larger search sites tend to miss. They are hands down the number one place to start.
Hostelworld – This is the best hostel accommodation site out there with the largest inventory, best search interface, and widest availability.
Booking.com – The best all around booking site that constantly provides the cheapest and lowest rates. They have the widest selection of budget accommodation. In all my tests, they've always had the cheapest rates out of all the booking websites.
HostelPass – This new card gives you up to 20% off hostels throughout Europe. It's a great way to save money. They're constantly adding new hostels too. I've always wanted something like this and glad it finallt exists.
Intrepid Travel – If you want to do group tours, go with Intrepid. They offer good small group tours that use local operators and leave a small environmental footprint. And, as a reader of this site, you'll get exclusive discounts with them too!
Get Your Guide – Get Your Guide is a huge online marketplace for tours and excursions. They have tons of tour options available in cities all around the world, including everything from cooking classes, walking tours, street art lessons, and more!
Eurail – If you are going to Europe and taking a lot of high speed or long distance trains, get a rail pass. I've used a rail pass three times and saved hundreds of dollars each time. The math just works.
The Man in Seat 61 – This website is the ultimate guide to train travel anywhere in the world. They have the most comprehensive information on routes, times, prices, and train conditions. If you are planning a long train journey or some epic train trip, consult this site.
Rome2Rio – This website allows you to see how to get from point A to point B the best and cheapest way possible. It will give you all the bus, train, plane, or boat routes that can get you there as well as how much they cost.
FlixBus – Flixbus has routes between 20 European countries with prices starting as low 5 EUR! Their buses include WiFi, electrical outlets, a free checked bag.
SafetyWing – Safety Wing offers convenient and affordable plans tailored to digital nomads and long-term travelers. They have cheap monthly plans, great customer service, and an easy-to-use claims process that makes it perfect for those on the road.
BlaBlaCar – BlaBlaCar is a ridesharing website that lets you share rides with vetted local drivers by pitching in for gas. You simply request a seat, they approve, and off you go! It's a cheaper and more interesting way to travel than by bus or train!
Brighton Gear and Packing Guide
If you're heading on the road and need some gear suggestions, here are my tips for the best travel backpack and for what to pack!
The Best Backpack for Travelers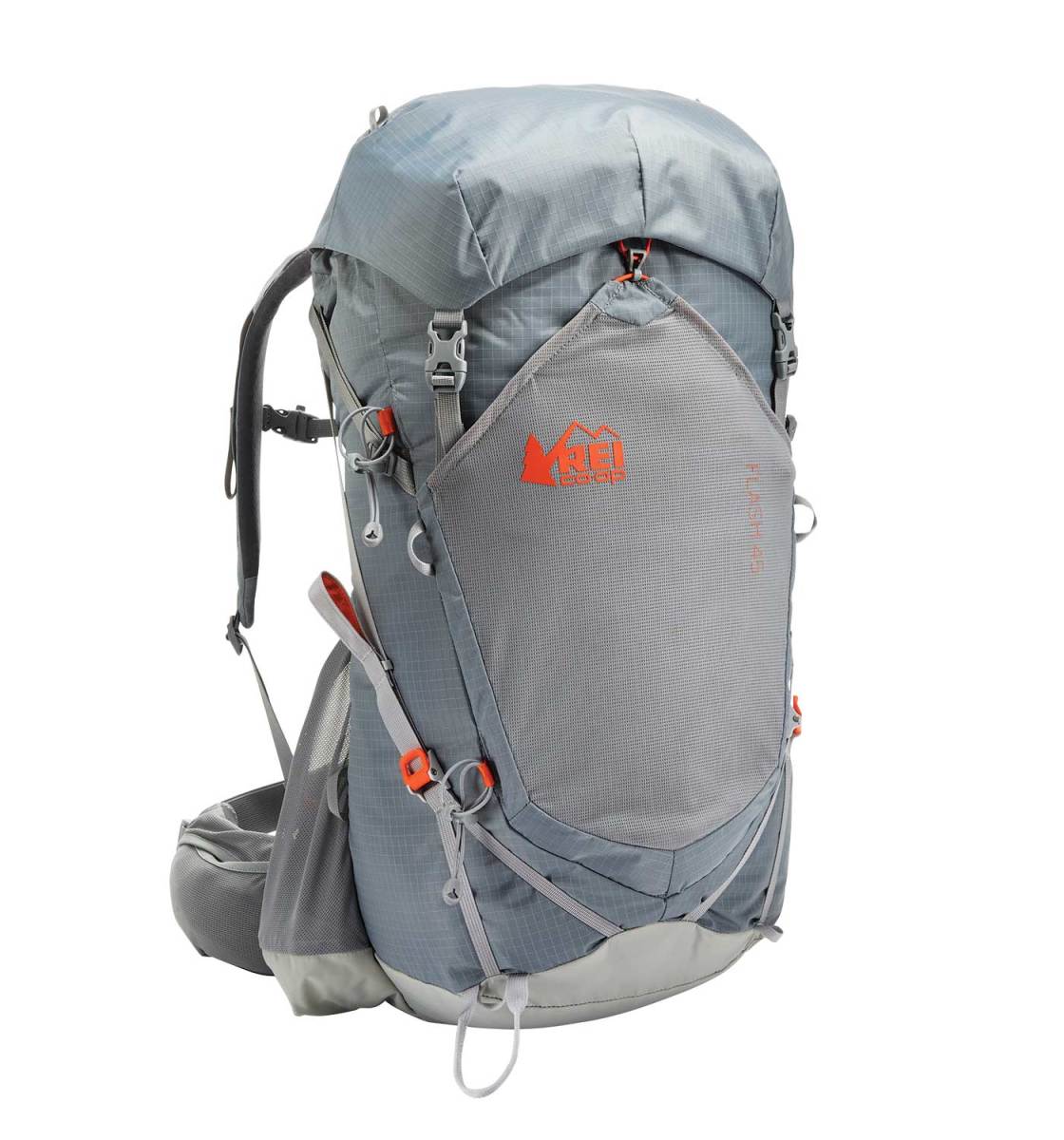 What's the best backpack for traveling long-term? I recommend the
REI Flash 45 Pack
. It's light and comfy, top loading, and fits perfectly in an airplane's overhead bin.
Size:
45-47L
Straps:
Thick and cushy with compression technology that pulls the pack's load up and inwards so it doesn't feel as heavy.
Features:
Removable top lid, pocket at the front, hydration compatible, contoured hip belt
If you want something different, refer to my article on how to choose the best travel backpack for tips on picking a pack and other backpack suggestions.
What to Pack for Your Trip
Clothes
1 pair of jeans (heavy and not easily dried, but I like them; a good alternative is khaki pants)
1 pair of shorts
1 bathing suit
5 T-shirts (Unbound Merino is my preferred company. If you're a member of TNN+, you can get 15% off your purchase)
1 long-sleeved T-shirt
1 pair of flip-flops
1 pair of sneakers
6 pairs of socks (I always end up losing half)
5 pairs of boxer shorts (I'm not a briefs guy!)
1 toothbrush
1 tube of toothpaste
1 razor
1 package of dental floss
1 small bottle of shampoo
1 small bottle of shower gel
1 towel
Deodorant
Small Medical Kit (safety is important!!!)
Miscellaneous
Female Travel Packing List
I'm not a woman, so I don't know what a woman wears, but Kristin Addis, our solo female travel guru, wrote this list as an addition to the basics above:
Clothing
1 swimsuit
1 sarong
1 pair of stretchy jeans (they wash and dry easily)
1 pair of leggings (if it's cold, they can go under your jeans, otherwise with a dress or shirt)
2-3 long-sleeve tops
2-3 T-shirts
3-4 spaghetti tops
1 light cardigan
Toiletries
1 dry shampoo spray & talc powder (keeps long hair grease-free in between washes)
1 hairbrush
Makeup you use
Hair bands & hair clips
Feminine hygiene products (you can opt to buy there too, but I prefer not to count on it, and most people have their preferred products)
For more on packing, check out these posts:
Brighton Travel Guide: Related Articles
Want more info? Check out all the articles I've written on backpacking/traveling England and continue planning your trip: