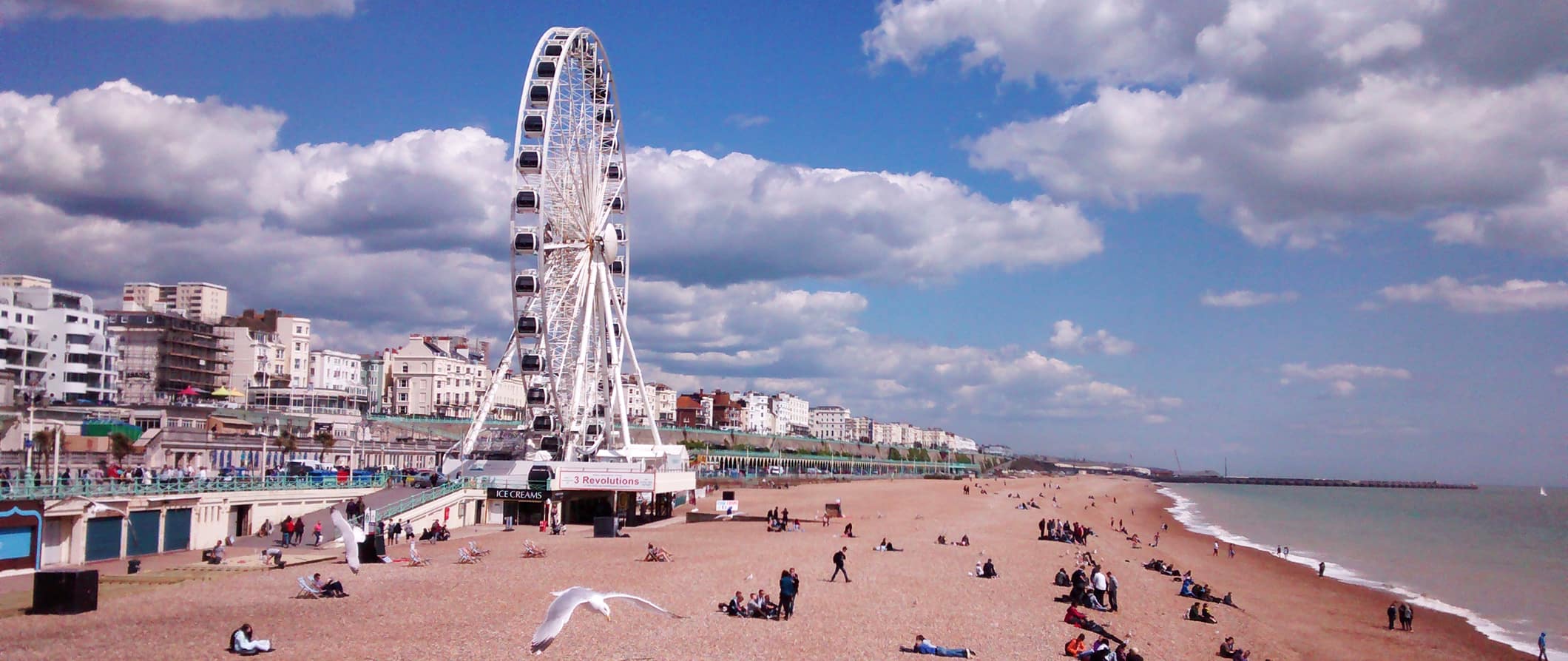 Brighton is a seaside resort town on the southern coast of England. It's extremely popular in the summer time with Brits (who rarely ever get to see the sun) and want to take advantage of the nice weather! Brighton also most of their parties, festivals, and families during the summer months, so if you are coming in the off season you won't find much to do. While it is a summer-time city, this travel guide can help you fill your days on or off season. Keep in mind prices rise substantially in the summer!
Top 5 Things to See and Do in Brighton
1. Brighton Pier
This is probably the most famous attraction in the city and provides a great place for a stroll and people watching. It's particularly beautiful during sunset and sunrise. During the day, lots of people come and just hang out here.
2. The Royal Pavilion
The Pavilion was created in 1823 under the direction of King George IV. It's a spectacular piece of architecture to visit. There is a ton of pomp and decoration, so you should consider it like the Royal summer house. Adult admission is 12.30 GBP, with discounts available for students, seniors, and children.
3. Brighton Beach
In the summer months, Brighton beach can get touristy and crowded. If you can, go early or late in the day (and season) to beat the crowds. It's the best place to swim, meet people, and get some sun in the city — and maybe in all of England.
4. Seven Sisters Country Park
This is an enjoyable park to spend a quiet afternoon strolling around. The Seven Sisters Cliffs are the focal point of the park and walking trails and canoeing are located nearby.
5. Go to the Brighton Festival
Every May, Brighton puts on the second biggest art festival in Great Britain. There are a large number of exhibits, rides, and food vendors. People from all over England attend the event so make sure you book accommodation in advance. Plus, the festival is free!
Other Things to See and Do
(Click the title to expand the text)
1. Explore the city through the eyes of a local
Brighton has implemented a neat, free program for its visitors, called Brighton Greeters. Once you register, you'll be paired with a volunteer local who will spend two hours showing you around the city in a personally tailored tour. It's a unique way to explore the city and get a chance to connect with an insider.
2. Fabrica
This art gallery is artist-run and owned. It deals mostly with contemporary visual art, which is something I find weird and not very arty. But to each their own, so it makes this list. Admission is free.
3. St. Anne's Well Gardens
A beautiful and expansive park near Hove seafront, it offers tennis courts, a children's area, and beautiful trees and trails to jog or walk. It's a popular beach alternative to busy Brighton Beach.
4. Sealife Center
First founded in 1871, this is the world's oldest operating aquarium. The many expansions since its original construction include: a conservatory, a reading room, a fernery, a rockery, a cascade, and a roller-skating rink. Admission is 14.50 GBP if you book online and in advance, and 21.50 GBP if you buy your ticket the same day. Children under 2 enter free.
5. Devil's Dyke
This valley stretches 11km over a beautiful, open landscape, north towards the Wealds and south to the sea. It is the largest dyke in the UK and is part of the Southern England chalk formation. There is a lot of beautiful wildlife to see, and it's also a popular spot for hang-gliding too.
6. The Brighton Center
During its heyday, this was the largest event venue of its kind in all of the UK. Today, not so much but there are still big name concerts, shows, and political conferences held here. If you are looking to go see a show, be sure to check out what is scheduled here.
7. Eat a Sunday roast
Having roast on Sundays is a well-known tradition in Brighton that isn't mentioned very often. Usually served with lots of vegetables, this is a hearty way to end your week. Some good places to get it are The Royal Sovereign Pub, The Dover Castle, and The Dorset Bar & Restaurant.
Typical Costs
Hostel prices – Hostels cost between 15-35 GBP for a dorm room, though you can find even cheaper prices during the off season (though there wont be as much to do in the city). Private rooms start around 50 GBP during the summer months. Free WiFi is standard, and many hostels in the city also include free breakfast. Since Brighton is surrounded by a national park, there are also plenty of camping options available (including some more luxurious glamping sites). For a camp basic site, expect to pay 10-20 GBP per night. You can book your hostel with Hostelworld.
Budget hotel prices – You can stay in a private double room near the city center for about 60 GBP per night. expect to pay 10-15 GBP less per night if you visit during the off season. Use Booking.com as they consistently return the cheapest rates. For another budget option, consider Airbnb. Shared accommodation can be found for around 28 GBP per night, while an entire apartment goes for as little as 60 GBP per night.
Average cost of food – The best way to save money in Brighton is to cook for yourself. A week's worth of groceries (basics like fruits, veggies, pasta, chicken, and sandwich stuff) will cost between 40-50 GBP. If you want to eat out, eat during lunch instead of dinner when there are specials and cheap pub food available. A lunch entrée and drink will cost 8-12 GBP. Dinners average about 20 GBP or more, especially during the summer months! A cheap fast-food meal (think McDonald's) will cost you around 6 GBP.
Transportation costs – For a single ride, the bus will cost you 2.50 GBP, though a ticket within the city center is only 2 GBP. All-day tickets will cost 4.20 GBP, 7.90 GBP for two days, and 11.90 GBP for three days. Tickets can be bought on the bus or in advance through pay stations around the city. Since the city is quite small, you can also just avoid using the bus and walk everywhere. Bike rentals are available in the city as well with prices starting around 15 GBP per day. London via the train take between 1-2 hours, with price between 15-35 GBP. Buses cost half of that.
Suggested daily budget
45-55 GBP / 55-65 USD (Note: This is a suggested budget assuming you're staying in a hostel, eating out a little, cooking most of your meals, and using local transportation. Using the budget tips below, you can always lower this number. However, if you stay in fancier accommodation or eat out more often, expect this to be higher!)
Money Saving Tips
Visit the parks and gardens – Brighton offers many parks and gardens that are beautiful to explore during the summer months, and they are free!
Buy an all-day bus ticket – Save money on the bus system, and get an all day bus pass. It will save you about 4 GBP per day.
Eat cheap – Eating fish and chips at pubs along the pier will save you money on food. Meals here cost only a few pounds, and while it's not the healthiest meal around, it's certainly the cheapest. For further savings, simply cook for yourself!
Couchsurf – Brighton doesn't have a huge couch surfing community, but you can still give it a shot and try to find a host. Just be sure to send your requests early, since the city will get busy and there are only a few hundred hosts available.
Save money on rideshares – Uber is way cheaper than taxis and are the best way to get around a city if you don't want to wait for a bus or pay for a taxi. The Uber Pool option is where can you share a ride to get even better savings (though you can get your own car too). You can save $15 off your first Uber ride with this code: jlx6v.
My Must Have Guides For Traveling to Brighton