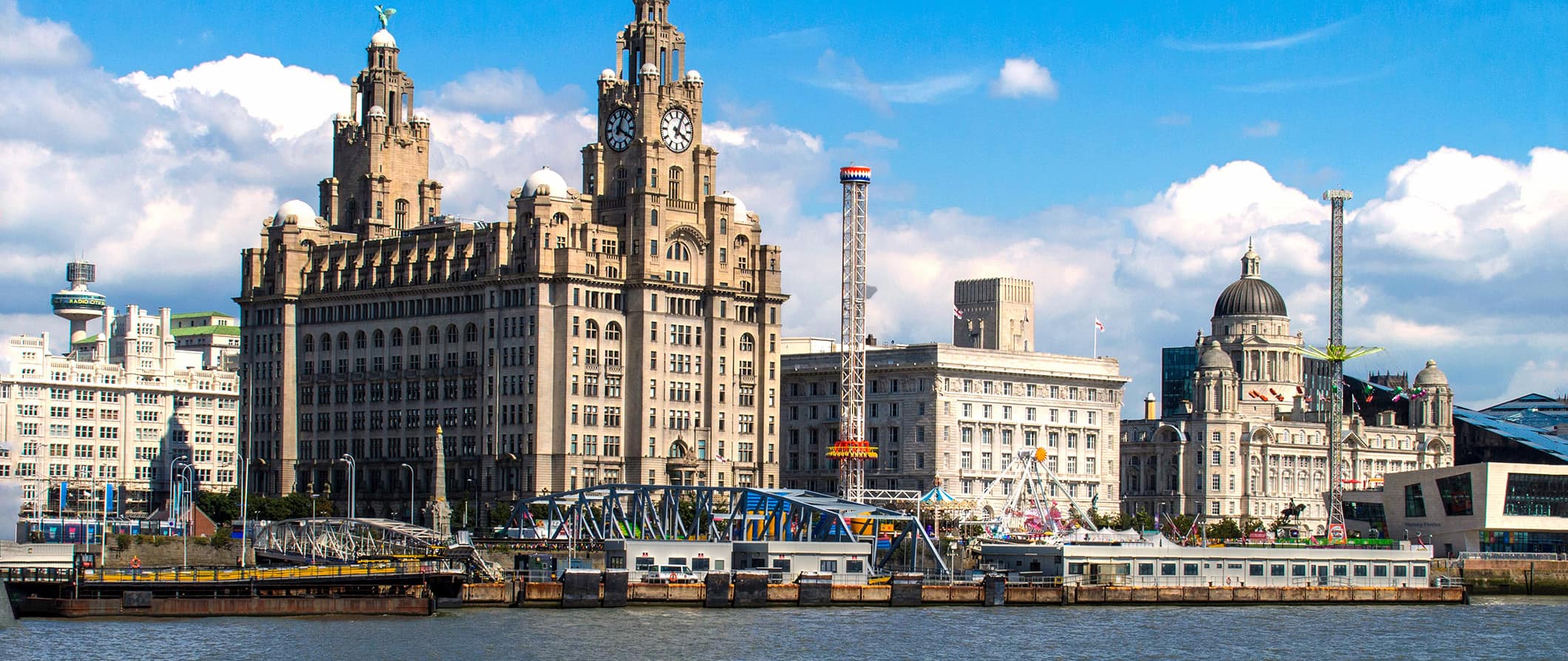 Despite its manufacturing past, Liverpool is no longer a dingy industrial city. Rather, it's now a city full of art and music. It's home to the Philharmonic Orchestra and is the birthplace of The Beatles. It offers many free museums, parks, and inexpensive restaurants. If you're here in August, go to the Matthew Street Festival to enjoy one of the biggest music events in Europe. Most people come here for either the football or the Beatles, but there is much more to the city than that. The city has really thrown off its past reputation and reinvented itself as an eclectic modern city. You can feel the energy in the here as you visit. It's a city in change for sure!
Top 5 Things to See and Do in Liverpool
1. The University of Liverpool
The university has beautiful grounds that make for a lovely afternoon stroll. You can also take guided tours of the campus, which last a couple hours. Maps are available for self-guided tours, too.
2. World Museum
This museum is near St. George's Hall and contains a vast assortment of British rocketry exhibits as well as one of the best Egypt exhibits around. Like all the museums here, it is free.
3. See a football match
Football is life here, and there's no better way to see how the locals value the sport than to attend a match. You can see either Everton or Liverpool, but make sure to never root for the opposite team — the locals won't like it, and you don't want to cross soccer hooligans! They are tough!
4. The Beatles Story
This is the only museum that is totally Beatles-themed, and well worth the visit to learn and see a part of music history. It includes some of their instruments as well as a ton of interesting facts. Admission is 15 GBP, with discounts available for seniors, students, and children.
5. Albert Dock
This is considered to be one of Liverpool's biggest tourist attractions. It is a ring of enormous cast-iron columns surrounding a five story warehouse and is the country's largest collection of protected buildings. There are several museums to check out as well as bars, restaurants, and an extension of London's Tate Gallery.
Other Things to See and Do
(Click the title to expand the text)
1. The Bluecoat
This gallery showcases artists of all sorts from painters and visual art to music, and dance. It's free to visit and a great way to see some of the local art.
2. International Slavery Museum
This museum showcases the impact that slavery had not only on Liverpool, but the entire world. It's a very sober museum, but also very detailed. It paints a vivid picture of how Liverpool grew in importance during this time of history.
3. Matthew Street Festival
Every August, Liverpool puts on one of the biggest music festivals in the world. Bands from all over England come to perform and it's quite the scene. If you're into music and love festivals, this is a must.
4. The Liverpool Cathedral
The Liverpool Cathedral is one of the finest examples in the world of Gothic revival architecture. On a clear day, the tower affords breathtaking views of Liverpool, Merseyside, and beyond.
5. The Williamson's Tunnels
In the early 1800s, a Liverpool tobacco merchant, Joseph Williamson, funded the construction of an enormous labyrinth of tunnels around the city and to this day, nobody knows why! Though there isn't much in them, the tunnels are fun to explore. I just like trying to get lost.
6. Merseyside International Street Festival
Every year in the middle of July, Liverpool is host to a three-week extravaganza of music and art. This event highlights cultures from all over the world and there are tons of indoor and outdoor performances.
7. St John's Shopping Center
This is the largest shopping center in Liverpool. There is a massive food court, and over 100 shops to check out. This giant complex is extremely popular and a great place to get in some shopping or just sit and people watch.
8. Merseyside Maritime Museum
This museum is host to a multitude of exhibits, highlighting the amazing story of 9 million emigrants and their efforts to get to Australia and North America. The two major highlights to see here are the Transatlantic Slavery exhibit and the walk-through model of a typical ship.
9. FACT Media Center
The Foundation for Art & Creative Technology showcases film and digital art. There are two galleries here as well as three screens which show the latest art house releases (and occasionally mainstream releases). There is also a cool bar to grab drinks at and a café. Prices start at 7 GBP, with discounts available.
Typical Costs
Hostel prices – You'll pay between 15-25 GBP for a dorm room. All include WiFi, and there are a handful of decent hostels in the city where breakfast is included. If you want a private room in a hostel, expect to pay around 70 GBP per night. If you have a tent, there are several camp grounds outside of the city that cost between 8-18 GBP (though none in very convenient locations if you don't have a vehicle). Hostelworld.
Budget hotel prices – A typical double room in Liverpool costs between 45-95 GBP per night. There are not many budget hotels available, however, so be sure to book early if you need one. Use Booking.com as they consistently return the cheapest rates. Airbnb is available in the city, with shared accommodation (of which there is few) costing around 18 GBP per night. An entire apartment or home will cost you around 50 GBP per night.
Average cost of food – Liverpool has many good budget options for eating. Fish and chips will only cost you 5 GBP. Delis will give you a good variety of cheap sandwiches for 5-7 GBP, and some Indian restaurants have a big lunch portion for 6 GBP. Eating out a nice restaurants will really eat into your budget though. Expect to pay around 21 GBP for a meal at a sit down restaurant, including a drink. If you want to cook for yourself, a week's worth of groceries will cost around 40-50 GBP; this is the cheapest way to save money during your visit.
Transportation costs – Buses are reliable, and a day pass will cost 3.70 GBP (for a single zone). Since fares will depending on the distance you travel, buying a day pass is your best option. The trains run every fifteen minutes and cover everywhere in the city you want to go. Getting to Liverpool from London is quite straightforward, and will only take a few hours via bus or train. Tickets can be as cheap as 17 GBP, though they can also be close to 150 GBP. The local bus and train reach the Liverpool airport, with one-way fares costing around 3 GBP (depending on where you are going).
Suggested daily budget
40-50 GBP / 50-62 USD (Note: This is a suggested budget assuming you're staying in a hostel, eating out a little, cooking most of your meals, and using local transportation. Using the budget tips below, you can always lower this number. However, if you stay in fancier accommodations or eat out more often, expect this to be higher!)
Money Saving Tips
Free museums – Make the most of your visit and take in the city's history by visiting the free museums here.
Cook your own food – While Liverpool does have some of the cheapest restaurants in England, you will nevertheless save a ton of money if you buy your own food and cook for yourself. Just make sure your accommodation offers self-catering facilities before you go shopping!
Take a free walking tour – If you want to get a sense of the city be sure to take a free walking tour. They usually last a couple hours and are a great way to immerse yourself in the city while learning about its past. New Europe Tours offers daily tours of the city, including a Beatles tour.
Couchsurf – Couchsurfing is not only a great way to save money, it's a great way to get a sense of the local scene. Staying with a local will give you unique insight into the city, so be sure to give it a try!
Save money on rideshares – Uber is way cheaper than taxis and are the best way to get around a city if you don't want to wait for a bus or pay for a taxi. The Uber Pool option is where can you share a ride to get even better savings (though you can get your own car too). You can save $15 off your first Uber ride with this code: jlx6v.
My Must Have Guides For Traveling to Liverpool